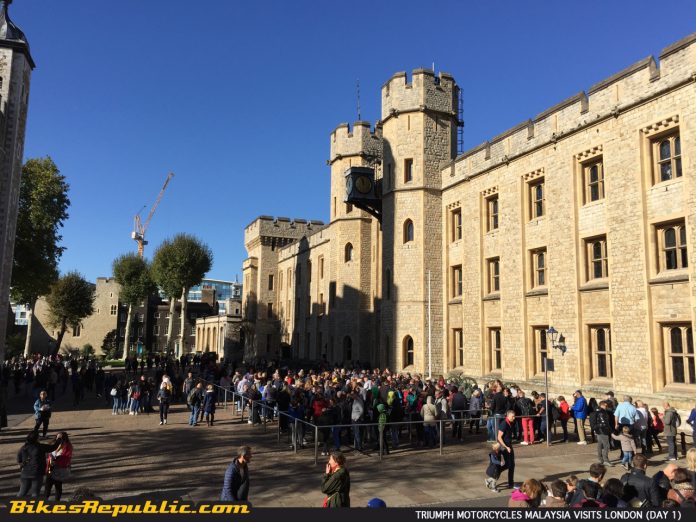 Triumph Motorcycles Malaysia and Triumph Motorcycles Bukit Mertajam visited London for the Global Dealer Conference.

The schedule included sightseeing and shopping trips.

This writer had won the lucky draw to document the visit.
IN THE BEGINNING
To those unfamiliar, please allow me to start these chronicles from the beginning. During the launch of their 2018 models at Bukit Tinggi earlier this year, Triumph Motorcycles Malaysia had announced a trip to London and Triumph Motorcycles' Factory Visitor Experience in Hinckley.
The entourage was to include Triumph Motorcycles Malaysia's Chief Operations Officer, Dato' Al-Razak Malique Hussein and his son Rafique Muzaffar, plus five more spots for Triumph dealers or owners. Dato' Malique had also opened a spot for a Malaysian motojournalist to chronicle the trip. The place was determined via a lucky draw.
During the draw, Deni Asep, wife of Art of Speed extraordinaire, Asep Sastrawijaya, held the box while Dato' Malique rummaged through it. He picked a piece of rolled up paper, held it up and passed it to Deni. And Deni announced, "The winner is: Wahid Ooi Abdullah."
I ran up the stage, arms swinging wildly above my head like a rampaging baboon. Every eye on the stage, including the band members' were as wide as the front disc brakes of the Triumph Street Triple RS.
I was the one! I couldn't believe it! I've never thought I'd ever set foot at Triumph Motorcycles' HQ at Hinckley, much less an entire trip to London.
Fast forward to 21st October 2018. My head was still ringing as we congregated at KLIA together with the Tan family from Guan How Superbikes, who will soon be Triumph Motorcycles Bukit Mertajam, and Asep Sastrawijaya.
Our hotel in London was called the "Grange Tower Bridge Hotel" and sure enough, the Tower of London and iconic Tower Bridge (which is always mistakenly called the "London Bridge") was just less than 10 minutes away by foot.
We decided to visit the Tower of London first.
THE TOWER OF LONDON A.K.A. THE TOWER
It was just after 9am and the crowd was already picking up. It was the mid-term school holidays in the UK, so parents took leave for some family time.
We were directed to wait in an area just out the main entrance. It turned out to be the remnants of a liquid-filled moat, now drained and grassy. A Yeoman Warder, also known as a "Beefeater" came out to join us and presented an amazingly entertaining history of the Tower.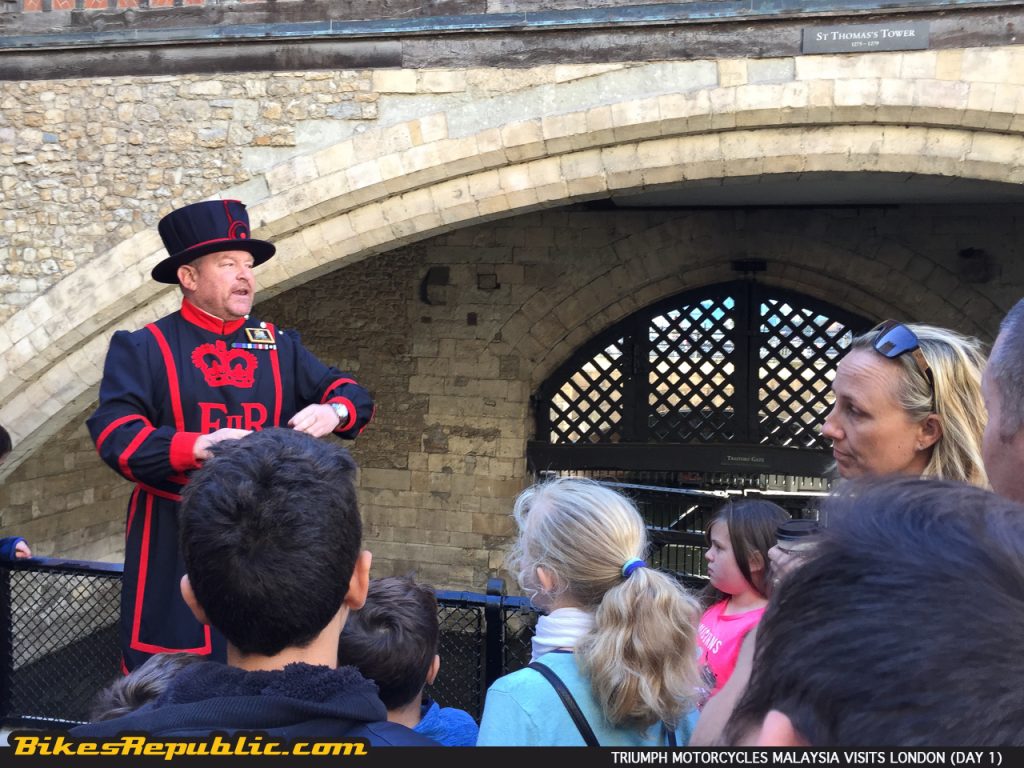 The Tower of London, officially known as "Her Majesty's Royal Palace and Fortress of the Tower of London" was built by William the Conqueror in 1066 after he conquered London. The new king decided to build many castles to defend his realm but the Tower of London was the most impressive fortress at the time.
Since then, it had been used as both an accommodation by royalty as well as a prison, armourer, mint, menagerie (mini zoo), chapel, place of torture and execution.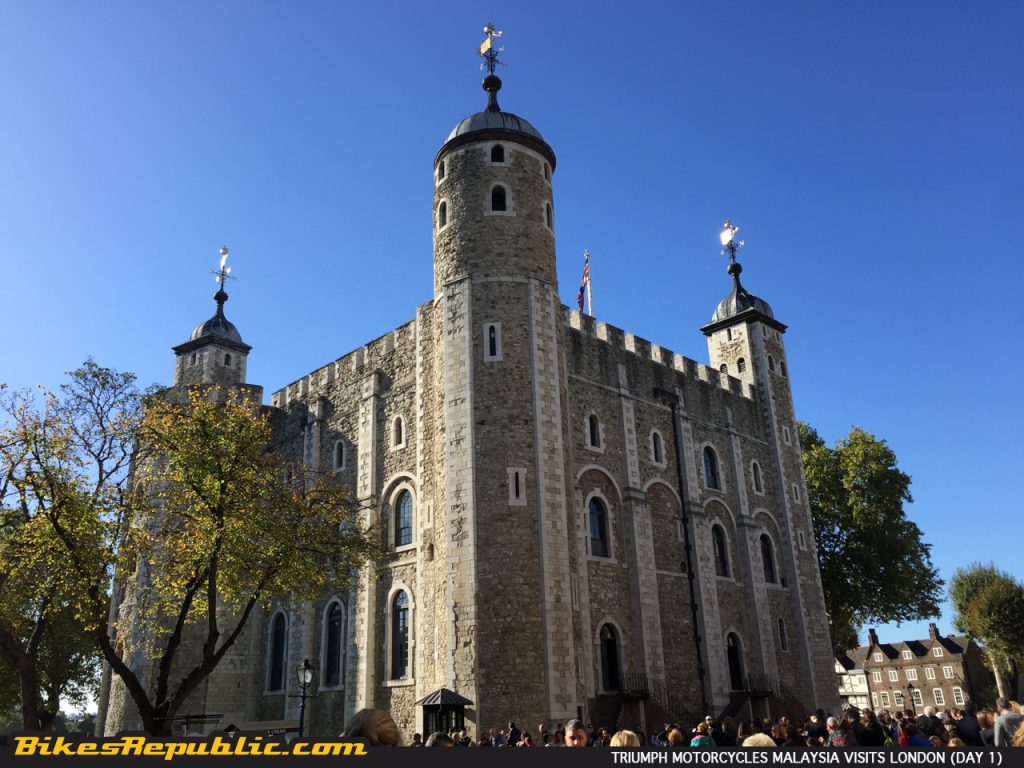 Indeed, the Thames used to beat against the southern wall of the castle and a water gate called "Traitors' Gate" was used to ferry in prisoners who would later be beheaded on Tower Hill.
Even Kings and Queens weren't spared. Henry VI was murdered as he was praying in the Wakefield Tower. Later, the Princes of Edward IV, aged 12 and 10 were snuffed to death with their pillows where they slept. The bodies were secreted away until discovered 191 years later.
Henry VIII's wife Anne Boleyn was accused of adultery and treason and sent to the Tower. She was held in luxurious lodgings before being beheaded with a sword in the Green Tower. It is said that her spirit still haunts the tower.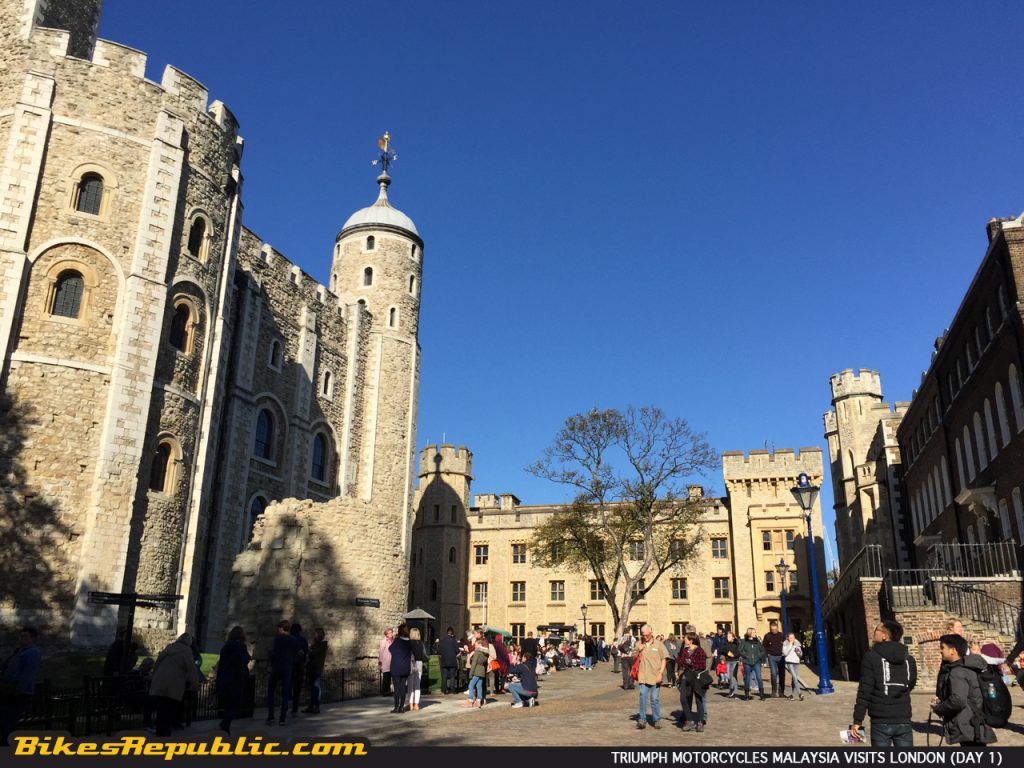 Another famous prisoner was Lady Jane Grey. Also known as the "Nine Days Queen," she had been installed as Queen of England before being arrested for high treason against Queen Mary I. She was later executed, aged 17.
But it wasn't all about making "The Game of Thrones" seem tame. The Tower now holds the Crown Jewels as it is considered one of the most secure locations in England.
The latest crown called the Imperial State Crown was worn by Queen Elizabeth II during her coronation. The embedded jewels all came from the annals of history, totaling 2,868 diamonds, 17 sapphires, 11 emeralds, 269 pearls and 4 rubies!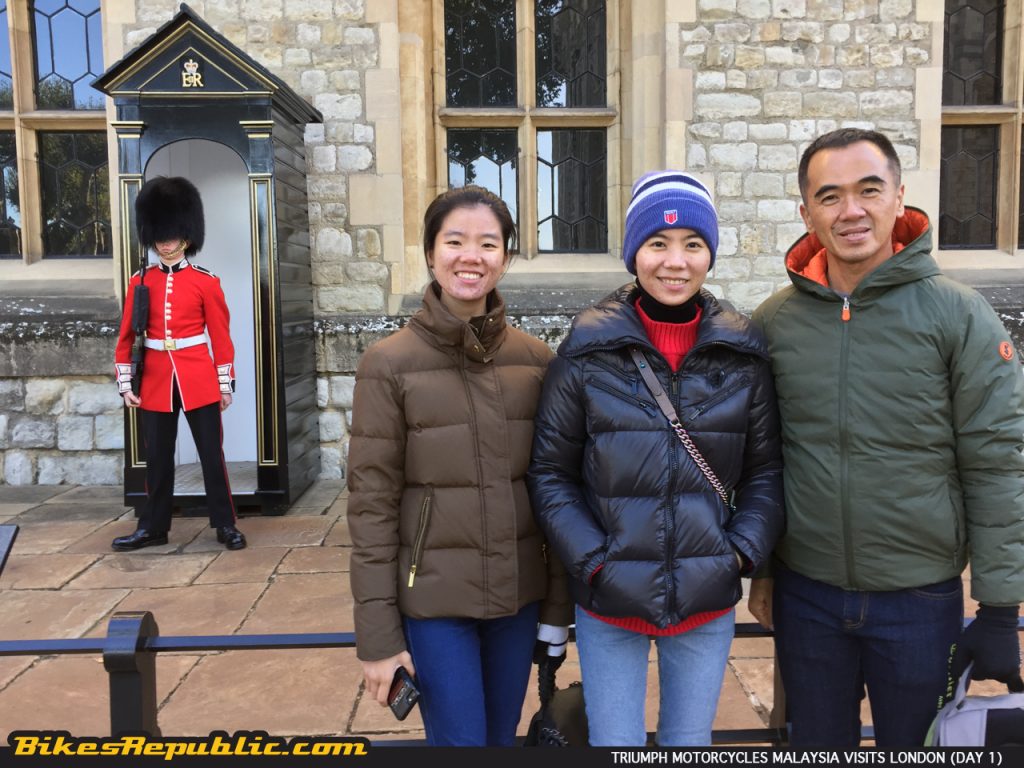 There were the crowns of other Kings, of course, including their coronation regalia including a massive punch bowl made of solid gold!
We stopped by at the adjacent building which had been converted into the Fusilier's (riflemen) Museum.
Just as fascinating were the Yeoman Warders who served as our guide. They were not just well-trained tourist guides, instead they are the Royal Guards at the Tower. Each need to serve at least 22 years in the military before he can become a "Beefeater."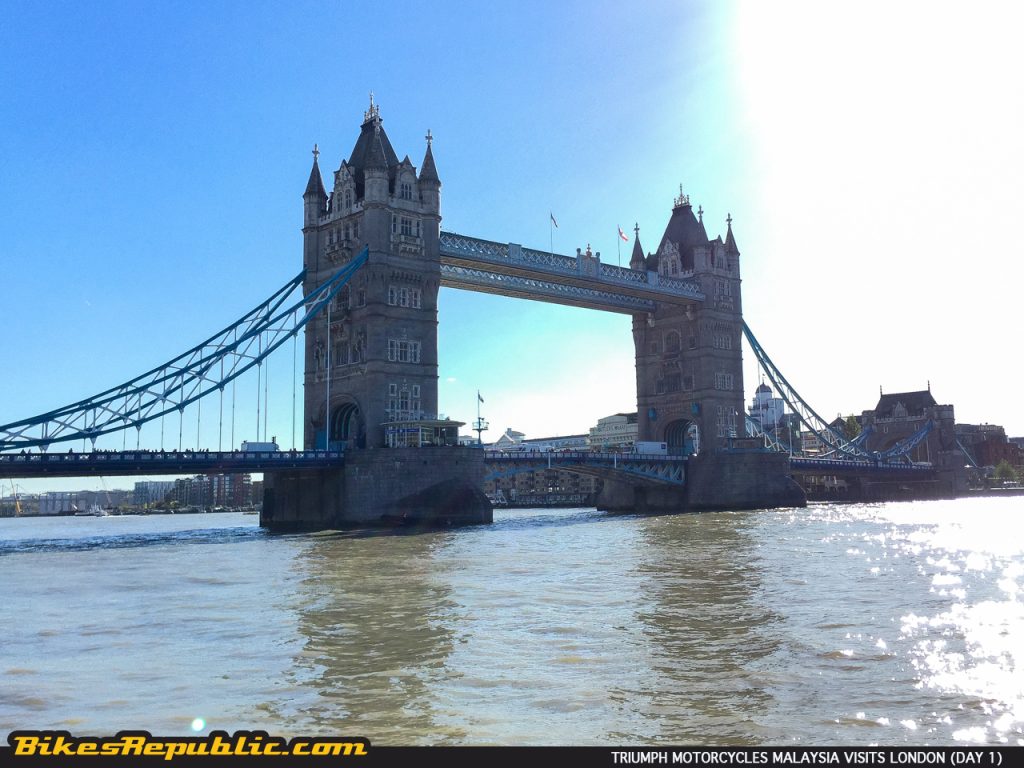 We exited the castle through the southern gate and into the sunshine. Where the Thames used to bash against the Tower walls is now a walkway. The biggest attraction here, of course, is the majestic view of the Tower Bridge.
BIKE SHED MOTORCYCLE CLUB
Visiting the Bike Shed Motorcycle Club was part of our itinerary from the very beginning.
We descended into the tunnels of the famed London Underground, better known as "The Tube," to catch a train. London's rail network is extensive, branching out in every which way to where you wished to go.
But first, we had to purchase an "Oyster" card. To put it simply, it's a plastic card which holds the credit you need for public transportation in greater London. You can use it for The Tube, bus, tram, DLR rail service, London Overground, TfL Rail, River Bus, most British National Rail and even Emirates Air Line services.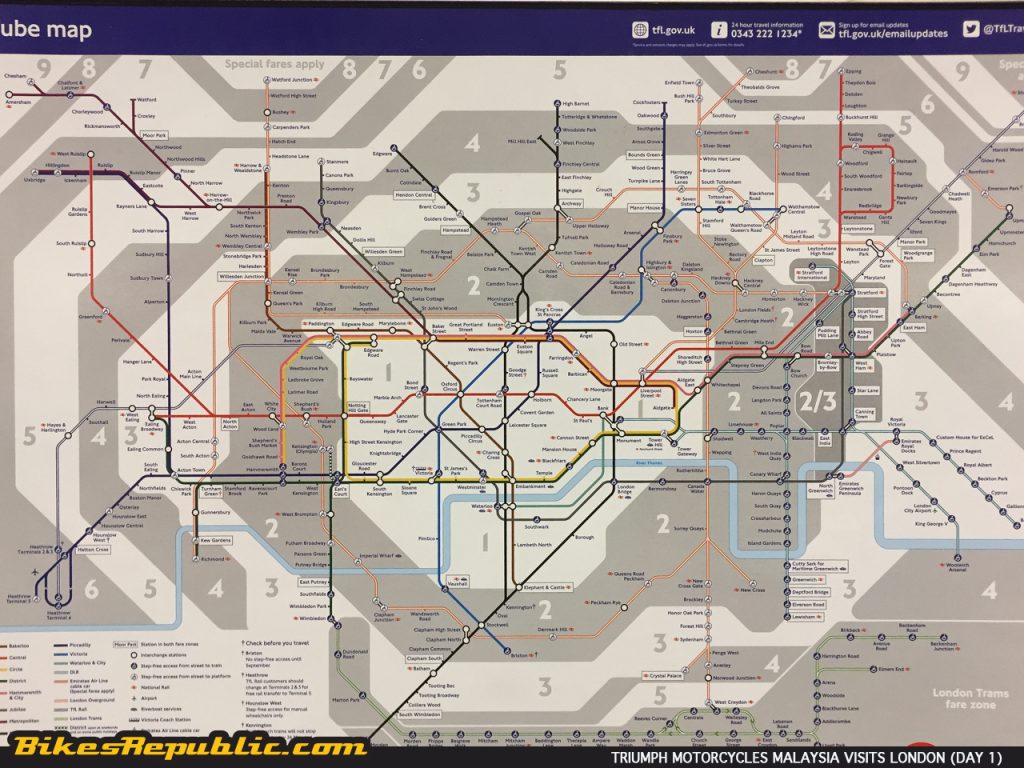 Our local Touch 'n' Go card was in fact modelled after the Oyster card. We purchased new Oyster cards at £10 each.
The train showed up in under 2 minutes.
The Central Line's train cars looked a lot like our LRT and those in Japan. We noticed that it was much warmer in here than out on the streets. There are people of every race here, not just Caucasians. But even then, Caucasians spoke in all different dialects, accents and languages. It is said that the character of London is the hodgepodge of different cultures and we are seeing a bit of it here.
First, we stopped at a business district to obtain the local sim cards for our phones. We stepped into an O2 store where they offered a prepaid card for £10. The package includes 500 minutes of talk time, 500 texts and 2 GB of mobile data. That's a great deal compared to paying RM38 per day for roaming! (I eventually ran out of data on the sixth and final day, after posting many videos on Facebook.)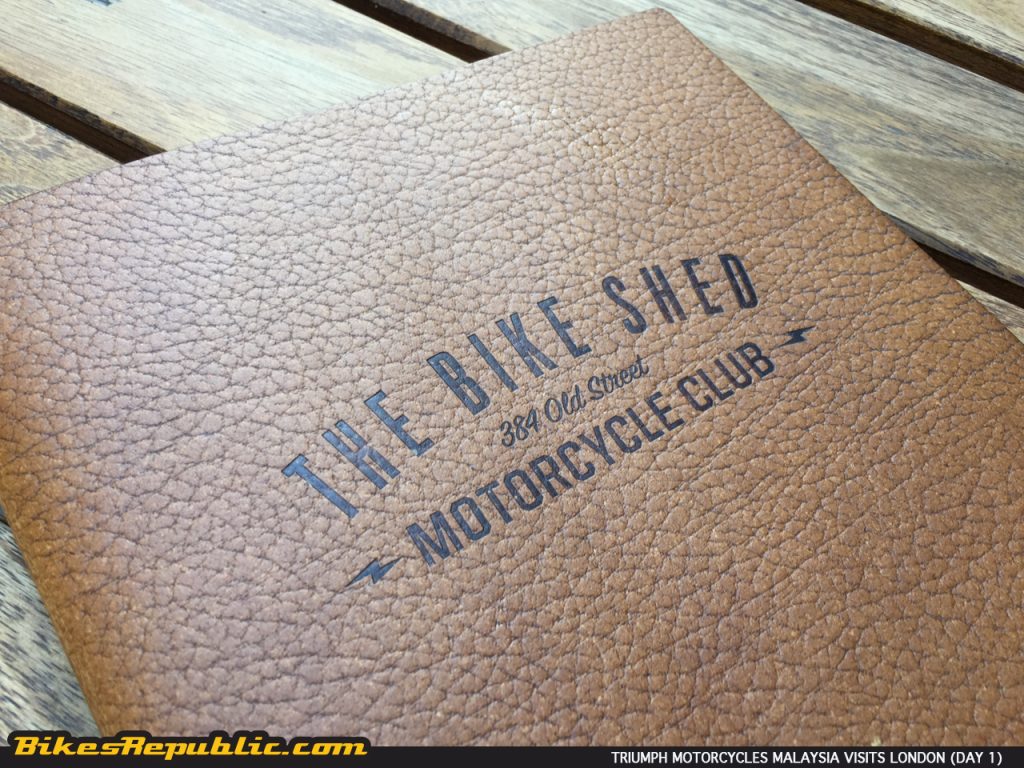 It was time to head to the Bike Shed.
We got back into the Tube station we came out of, took another train and walked the remainder of the way.
The Bike Shed café and restaurant is somewhat hidden from view as it is set in the four arches of a train bridge. The entire place rumbled as everytime a train passed overhead.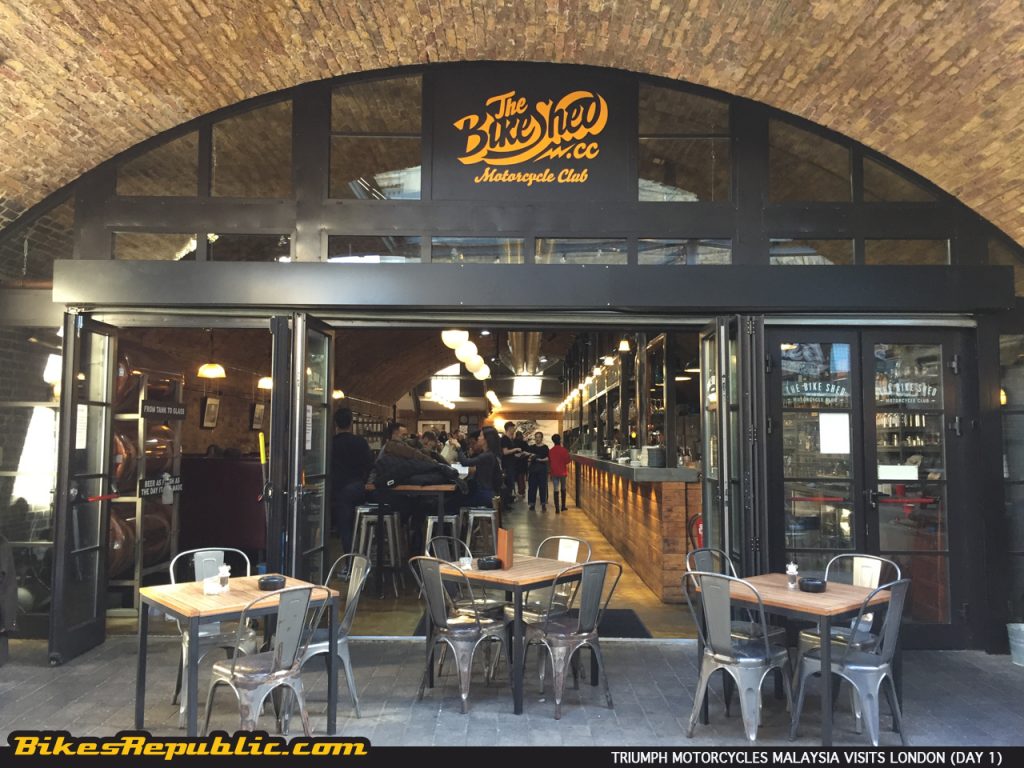 The four different spaces under the arches serve different purposes. The first, as we entered is the restaurant. They brew their own beer here. The Tan Family tried it said it was "fresh."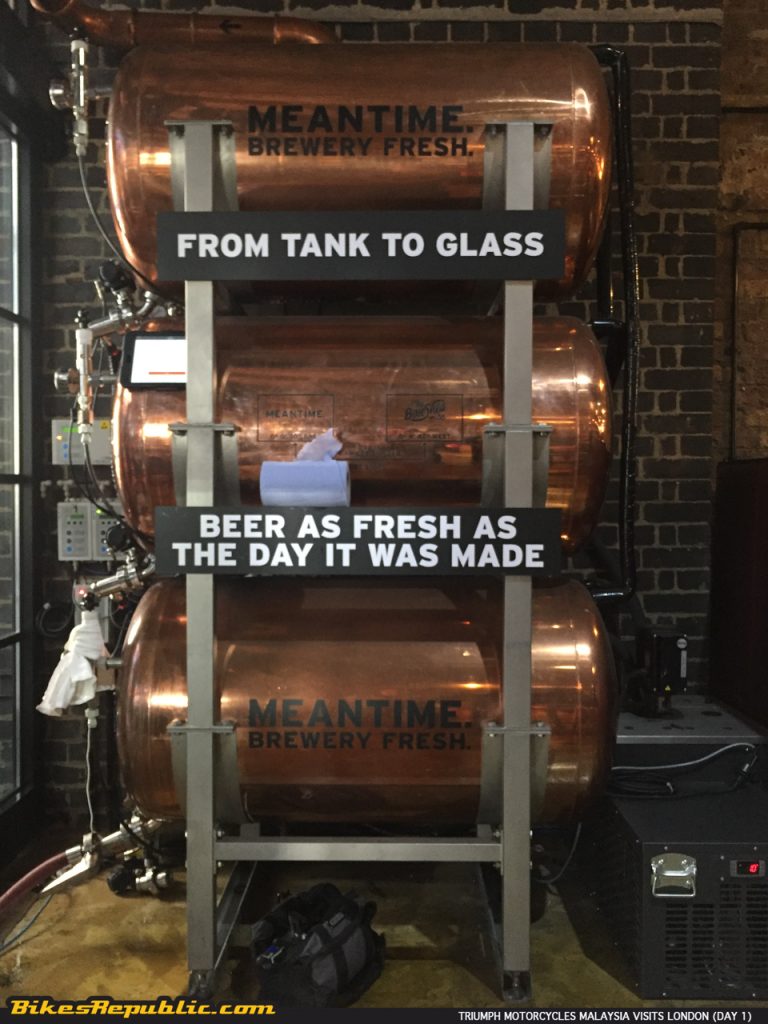 Next is the space for retailers where they sold everything from riding gear to souvenirs. Third in line is the exhibition and event hall. This is where builders could display their customized bikes. There was a Triumph Thruxton R, Speedmaster, Street Scrambler and a modified Thruxton dubbed "Hoxton."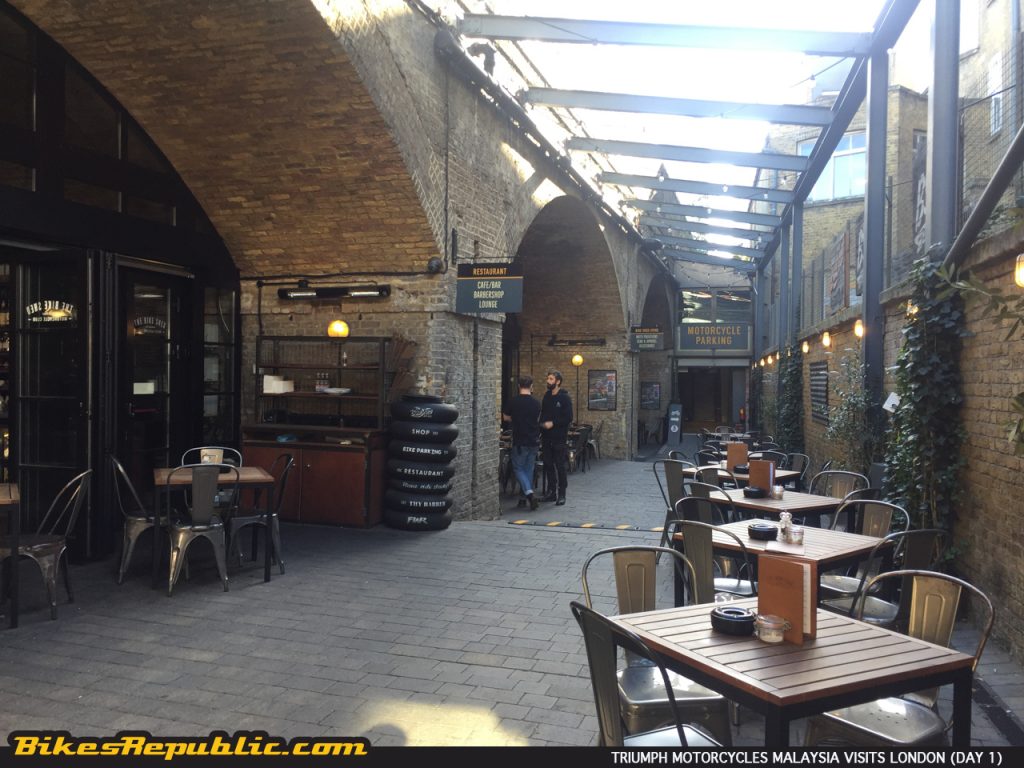 The fourth space is for motorcycle parking. That's right. Customers ride their bikes past the restaurant and open-air café to reach the parking and vice versa. A rider on a Triumph Street Cup rode out as we sat down for lunch. A couple of Zero electric motorcycles pulled in later.
OXFORD STREET
Time for some shopping. We caught a ride on London's iconic two-level red bus for this short trip. It turned out that riding the bus was the best way to see more of London as we're obviously above ground and not buried inside the earth.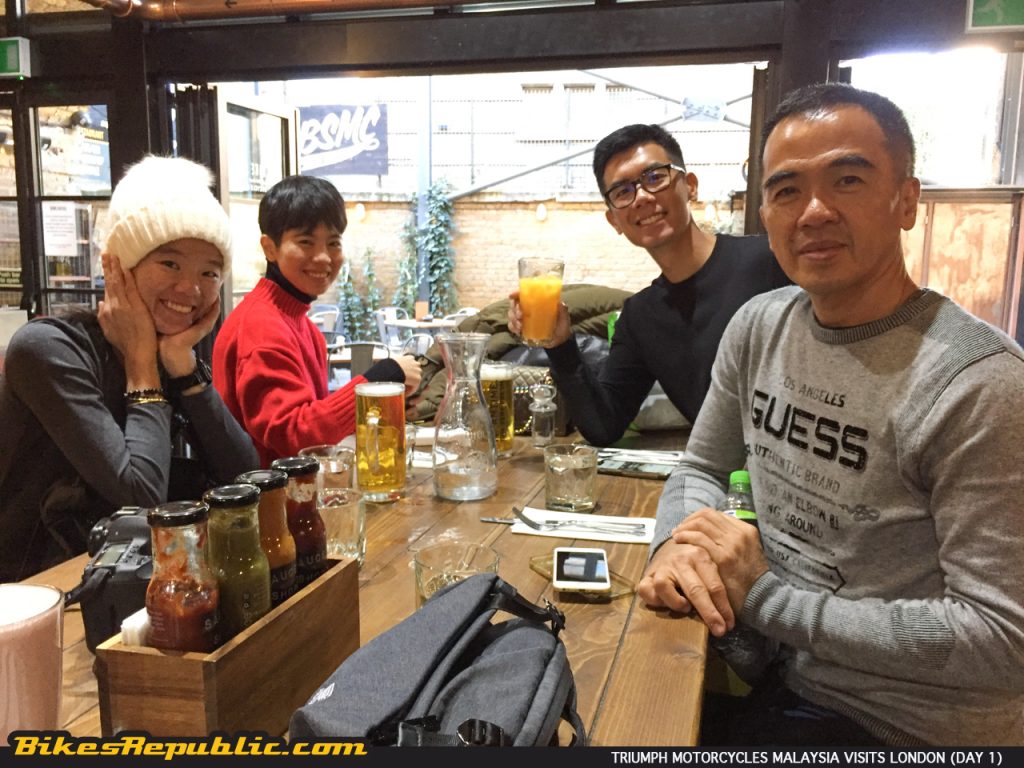 Oxford Street is one of the most famous shopping districts in greater London. It stretches 1.9-km West-East from the Marble Arch to Tottenham Court Road. You can find just about anything here.
There shops of familiar names such as Selfridges, The Body Shop, Sniggle, Zara, Ted Baker, Canada Goose, H&M, Uniqlo, Clarks, a huge Apple store and just everything. And all I bought were 3-for-£5 fridge magnets.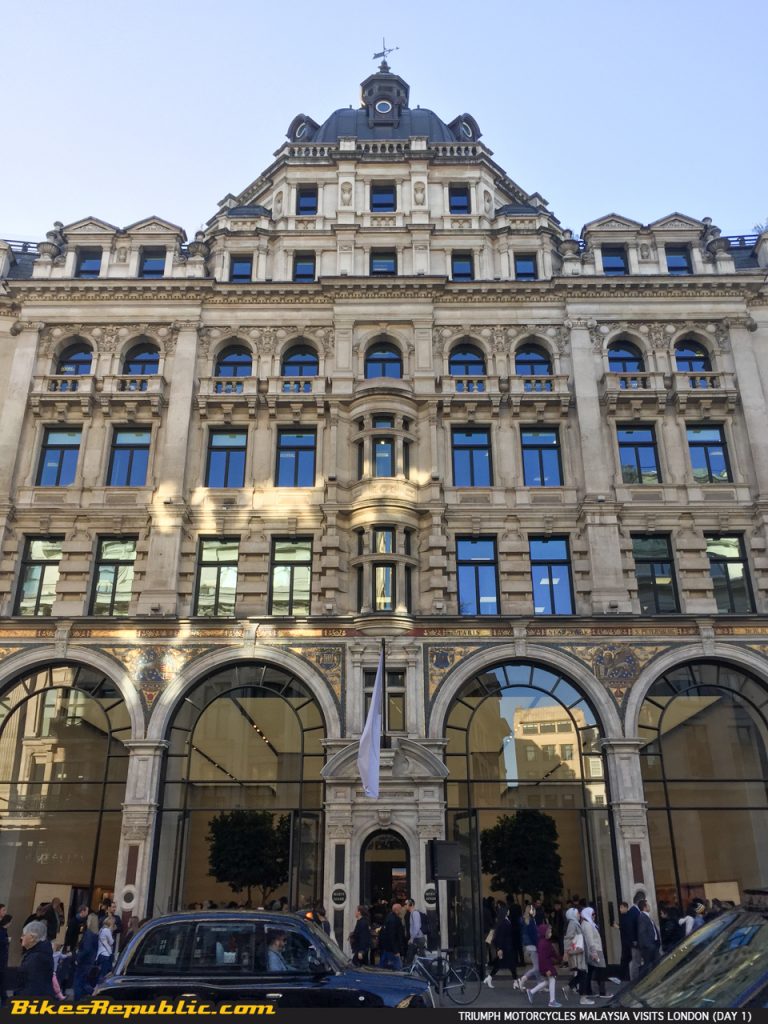 Impressive and scary at the same time was the human traffic, too, despite it being a Monday. There were just thousands of people thronging the sidewalks and inside shops, restaurants, and pubs.
It was all too much to take in. I was here, in (adjective) London, amazed at beautiful old buildings and impressed by the modern ones, while drowning in the crowds of people pushing past each other.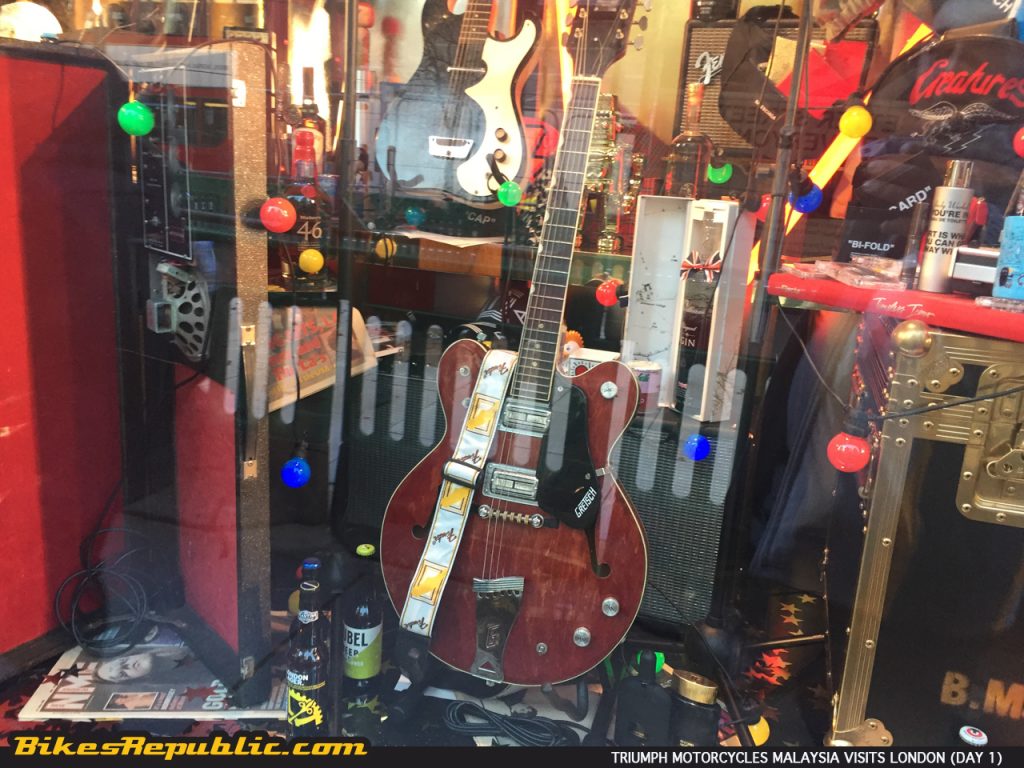 When Dato' and Rafique jumped into the Canada Goose shop, my mind hit an invisible wall of some sort so I decided to just hang outside and watch London go by. Newspaper peddlers stacked the evening edition at the entrance to Underground stations, yelling out the headline. Something about Brexit. A group of pretty young girls sang a hit song between giggles as they ran by. A couple of ladies talking loudly about their boyfriends. A guy swearing fluently into his phone while walking hand-in-hand with his partner. A few guys smoking around the corner while pulling their coats close. Friends smiling and laughing in a coffee parlor.
Honestly, I was quietly thankful for Dato' Malique and Rafique's guidance throughout the day. London was a maze and can quickly overwhelm any one. Dato' even gave me detailed instructions on how to get to the Speakers' Corner in Hyde Park the next day.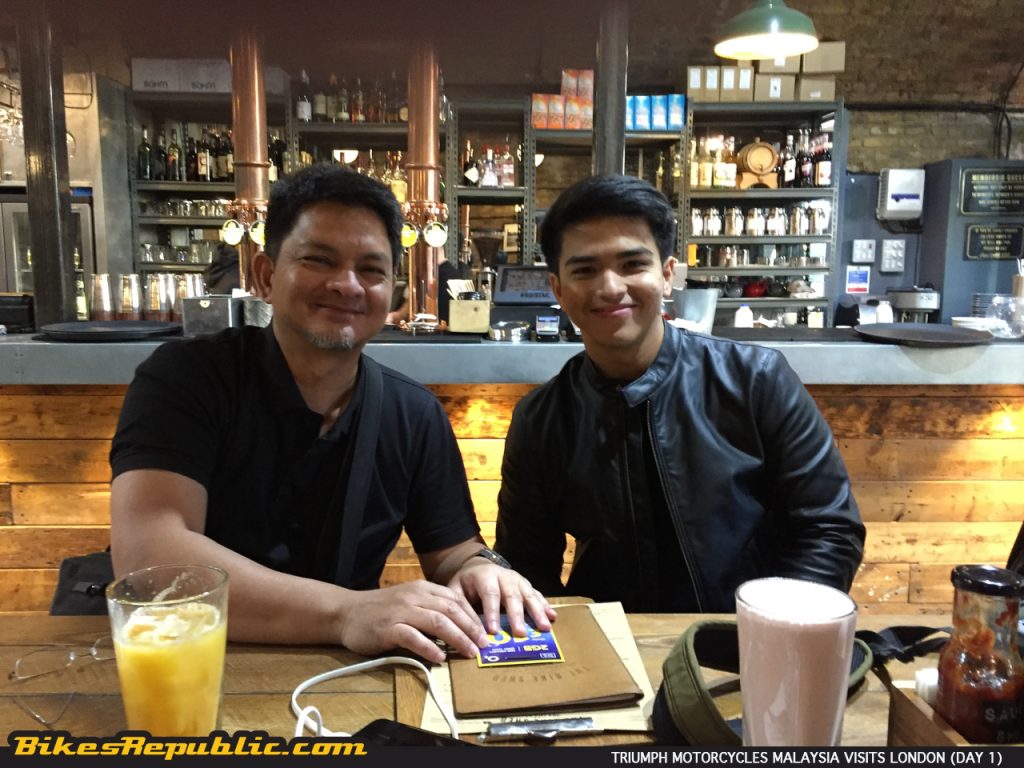 We then headed to a kebab shop for some grub. The plan was to head back to the hotel after that for prayers, but the Lebanese restaurant owners had an empty hall next door for that. Individual faith is very much respected here.
So, hanging onto Dato's coat tails, we headed to one last stop at Camden, before travelling back to the hotel for the Triumph welcome dinner for global distributors and dealers.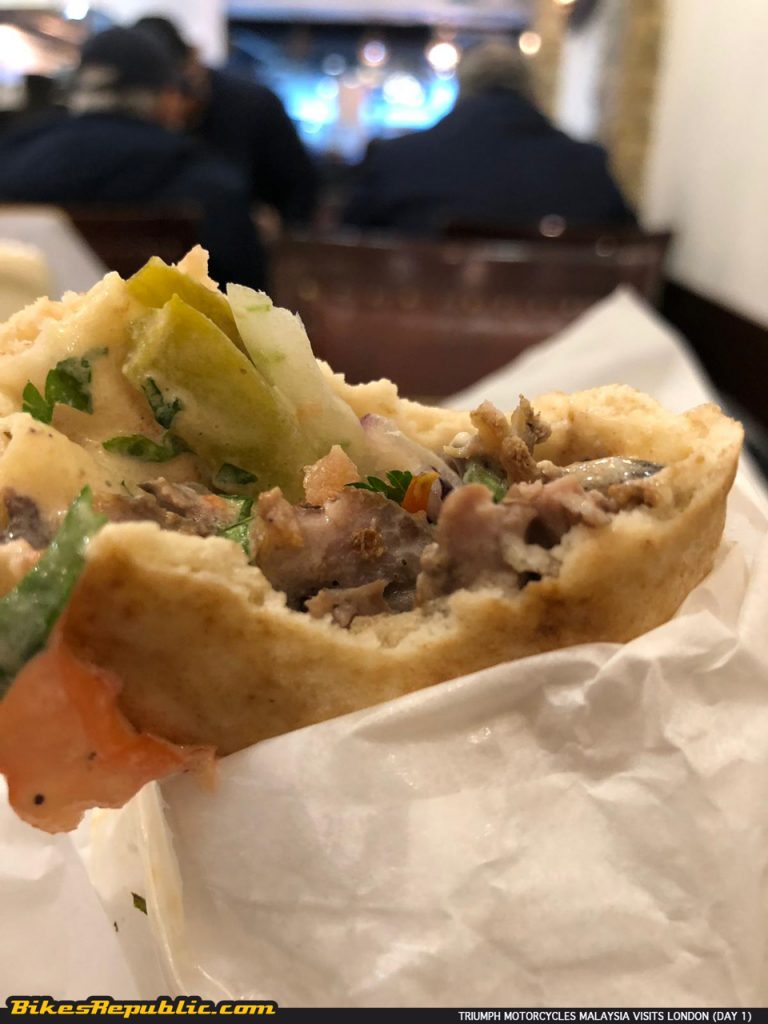 I called an early night as the Triumph Malaysia entourage will be visiting the Global Dealers' Conference tomorrow. That meant it was a free and easy day for me to visit some of London's greatest sights and experience the history that my late-father had taught me.