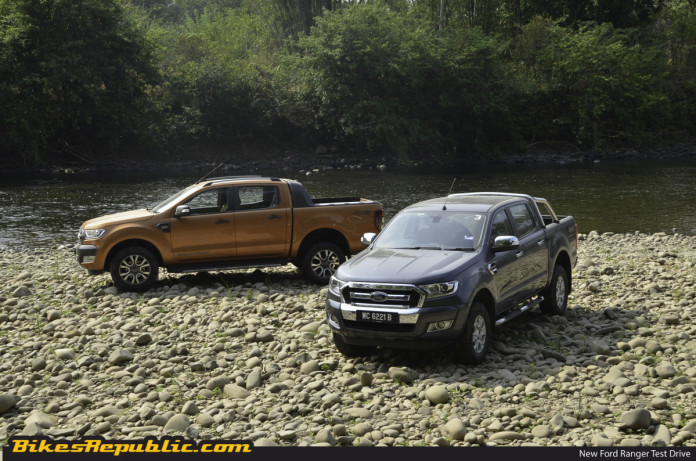 WHEN it comes to the pickup truck segment, very few come close to the pre-facelift Ford Ranger T6 model in terms of performance, capability and desirability. But of course, it did not take long before the mighty Japanese brigade caught up with the blue oval marque, leading to the launch of two new rivals for the Ranger in our market last year.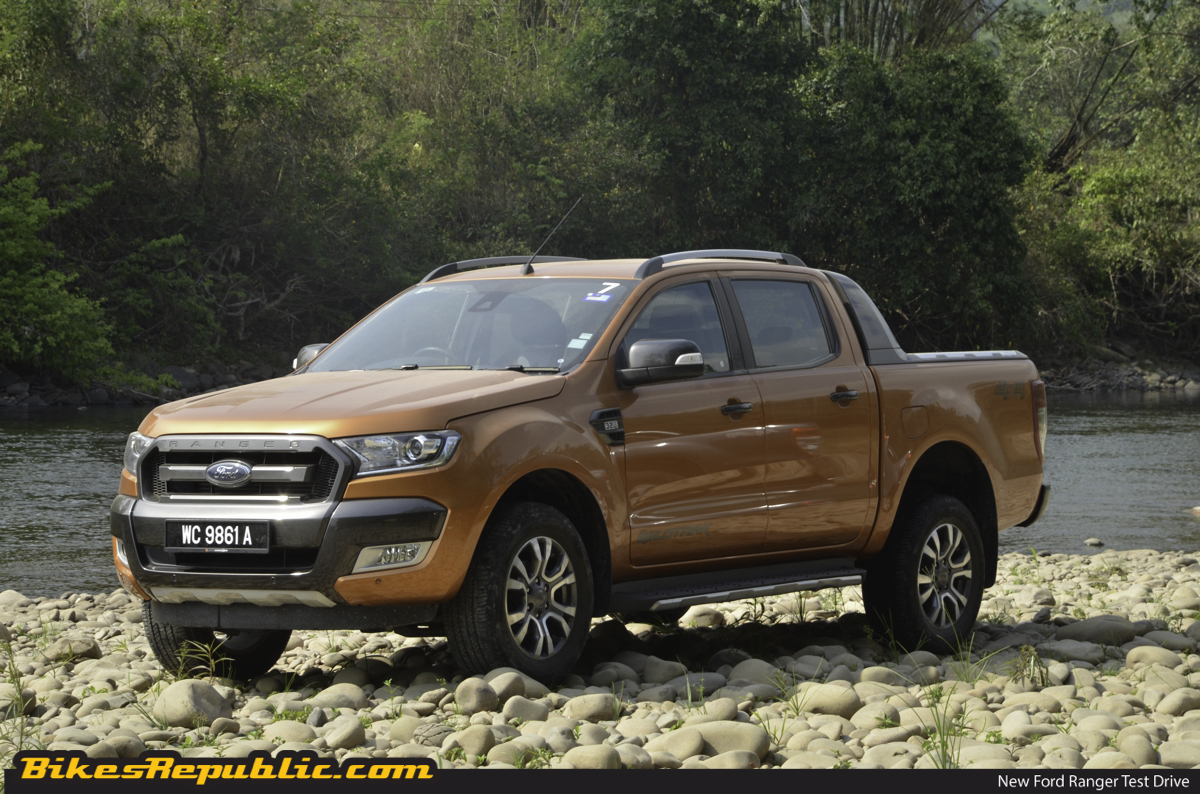 Ford rightfully answered back in October by launching its new and refreshed Ford Ranger range, and quickly becoming the hot favourite amongst the segment's buyers once again. We got to experience the new Ranger's full capabilities first hand recently in a specially organised two-day press drive across Sabah. Having cycled through several variants including the range-topping Ranger 3.2 Wildtrak, it was easy to see how this pickup truck won its place as a top favourite with many Malaysians.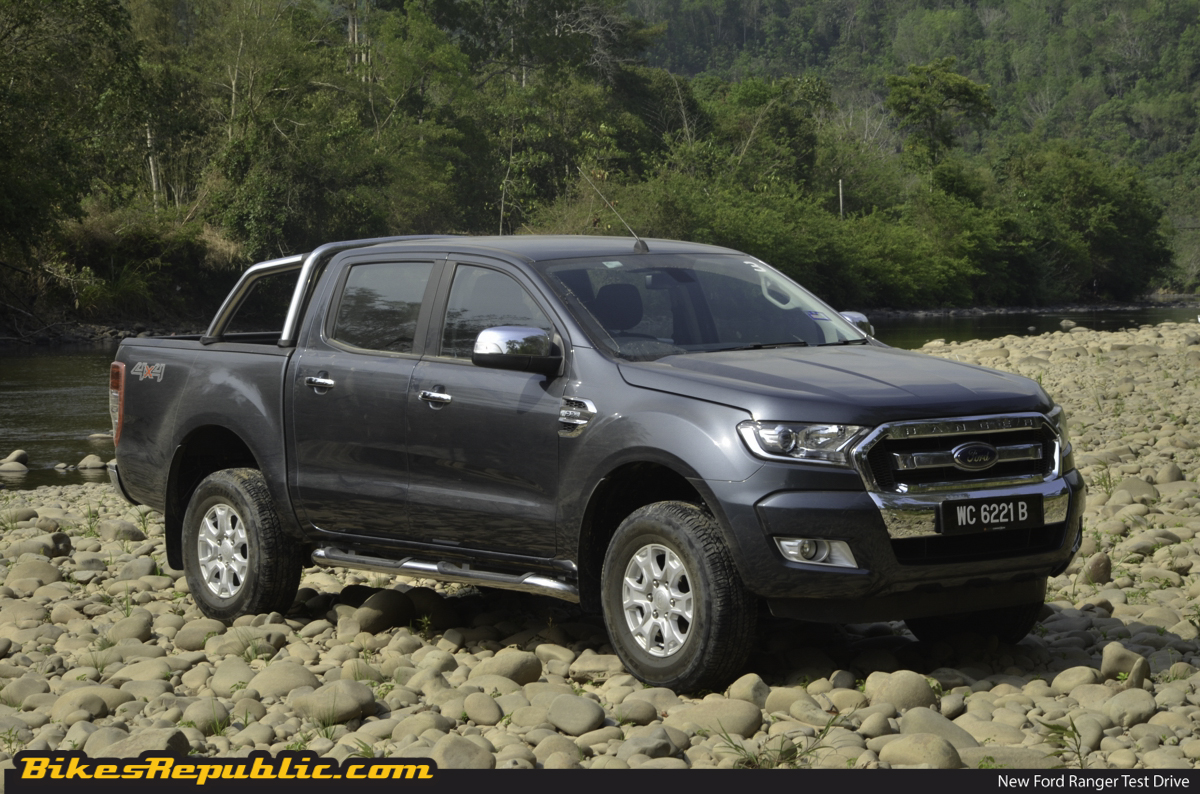 The most obvious visual change with this facelift model is its front fascia. Ford's designers have extensively redesigned its headlamps, grills, bumper and bonnet, resulting in the Ranger's bold new look that is both modern and tough. In either 2.2-litre or 3.2-litre trims, the facelift is boosted further thanks to use of shiny chrome in the grille, rear roll bar and rear bumper. Opt for the range-topping 3.2 Wildtrak instead and you get one tougher looking truck thanks to this variant's adoption of darker accents instead of chrome.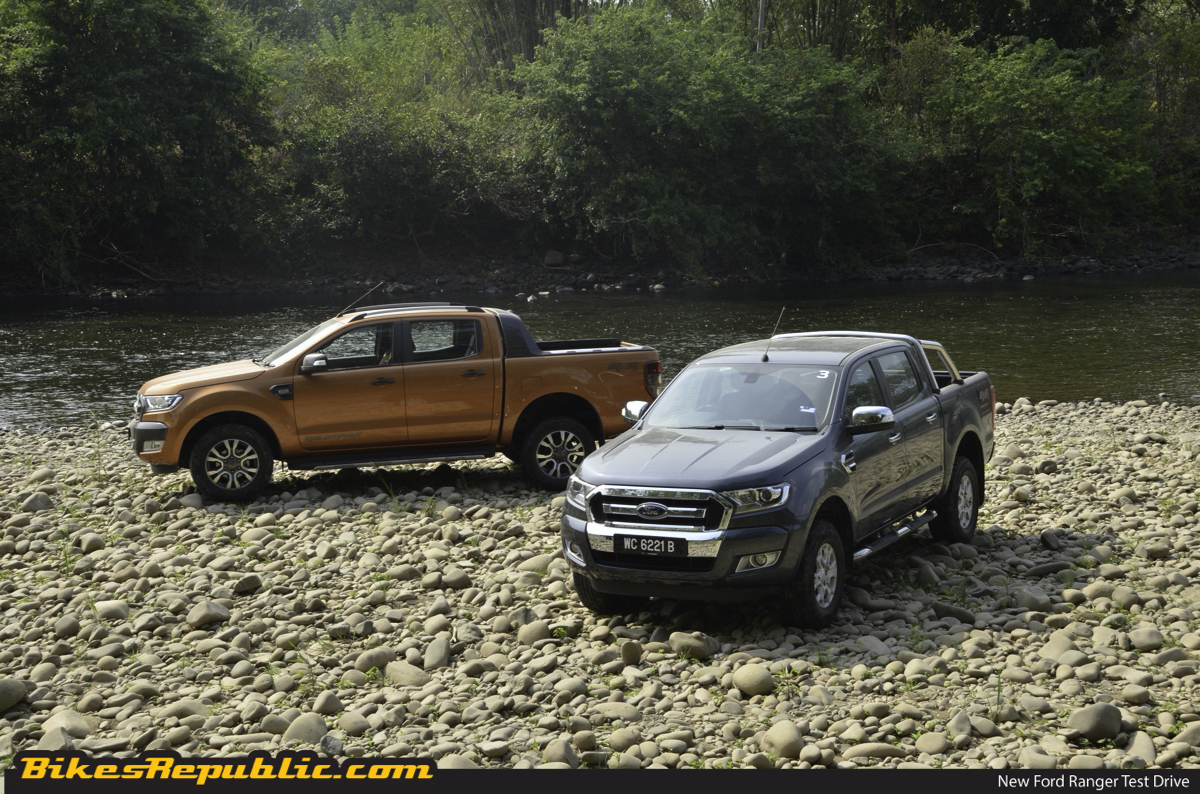 The most crucial of changes has been done inside, and this new Ranger's innards looks and feels just as good as it looks on the outside. Having spent most of our time in the range-topping Wildtrak variant, its offer of premium amenities makes it a true class winner here. Notable highlights here include the plush partial leather seats with driver side electric seat adjustment, not forgetting the new and intelligent 8-inch touchscreen infotainment unit featuring Ford's novel new SYNC II voice-enabled commands as well.
Things don't feel too bad either in the mid-range 2.2XLT variant despite the deletion of plush leather seat covers and the neat touchscreen. However, one aspect all variants particularly shine in is in the very low noise, vibration and harshness levels. Complementing that is the fact that Ford has also covered all the other basics perfectly in the lower-spec variants by having soft-touch materials lining the cabin in all the right places followed by the presence of a number of practical storage bins and cubbies.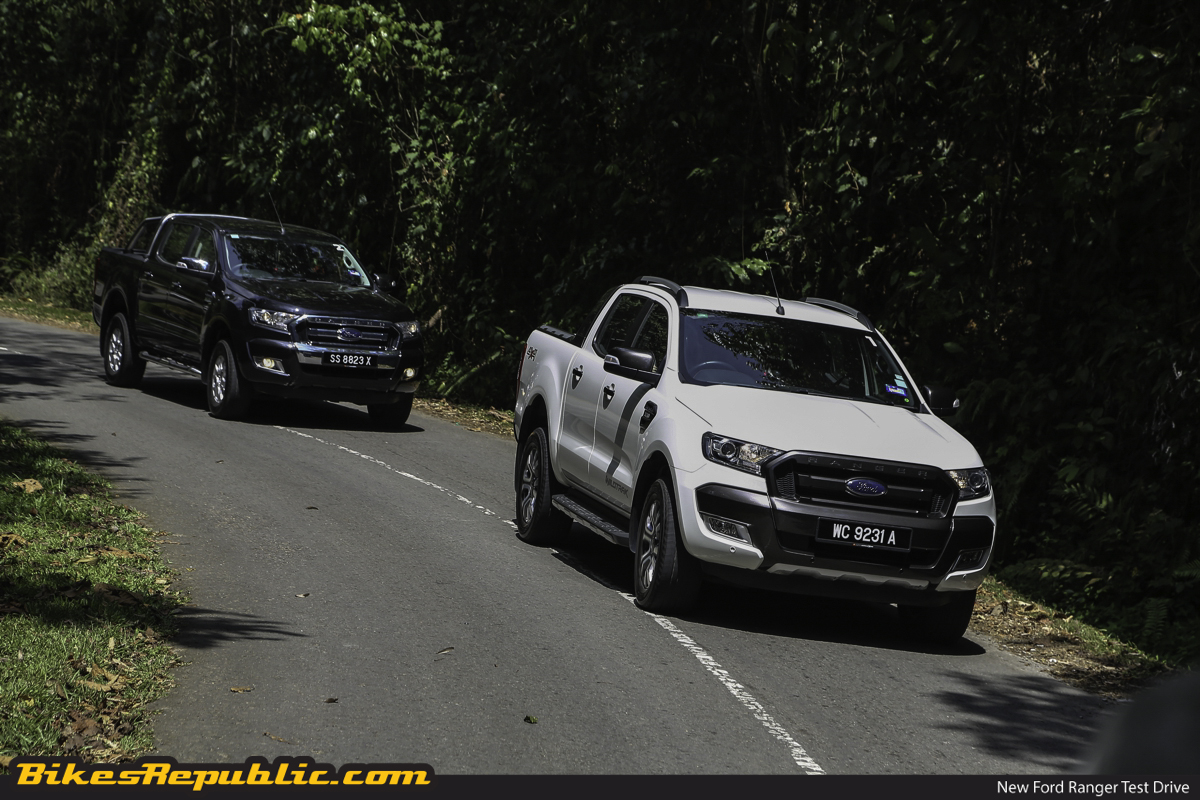 More importantly, this new Ranger drives just as good as it looks, with this face-lifted model's improved powertrain feeling a lot better than its predecessor. Ford claims a 12% improvement in fuel efficiency, but the important bit here is the increased power and torque figures both the 2.2-litre four-cylinder and 3.2-litre five-cylinder turbodiesel units. The same can be said about the six-speed automatic transmissions paired with either mills, feeling a lot smother in its operation than before as well.
What felt equally brilliant here was the Ranger's ride and handling. The new electric power steering has made the Ranger much easier to drive on road and on a daily basis as it is both lighter and more precise than the previous model's system. The icing on the cake here though lies in the suspension and damper setup. Though it is the typical pickup truck setup of high-travel double wishbones up front and leaf springs in the rear, the dampers felt sublimely soft as it soaks up bumps and road imperfections effortlessly. And that comes without compromising too much on the Ranger's off-road usability – a trait we discovered whilst enroute towards the Kinabalu National Park across both gravel paths and asphalt roads.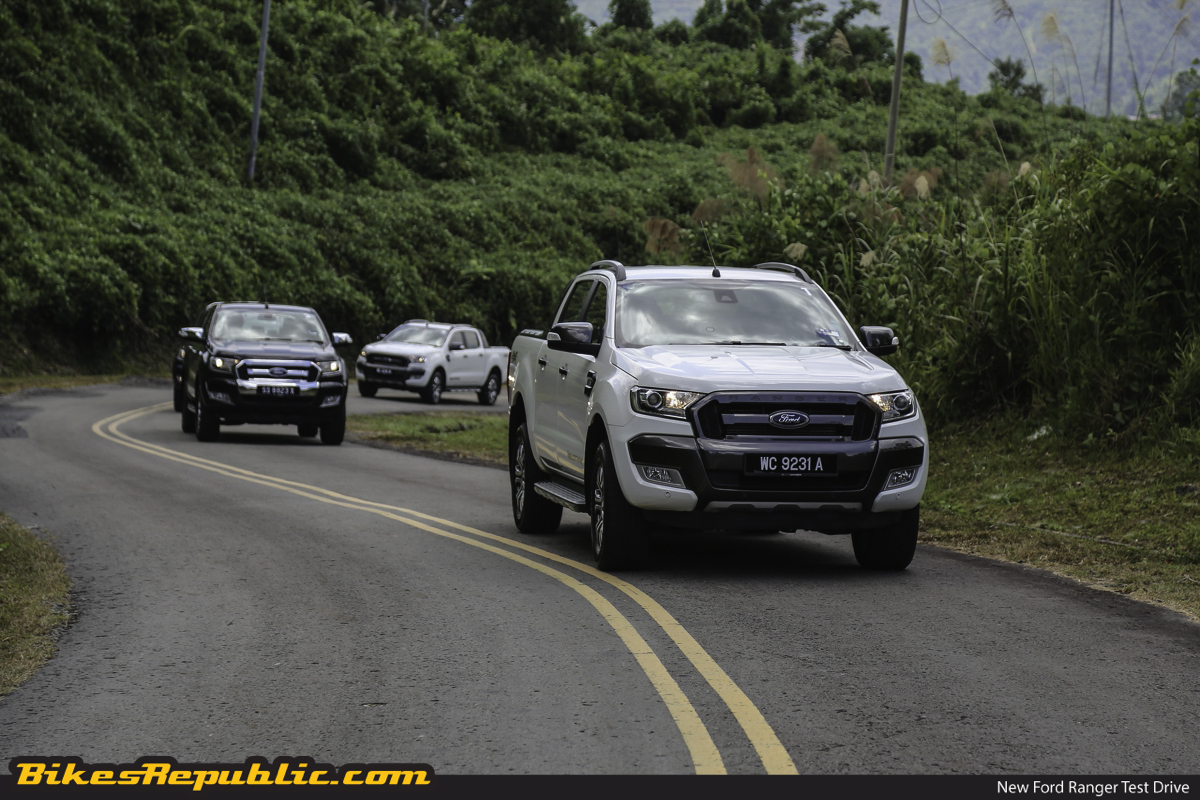 Do not let the high on-road comforts fool you, the Ranger is still a highly capable thing when taken off the beaten path. Engaging its four-wheel-drive modes is as easy as turning a knob and takes just a few seconds. Whether you want to conquer a steep near-30-degree hill covered in dirt, gravel or mud, or perhaps cross a rocky river stream whilst wading water levels up to 800mm, the Ranger can truly tackle the rough stuff. Much of these capabilities are fuelled by features like Hill Descent Control, Hill Start Assist and Roll Over Mitigation that is primed across all variants – even in the basic 2.2XL MT.
What really is a game changer is the advanced new active and passive safety features primed in the range-topping 3.2 Wildtrak. Highlights here include Lane Departure Warning and Assist, Forward Alert and Collision Mitigation system, as well as a Distance Indication Alert. Having tested all three features on the road whilst enroute back to Kota Kinabalu city, we can safely report that the revised Ranger 3.2 Wildtrak stands as the safest pickup truck money can buy in our market currently.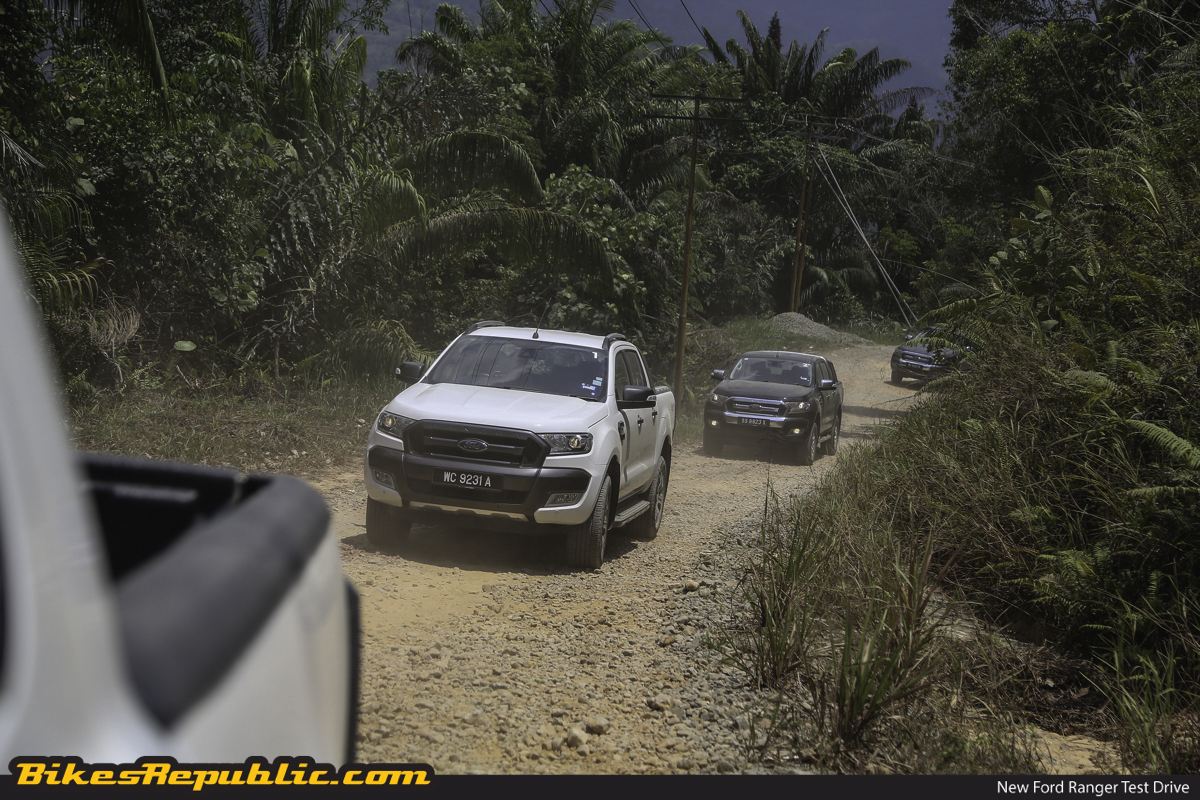 In a nutshell, the new and face-lifted Ford Ranger range has properly defended its title as the segment's best. Offering better on-road drivability and comforts, unbeatable off-road capability, as well as becoming safer and smarter than ever, it is easy to see why distributor Sime Darby Auto Connexion (SDAC) are dealing with the good 'problem' of demand outweighing supply with the Ranger amongst Malaysian buyers, resulting in a long waiting list the firm currently holds.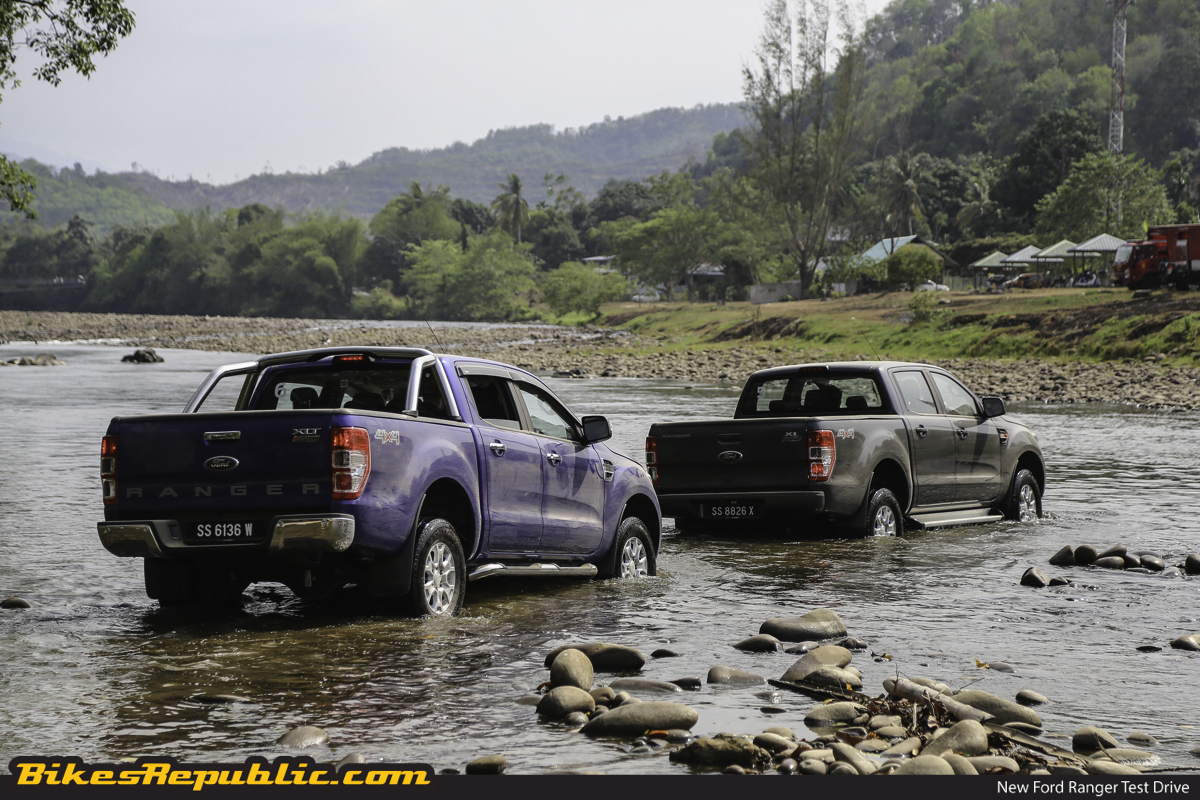 Besides the subsequent waiting period, one only needs to deal with another challenge, and that is meeting the Ranger's princely asking prices. Things start from RM91,588 for the base Ranger 2.2XL MT, from RM109,688 for the Ranger 2.2XLT AT, and from RM119,238 for the Ranger 3.2XLT AT. Capping things off is the Ranger 3.2 Wildtrak which, with all its added safety features and premium amenities, commands a starting figure of RM137,488 instead.
Though steep, the improved new Ranger's outstanding capabilities, comfort and full spectrum of safety features are worth every single penny it rightfully commands. Said prices include SDAC's offer of a three-year or 100,000km manufacturer's warranty for added peace of mind.
2016 Ford Ranger 2.2
ENGINE

2.2-litre turbocharged
in-line four-cylinder
TDCi diesel

OUTPUT

158HP @ 3,200RPM
385Nm @ 1,600RPM

TRANSMISSION

6-speed manual
6-speed automatic

PRICES (OTR without insurance)

RM91,588 (2.2 XL MT)
RM101,388 (2.2 XLT MT)
RM108,788 (2.2 XLT AT)
 2016 Ford Ranger 3.2
ENGINE

3.2-litre turbocharged
in-line five-cylinder
TDCi diesel

OUTPUT

197HP @ 3,000RPM
470Nm @ 1,750RPM

TRANSMISSION

6-speed manual
6-speed automatic

PRICES (OTR without insurance)

RM110,888 (3.2 XLT MT)
RM118,388 (3.2 XLT AT)
RM132,188 (3.2 Wildtrak AT)
Gallery