Sights and sounds from the inaugural KTM 390 Duke Battle Malaysia Grand Finale races held last weekend in the Sepang International Circuit.
The first ever KTM 390 Duke Battle Malaysia one-make challenge came a climactic and surprising conclusion during its Grand Finale races last weekend. As always, the series was held as a support event to the weekend's KBS-MAM Kapcai Endurance Series that held its Grand Finale last weekend as well.
Two races were held, one on Friday after qualifying and practice, followed by a second race on Saturday afternoon just before the KBS-MAM Kapcai Endurance Series race. This time round, 16 participants, comprised of top two winners from the previous seven state-level rounds plus one special media race, all vying for the crown challenge's crown and grand prize.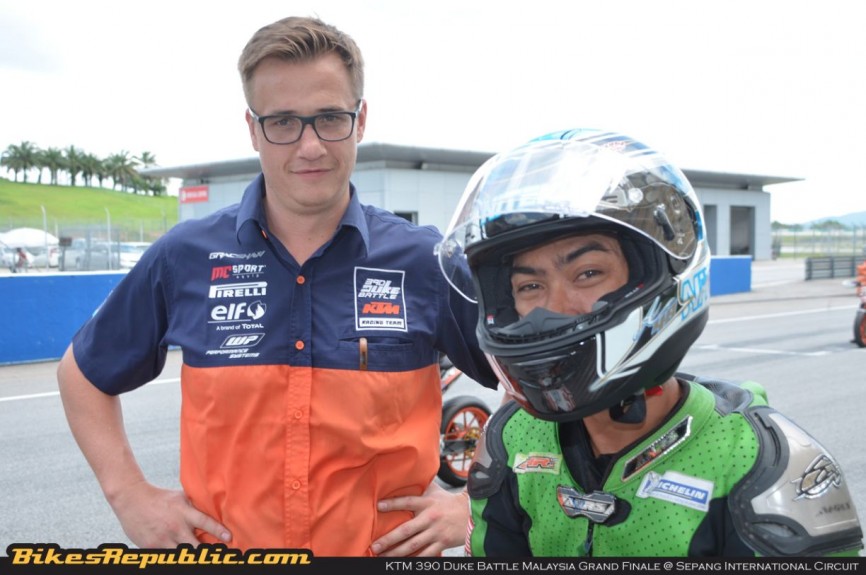 Up for grabs is the grand prize of a brand new KTM 200 Duke (non ABS) naked bike, followed by a RM2,000 KTM PowerParts and PowerWear voucher for the runner up, and a RM1,000 KTM PowerParts and PowerWear voucher for the second runner up. More importantly, the weekend's winner will claim the title as the first ever KTM 390 Duke Battle Malaysia champion.
To make things even more interesting, our friends at KTM Malaysia CKD took some time last week to retune their fleet of 390 Duke Battle bikes for the 5.5km-long Sepang International Circuit. From what we understood, the bikes have been re-optimised for the long circuit, having its sprocket and suspension settings altered slightly for Sepang's full course. Though each race lasted just 7 laps each, it proved to be a perfect incubator for some action-packed and close racing action.
Race 1 on Friday was made even tougher following a late-afternoon thunderstorm. Nevertheless, all 16 riders took to the grid for what would become a very intense first race of the weekend.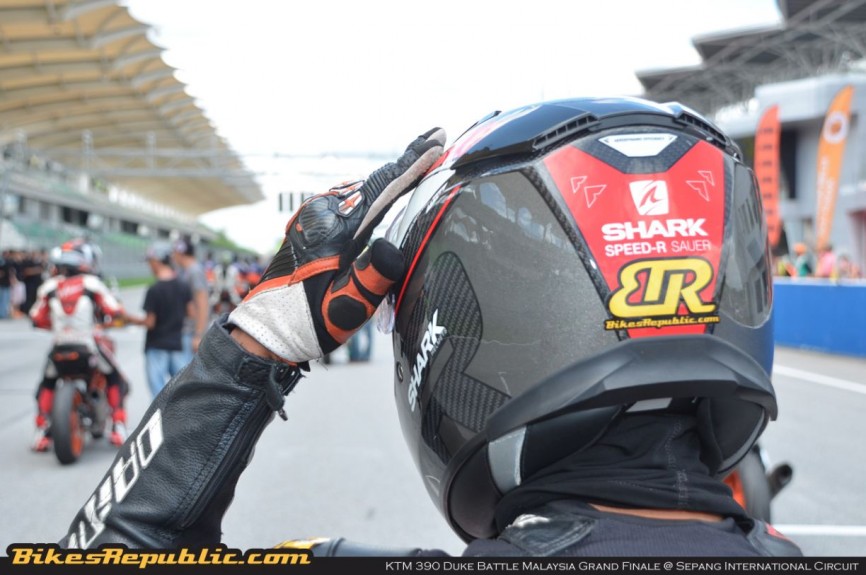 Winning the first race was rider Mohamad Kanafi Kamarudin, with seasoned semi-pro Abdul Wafi Bin Hassan taking second just 2.623 seconds behind. Rider Muhammad Imran Zulkafli claimed the final podium spot.
Race 2 on Saturday afternoon was held under perfect weather conditions, but the racing intensified further here. Whilst Race 1 had no riders crashing out, Race 2 saw riders Mohd Hanif Zakariah and Muhamad Ariff Rosli crashing out on lap 6 and lap 5 respectively – a real shame given their top performance in the lead pack during the race.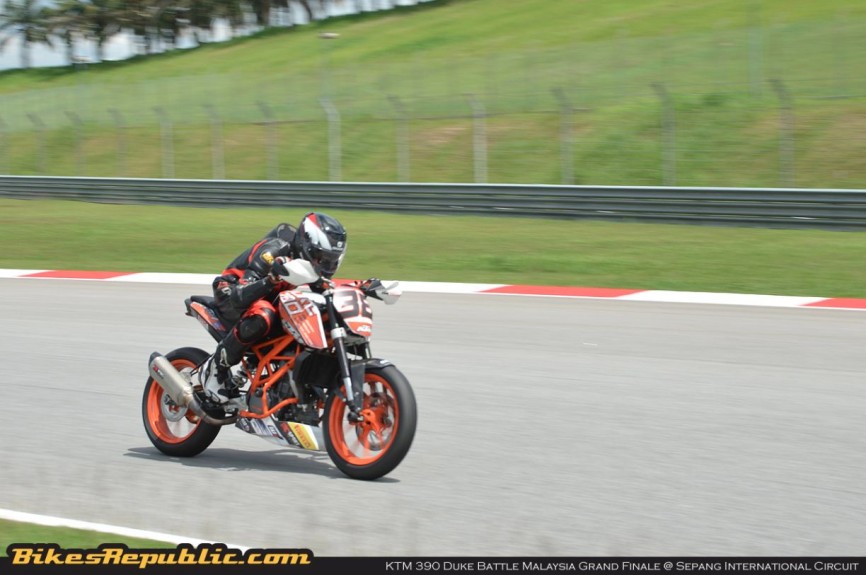 Mohammad Khairi Zakaria claimed victory in Race 2 instead. Just 0.101 seconds behind in second was Muhammad Imran Zulkafli, whilst the final podium spot as claimed by rider Vinod Dhanabala Singham with just 0.139 seconds separating him and winner Khairi.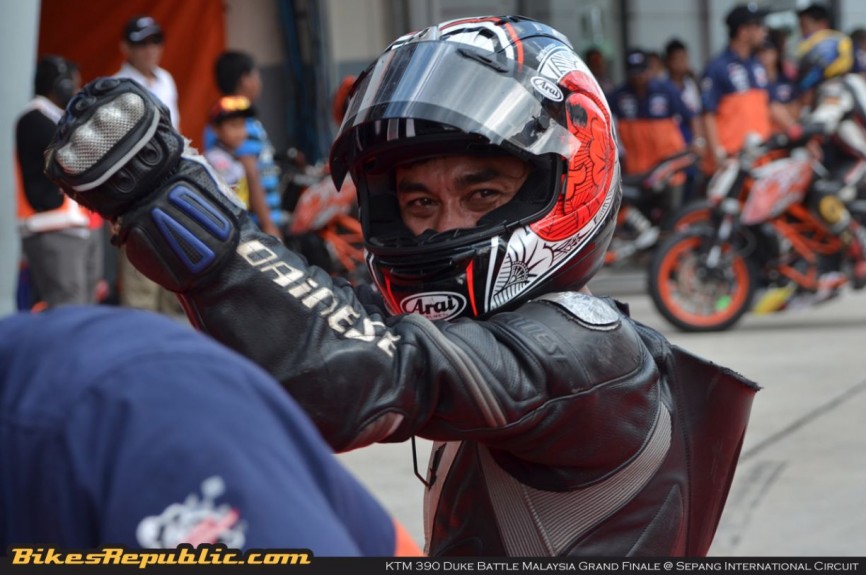 With his double podium and closest rival Wafi faltering, the overall win was claimed by non other than Muhammad Imran Zulkafli. Fondly addressed as 'Uztaz', the holy man and hobby rider initially couldn't not believe that he won the title as the first ever KTM 390 Duke Battle Malaysia champion.
"I did my solat hajat just before the race and Alhamdulillah, this was the result Allah granted me with. I am very grateful," said the 30-year-old Kedah native. Imran's journey towards the title began after he took second overall in the series' second round held in his home state earlier this year.
Shortly after the podium ceremony, a small hand-over ceremony was held on the podium where Uztaz Imran received the KTM 200 Duke naked bike grand prize from KTM Malaysia CKD executives.
The celebrations also continued for riders Vinod Dhanabalan and Muhammad Fairuz Zain Salleh. Despite missing out on the podium finishes, Fairuz Zain was took third overall for the weekend based on the points he collected from finishing 5th in Race 1 and 4th in Race 2. Vinod, on the other hand, took second overall after finishing 4th in Race 1 and 3rd in Race 2. Both Vinod and Fairuz came home with KTM PowerWear and PowerParts vouchers worth RM2,000 and RM1,000 each.
Full results can be viewed in the gallery below, as well as more pictures from the weekend. Don't forget to check out our report of the KBS-MAM Kapcai Endurance Grand Finale as well held during the weekend.
KTM 390 Duke Battle Malaysia Grand Finale 2014 @ SIC