While it may be a little too early, we spend time with our seven heroes in the Shell Advance Asia Talent Cup to see how they are coping up in the series.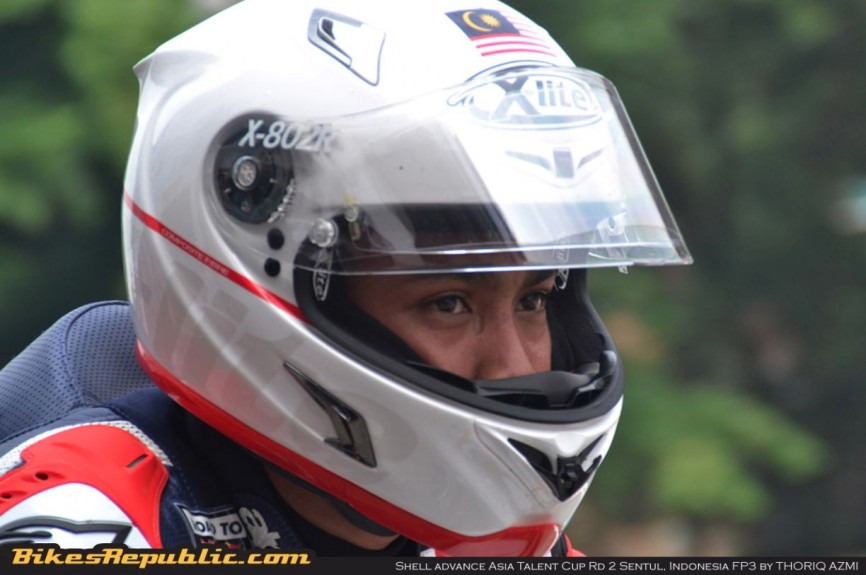 We are almost two races in with the inaugural Shell Advance Asia Talent Cup (Shell Cup) and our seven national riders competing in it have an uphill task ahead of them. Not only are these young kids carrying our beloved flag adorned on their helmets and race bikes, they do in fact have certain targets to meet in the series in order to progress further towards achieving their MotoGP dreams. And after speaking with the boys earlier today post qualifying here's what is heavy on their minds when competing abroad.
Shafiq Ezzariq: "All the travelling is fun, and the chance for us to go to places like Qatar and Aragon is indeed a privilege. But we constantly remind ourselves that we are on a mission, and our accompanying dads also remind us about it."
All seven travel together as a group from race to race, together with several of their dads who accompany and supporting them as mechanics (referred to as helpers) in the garages. After their performance in Qatar, the challenge laying ahead of them became absolutely clear and starting from the second round in Indonesia, the boys shared with us some of the solutions they devised with their parents in order to meet the challenges.
Shafiq Ezzariq: "We started holding our own riders' meetings just among us Malaysians in the hotel at the end of each day. Together with our dads, we discuss the race weekend Here, we also discuss a broad range of things including setup, riding style, as well as a little bit of coaching whenever possible."
The boys also shared that in their most recent discussion, which lasted several hours, they've dissected their performance gap against the highly competitive Japanese riders on the Shell Cup grid, analysing what is lacking and what needs improving altogether.
Fakhrusy Rostam: "The Japanese clearly have the advantage here as most have raced these sort of bikes for at least two years in their own domestic series. I hate to admit it, but the differences between our experiences and skills against them are very drastic. "
If you don't already know, most of the seven previously have only raced in underbone racing series such as Cub Prix and KBS-MAM Kapcai Endurance while few such as Shafiq Rasol have only ever raced something as big as the Ninja 250 Cup race bike. Clearly, and from what we understood from the boys, the learning curve presented to them is undoubtedly a very steep one. One does not simply jump from a Cub Prix bike straight onto a Moto3 bike with relative ease.
When asked about how they were planning to overcome this, Fakhrusy was eager to share that the some of them wanted more time on a Moto3 equivalent bike. "We definitely need more training with the bike (Honda NSF250R). It is something I think we strongly need to figure out." The boys made it clear that they unanimously wanted at least a week with a bike similar to the Shell Cup's Honda NSF250R in order to get to grips with the strong pace the Japanense riders are showing.
Rider Ibrahim Norrodin on the other hand shared with us some of the immediate steps the team have already taken up. "The first thing we agreed upon was to stay united. All seven of us have committed to stay together, regardless of the situation. Even our dads that accompany us here play a key role in helping us with this." On that note, both Ibrahim and Fakhrusy reassured that the team is not de-motivated in any way, but more eager to keep the fight going and continue learning.
But if there is one constant amongst them, they never miss a beat when it comes to maintaining their physical fitness, clocking plenty of overtime in hotel gyms wherever the Shell Cup takes them. Unsurprisingly, Shafiq Ezzariq, Shafiq Rasol, and Nazirul Bahauddin all go for training together and practice similar regimes. Nazirul Bahauddin added, "The three of us put time in the gym whenever we can after each dinner during a race weekend. What we focus strongly on here are our arm strength, jogging on the treadmill, and our upper body strength."
From what we observed, the will and drive amongst our Malaysian riders here in the Shell Cup are still very much alive and in overdrive. The boys have got a difficult path to chart ahead of them, and they still have five more races (including this Sunday's) this season to prove their mettle.
We reckon that the only thing needed in their recipe for potential success is perhaps more support from more Malaysians in their current endeavour.