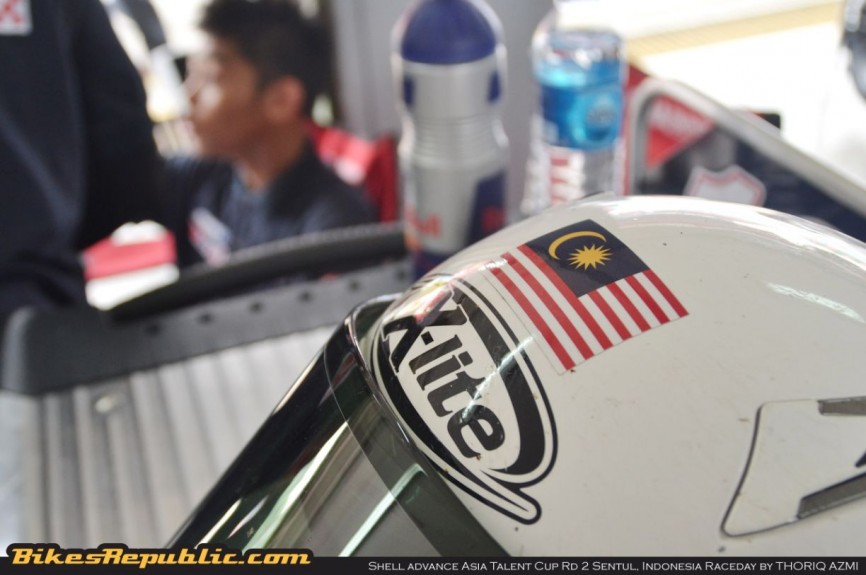 We caught up with all seven Malaysian riders for a few minutes just after their race earlier today before they jet off back home, garnering some of their thoughts after what seemed to be a trying weekend.
Team Malaysia's outing earlier today in Indonesia for the second round of the Shell Advance Asia Talent Cup (Shell Cup) wasn't dismal, yet it wasn't what the boys had hoped for either. Of the seven, only Ibrahim Norrodin crashed out on lap 8 while the pint-sized Cheras native Helmi Azman was the only one to make in the top 10 with his 9th place finish.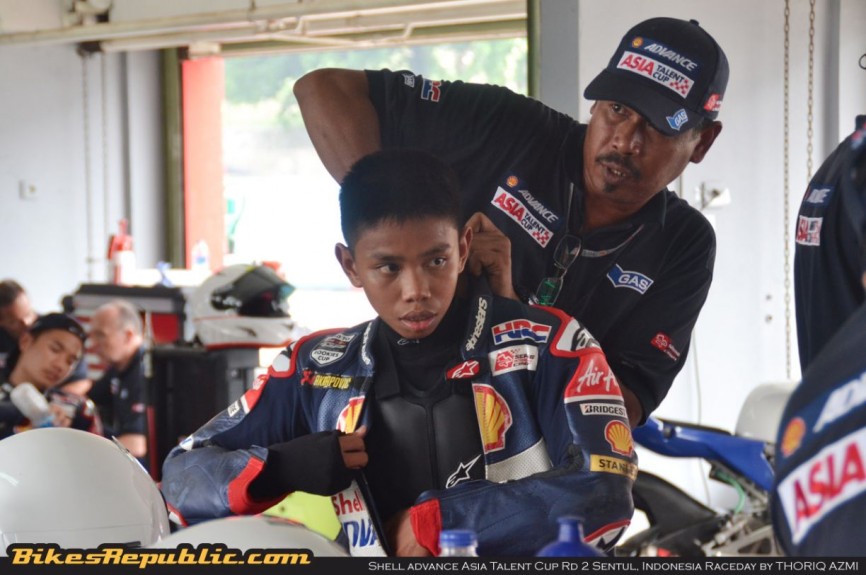 Helmi Azman: "At first, I struggled after making a bad start and dropped down the order into 15th by the first corner. I kept fighting hard and started chasing the rest of the field then. I gave it my all in the final lap, which resulted with my ninth place finish."
Despite a good start, Fakhrusy Rostam, who was the best qualifier amongst the seven, suffered from an issue with his bike's sprocket. "I had the perfect start but by things didn't go too well after. The race was quite tough for me with the bad sprocket, so I got left behind by the second corner. I had good corner exits but the bad sprocket impeded my bike's power delivery to keep up. After discovering this, I adapted to the situation and decided to try hard and maintain my position."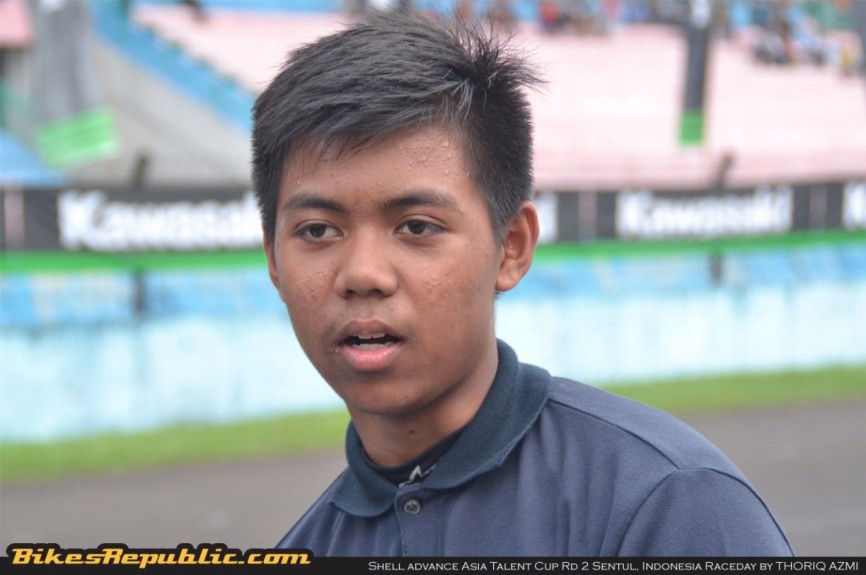 While showing good pace all weekend and out-qualifying his older brother Adam, Ibrahim Norrodin showed some excellent riding on track up until his crash that is. Describing his race, the former series reserve rider said "Starting from 13th, I also had a less than perfect race start. I began pushing hard from the start and was already in sight of the grid's second group and into the top 10. But by the fifth or sixth lap, I had to deal the other rider's aggressive advances. The pressure eventually led to me high-siding myself and crashing out of turn 6."
Clearly, Ibrahim was disappointed as this was his second DNF in two races. But it has to be noted that since starting out initially as a reserve rider, his training and mileage on the Shell Cup's Honda NSF250R isn't as extensive as the rest of his compatriots. But his performance from Friday practices and Qualifying clearly showed he can keep up with the rest of is teammates.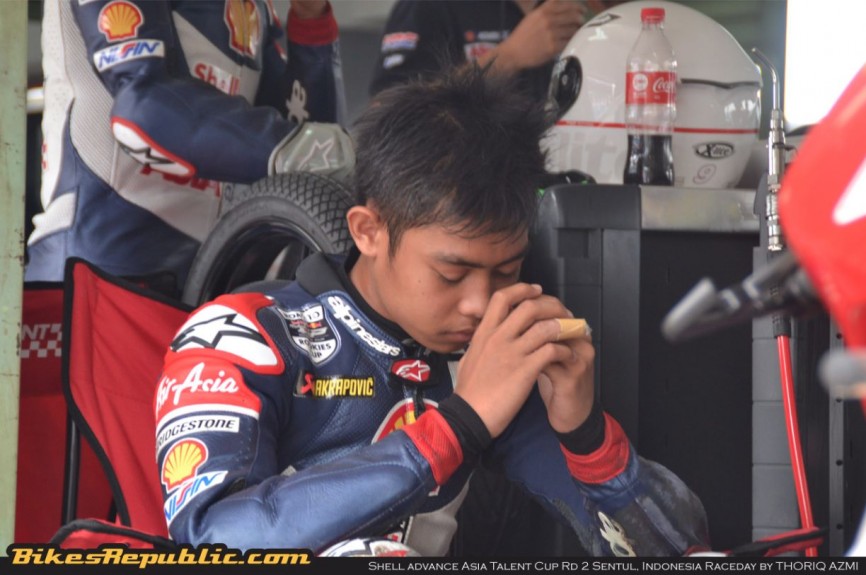 Adam Norrodin stated that he had a good start from his 19th place on the grid, moving up the grid to finish in 15th. "I was right behind Ibrahim by lap 2, but by lap 3, one of the Japanese riders overtook me and then braked hard into a corner, which led to our bikes touching at the tyres and I went off into the gravel. Fortunately, I didn't fall and I could still continue, but my RPMs were too low to power out of the situation. At this point, I rejoined the race with Nazirul and Shafiq Rasol and decided to just keep up with both of them from then on."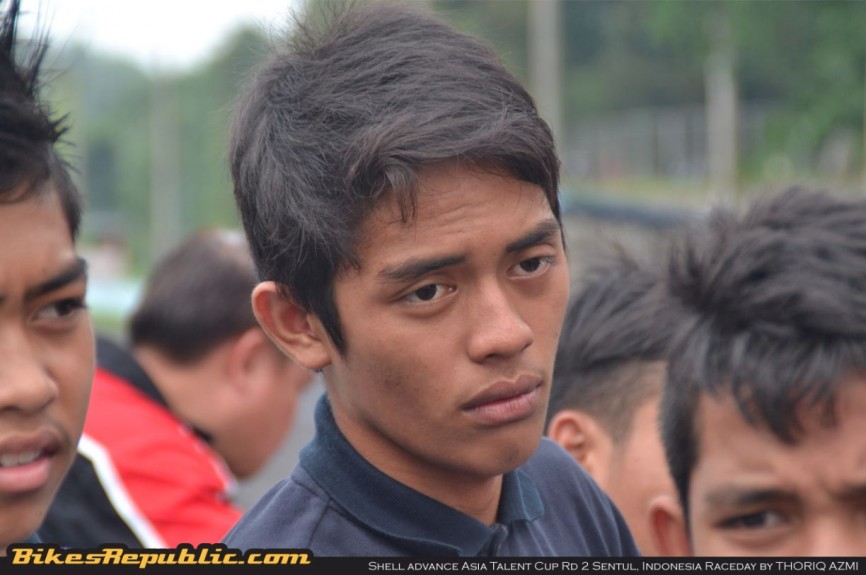 Shafiq Rasol, who had shown promise in practice sessions, started from 12th dropped down the order to finish in 16th. Shafiq shared with us that a last-minute setup change led to him having an unfamiliar bike to race with. "Prior to the race, the crew swapped by rear absorber for a new one and the sprocket as well in the process. But it didn't feel right compared to my setup from yesterday and I struggled in the race to keep up."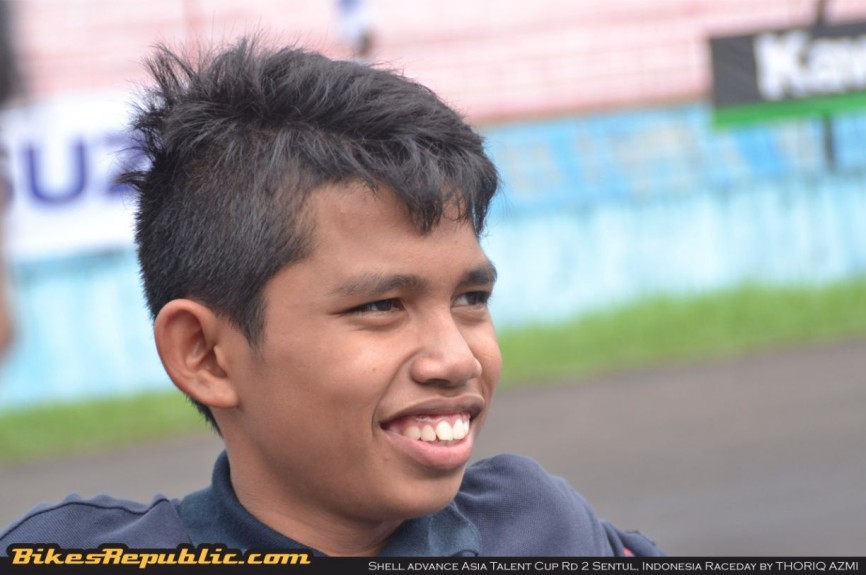 Nazirul Bahauddin was quick to apologise to Adam Norrodin after race for the unintended roughness during the start where both bikes touched. "I over-revved at the start and in the heat of the moment chasing the pack down into first corner, I took a more aggressive style going into it as most of the pack were. Here, I mistook Adam for one of the Japanese riders and was probably too aggressive with him." Adam on the other hand did not take it too seriously, and even said: "I'm ok with that. If anything, it was a good way to learn on how to properly handle myself against tougher opponents when racing. After all, this is racing and contact is inevitable."
Starting from 17th, Shafiq Ezzariq capitalise on his good start and entry into turn 1. Shafiq mentioned that he began pushing to chase the second group during the race. "For me, I feel that I've improved from yesterday in terms of pace and position. I tried to chase the middle of the three groups throughout the entire race, but the gap was too large and I eventually decided to fight hard in maintaining my position from then on."
The next step
Like we've reported before, the boys have initiated their own meetings in the hotel at the end of the day during a race weekend. Shafiq Ezzariq revealed that last night's meet up was just amongst the boys without any of the accompanying parents present. "We had a short meeting last night, where we decided to stick together and united, plus a quick rundown on our starting procedures" said Shafiq Ezzariq.
Again, the boys made it very clear that the first thing they want to do upon getting back to Malaysia were immediate training stints on track in Sepang. Minus Shafiq Rasol, Adam Norrodin, and Helmi Mazlan, the rest of the boys will get to do just that with the coming weekend's Malaysian Super Series in Sepang. Adam will instead head over to Spain to compete in CEV.
Additionally, Fakhrusy revealed that he intended to train further in the Pasir Gudang Circuit in his home state of Johore as well in preparation for Zhuhai. Joining him after school is Ibrahim Norrodin where he shared his view by saying "Zhuhai is a small circuit with a plenty of bumpy surfaces, so Pasir Gudang's similar would be more than perfect for us to train on."
"More support from home would be good"
Last but not least, all seven also shared one common request, and that is to receive more support from home. While some have their parents with them as mechanics, the rest aren't able to do so due to work schedule and financial limitations. Fortunately for Helmi, this weekend saw his two elder sisters and a family friend present trackside to support him whenever possible. The boys also had a special visitor over the weekend. Representing Datuk Razlan Razali and the Sepang International Circuit (SIC) was Nor Lina Ayob, the circuit's national press officer.
Unanimously, all seven express their wish to see a good-sized crowd when the series comes the Sepang. The Shell Cup will race in Sepang twice this year, the first will be held in conjunction with the Malaysian Super Series Bikes weekend from Sept 19 to 21. The second will run as a support event for the 2014 Shell Advance Malaysian MotoGP from Oct 24 to 26.
2014 Shell Advance Asia Talent Cup Round 2 – Sentul, Indonesia – Team Malaysia