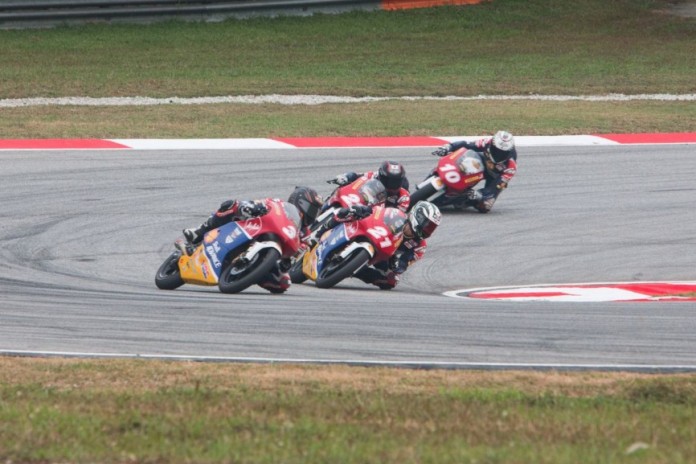 Japanese rider Takuma Kunimine qualifies in pole position ahead of Shell Advance Asia Talent Cup 2015 season finale races in Sepang, Malaysia.
The sixth and final round of the Shell Advance Asia Talent Cup 2015 got underway today in the Sepang International Circuit (SIC), Malaysia. Though the haze pandemic hasn't subsided, it is of little deterrence to the youngsters from competing the regional Moto3 series' season finale weekend.
The series runs as the supporting event to the weekend's 2015 Shell Malaysian MotoGP race weekend. This marks the series' third shared outing with MotoGP this season after Qatar and more recently in Japan.
As usual, things began with two Free Practice sessions, the first 30-minute run held at noon and the second 30-minute leg later in the afternoon. Topping the time sheets here was Japanese rider Takuma Kunimine. Though the championship title has slipped away, the young rider, who is runner up in the current point standings, asserted his dominance over the field.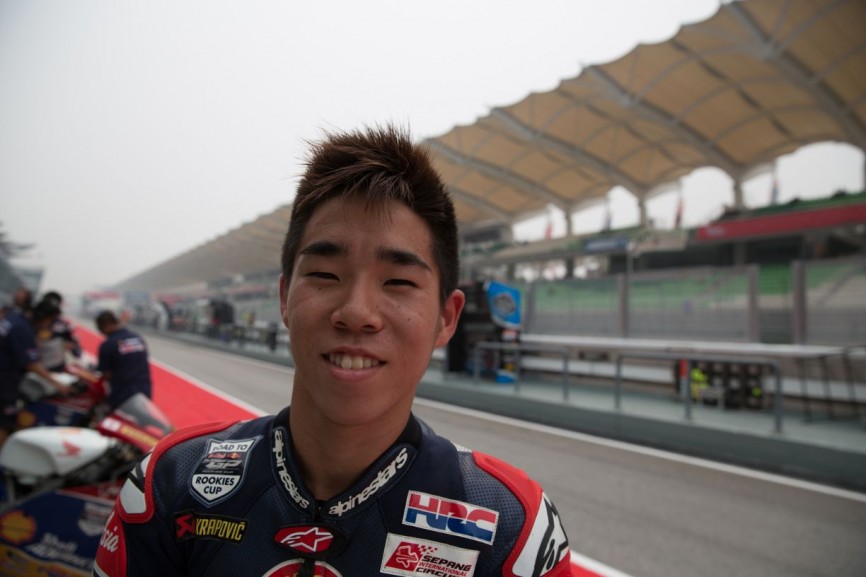 Kunimine's best time stood at 2:18.888 during FP1, but later improved that up to 2:18.550 in the second session – just over 4 seconds off the pace of the day's fastest world Moto3 fastest time. Not far behind him in FP1 though was Indonesian rider Andi Izdihar and local Malaysian hopeful Helmi Azman who ranked second and third fastest respectively.
FP2 however saw time improving, with Kunimine again topping it. However, the second session saw the resurgence of fellow countryman Yuta Date who claimed second fastest, followed by newly crowned champion Ayumu Sasaki who was third fastest – improving from his fourth fastest ranking in FP1.
Of course, everything today led up to the final 30-minute Qualifying scramble held at the tail-end of the day. Having dominated practice sessions all day, Kunimine once again reigned supreme in the session after snatching pole position with his best time of 2:17.876 – yet another improvement over his FP1 and FP2 times.
Kunimine bested series champion and fellow countryman Sasaki in second by just 0.301 seconds. Qualifying in the final front row position was Indonesian Gerry Salim in third, who's best time was just 0.363 slower than pole-man Kunimine's.
For the seven Malaysian riders competing this weekend (including two wildcards), the day's end result isn't too shabby either. Qualifying in 5th was leading local ace Shafiq Rasol. In 7th was Adam Norrodin, followed by rookie Azroy Anuar in 8th and Fakhrusy Rostam in 9th. Further down the order though saw Helmi Azman qualifying in 13th, whilst wildcards Ahmad Idham Khairuddin and Luth Harith Erwan lined up 18th and 21st respectively.
The Malaysian contingent in determined towards putting on a strong performance weekend. Not only are they racing on home soil, the five full-time series riders are vying to score valuable points here in order to end the weekend and season strongly in the top ten. Presently, only Adam and Fakhrusy are safe in 9th and 10th respectively whilst the rest remain in the danger zone.
Race 1 will commence tomorrow 4:30pm local time, where it will run for 13 laps after the day's scheduled MotoGP, Moto2 and Moto3 qualifying sessions are completed. Stay tuned to our site as we bring you updates from the field.