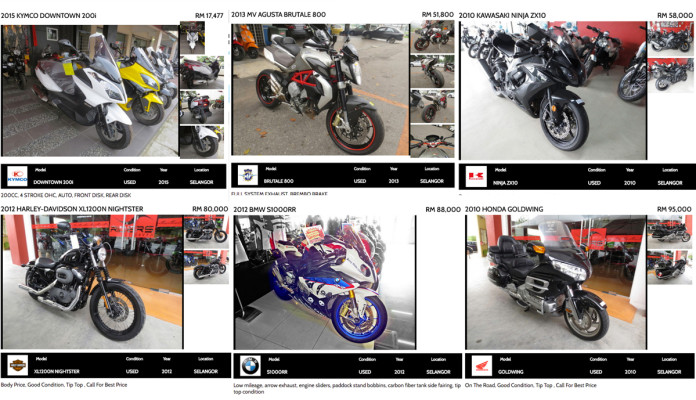 Here's a list of eight awesome used bikes we found listed in the classifieds of Bike Trader Malaysia this month.
Want to find your dream bike but your budget isn't permitting you a brand new one? Don't worry because we at Bikes Republic know this predicament all too well.
Of course, nothing beats that unmistakable new bike feel, not to mention the warranty and other perks that come with it. However, as cost of living in Malaysia continues to rise, it is forcing many to revise their budgets for their biking leisure and hobby.
The best solution to this is buying your dream bike 'used' or 'pre-owned', and we need not mention just how rich the local second-hand and used bikes market is. You may lose out on a few perks, but you will still be able to achieve your biking dreams at a more sensible and affordable rate this way.
Once again, we've taken the time and effort to scour through the used bikes classified ads currently up online at Bike Trader Malaysia – Malaysia's leading used bikes classified – and here is our top eight pick of the lot this month.
1. 2015 Kymco Downtown 200i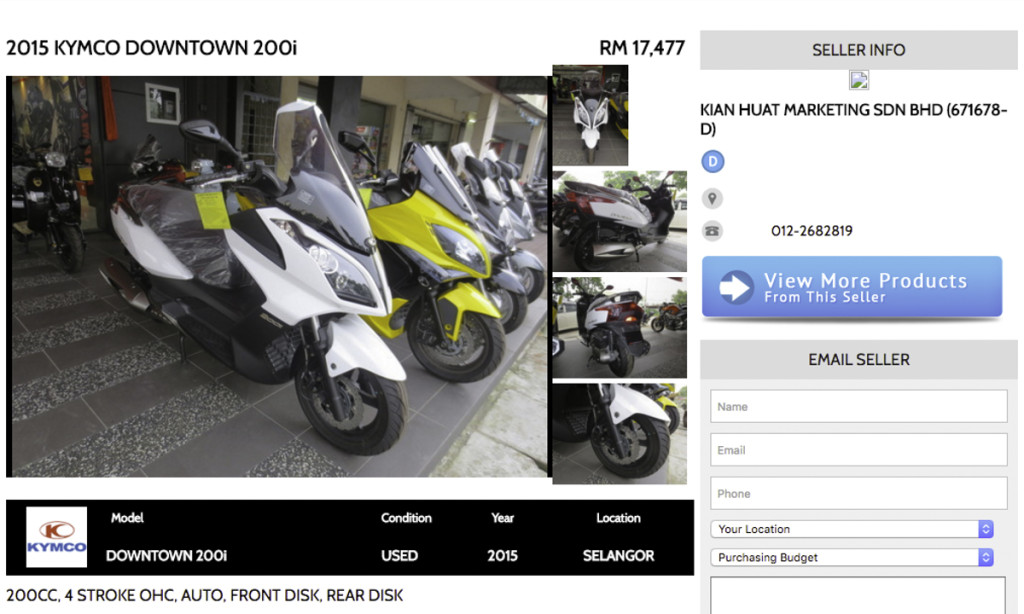 (Click here to see the ad @ Bike Trader Malaysia)
Let's say you're in the market for a comfortable, practical and economical commuter, but you dread the idea of managing a clutch lever. Perhaps the answer for you is a maxi-scooter, like this used 2015 Kymco Downtown 200i (which looks suspiciously new in pictures!).
It is powered by a liquid-cooled 200cc single-cylinder with a claimed output of about 20hp and 18.9Nm. Said figures are not only healthy, the mill's capacity is also B2 license friendly – you don't need a B-full license to own and ride it.
At 2,200mm long, 810mm wide and 166kg dry, it almost sounds like a gargantuan task to manage initially. But the abundantly huge under-seat bin with space for two full-face helmets, the large windscreen, the presence of a 12-volt socket and the twist-and-go CVT automatic means less stress when commuting in this maxi. And just like any other maxi, you can also expect this Kymco Downtown 200i's suspension setup and its large seat offering a plush and comfortable ride.
That's a lot of perks for its respectable asking price of RM17,477 indeed – a fraction of the cost of the newly launched Kawasaki J300 and BMW C 650 Sport and GT twins.
2. 2009 BMW F650 GS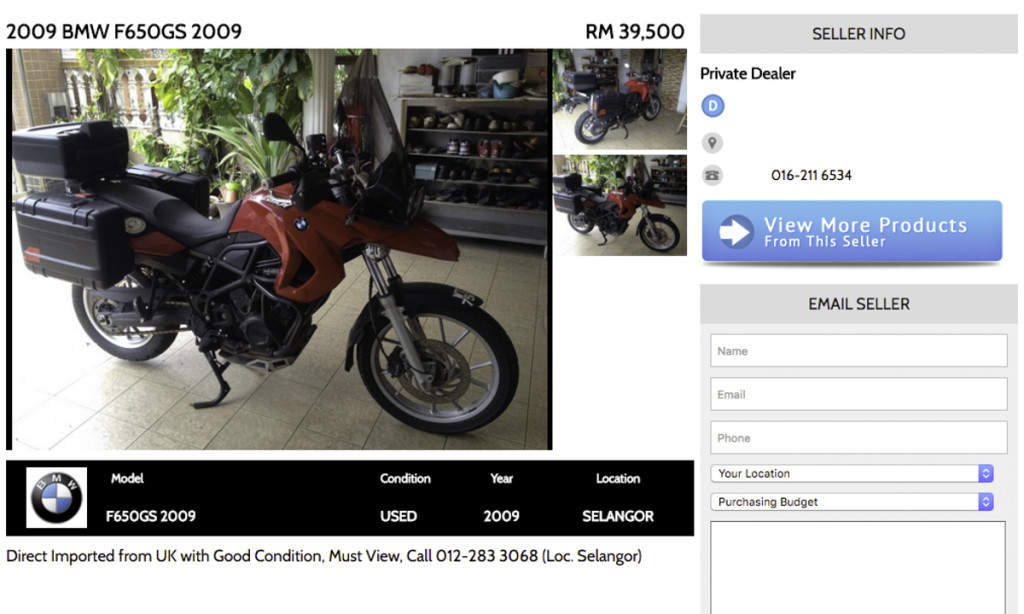 (Click here to see the ad @ Bike Trader Malaysia)
BMW Motorrad is renowned for two things, first for its typically over-engineered bikes, and second for making highly capable adventure bikes. This BMW F650 GS falls in the latter, even though it was slotted as the entry level model in the GS range when it was first introduced.
Nevertheless, having those two magical letters – 'G' and 'S' – means that this bike stands to offer a lot of capability in touring and adventure rides despite being slightly a older 2009 model. Just check out our recent coverage of the GS Trophy 2016 and see what sort of challenges the BMW GS is capable of tackling.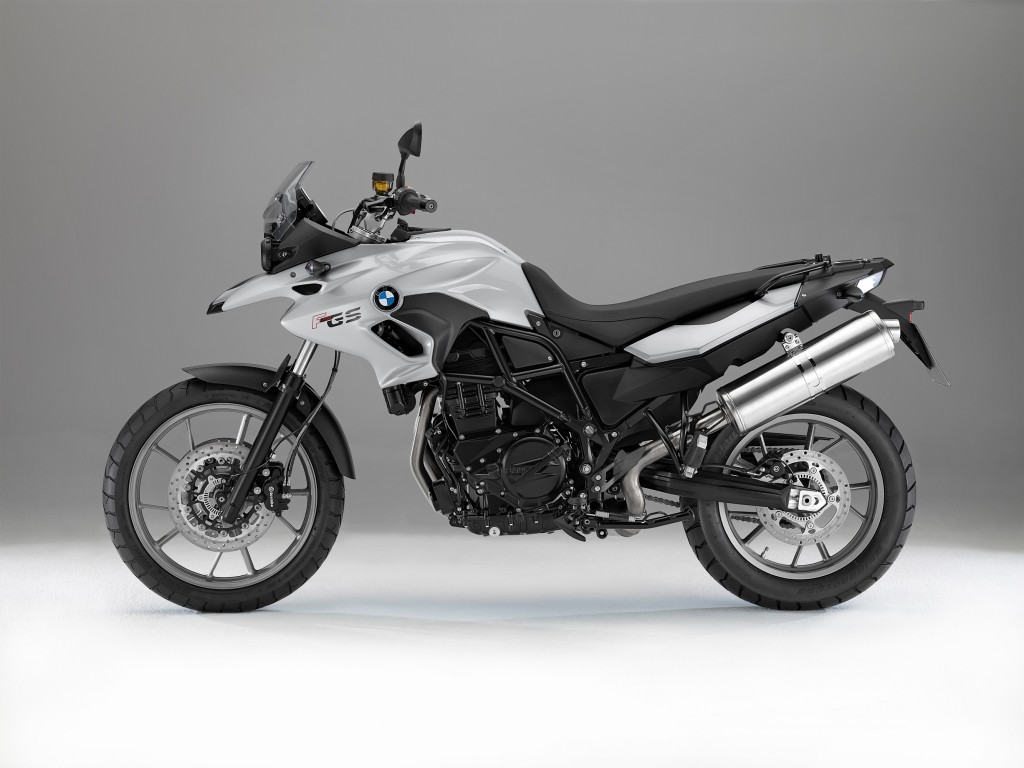 Back to the model in question and it is easy to see that the RM39,500 asking price stated is a solid bargain – that's nearly half the price of the current entry-level BMW F700 GS pictured above (Read about that here). What you get in return is a perky but proven liquid-cooled DOHC 798cc parallel-twin, comfortable yet versatile high-travel suspension all-round, distinct looks and, in this advertised bike's case, the complete set of hard panniers and a top box.
3. 2013 MV Agusta Brutale 800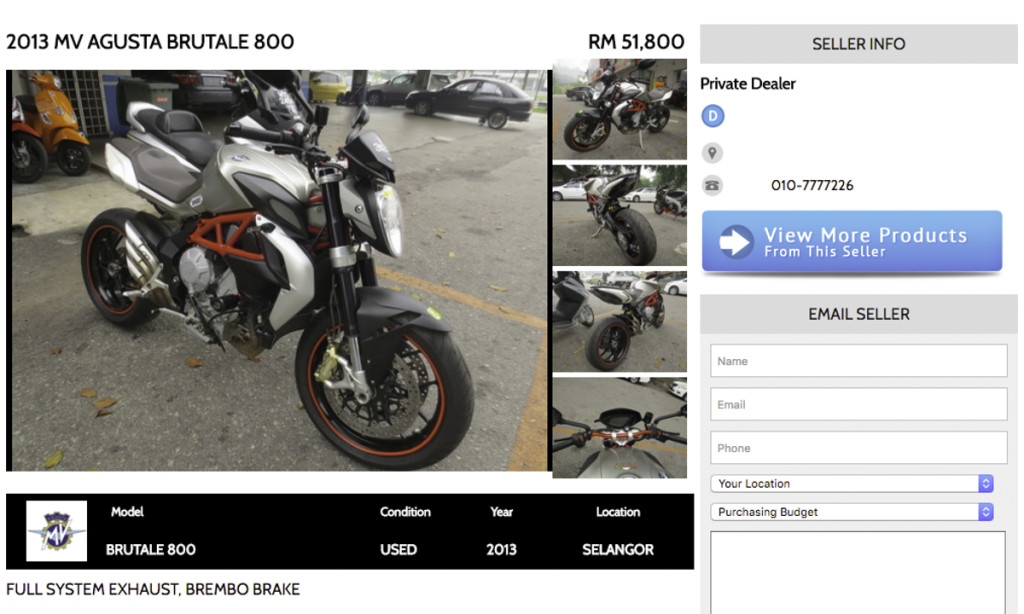 (Click here to see the ad @ Bike Trader Malaysia)
Want a true Italian work of art that is also high on performance? How about an MV Agusta Brutale 800 streetfighter? Yes, you read that right, an Emmm Veee Agusta that is actually affordable at RM51,800. What this stylish Italian middleweight streetfighter stands to offer at said price is truly immense.
Highlights in this 2013 model include MV Agusta's renowned 798cc in-line triple-cylinder mill that boasts roughly 108.5hp and 65Nm of torque, adjustable Marzocchi front forks and rear Sachs shocks, as well as MV Agusta's own EAS (Electronic Assisted Shift) quick-shifter suite amongst others. This ad also highlights Brembo anchors plus a full-system exhaust kit in the mix too.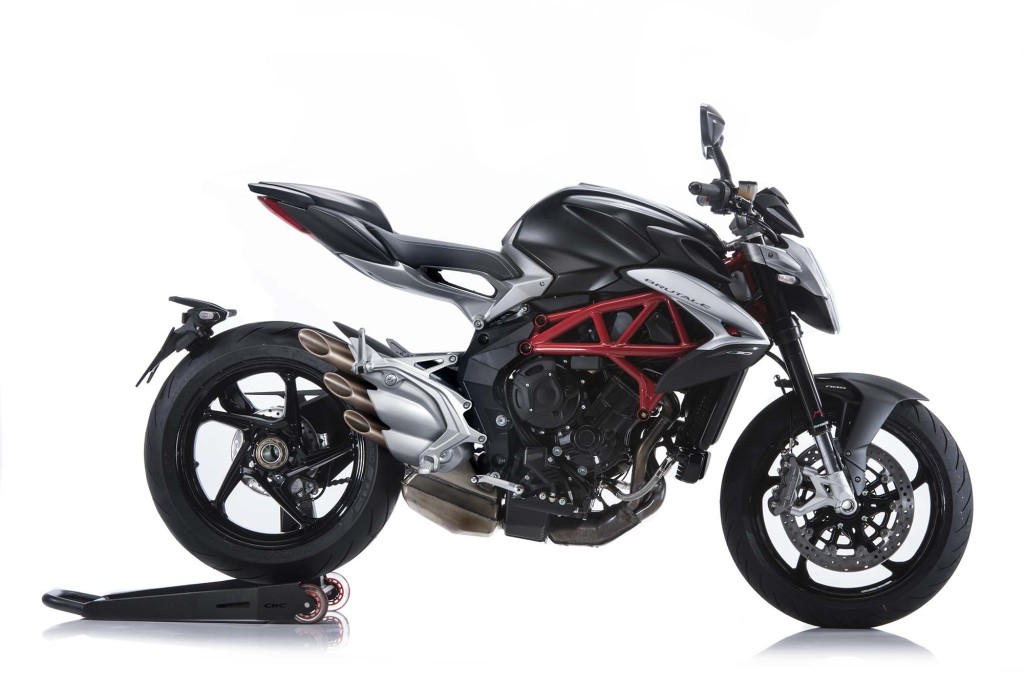 Besides all that, this MV Agusta Brutale 800's distinct and signature Italian styling guarantees that you'll be the centre of attention wherever you go. For its price, it is almost a steal if you ask us.
4. 2010 Kawasaki Ninja ZX-10R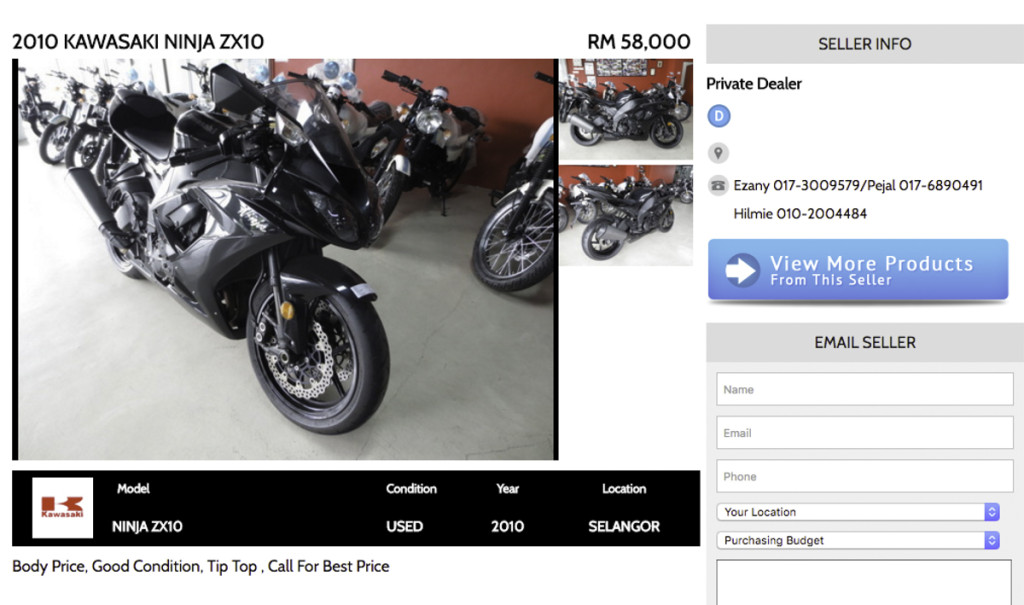 (Click here to see the ad @ Bike Trader Malaysia)
Lets say that you already have a bike for your daily commute and you wanted a superbike just to play around with on weekends. What you need is a proper litre-class superbike like the Kawasaki Ninja ZX-10R – a hot and popular favourite amongst trackday warriors and weekend B-road stormers.
This blacked-out 2010 model listed on Bike Trader is a really sweet deal at RM58,000 – almost half of the targeted RM99,000 ceiling base price Kawasaki Malaysia set for the very latest iteration. Although this 2010 model sounds old, it actually looks almost new, and we remind you that the liquid-cooled 998cc in-line four-cylinder screamer it packs is good for  148hp and 103Nm of torque at least.
Trackday enthusiasts would lust over this 2010 model's kit list. Notable here are the six-speed close-ration transmission with a slipper clutch, the adjustable Öhlins steering damper, fully adjustable 43mm inverted front forks and four-way adjustable rear shock, as well as the 310mm twin front and 220mm rear brake rotors with Tokico radial calipers up front. This particular bike just needs a tyre swap and its embarrassing stock exhaust replaced.
5. 2012 Harley-Davidson XL1200N Nightster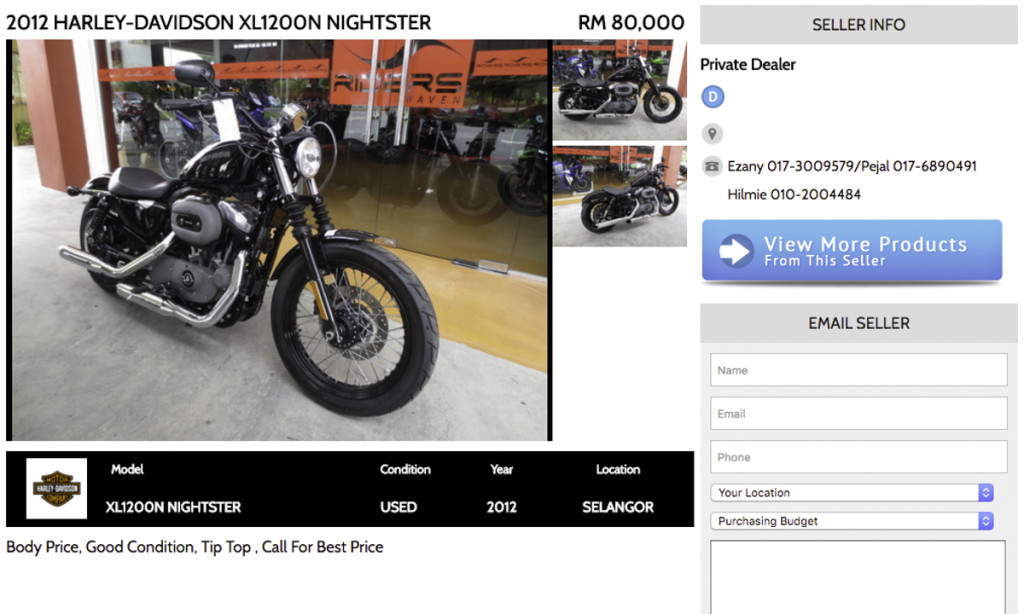 (Click here to see the ad @ Bike Trader Malaysia)
Call it a perfect mid-life crisis toy if you will, we love the fact that this 2012 Harley-Davidson XL1200N Nightster offers proper cruiser comforts and style at the affordable figure of RM58,000. That's cheaper than the newly launched 2016 Iron 883 and Sportster Forty Eight models that commands RM89,000 and RM106,000 respectively, as well as the Street 750 model's RM62,888 asking price.
This blacked out classic cruiser's styling is distinct and screams pure Americana whilst its single-seat layout promises unadulterated cruiser thrills. And we also need not mention the awesome soundtrack that 1,200cc Evolution V-twin will grant, the smooth delivery of the accompanying belt drive, as well as the immense potential for customisation.
6. 2012 BMW S1000RR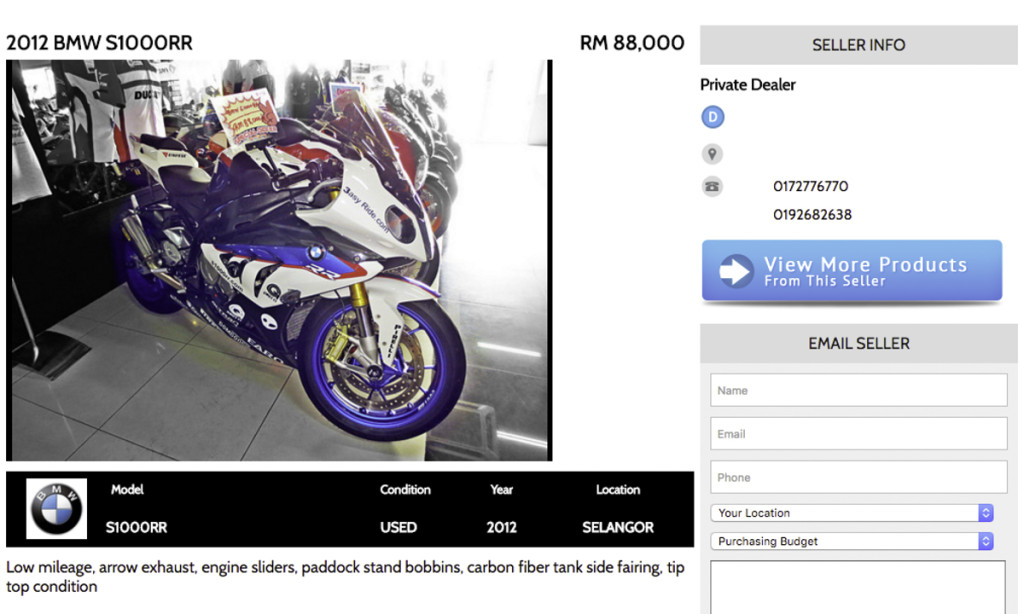 (Click here to see the ad @ Bike Trader Malaysia)
Want a slightly different yet proper European flair for your weekend superbike? Then nothing beats this 2012 BMW S1000RR model listed at Bike Trader Malaysia. Besides the signature BMW racing colours, there are plenty to appreciate such as the claimed low mileage plus accessories such as an Arrows exhaust, engine sliders and paddock stand boffins – almost ready for a trackday!
We are certain that this S-Thou's intelligent on board electronics like the multiple ride modes and the multi-level ABS and traction control suites would meet anyone's performance demands. If that doesn't, then the 190hp and 112Nm of torque generated by the manic 999cc in-line four-cylinder screamer lurking underneath should do the trick.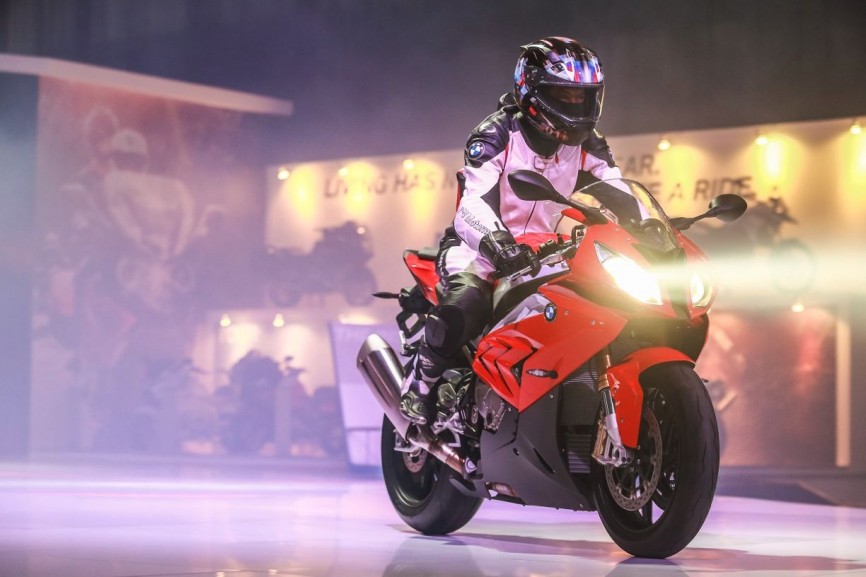 The advertised figure of RM88,000 is very respectable, especially once you absorb this bike's claims of being in excellent condition as a low-miler plus the list of accessories mentioned above. More importantly, it is still much cheaper  than the new and improved 2015 model (pictured above) that starts from RM108,900 when it was launched last year.(Read about the launch here)
7. 2013 BMW R 1200 GS Adventure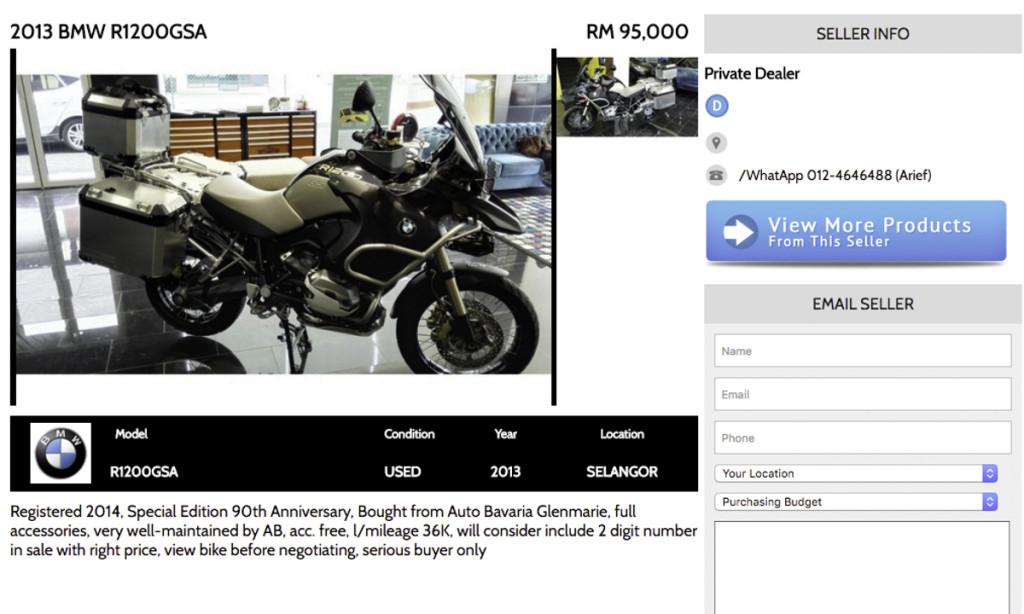 (Click here to see the ad @ Bike Trader Malaysia)
Want a bike that can conquer just about anything thrown at it, especially in an overland adventure tour? Then you'd want the King of Adventure bikes – the BMW R 1200 GS Adventure. The German marque's flagship go-anywhere adventure bike has undergone plenty of revisions since this listed 2013 model's iteration, but all of them remain as solid as ever.
This 90th anniversary special edition model listed on Bike Trader Malaysia sounds like a fairly decent deal. Offered here is the brand prestige held by that Bavarian badge, the bulletproof and iconic 1,170cc boxer twin engine, not to mention the ability for you to ride just about anywhere. Our coverage of the recent GS Trophy 2016 would convince you of that last fact.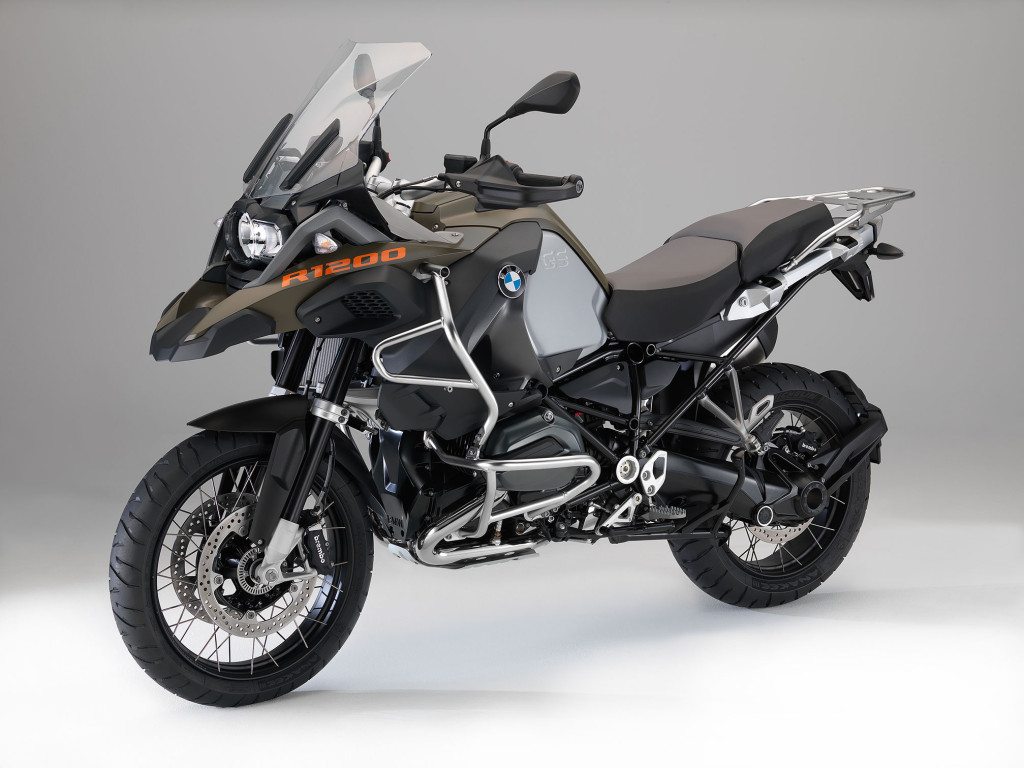 Including a complete service history, low miles, and the full range of accessories typically primed in BMW's Adventure variants, the advertised price of RM95,000 makes this bike the 'bargain of the century' in this list – a brand new R 1200 GS Adventure (pictured above) is priced upwards from RM121,400!
8. 2010 Honda Goldwing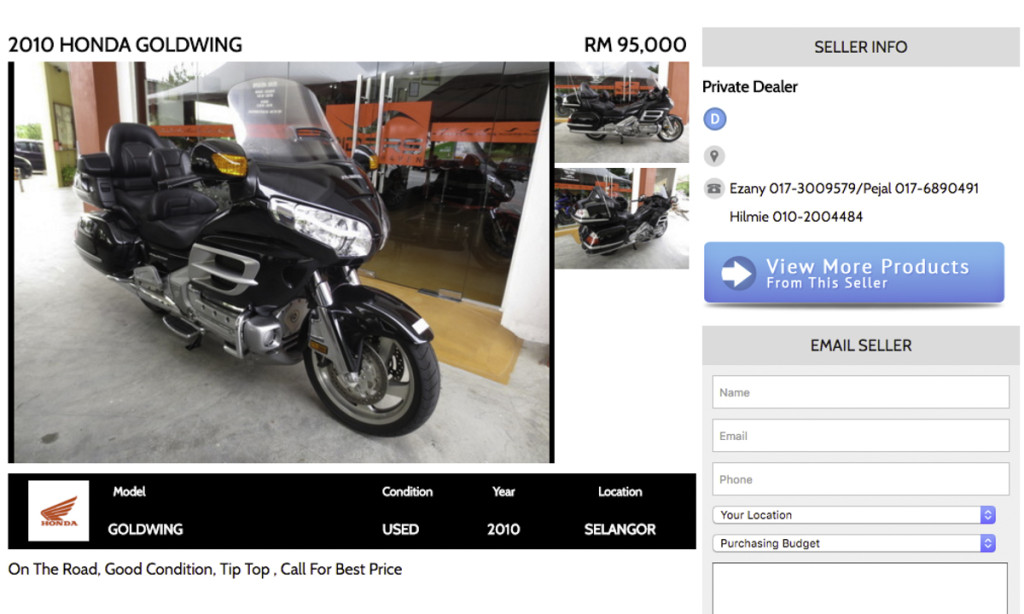 (Click here to see the ad @ Bike Trader Malaysia)
The last bike on our list comes in the form a 2010 Honda Goldwing – the mack daddy of all Japanese heavyweight touring bikes. This is perhaps the perfect long-distance luxury tourer that's available in the market now. Comfortable, brimmed with bucketloads of features and somewhat stylish, there is never a mundane long distance cruise with the Honda Goldwing.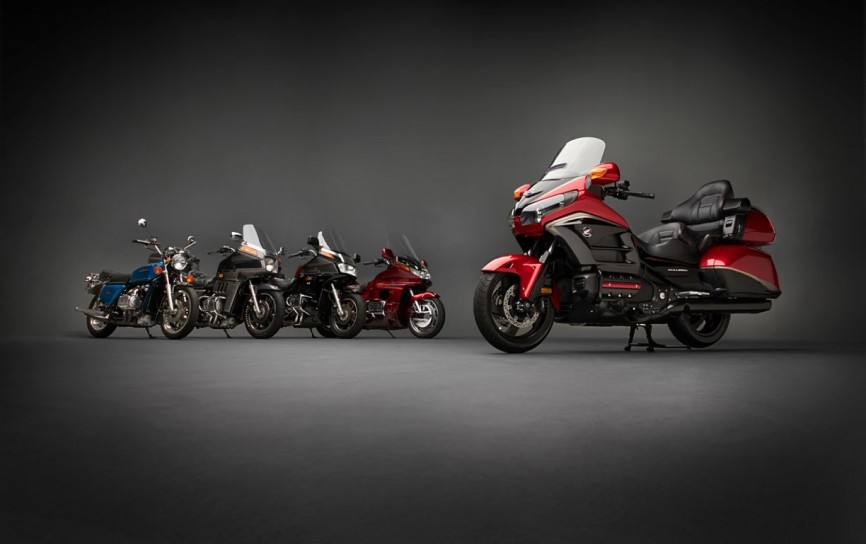 Brand new units would cost anywhere north of RM130,000, but this unit's listed price of RM95,000 is decent to say the least. Furthermore, the "call for best price" stated in the ad means that there's room to lower that figure further. If you're seeking a plush and comfortable cruiser for you and your missus to go on that long overdue second honeymoon, this Goldwing is worth a look.