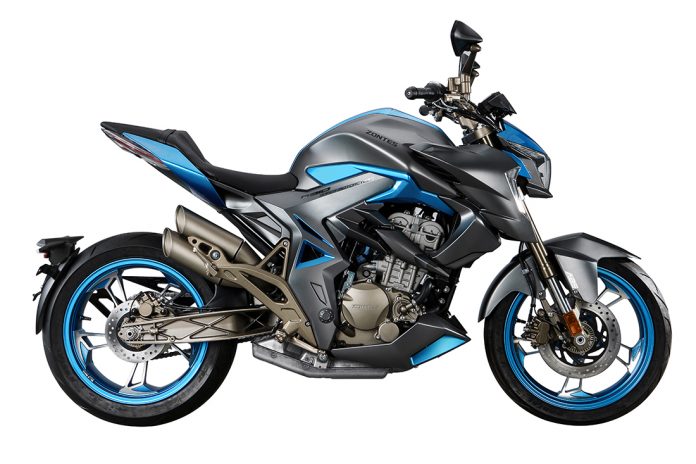 With the current influx of Chinese motorcycles into Malaysia, will Zontes make its way over?

Zontes produces everything in-house, apart from ABS and fuel-injection systems.

The manufacturer is into innovation and their motorcycles utilize high-end features.
With the influx of Chinese motorcycles to Malaysia, we wonder if another maker, Zontes, could be on the way, as well.
The Zontes website lists six models of motorcycles. Three are 310cc and the other three 250cc models. The two engines act as the platforms for the different models.
The first, called 310T, looks like a BMW GS at first glance. Indeed, Zontes positions it as a lightweight adventure-tourer. From what we could gather, it features an electrically adjustable windscreen, TFT screen, upside-down forks, and crash bars.
A second model is listed as the naked sport 310R. It looks like the cross between an MV Agusta and Kawasaki Z800. Its most outstanding features are the twin slash-cut exhausts pipe tips and sharp tail with embedded LED taillights. It too, features a TFT screen.
The third model is what looks like a sport-tourer called the 310X. Apart from the same componentry of the 310R, it has an electrically-adjustable windscreen, as well.
Check out the video below.
All 310 models utilize TFT screens, LED lighting, Bosch ABS and Delphi fuel injection system. Suspension systems on all three bikes are the same: upside-down forks and rear monoshock.
Zontes is currently being sold in China, the United Kingdom, South Africa, Pakistan, among other countries.
Zontes is the result of foreign joint venture with Guangdong Tayo Motorcycle Technology Co., Ltd. and founded in 2003. The company currently boasts 1,600 staff members, with 60% of them holding college degrees and above.
Guangdong Tayo's philosophy is grounded in innovations. As such, they hold 256 styling patents, 121 patents for utility models and 36 patents for inventions. The company has also received the Technology Innovation Award three times.
Apart from sourcing brake and ABS, and fuel-injection components, the company produces almost all parts of their motorcycles in-house, including the engine. This is due to the manufacturer's employment of robots in their manufacturing processes.
The robots are used for:
Aluminum alloy high pressure casting.
Magnetic mold-replacing injection molding.
Four-axis positioner frame welding.
Four-axis positioner silencer welding.
Traceless roll welding for gasoline tank.
Aluminum alloy surface coating.
Totally enclosed robot painting.
Seat cushion internal foaming unibody.
Stereoscopic warehouse with ERP system integration.
Apart from the autonomous robots, there are is a semi-automatic man-machine high precision manufacturing department.
They are in charge of:
Four-axis CNC machining.
Gear mechining and thermal treatment.
CNC stretch forming for the gasoline tanks.
Aluminum alloy low pressure casting.
Aluminum alloy frame welding.
Motorcycle and engine assembly.
Electric car components manufacturing and assembly.