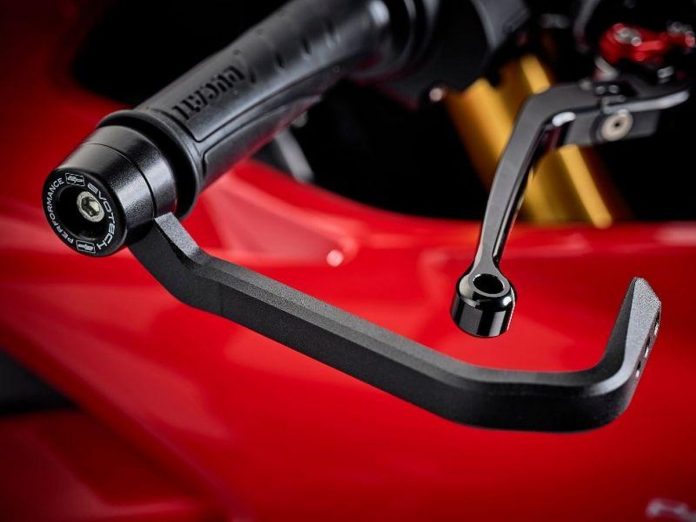 You've seen it on MotoGP bikes. Even your friends might have it. But what does it actually do? In this article, we're going to talk about the very purpose of the brake lever protector and if you really need one for your bike.
From expensive performance parts down to the very details of the custom livery, it's no secret that we fancy owning a bike that looks and performs like a MotoGP race bike. This includes the ever-so-popular brake lever protector you see many of your fellow riders have on their bikes.
But the lever protector is anything but an accessory in MotoGP racing. In 2011, the International Motorcycling Federation (FIM) made it mandatory in all of the classes for the safety of the riders. Bikes aren't allowed to race without the brake lever being completely protected. But what does it actually do?
As you can imagine, MotoGP racing is highly competitive. You often see the riders intensely racing side by side, especially when overtaking. The space between the riders when they get right up next to each other is so tight they could practically have a conversation. This is the reason why these bikes are equipped with the brake lever protector; it's to prevent accidental braking in case the riders brush against one another.
What happens in the case of unintentional braking?
Two things normally happen when the front brake is unintentionally applied with enough force. The front brakes lock up, resulting in either the bike gets low-side and slides out of a corner, or flips front over at high speed. The latter is particularly dangerous and potentially fatal as the rider may be thrown off and land on their head or face first, causing serious injuries to the neck. Imagine if that were to happen at over 300km/h down the straight line. Either way, you can be assured it doesn't end well.
With the brake lever protector, however, the lever is safe from accidentally being pulled and there is no risk of unintended braking which could cause serious crashes. It won't stop crazy riders from advertently pulling your brake lever, though.
To let you better understand the importance of having the brake lever protected, let's rewind to the 2006 Catalan Grand Prix. In the video below, you could see exactly how unintended braking activation resulted in a major incident involving six riders going into the first corner of the race.
Do I need a brake lever protector for my bike?
While it certainly gives your bike a great look, having a brake lever protector on a road bike seems downright unnecessary. Unless it's a race bike or road bike that you regularly take to the track where in some cases mandatory.
Generally, we tend not to ride so fast and so close to each other on public roads. In fact, it's a common practice to give other riders some space and stay away from reckless road users, be it a motorcycle or a car. However, let's not rule out the possibility that it could happen on a public road considering the fact we do filter between traffics.
With that in mind, having a brake lever protector on a road bike does pose some other serious risks. For instance, it could get caught in somebody's flailing jacket.
Similarly, the brake lever protector alone will not offer any sort of additional safety. Perhaps we should just focus on keeping a safe distance from other riders.