Our video review on the difference between the Z900 Standard and the 
 Z900 Special Edition.
The latest 2017 Kawasaki Z900 ABS is considered as a major improvement to the model it's replacing, the Z800.
We took the Z900 and Z900 SE (Special Edition) for a long term test ride to see how good these bikes really are.
To put into perspective, we've compared it to the previous Z800 and also the Z1000 to really understand how the Z900 ABS is a superior super naked machine from Kawasaki.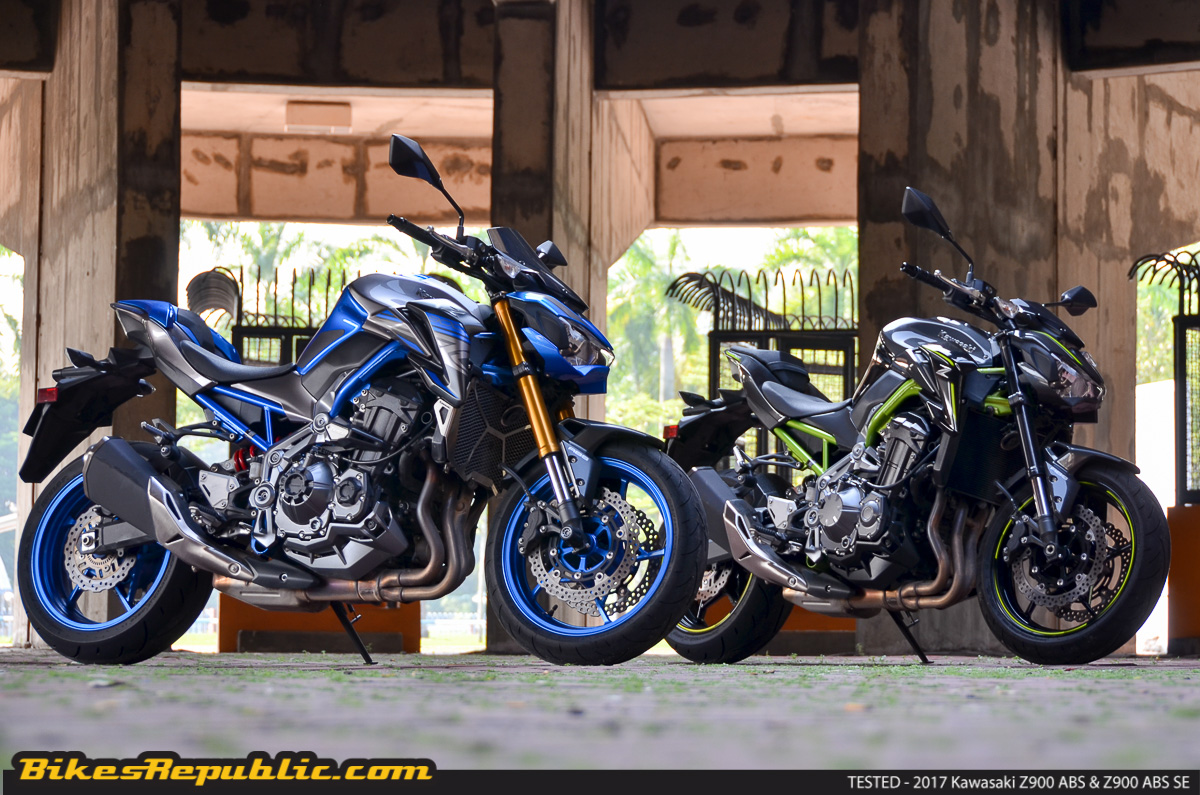 Naked bikes and street fighters have been a big part of the motoring industry even since motorcycle enthusiasts modified them to make their bikes more aggressive and perform better than ever before. Motorcycle manufacturers took note of this and ever since then, they've been churning out their ready-to-ride naked bikes and street fighters.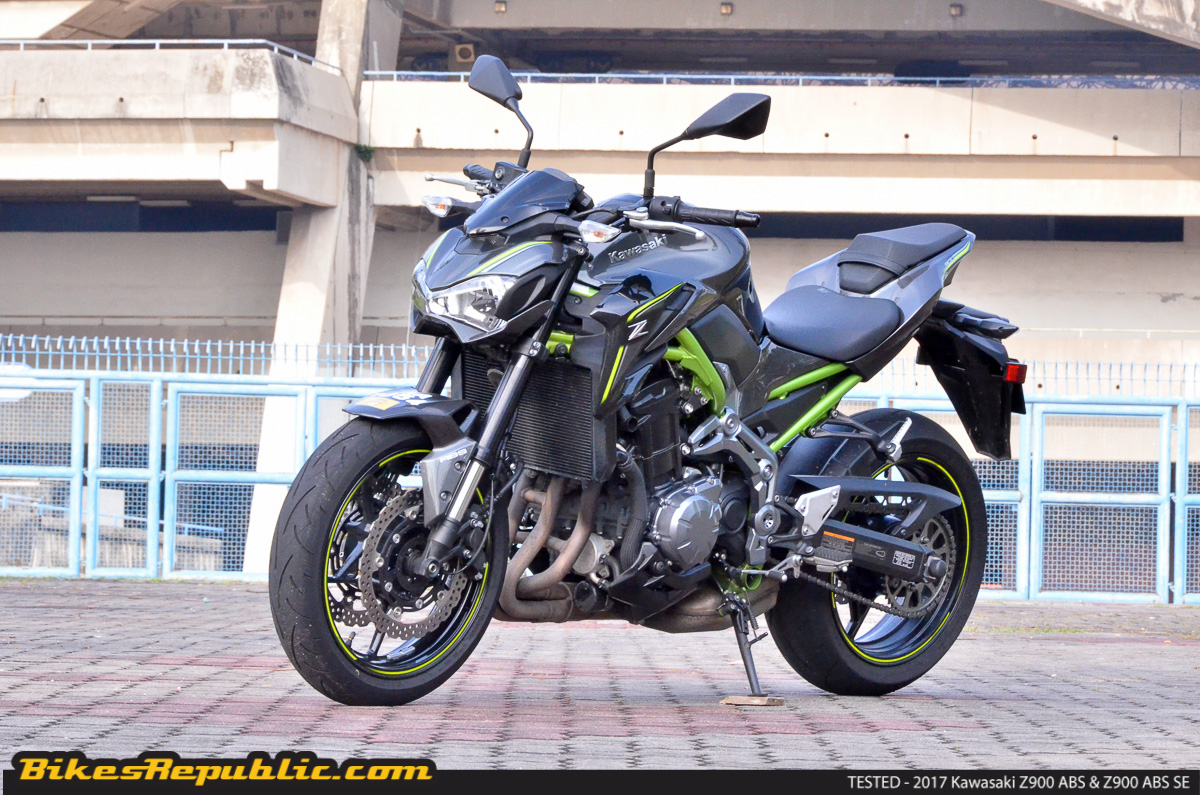 Kawasaki is a prime example of a manufacturer that has been doing this for a while and they're doing it well. They're most successful naked bike is arguably the Kawasaki Z800 which has been a staple among big bike enthusiasts around the world. In Malaysia, it was seen as the perfect option for those looking to upgrade to their first big bike with tremendous performance figures without burning a huge hole in their wallets.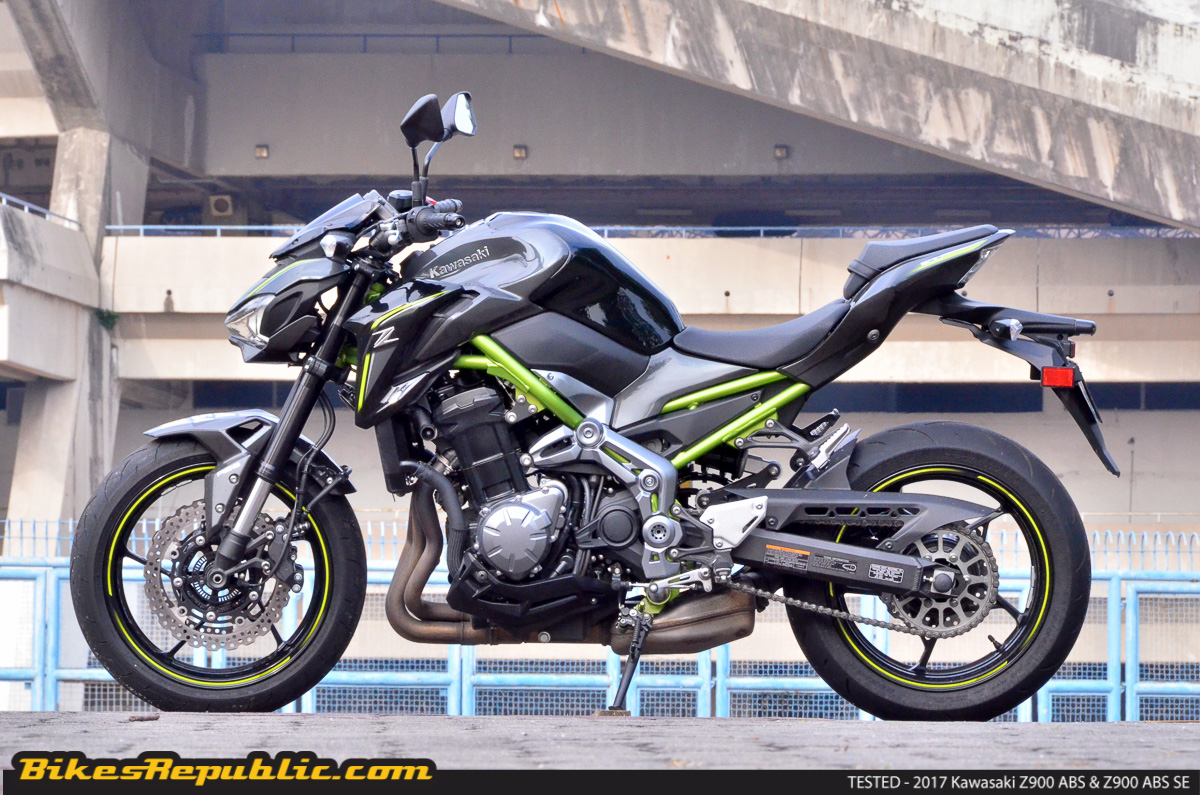 Considered as one of the best selling entry level big bikes of all time, it has become a bit dated for the past few years and Kawasaki knows all too well that coming up with the proper replacement to the popular Z800 is a monumental task. Before they could do so, they went out of their way to launch another "super naked" on steroids that is the Kawasaki Z1000 which embodies the "Sugomi" in its purest form making it one of the most aggressive yet beautiful naked bikes of all time.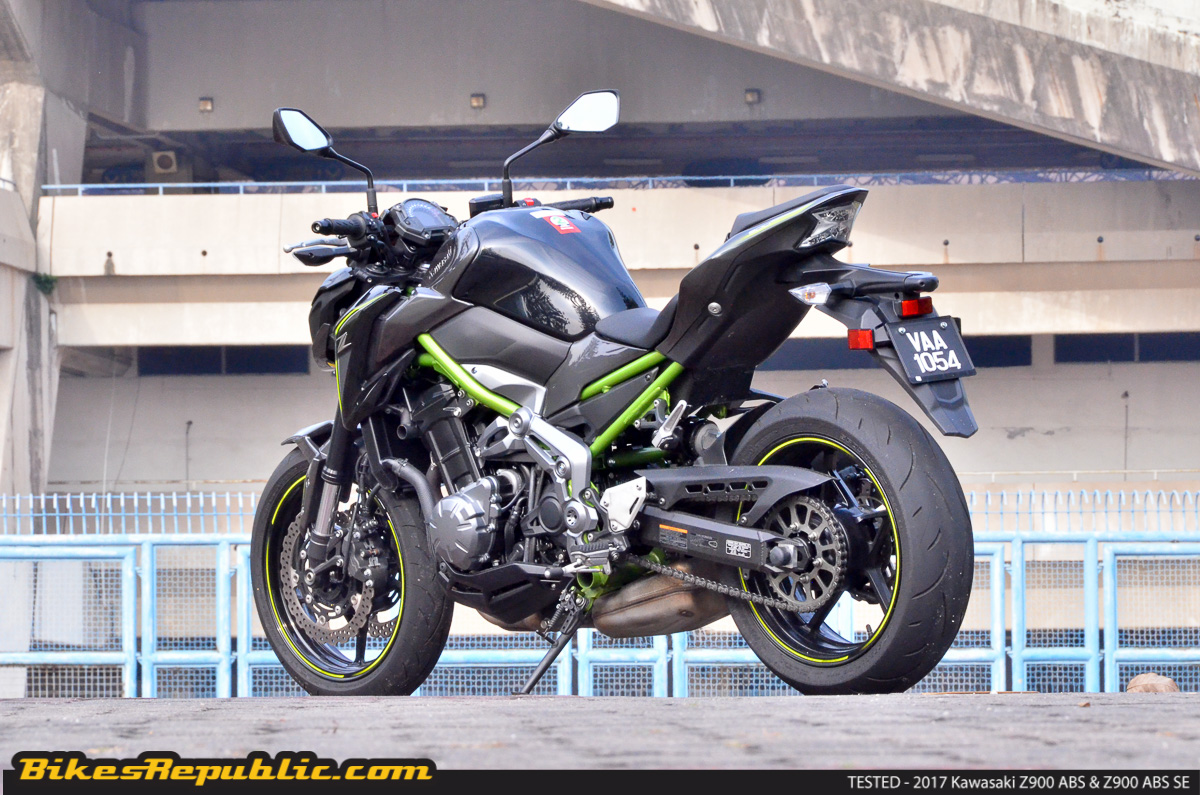 That only made their task of coming up with the Z800's replacement that much harder because it has to better than the Z800 but at the same time shouldn't overshadow or make the Z1000 look redundant. The day that they introduced the Z900 ABS earlier this year was the day that we confirmed that Kawasaki succeeded in doing so.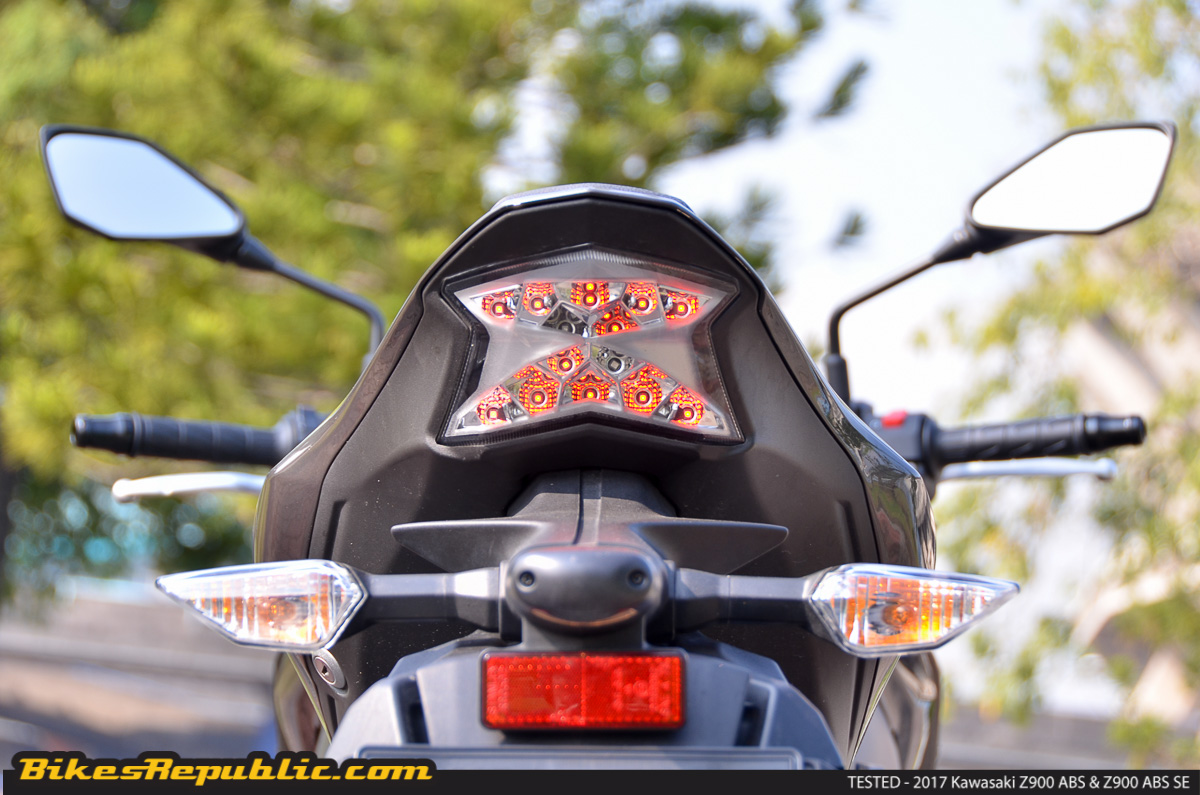 We've tested the Kawasaki Z900 previously during a test ride session which was organised by Kawasaki Motors (Malaysia) Sdn Bhd (KMSB) a couple of months back and we were quite impressed with how the Z900 ABS performed. We decided to take it out one more time to really dig deep and understand how the Z900 is better than Z800 and also how it's different from its bigger and more aggressive sibling, the Z1000.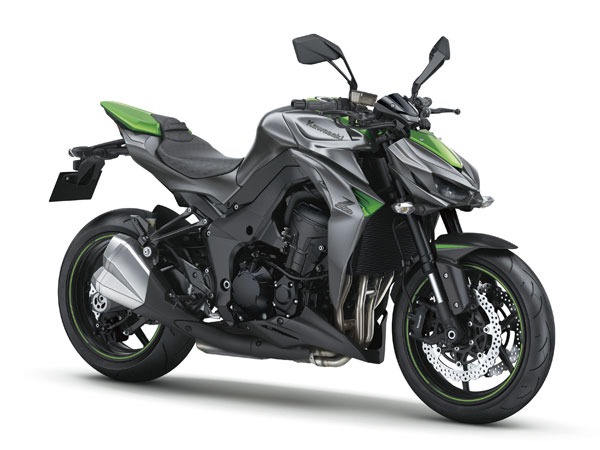 First and foremost, the looks of the Z900 ABS is simply stunning. It still carries the iconic 'Sugomi' design throughout the bike which is the essence of the Kawasaki Z series. It still has that aggressive appeal to it which is roughly the same as the Z800 but one look at the Z900 and you know immediately it's something special. Personally, we still prefer the Z1000 in terms of looks but we'll take the Z900 ABS any day.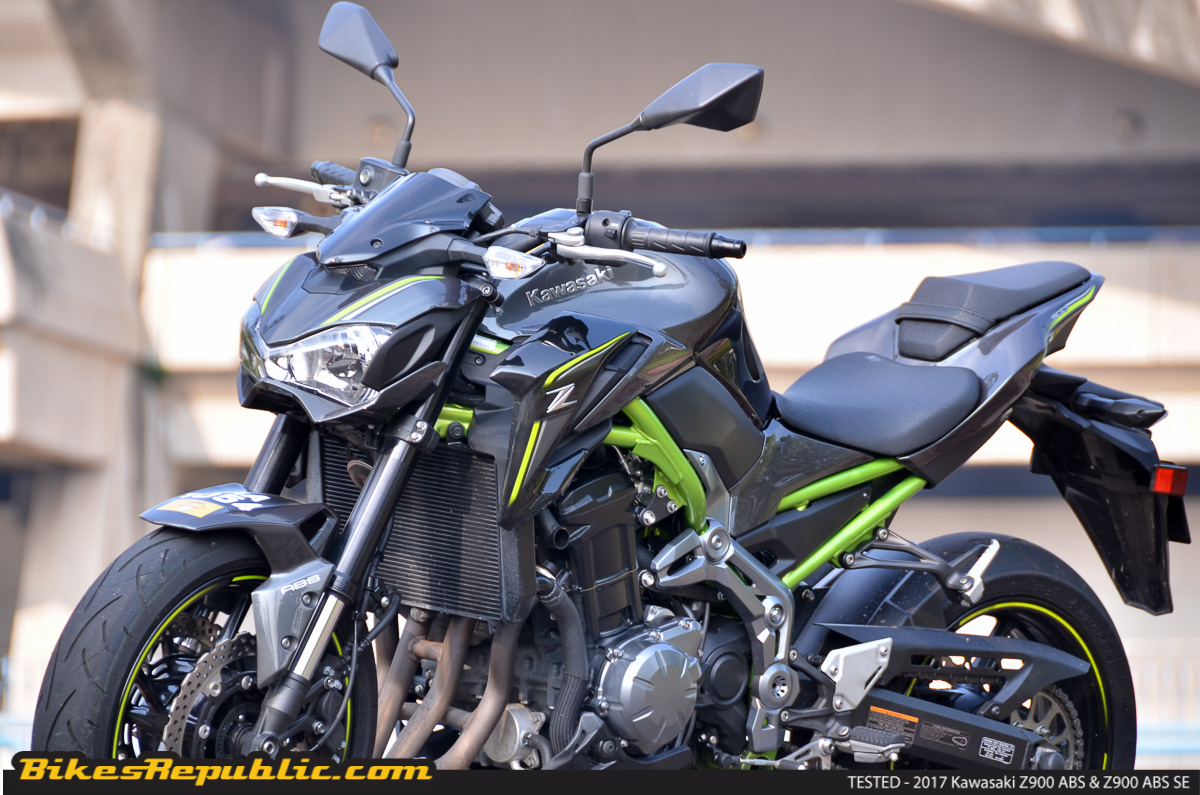 The bike is not just a mere replacement to the Z800 as it has actually gone through so many evolutions that we can simply say it's an entirely different beast altogether. By comparison, it is 21kg lighter than the Z800 thanks to many upgraded features to the engine, swingarm, chassis and many more.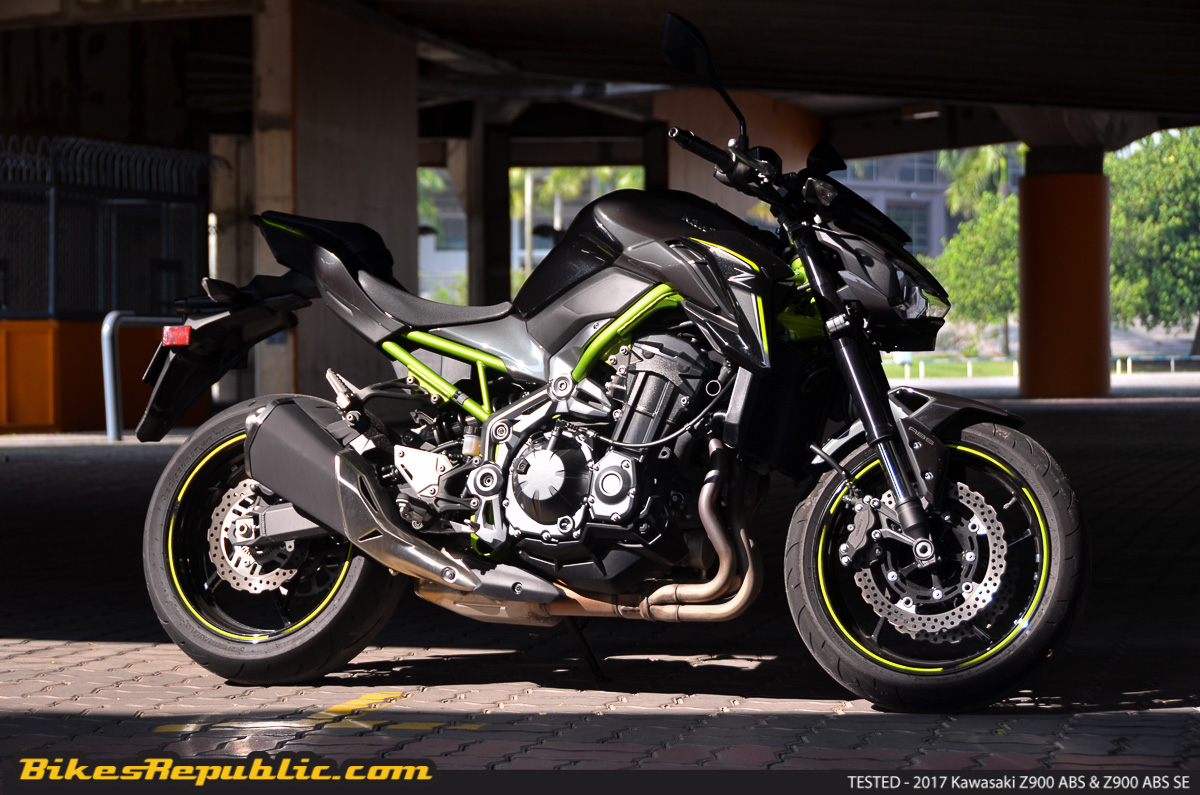 The biggest change is the swap to the trellis frame similar to one found in the mad Kawasaki H2. Completely redone, the Z900 ABS ditched the subframe altogether which managed to dropped its overall weight by 11kg compared to the Z800's chassis. Simply put, try riding the Z900 with two 10kg bags of rice on your bag and you'll understand how the weight loss greatly affects the overall performance of the machine.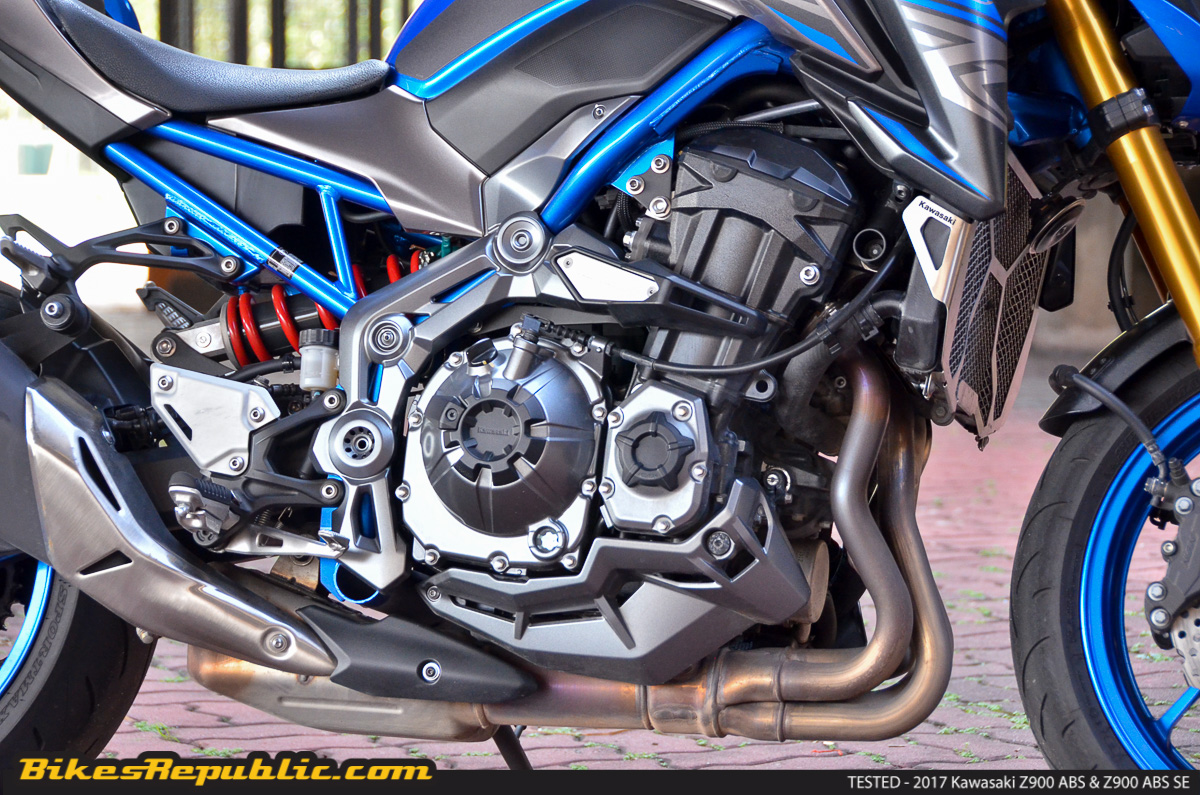 Moving on the engine, the one found on the Z900 is based on the previous Z1000 but reworked to make it into a 948cc, liquid-cooled, DOHC, inline-four cylinder, fuel injected monster that produces 123,6hp and 98.6Nm of torque. By comparison, the Z900 is 142cc bigger than the Z800 and only 95cc smaller than the Z1000. In terms of power and torque, the Z900 has 13.6hp and 15.6Nm more than Z800 but just 16.7hp and 12.4Nm of torque less than the Z1000. In short, the Z900 sits nicely between the two.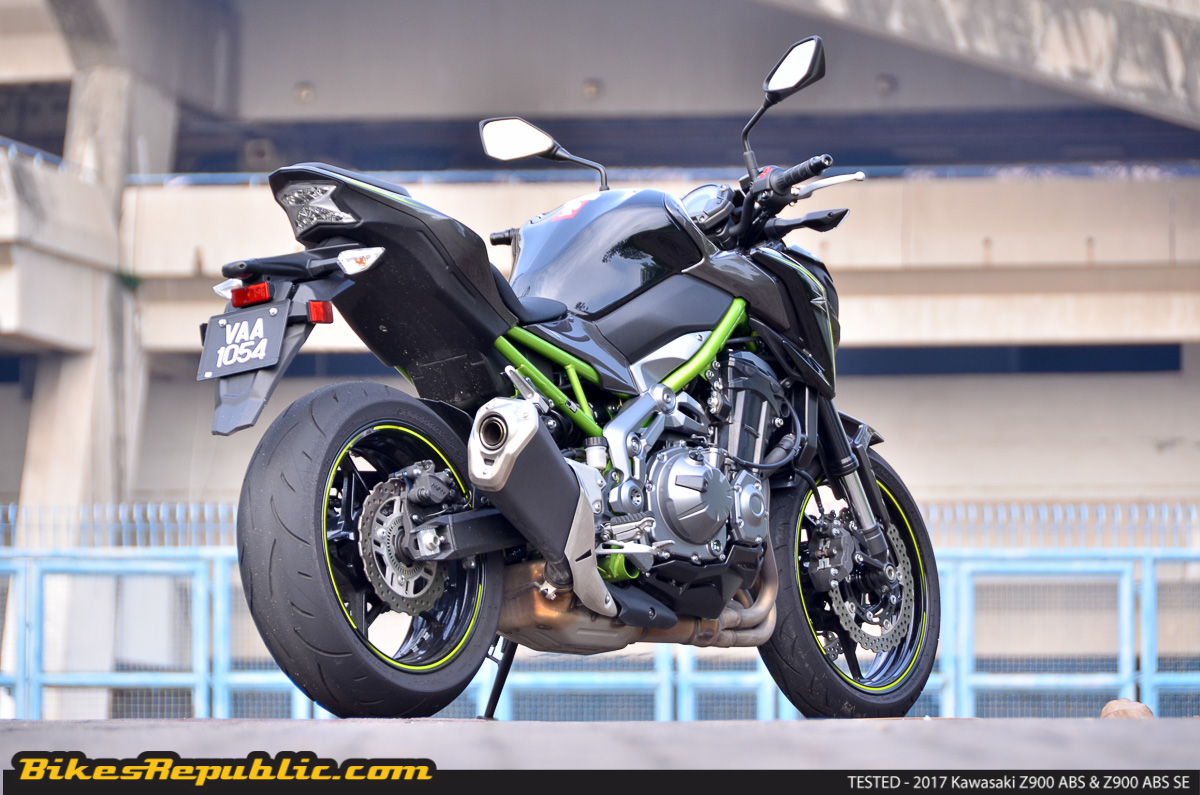 Let's move over to weight figures. With power and torque figures not that different from the Z1000, the Z900 ABS wins in the power-to-weight ratio as it only weighs 210kg (213kg for the Special Edition) which is 11kg less than Z1000 and as stated earlier, a good 21kg lighter than the Z800. Better performance plus less weight equals AWESOMENESS. Everyone can agree with this.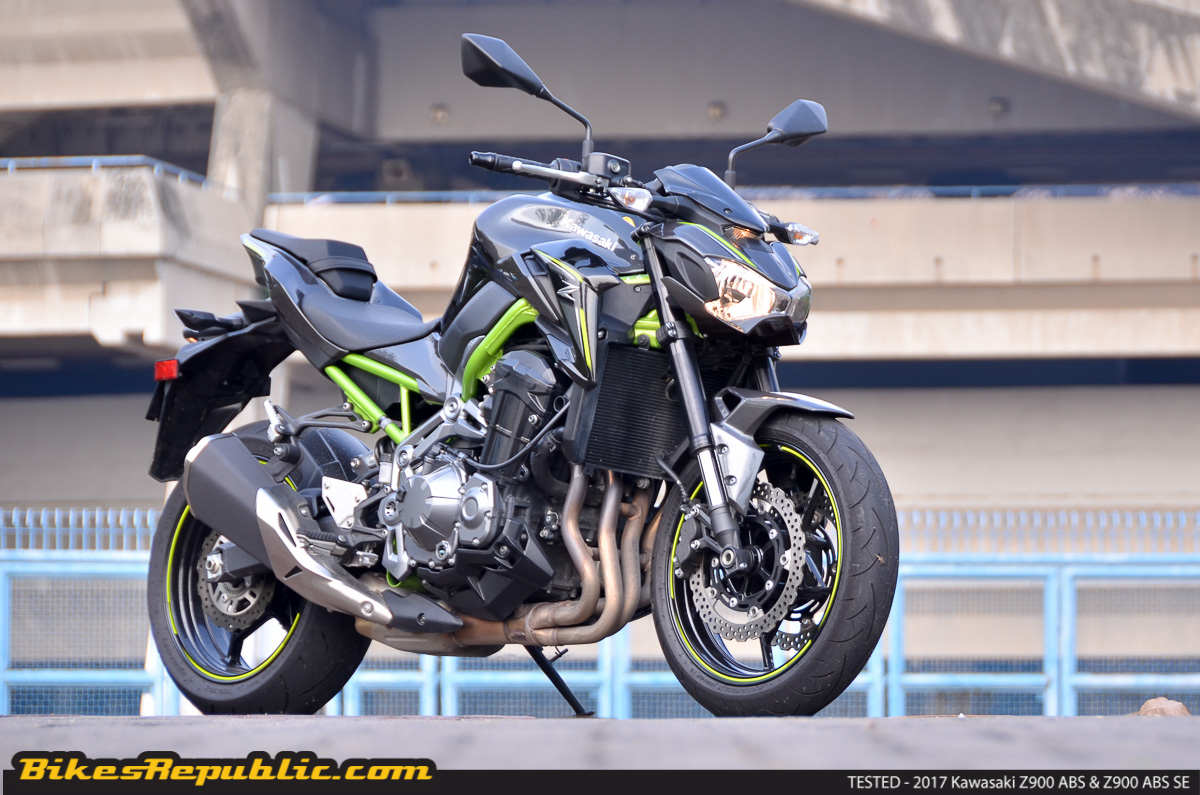 In terms of overall stability, the Z900 ABS wins again with its new horizontal back-link suspension that adds more mass centralisation which is similar to Kawasaki's higher end bikes like the Ninja ZX-10R and Z1000SX. It gives the bike a much better riding experience which is super smooth at blistering speeds as well as cornering steadiness. Riding the Z900 ABS gives such a good experience, it's hard to believe it's a naked bike and not a track machine.
For this particular writer, the Z900 ABS is both jaw-dropping and terrifying at the same time. It is so smooth and near perfect that any micro input can be felt when riding the bike. For this particular writer who thought that his riding style is average, the Z900 slapped some sense into how much there is to learn in order to become a great rider.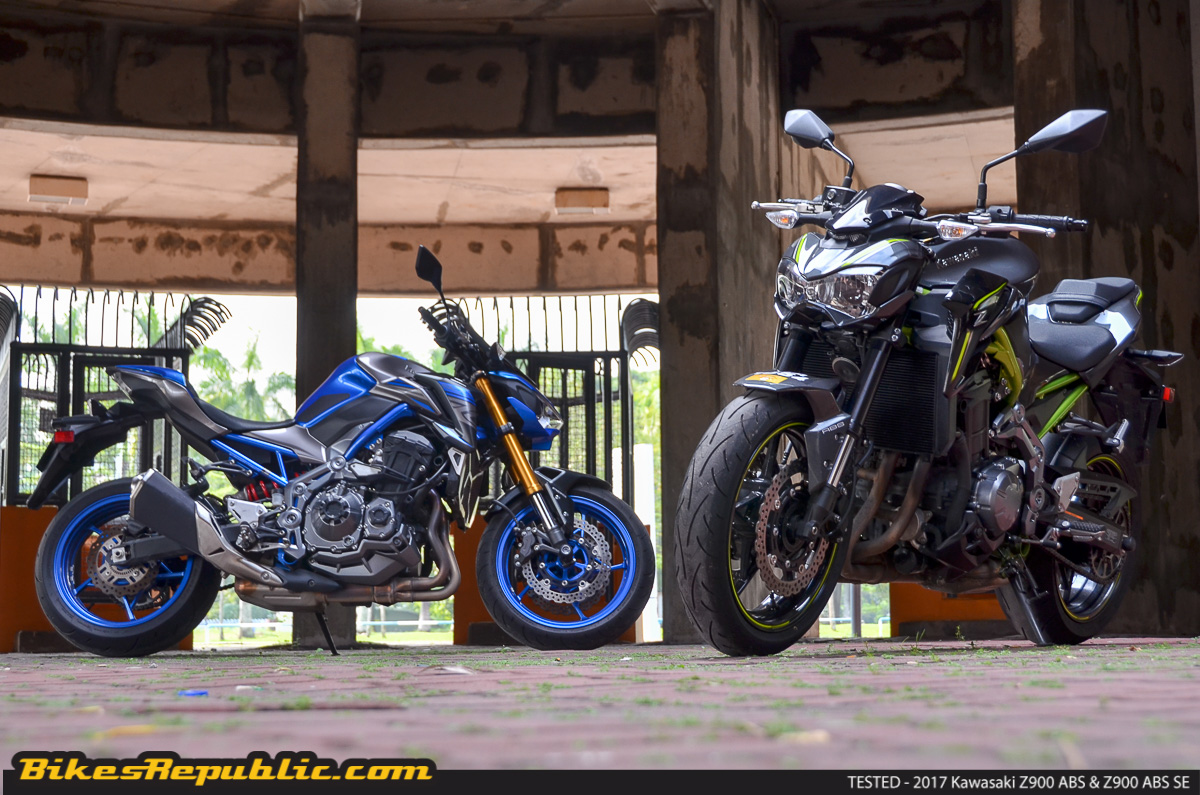 It's like when you learn how to play the guitar with a cheap and old instrument. You feel like you're playing all the chords right but when we get that top of the range Gibson electric guitar with all the bells and whistles, all the imperfections are more noticeable and the urge to become better becomes stronger. The Z900 ABS is so good to bring this writer back down to Earth for a reality check and we can't see any other bike at this range that perform that particular task so elegantly and efficiently.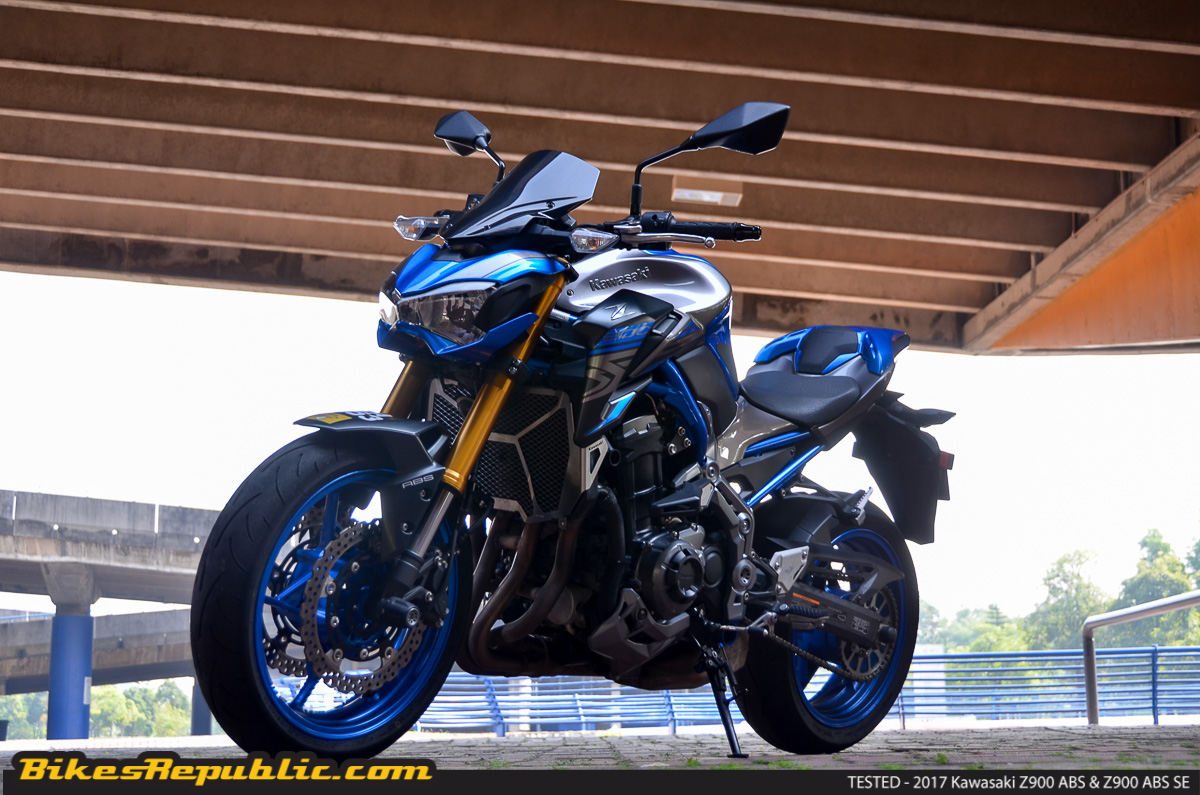 Riding the Z900 also feels great in terms of riding position which has been greatly improved from its predecessor. With increased handlebar width and lower seat height, it offers great stability as well as amazing manoeuvrability in heavy traffic which can be daunting when piloting the Z800. Most Asians with lower average heights can appreciate the Z900 ABS easily but anyone who exceeds the 170cm height will find the Z900 ABS to be a little cramped.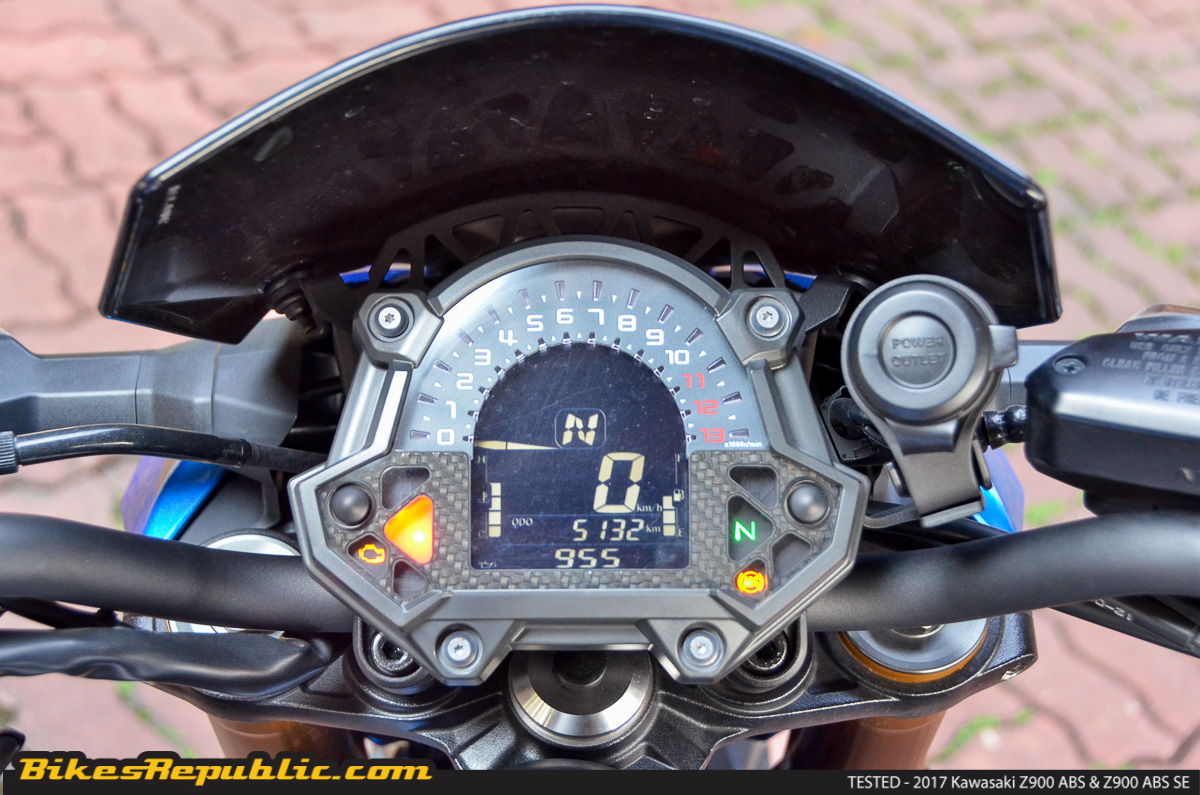 Apart from that, the Z900 ABS is near perfect for any riding occasion at any given day. The Z900 ABS can be a darling to cruise comfortably on the highway but twist open that throttle a bit more and you will fly and fly fast. The last time we tried it out in a controlled environment, we managed to hit 200km/h without breaking a sweat and at long piece of flat tarmac, we reckoned it can go a whole lot faster. This thing has so much power and torque, it can wheelie of the line up until the sixth gear when given to someone with the right skills (obviously, none of us).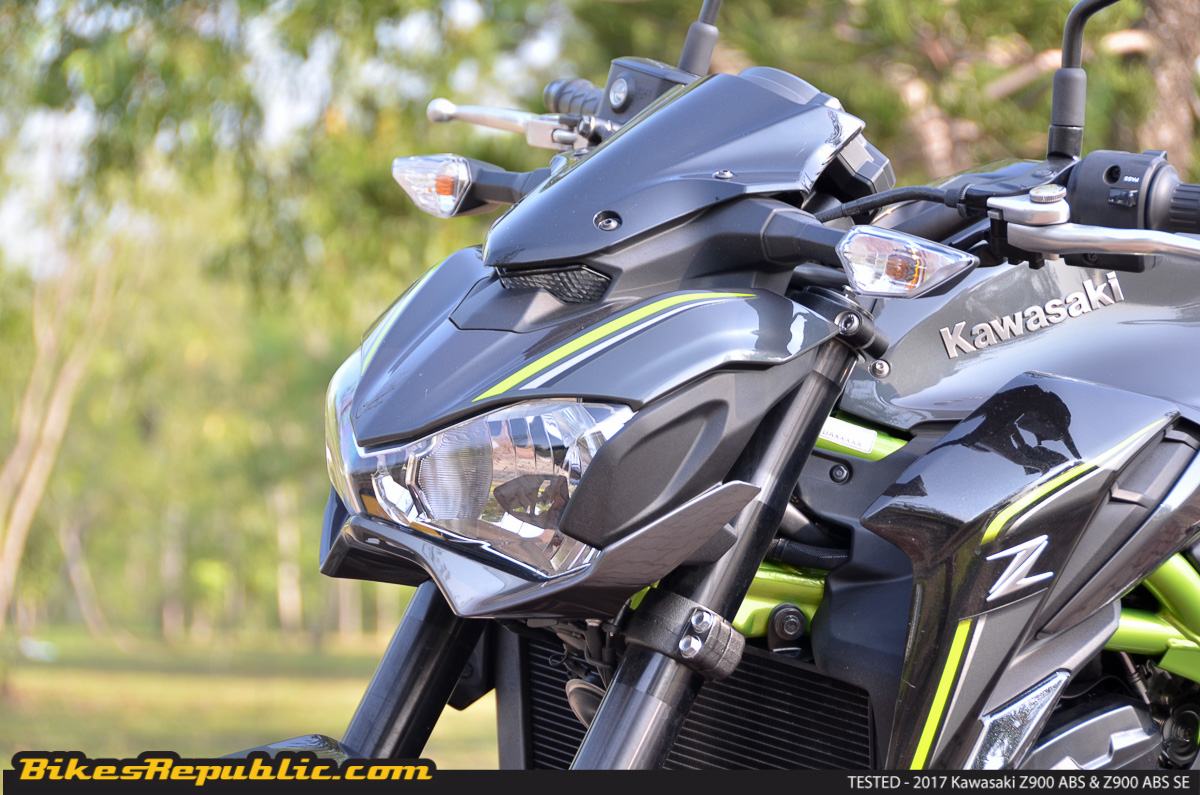 We've also mentioned previously that the Z900 trumps the Z800 and Z1000 with the addition of a 'Slip and Assist' clutch that helps with smooth clutch operations that lets the bike rolling off easily as well as avoid any unwanted rear wheel lockups when shifting to lower gears. In our experience, they work extremely well that it's easy to forget the true nature of this particular Kawasaki.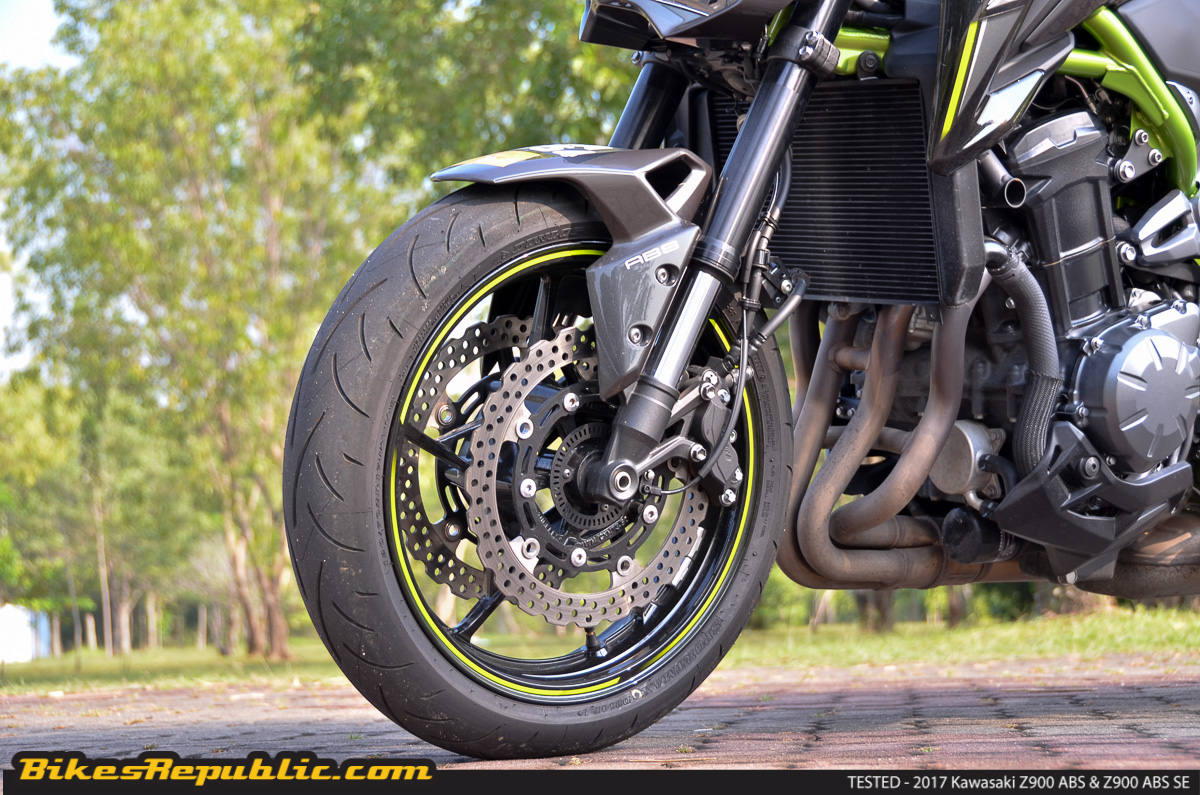 With great power comes great stopping power and its twin 300mm front disc brakes with quad-piston callipers together with its 250mm rear disc plus single-piston calliper helps the Z900 to stop on a dime. Further complimented with Anti-Lock Braking System (ABS), it offers better braking performance and confidence when braking hard but be warned as there's no cornering ABS so stay gentle and progressive on that brake levers when going through corners and you should come out the other end safely.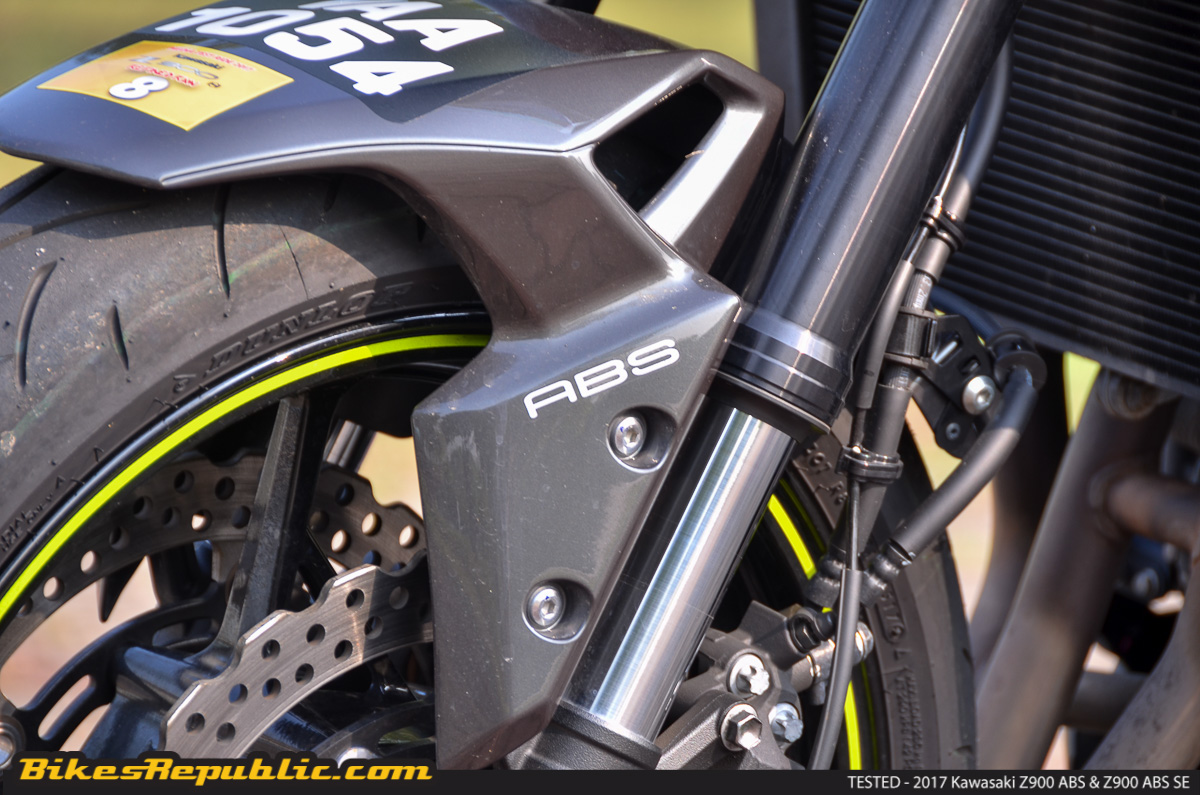 We can go on and on how awesome the Z900 really is but mere words won't really do justice as one really needs to experience what this latest Kawasaki 'super naked' bike has to offer. Priced at RM49,158 (basic price with GST), it roughly around the same range as the Z800 but a whopping RM33,562 cheaper than the Z1000. Just add an extra RM1,801 more and you can bring home the Special Edition model with that blue and chrome colourway plus gold telescopic forks.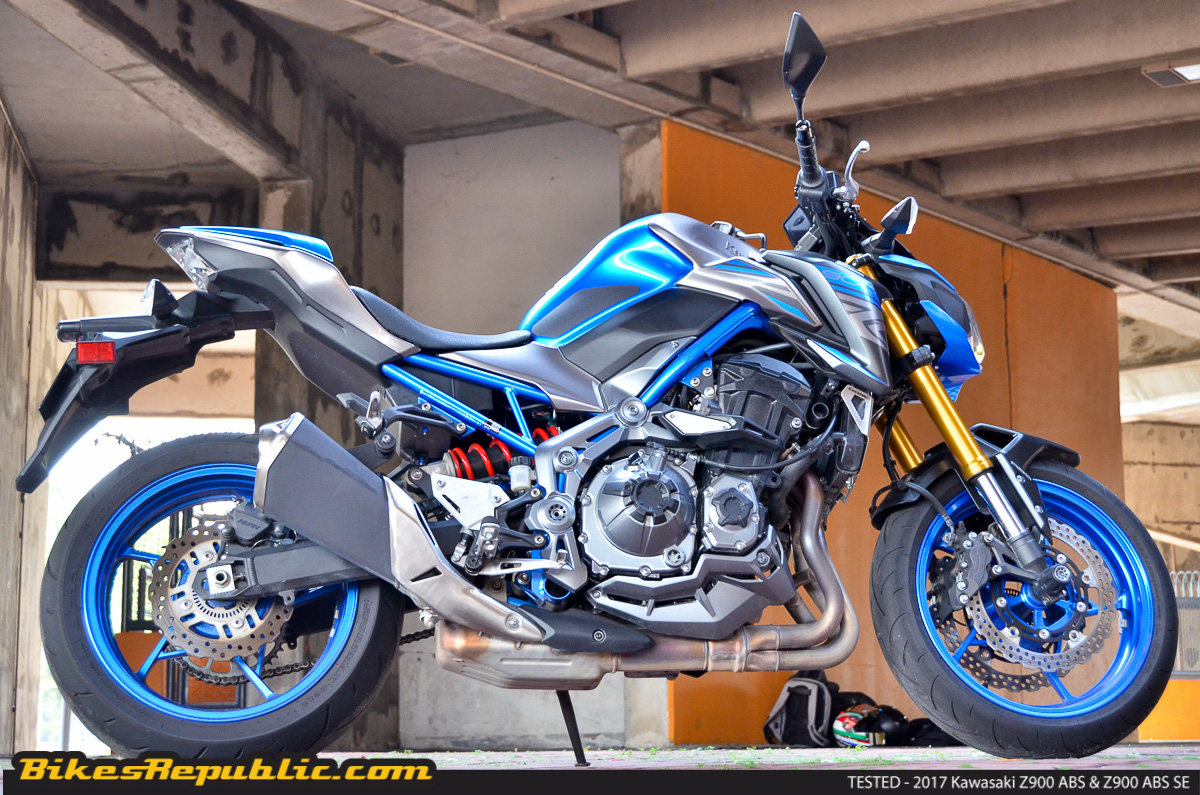 Other extras include front axle sliders, engine sliders, engine cover rings, radiator screen, screen cover, single seat cover, tank protector and knee pad and the best of them all is a DC output which allows the rider to recharge their smartphones or GPS units while riding the bike. Not a bad deal if we say so ourselves.
All in all, Kawasaki not only did a great job in coming up with a proper replacement to the dated Z800 but they knocked this one right out of the ball park with so many upgrades and improvements that it's hard to believe it's only around RM50,000. Our only advice we can give now is that ditch the old Z800 and forget about waiting for the new Z1000 because the Z900 is more than enough to get your adrenaline pumping each and every time you go out for a ride. It is truly a bike that lets the good time roll all day, every day.