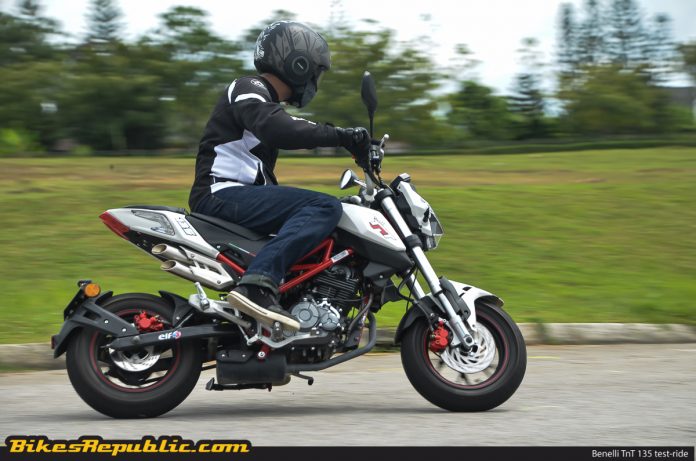 Though small, the stylish, fun and highly affordable Benelli TnT 135 is larger than life indeed!
– 135cc single-cylinder
– Oil-cooled and twin-spark ignition
– 13hp / 10.8Nm
– 121kg (dry)
– RM7,990 (basic without GST)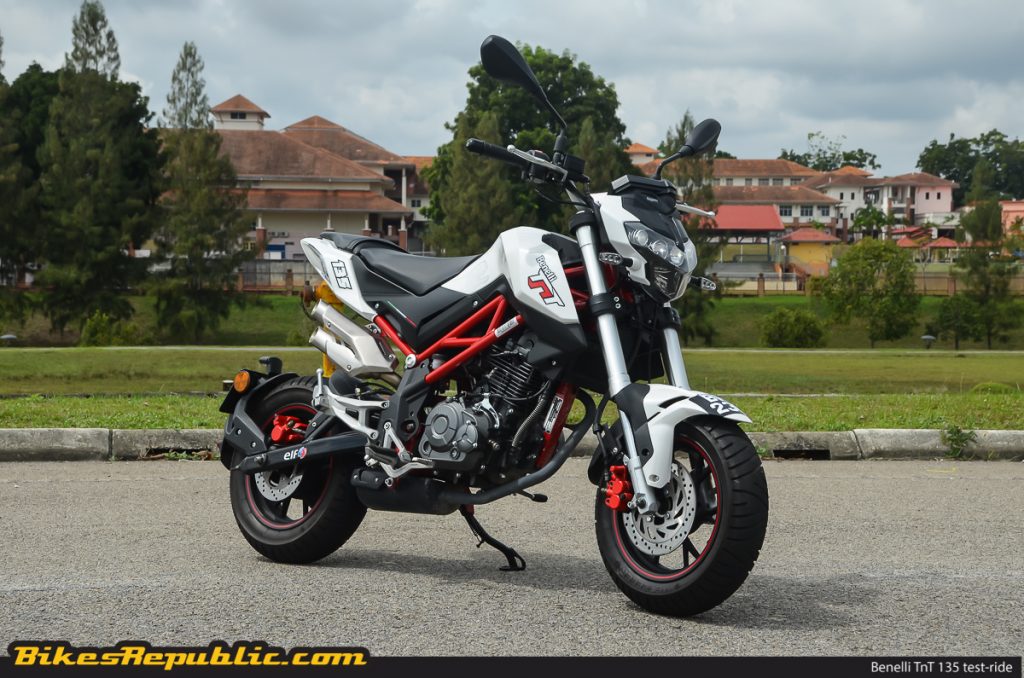 It may be small, but mini-motos (aka pitbikes or mini bikes) are larger than life thanks to this genre's offer of limitless fun for less. In essence, the Benelli TnT 135 ticks all the right boxes as far as fans of this genre – us included! – are concerned.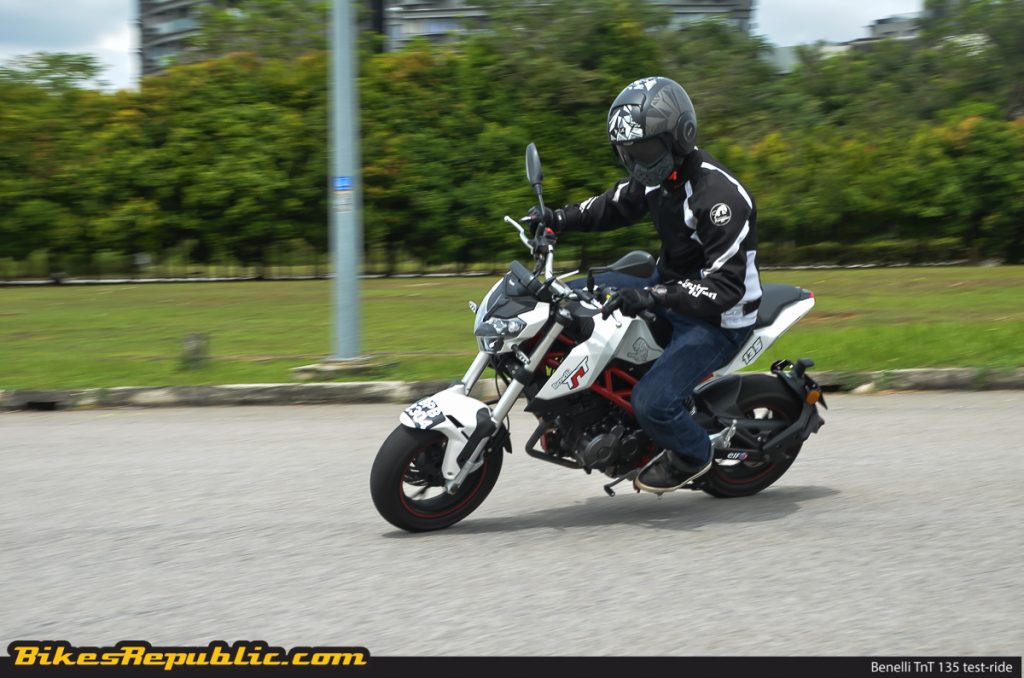 Given that it rivals against the long dominant Kawasaki Z125 Pro and the recently arrived Honda MSX 125 cult favourite, the Benelli needed to be better, if not greater than those two. We recently spent a week in the hot seat of this pint-sized mini supernaked to see just how it stacks up against them.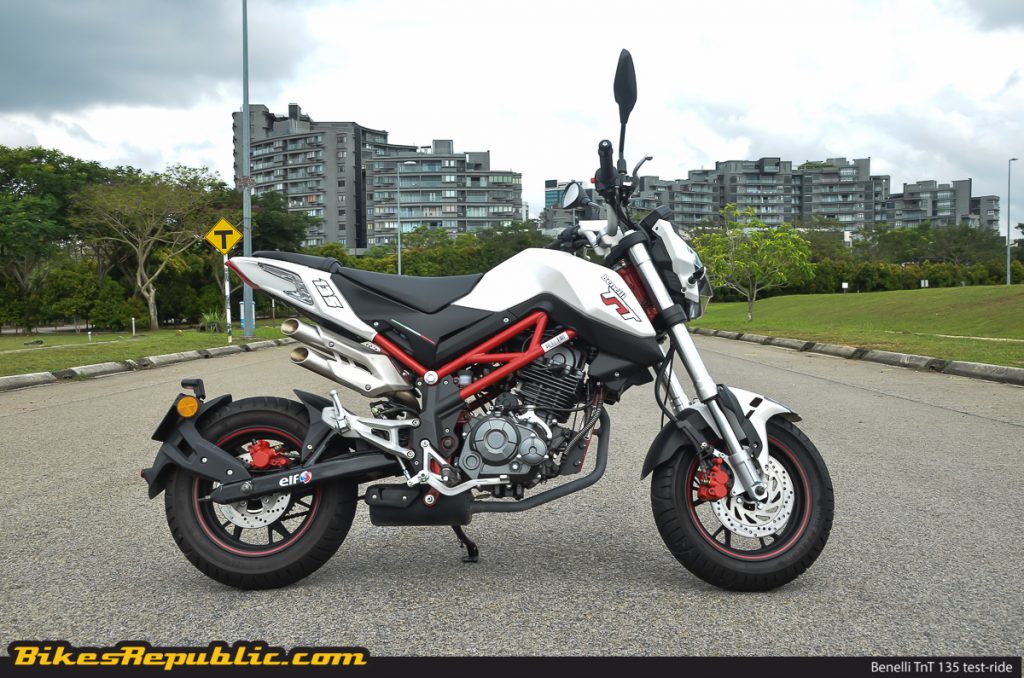 Like the rivalling Honda and Kawasaki, this entry from the Chinese-owned Italian brand doesn't appear all too different in size. Mastering this 1,750mm long bike from the comforts of its low 780mm seat doesn't take long or much. Anyone – novices and ladies included – can just hop on and go.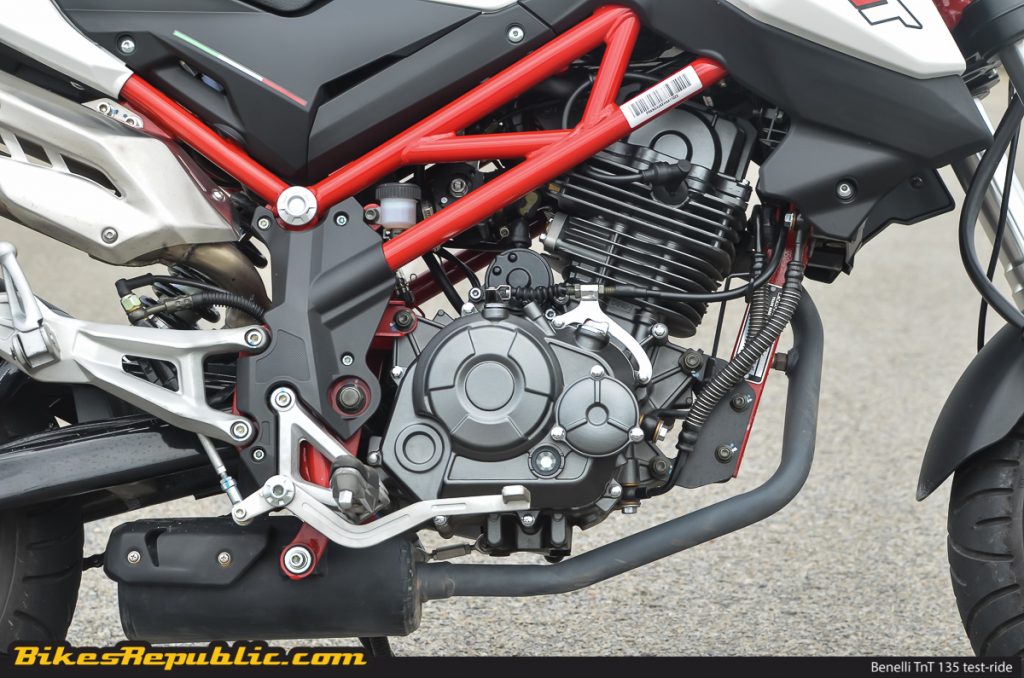 Get it going and the difference this left-field fighter holds over its two Japanese rivals becomes very clear. For starters comes the perky and Euro 4-compliant 135cc single-cylinder powerplant that's primed with electronic fuel injection, twin-spark ignition, as well as an oil-cooler.
The larger displacement, coupled with the twin-spark ignition and oil-cooling sees this Benelli offering more power, torque and higher revs over its two aforementioned rivals that make do with just 125cc, single-spark ignition and air-cooling. Sweetening this rev-happy mill further is the fact that is paired with a five-speed transmission as oppose to its rivals' four-speed setup too.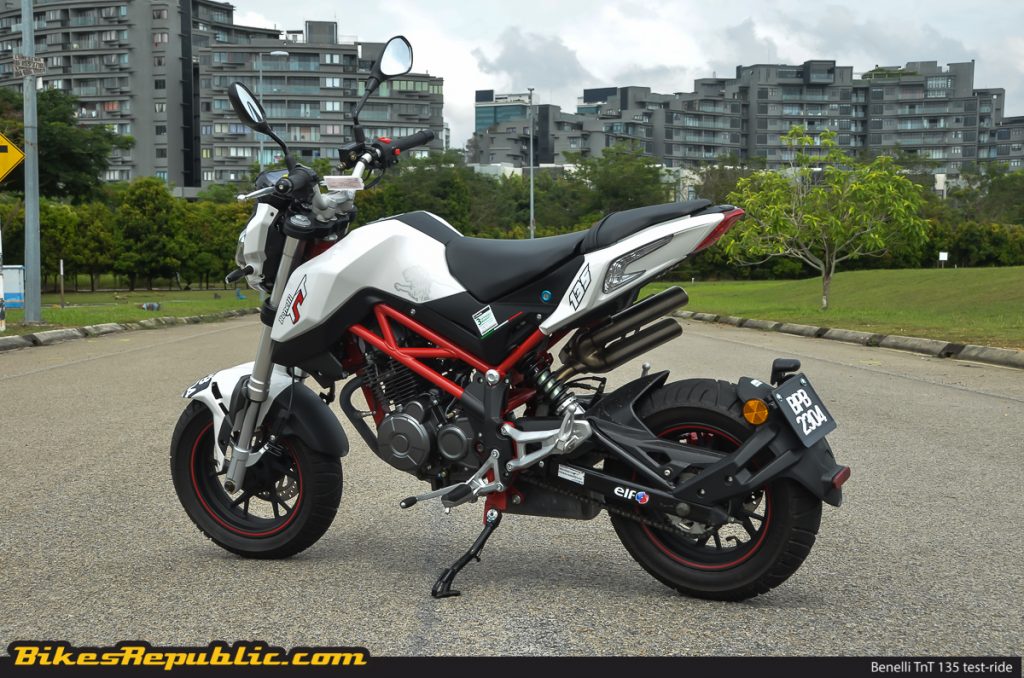 The powertrain is encased within a traditional steel tube chassis frame architecture that's similar to its rivals, but it is brimmed with plenty of features more akin to bigger bikes. Highlights include a pair of 41mm upsidedown front forks, an adjustable lateral rear shock with 50mm travel, plus all-round disc brakes.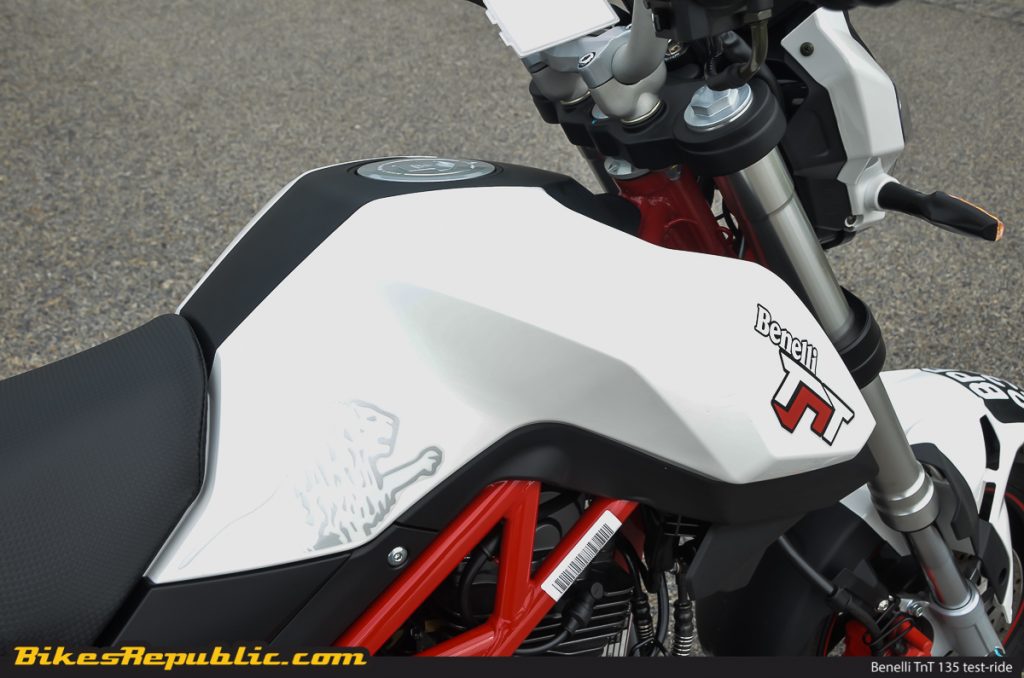 Weighing in at 121kg dry, the TnT 135 is slightly heavier than its rivals. In reality though, you can't really tell the difference because the TnT 135 masks its weight rather well. And, given that it has a larger powerplant, not forgetting the respectable 7.2-litre fuel tank, it's easy to forgive the Benelli's slightly heavier bulk.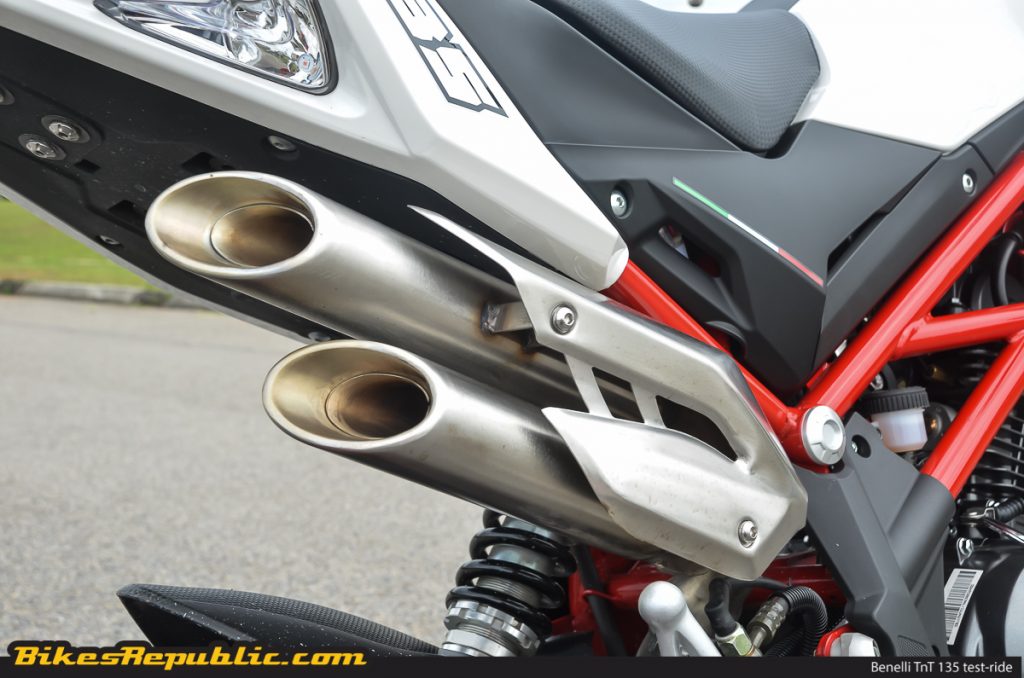 All 13hp and 10.8Nm of torque thumping out of this single gets TnT 135 going effortlessly. It does have a few quirks such as a factory-set cut-off just before the 10,000rpm red line and a rather long travel in the stock clutch lever. But the bass-rich soundtrack resonating out of those stylish twin-pipes absolves these easily.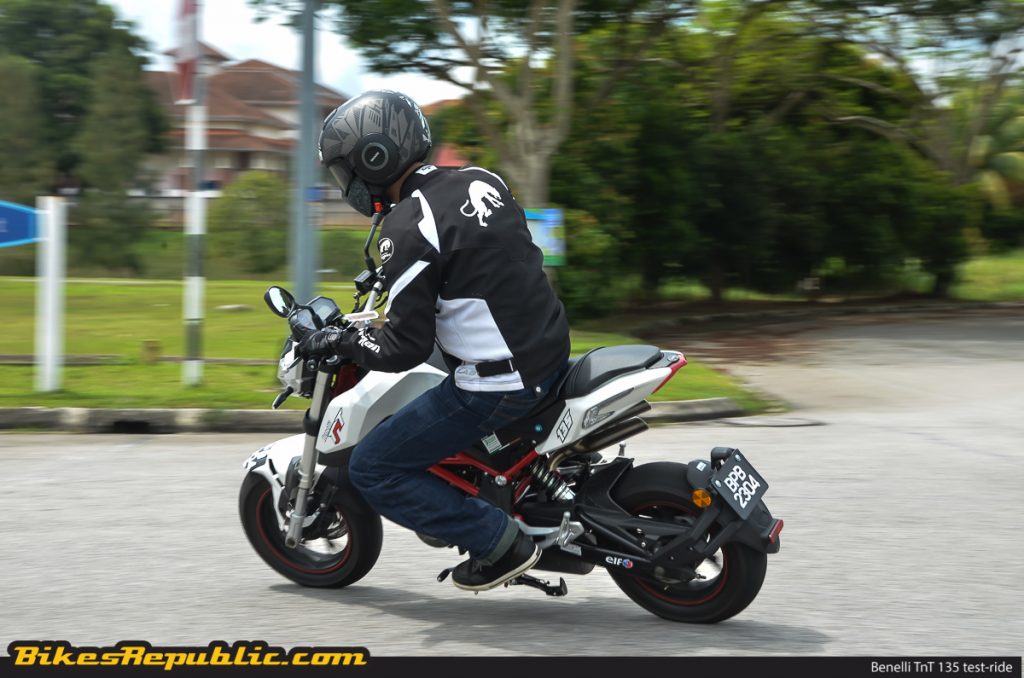 Being both compact and lightweight, the Benelli TnT 135 is naturally blessed with unrivalled agility. You'll find it much easier to both manoeuvre about and filter through traffic with this miniature supernaked as opposed to riding any full-sized moped.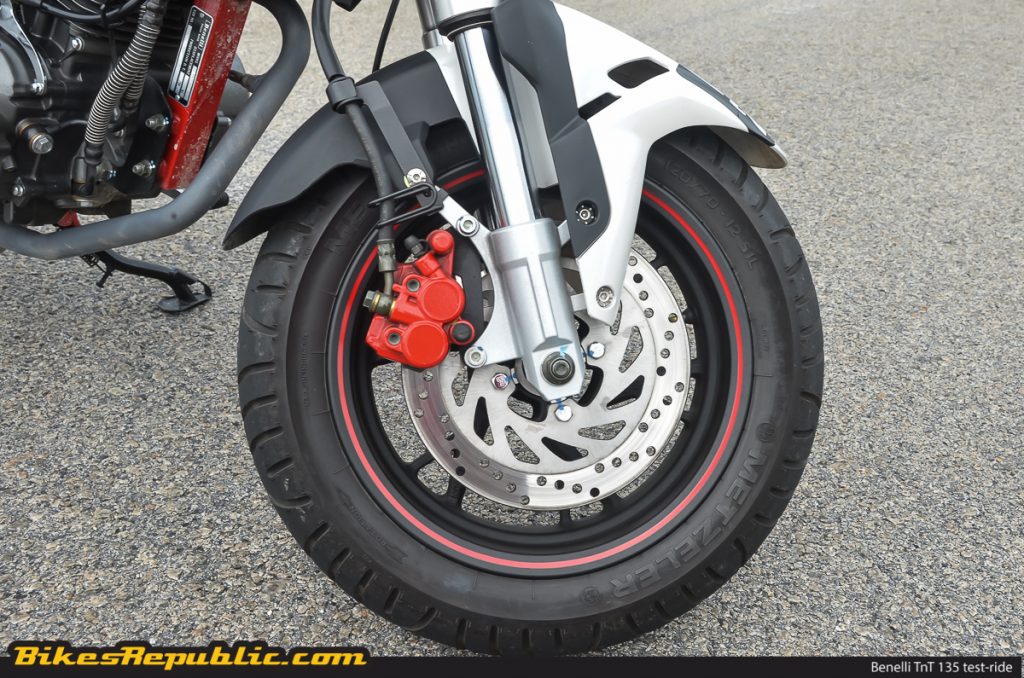 Adding to this mini-moto's high controllability are its grippy Metzeller tyres and all-round hydraulic disc brakes. Don't let their sizes fool you, the anchors do their jobs brilliantly despite the absence of ABS – you don't need it in such a small bike in fact.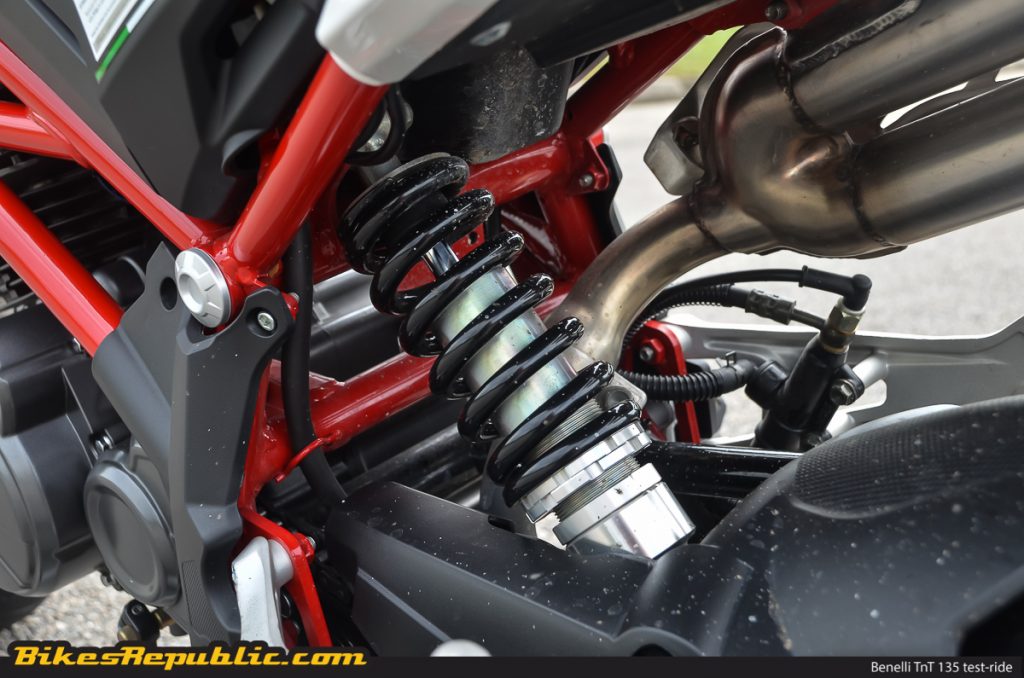 The ride on the other hand, felt equally brilliant for a bike of this size. Personally, the rear shock's factory setting did feel a little too soft, but the fact that it is adjustable means that finding the right setup wouldn't take long.
Beyond that, the spring and damper rates all-round are perfectly set up to tackle the typical imperfections littering KL's city streets. Riding in and out of the concrete jungle with this mini-moto is quite an event on its own really.
And whilst you're trotting about in town, be prepared to receive plenty of admiration and perhaps a few awkwardly comedic reactions from many. The Benelli's small size gets the latter, but the former is largely fuelled by its unmistakable Italian styling. In fact, many often noted its resemblances to an MV Agusta Brutale 800 Dragster.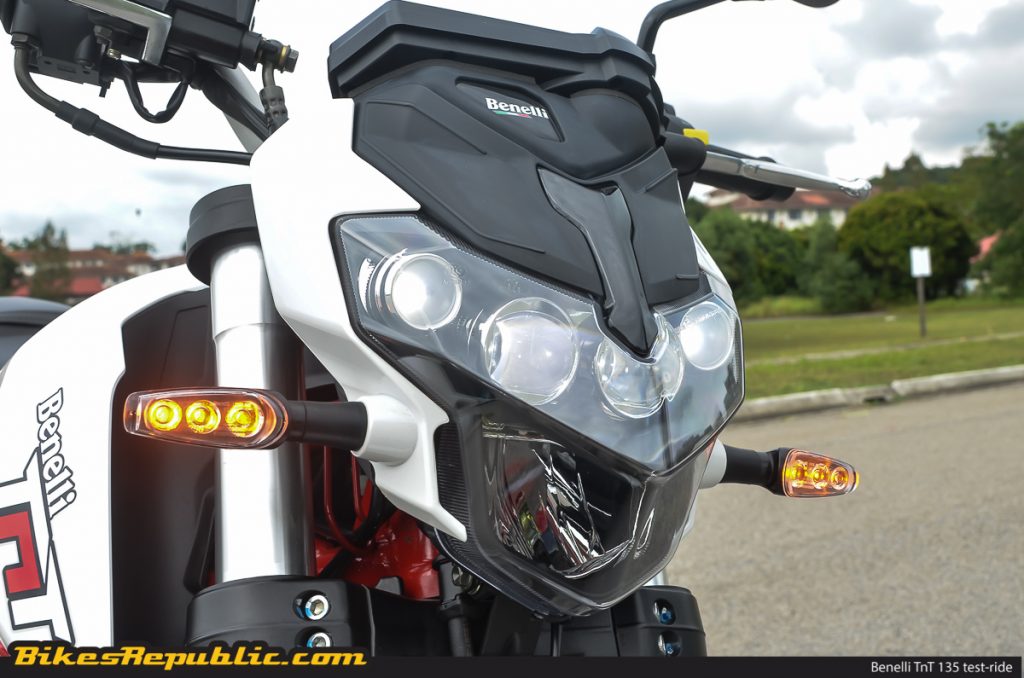 Giving a modern touch to the sharp and soulful Italian styling flair are the full-LED lighting all-round, as well as the digital instrument display panel paired with the analogue rev-counter. It does lack with a gear position indicator, but it is very easy to grasp, even with just a glance.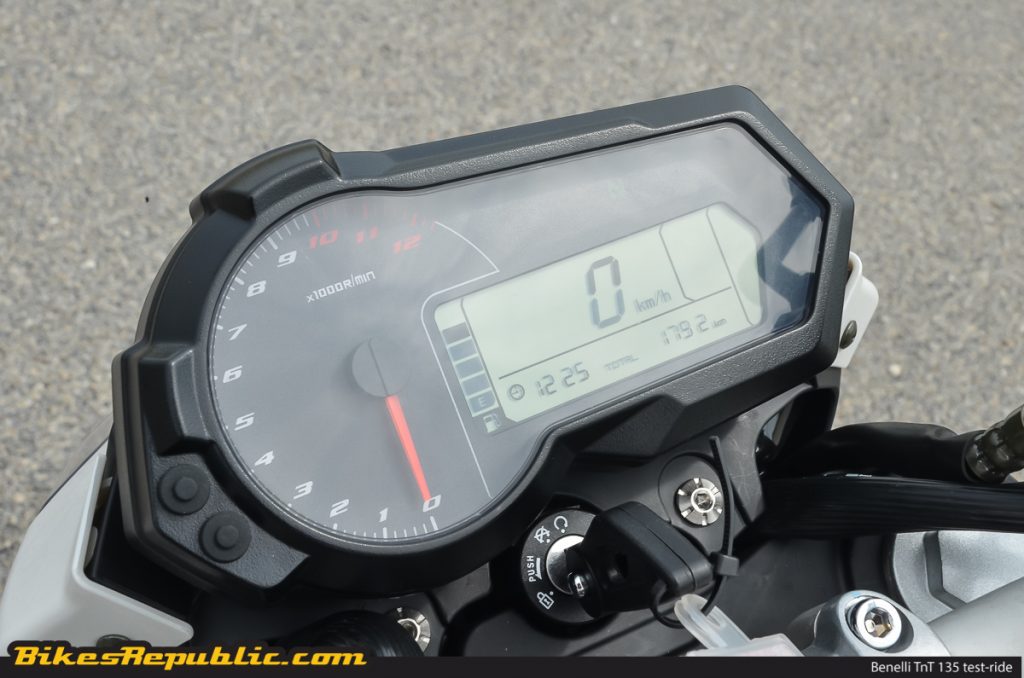 Also brilliant here were the Benelli's overall ergonomics despite its miniature size. The seat is adequately padded whilst the handlebars' width and height, plus the placement of the footpegs doesn't feel too awkward at all – even for a sub-six-footer such as myself.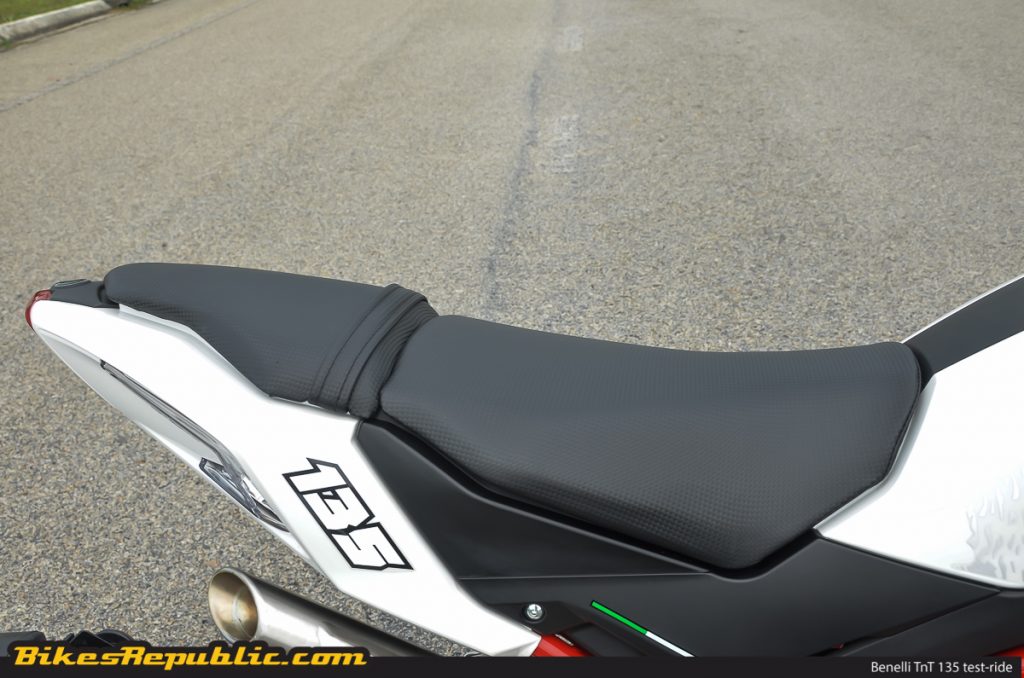 If you've longed to have a mini-moto as a daily, then the Benelli TnT 135 is perhaps the best candidate. The added power and performance, well thought out riding ergonomics, not forgetting its brilliant ride and handling make it so.
For those with customisation plans in mind, you'd also be glad to know that assemblers and distributors Benelli Keeway Motorcycles Sdn Bhd (BKM) have prepared a rich catalogue of accessories for the Benelli TnT 135. As long you don't mind spending a little more, you can trick out this pint-sized naked as your own easily.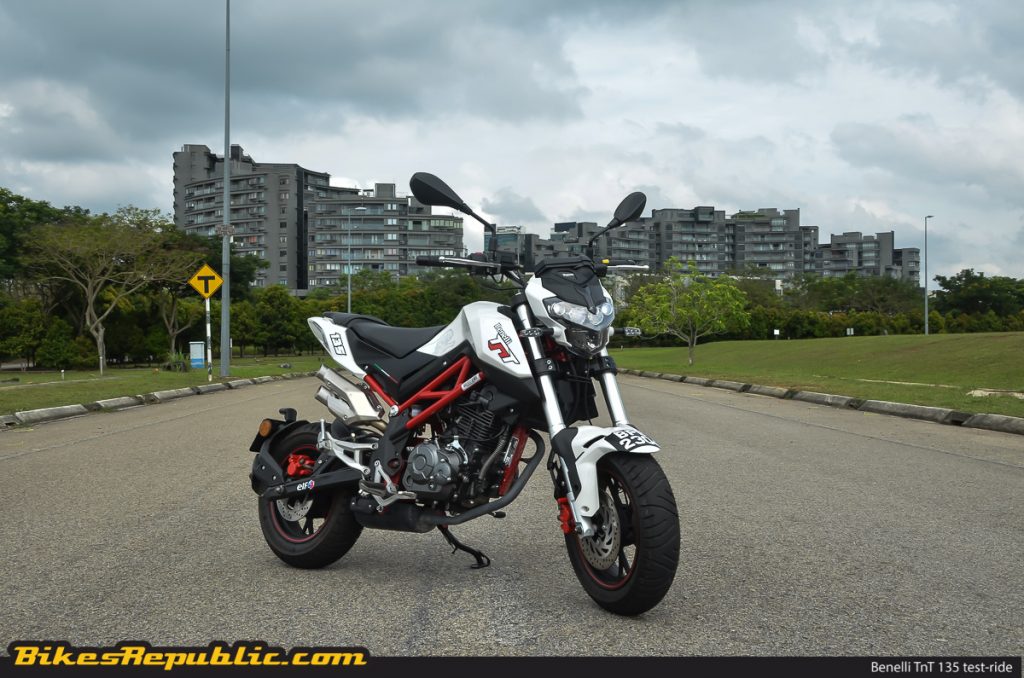 Against its two Japanese rivals, it is safe to say that the Benelli TnT 135 isn't down in performance and handling. This left-field contender has got slightly more to offer in those senses whilst its sharp styling and rich features list are the added bonuses.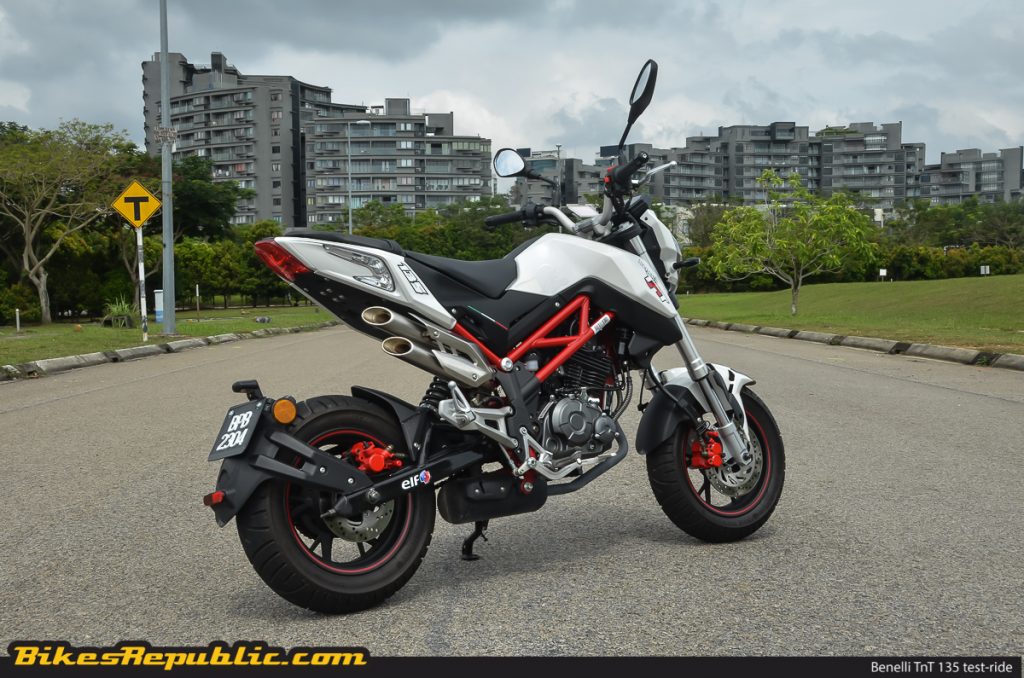 And to have all that at a very affordable price tag sees the Benelli TnT 135 trumping said rivals in an almost absolute fashion. Locally assembled here in Malaysia, BKM launched the Benelli TnT 135 last month with basic retail price of just RM7,990 without GST.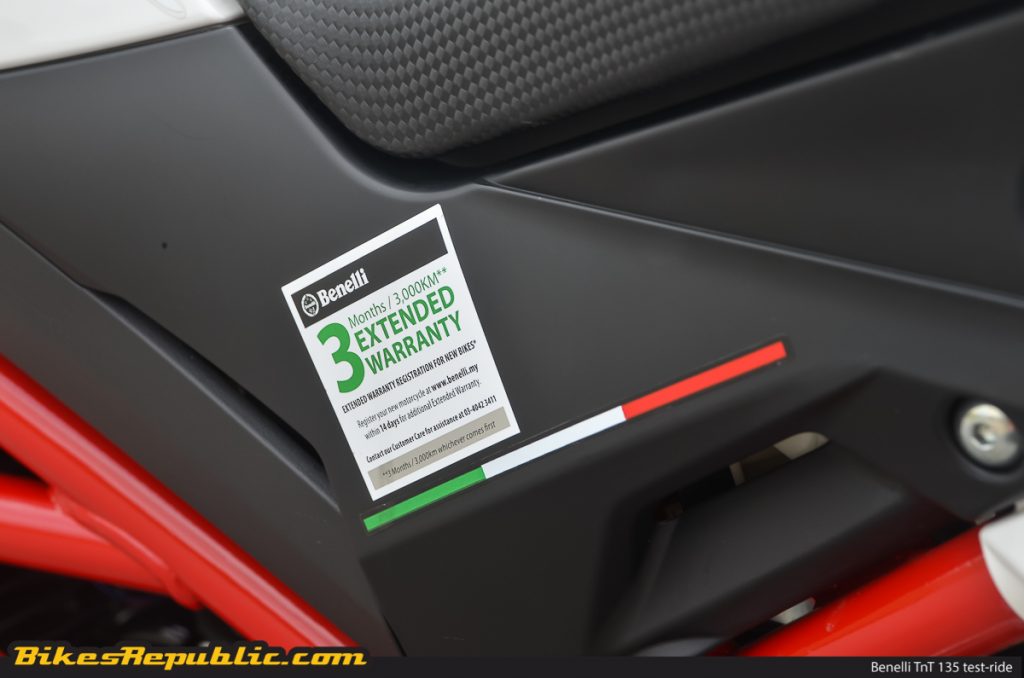 A one-year or 10,000km warranty plan is included while three-month or 3,000km extended warranty is also available if you register your bike online with BKM. This much fun and style at such a price means that the Benelli TnT 135 holds tremendous value for money over its rivals as well.
=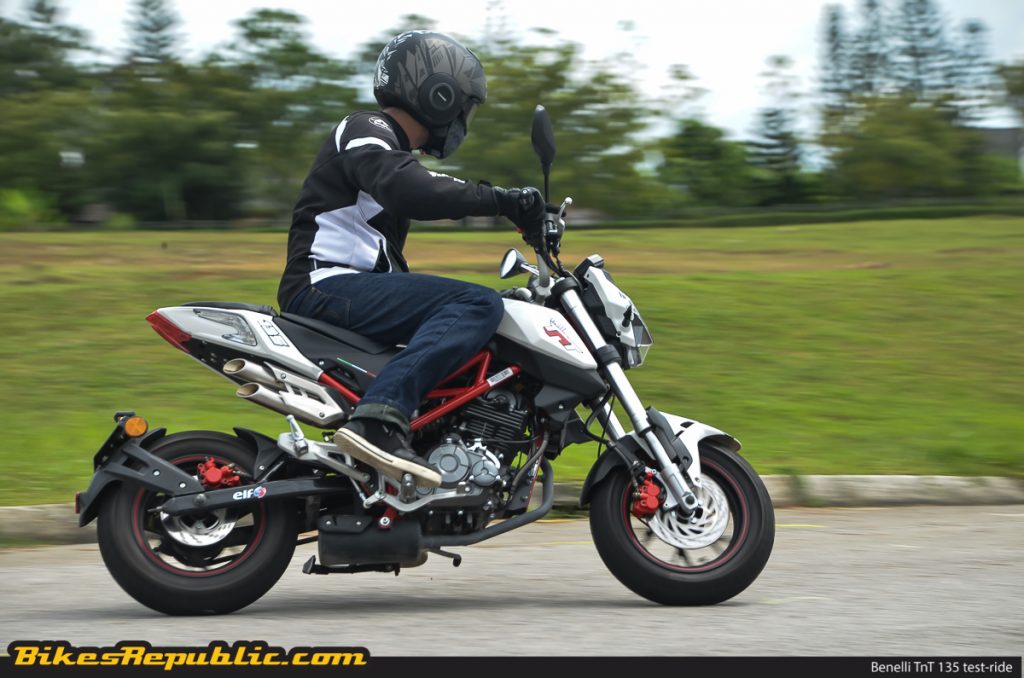 Though it is a cliche thing to say; good things do come in small sizes, and this Benelli perfectly demonstrates that. Check out more images and the full specifications of this mini but mighty bike below.
Benelli TnT 135
ENGINE
135cc oil-cooled twin-spark
SOHC single-cylinder with
electronic fuel injection
TRANSMISSION
5-speed manual with chain-drive
POWER
13hp @ 9,000rpm
TORQUE
10.8Nm @ 7,000rpm
CHASSIS
Trestle steel tubed with
twin-sided swingarm
SUSPENSION
Front:
41mm upsidedown forks
with 120mm strokeRear:
Lateral shock absorber with
pre-load adjustment
BRAKES
Front:
1x 220mm steel disc with
dual-piston caliperRear:
1x 190mm steel disc with
single-piston caliper
WHEELS & TYRES
Front:
120/70-ZR12Rear:
130/70 – ZR12
FUEL TANK
7.2 litres
SEAT HEIGHT
780mm
WEIGHT
121kg (dry)
PRICE
RM7,990 (basic without GST)
FROM
Benelli Keeway Motorcycles (BKM) Sdn Bhd
https://malaysia.benelli.com/
Gallery: Benelli TnT 135