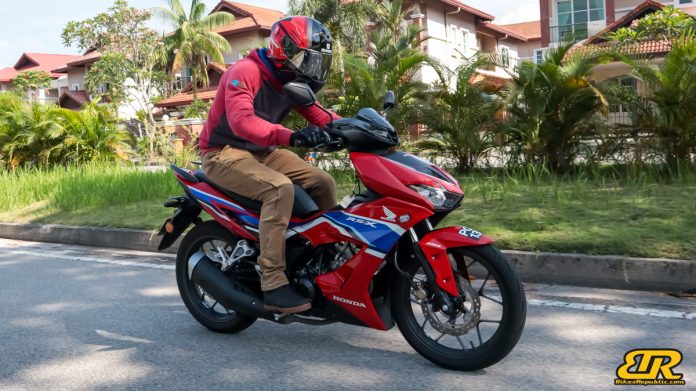 Packing sporty styling and performance to match, the Honda RS-X truly embodies what a supercub or supermoped should be – a proper thrill ride!
Liquid-cooled DOHC 149cc single-cylinder.

15.8HP and 13.6NM on tap, plus a light 122kg kerb weight.

Peppy performance matched with super agile handling.

Very sporty and sharp styling ala bigger CBR sport machine.

From RM8,688 (base price).

Supercub/Supermoped? How 'super' is this thing?
For a moped or kapchai (cub) bike? Very. Allow us to explain…
The Honda RS-X, as well as its sibling the RS150R, truly stand apart from its regular commuter stablemates like the Dash, Wave or EX5 models drastically. For starters, there's the peppy 150cc powertrain they pack which feature dual-camshaft (DOHC) instead of a single-cam (SOHC) setup, allowing the RS-X's single cylinder to thump out a respectable 15.8HP and 13.6NM of twist.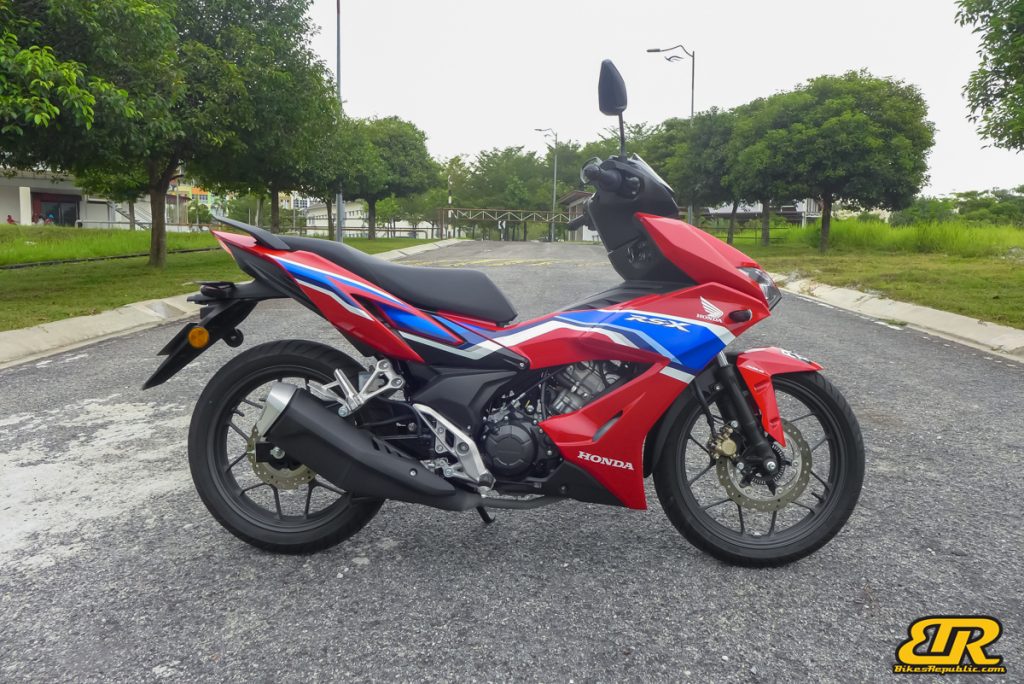 Next comes a better sorted chassis that's brimmed with ancillaries commonly seen in bigger, pricier bikes. Notable here are things like a rear monoshock instead of traditional twin rear shocks, larger 17-inch wheels and tyres combo, as well as all-round disc brakes. In this Honda's case, it now sits at the top of its class thanks to the presence of a single-channel ABS suite too – more on this in a bit.
Apart from that comes a host of rather uncommon 'premium' features rarely seen amongst commuter mopeds such as a multi-function digital dash display and full-LED lighting. In short, supercubs like the Honda RS-X are essentially kapchais (mopeds) that pack plenty of extras over their regular commuter brethren that promises greater style and performance.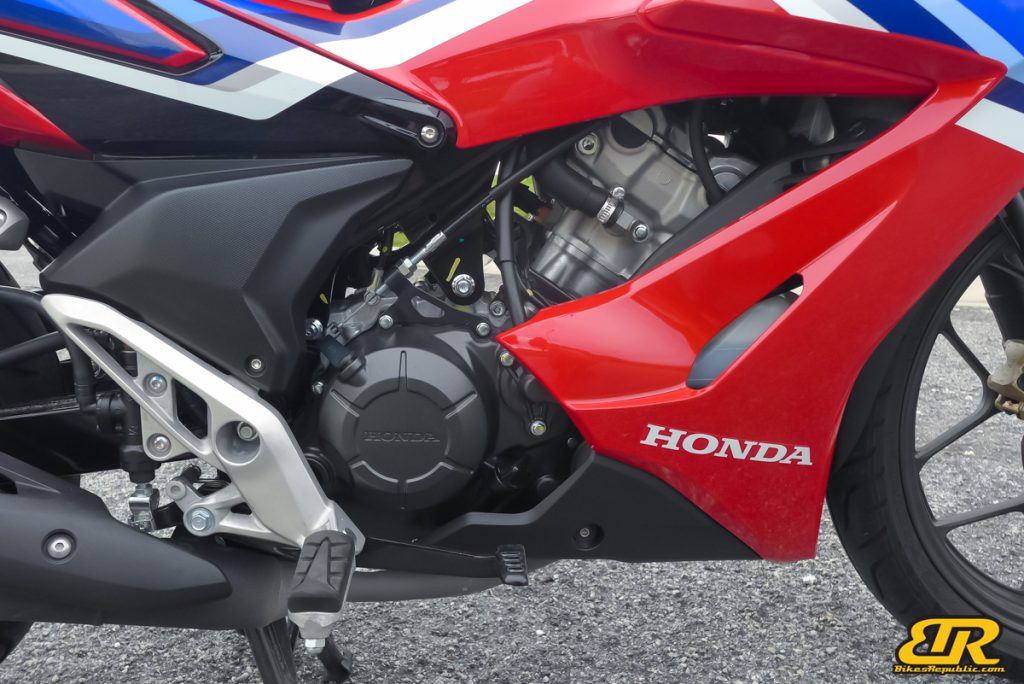 Does this mean it offers a 'super' ride too?
Yes, unsurprisingly.
There's a lot of accessible power and grunt throughout the entire rev-range. Milking the RS-X's mill all the way to its red-line – which sits at 10,000RPM – is a thrill on its own too. The bonus here is a raspy engine and intake note the mill delivers whilst doing so. We just wished the regulation-compliant pipe sang a similar tune.
Whilst here, we'll also note just how easy it was to master the six-speed manual transmission present. Despite lacking an assist-and-slipper clutch, the shift action still felt rather slick, whilst the clutch lever's short and light pulls add to the ease for anyone getting to grips with it too. What adds to the fun factor here are the short ratios of the first three cogs too, which grant rapid off-the-line sprints.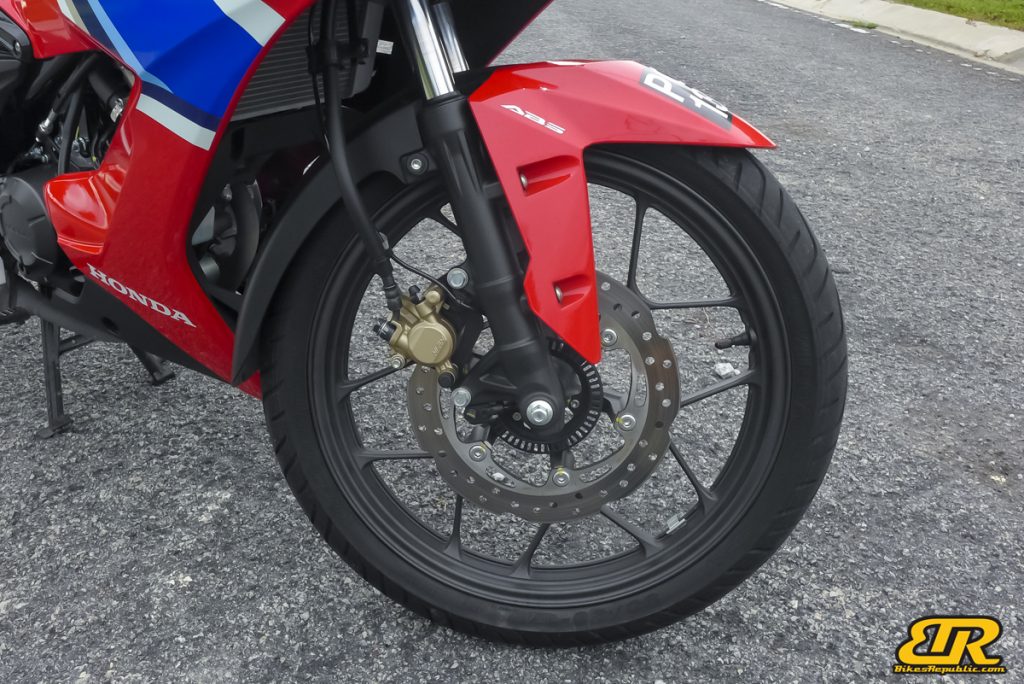 Despite lacking adjustability, the suzzies are tuned almost perfectly for sporty riding. That, plus its low kerb weight are key catalysts to its high agility, as are the excellent anchors brimmed. Consisting of all-round hydraulic disc brakes plus a single-channel ABS suite, these offer plenty of bite and stopping power, not to mention greater safety too. The bonus here is the easy lever modulation.
The only thing we have to gripe about here are the stock CST tyres shod on the RS-X's stylish 17-inch wheels. Though they're decent tyres overall, we're certain a swap for something from a bigger name brand – i.e. Bridgestone, Michelin, etc. – ought to really bolster the Honda RS-X's handling abilities and ease further, especially in the wet.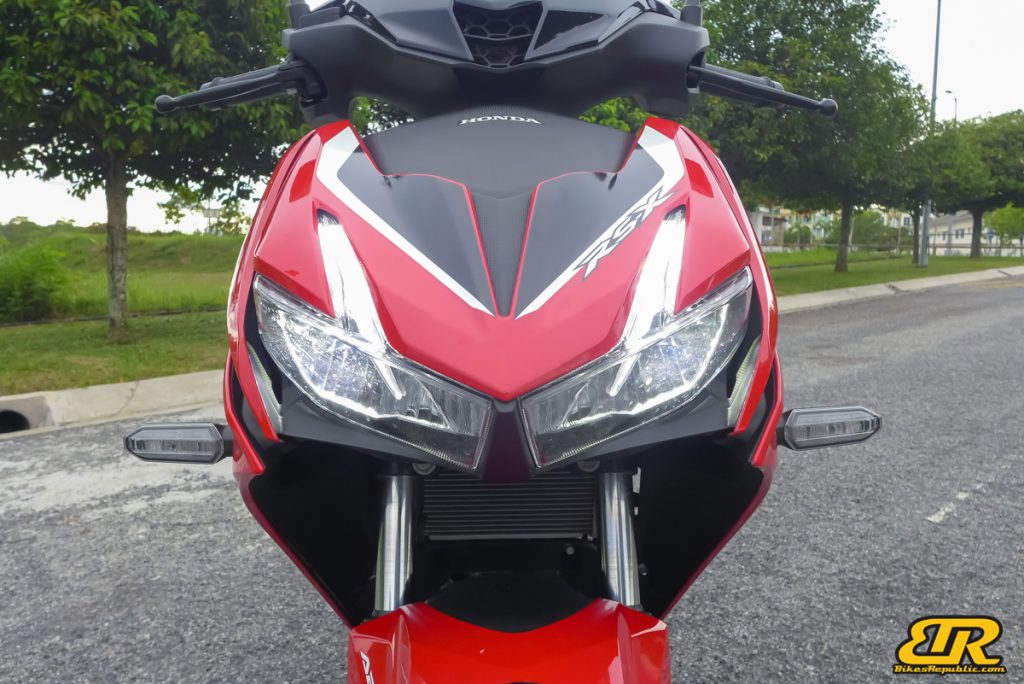 It does look very 'super' indeed…
Clearly, this is the result of Honda's design team taking steps in the right direction of sapplying big bike-like styling into its small bikes. With the Honda RS-X, it's aptly clear much of its style was inspired by Honda's signature CBR sportbike line – a fact further amplified by our tester's 'Trico' colourway option too.
Furthermore, what really adds to the RS-X's overall styling lie in its finer details. What we loved most were the carbon-effect finishing of the black plastic panels up front, as well as tasty black-finished clutch and brake levers up front. Yup, the attention to detail applied here by Honda's design team deserves applause.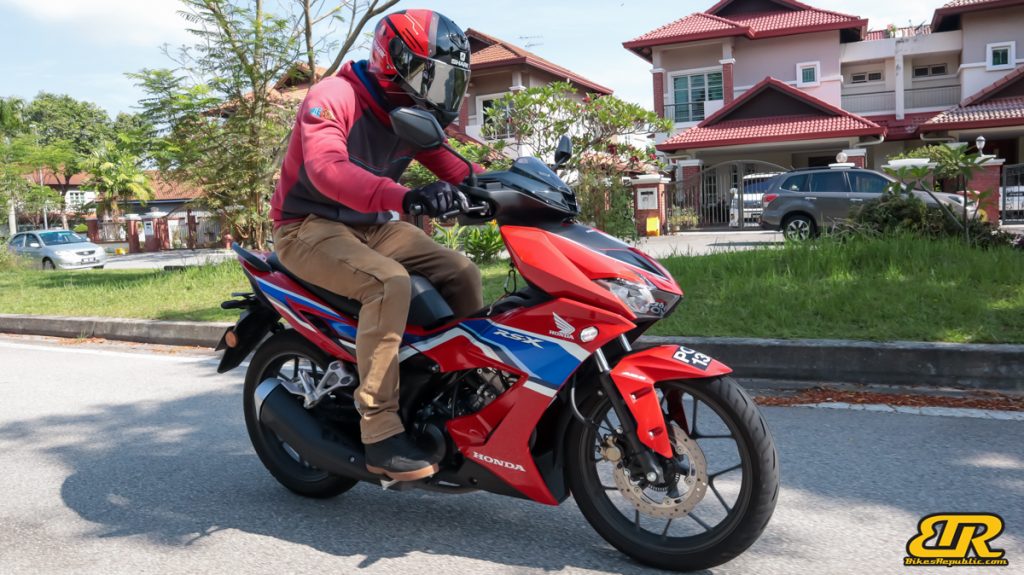 How does it stack up with everyday riding duties?
As mentioned, the suzzies the Honda RS-X is endowed with lack adjustability, and they naturally lean on the firmer side of things. However, Honda have dialled in decent amounts of travel and damping, thus allowing the RS-X to tackle bumps and imperfections littering our urban pavements in decent stride.
What we know will not sit well with many is the seat saddle itself, which felt hard and lacked padding – a rather renowned quirk in the RS150R too. Besides the tyres mentioned earlier, this is one area that owners will need to address. Thankfully, there are aftermarket specialist that can tailor custom saddles at affordable prices, and potential owners should seriously consider this.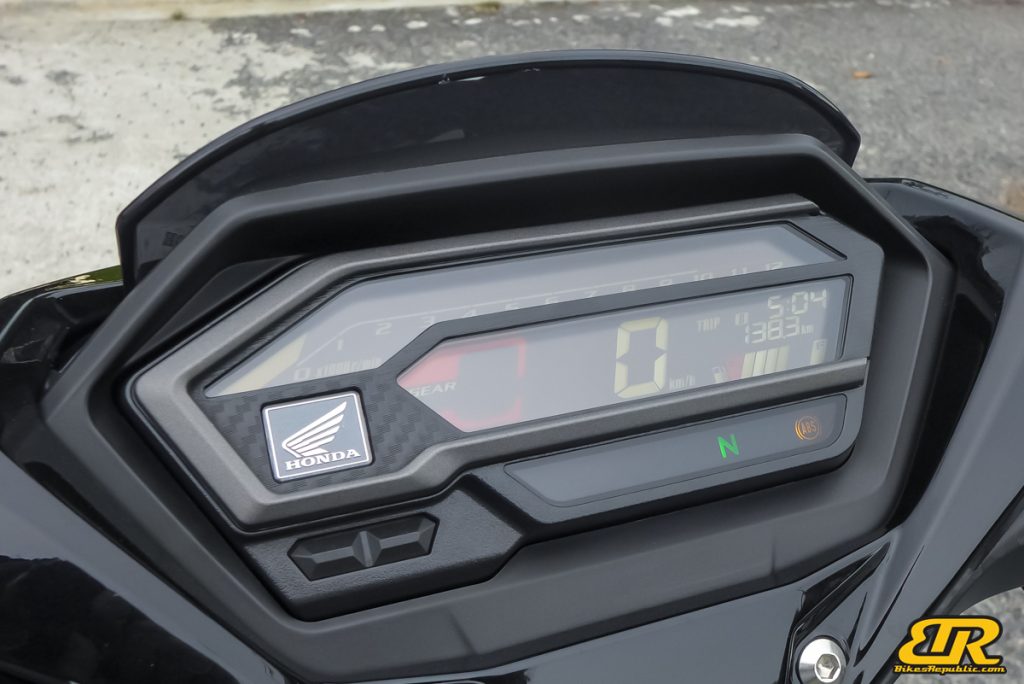 Typical of kapchai bikes, useable storage space on board is virtually non-existent, but this is forgivable as there are aftermarket solutions – i.e. top cases and glove boxes. What's unforgivable though is absence of a USB charging port and perhaps keyless ignition – things expected out of a 'premium' supercub. Moreover, these are also things present in the RS-X's chief rival – the Yamaha Y16ZR.
Perhaps the saving grace here is the fact that the Honda RS-X can be very frugal when ridden conservatively – an expected trait of any Honda brimmed with PGM-FI electronic fuel injection suite. We did that for a bit and saw a reading as high as 45.3KM/litre in fact. This also ought to ease any range anxiety stemming from the RS-X's rather small 4.5-litre tank.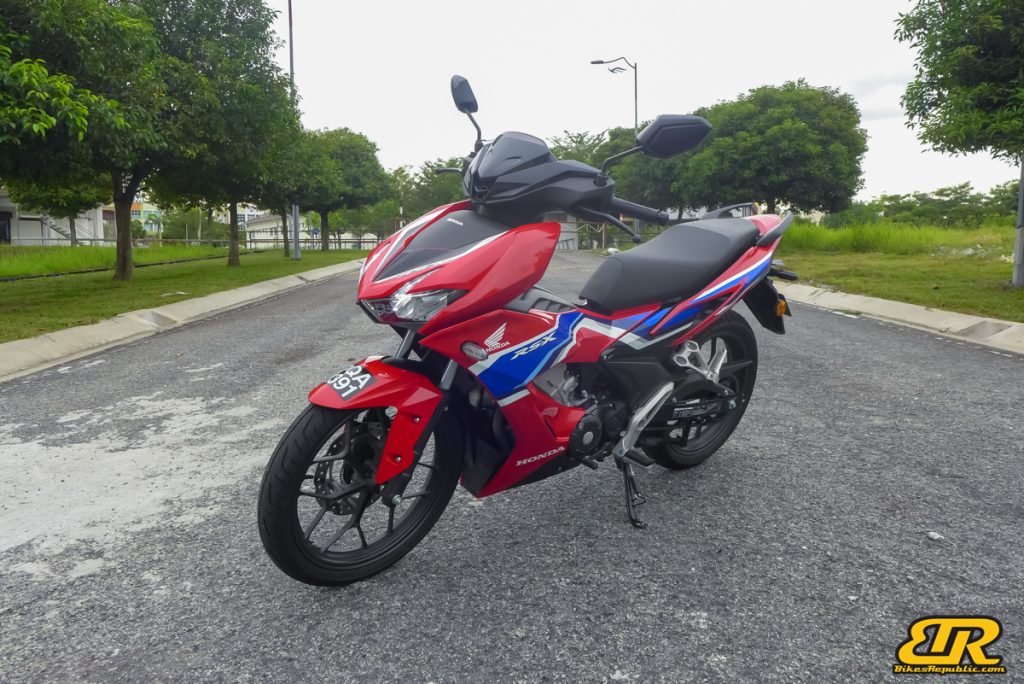 Should I really consider one then?
Apart from rock-hard seat saddle, absent premium features, and perhaps its small tank, there's little else to loathe with the package offered by the Honda RS-X. It really is quite the thrill ride backed up by the performance and style to match, plus the respectable features count to boot.
Surely, this much style and fun in something this small should be illegal, especially at the steal of a base price figure the RS-X commands – just RM8,688. In comparison, the peppier and feature-rich but ABS-less Yamaha Y16ZR crosses the RM10,000 threshold, thus entailing stiffer financing terms.
In other words, this is an ideal starting point for any newbie rider fresh out of riding school seeking both a daily commuter and weekend fun tool that won't break the bank. Anyone else keen on this supercub as we are?
Verdict
FOR (+)
AGAINST (­-)
–        Sporty and sharp CBR-inspired styling, especially in Trico colourway.

–        Peppy and rev-happy powerplant delivering a lot of useable power.

–        Superb suspension and brakes tailored for fun through twisties.

–        Surprisingly economical when ridden conservatively on the daily.

–        Very tempting price tag for what it delivers as a whole package.

–        Seat saddle lacks padding and feels rock-hard.

–        An assist-and-slipper clutch would've sweetened the driveline package.

–        Could use a bigger display screen.

–        Absence of useable on-board storage.

SPECIFICATIONS – Honda RS-X
ENGINE
Liquid-cooled DOHC 149.2cc

single-cylinder

TRANSMISSION
6-speed manual

multi-plate wet clutch, chain-drive

POWER
15.8HP @ 9,000RPM
TORQUE
13.6NM @ 7,000RPM
CHASSIS
Twin-tube type frame
SUSPENSION
Front: Telescopic forks

Rear: Monoshock

BRAKES
Front: 296MM disc, hydraulic

Rear: 190MM disc, hydraulic

Single-channel ABS (front)

FUEL TANK
4.5 litres
DIMENSIONS
(LxWxH): 2,019MM x 727MM x 1,104MM

Wheelbase: 1,278MM

WHEELS/TYRES
Front: 90/80 -17M/C 46P

Rear: 120/70-17M/C 58P

SEAT HEIGHT
795MM
WEIGHT
122KG (kerb)
PRICE
RM8,688

(base price excluding on-road costs)
Gallery – Honda RS-X