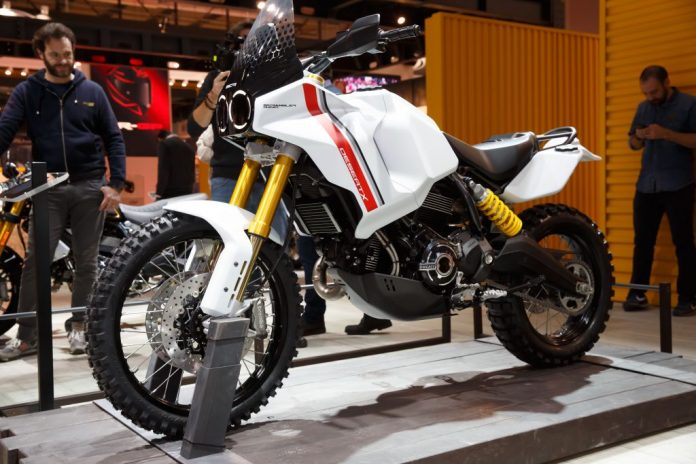 The Ducati Desert X concept was unveiled at EICMA 2019.

The sketches were first shown at the Ducati World Premiere.

It's based on the Scrambler 1100 platform.
The Ducati Desert X concept was unveiled at EICMA 2019 as the manufacturer promised during the Ducati World Premiere last month.
It's the last day of the show and we wondered if the Desert X was going to be unveiled at all. It finally has and it looks great.
Designed along the lines of the Cagiva Elefant (when Cagiva owned Ducati) and meant as homage to the Paris-Dakar Rally winner, it's a stunning-looking bike. Ducati will have line of true retro off-roader, should it go into production.
But rather than build a new bike from the ground up, the Desert X uses the Ducati Scrambler 1100 Sport (as with the concept) as the platform, along with the Öhlins suspension. As such, it gets the retro scrambler's thumping 1079cc, air-cooled, 90-degree V-Twin.
The bike does get a lift in ride height courtesy of the longer travel suspension, along with 21-inch front and 18-inch front and rear wheels. Apart from that, there is also a steel luggage rack above the classic taillight and mudguard situated below
Look closer and you'd see that the fuel tank has filler caps on both sides. These are for the front tank, while another filler is located behind the rider for the rear fuel tank.
Other nice bits we can see are the new TFT screen which looks a lot like a max-sized smartphone, taking the place of the map-roller.
But the truly nice feature had to be the headlamps. Instead of having two bug-eyed Cibie-like units, they're enclosed behind a plastic shroud and surrounded by a ring of LED's.
According to Asphalt & Rubber, Ducati says that the respond they received is "overwhelming." That could very much mean Ducati may well consider putting it into production.