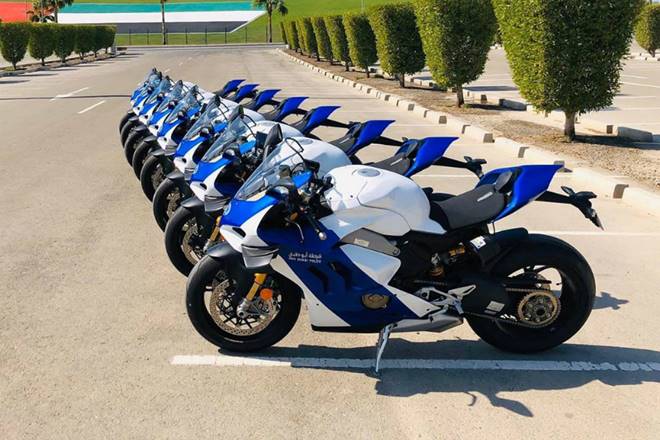 The Dubai Police have added eight Ducati Panigale V4 R to their fleet.

They already own a stable of luxury cars.

The bikes will allow them to zip through traffic easier.
Forget about Miami Vice or Bad Boys, it's the Dubai Police who have the hottest fleet of vehicles, now that've added eight units of the Ducati Panigale V4 R.
In case you don't know, the Panigale V4 R is the homologation model for the Ducati WorldSBK race bike. In other words, it's a street-legal superbike racer. Although at 1000cc compared to the V4 and V4 S's 1103cc, the V4 R's Desmosedici Stradale engine produces more power, rated at 221 bhp in stock form. The race ECU and Akrapovic exhaust bumps it up to 234 bhp.
Yes, it's the most powerful 1000cc superbike.
The Dubai five-o (Police Department) already owns a fleet that'll make millionaires jealous, consisting of the Audi R8, Lamborghini Huracan, Nissan GT-R; various Bentleys, BMWs and a Bugatti Veyron. That's not all, a Lykan HyperSport also joined the force in May this year.
However, the Ducatis allow the cops to zip through traffic much easier compared to the cars. The tweet shows that a Formula 2 car was also pressed into service along with the Ducatis.
So, there's absolutely no way of "shaking the cops like this by keeping that Porsch in fifth" (borrowing the words from a Sir-Mix-A-Lot song).