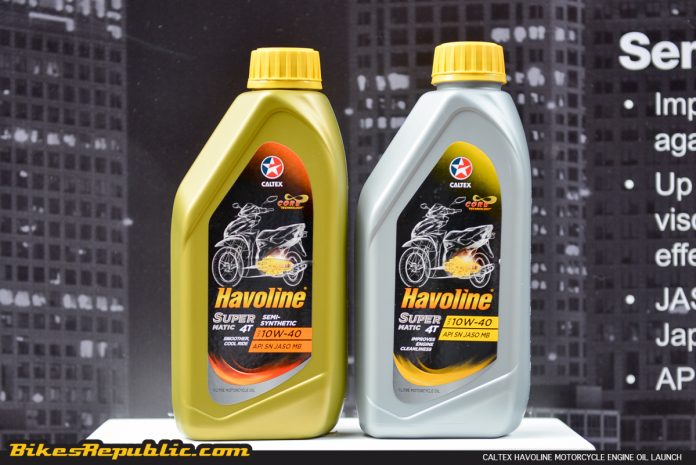 The new Havoline motorcycle engine oils are especially formulated for urban riding.

At the heart of some oils is the CORE Technology.

Caltex is also offering "Ride Strong" promotional package.
Subjected to extreme pressure and heat in the engine, coupled to variable operating and ambient temperature, fighting off affluent of the combustion process, resisting being oxidized by moisture, engine oils lead a hard life in order to protect, lube, cool, and clean the parts of an engine.
Racing is of course and activity that's harsh on oils, but lugging the bike at slow speeds in traffic is just, if not worse.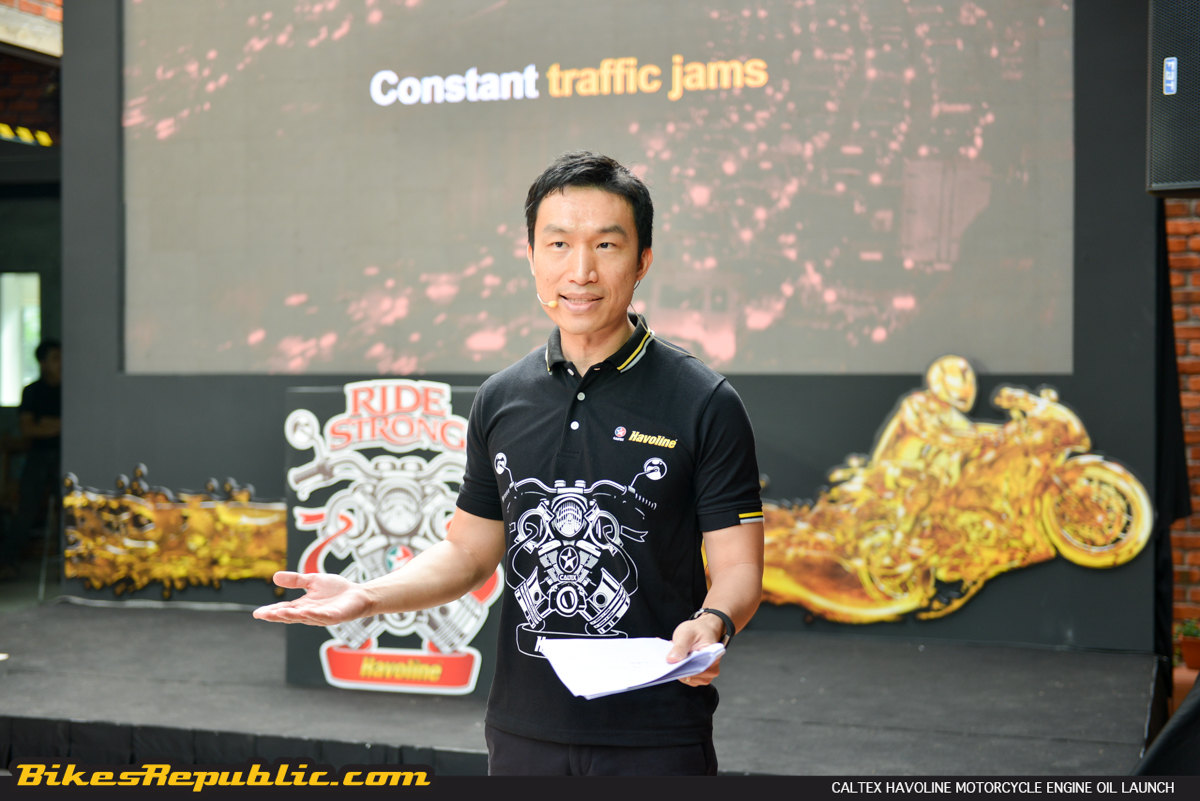 At extra slow speeds like those encountered in inner city commuting, depending on the state of tune (in terms of valve overlap) an internal combustion engine may not produce enough positive pressure from combustion or negative pressure from the exhaust tract to evacuate the burned gasses, leaving behind residues that end up as carbon and so forth.
In the meantime, temperatures increase due to lack of airflow and it's the job of the coolant (if the bike is liquid-cooled) and oil (especially critical if the engine's oil- or air-cooled) to keep temperatures manageable. Oils break down quickly in this environment.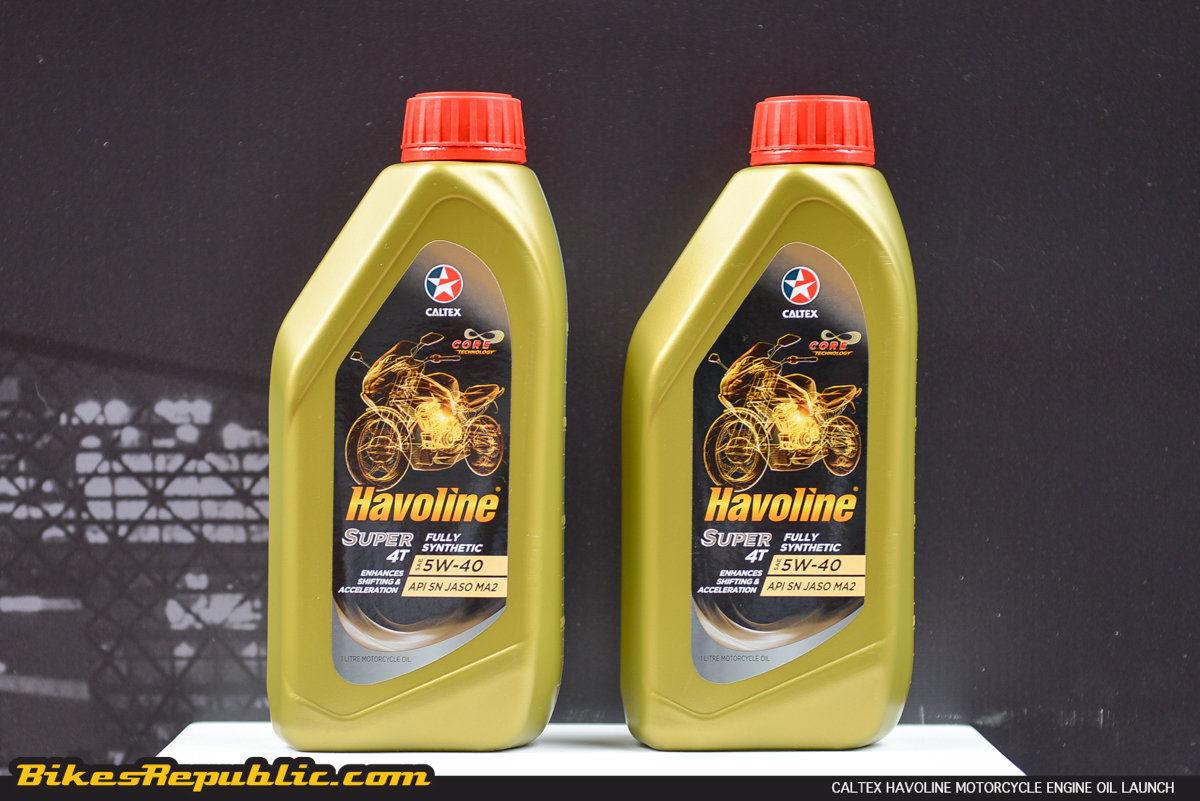 Yet, the oil has to avoid causing the clutch plates to slip while being sheer resistant to provide optimum protection to the engine and transmission. (This is why we should never use car engine oils in a motorcycle engine. Click on the link below for our earlier article on this subject.)
I Lube You (Also known as Why You Shouldn't Use Car Engine Oil in Your Bike)
That's the main aim of Caltex's new line of engine oils, lead by the flagship Havoline Super 4T Fully Synthetic SAE 5W-40 for motorcycles and scooters. The family includes semi-synthetics and mineral grades, as well.
Caltex's latest proprietary C.O.R.E. Technology was developed to address the concerns of today's urban riders. The semi-synthetic range is further fortified with ZOOMTECH additive, to minimize clutch slip hence maximizing power transfer.
Lennard Kwek, Regional Marketing Manager, Asia Pacific, Chevron Lubricants said it best, "Motorcycles make up almost 46% of the registered vehicles on Malaysian roads and in start-stop city traffic and congestion, the vehicles are constantly under stress. For our consumers, our latest range of Havoline motorcycle engine oils with C.O.R.E. Technology and ZOOMTECH booster aims to give riders a reliable product that is especially suited for urban commuting."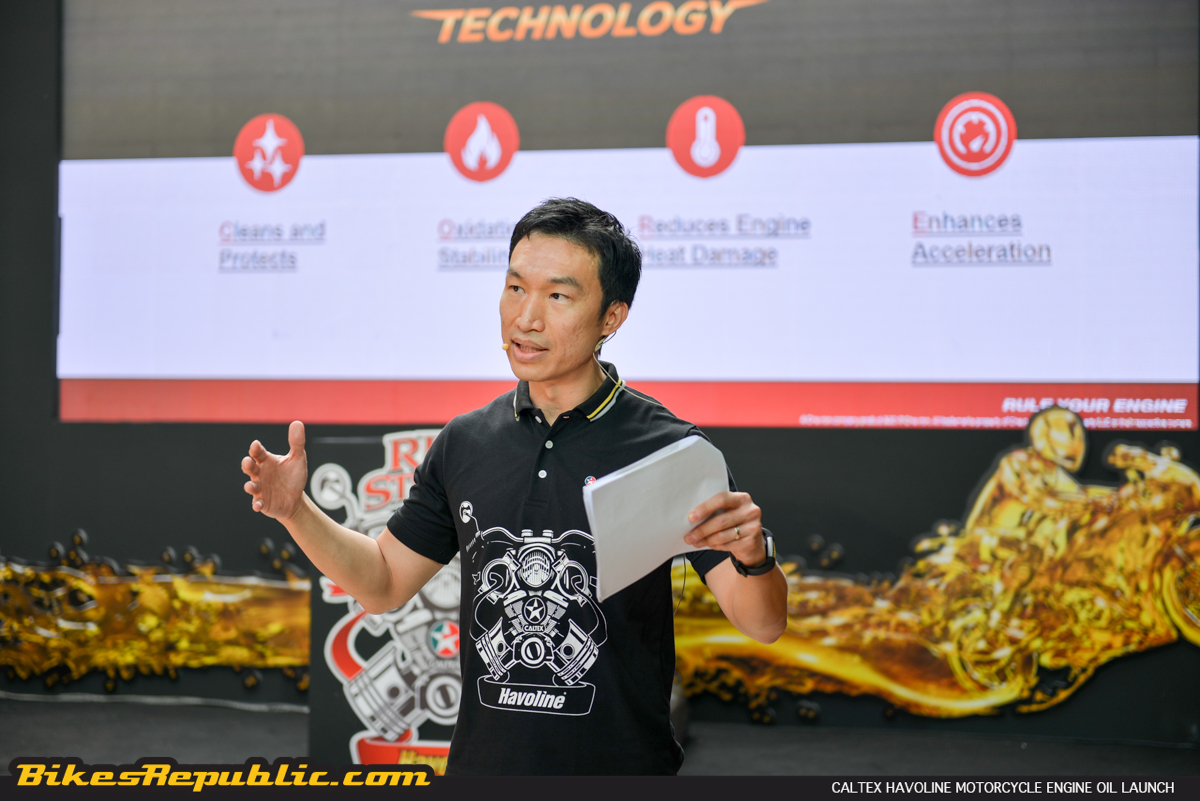 C.O.R.E. Technology stands for:
Cleans and protects for a more efficient and cleaner engine to deliver superior performance.
Oxidation stability provides heat protection against oil degradation.
Reduces engine heat damage with superior oil stability for continuous protection.
Enhances acceleration through improved clutch grip even under high loads.
CORE Technology is available in all products except for Havoline Ezy 4T.
The addition of ZOOMTECH in Havoline Super 4T Semi-Synthetic delivers a 13% improvement static friction index (SFI) when measured the JASO T903:2016 standard for better clutch grip over the Havoline Super 4T Synthetic Blend SAE 10W-40. The term "JASO" may sound familiar to you – that's the certification for the MA or MA2 clutch grip standards.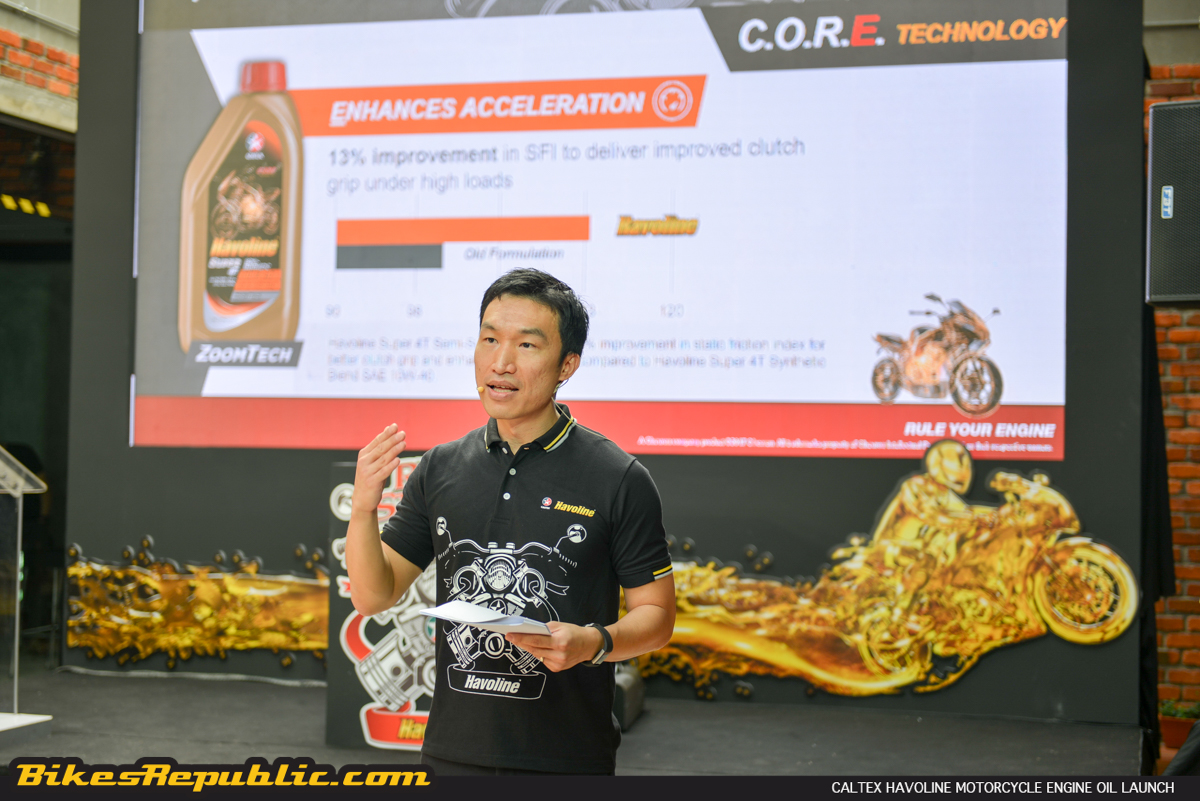 The flagship Havoline Super 4T Fully Synthetic SAE 5W-40 with C.O.R.E. Technology is suited for high performance, large capacity motorcycles. To cope with the high revving engines which generate additional heat, this oil has been formulated to be 50% superior compared to the industry's standard in oxidation stability. It means the engine will be better protected against heat damage, and last longer.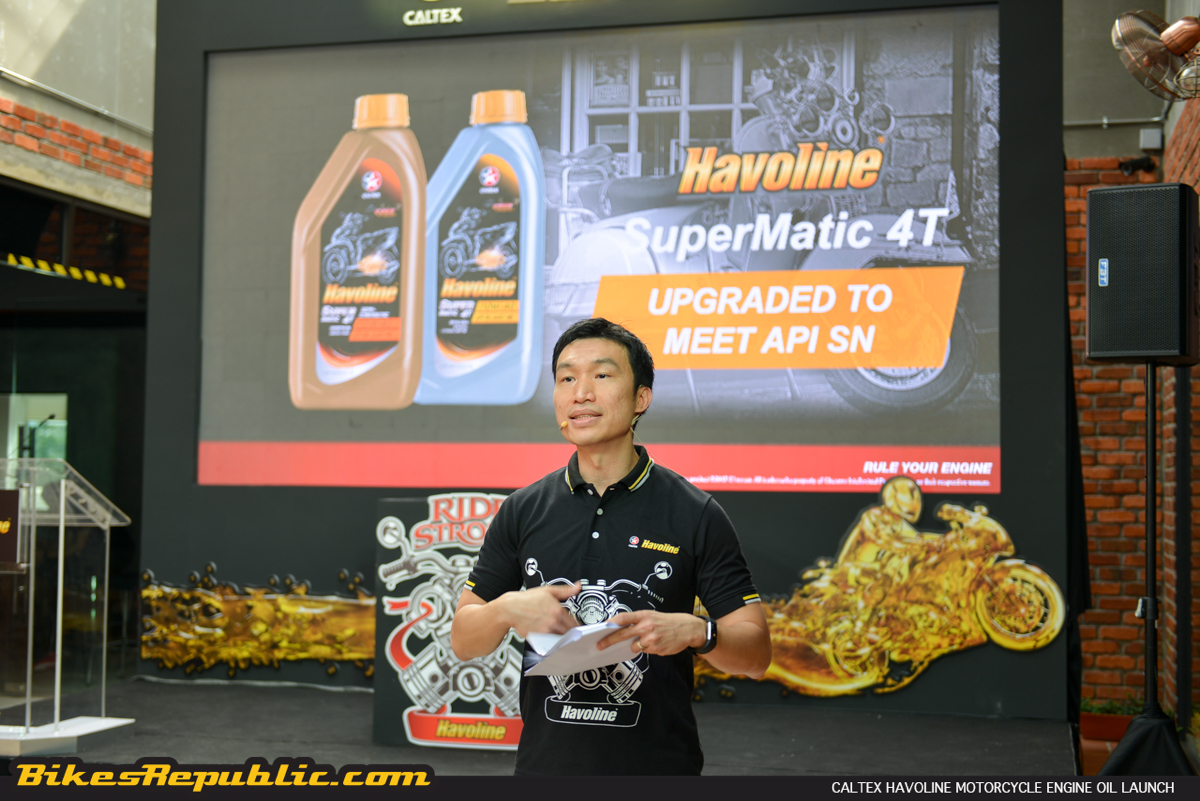 We presented a question during the Q&A Session on whether there's a need for higher viscosity such as 5W/40 or 10W/50 in view of our climate's higher ambient temperature. Caltex is confidence that the C.O.R.E. Technology addresses the issue since it's formulated against high heat oxidation.
As for the scooter segment, Havoline's scooter range has been upgraded to meet the latest API SN service standard, for both semi-synthetic and mineral grades. All products are JASO MB certified, as scooters do not use wet clutch.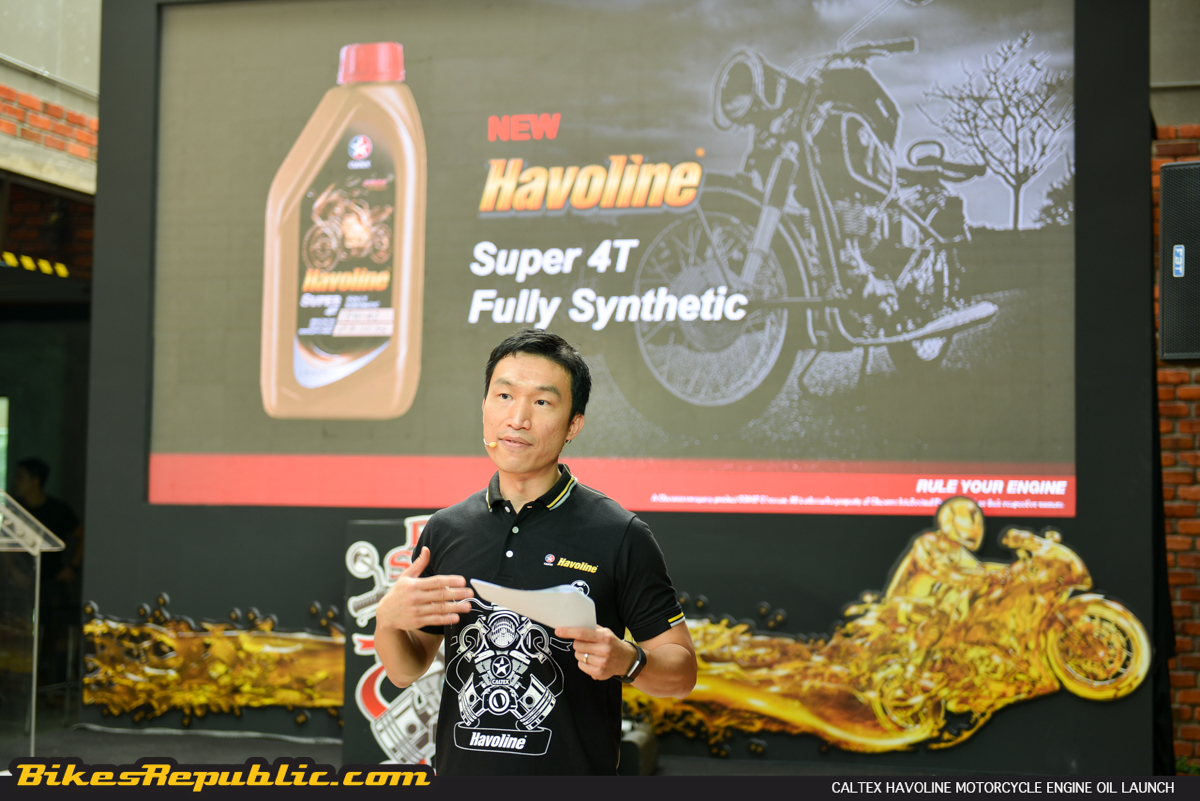 "RIDE STRONG" PROMOTIONAL PACK
Chevron Malaysia Limited is offering a special bundle pack promotion in conjunction with launch. Customers will receive a free limited-edition microfiber towel with "Ride Strong" branding.