Anthony West (Akeno Speed WJR Racing Team) was disqualified from both ARRC (Asia Road Racing Championship) Round Two races due to 'technical infringement'

West originally finished third in Race One and first in Race Two at the Buriram International Circuit

"Team Akeno Speed Racing had refused to strip the motorcycle at parc ferme for post-race scrutineering."
Following the recent round of Asia Road Racing Championship (ARRC) in Thailand just last weekend, we saw that our home-grown hero Azlan Shah from the Manual Tech KYT Kawasaki Racing Team emerged victorious in both races of Round 2.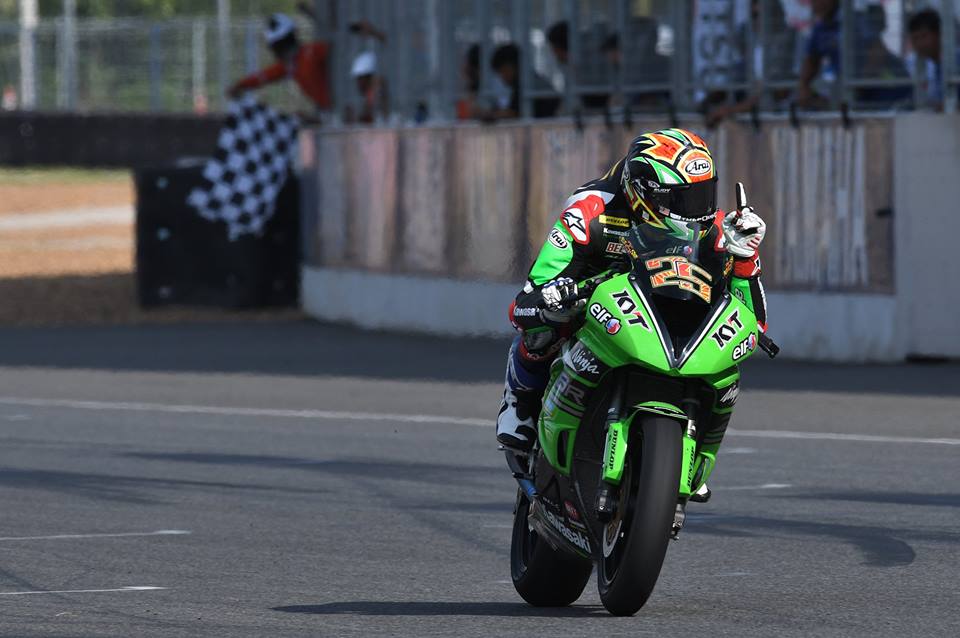 The race ran its course around the Buriram International Circuit which was filled with more than the usual drama and excitement. One of which would be Anthony West's disqualification from both races in which he had obtained podium positions.
CLICK HERE to read up on the race results from the ARRC 2017 Thai round.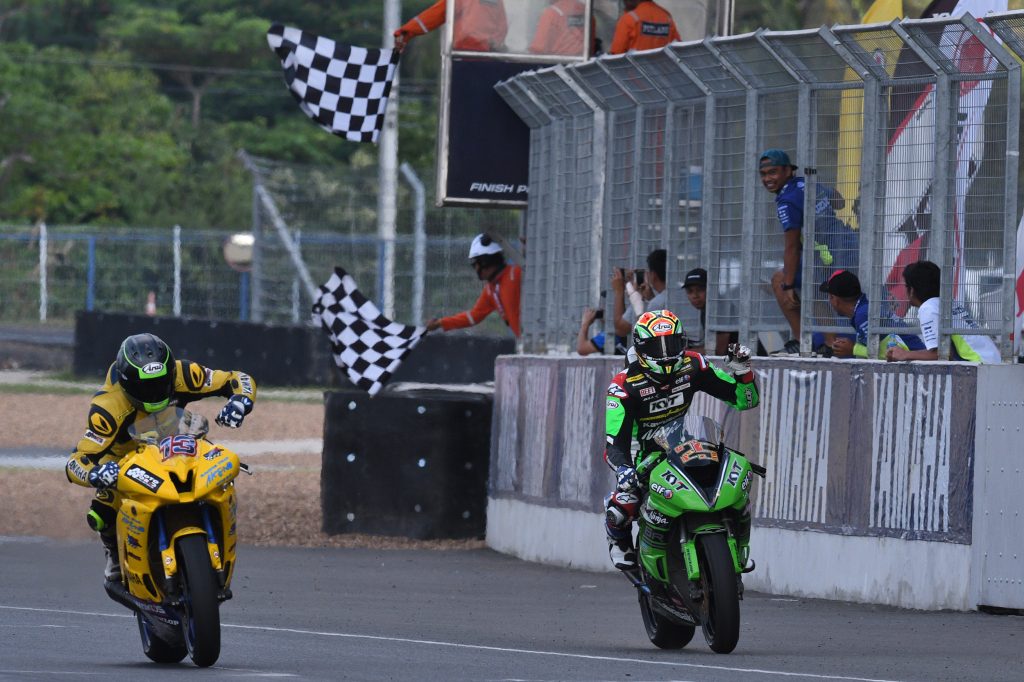 The first blow was given by Anthony West himself when he went to social media to explain his grievance regarding what happened. Basically, West and his team refused to pull out their engine for scrutineering and pointed the blame at the race organizers and Yamaha Thailand Racing Team for 'dirty politics'. The post can be seen below: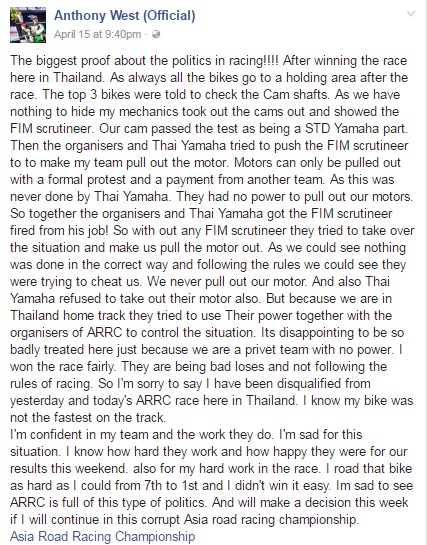 Just yesterday, FIM Asia released an official statement regarding what happened. In the report, it's clearly stated that the "Team Akeno Speed Racing had refused to strip the motorcycle at parc ferme for post-race scrutineering. This was an infringement of the technical procedures and was the cause for the disqualification."
Although West explained in his Facebook post that they did show their camshaft for scrutineering, FIM Asia stated otherwise detailing in the report confirming that "Throughout the hour-long stipulated time, not a single bolt was removed from Bike No. 13 (West's race bike). Post-race Scrutineering finished with Bike No. 25 (Azlan Shah) and Bike No. 24 (Decha Kraisart, Yamaha Thailand Racing Team) – both teams had provided the necessary parts for inspection."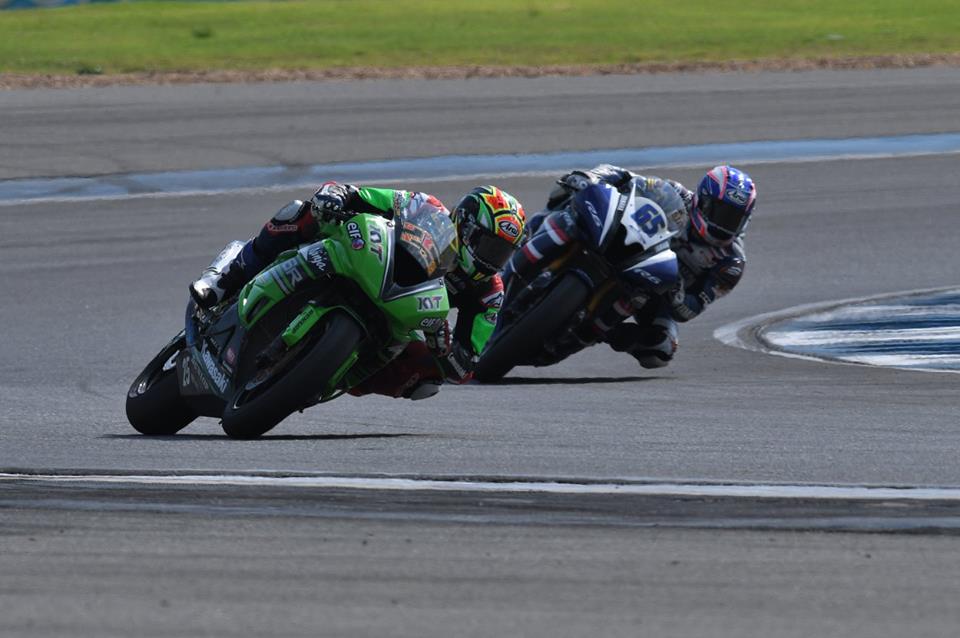 Conflicting points from both sides but it's clear that FIM Asia has issued all of the related details in full pertaining the situation and the action taken to disqualify Anthony West has been justified. In the end, FIM Asia pointed out and insisted that they've handled the situation according to the rule books professionally.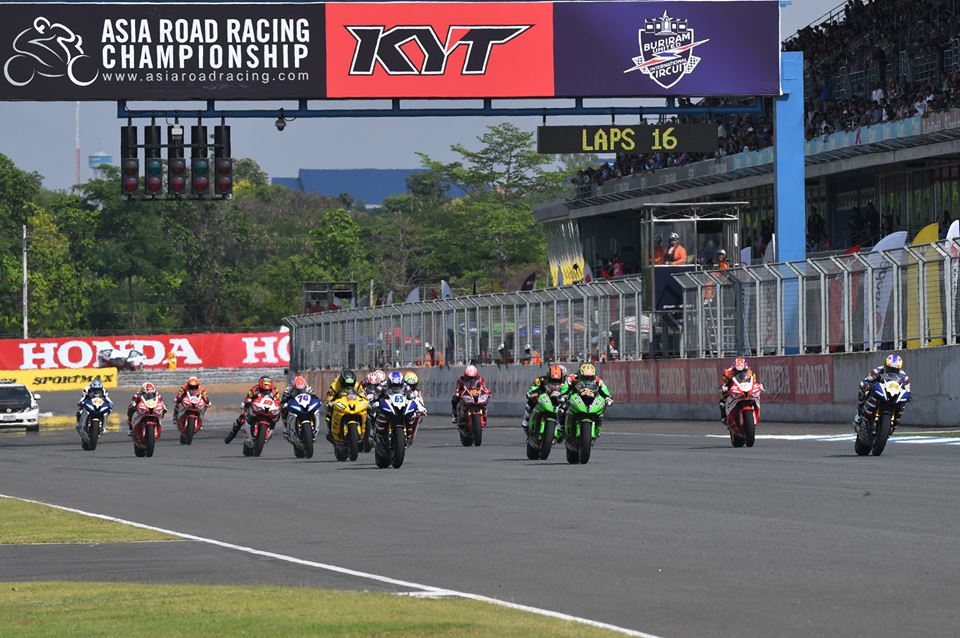 "The FIM Asia Road Racing Championship is organized to the standards as laid down by the FIM and the FIM Asia. There was no injustice caused in any way to any participant or team. It is equally disappointing when accusations and assumptions were made without full understanding of the facts and proper processes of the rules laid in Motorsports that emphasizes the highest standards for sportsmanship and professionalism."
Source: Asia Road Racing Facebook Page