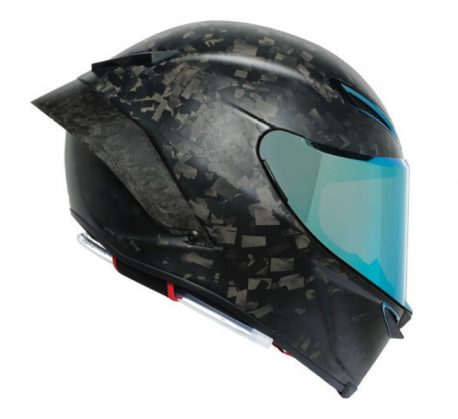 AGV helmets are arguably among the masters at consistent improvements in every aspect of aerodynamics without compromising comfort and safety to graphics.
The brand has a well deserved reputation for its innovative designs and materials, tested on the racetrack and developed with big names such as Giacomo Agostini and MotoGP legend Valentino Rossi.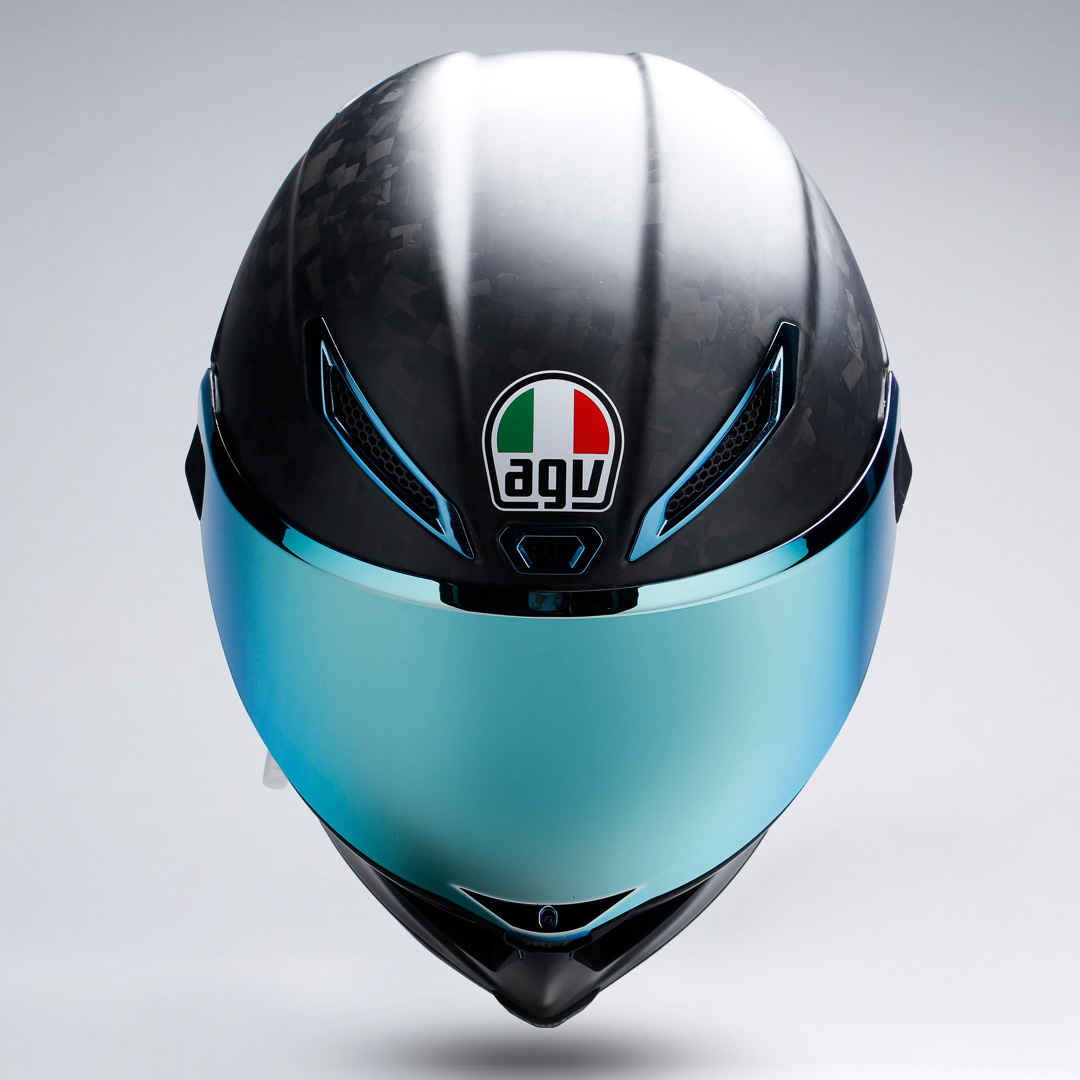 Continuing its legacy, AGV has introduced the Pista GP RR Special Edition Futuro evolving from its predecessor, the Pista GP RR which is the closest that anyone can get to a MotoGP level helmet.
Made by forged carbon fiber with a weave pattern, the Futuro features a new shell for advanced protection and a sharp edged spoiler that contributes to the helmet's aerodynamics.
AGV states that the overlapped, choppy "carbonio forgiato" matte finish design offers more than racing looks.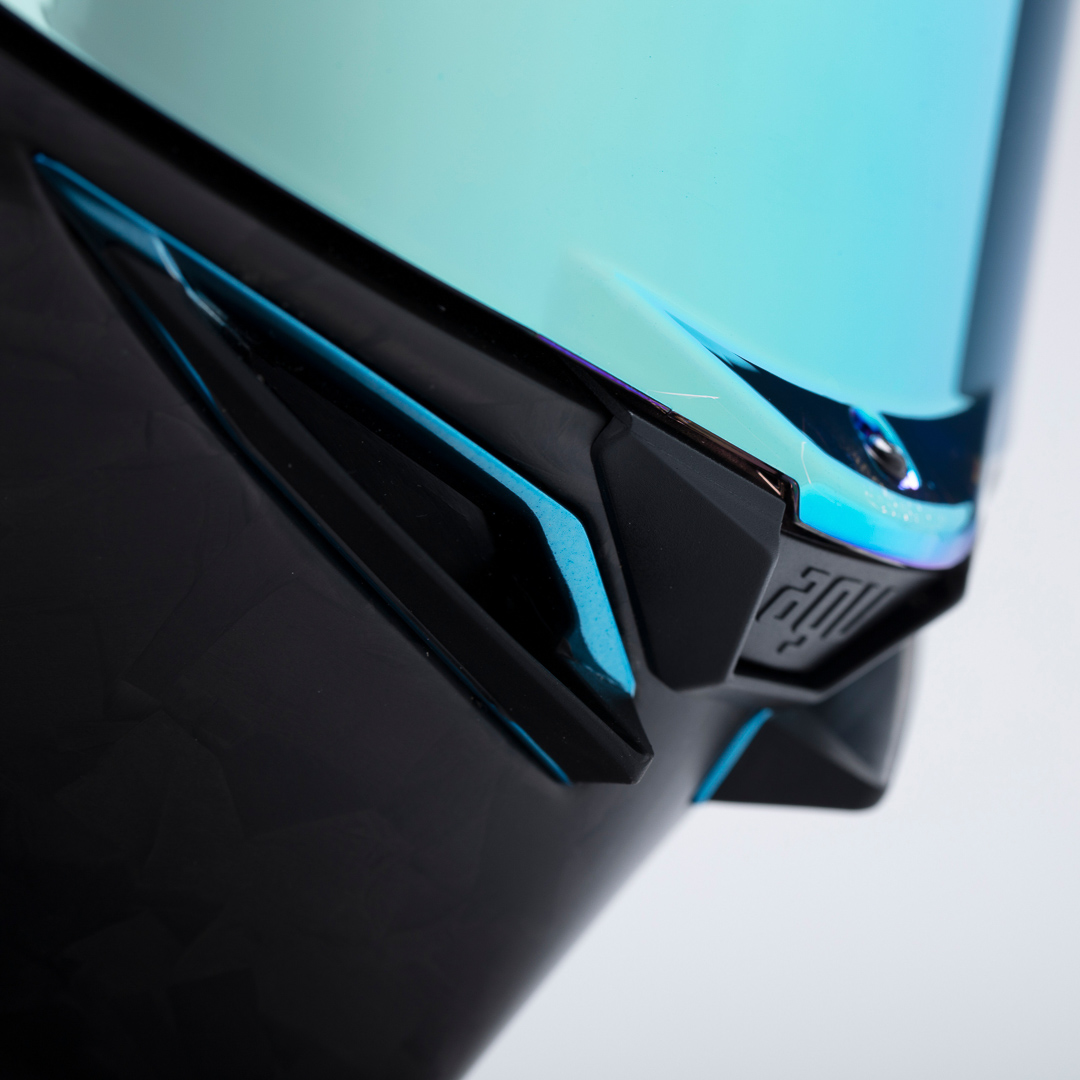 In fact, the extreme 100 % carbon fiber shell guarantees extraordinary lightness and ensures a greater energy absorption at impact. Speaking of its safety level, the Futuro has earned FIM homologation for world championship competition.
AGV also included improvements that are at the cutting edge of race technology. As a result, the Futuro has a futuristic shell with its Integrated Ventilation System (IVS) including five large front metal vents matched in cyan blue colour and two rear air extractors.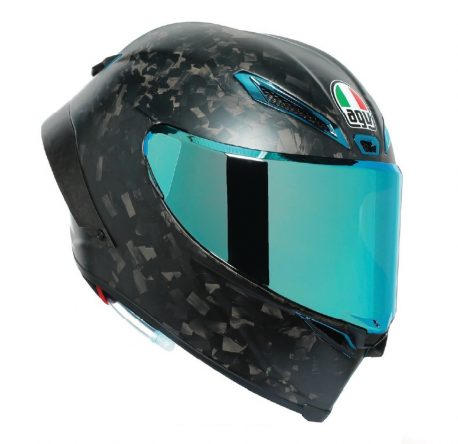 A properly fitting helmet is a must and considered essential for every rider. AGV's 360° Adaptive Fit system allows the wearer to control and customize the interior at ideal thickness for the rider's upper head and cheeks support.
From the front, the faceshield is equipped with a top-rated optical class 1 rating, offering a horizontal view of 190 degrees and a vertical view of 85 degrees. Besides, the faceshield is a solid 5mm thick and a structural component of the helmet.
Tested with high-speed wind-tunnel, the shell's aerodynamics is proven as air flows directly through the metal air vents. The helmet is also compatible with hydration systems equivalent to the race helmets of a MotoGP riders.
The claimed weight of the AGV Pista GP RR Futuro helmet is 1450 grams (1.4kg).