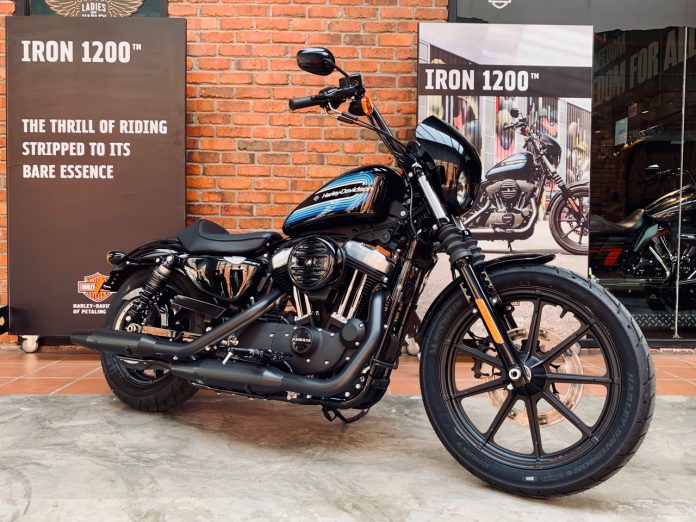 The 2019 Harley-Davidson Sportster 1200 Iron has arrived at Harley-Davidson of Petaling Jaya (HDPJ).

The new bike features a new headlamp fairing, handlebar, graphics and paint scheme.

It also includes the Harley-Davidson Smart Security System and anti-lock braking system (ABS).
The 2019 Harley-Davidson Sportster 1200 Iron has arrived at Harley-Davidson of Petaling Jaya (HDPJ).
The Iron 1200 recipe starts with power. A 1202cc Evolution® 1200 V-Twin engine delivers 36 percent more torque (73.0 ft. lbs. vs. 53.8 ft. lb.) than the 883 Evolution engine that powers the Iron 883, the original urban brawler in the Sportster family. The Iron 1200 brings more punch to the street fight – more power to blast away from green lights and more mid-range to muscle through traffic. More power for more rowdy fun.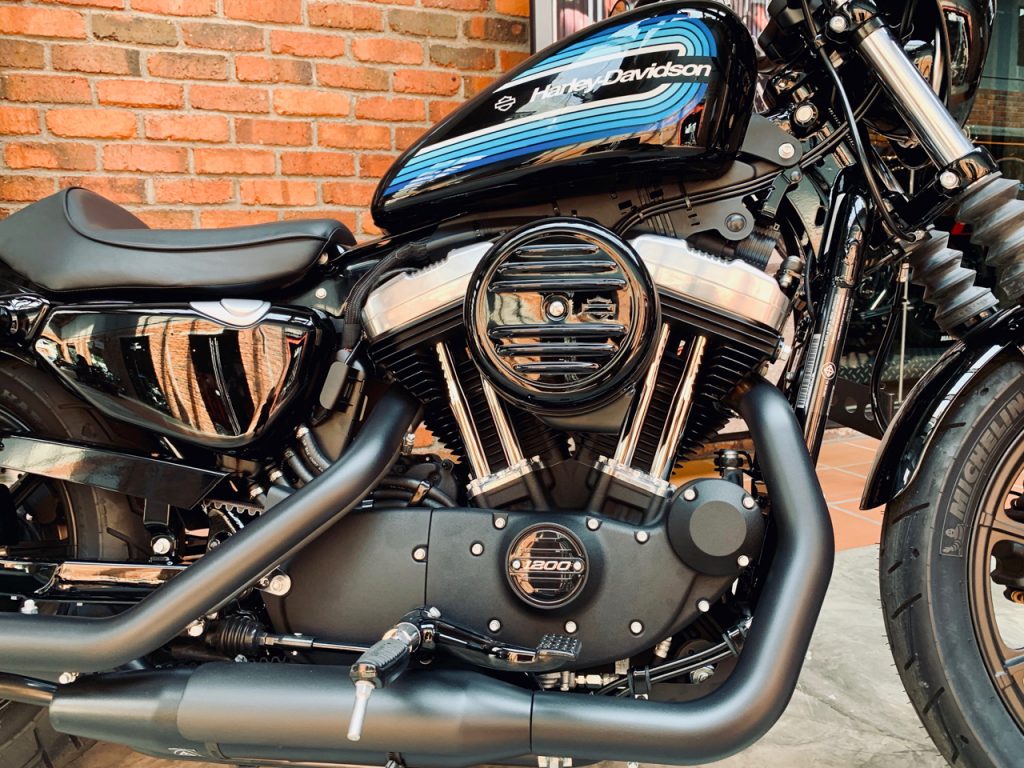 The satin-black Mini Ape handlebar is an essential element of the garage-built chopper look that adds instant attitude. This 1.0-inch diameter handlebar offers an 8.75-inch rise, 32-inch spread and 6.5-inch pull back, that opens the rider triangle with a fist-in-the-wind posture. The gloss black speed screen framing the headlamp is a West Coast styling influence that amplifies the attitude of the tall bars, is intended to offer some wind deflection at speed and provides a space for easy personalization. The fast-back Café Solo Seat flows to the rear fender and is shaped to help hold the rider in position when the torque of the Evolution 1200 kicks in.
A classic 3.3-gallon (12.5-litre) Sportster fuel tank features multi-colored striped graphics that wrap around the tank profile. The dark engine finish helps draw the eyes to the bright tank graphics. Fuel tank paint color options include Vivid Black, Twisted Cherry and Billiard White, always contrasting with the Vivid Black speed screen.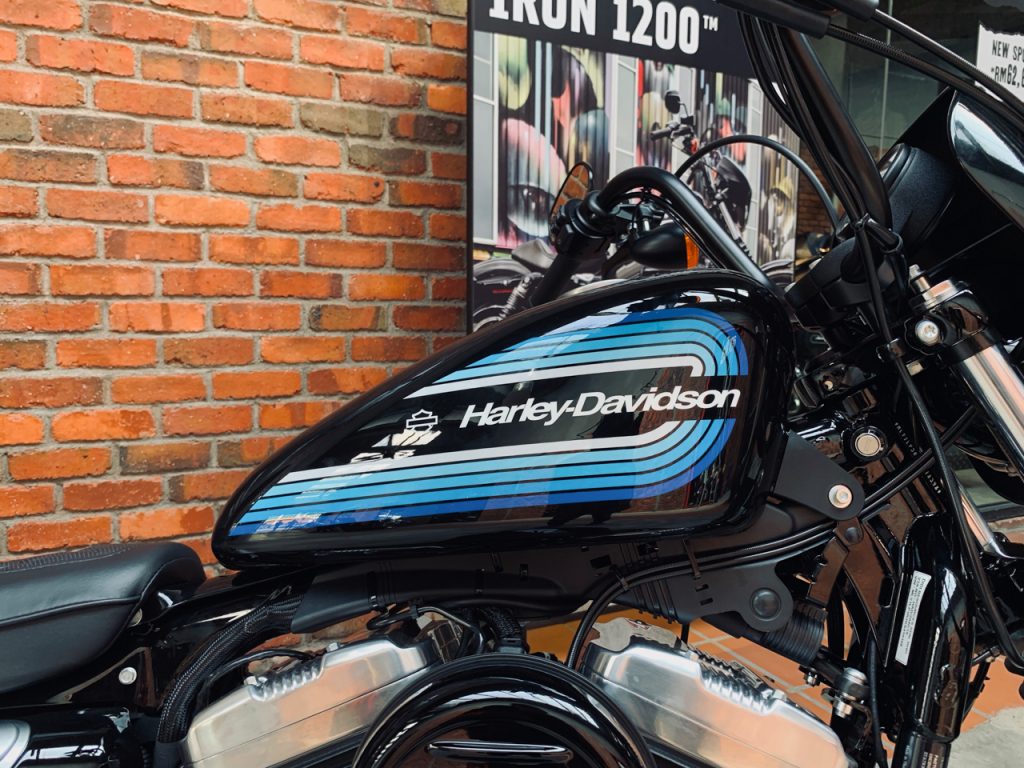 The entire powertrain has been styled with a popular color: black upper and lower rocker boxes, black exhaust and muffler shields, and black timer, primary and derby covers. Chrome pushrod tubes and tappet covers are the only brightwork and highlight the V-Twin engine shape. The Iron 1200 is finished with all-black 9-Spoke wheels (19-inch front and 16-inch rear diameter) and a solid black belt guard and rear sprocket.
The Harley-Davidson Smart Security System and anti-lock braking system (ABS) are factory- installed options for the Iron 1200 model.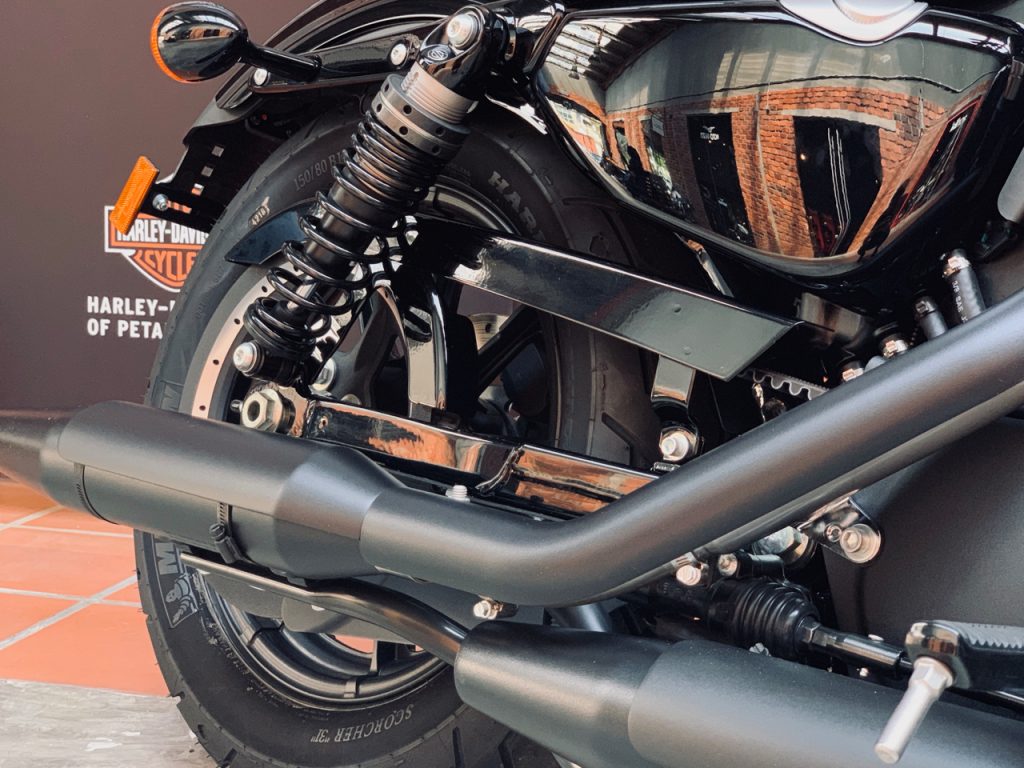 The Evolution 1200 engine features a black top end and an expanse of brilliant chrome below, including chrome primary, inspection and derby covers, and solid chrome muffler and exhaust shields. Chrome lower rocker boxes, pushrod tubes and tappet covers contrast with the black cylinders to highlight the V-Twin engine shape. High-performance Michelin Scorcher 31 tires front and rear are mounted on Black Split 9-Spoke cast-aluminum wheels (16-inch diameter front and rear).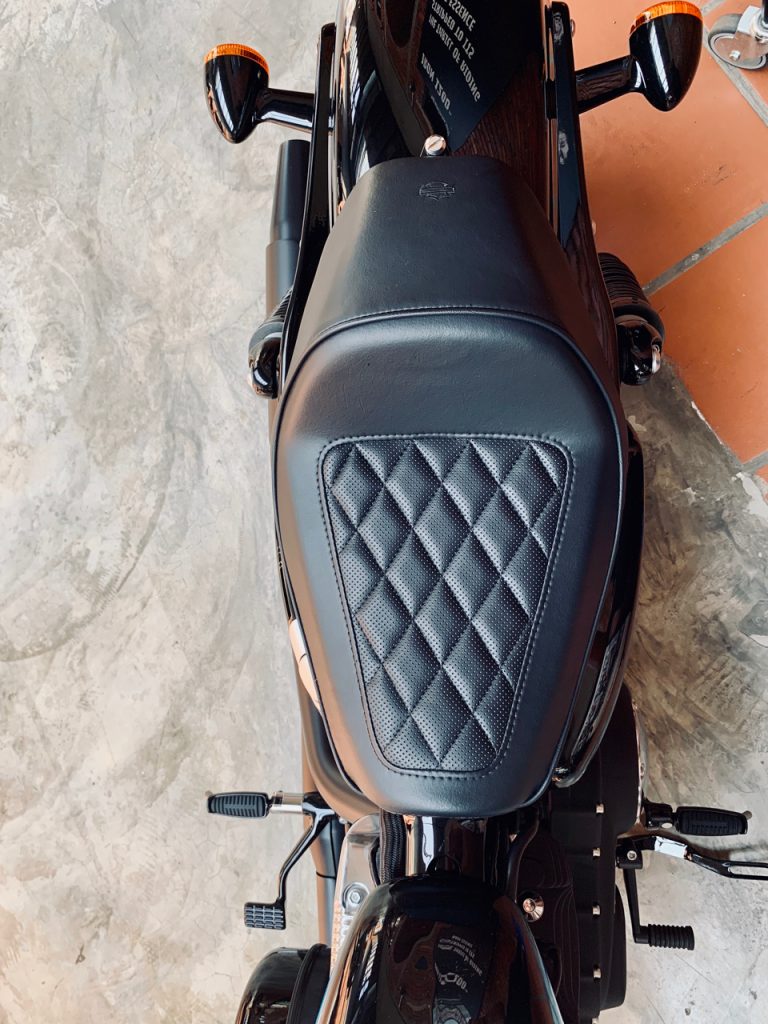 Since its introduction in 1957, Harley-Davidson Sportster motorcycles have been repeatedly reimagined, in the hands of both the Motor Company and bike owners: As a bobber, a chopper, a scrambler and a café racer; as a hero on flat tracks and drag strips and road-race courses; as an accessible entry-point for first-time riders, and as a custom-of-one cruiser.
New fuel tank graphics distinguish both the Iron 1200 and the Forty-Eight Special, and combine bold color stripes with a formal typeface, color and graphic elements originally popular in the 1970s.
"With its introduction and showcased at the showroom, we welcome everyone to come over and see it for themselves for a limited them as this particular unit already has its owner. In addition to the Iron 1200, H-D Petaling Jaya is also hosting their 1st Anniversary Carnival this weekend, and we would like to invite everyone to come over to our showroom" said Ahmad Rano, the Head of Sales for H-D PJ.
They are offering rebates up to RM28,000 on selected Touring models, interest rate as low as 3.6%, and garnished by 2 years factory warranty. Along with 30% discount on General Merchandise and selected Parts & Accessories. So come on down to Harley-Davidson of Petaling Jaya 1st Anniversary Carnival from 25th to 26th May, starting at 10 AM until 5 PM.