Zulfahmi Khairuddin completes first WSSP pre-season tests in Spain with Orelac Racing.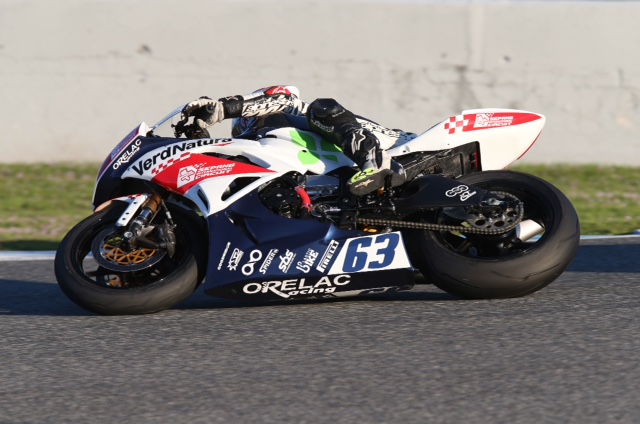 Having announced his switch to compete in the World Supersport Championship (WSSP) just a fortnight ago, national motorcycle racer Zulfahmi Khairuddin just completed his first testing session in Jerez, Spain.
As previously reported, the former world Moto3 rider announced his switch to compete in the production-based championship with a Spanish team called Orelac Racing. The Banting native, who also just got married recently, was busy getting to know his new machine, which is the Orelac Racing's Kawasaki ZX-6R.
Although delighted upon completing his first test, Zulfahmi did express his acknowledgement on the need to further improve his physical fitness. He stated:
"I clearly need to work on my physical fitness and strength because of the weight of the bike. It is much heavier and I could feel the impact after seven laps. I will continue to work on my physical fitness when I return to Malaysia, so that I will be more ready at the second test in Australia."
Besides that, Zulfahmi was also plagued with mechanical issues in Day 1 of testing, which resulted in his reduced seat time. Thankfully, things got sorted as Day 2 arrived, allowing Zulfahmi to log in more time astride the Kawasaki ZX-6R around the Jerez circuit.
Zulfahmi has improved his timing as he charted more laps on Day 2, ending the session with timings that are just 2 seconds off the category's fastest rider of the session. These are extremely positive signs, and the Banting native also expressed his confidence in his ability to go much faster as he heads for more test sessions before the 2016 season of both the World Superbike Championship (WSBK) and the WSSP kicks off in Australia at the end of February.
Racing for the Algemesi-based Orelac Racing team, Zulfahmi joins the team's roster alongside teammate Nacho Calero. The outfit is owned by Jose Calero and is managed by Guilio Bardi who is assisted by renowned crew chief Tony Alfonsea. The team also features chief mechanics Andy Machin and Luis Gallego attending to Zulfahmi and Calero respectively.
Image credit: Sepang International Circuit (SIC) PR