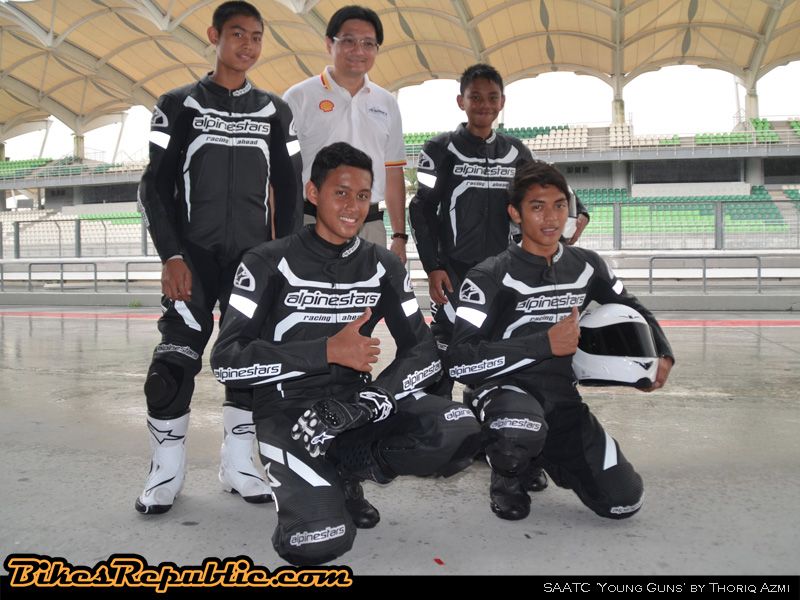 An exclusive insight into the newly formed Shell Advance Asia Talent Cup series and some of the young Malaysian riders handpicked to compete in what would become the region's first motorcycle feeder racing series of its kind.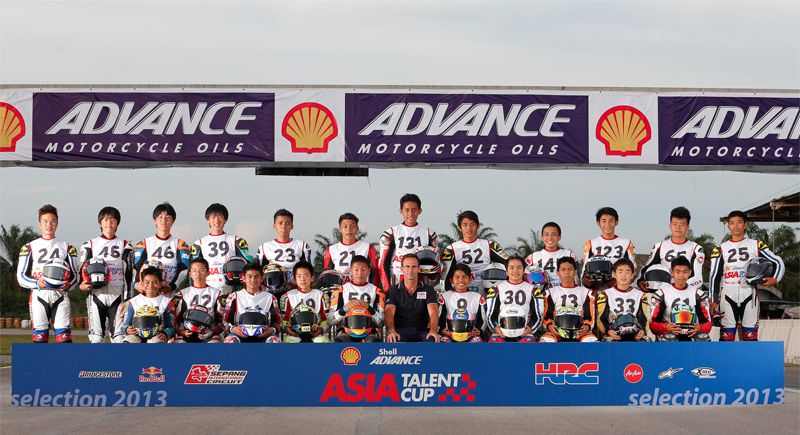 By now, most of you would already be aware of the formation the Shell Advance Asia Talent Cup (SAATC) late last year. The series, which kicks off in March this year, stands as the region's first ever motorcycle racing talent search programme of its kind. Backed by Dorna, Honda Racing Corporation (HRC), as well as its extensive list of partnering sponsors such as Shell Advance, SAATC will act as the stepping-stone for all young riders within the Asian region to become world-class motorcycle racers, promising a fast track into the World Moto3 Championship series as well.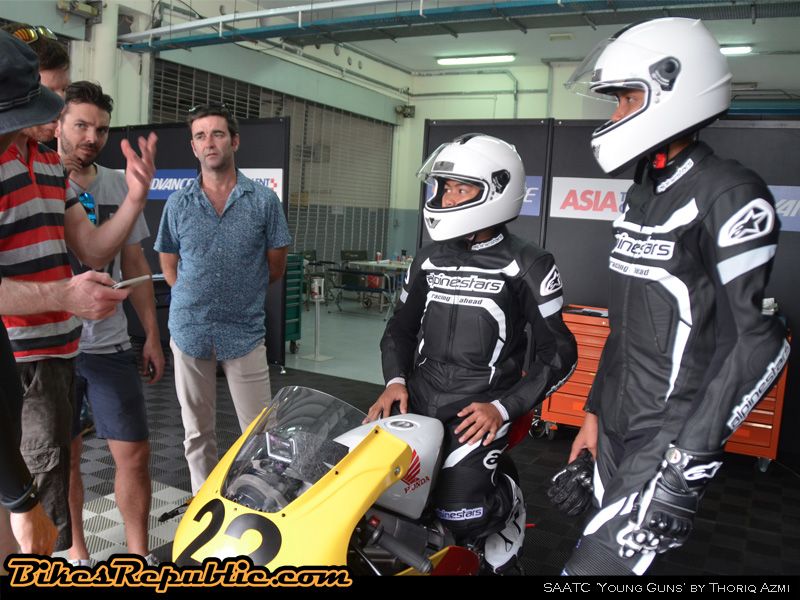 Of the hundreds that applied, only 22 were handpicked from a selection process held at the Sepang International Circuit right after last year's Malaysian MotoGP race. And, of the 22, six Malaysian youngsters made the cut, plus one selected as a reserve rider. We spend an afternoon recently with four of them during a promotional video shoot for the series at the Sepang Circuit, where they shared their goals and aspirations.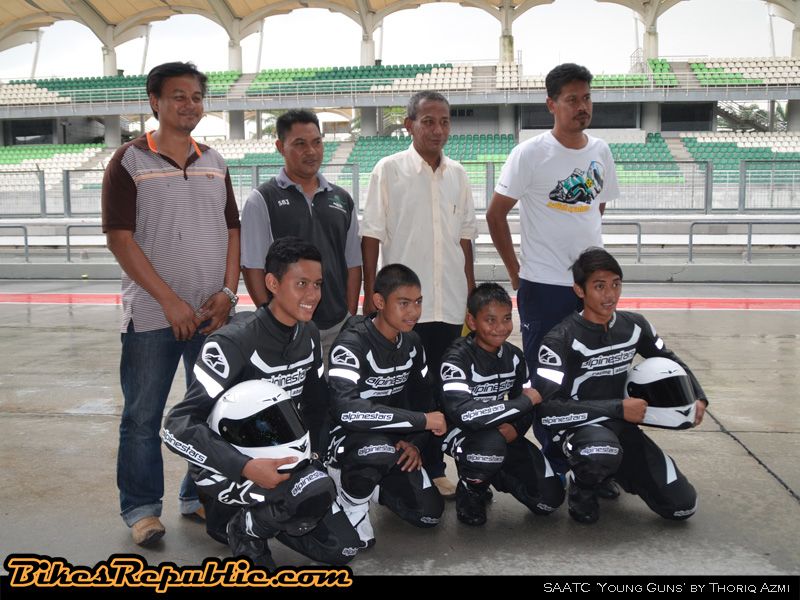 All four riders posing for a photo with their respective fathers/coach in between takes during a promotional video shoot held in Sepang recently.
Fakhrusy Syakirin Bin Rostam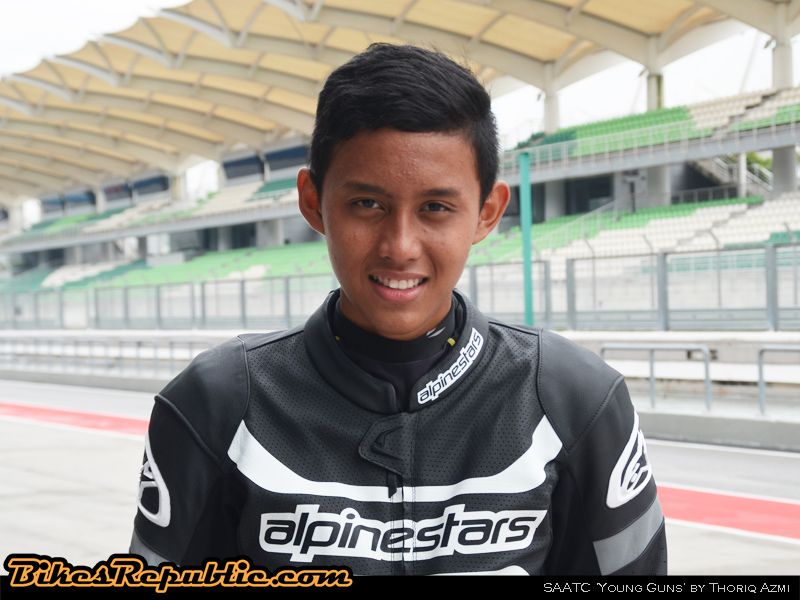 Fakhrusy began racing pocket bikes at the age of 7 before making his debut in the Cub Prix's Honda Icon one-make race in 2009 at the age of 13. The youngster moved up into the Cub Prix's Wira Class in 2010, competing in the category for three years until 2013 where he moved up into the CP115 category.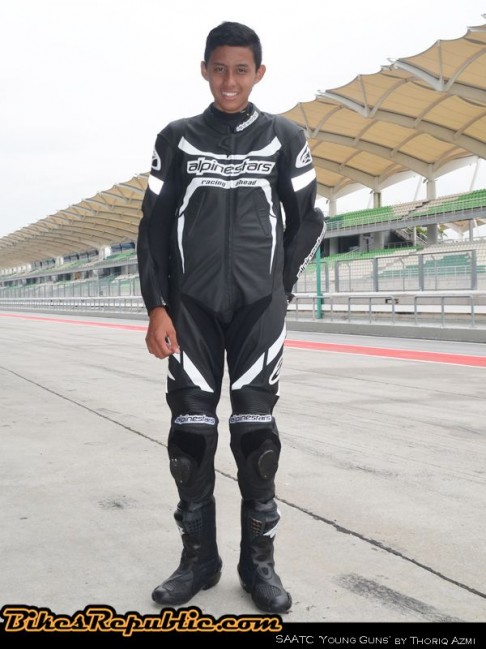 Last year, Fakhrusy's endeavour in the CP115 category showed a lot of promise, but an accident forced the Johor Baru native into a three-month hiatus for recovery. Despite that, Fakhrusy ranked fourth overall in the category last year.
Fresh from his final surgery on his right hand when interviewed, Fakhrusy was clearly excited about racing in the newly formed series. "I am really looking forward to compete against other riders from the region." The fresh SPM leaver also added, "I am also anxious to visit and race in the different countries and venues planned in the series."
"I can't see myself anywhere else in the next five to ten years other than being in racing. My target is to reach the world stage in MotoGP," continued Fakhrusy. With SAATC, Fakhrusy is determined to do his best in order to reach his current goal: making it into Moto3.
Muhamad Adam Bin Norrodin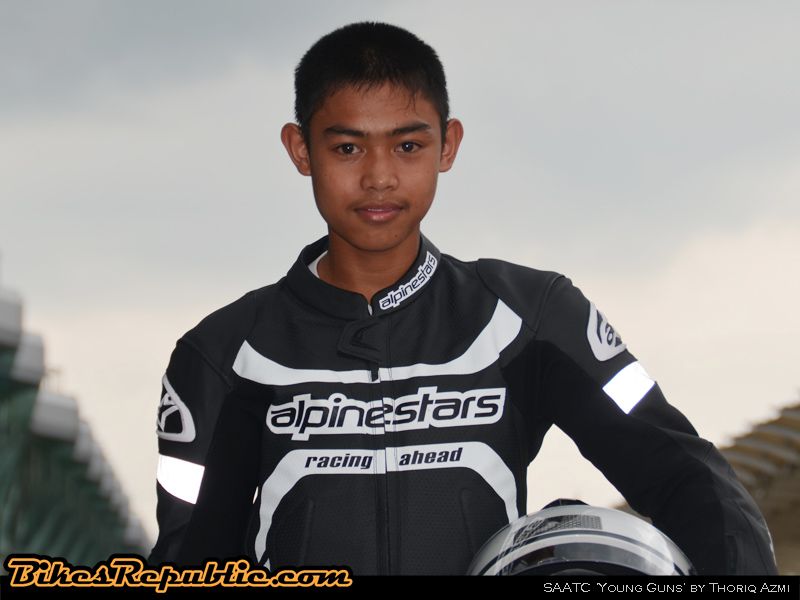 While most of his counterparts began on pocket bikes, Adam, who is also a Johor Baru native, began his racing career with dirt bikes at age 7 – a trait he picked from his father, former motocross rider Mohd Norrodin. At the age of 9, Adam was already crowned as champion in the 2007 SIC AAM Junior Motocross Malaysia series.
In 2010, Adam, who was 12 at the time, made the decision to switch from dirt racing to circuit racing. He cited that the switch came after realising how difficult motocross would be in the long run, a discovery he made whilst attending a motocross training programme in California, America. Adam explained, "In Malaysia, I feel that perhaps there are not many motocross racers as there are circuit racers. This made me revise my racing path for a better long-term future and circuit racing proved to be the best choice."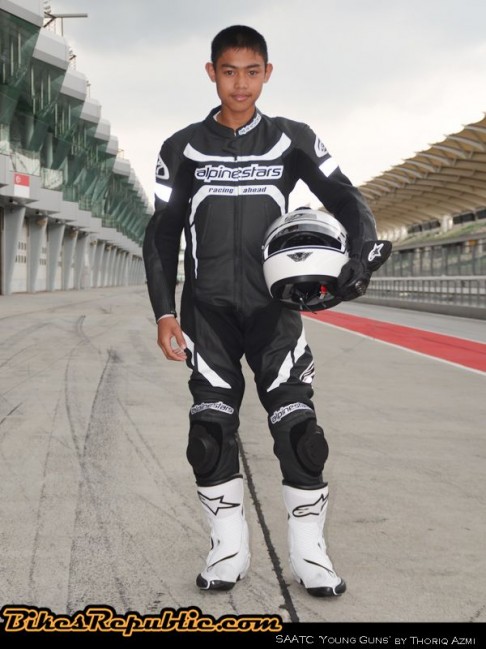 Instead of starting off in Cub Prix, Adam began tearing up the asphalt with Supermotos first. He was crowned champion twice in 2011 and 2012 in the 200cc Open category. "When I made the switch, things were a bit difficult at first while trying to adapt from dirt bikes to circuit bikes. Thankfully, Zulfahmi and several other friends gave me enough pointers and advises along the way, helping to become very competitive." Adam eventually went on to race in Cub Prix starting in 2012, and was ranked sixth overall last year in the Wira category.
For the SAATC, Adam has shared that his main mission was to show what Malaysians are truly made of. "I am anxious to go on track and prove to the world that we Malaysians are just as skilled and quick too."
Muhammad Shafiq Bin Rasol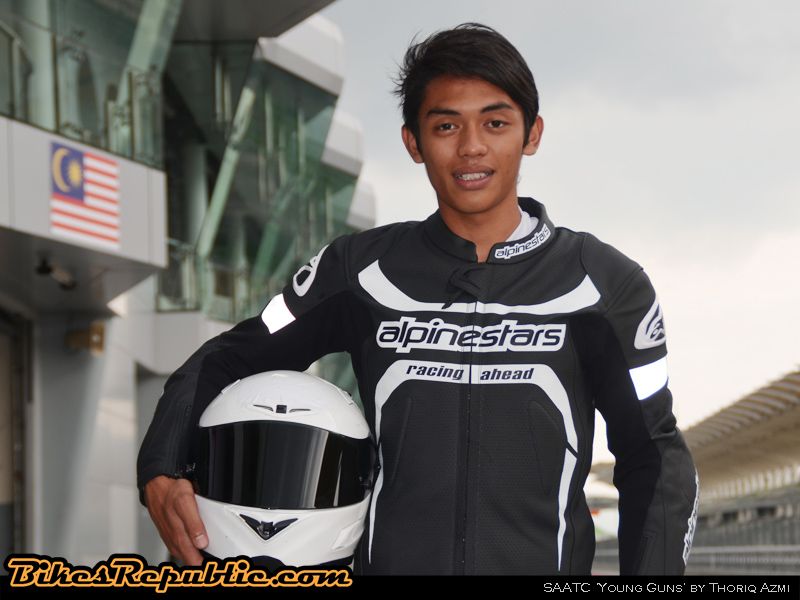 Shafiq began racing at the age of 9 in 2005 where he raced pocket bikes up until the age of 12. In 2009, at age 13, Shafiq broke into the Cub Prix scene starting in the Honda Icon one make series first. He then began racing in the Wira category from 2010 until 2013 where he ranked fourth overall.
2013 proved to be an active year for the Malacca native as he raced on two fronts – Cub Prix, and the SIC Ninja 250 Cup series. While he may appear shy and quiet on the surface, Shafiq is undeniably fast, as proven with the race wins he scored on both fronts.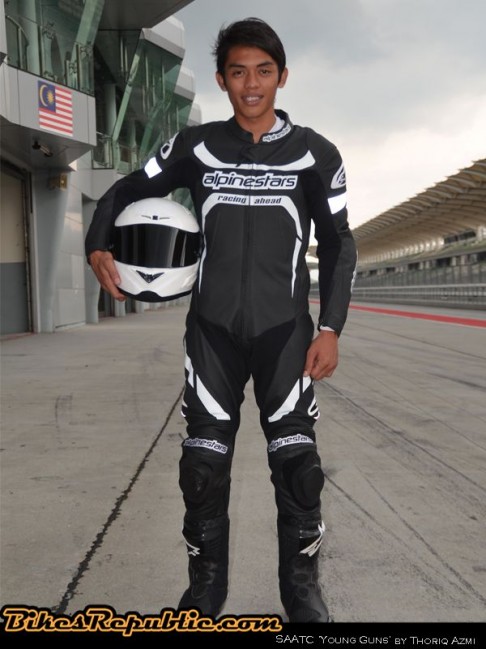 "As one of only six Malaysians chosen for this series, I feel very honoured and grateful to reach this stage," said the 18-year-old. He also added, "For this first season of the SAATC, I will put in my best efforts to reach my target, and that is to be ranked within the top 5."
When asked weather if he was nervous to compete in an international stage for the first time, Shafiq replied, "Actually, my spirits to race are much higher now that I am in an international series." Rest assure, the mild and gentle mannered 18-year-old is one to look out for amongst the six.
Muhammad Helmi Bin Azman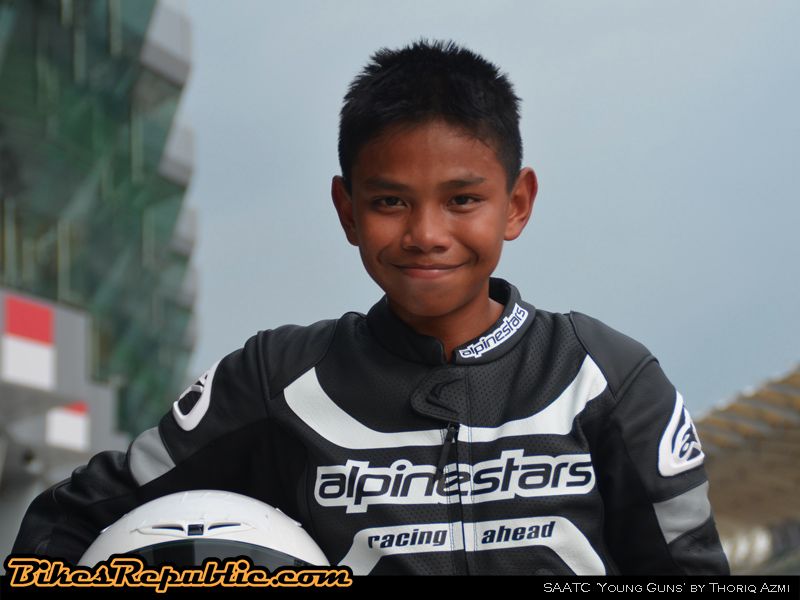 As one of the youngest amongst the six, the seemingly pint-sized Helmi boast similar amounts of talent as his slightly older counterparts. Hailing from Cheras, Selangor, Helmi began racing pocket bikes at the age of 11 for two years before making his debut into the Cub Prix scene last year at age 13.
Racing in the Yamaha LC one-make series, Helmi proved his mettle with three race wins to his name – an exceptional feat, given the fact that he has never handled big cc bikes as how his older counterparts have. The Honda NSF250 R Moto3 race bike he will use in the SAATC will be the biggest machine he has ever handled so far in his career.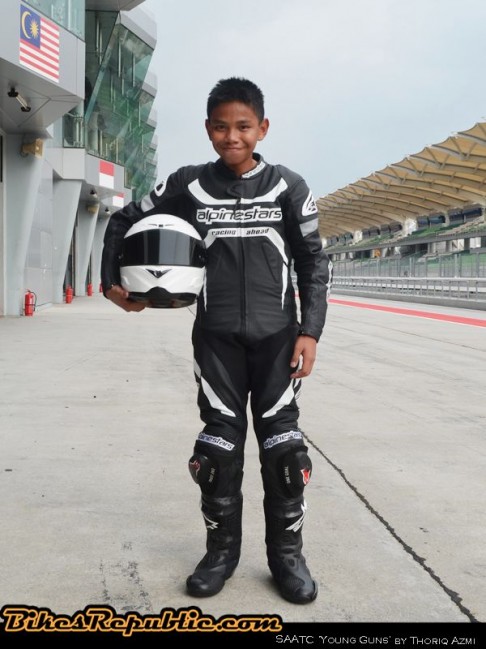 "Without excellent fitness, I don't think I would be able to handle these Moto3 bikes," said Helmi. Despite being one of the youngest to compete, the soon-to-be 14 years old Helmi has a physical training schedule that is just as comprehensive as his older peers. According to his father, Azman Bin Mokhtar, Helmi puts in about two hours of intense physical training everyday with his trainer.
Despite the challenging nature for him to race with many other older and sometimes bigger-sized boys, Helmi showed no hint of fear or being scared. "It is definitely a challenge because they corner faster, brake better, and find better racing lines too" explaied Helmi. Fortunately for Helmi, these boys have also helped him out, showing him the ropes in order to be more competitive.
Brave and determined, Helmi has set his sights to perform well in the series' first season, targeting to rank himself within the top 10 at least. And, like the rest of his peers, he also has aspirations of racing in MotoGP. When asked who was his international riding icon, Helmi was more than ecstatic to share that it was none other than 'The Doctor', Valentino Rossi.
"What I liked most about him (Rossi) is the fact that he is very brave, and I admire the way he rides," said Helmi. With that, it is easy to see where this kid's unbelievable bravery came from, proving also that age and size should not be a challenge in order to achieve a dream.
Find out more about the Shell Advance Asia Talent Cup 2014 series here.