When the R1 was first launched it became an instant icon. A tri- axis engine with GP style chassis was cutting edge technology in 1998.
The bike has evolved through the years with fuel injection, a cross plane crank and electronic systems amongst the hundreds of development upgrades.
The original R1 design focus was primarily for the street, however that's all changed for 2015 with Yamaha's Engineer's instructed to design a bike mainly for the track.
A team of 50 Design Engineers worked closely with Yamaha's MotoGP team and test riders from divisions in Japan, Europe and the US, including Valentino Rossi and US rider Josh Hayes, to come up with perhaps the most technologically advanced electronics on a motorcycle ever made available to the riding public.
"A MOTOGP BIKE FOR EVERY RIDER"
Many of the Senior Engineers were in attendance at Sydney Motorsport Park – Eastern Creek in Australia for the R1 world launch, providing excellent technical support for the test riders and a unique insight into the challenges they each faced creating the new R1.
THE TRACK
The 4.5km Brabham circuit provided a world-class test track for the 100 Journo's who descended from all over the globe to experience the 2015 R1 and R1M for the first time.
The diverse range of 18 corners, including one of the fastest turns in Australia, approached at nearly 300kmh, was perfect to test all the attributes of a new motorcycle.
Our test group had some quick guys including Josh Brookes, Steve Martin and Cam Donald, so there was no hanging about.
EXPECTATION
Yamaha's marketing clearly aligns the R1 with the M1 MotoGP bike and the worlds press was about to sample a detuned version of the latest 280hp MotoGP machine.
In my mind, I envisaged a 2-wheel version of the Eurofighter, highly maneuverable yet unstable, un-flyable by any human without extensive electronic pilot aids.
However, this was not the case at all.
GOOD BASE PACKAGE
The R1 base engine and chassis package, without the electronics, is extremely well balanced.
Yamaha Motor Europe Chief Test rider Jeffry de Vries gives us some insight:
"It's so important to get the base bike right and we focused a lot on the bike without electronics. The 1st prototype in 2011 was an R6 with an R1 engine.
Jeffry, a 100+ World superbike veteran, is a key guy to analyze the bike on the track and communicate with Yamaha's Engineers.
"The target was to produce the best Superbike for the track – not public roads. I test rode the M1 several times, comparing it to the R1M.
"The riding position is the same as M1, both bikes look small but have space, this comes from Rossi."
ENGINE
An incredible amount of detail design has gone into the new R1 engine.
Yamaha's Engine Project Chief Yuugo Tomaru's brief was to make the 998cc engine as powerful, lightweight and compact as possible but also easy to ride and Tomaru San has worked closely with the chassis and electronics department's to produce a very integrated package.
The clean sheet engine design, while not quite as revolutionary as the electronics package as it uses existing engine technology from the automotive world, combines some of the best engine expertise around resulting in a more powerful motor that's an impressive 33mm narrower and 4 kgs lighter than the previous model.
The major taking points include the crankshaft, which has 20 per cent less inertial moment than the previous R1 crank. From an engineering perspective this is very significant and had a big affect on throttle response and roll rate, reducing the engine's gyroscopic affects for fast changes of direction.
Yamaha's vast experience with cross plane big bang cranks follows through on the new engine with 270° – 180° – 90° – 180° firing order providing ideal power pulses for excellent acceleration traction on the test, even with the electronics switched off.
"INCREASED POWER"
The new airbox gets super sized to a voluminous 10.5 litres, 23 per cent larger than the previous box. This has a big affect on engine performance especially at high rpm, highlighting the track design focus.
The fuelling was smooth and seamless with no dips, the connection from throttle to rear tire confidence inspiring.
Yamaha's Chip Controlled Injection uses 45 mm throttle bodies with long and short funnels. Electronically activated for optimum power output and torque, the longer funnels increase low rpm torque and short funnels increase high rpm power. Again the track-focused design is obvious, with the high rpm funnel 20% shorter than the previous R1.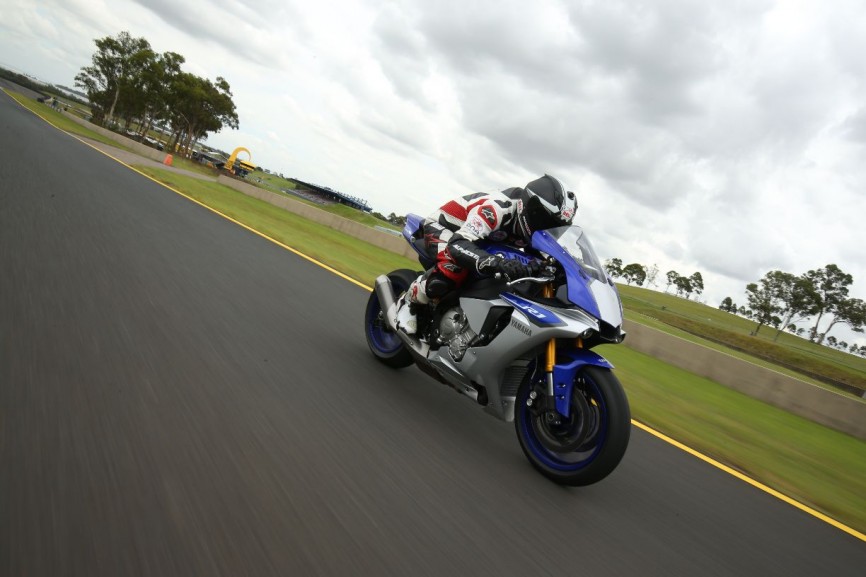 Reduced friction and rotating mass was also high on Yamaha's list and this was achieved by using good old-fashioned engineering design principles.
Fracture-split titanium rods, a world first on a production motorcycle, increase high RPM power by reducing weight (40% lighter than steel) and reduce friction as the increased circular precision in the rod's big-end give's consistent performance by reducing deformation at high RPM.
Friction reduction is further enhanced with short skirt lightweight forged aluminum bridge-box Teflon coated pistons, 8.5 grams lighter than the previous R1. The 2mm bore offset a requirement to prevent the short skirt pistons rocking in the bore, promoting less drag.
The free revving engine is also more over square than its predecessor with a larger bore (79mm) and shorter stroke (50.9mm) allowing higher rpm, and hence more power, without excessive piston speed.
More clever detail design is obvious with an air cooled oil cooler – just by rerouting oil to the inside of crank, centrifuge forces now assist lubrication, reducing pumping loss, increasing power and no need to water cool the oil.
The slipper clutch worked beautifully too, allowing just the right amount for engine braking torque delivered to the rear tire to optimize backing the bike in on corner entry, especially noticeable on the road tire equipped R1.
The gearbox has a number of ratio changes and worked perfectly throughout the test.
The engine makes lots of power, it has less of the old R1's low down grunt, but more importantly the curve is very linear, and really kicks off when the EXUP valve opens at 7500rpm.
Maximum power is around 147.1 kW (200.0PS) @ 13,500 rpm and maximum torque 112.4 Nm (11.5 kg-m) @ 11,500 rpm plus one of the coolest exhaust notes around.
YZF-R1 Engine Technical highlights:
New 998cc crossplane in-line 4-cylinder, 4-valve engine
New crossplane crankshaft design delivers linear torque output
Maximum power output of 200PS (without ram air pressurization)
79.0mm x 50.9 mm bore x stroke, high compression ratio of 13.0:1
Lightweight titanium fracture-split con rods
Lightweight forged aluminium bridge-box pistons
Large diameter valves and high efficiency intake ports
Rocker arm valve drive with diamond like carbon (DLC) coating
2-directional 12-hole injectors
Low-tension piston rings
Piston pins with diamond like carbon (DLC) coating
Offset cylinder design
Large capacity 10.5 litre airbox
Titanium 4-2-1 exhaust with midship muffler and new exhaust valve
Lightweight assist and slipper clutch
High efficiency centralized lubrication system
YCC-I and YCC-T
Compact and lightweight radiator
CHASSIS
The famous Deltabox aluminium frame now incorporates a magnesium subframe and has undergone and complete re-design – again with the major track focus.
Yamaha R1 Chassis Design Chief Ryuuta Mitsuoka and his team prioritised braking stability; corner entry and front tire feeling, improvements that were very evident when I tested the bike on the track.
The R1 corner entry was very precise with good feel from the front tire. The balanced chassis contributing to good edge grip and a confidence inspiring corner speed.
The lightweight chassis contributes to an impressive 200kg wet weight – measured with 17 litres of fuel and 3.9 litres of oil.
"LIGHTER WEIGHT"
Wheelbase is 10 mm shorter than the 2014 YZFR1 at 1405 mm and swingarm length 15 mm shorter at 570 mm. On the track, improved traction on corner exit was exceptional.
Rigidity is also improved at the front axle, up from 22 mm to 25 mm with a beefier axle bracket for improved braking & corner entry feel.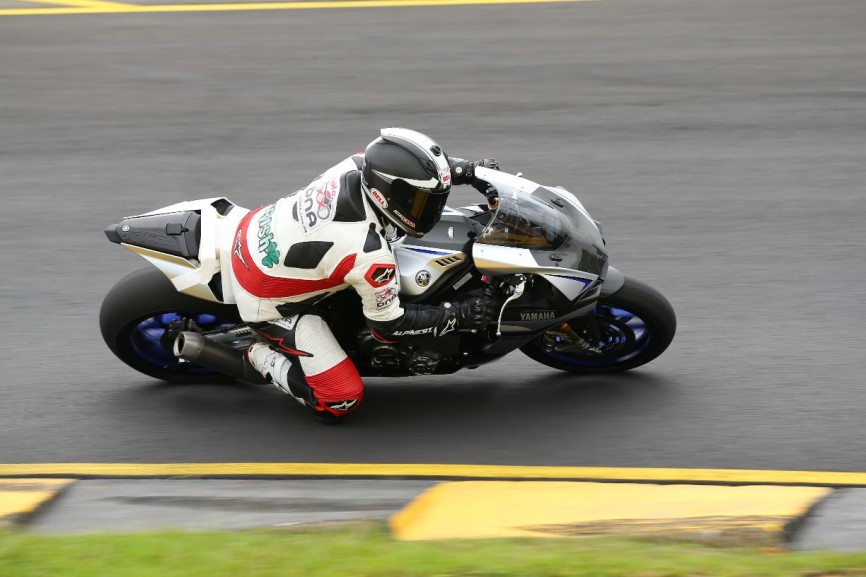 Cast magnesium wheels have been engineered to reduce unsprung weight by nearly 1kg overall, reducing the front inertial moment by 4% and rear inertial moment by 11%. This has notable roll rate and change of direction performance gains especially noticeable through the tight
S – bends at turn 6, 7 and 8.
The brakes have also been upgraded to new monoblock 4-piston callipers with Nissin radial master cylinder & lever assembly and dual 320 mm diameter discs, up 10mm on 2014.
"TRACK FOCUSED"
Powerful and progressive, the front brake allowing confident braking to the corner apex.
The brakes on the R1M, tested on the latest Bridgestone slicks, did fell a little wooden on initial application at turn one, however this is approached at nearly 300kmh, which is a lot of energy to dissipate. I would however try different pads on the R1M next time.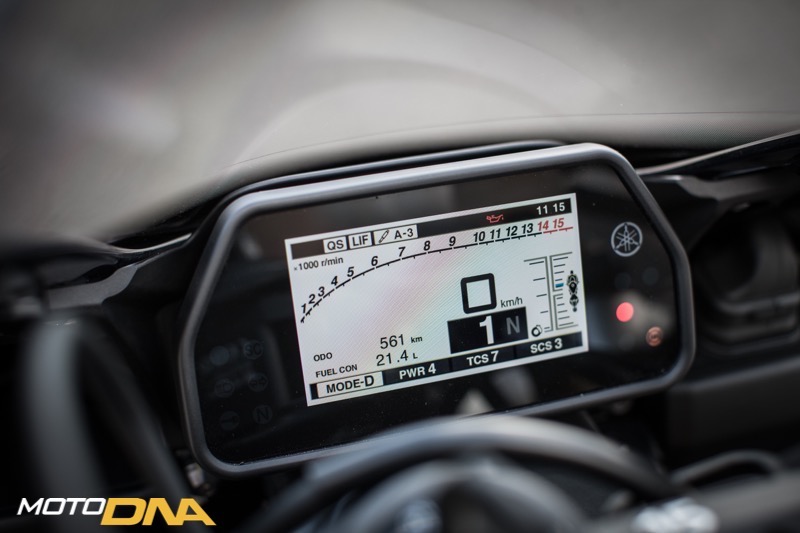 Braking performance is further enhanced with new chassis cross members designed to reduce splaying under heavy braking, a problem on the previous model.
ABS is great for the road but not on the track. Racers can outperform the ABS plus more importantly ABS normally takes away front end feel when trail braking deep to the apex.
The bikes ran a circuit ECU that deactivated the rear ABS and activated a track-spec front ABS.
To be honest I couldn't' feel the front ABS working even on the road tire equipped R1, a testament to the high spec electronic development.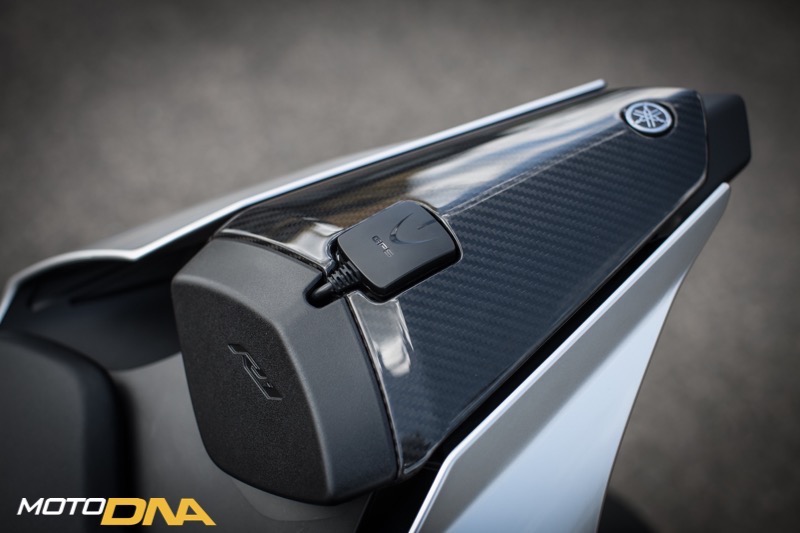 The KYB suspension was impressive, providing a predictable and solid feel around the Sydney Motorsport Circuit on Bridgestone RS10F G & RS10R G road tires. This is certainly ample for most track day riders and offered good response to adjustment.
The R1 KYB rear shock is adjustable for preload, high/low speed compression and rebound with a track focus 5% increase in spring rate.
The 43 mm KYB dual damper forks, both forks control compression & rebound damping, have fully adjustable preload, compression and rebound with circuit developed damping characteristics.
OHLINS SUSPENSION
The R1M is certainly more race focused with Ohlin's EC suspension and Bridestone VO2 slick tires including a 200 rear.
These extra features combined with new R1 chassis to provided a whole new level of performance.
Front spring rate is up a whopping 16% vs the R1 to provide extra support for the slick shod bike on heavy braking and the rear up 2% again emphasizing the track focus.
The Ohlins electronics adjustment is integrated into the dash and very easy to adjust offering settings for all riding abilities. Suspension is automatically adjusted depending on lean angle, rear wheel speed and front brake pressure to increase circuit-riding performance.
On the brakes, the R1M front dive is controlled for more support and less pitch for improved corner entry.
The slight roll rate change took me a little while to get my head around on the track compared to the reduction in trail experienced with the conventional front forked R1's dive while turning in on the brakes.
The R1M was nicely balanced mid turn allowing some extreme lean angles. On corner exit the bike has noticeably reduced pitch, contributing to the increased grip and improved steering on acceleration.
Ohlin's Engineer and test rider Anders Anderson, explained how the Suspension Engineers worked with Yamaha on the R1M project.
"Yamaha gave Ohlin's freedom with the R1M to produce a good track day bike. As with most motorcycles a good chassis base has made the suspension relatively straightforward ".
The very experienced Anderson, a legendary racer who has worked with Ohlin's since the 80's, went on to say, "The EC system was run in 2008 with Troy Corser and Nori Haga on Yamaha superbikes and we used a lot of that data on the current system."
"Rossi too was surprised and very impressed with R1M during the press work"
Martin Lugnberg developed the initial software algorithms for the Ohlins EC and explained that the system analyses what the rider is trying to do with the bike and choose the best possible setting for each situation.
"The Ohlin's system uses data directly from the IMU." Martin said "It's the main component to understand what's happening on the bike. The IMU is like a human sensor, you feel everything, you feel the acceleration, you feel the gyros."
Martin disclosed that Ohlin's EC also uses predictive logic to anticipate upcoming situations as well as a being a dynamic system.
Ohlins have been busy testing the system on public roads too for comfort, safety and amore plush ride.
YZF-R1 Chassis Technical highlights
Newly designed asymmetric aluminium Deltabox frame
Compact and short wheelbase design
199kg wet weight / 179kg dry weight
Magnesium rear frame with aluminium truss-type swingarm
YZR-M1 type central forced air intake
Race-developed aluminium 17-litre fuel tank
KYB 43mm front forks with 120mm travel
Bottom-link type Monocross rear suspension
Lightweight cast-magnesium wheels
ABS with Yamaha Unified Brake System
Twin 320mm front disc brakes with new monoblock 4-piston calipers
220mm rear disc with 1-piston pin-slide caliper
Unique new front face with LED position lights and compact LED headlights
Wide seat with race-developed fuel tank for optimal riding position
Mirrors with integral front flashers
Aluminium under protector
Rear mudguard manufactured from carbon fibre reinforced thermoplastic resin (CFRTP)
ELECTRONICS – TOTAL 3D CONTROL
The electronics package on the new R1 has been developed using M1 MotoGP technology and is simply revolutionary.
Rider aids include
Banking angle sensitive Traction Control System (TCS)
Rear wheel Slide Control System (SCS)
Front Lift control system (LIF)
Launch Control System (LCS)
Quick Shift System (QSS)
Adjustable 4-position PWR power mode selection system
Yamaha Ride Control (YRC) function
Ohlins Electronic Racing Suspension – R1M only
At the core of the R1 is a 6-axis IMU or Inertial measurement unit, which is a MEMS (micro electro mechanical system) combination of a 3-axis accelerometer and a 3-axis gyroscope packaged in a single chip.
These sensors provide accurate motion tracking data to the ECU by measuring lean angle, slide speed and pitching rate via the Gyro's pitch, roll and yaw data and the accelerometer's Forward – backward, Up – down and Right – left motion data.
R1 Project Leader Hideki Fujiwara provided more insight on the challenges his Design Team faced disclosing that Yamaha even designed their own IMU, rather than source commercially available units, such is the importance of this sensor to the performance of the electronic rider aids.
FEEL THE RHYTHM, THE ALGORYTHM
Interesting to note Yamaha retained the simple hall effect wheel speed sensors rather than use embedded magnetic ring element encoders seen on some MotoGP bikes. These sensors outputting a much higher resolution data stream enabling traction control systems to react faster.
This demonstrates how much the R1 relies of the IMU and complex algorithms for its control systems.
Banking angle sensitive Traction Control System (TCS)
Takashi Watanabe, based at Yamaha Europe R&D, is the Electronics Project Chief on the R1 and explained, "The traction control system primarily uses the wheel speed sensors. The ECU reads this data along with other sensors on the bike and via complex algorithms computes the outputs that control traction, slide and lift. "
The throttle butterfly regulates initial slip. Sudden slip is controlled with ignition & fuel cuts. This all happens at 125 times per second.
I found the traction control seamless on the track. Even with the highest control setting it was very difficult to feel it working.
Rear wheel Slide Control System (SCS)
A first on a production motorcycle, slide control comes directly from the 2012 YZR-M1 and controls rear wheel slide during acceleration. This system works with the traction control system based on data from the IMU. 4 setting levels (Off +3)
Slide control was evident on the street equipped R1, allowing a controlled wheel out of line slide on corner exit. I needed more track time to get the slick shod R1M to spin up; rear end grip on corner exit was huge.
Front Lift control system (LIF)
IMU data and wheel speeds detect the bikes pitching rate and controls engine power to reduce wheelies – 4 setting levels (Off +3)
The LIF system worked beautifully allowing the front wheel to hover consistently on corner exit. I found it was still best to get over the front of the bike for the best lap time as the engine is cutting power.
Launch Control System (LCS)
LCS assists with smooth and consistent fast starts and uses ECU data and wheel speeds in conjunction with input from the TCS and LIF Systems. Revs are limited to 10,000 RPM at WOT allowing the rider to focus on clutch control – 3 setting levels (Off +2)
The launch control system seemed to work well, however with the limited track time we had available I focused more on the track.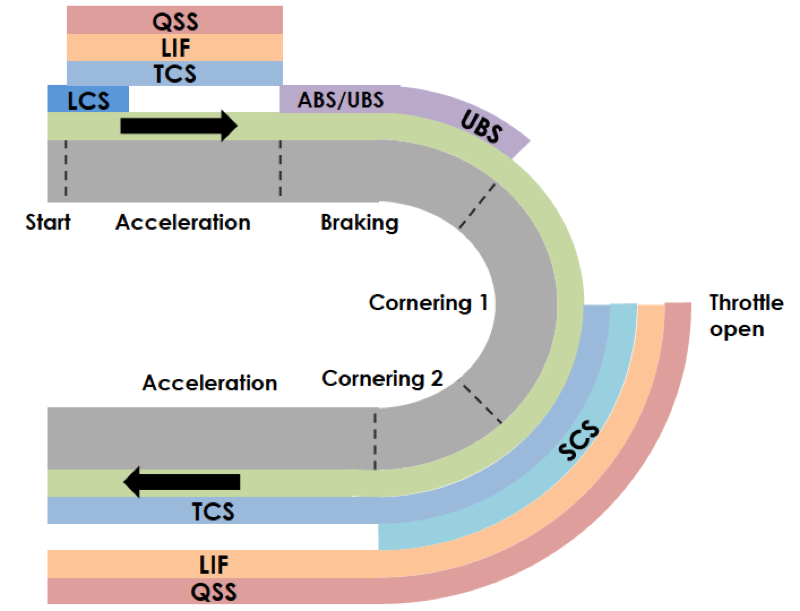 Quick Shift System (QSS)
Allows seamless upshifts at WOT without the use of clutch by detecting shifter movement and uses ECU data to adjust engine output – 3 setting levels (Off +2)
The quick shift worked great on the track allowing smooth acceleration without upsetting suspension and geometry, especially noticeable when the bike was on its side.
Adjustable 4-position PWR power mode selection system
A further advancement of D-MODE the PWR system consists of four different control maps to regulate throttle valve opening depending on the degree of throttle grip opening. These presets where good to test the range of power curves on the track, especially useful for the wet or when the tire goes away.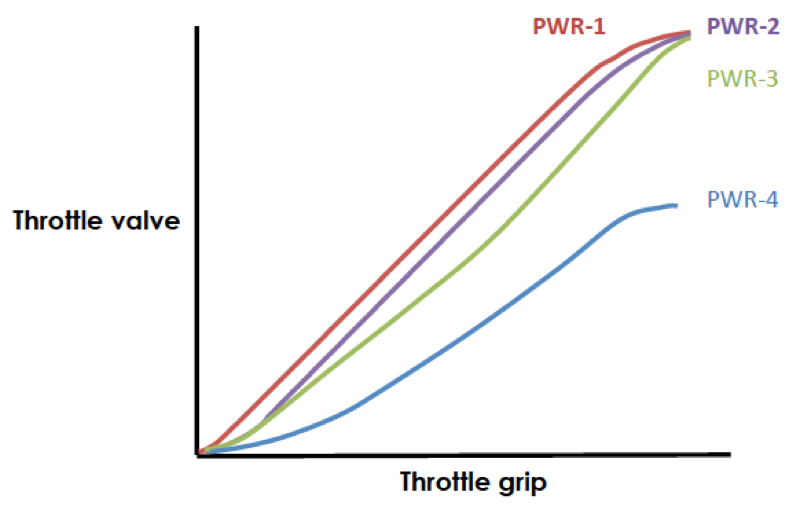 Yamaha Ride Control (YRC) function
Yamaha Ride Control system (YRC) offers 4 groups of presets for simple one-click selection of all electronic controls through handlebar switches.
Each YRC mode can be freely adjusted into new combinations based on rider preferences. I found having the 4 factory pre-sets allowed different combinations of electronic control. This is a great setup tool for the track and can be saved with your own custom combination of settings.
YZF-R1 Electronic controls Technical highlights
Highly sophisticated Electronic Control package
6-axis IMU for 3-dimensional motion detection
Constantly monitors bike position and behaviour
Measures lean angle, slide speed and pitching rate
First ever on a production motorcycle
32-bit CPU gives 125 calculations per second
Gyro sensor for pitch, roll and yaw
G-sensor measures front/rear, up/down and right/left motion
Enables the use of other high-tech electronic controls
Banking angle sensitive Traction Control System (TCS)
Rear wheel Slide Control System (SCS)
Front LIFt control system (LIF)
Launch Control System (LCS)
Quick Shift System (QSS)
Adjustable 4-position PWR power mode selection system
Yamaha Ride Control (YRC) function
New digital instrument panel with Thin Film Transistor (TFT) LCD
High definition anti-reflective design
Coloured display with choice of white or black backgrounds
Selectable 'Street' and 'Track' modes showing different data
Optional Communication Control Unit (CCU) with data logging and Wi- Fi set up
SUMMARY
Test riders, especially on a bike launch, have a limited amount of time to assess the bike. Using a setup process that works in the one direction is the quickest way. Running initial base settings with suspension soft and high electronic control gave good feel to the tires and as you sharpen up settings the bike performs better and you go quicker whilst experiencing the full range of adjustability.
I gradually worked my way through the electronic settings until I had them switched off on the last session. The 3 x 20 min tests on each bike provided just enough time to optimize setup.
The bike felt compact and nimble like a 600; even for my jockey frame with the ergonomics pretty much spot on for the track. The seat was long to allow for bigger riders.
The 200ps engine power on this bike is obvious and with such good traction and driveability on partial throttle you could really hook up the rear, firing the bike out of the turns even with electronics turned off.
This high mechanical grip is a testament to the bikes solid base design.
Advances in electronic control systems have brought an incredible amount of rider aids to the motorcycle world, now allowing ordinary riders to have an extraordinary riding experience. Yamaha have integrated the MotoGP M1's electronics into a completely redesigned chassis and engine to produce a bike that is easy to ride fast.
The secret to the revolutionary performance of this bike is the integration of lots of chassis and engine detail engineering combined with the IMU sensor and the highly secretive and complex algorithms that process the data and output to control throttle butterfly, ignition and fueling to provide the rider with a very natural and fast 2 wheel experience.
By Mark McVeigh … but who is he?
Mark McVeigh is a former International 250GP Road Racer and MotoGP Engineer who now works as a Moto Journalist and Director of Coaching at motoDNA. Based in Australia, motoDNA's training program is endorsed for MotoGP by Dorna Sports.
Find out more about his unique training program and more at www.motodna.net