Here's a cool fact about the new Kawasaki Vulcan S, it can be "adjusted" to fit you. Yes it is true, the foot pegs, handle bars and seat can be adjusted to fit your physique. It is also a particularly low bike, which means just about anyone can ride it. 
And here is another cool fact, Kawasaki Malaysia Sdn Bhd (KMSB) says that it won't cost more than RM30,000 after GST!
So why should you be excited? Because after riding it for over 200 kilometres around some of the nicest tarmac in Perak, Malaysia, there is nothing else to say but that it is another impressive machine from Kawasaki. It definitely is up there with the ER6N and F, and the Versys 650. Maybe even better.
And the fact that it is affordably priced and is friendly to ride, could make this bike the new darling of rookie riders. You have to give Kawasaki credit here for building an awesome bike for everyone.
All three Kawasakis share the same engine and other oily bits, which prompted questions about the Vulcan S and it's bold presence stealing the limelight from the Versys and ER6 models.
The official answer to it is yes, it is expected to 'canabalise' on sales of the mentioned models, as it was put during the Q&A session at the ride.
But it almost seems like Kawasaki is using the new Vulcan to tempt would be riders into riding, with the bike's 'safe' proportions that include a low seat height, a relaxed sitting position and a newbie-friendly engine. It is one of those bikes that has a friendly personality in its design and function.
So what's so good about the Kawasaki Vulcan S:
DESIGN & SIZE
There is no denying that the new Kawasaki Vulcan S is a good-looking bike. There is no bad angle to it. I did initially think that the bike was a bit small, too low for a near six-footer, too narrow even, it almost felt cramped. And then we were told about Kawasaki's ERGO-FIT concept, and how the bike has certain adjustments that can be made to fit you.
There are three different settings for ERG0-FIT:
1 – ERGO-FIT Extended Reach – if you are 6'1" tall and over
2 – ERGO-FIT Mid Reach – 5'7" to 6"
3 – ERGO-FIT Reduced Reach – 5'6" and under
To make this happen, three different handle bars, seats and foot pegs are offered for each ERGO-FIT setting. The foot pegs for example are adjustable in 3 different positions, as is the seat. The handlebar comes in two settings – a mid-reach design and a reduced reach bar that extends closer to the rider. KMSB did state though that it will take some time for the optional accessories to arrive after the bike is launched locally, so you will have to be patient with your customisation.
The test bike was set at Mid Reach, which was comfortable for enough for me, but I suspect the Extended Reach would have been spot on.
ENGINE
The 649cc, parallel twin, four-stroke, liquid-cooled, DOHC engine with four valves per cylinder is impressive. It is a derivation of the Ninja 650 engine, and is the same engine that powers the Versys and the ER6 range.
In the Vulcan S though, the engine adopts a number of key updates like revised cam profiles, modified intake tract, exhaust and ECU. The flywheel has also been updated with a 28% update in mass, which offers better low and mid range torque and smoother acceleration. A difference you actually feel when riding, especially the ample of mid-rev torque that deletes the need to downshift.
Expert ears however will pick up on the engine note, which is vaguely similar to its siblings using the same engine. It is not very inspiring and we suggest an aftermarket kit to give it a cruiser-like presence, but the engine sounds its finest when accelerating, with the 6-speed gear banging home short, precise shifts. The process of shifting up the gears at full throttle on the Vulcan S is quite surprisingly, addictive. You just want to keep doing it. Listen to the engine and exhaust in our short video clip below.
Fuel economy is good, KMSB was reporting a range of about 220 kilometres. But we think the 14 litre fuel tank could offer better mileage than that. Case in point being when we stopped at Manong, Perak after riding for about 100 kilometres. The digital fuel gauge had hardly dropped, but KMSB felt it better to top up anyway.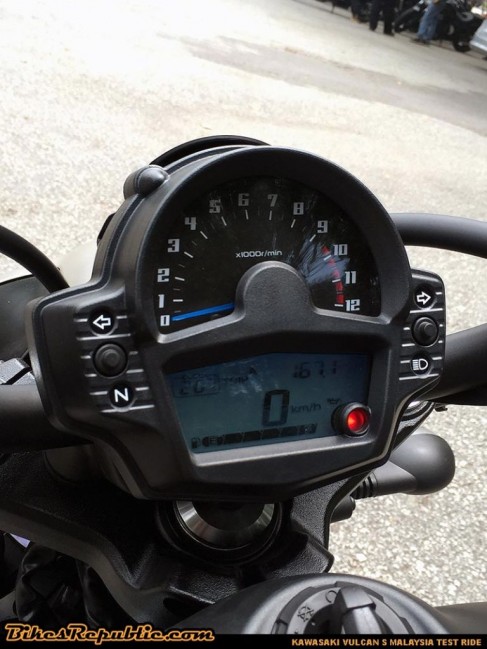 There is also an Economical Riding Indicator that tells you when you are riding, you guessed it, economically.
It is also a smooth operator with perfect counter balancing of the twin cylinders. The engine is so smooth that even at high speeds, the rear view mirror still offers you a clear image of what is at the back, a sure fire way to gauge the smoothness of an engine.
RIDING DYNAMICS
The Vulcan S weighs in at 225 kilograms, which gives it good stability at speed, yet enough agility for when you want to tackle a few corners.
The chassis and Diamond tubular frame gives the bike some impressive moves when it comes to entertainment. It is willing to get down and dirty when you want it to, and is always game for some foot-peg scrapping fun. Just don't expect it to perform like a sports bike, it is far from putting the super in a bike.
The rear suspension is an offset lay down KYB single shock that offers 3.2 inches of travel. It also has seven preload settings. Perhaps I had the setting wrong, but it felt a little too soft, some time to explore the seven settings would be nice! Will find out more about that when we get the bike for a thorough long distance run.
The front on the other hand is bolstered by 41mm conventional forks positioned at 31 degrees of rake.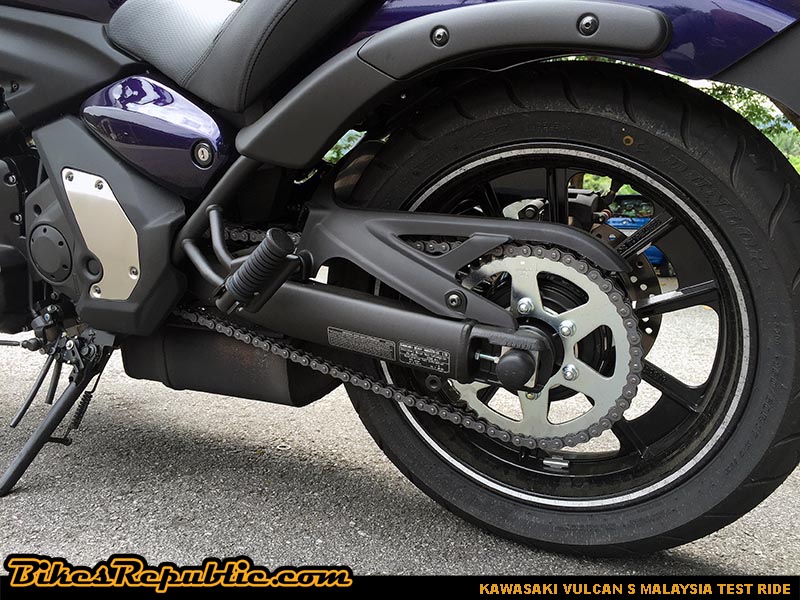 BRAKES
Good enough, but there is no ABS for now. The front is kept in check by a single, 300mm disc with a dual piston calliper. It is gentle in nature, but will grip hard when it needs to. Works best when tugged at with your entire hand.
The rear is a single 250mm disc with a single piston calliper.
There were moments where hard braking was needed, but the rear still settled without locking up the brakes or slid. Worldwide reviews of the ABS equipped models also point out that the ABS is difficult to engage.
PERFORMANCE
Amazing. You never expect the Vulcan S, a bike Kawasaki refers to as a 'sports cruiser' to perform so well, because there really is nothing 'sports' about its design.
But ride it hard and it comes together surprisingly well. The torque is rich and available from as low as 2,000rpm all the way over 9,000rpm. And though there is some initial hesitation to bring the Vulcan S lower, because you usually don't do that on a cruiser, you begin to realise that it can take a lot more and the tyres still have grip to offer.
The 18" front tyres and 17" rear tyres provided impressive grip, but were not too happy on sandy or damp patches. But then again, almost all tyres are not too thrilled about such surfaces anyway.
At high speed, the bike feels settled and steady. There is no nervous twitching in fast corners with varying road conditions, the sitting position is set just right for control, and the fact that there is enough power without having to downshift is confidence inspiring, especially when overtaking. It is always nice to have that extra burst of power.
VERDICT
This is the bike that will open up the world of riding to a lot of new people. It is quite possible the ultimate entry level bike for those who love cruisers. KMSB says that the Vulcan S will also attract more ladies to the brand.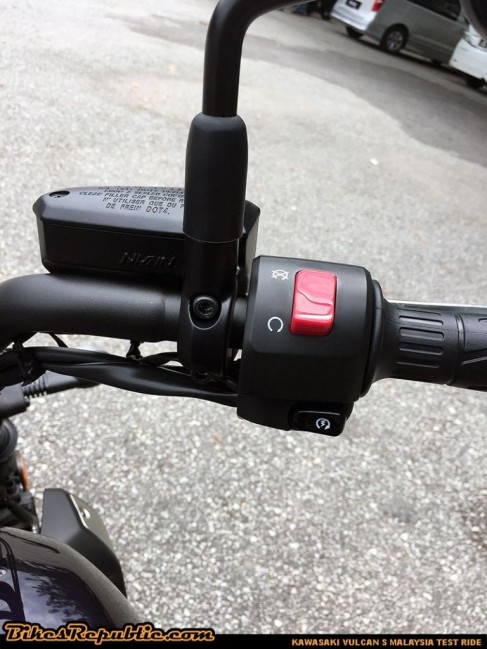 It even has such features as a Positive Neutral Finder and a clutch that makes it easier to manage stalling. There is also a seemingly endless list of options that include everything from a gear position indicator, a DC socket, a rear comfort seat, and also a light bar with sub lamps. Also expect this Kawasaki to be a favourite amongst custom bike builders, though some may say that it is does not really qualify as a cruiser without a big V-Twin, but it will be interesting to see how it stacks up against a Harley Sportster.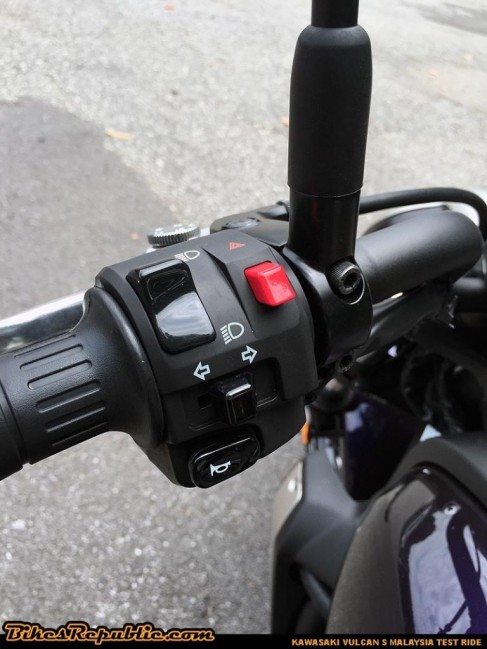 KMSB has not confirmed the pricing of the bike, in fact it has not even been officially launched, but KMSB promises that it will not be over RM30,000. This is one bike worth waiting for and you wouldn't have to wait long for it.