Ride impressions of the new Vespa S125 3v i.e. as told by a fan and current Vespa owner.
Smaller 125cc powertrain

Classic design with modern touches

Compact and easy to ride

Perfect for daily commuters

RM12,462.04 (OTR with insurance)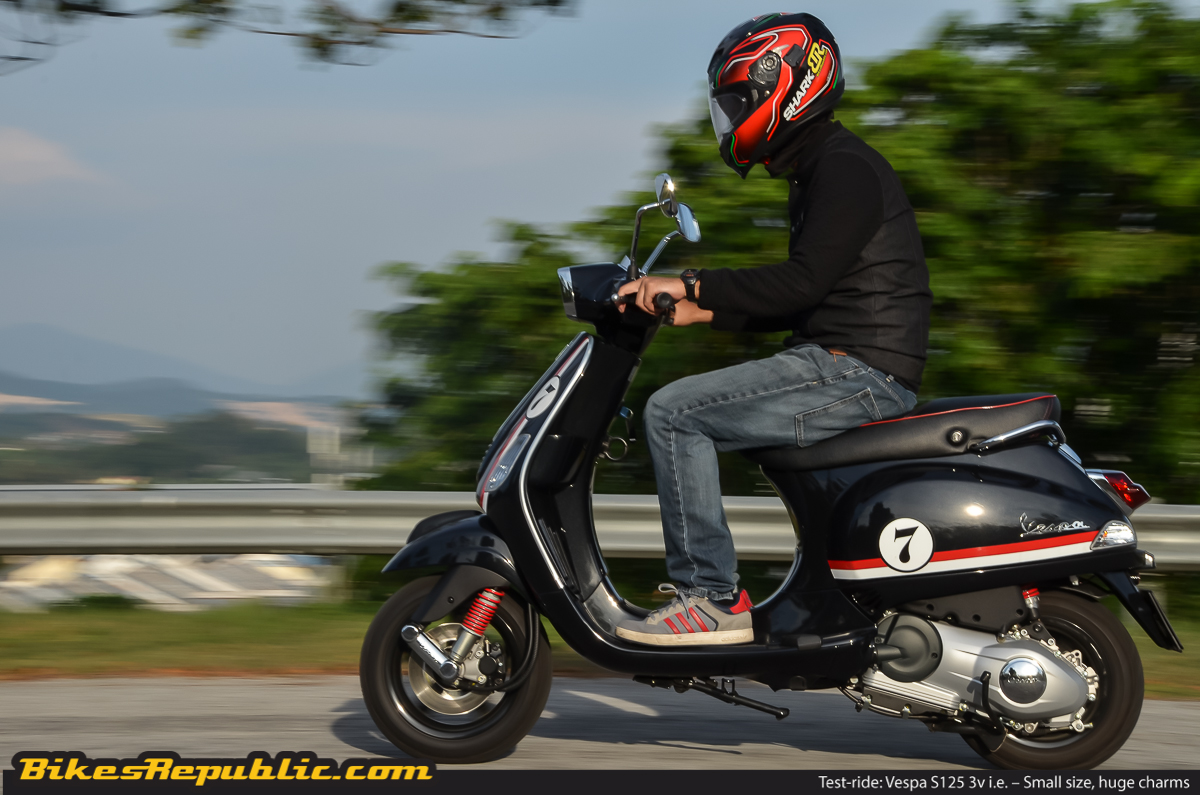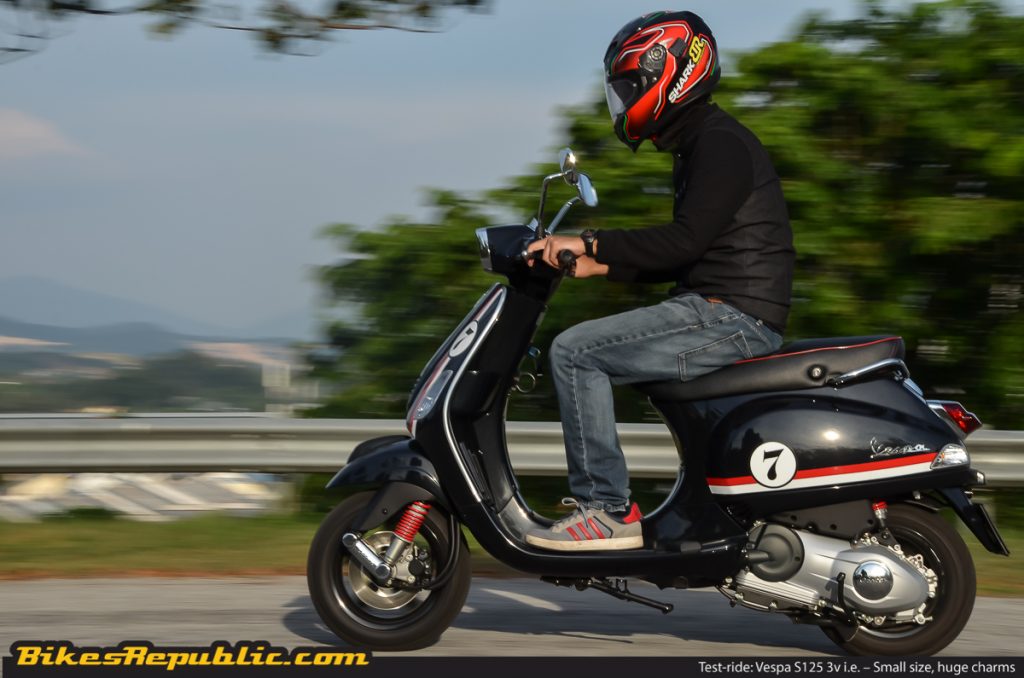 Foreword
We've said this before, but we'll say it again: Vespas are cool. Period. Even in its new entry-level variant with a smaller powerplant like what the newly launched Vespa S125 3v i.e. is, this plucky Italian icon easily finds its place in the hearts and minds of many fans and non-fans alike.
Though it is easy to understand the Vespa appeal on the surface, we've decided to find out how this new model actually fares out in the hands of a fan and current owner of a Vespa Primavera. Fortunately,  we just happen to know one who currently writes for our sister site MotoMalaya.net.
Here's what an owner and fan had to say about the new 'small' Vespa model after spending a weekend with it recently.
Vespa S125 3v i.e. – An owner's perspective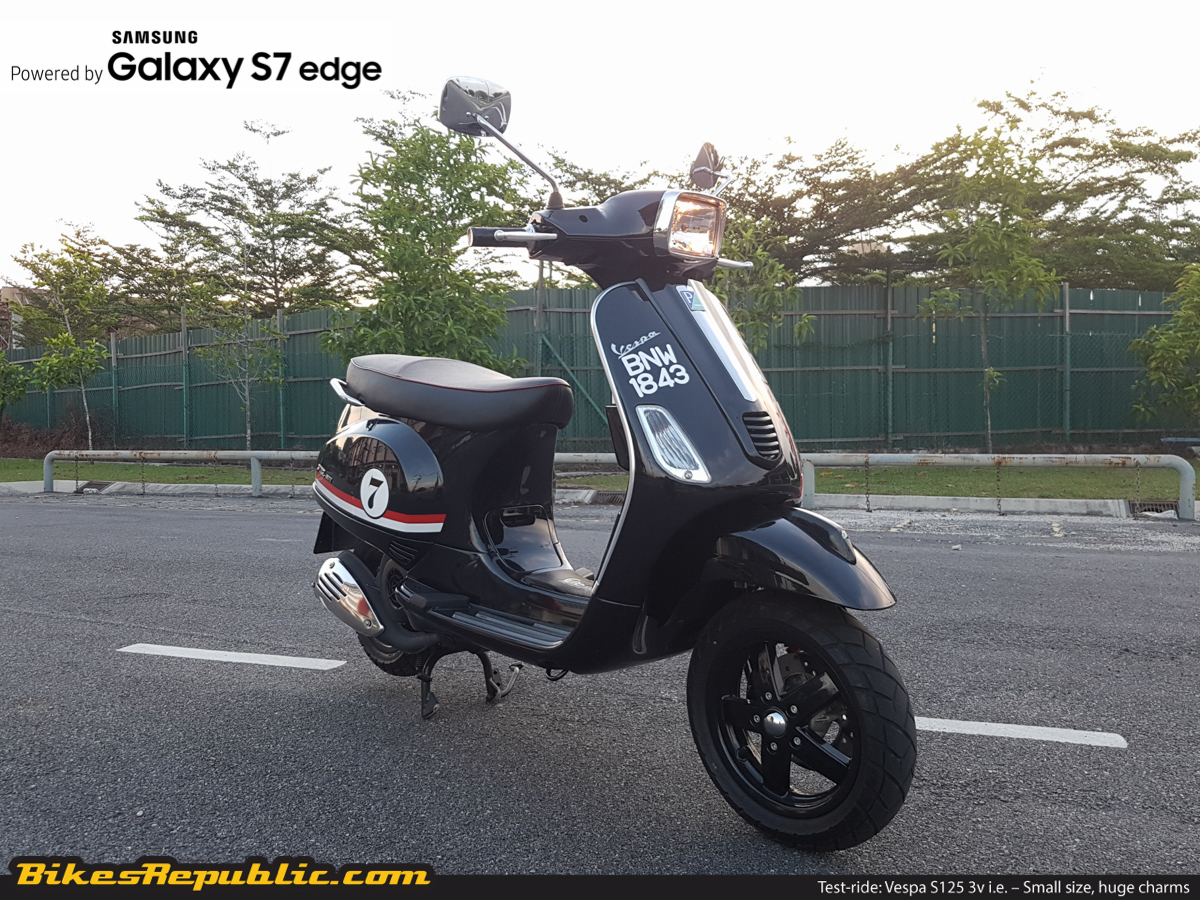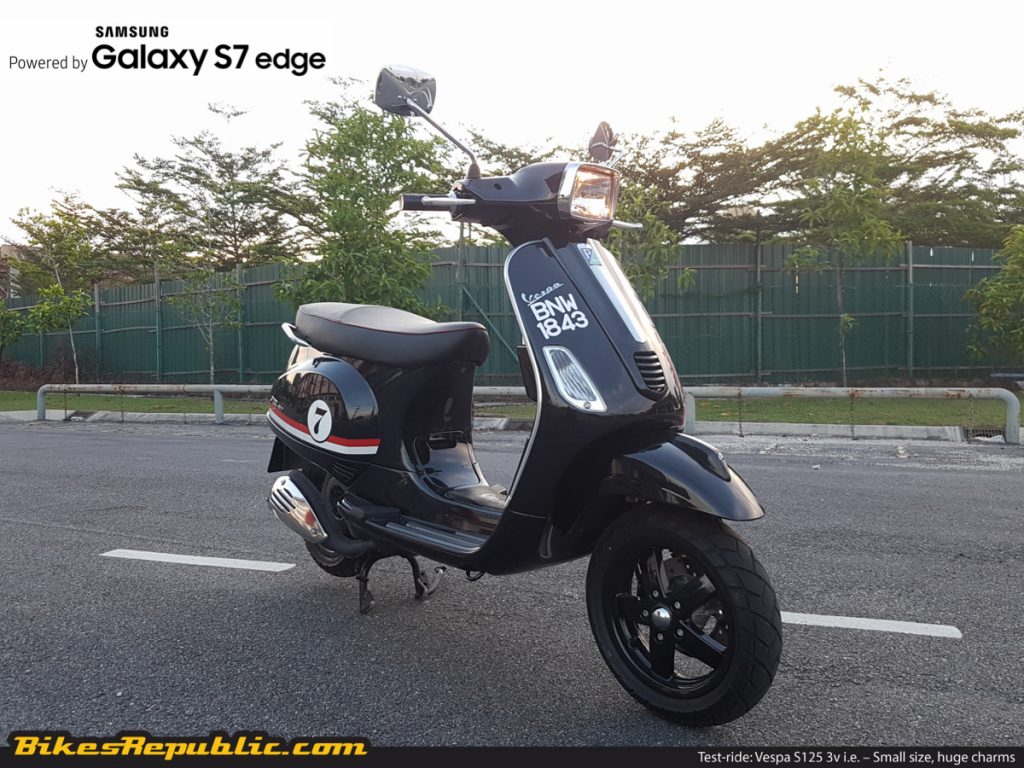 Launched back in May this year by official distributors Naza Premira Sdn Bhd, the Vespa S125 3v i.e. brilliantly captivated local fans of this famed and classic Italian scooter brand.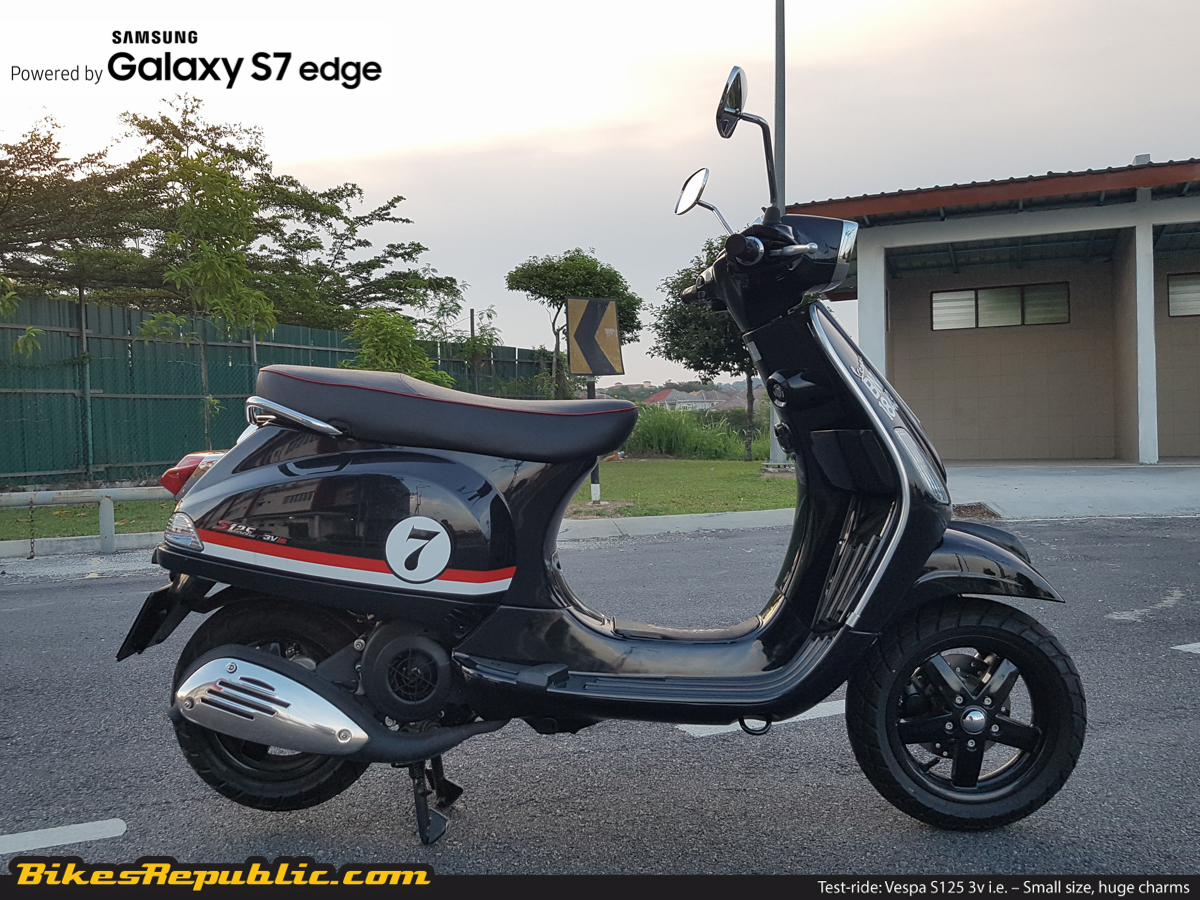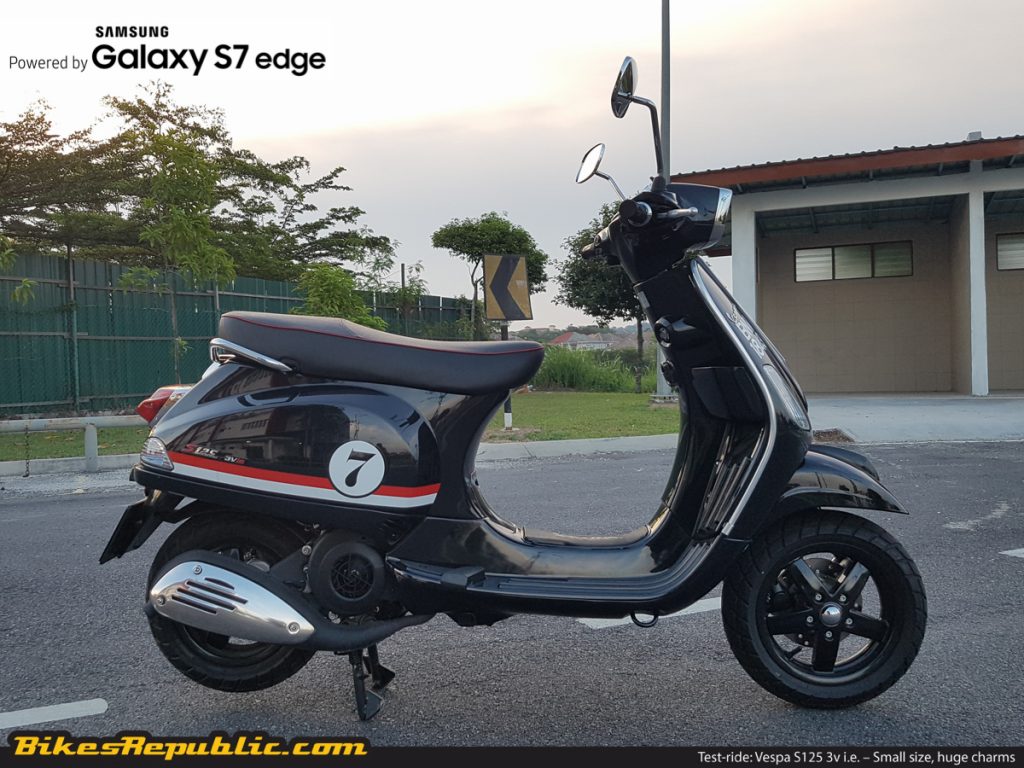 At a glance, it is easy to see that the S125 has got plenty going for it. The most obvious of which here is its distinctively classic or 'retro' styling. Exuding this perfectly is its square-shaped headlight inspired by sporty Vespas of the past, thus giving it an "old school" twist to its overall modern looks here.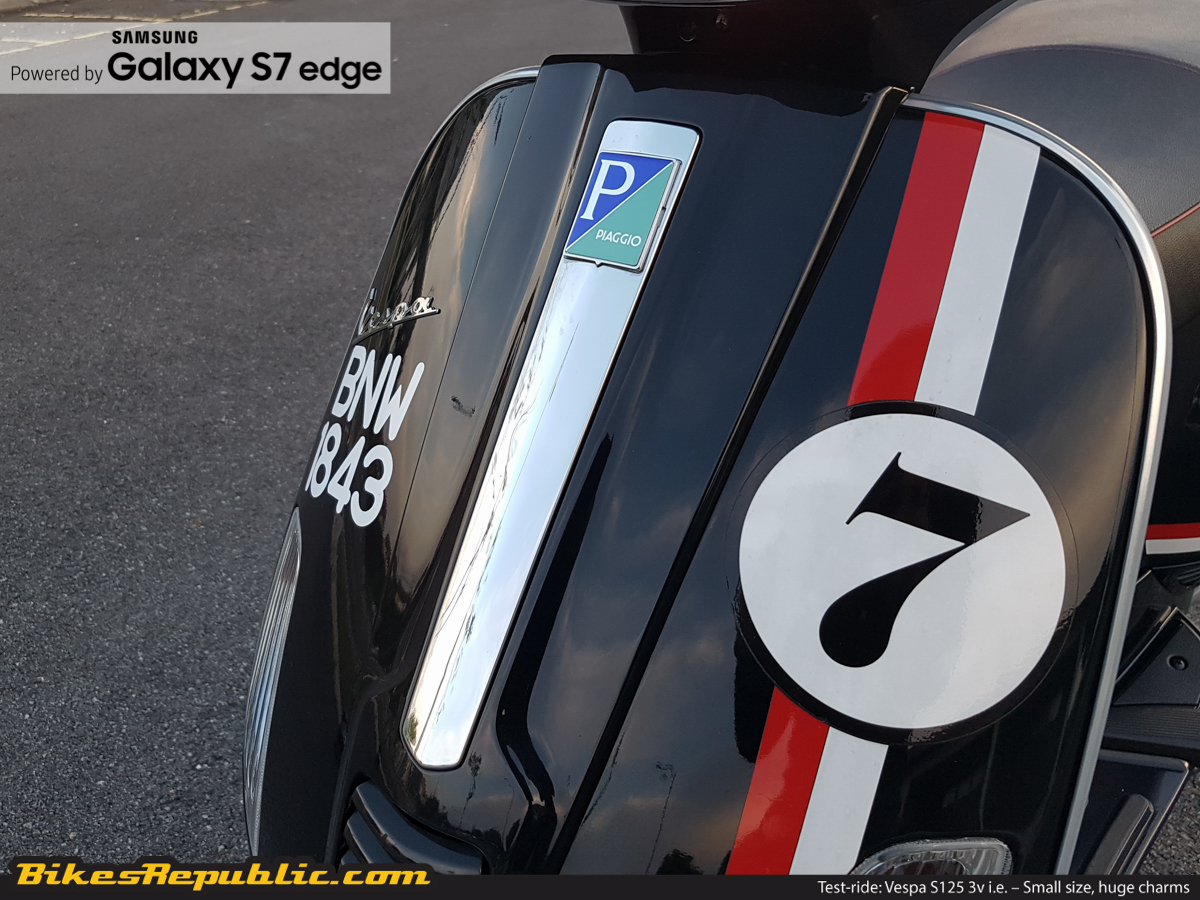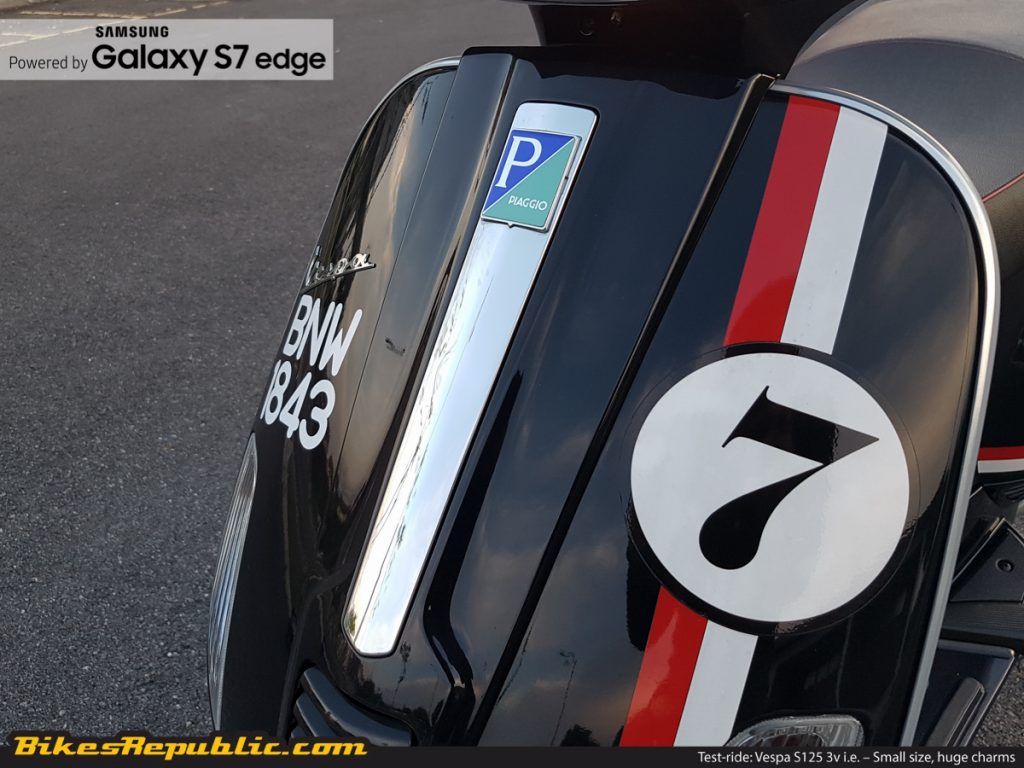 Fuelling this further is the 'Nero Vulcano' shade of black our test unit was dressed in. Complementing it further here are the limited edition racing stripes and number graphics donned all-round, giving the S125 a very 'racy' stance indeed.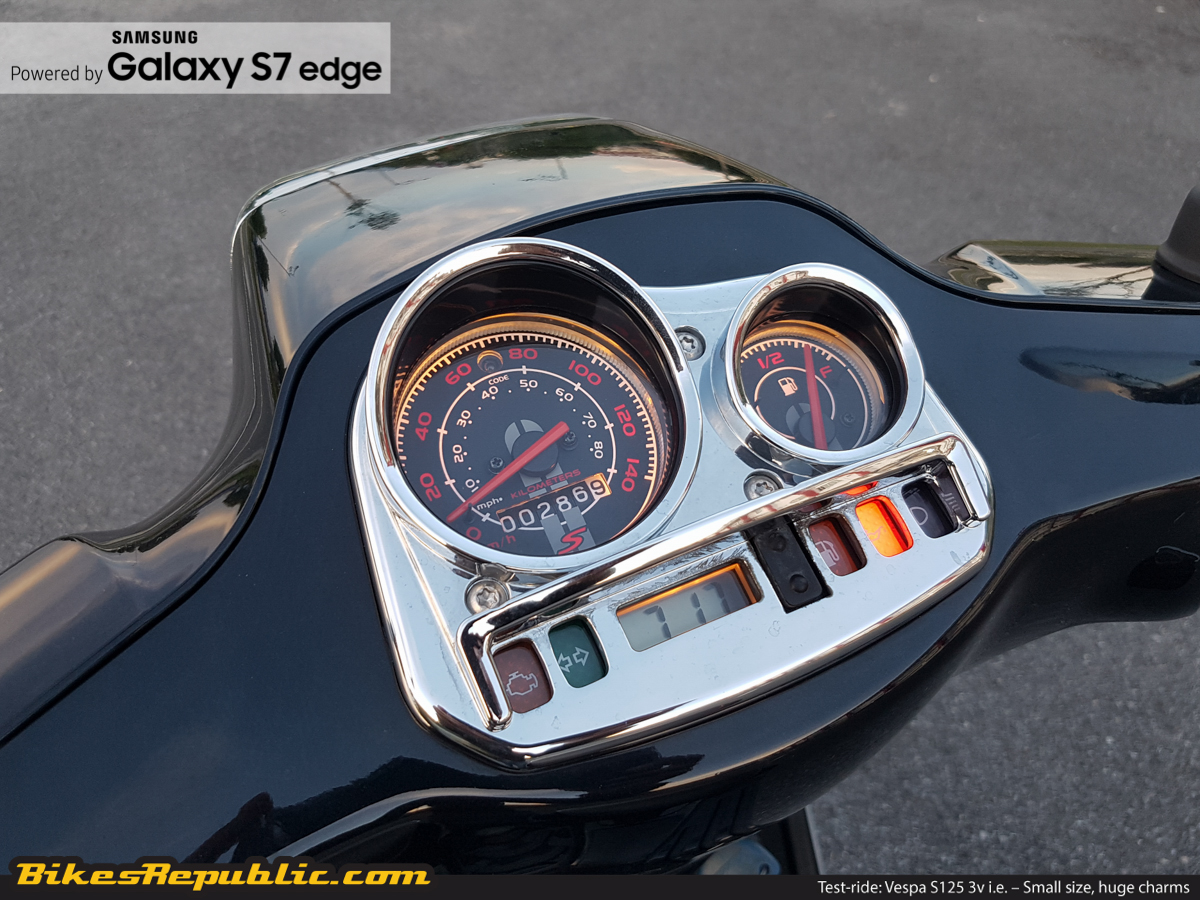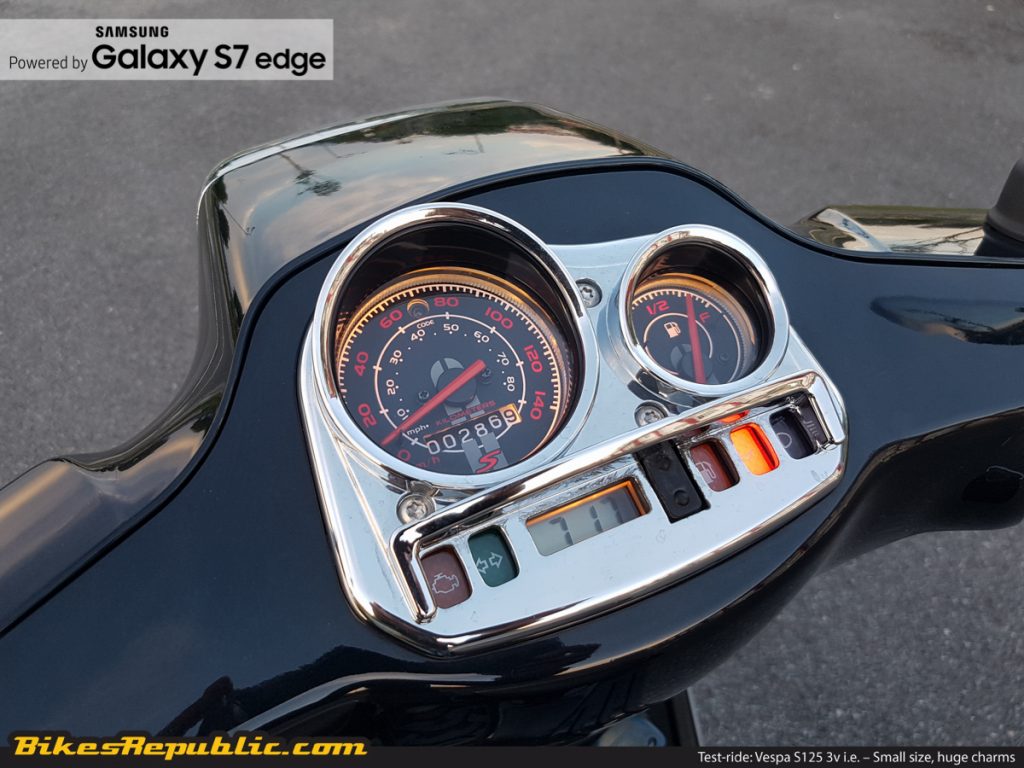 Once in the hot seat, nostalgia kicks in as you bask at the simple analogue instrument display. Dominated by a large speedo dial, things are  easy to read with a quick glance. Unlike past models though, the presence of a neat fuel reserve warning light means you'll easily avoid silly situations should you inevitably run out of petrol.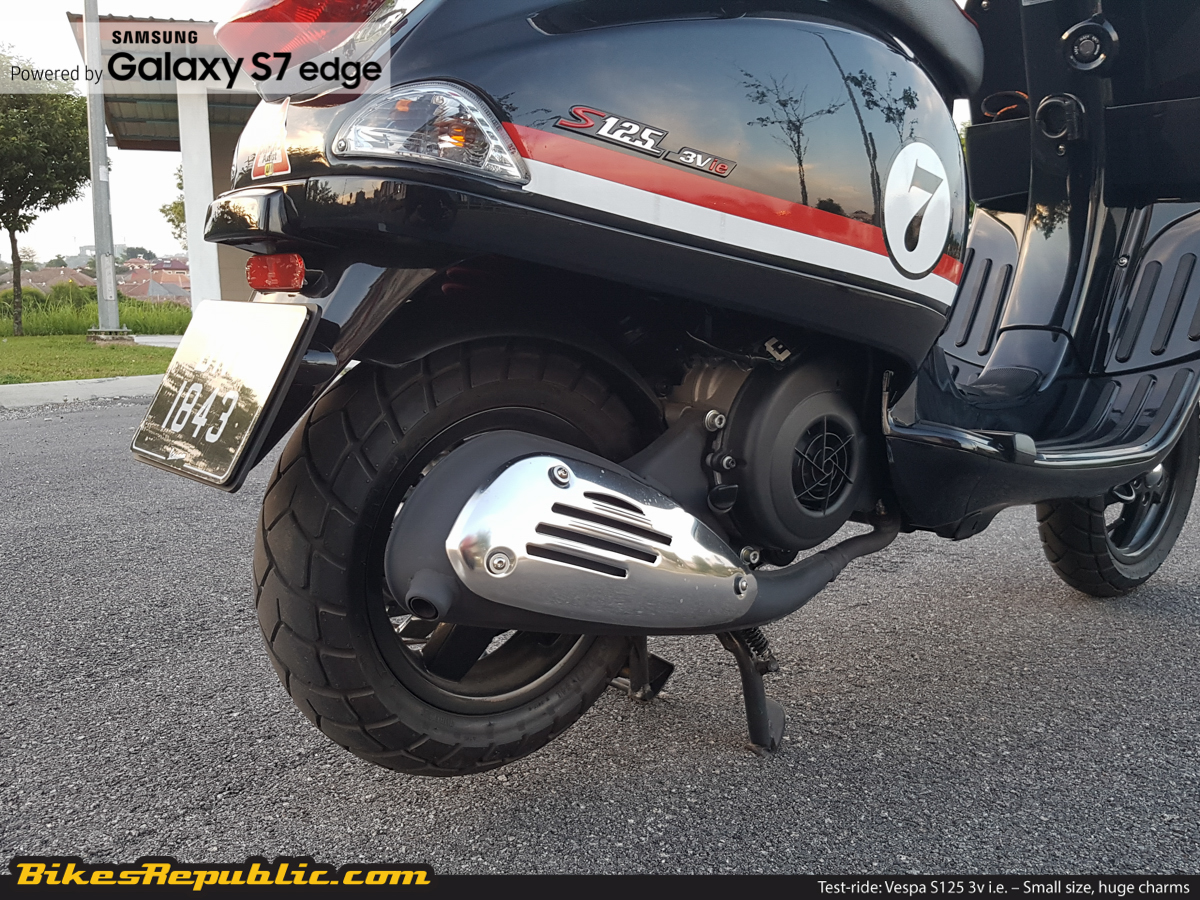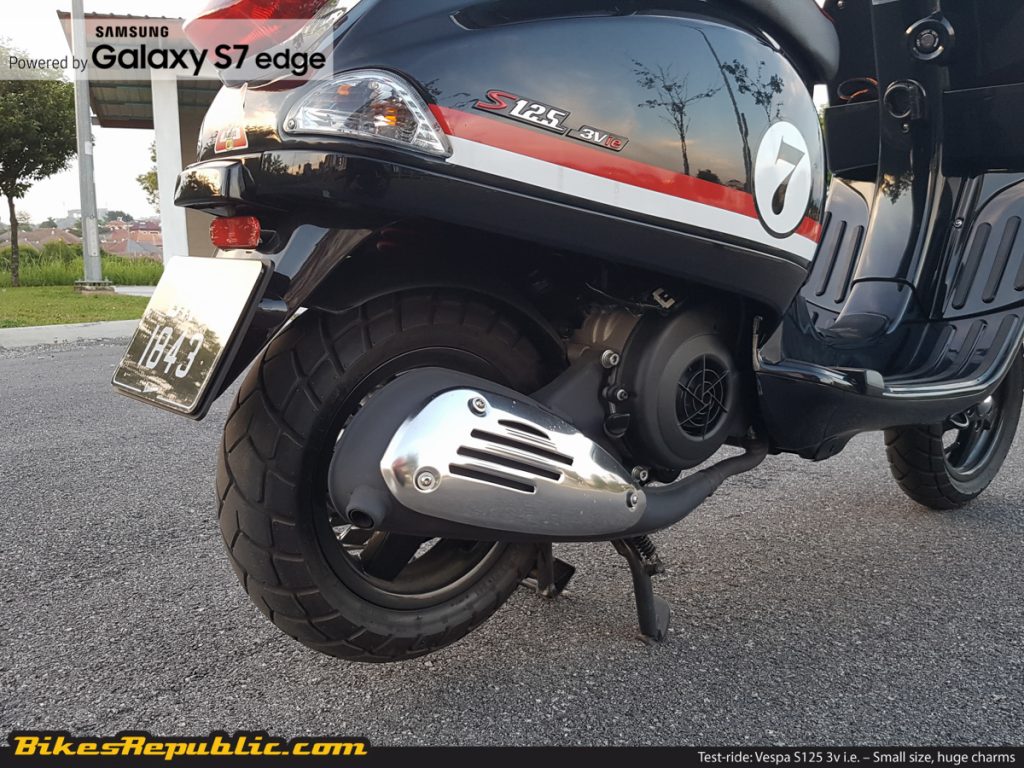 Again, like many of its stablemates, don't let the classic styling fool you as this Vespa is as modern as any of its rivals today. Case in point here is the S125's air-cooled 125cc single-cylinder heart that comes primed with an electronic fuel injection suite plus an electric starter unit as well.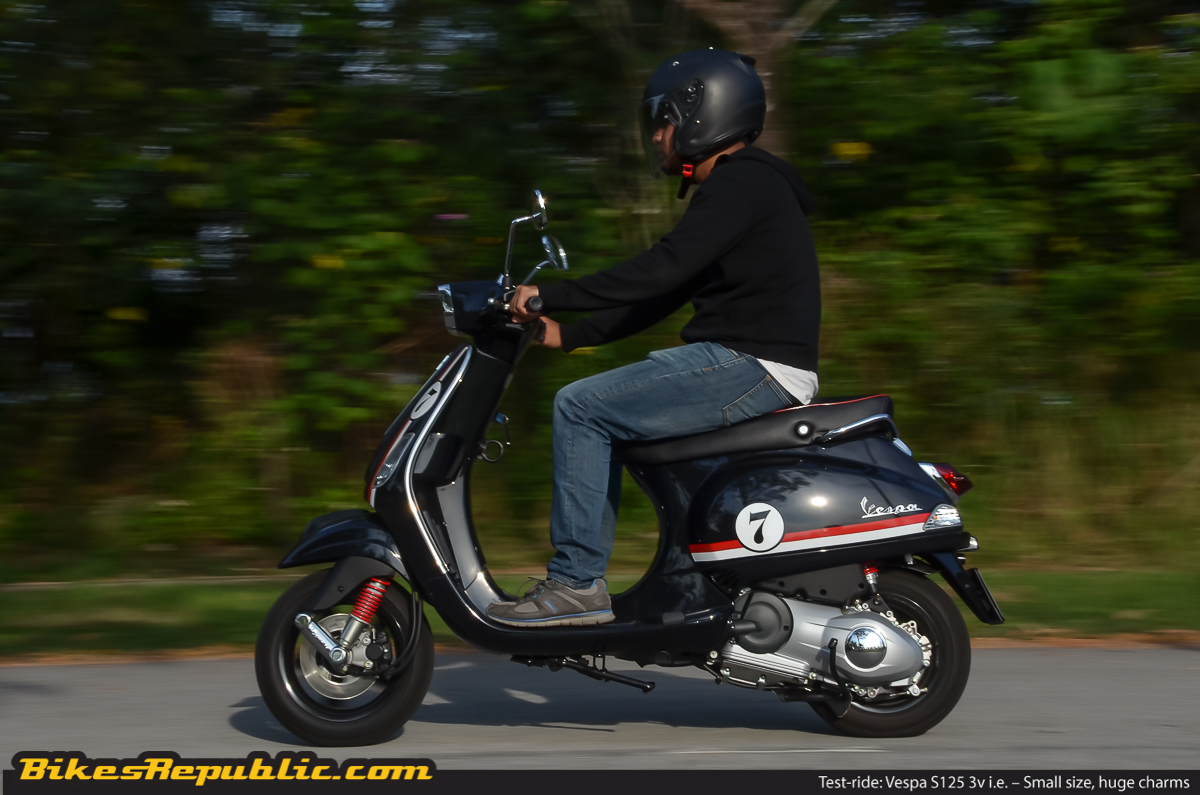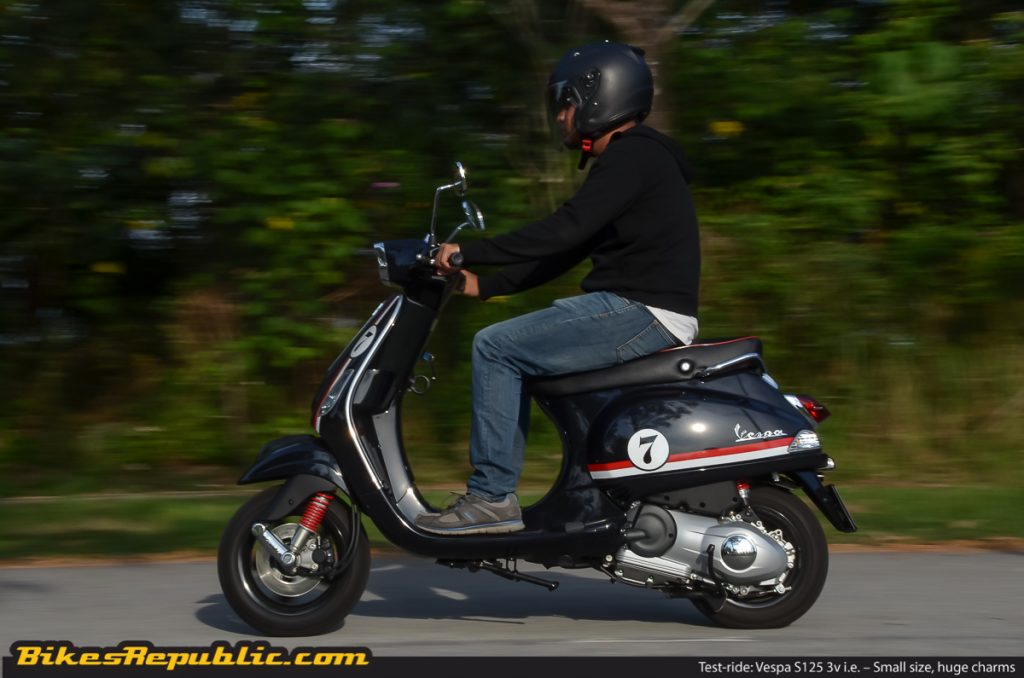 Though smaller that the 155cc unit powering the bulk of Vespa's current line up, the S125's mill healthily outputs 11.6hp @ 8,250rpm and peak torque of 10.7Nm @ 6,500rpm – almost similar to the figures generated the 155cc-powered Vespa LXV model in fact.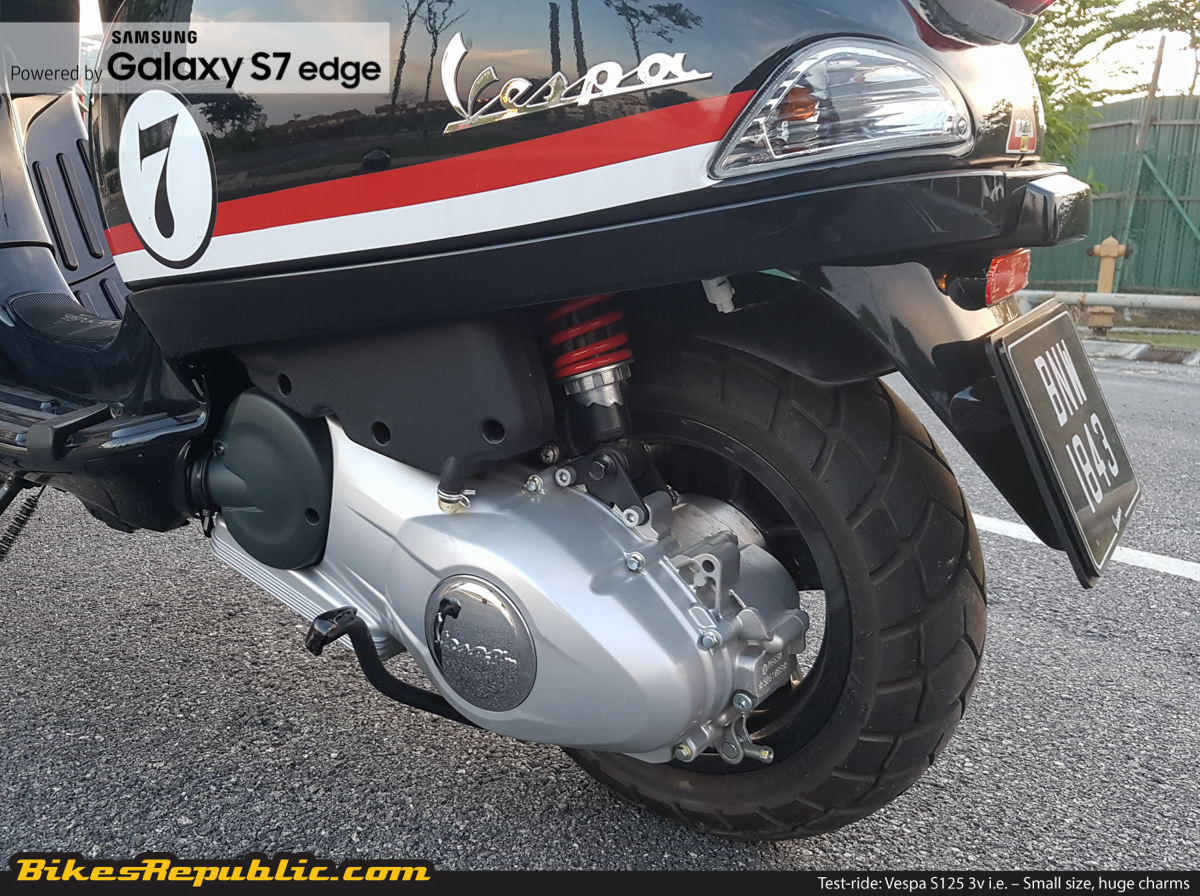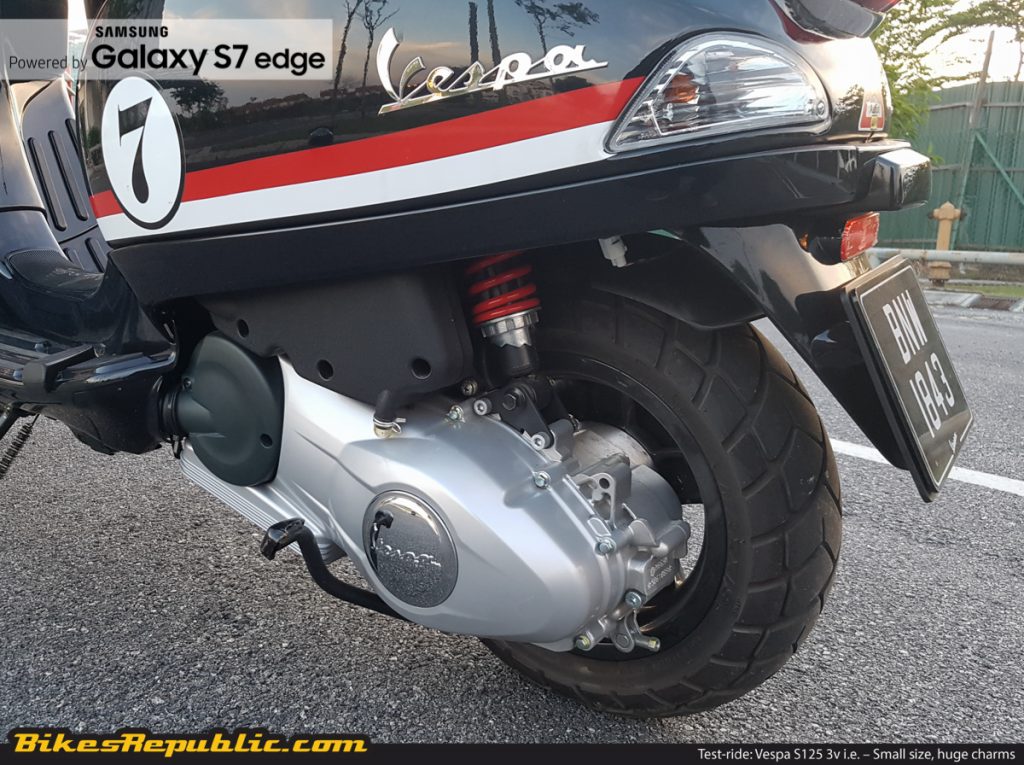 Personally, I found this powertrain's acceleration to 50km/h to be fairly good. Predictably though, the powerplant starts to struggle slightly boynd that. But it didn't take long to find the sweet spot that lies anywhere between 80km/h to 90km/h. The S125 is both smooth and exciting here.
For me, riding the Vespa S125 brought back sweet memories of a Suzuki V100 scooter I once owned. They're both small but were equally easy and fun to ride everywhere with.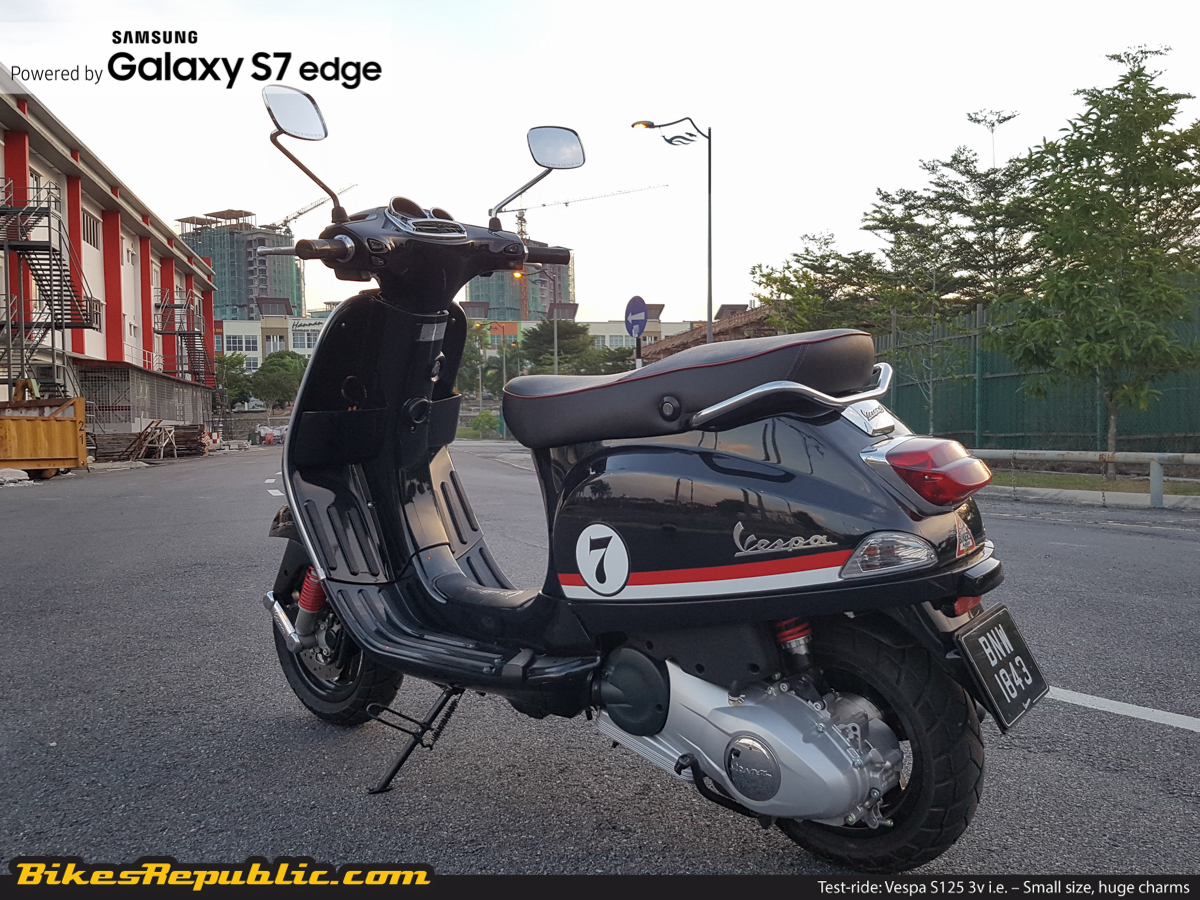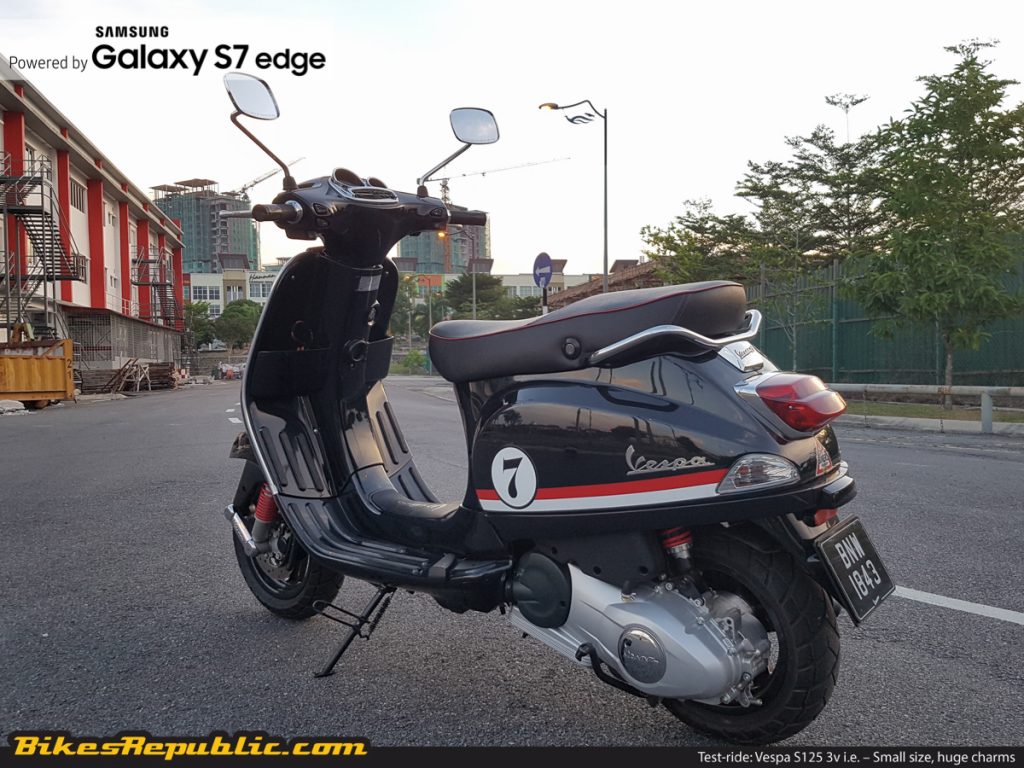 What really impressed me was the S125's comfortable ride during my usual work commute from Bangi to Cyberjaya via Seri Kembangan. Much of this comes from the sublime and supple delivery of the dual-action monoshock absorbers primed front and aft.
Predictably again, as how most other similar small-sized scooters, the Vespa S125 felt right at home so as long as you keep the speedo needle below 100km/h. Anything past that and you'll have to deal with vibrations that cause riding discomfort.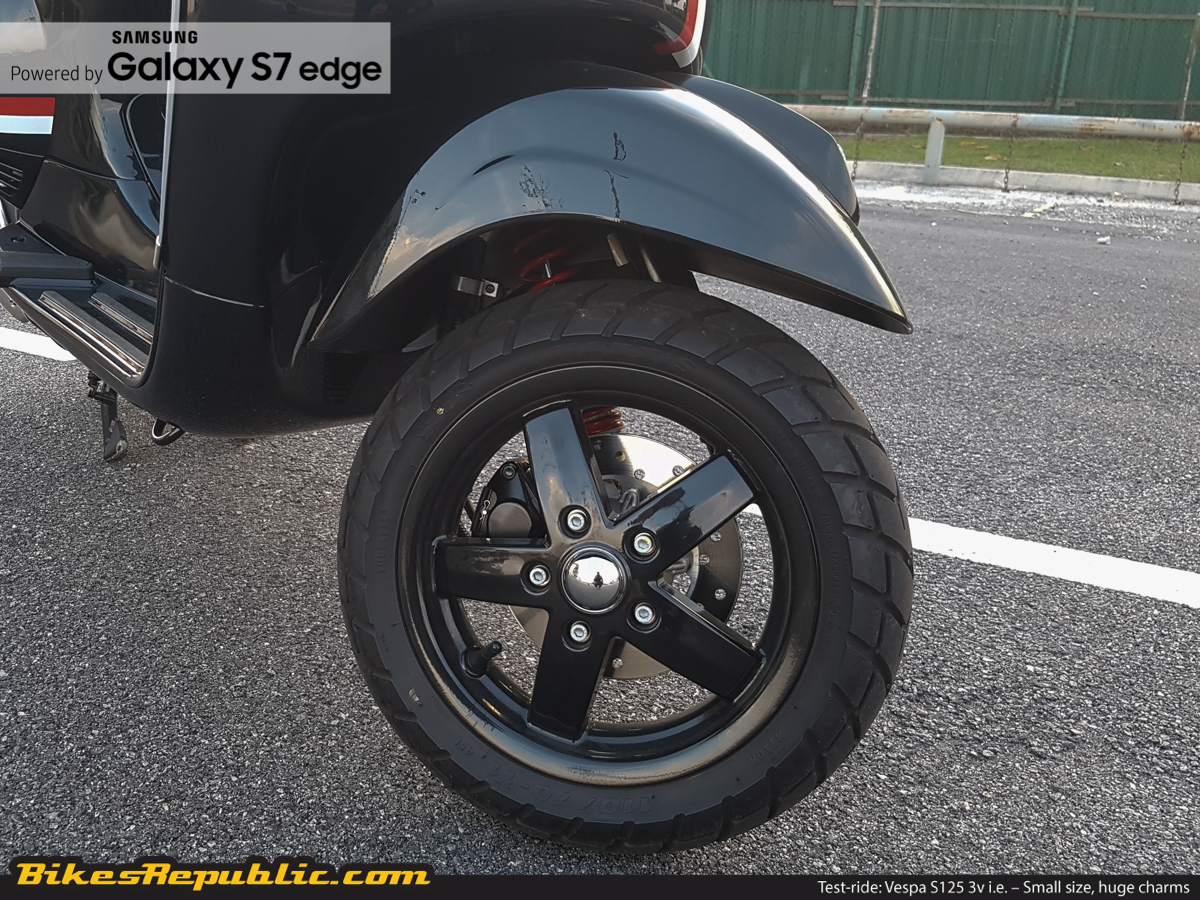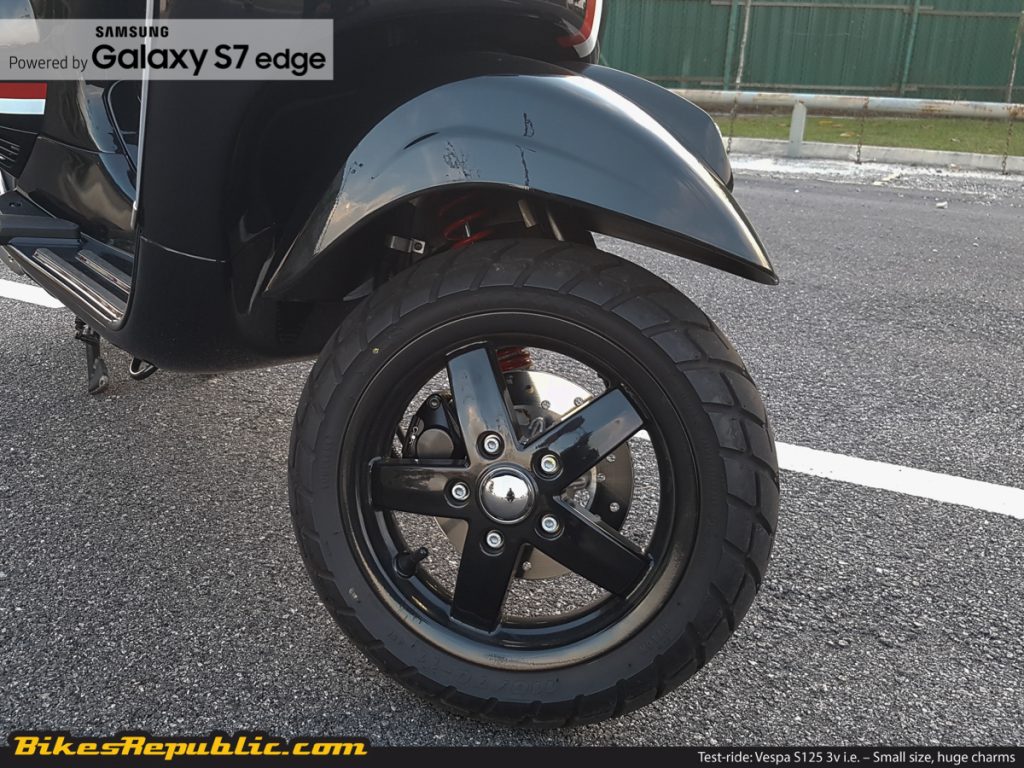 Perhaps the S125's seemingly 'small' tyres and wheels combination is the cause of this. But, as mentioned earlier, just keep the S125 in its sweet spot and enjoy its brilliance.
These predictable quirks aside, the Vespa S125 shines again when taken through the city's mad traffic. This is where the S125's slightly smaller and more compact than usual dimensions stands out. Not only do the shaved skirts in the rear fairing and slimmer profile look great, it makes the S125 much easier to filter through traffic as well.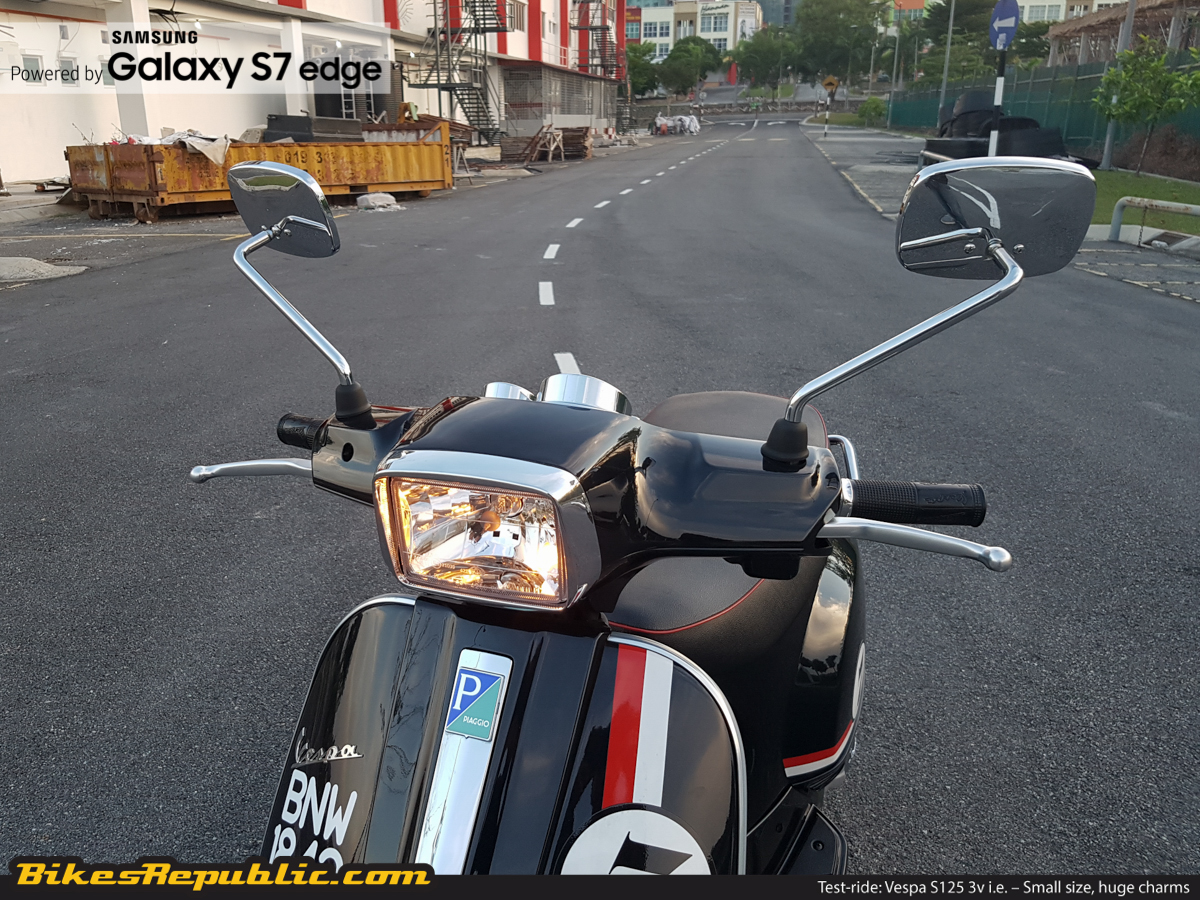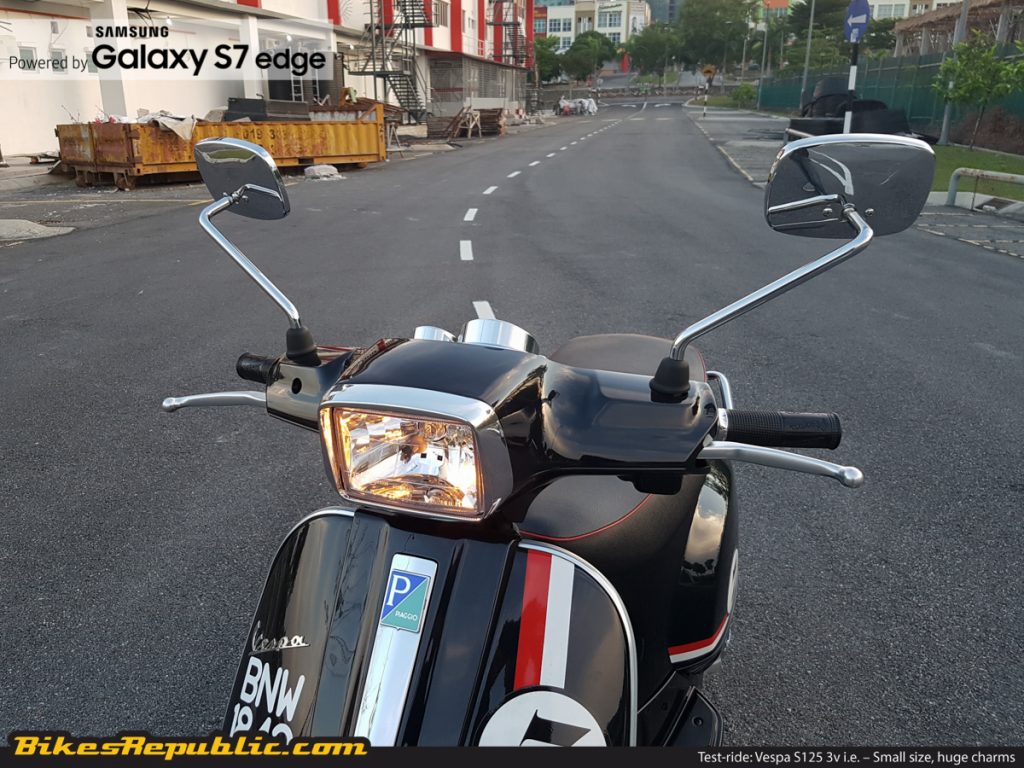 Drawbacks to the S125's downsized dimensions perhaps lie in the slightly less than optimal ergonomics. More specifically, it is the squared-shaped top fairing impeding access for one's thumbs to the buttons, meaning one will need time to get used to this.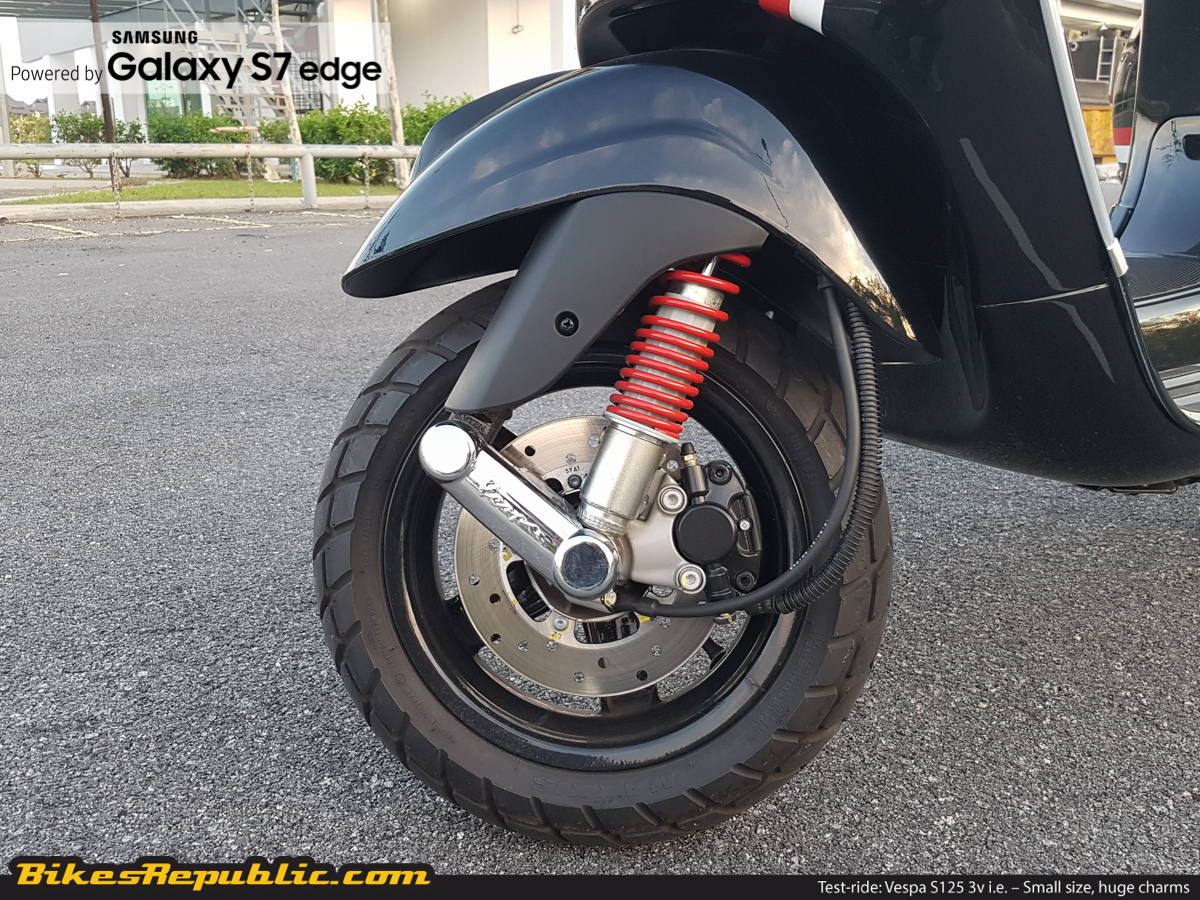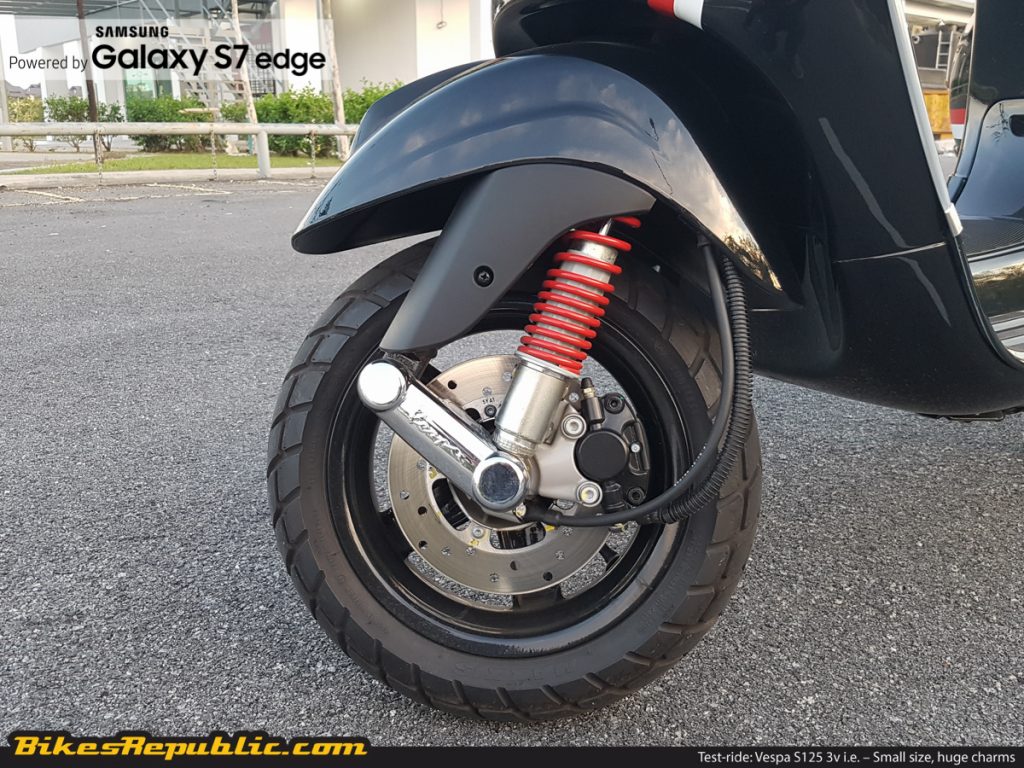 It's fairly easy to tell that the Vespa S125 really belongs in the city, most especially if you're the type who frequently commutes through KL's peak hour gridlocks. Peace of mind when riding through this comes from the S125's hydraulic 200mm front disc brake as it offers excellent bite and responsiveness in its lever action.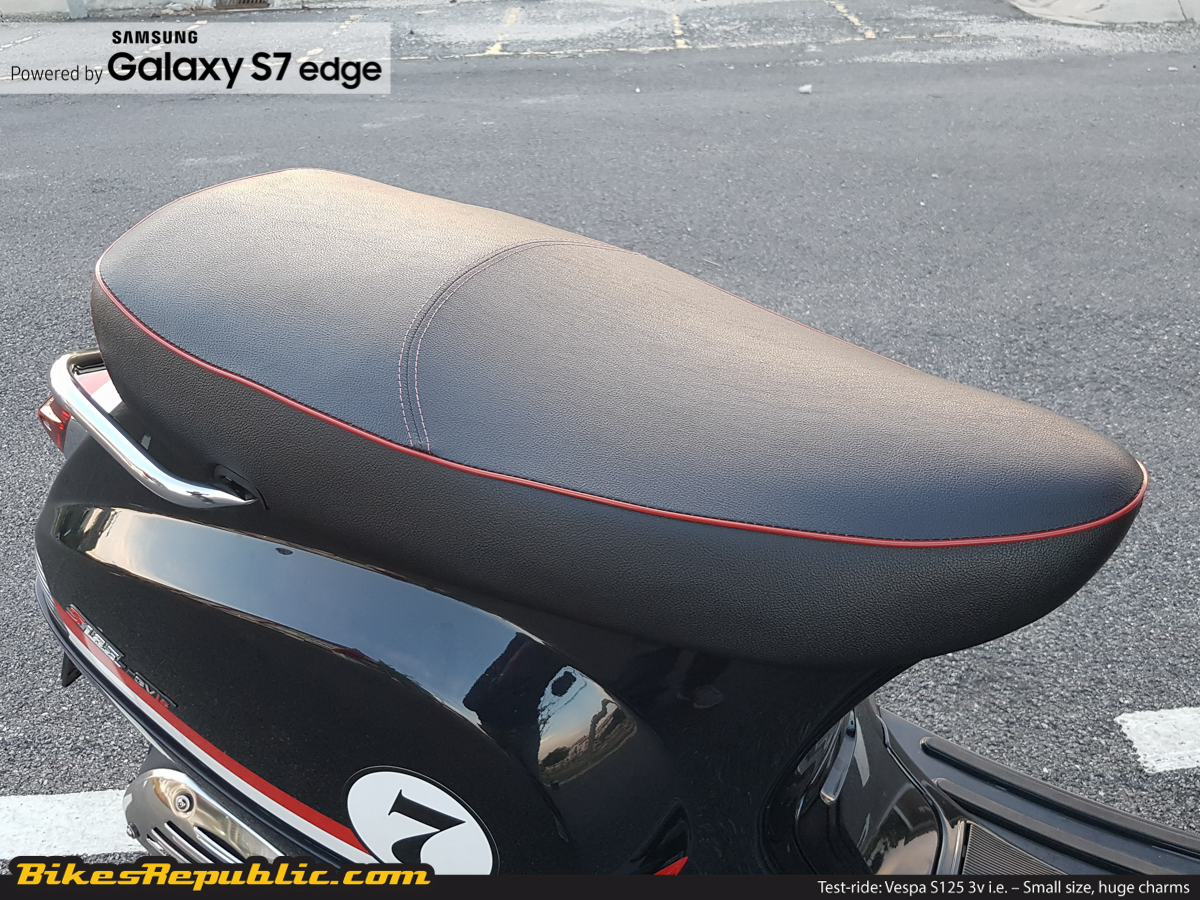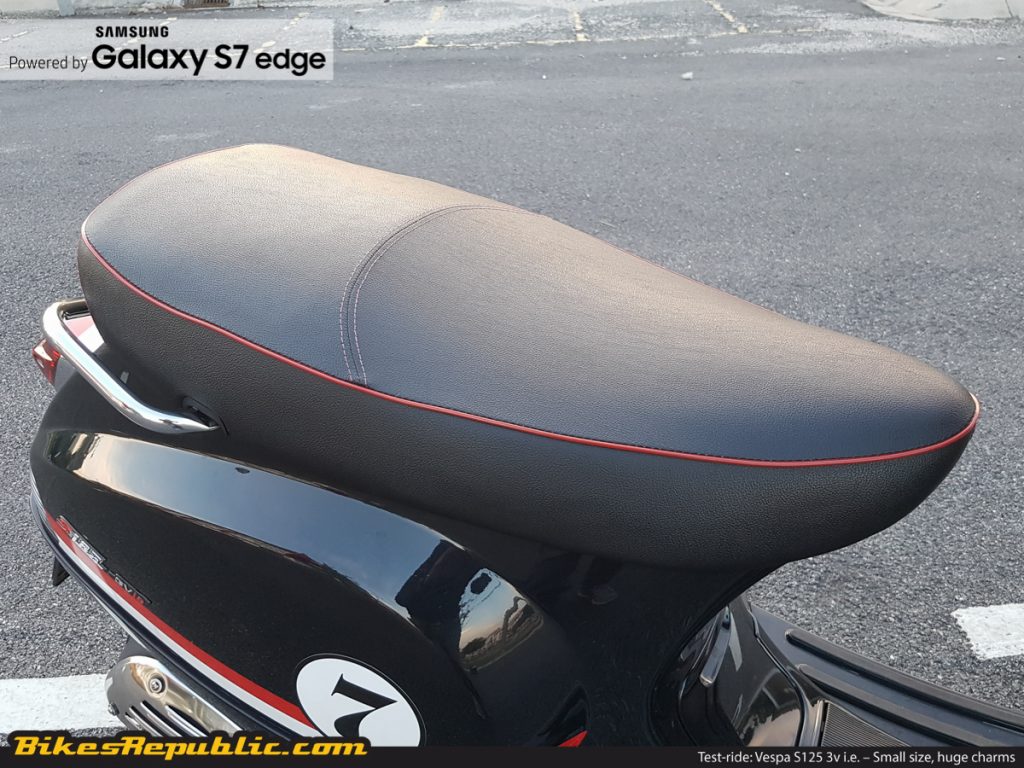 If you own a Primavera, you might notice that the S125's mono seat saddle is a little heavier in weight almost immediately. Thankfully, that added mass did equate to greater comfort levels compared to what the Primavera's slightly older saddle design offers in fact.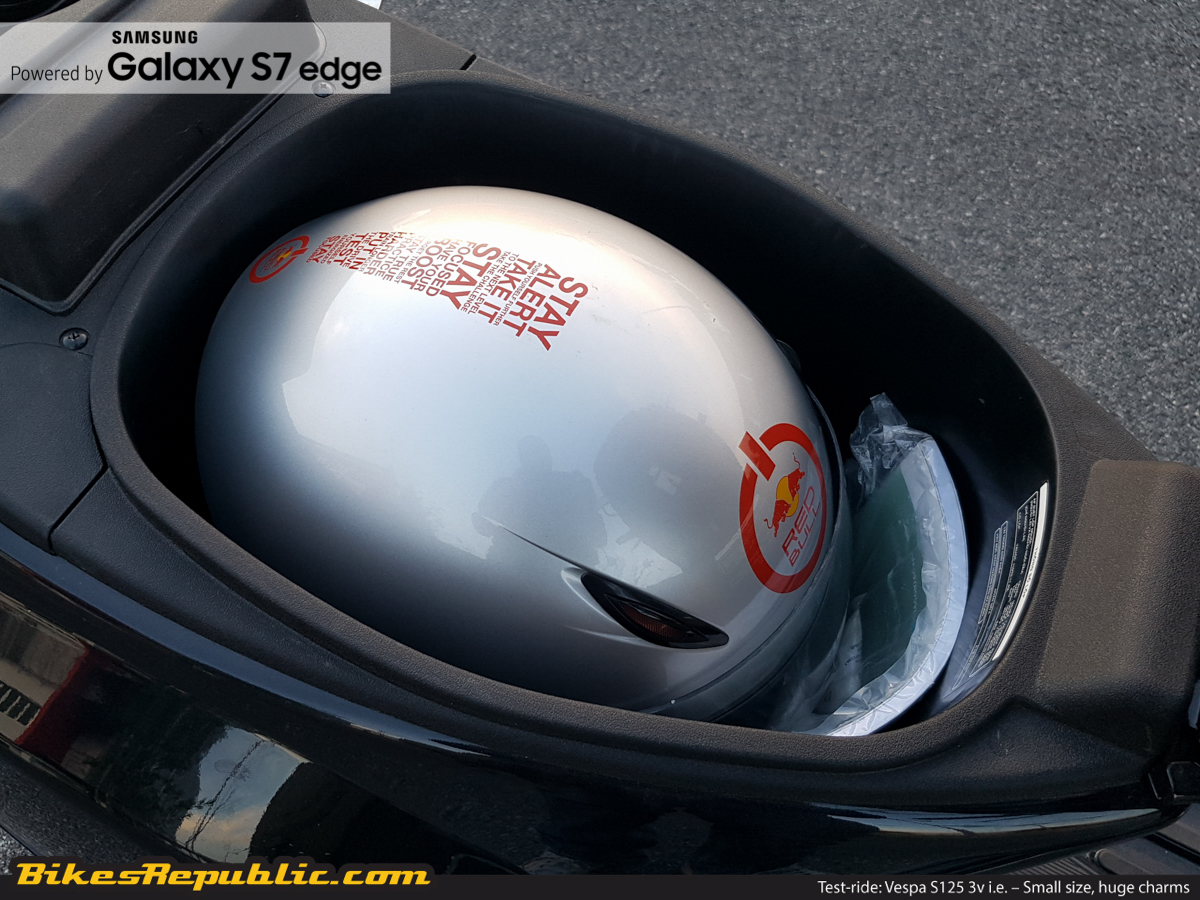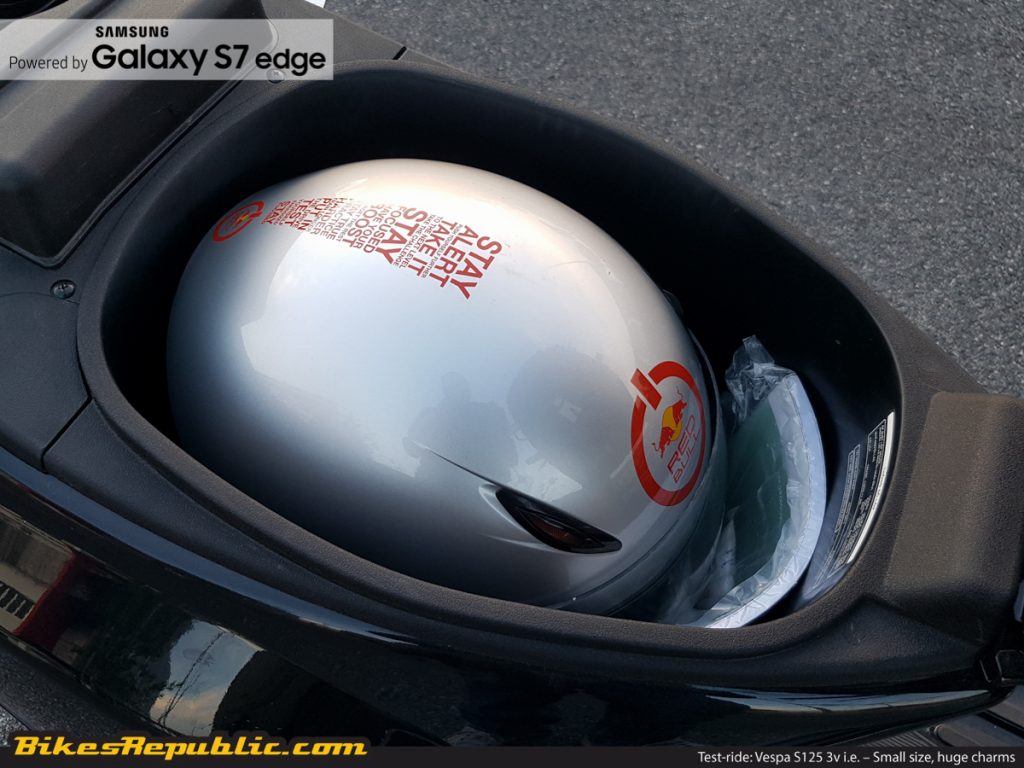 Perhaps the biggest gripe any Primavera owner will have lie in the S125's tiny under-seat storage bin. The featured images will tell you that it'll easily accommodate half-shell lids. Of course, the Primavera's larger bin that fits a half-face shell would've sweetened things, but it really isn't a deal-breaker.
Surprisingly, the S125 boasts a slightly larger 8.3-litre fuel tank compared to other small-bodied Vespa models. This allowed the S125 to travel further with one less fuel stop too. Just so you know, the fuel injection module primed in the 125cc mill is 30% more efficient than other Vespas, allowing one to save more cash for those usual teh tarik sessions with your pals.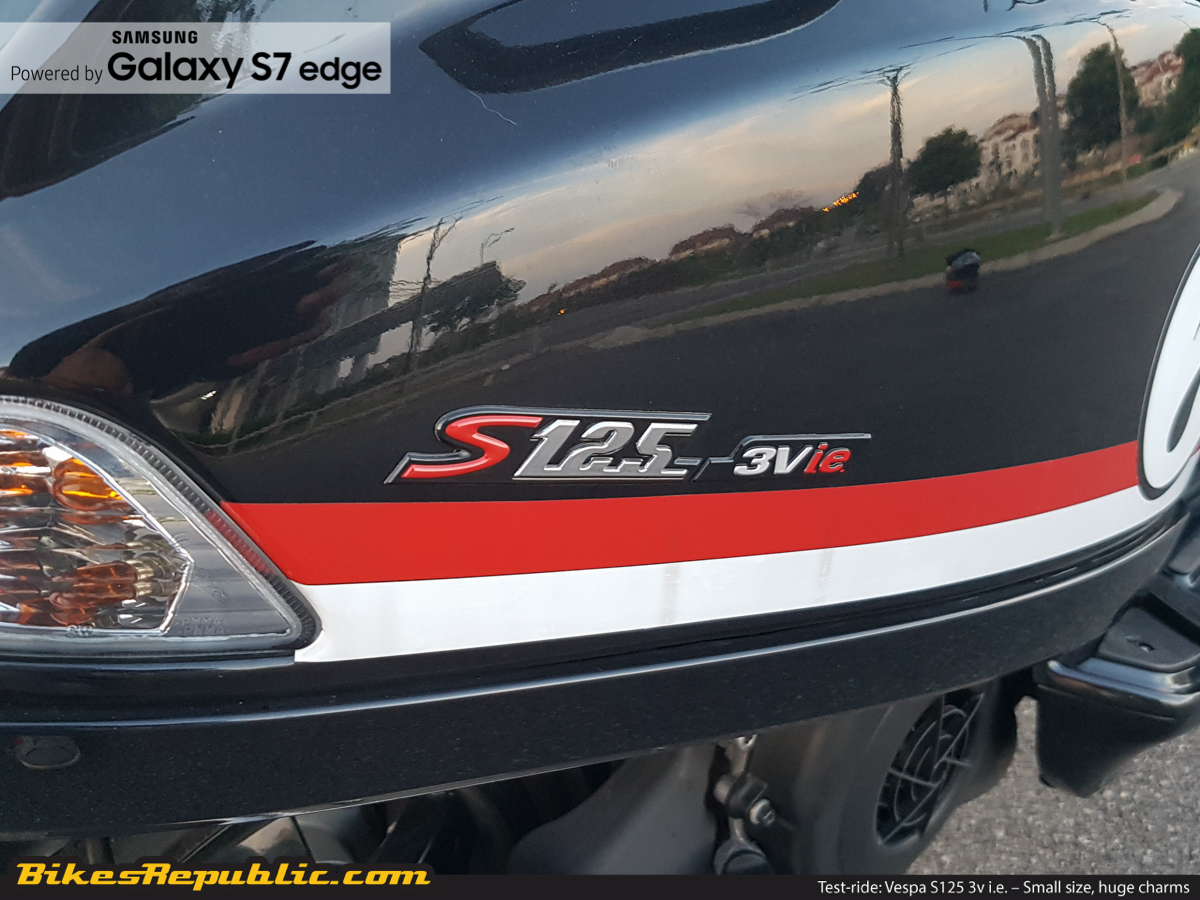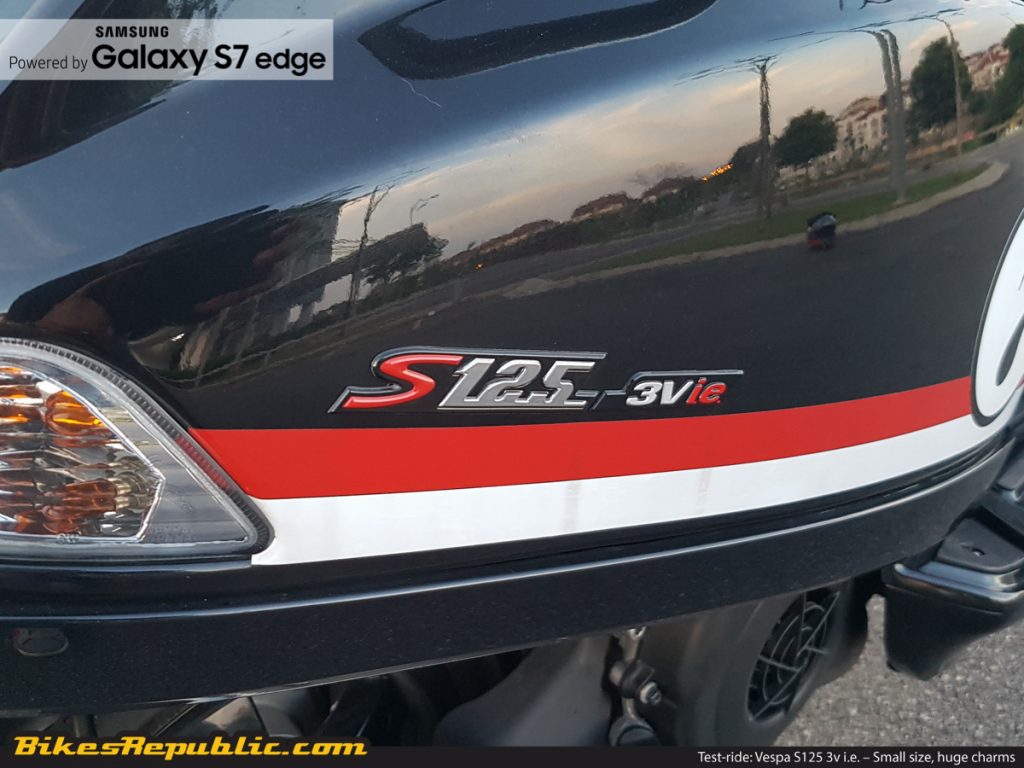 Should you be one who frequently commutes in and out of Kuala Lumpur's high-density traffic hotspots like Bangsar on a daily basis, then the Vespa S125 3v i.e. is perfect for the job.
The added bonus here is the fact that Vespa lets you commute in greater style too, making the RM12,462.04 on-the-road price worthwhile if you ask me. Said price also includes a two-year manufacturer's warranty that should offer some peace of mind as well.
(Sep Irran originally wrote this story in Bahasa Malaysia for our sister site MotoMalaya.net. Click here to read the original piece.)
VESPA S125 3v i.e. Specifications
ENGINE
Air-cooled 124cc

single-cylinder with

electronic fuel injection

TRANSMISSION
CVT automatic with

torque server

POWER
11.6hp @ 8,250rpm
TORQUE
10.7Nm @ 6,500rpm
CHASSIS
Sheet steel body with

welded reinforcements

SUSPENSION
Front:

Single-sided link arm with coil springs and monoshock absorber

Rear:

Coil spring with adjustable preload and monoshock absorber

BRAKES
Front:

200mm hydraulic disc brake

Rear:

110mm drum brake

WHEEL & TYRES
Front:

110/70–R11

Rear:

120/70–R10

FUEL TANK
8.3 litres
WEIGHT
167kg (claimed, dry)
PRICE
RM12,462.04 (OTR)
FROM
Naza Premira Sdn Bhd

(Official Distributor)