Sporty and seemingly affordable, the Naza Bikes N5R SE is perhaps the best left-field alternative in its segment.
– DOHC 249cc single-cylinder
– 28hp @ 9,500rpm / 24.17Nm @ 7,000rpm
– 143kg (dry)
– RM15,388 (basic without GST)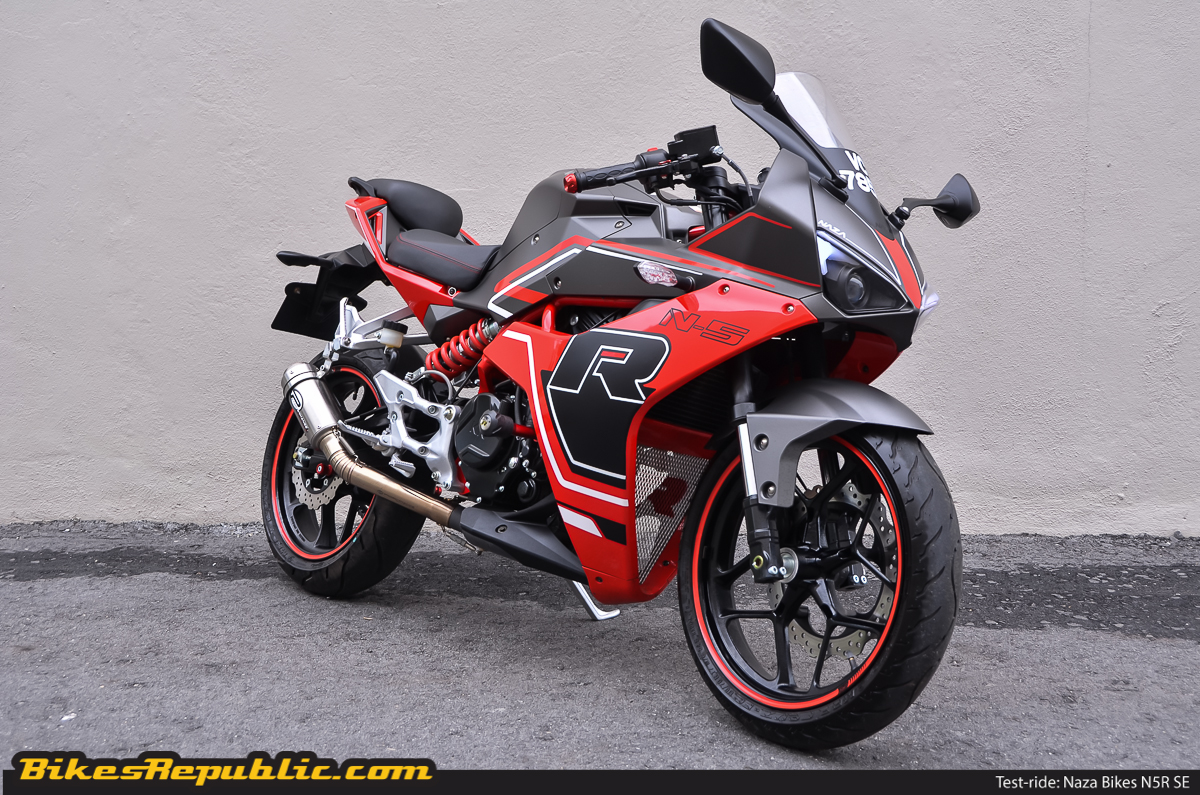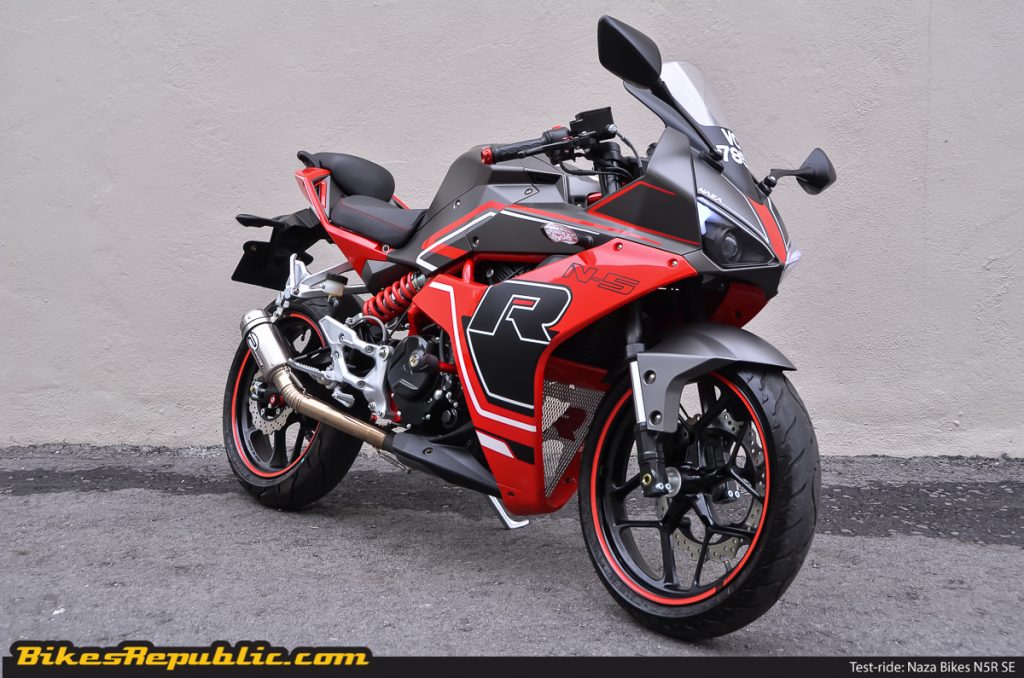 The local entry-level quarter-litre fun bike segment has seen quite a growth over the past few years. Newbies today have plenty of single- and twin-cylinder machines to choose from, and the Naza Bikes N5R SE featured here is one of the very latest to join the party.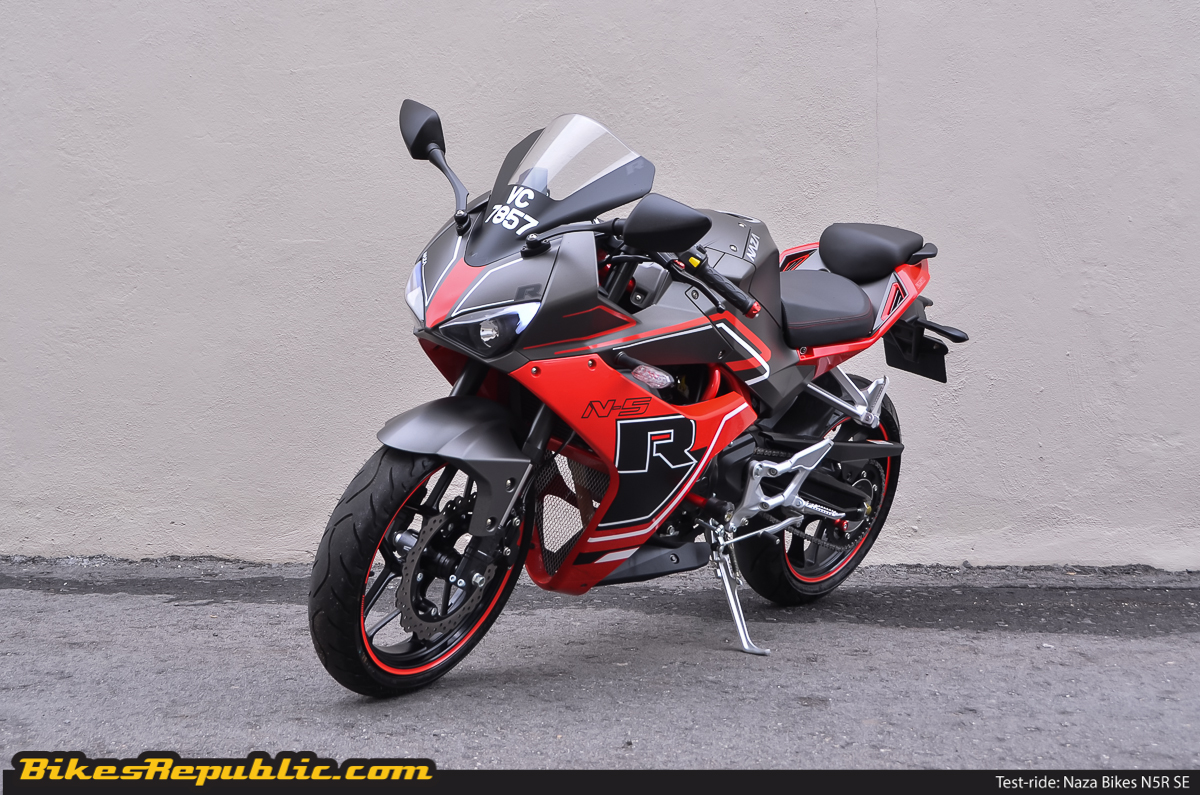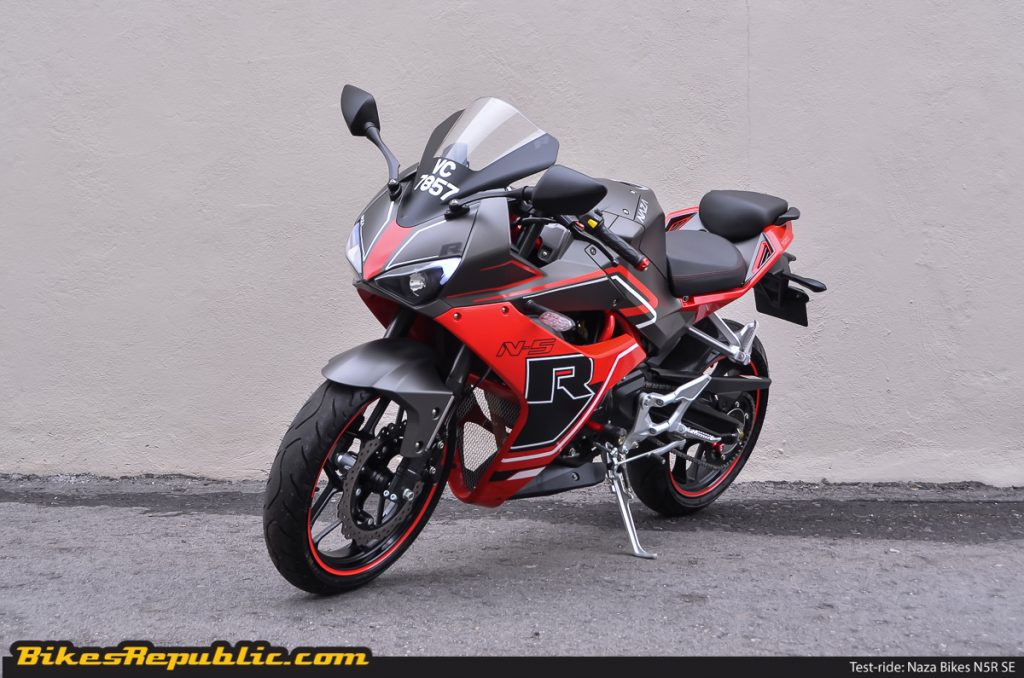 This homegrown marque's sporty and stylish new addition was launched back in September following the good reception its naked sibling, the Naza Bikes N5, received thus far. Having shared its hot seat with our colleagues at MotoMalaya.net over a fortnight recently, there's plenty to say about this left-field Korean fighter.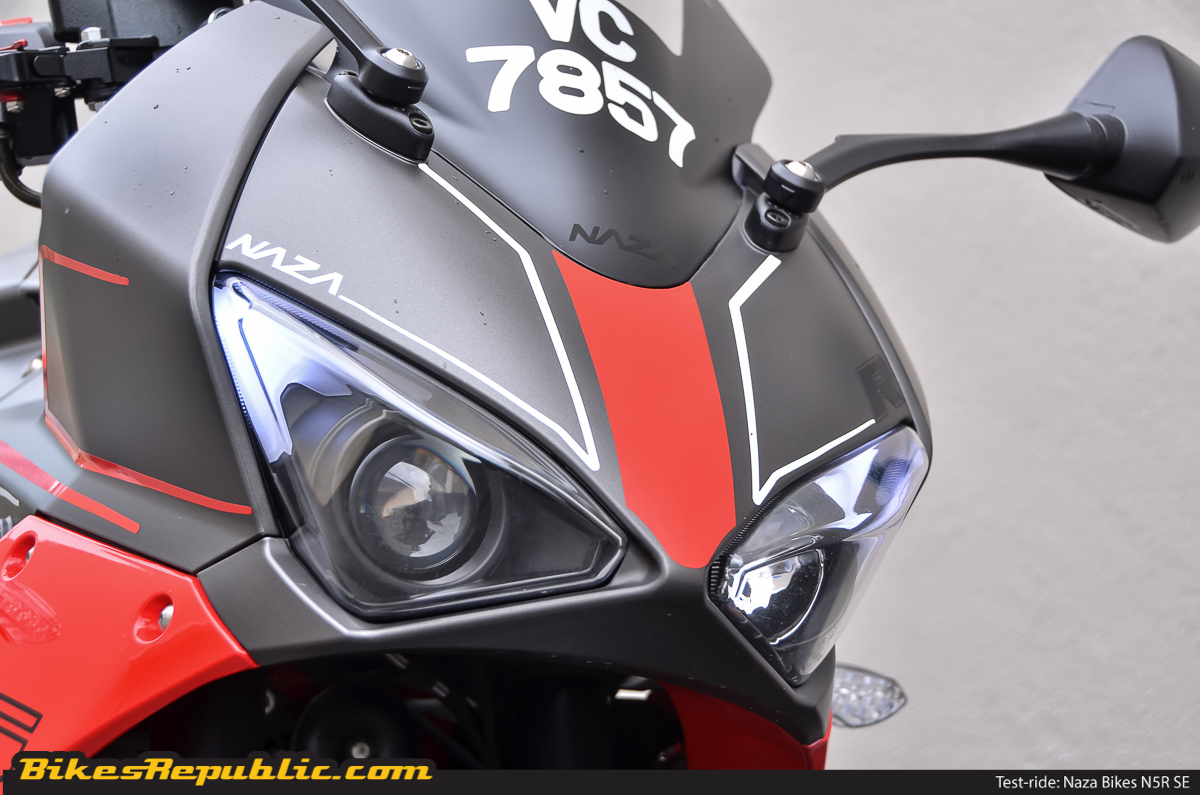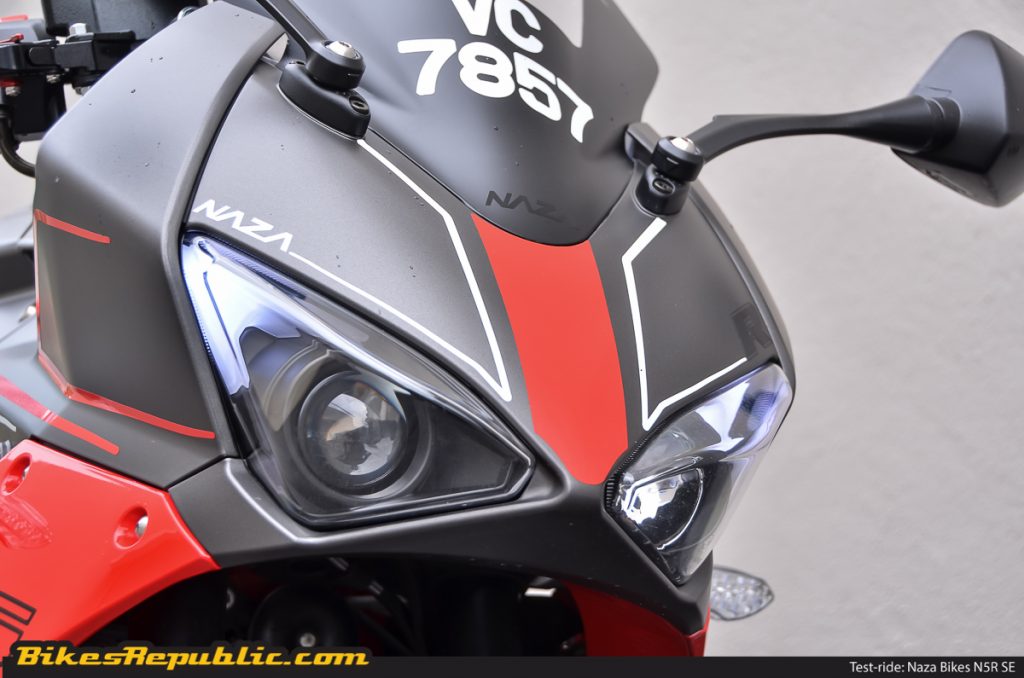 For starters, this rebadged Korean quarter-litre looks exceptionally good compared to the bulk of its segment rivals. The sharp fairing design and two-tone colour scheme complement each other brilliantly while the integrated LED Daytime Running Lights (DRLs) adds a more current touch to things.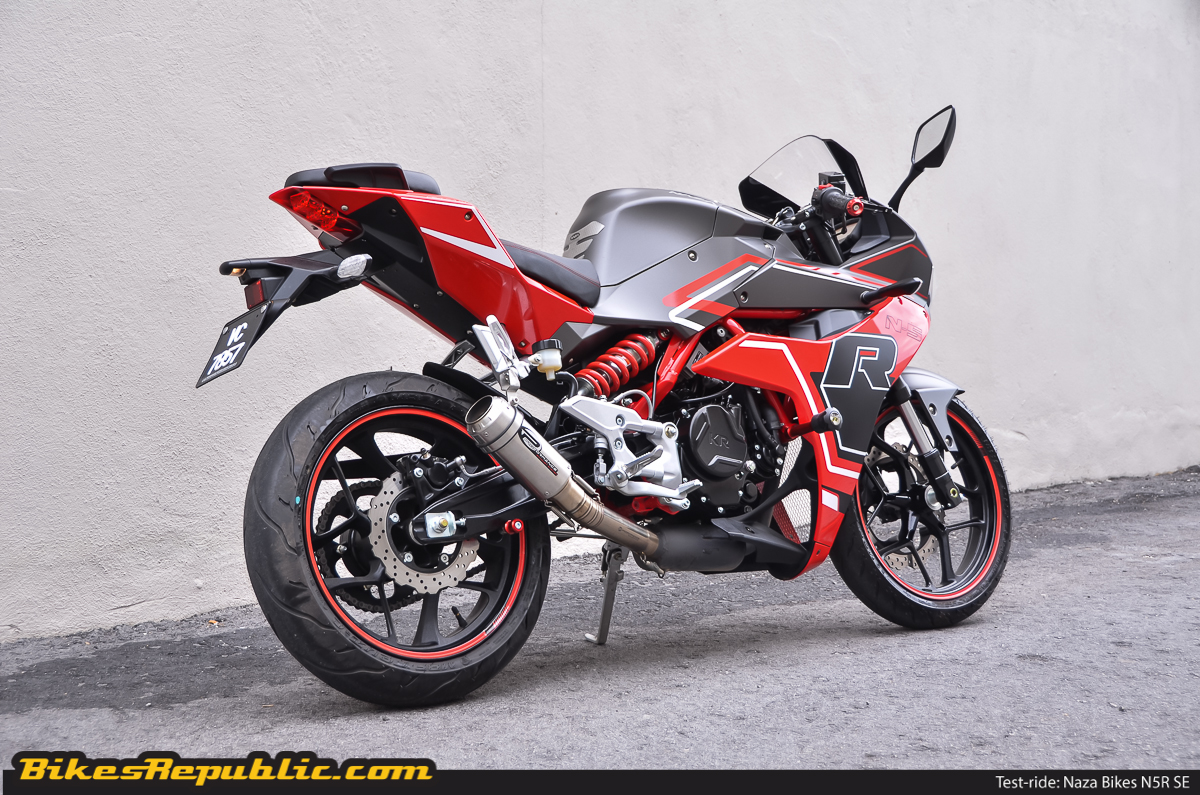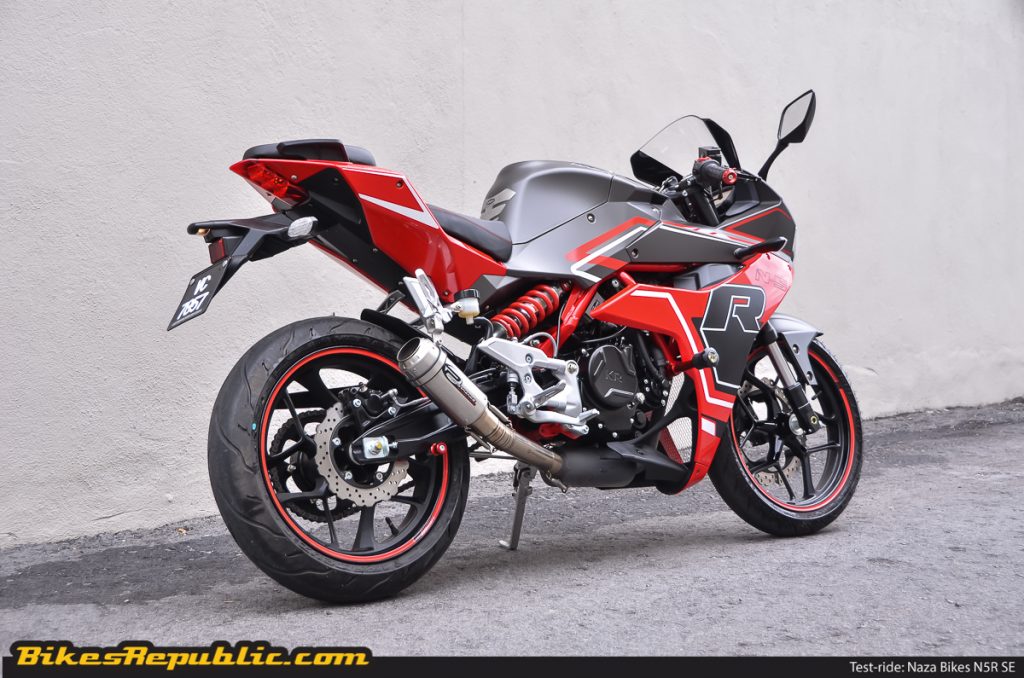 In the hot seat, things initially looked and felt quite decent. Much of the original KR Motors (Hyosung) GD250R base bike's essence remains unchanged in this locally assembled (CKD) and rebadged version.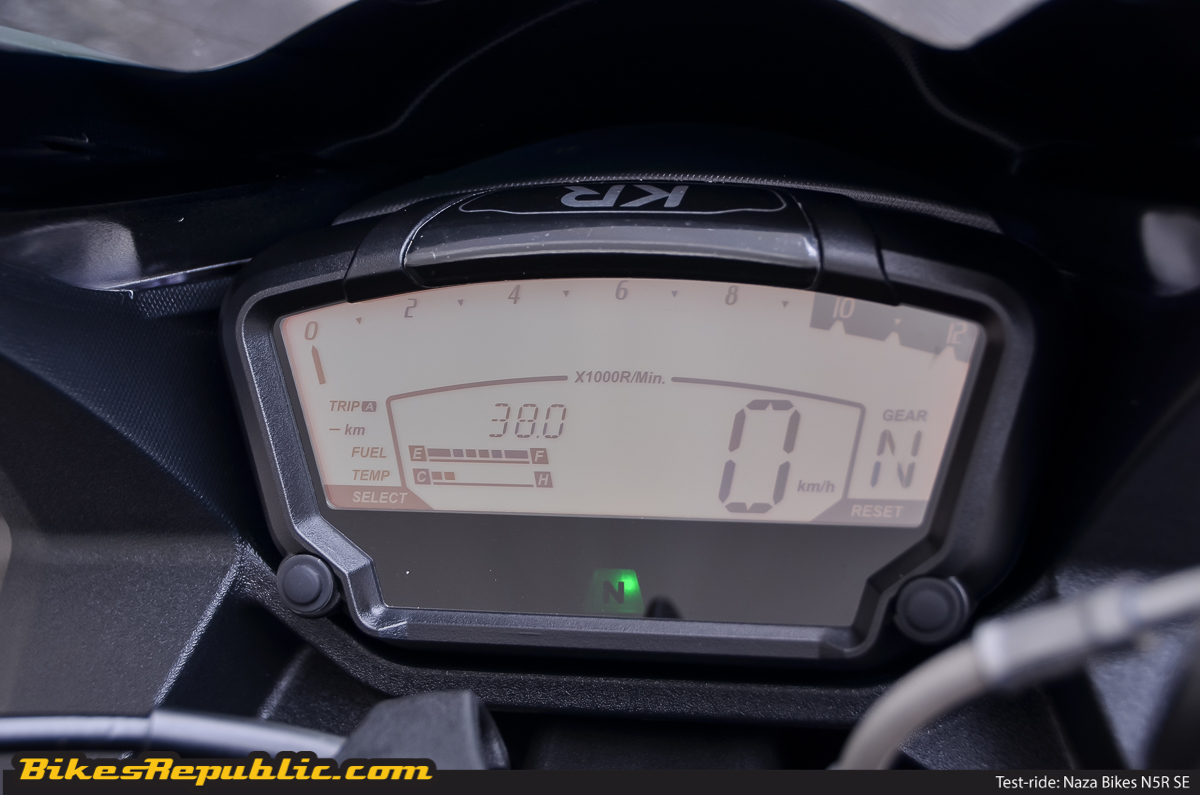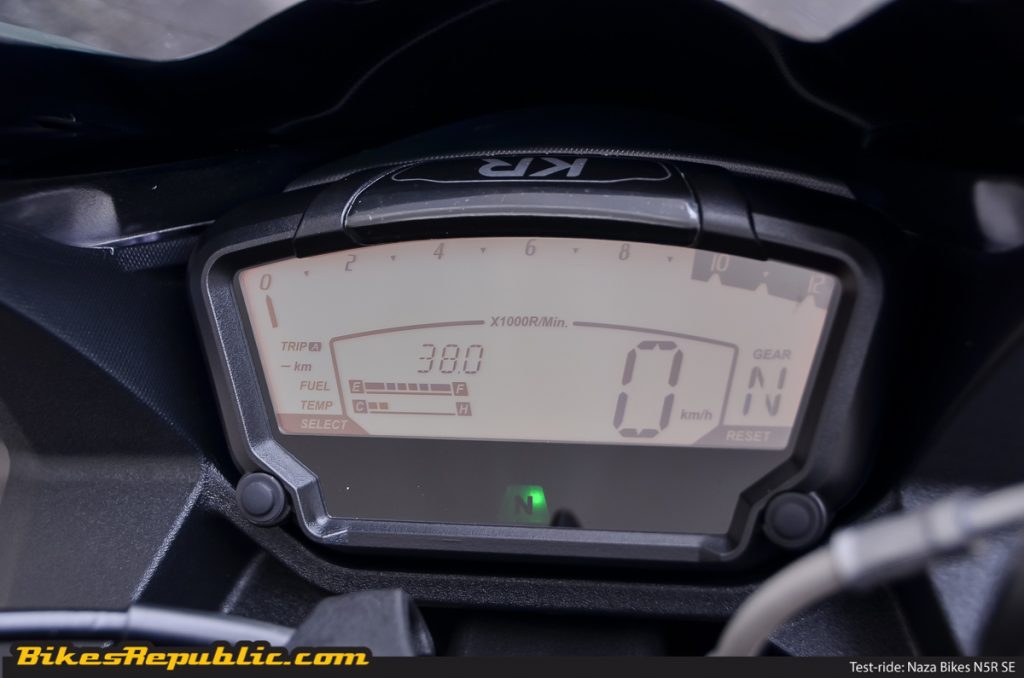 The neat digital dash display – the same primed in the N5 naked – is something many newbies will appreciate as it is easy to read at a glance and even comes with a gear position indicator. Besides that, all the other controls are intuitively placed, so getting to grips with the Naza Bikes N5R SE isn't too difficult.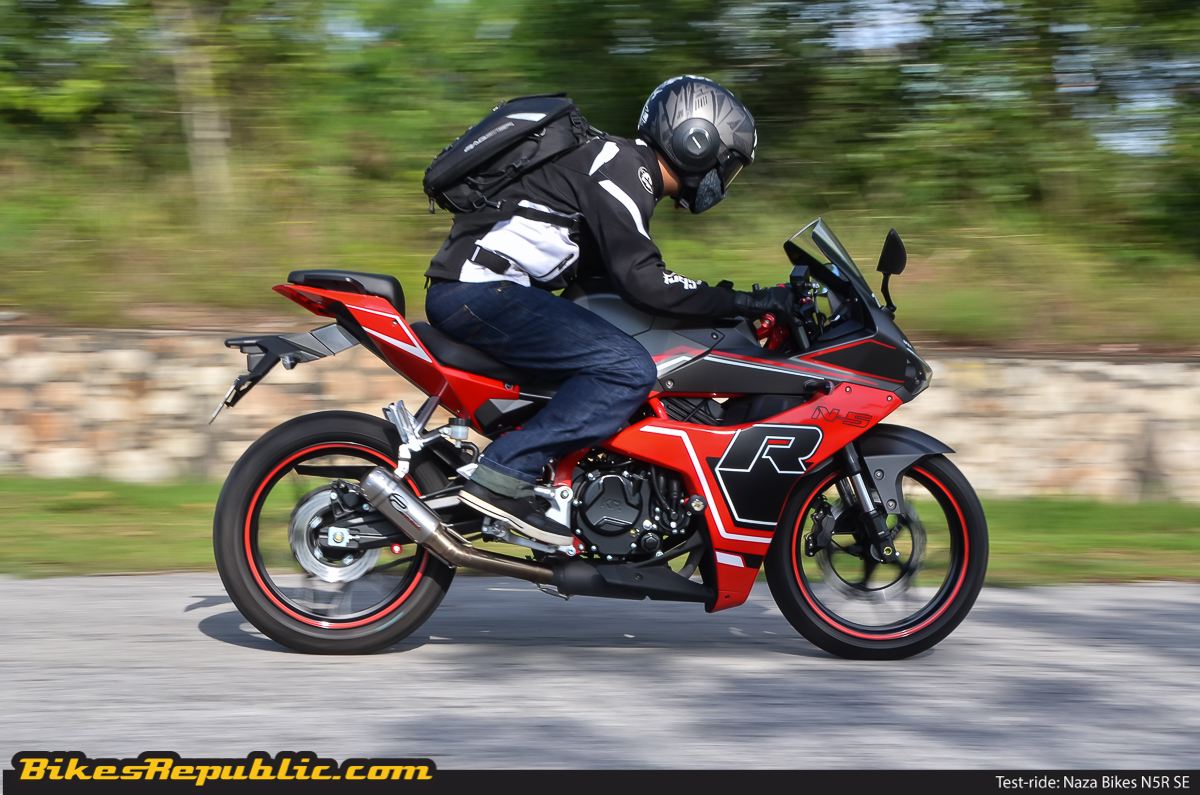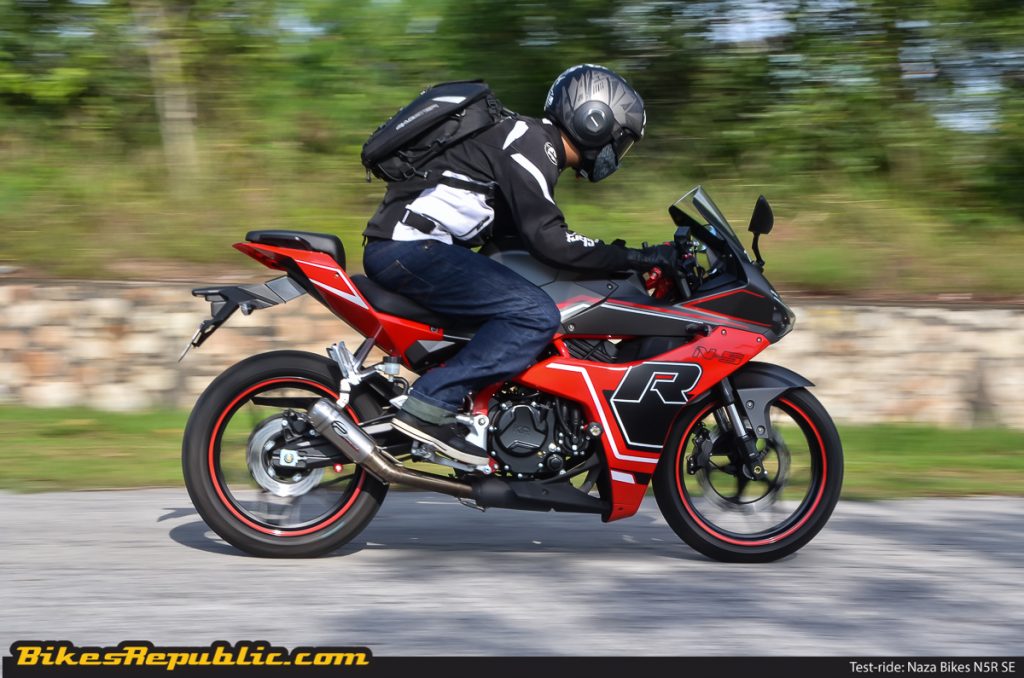 This being a sport-bodied bike, the tall 810mm seat height, low clip-on handlesbars and the swept-back footrests dictates a very aggressive riding position. Like the bulk of its rivals (read KTM RC250 and Kawasaki Ninja 250SL), you'll definitely need to beef up on upper body and back strength if you plan on riding it often.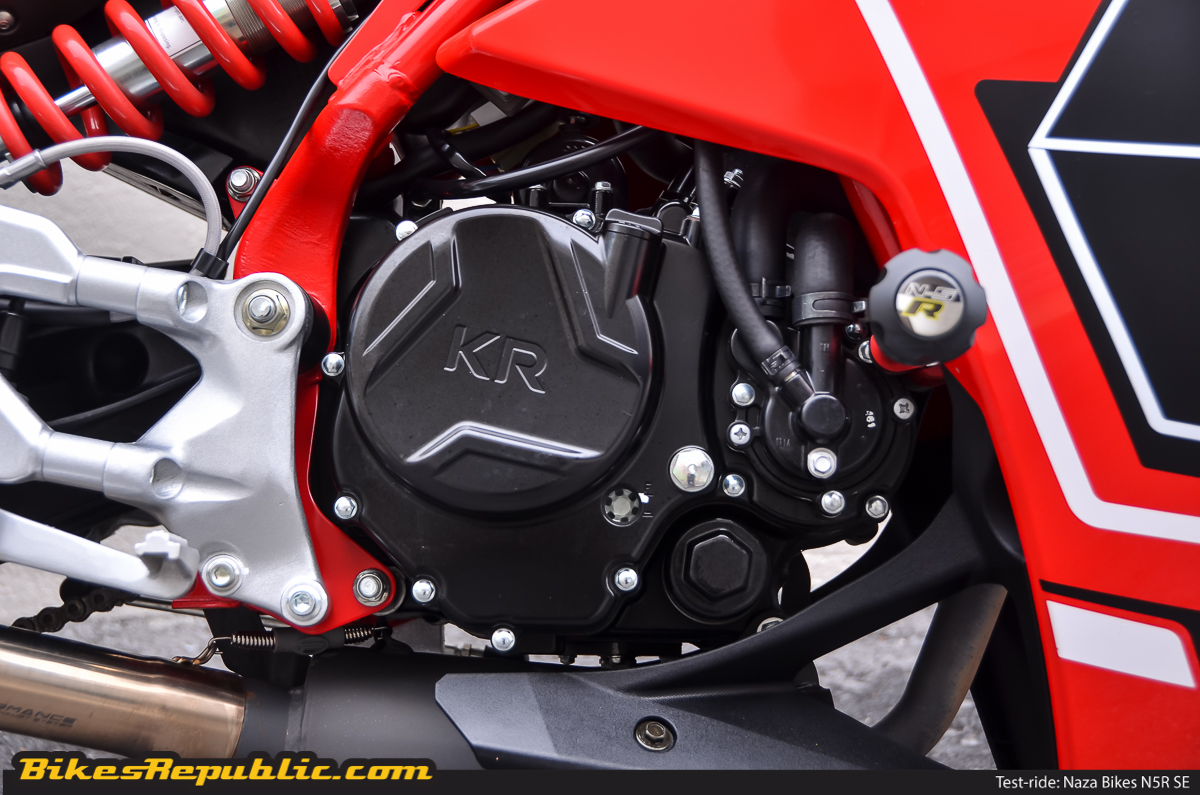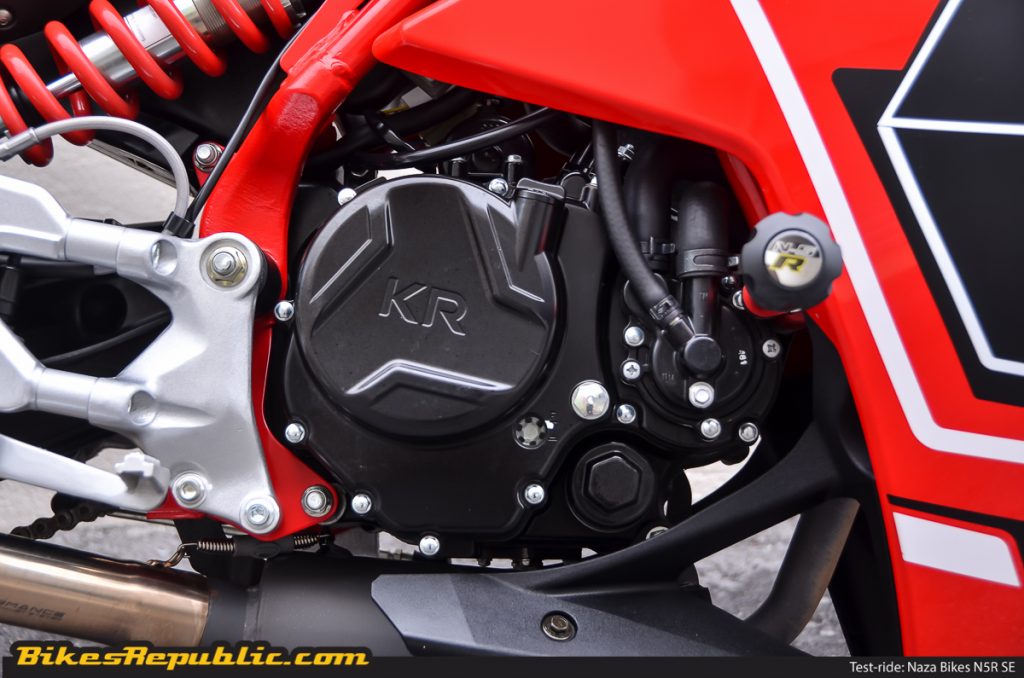 Underneath its pretty skin sits a liquid-cooled 249cc DOHC single-cylinder powerplant primed with electronic fuel injection – the same as the N5 naked. It gets paired with a close-ratio six-speed constant mesh transmission and chain-drive setup to manage the 28hp and 24.17Nm of torque being thumped out.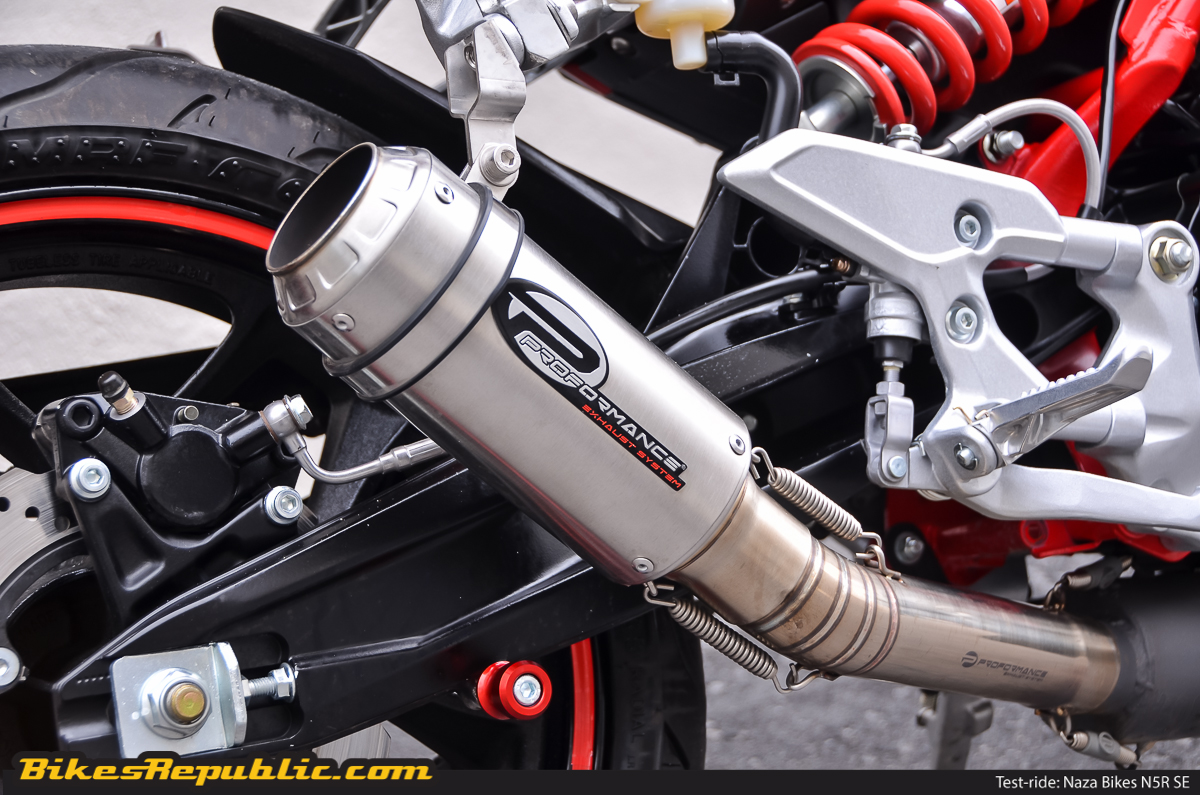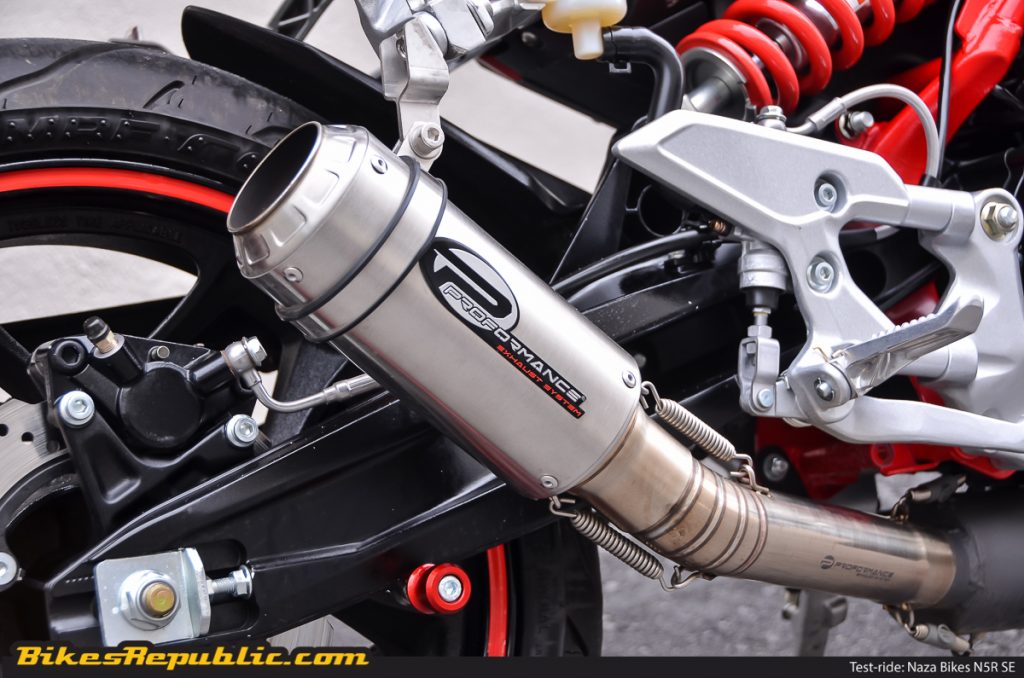 Typically, the mill favours peak power and torque at the higher revs, meaning you'll really need to give the throttle a good twist to get going. For the avid bike tuning enthusiast, the sight of the Proformance full exhaust system kitted out as standard exclusively in this SE variant is welcoming indeed.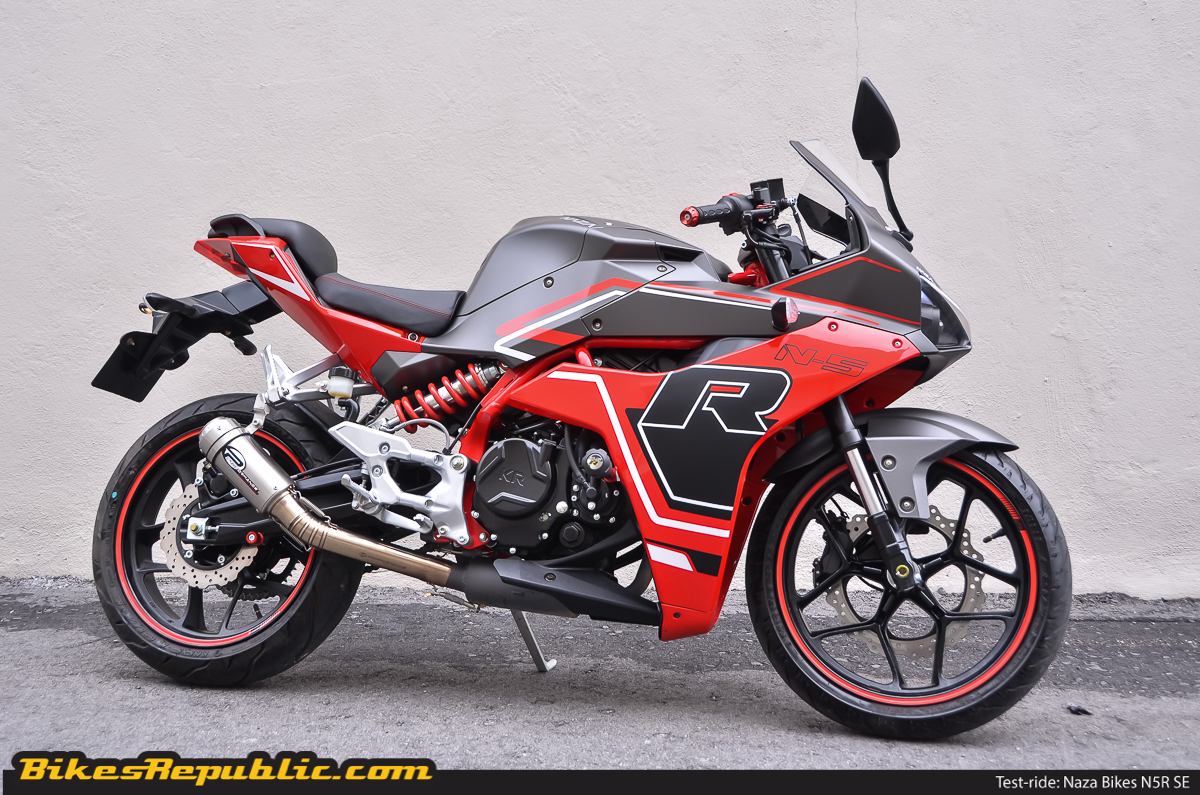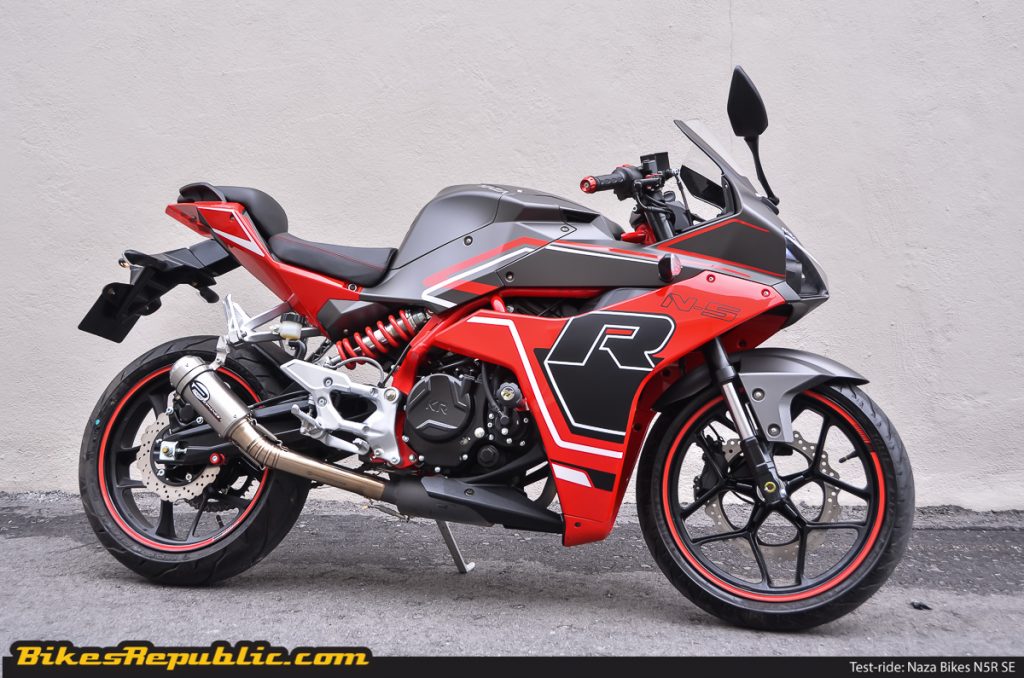 To a certain extent, we feel that the factory-fitted performance exhaust does get too loud at times, most notably during rapid deceleration as it pops deafening backfires. But the fact that it adds a little more top-end oomph makes it an  enticing option many who seek a performance edge.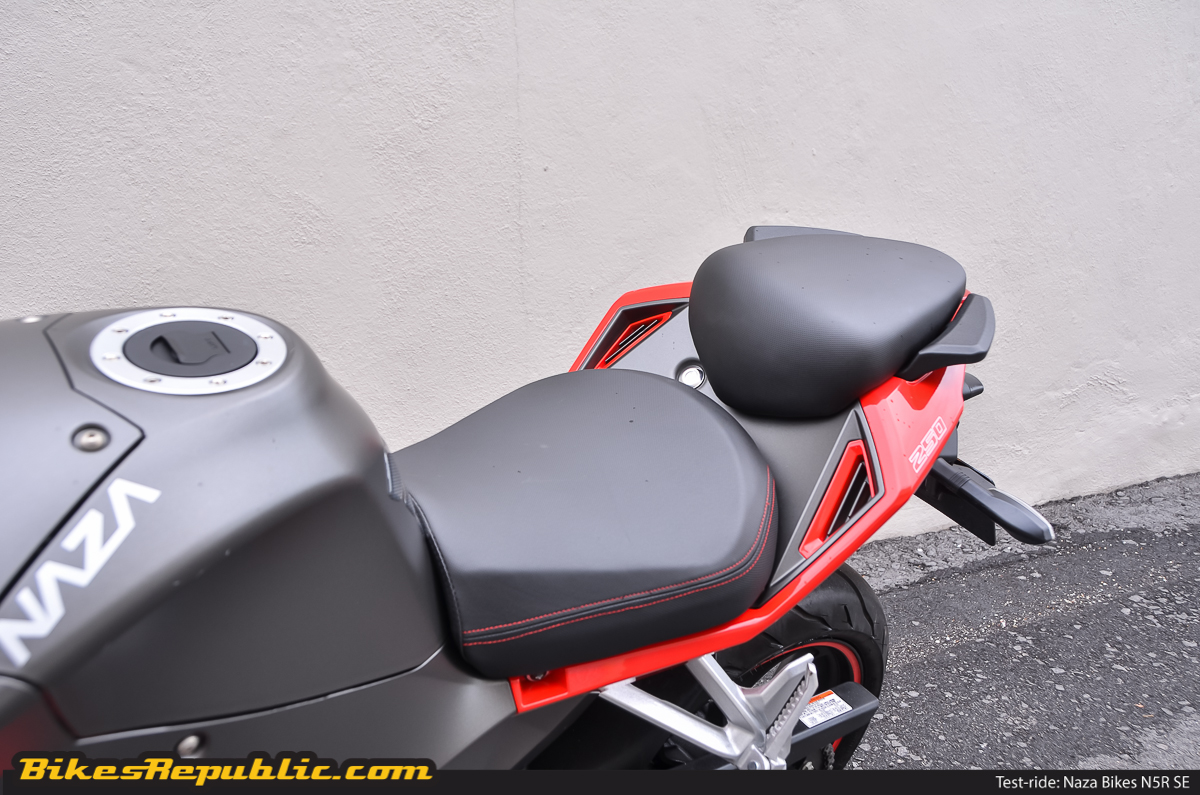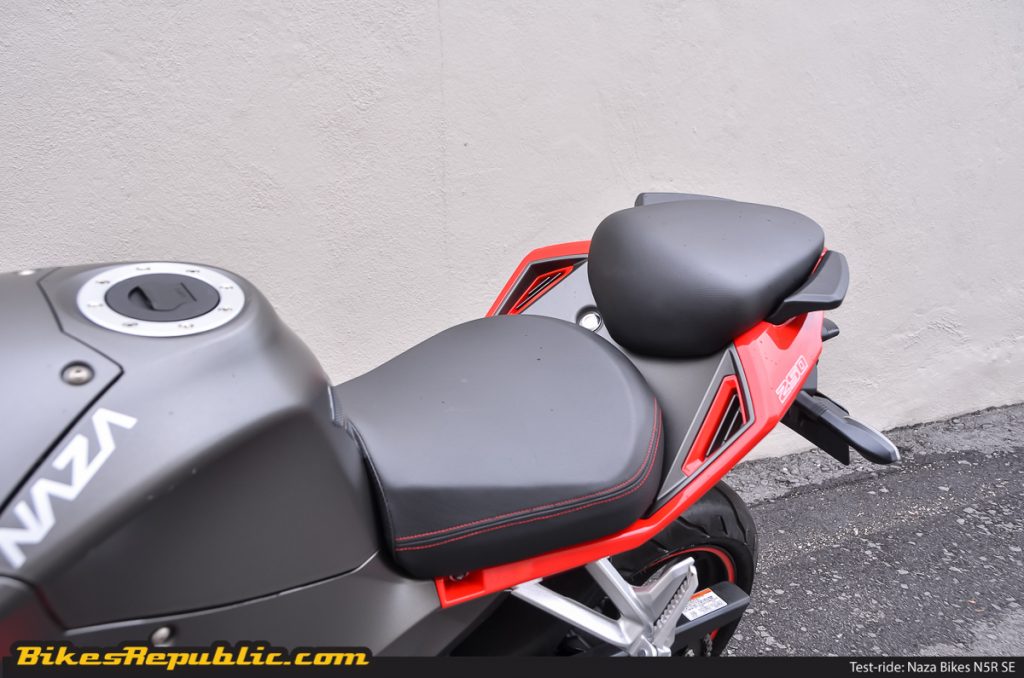 Nevertheless, there's no denying that the standard powerplant is quite perky as it delivers rapid on-demand acceleration. Our only gripe with the powertrain lies in the close-ratio six-speed gearbox. Though gearing felt great, the shift action could use a little more refinement as finding neutral proved very difficult at times.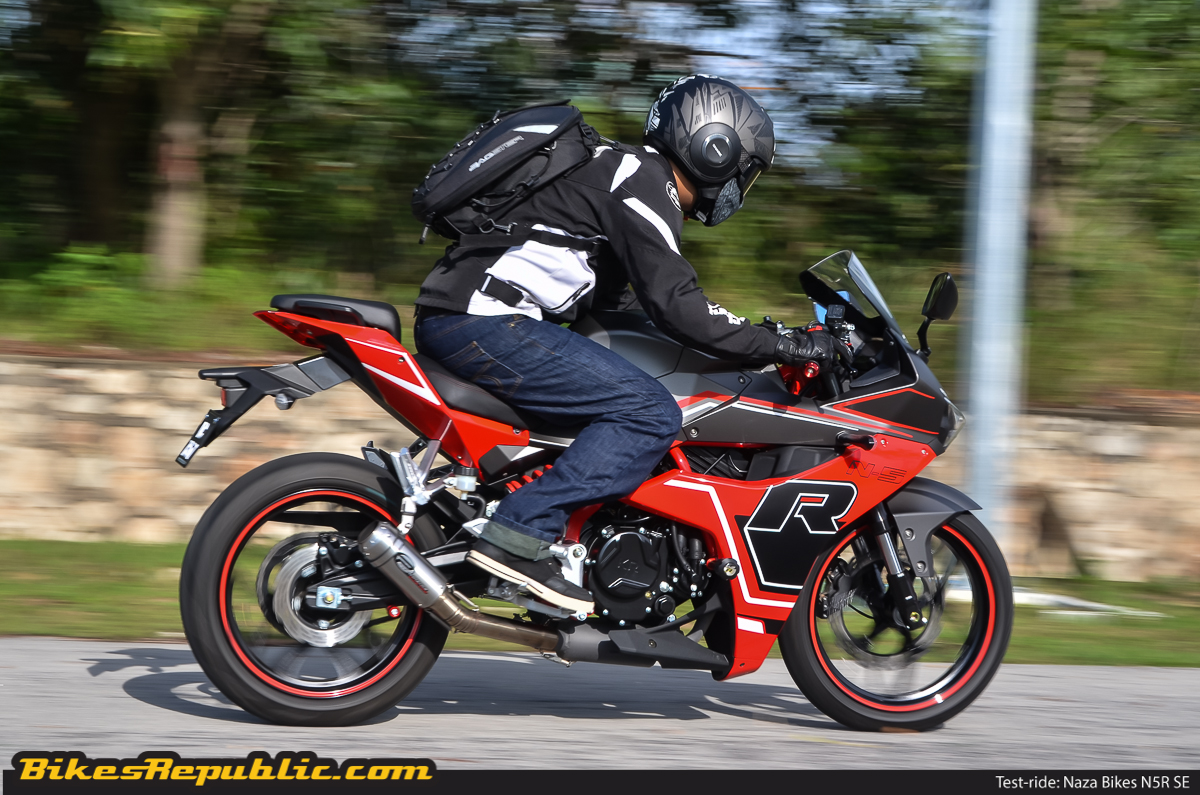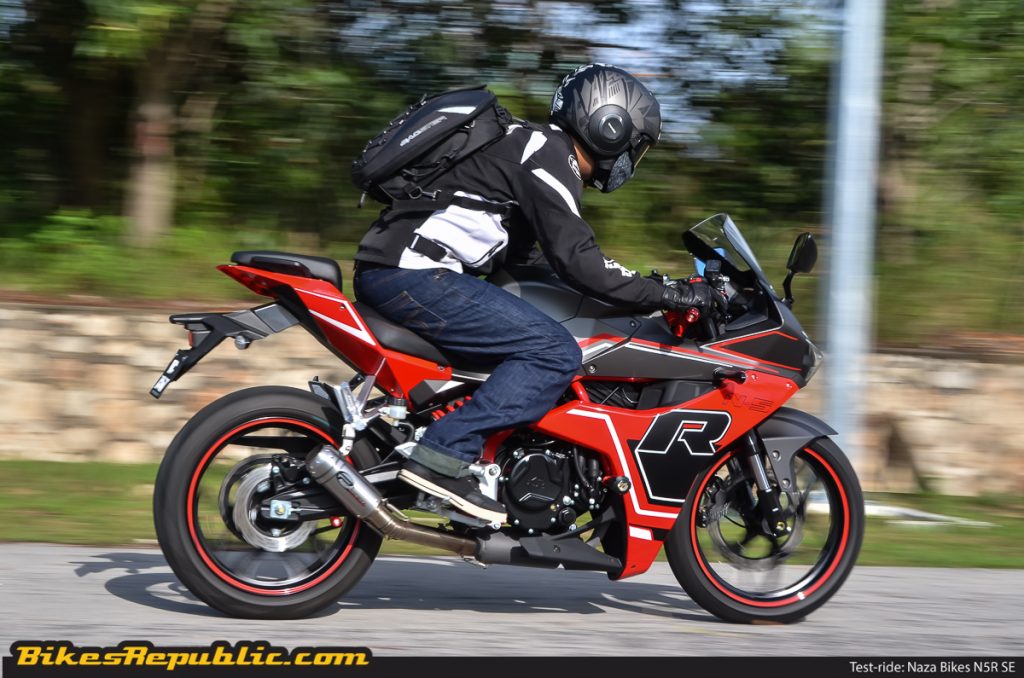 That, plus the aforementioned aggressive riding style means that riding the N5R daily, especially for urban commutes, can be a very taxing affair. Aside from that, build quality all-round felt rather exceptional, making it quite a huge a bonus for the seemingly affordable price tag this bike commands.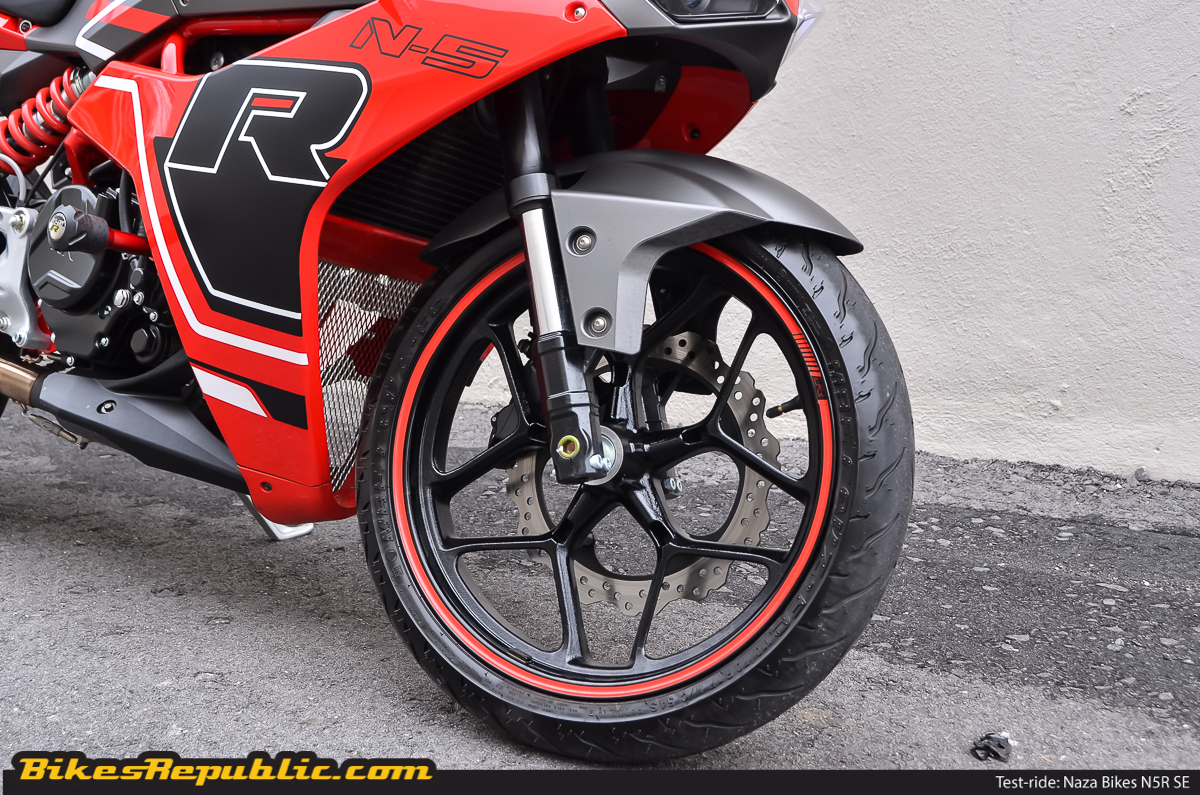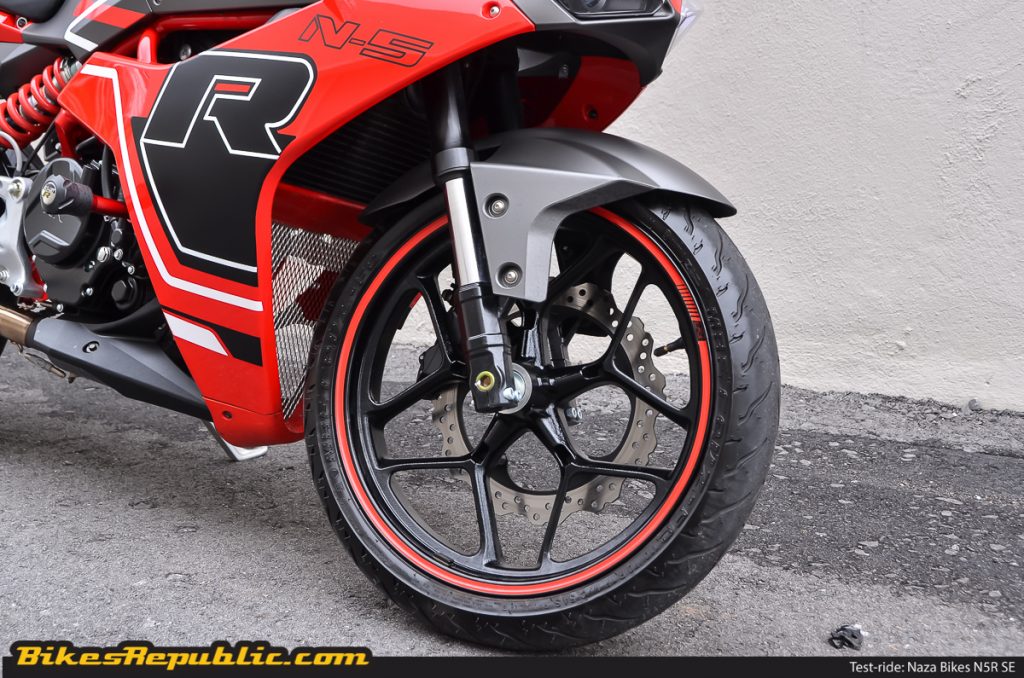 In the ride and handling department, things felt rather mixed. Nevertheless, we can't deny that the Naza Bikes N5R SE has got a well-equipped chassis so to speak. Notable features here include the 37mm upsidedown front forks and gas-charged rear shock combo, not forgetting the all-round disc brakes setup too.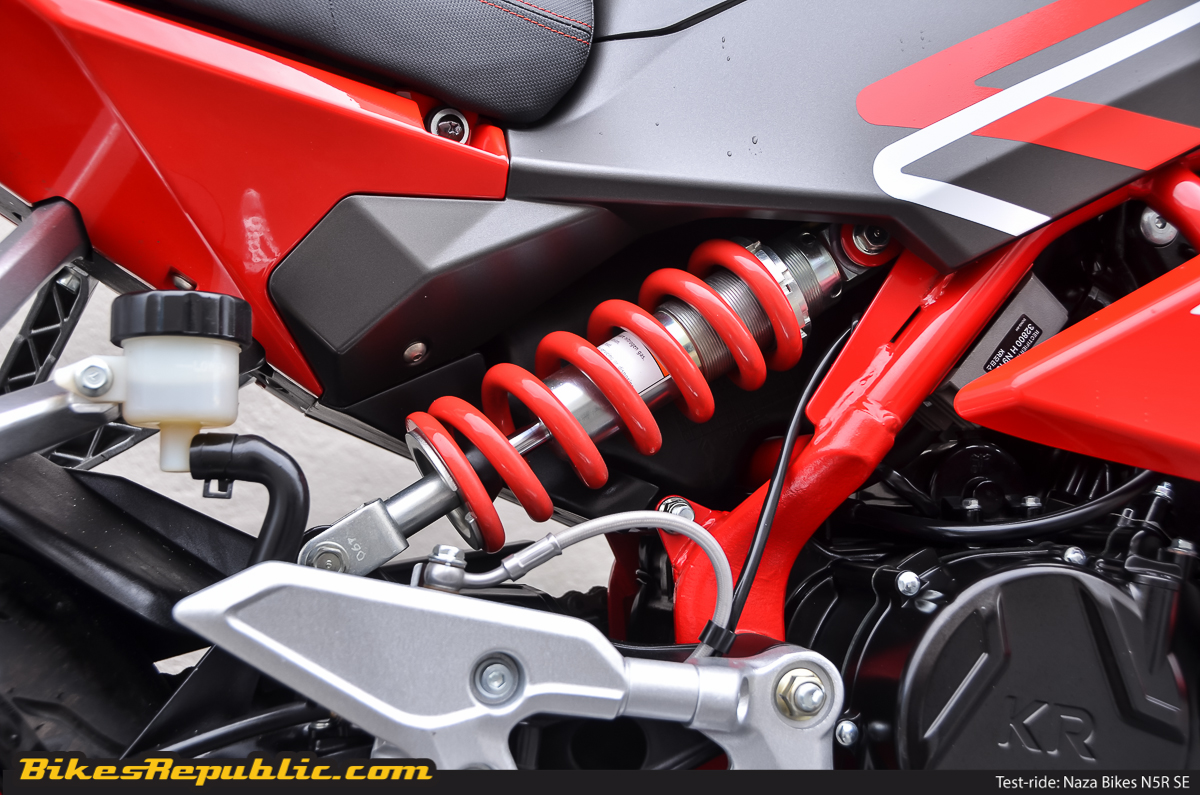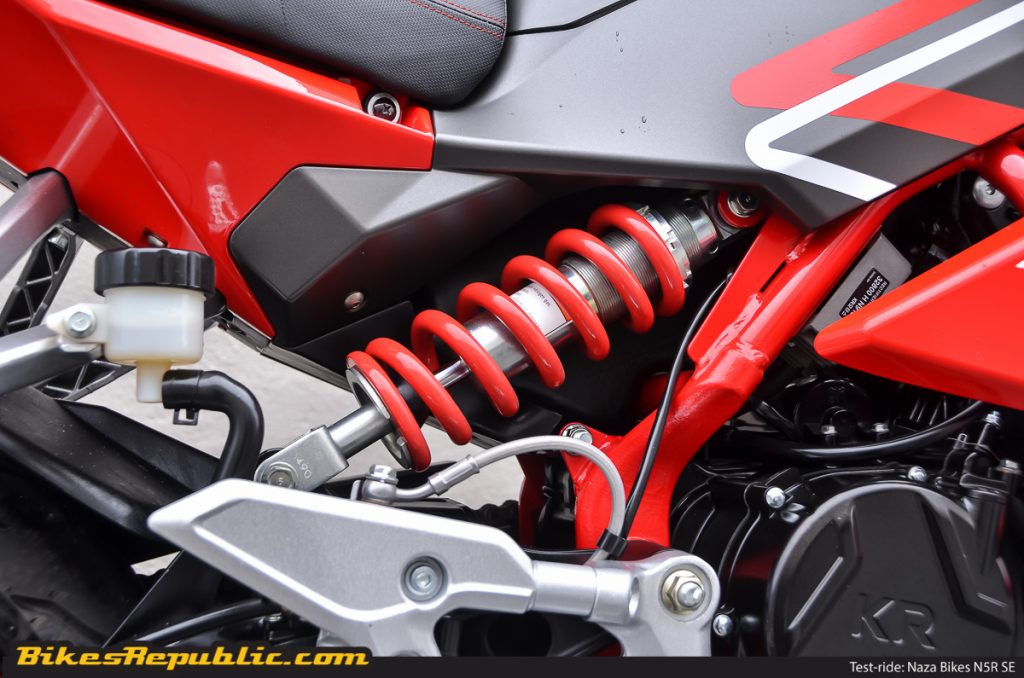 Weighing in at just 143kg dry, the Naza Bikes N5R SE is indeed lighter than the bulk of it segment rivals, which in theory should grant it with some added agility. However, such isn't the case in reality. Cornering with the N5R does feel a tad bit unnerving, but only because of the odd profile of the stock MRF tyres primed.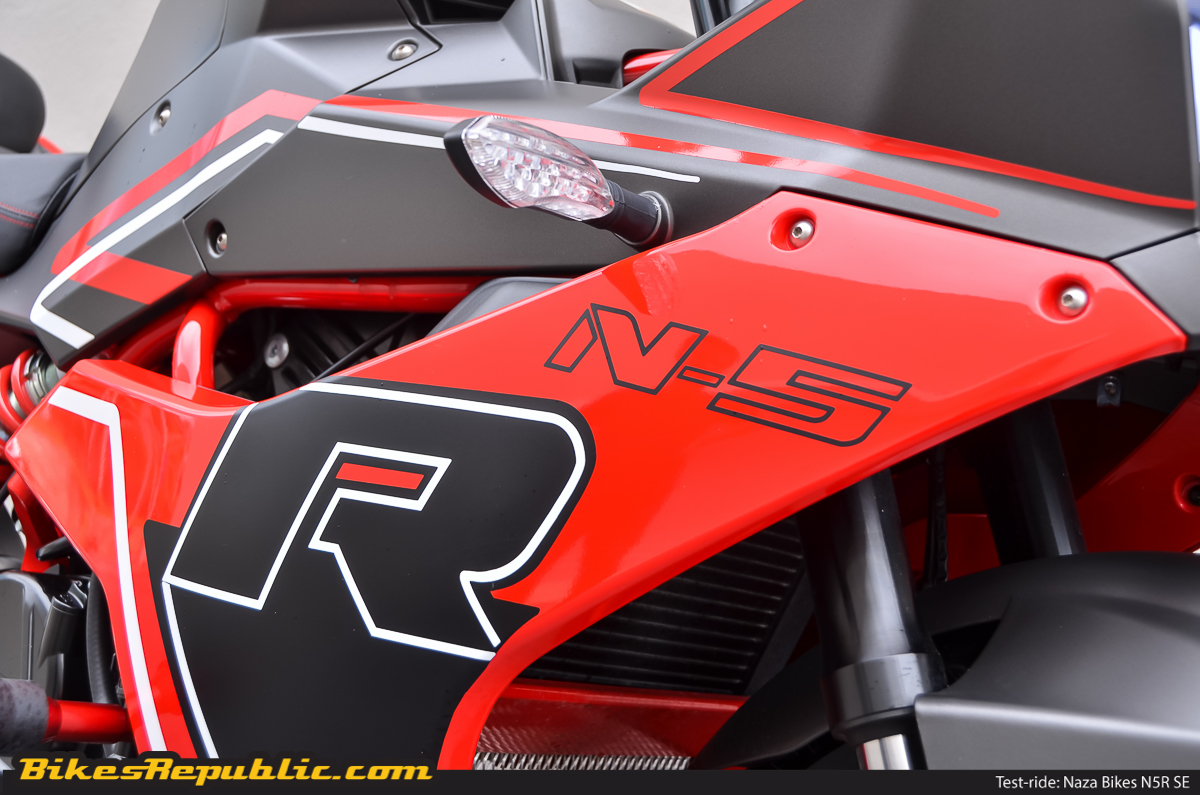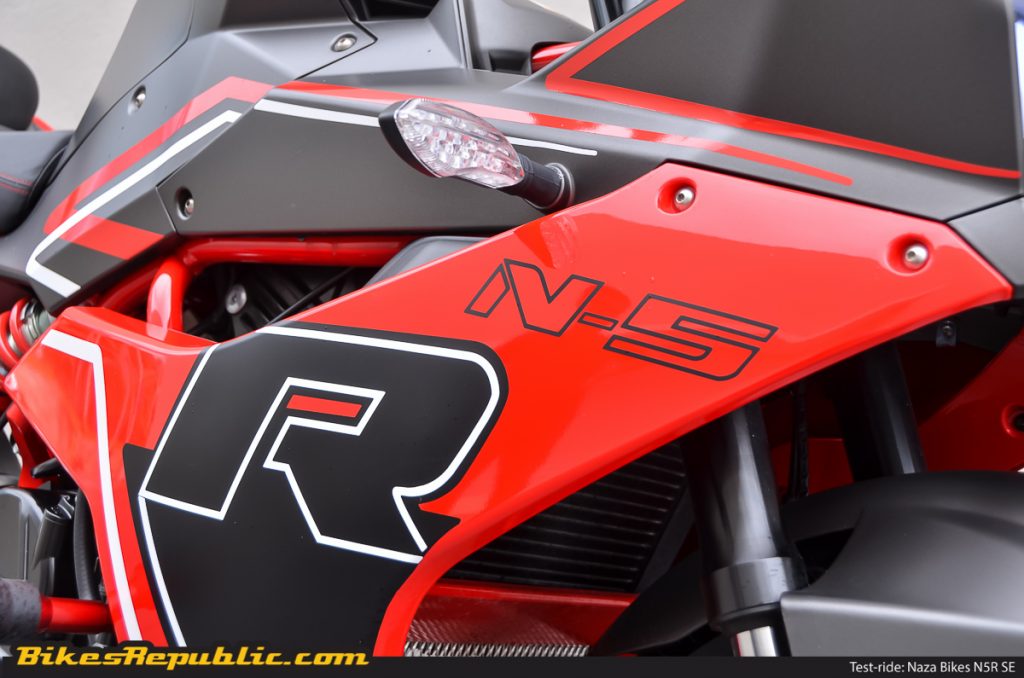 The most annoying quirk however is the apparent lack of vibration reduction at higher speeds and revs especially in the handlebars and footrests. Truth be told, the rivalling KTM RC250 triumphs in this department, but you'll need to pay the higher asking price it commands of course.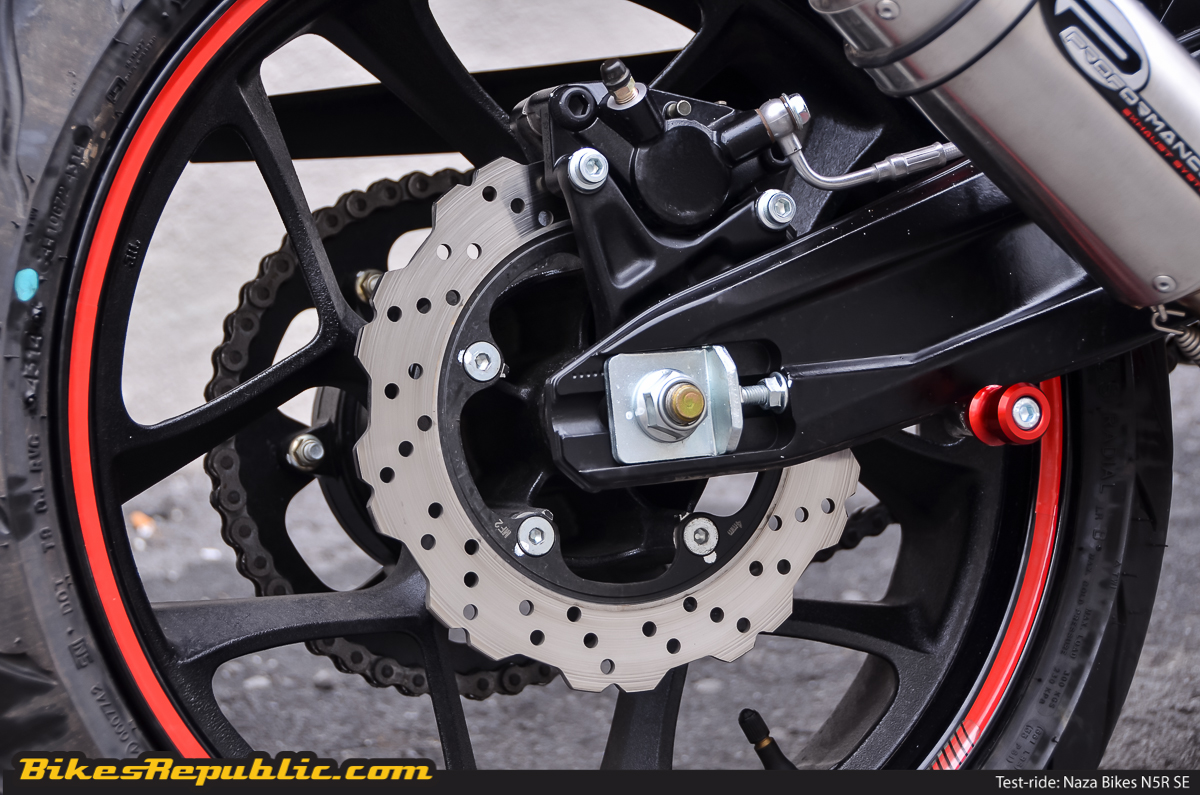 Thankfully, the anchors felt fairly good as they offer crisp response to input. Though it lacks ABS, we reckon it wouldn't take long for anyone to master, and newbies will rejoice at the presence of the adjustable brake lever – an exclusive feature of the SE variant.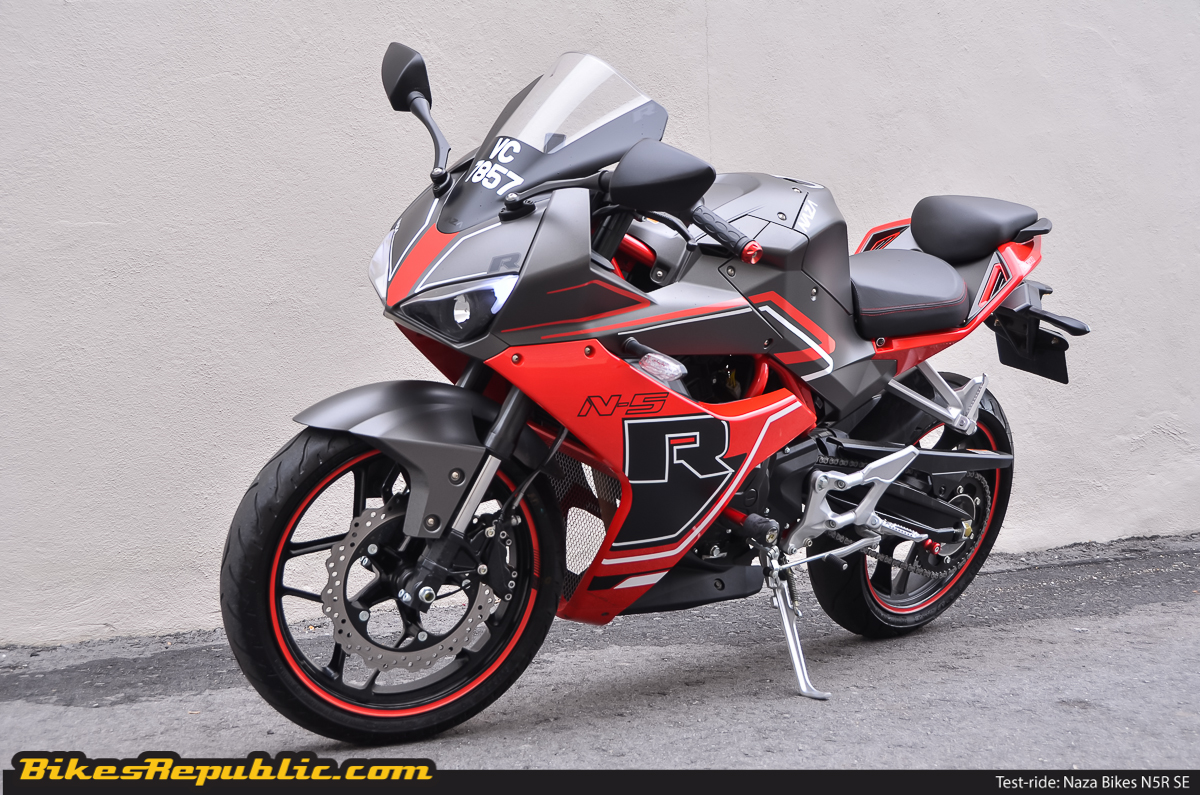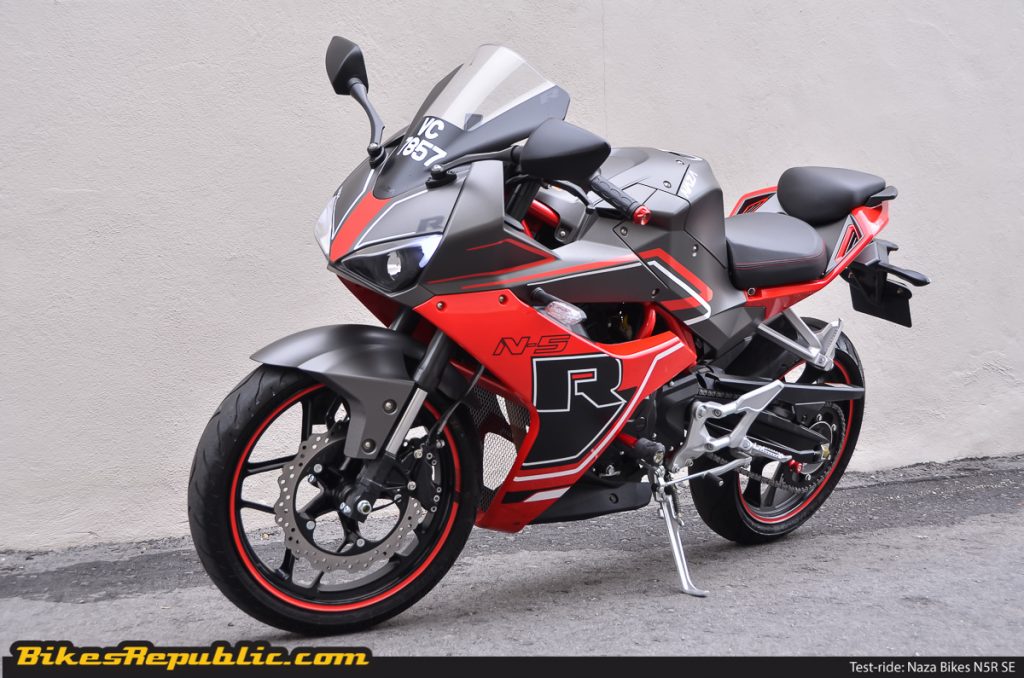 Despite the aforementioned quirks, we can't argue that the Naza Bikes N5R SE holds quite the potential for performance, especially amongst the growing number of local bike tuning enthusiasts. We reckon that perhaps that a swap for better tyres and perhaps a set of adjustable front forks would sweeten things.
To put it simply, you could describe the Naza Bikes N5R SE as a diamond in the rough – it just needs a little bit of polishing here and there. But the fact that the standard bike is affordably priced from RM13,888 (basic without GST) offsets these quirks tremendously, making it a top value-for-money choice.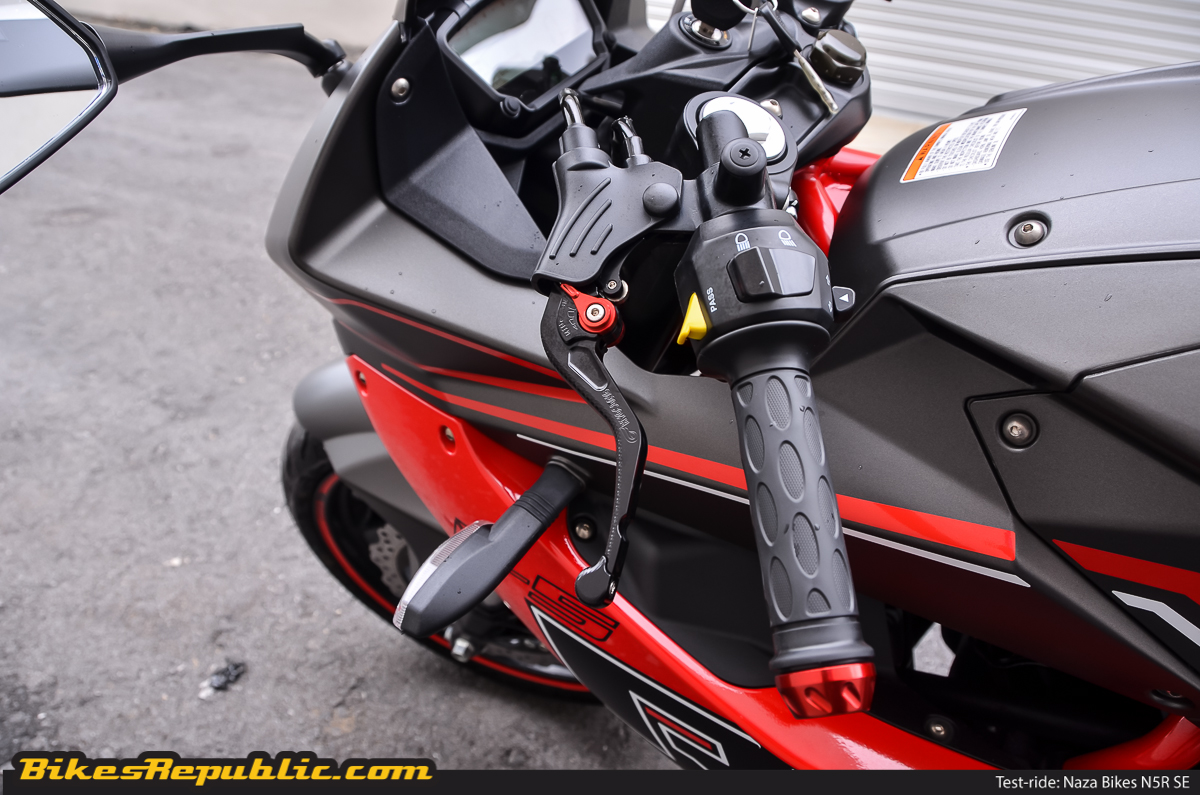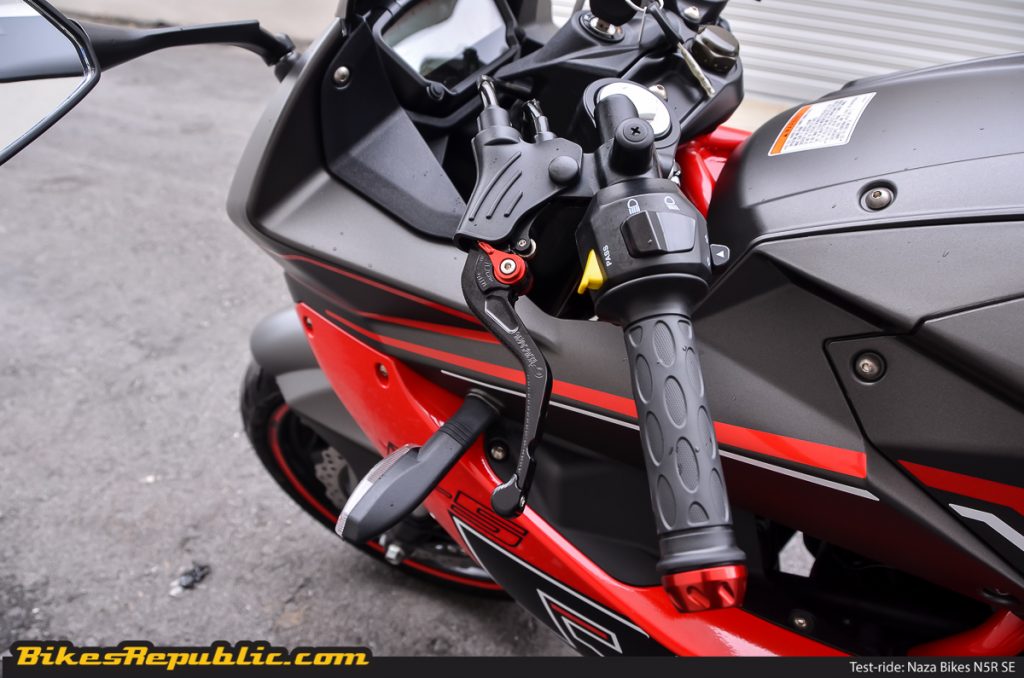 Opt for the N5R SE variant featured here and you'll benefit with plenty of other bits too besides the exhaust. Highlights include sliders, paddock stand boffins, as well as adjustable brake and clutch levers too. And to have all that at a seemingly affordable price of RM15,388 (basic without GST) is quite a deal if you asked us.
And just in case you're not planning on tinkering with it much, you'd be glad to know both prices come with two-year or 25,000km warranty plan as well. Overall, the Naza Bikes N5R SE stands as a very decent and affordable left-field alternative if you asked us.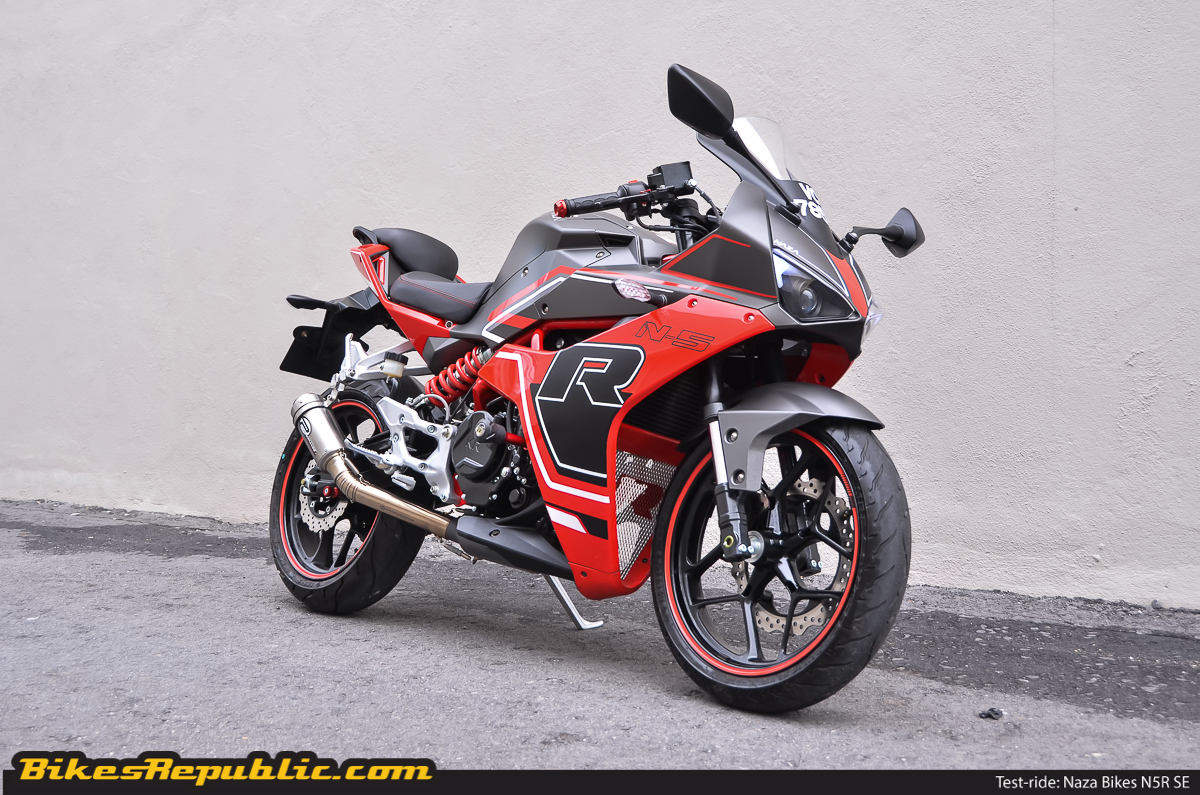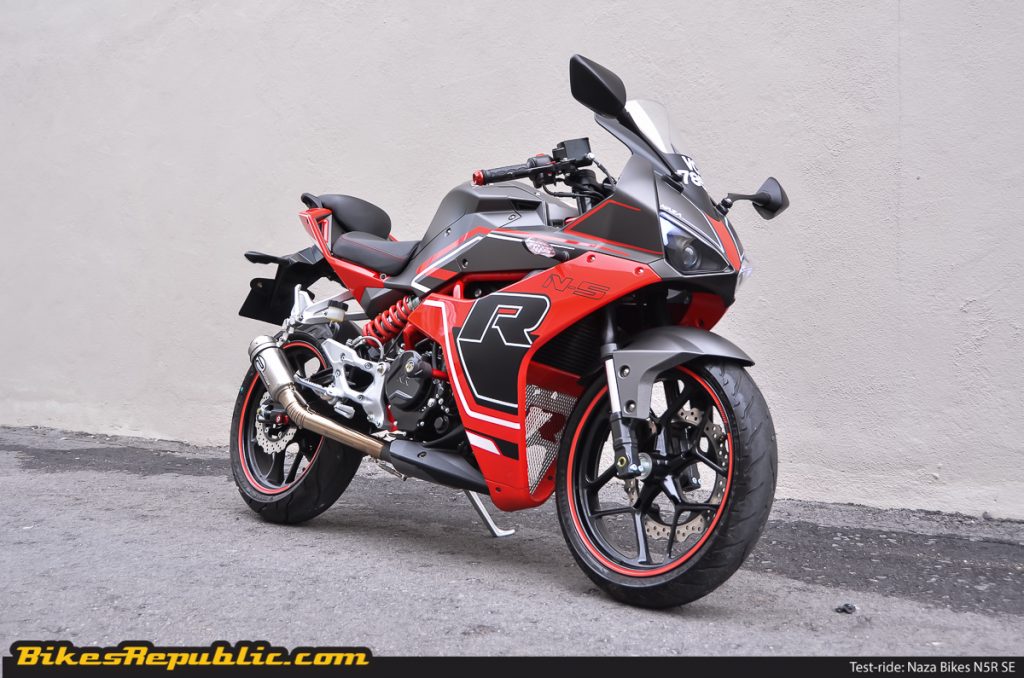 Check out more images of the Naza Bikes N5R SE in the extensive gallery we've prepared below.
Naza Bikes N5R
ENGINE
Liquid-cooled 249cc 4-valve

DOHC single-cylinder with

Electronic fuel injection

POWER
28hp @ 9,500rpm
TORQUE
24.17Nm @ 7,000rpm
TRANSMISSION
6-speed close-ratio with

wet multi-plate clutch and

chain-drive

CHASSIS
Tubular steel trellis perimeter frame

with tubular steel sub frame

SUSPENSION
F: 37mm upsidedown

telescopic forks

R: Gas-charged monoshock with

pre-load adjustability

WHEELS & TYRES
F: 110/70 R17 54S

R: 150/60 R17 66S

BRAKES
F: 1x 300mm petal disc with

quad-piston caliper

R: 1x 230mm petal disc with

dual-piston caliper

FUEL TANK
11 litres
SEAT HEIGHT
810mm
WEIGHT
143kg (dry)
PRICE
Standard: RM13,888

(basic without GST)

SE: RM15,388

(basic without GST)

FROM
Naza Bikes Sdn Bhd
Gallery: Naza Bikes N5R SE