Revisions are small and subtle all round, but the 2016 Harley-Davidson Sportster Iron 883 is now better refined.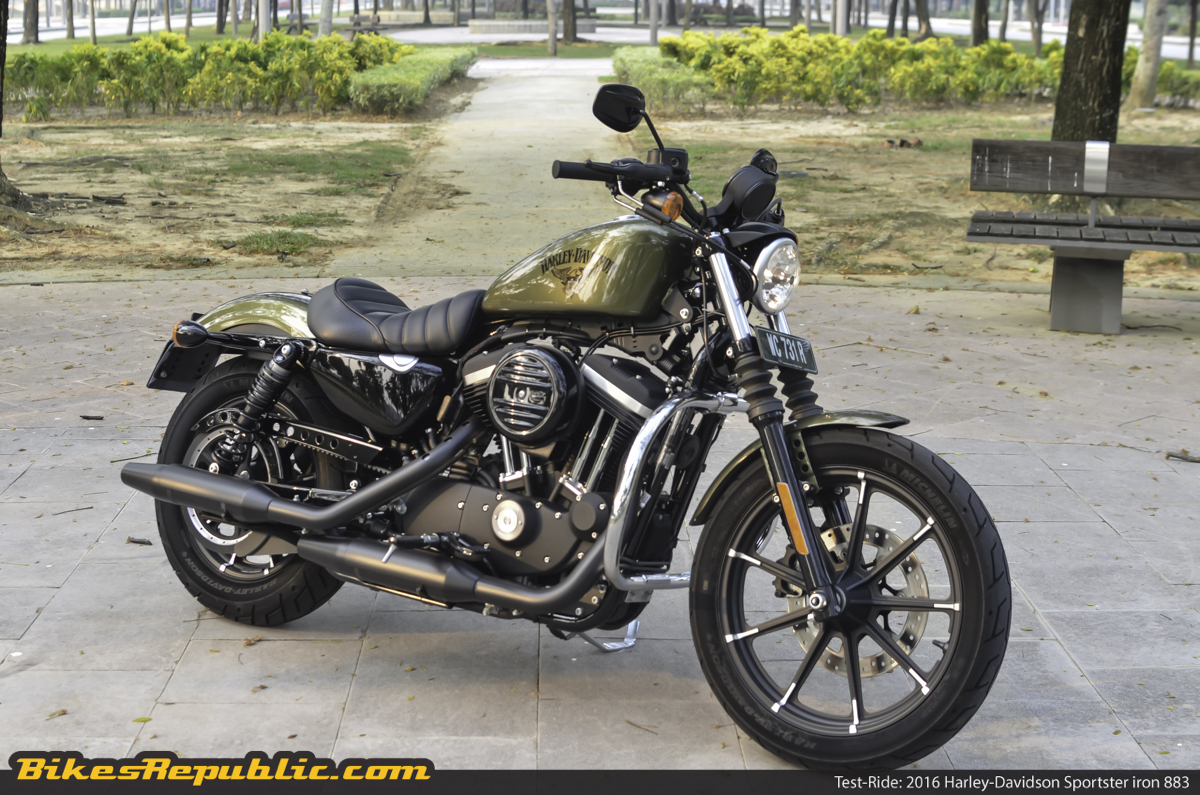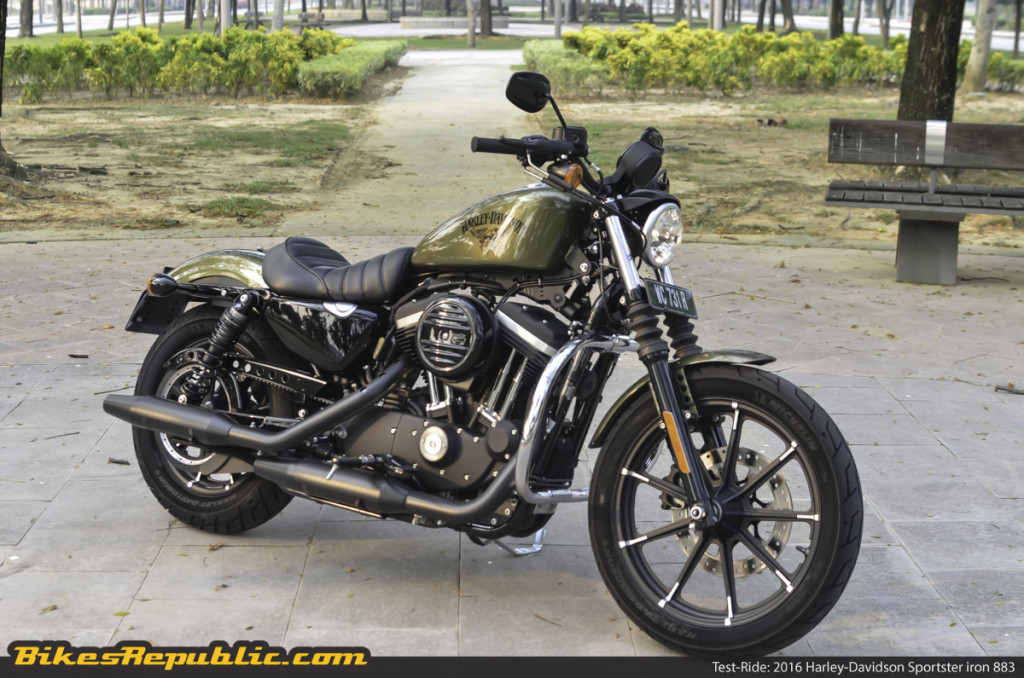 For Harley-Davidson, the Sportster model range plays a huge and critical role in its line up – it stands as a gateway for H-D in presenting its unique outtake of motorcycling towards new riders unfamiliar with the marque. At the core of this are two key variants – the Sportster Iron 883 and Sportster Forty-Eight.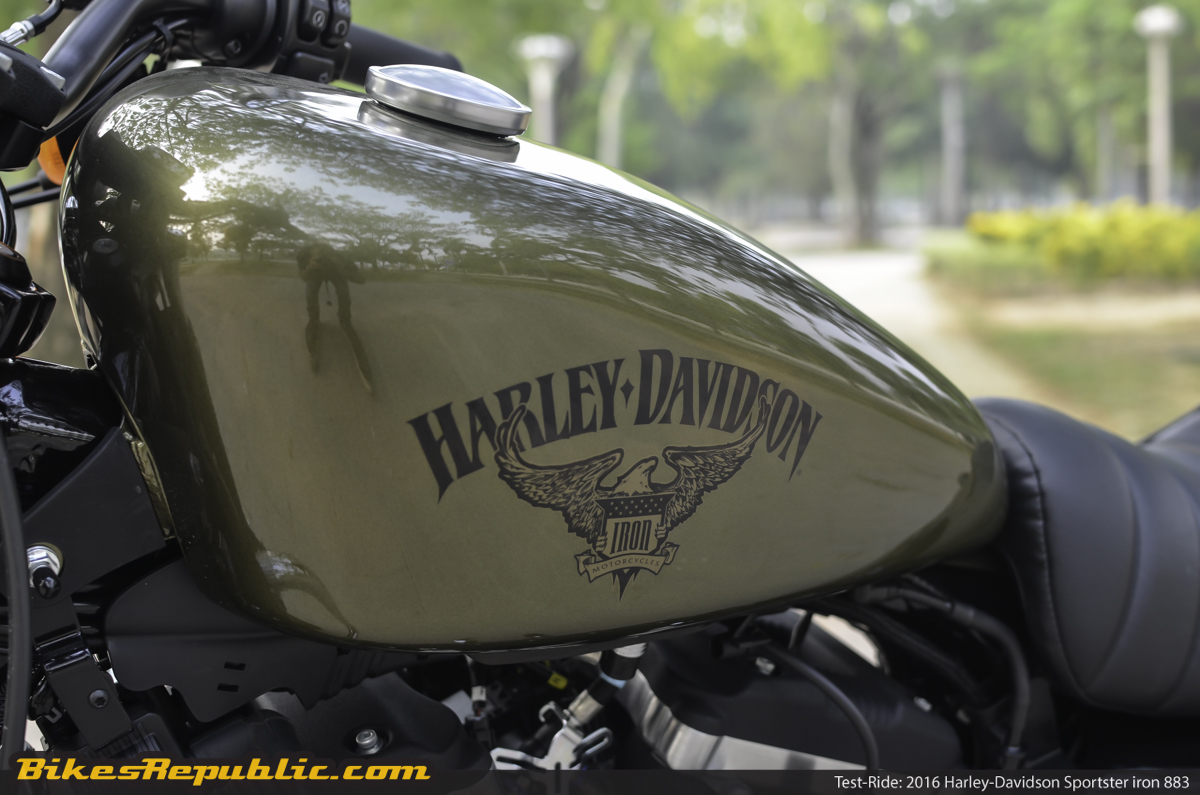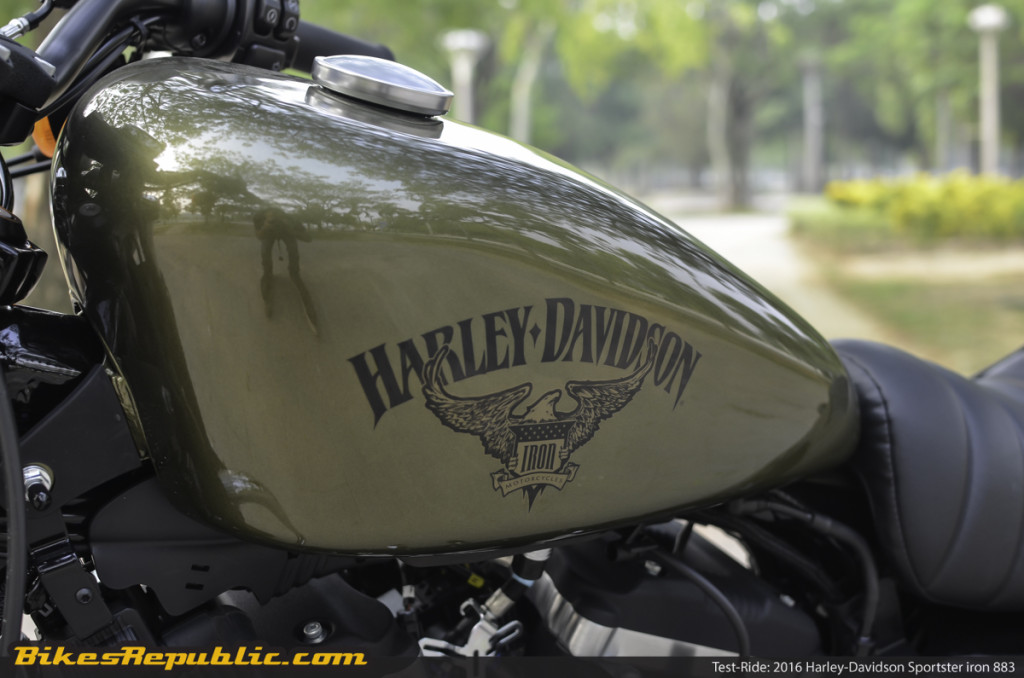 Both variants underwent a mid-life refresher sometime last year before making its official Malaysian debut just last month. While it may be the smaller version of the two, the Iron 883 held great promise with its new enhancements. When our turn to test it finally came, we quickly got it going on the open road to see just what these small tweaks have done.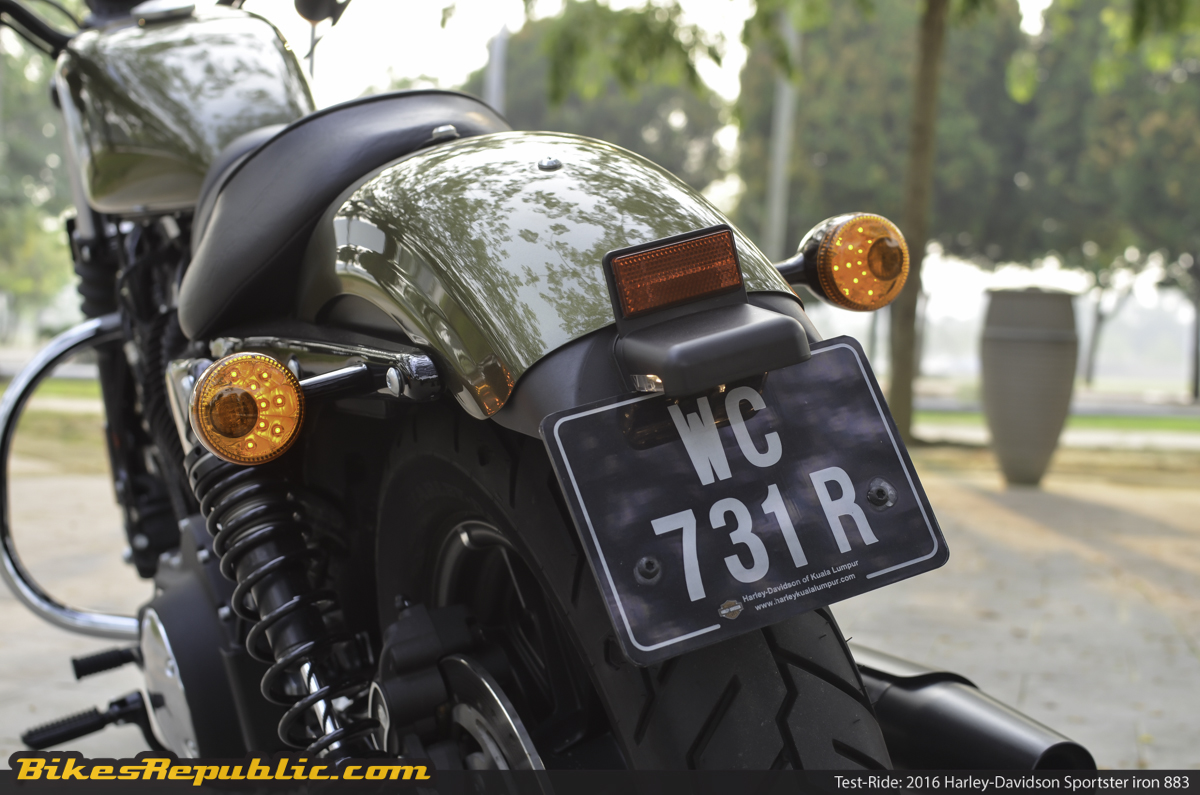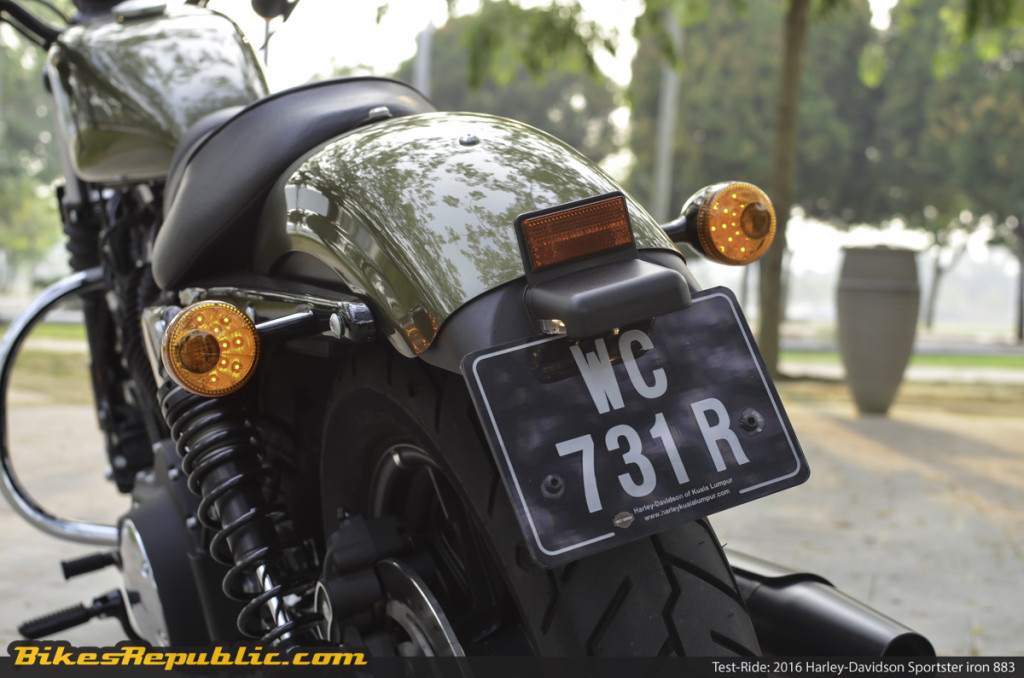 Being a 'bobber', the Iron 883 fully embraces the sub-genre's typical styling traits perfectly. Key examples of this include the shortened rear fender, low handlebars, as well as the absence of unnecessary exterior parts. Matching this 'stripped' approach is our test unit's unique green hue called 'Olive Gold', followed by the contrasting blacked-out accents and alloy wheels.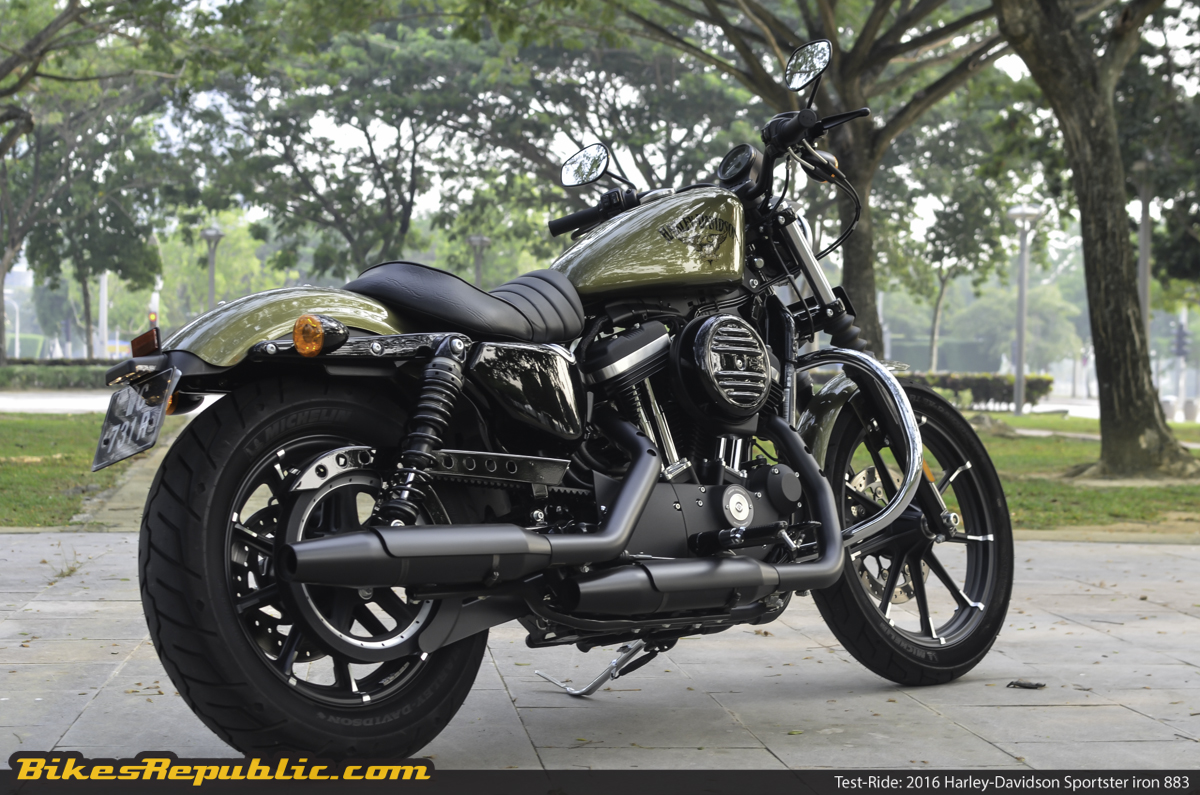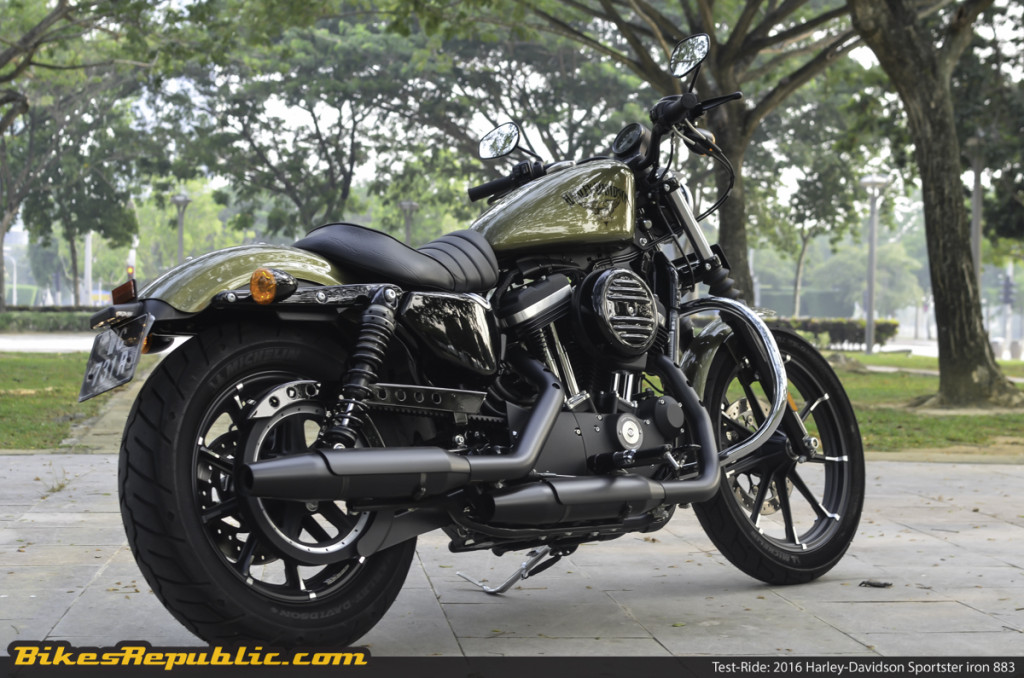 Like its predecessor, this revised 2016 H-D Sportster Iron 883 still looks the part – just as it has always been. While it is hard to see on the surface, this bobber's most critical improvements only comes into view when we got it out on the open roads.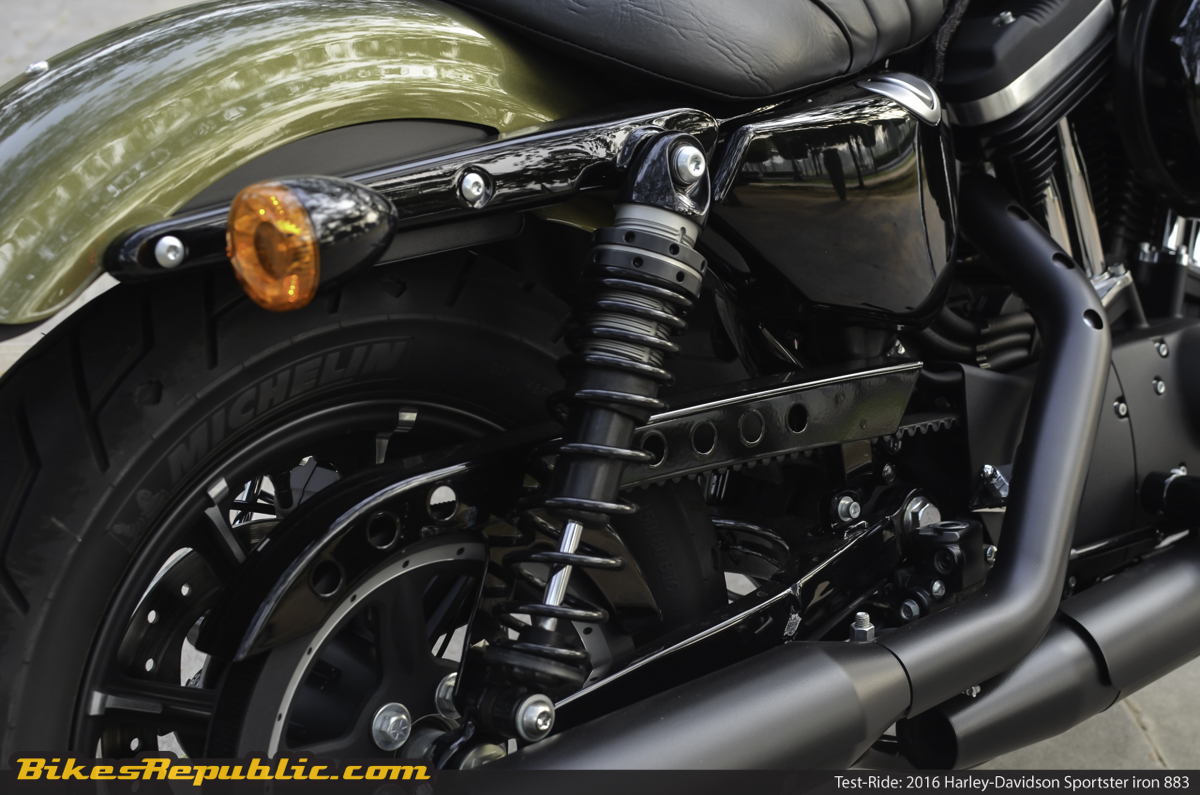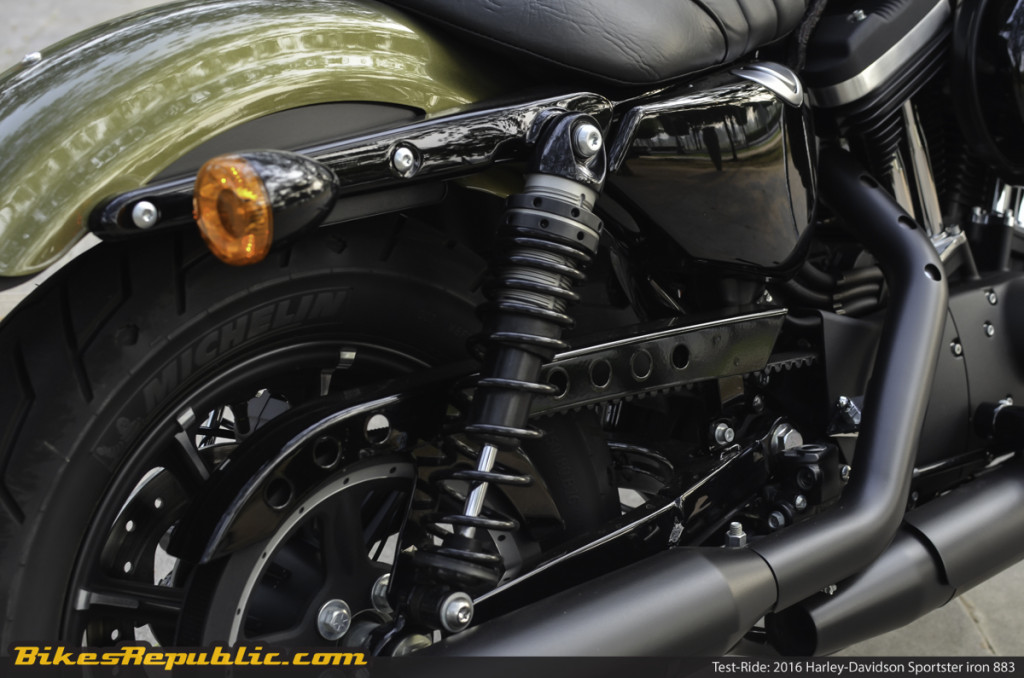 Much of the talk revolved around the Iron 883's improved suspension setup. New here are the cartridge-style front forks with triple-rate progressive springs plus a calibrated piston and valve stack, as is the rear's emulsion-tech rear shocks that offers pre-load adjustability of up to 50mm.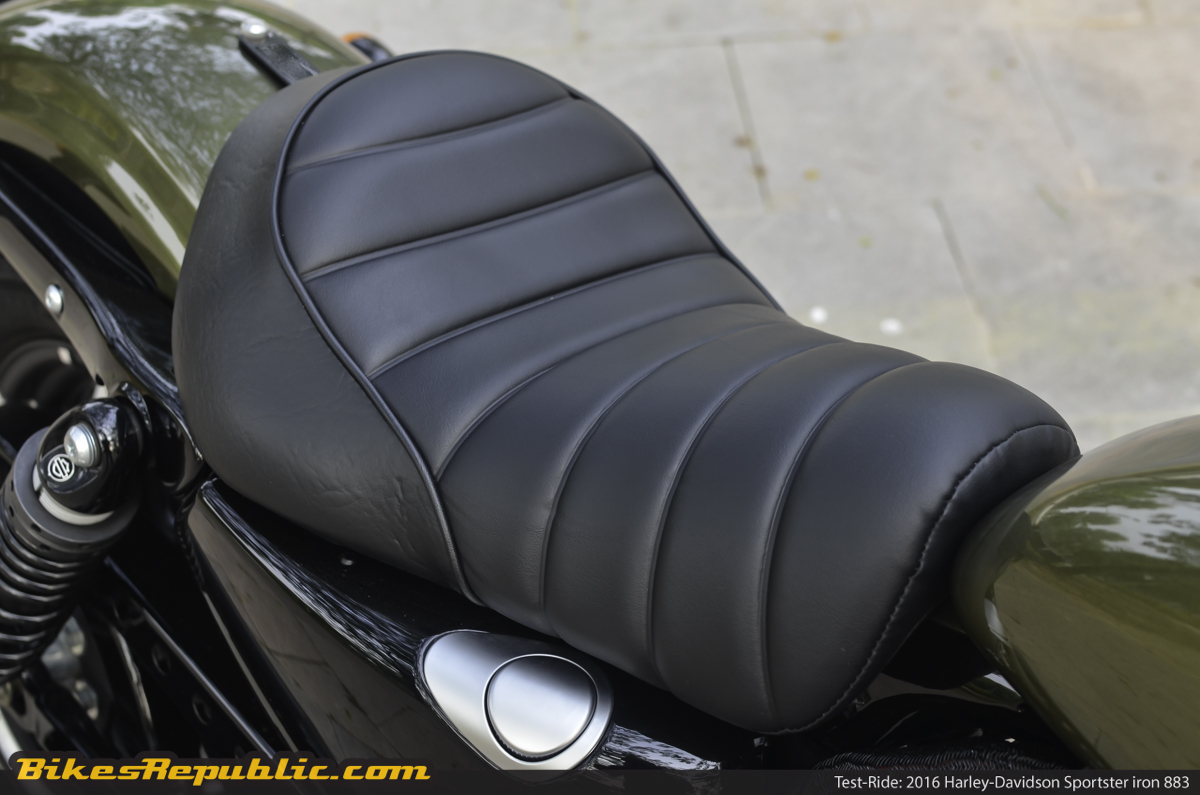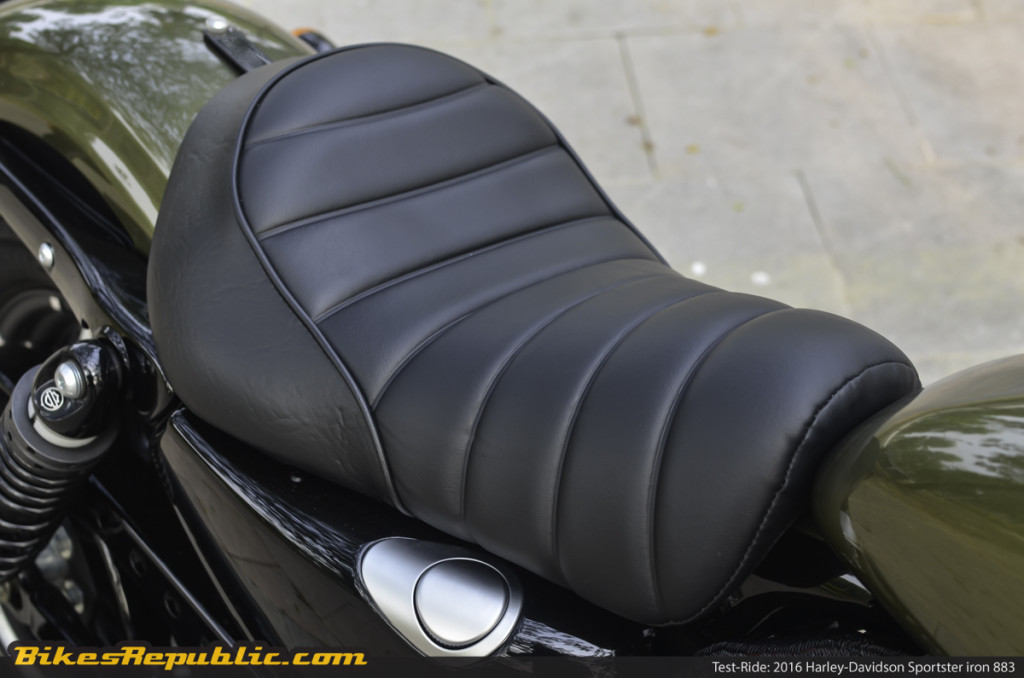 For me at least, and I'm adamant that the Iron 883 is a bike that didn't match my age really, the ride felt quite sublime and very refined. Even in stock factory settings, the spring rates and dampers effortlessly soak up the bumps and cracks common on Malaysian roads. It isn't a bone-crunching affair thanks to the improved new seat design as well that offers more padding than before.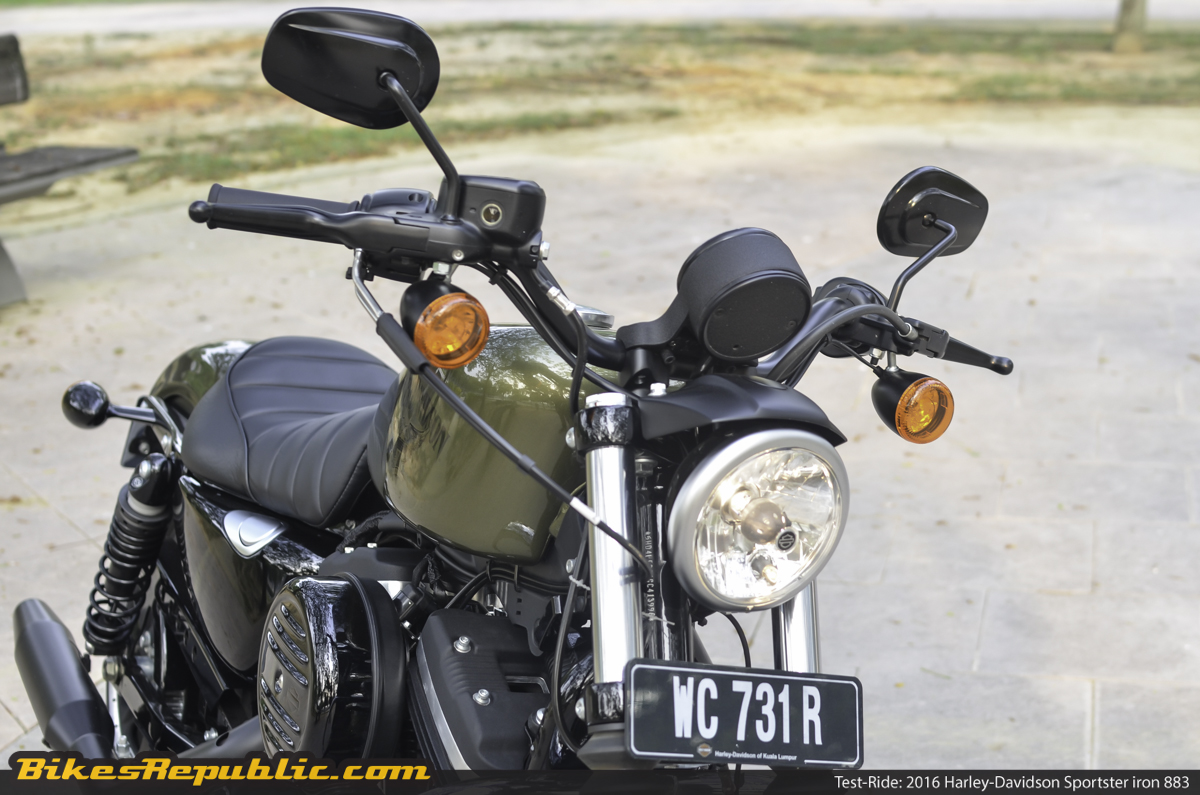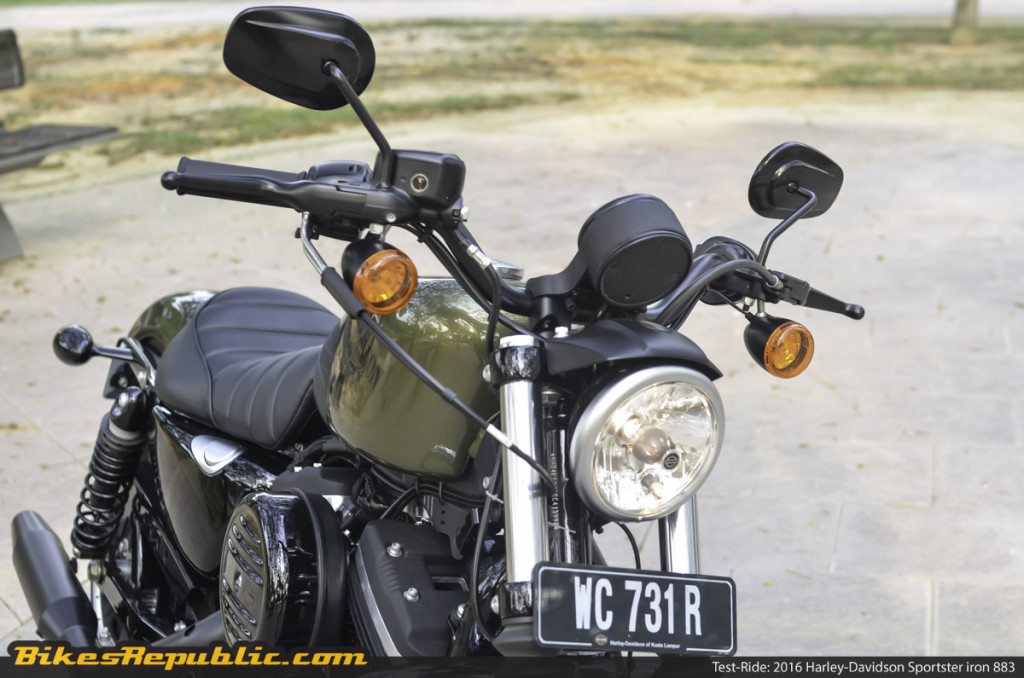 What matched that sublime ride was the Iron 883's comfortable riding position and ergonomics. The standard or mid-mounted foot control positions, as well as the low height of the handlebars dictates an upright riding position. But the position of the handles and the slightly forward footing felt naturally comfortable, even for a tall and lanky sub-six footer.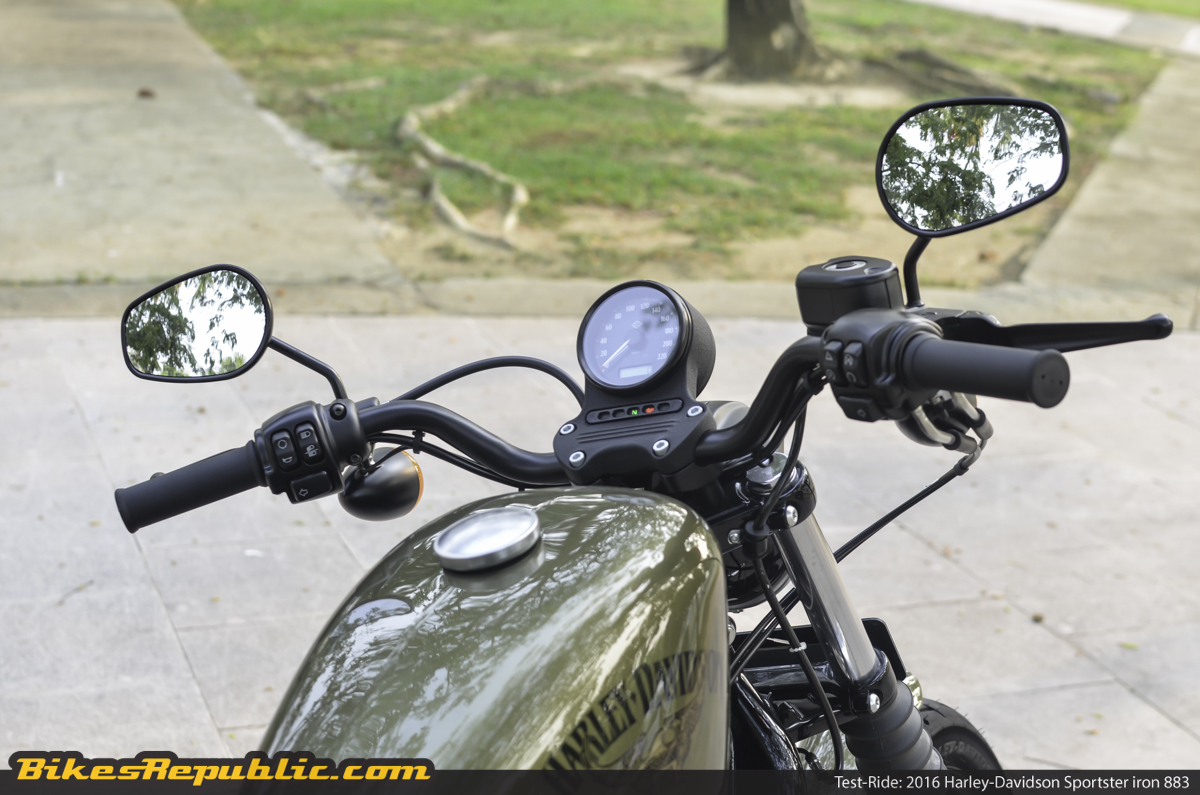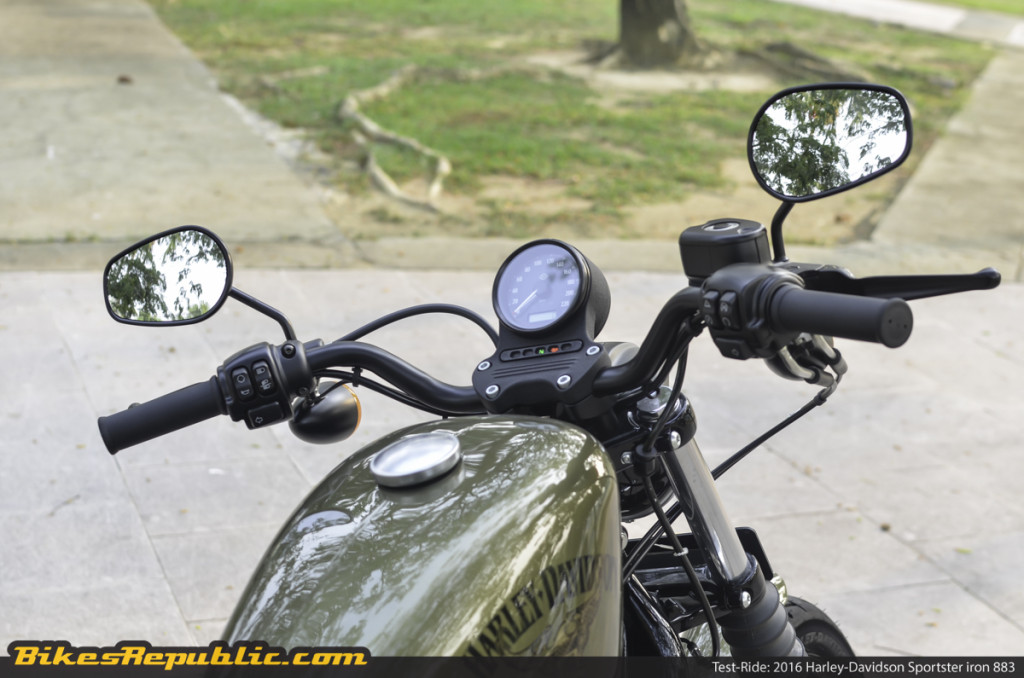 Furthermore, these small revisions also allowed H-D to shed some weight, enhancing the Iron 883's agility further as well. The claimed laden weight of 255kg means you'd still be muscling the Iron 883 around, but one easily basks in the bike's planted feel and impressive stability when tackling bends, even at its maximum lean angles of 27-degrees (left) and 28-degrees (right).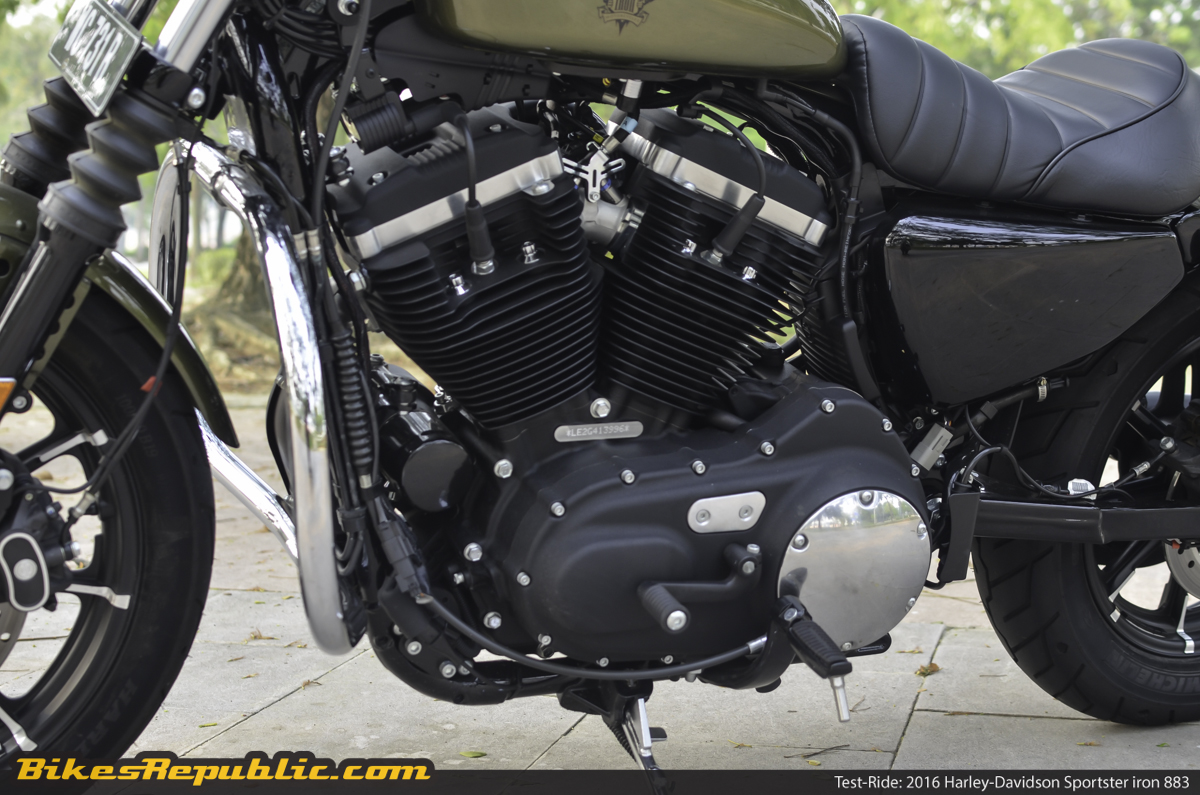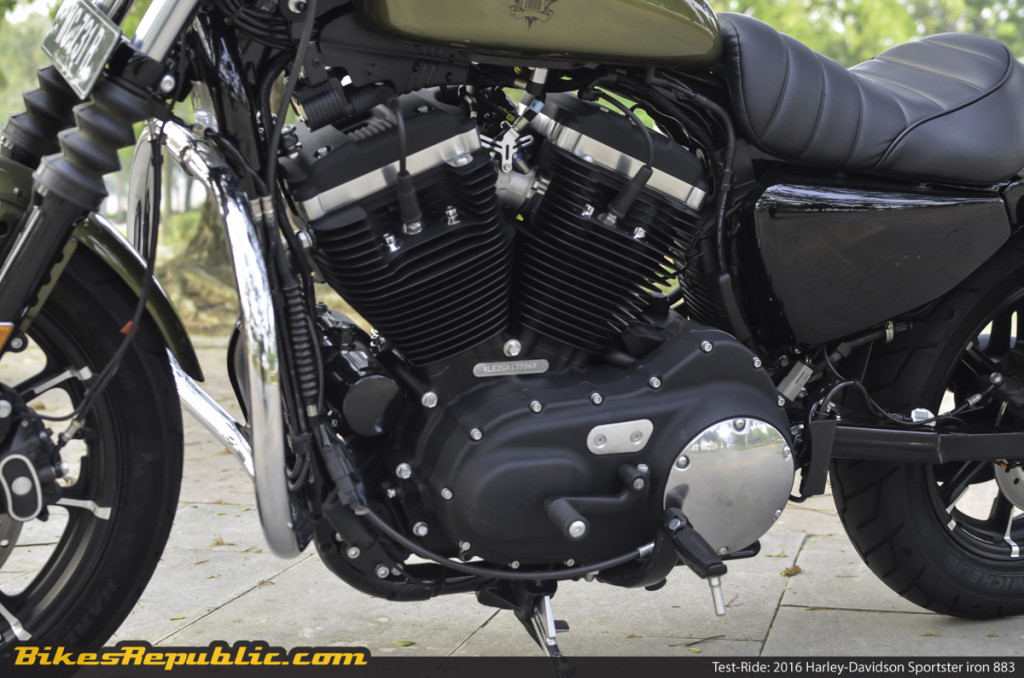 Of course, no H-D review is complete without having a word or two about its powertrain. In our test unit's case, our only gripe with the V-twin mill was the stock twin silencer exhausts' muffled soundtrack. It was embarrassing to say the least, especially when out riding amongst other H-D bikes primed with aftermarket pipes.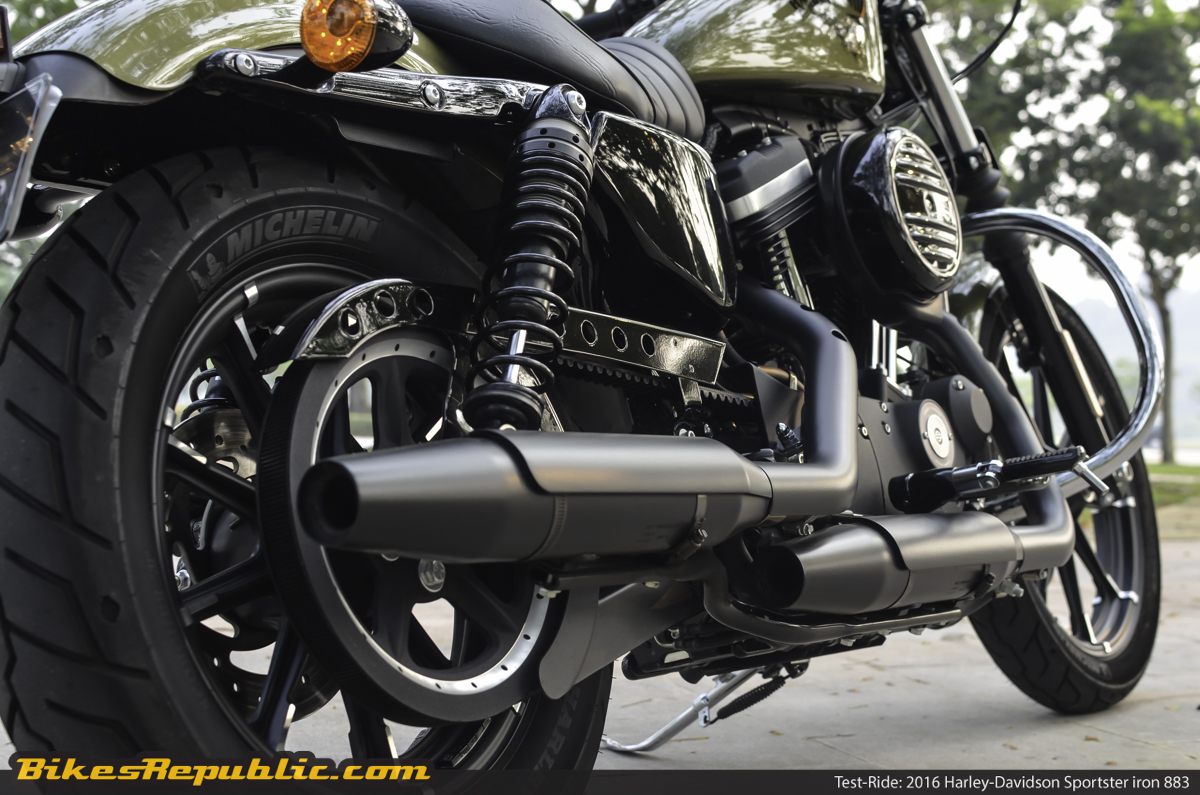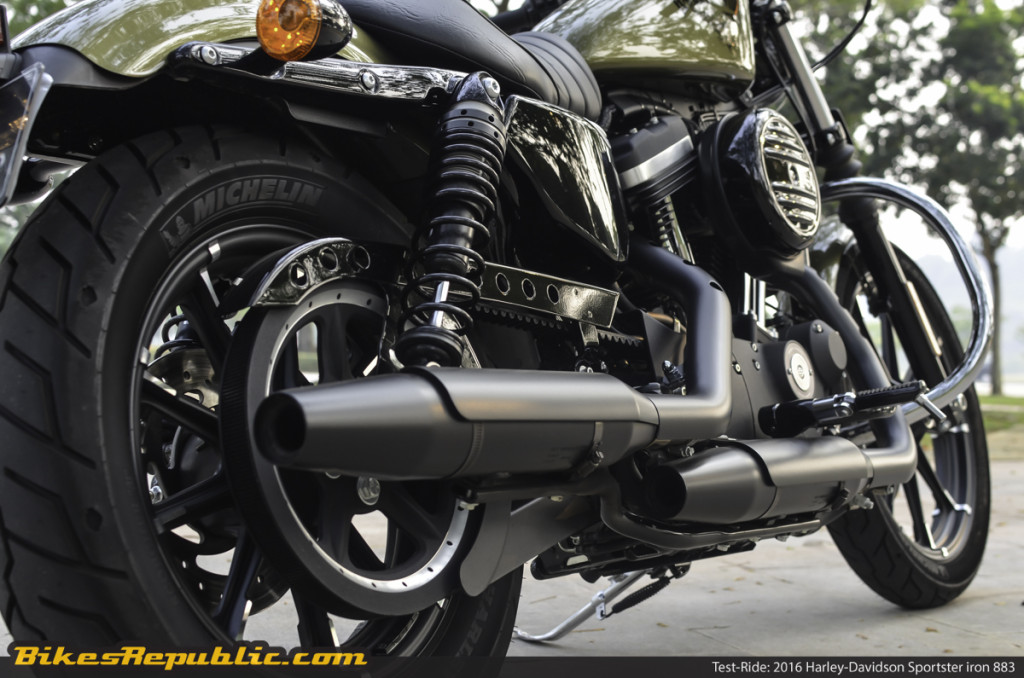 Thankfully, the generous offer in torque from the 883cc air-cooled Evolution V-twin that makes up for it. It peak offer of 71Nm comes from as low as 3,750rpm, which is sent to the rear through a five-speed transmission and belt-drive system – the latter being another signature H-D trait.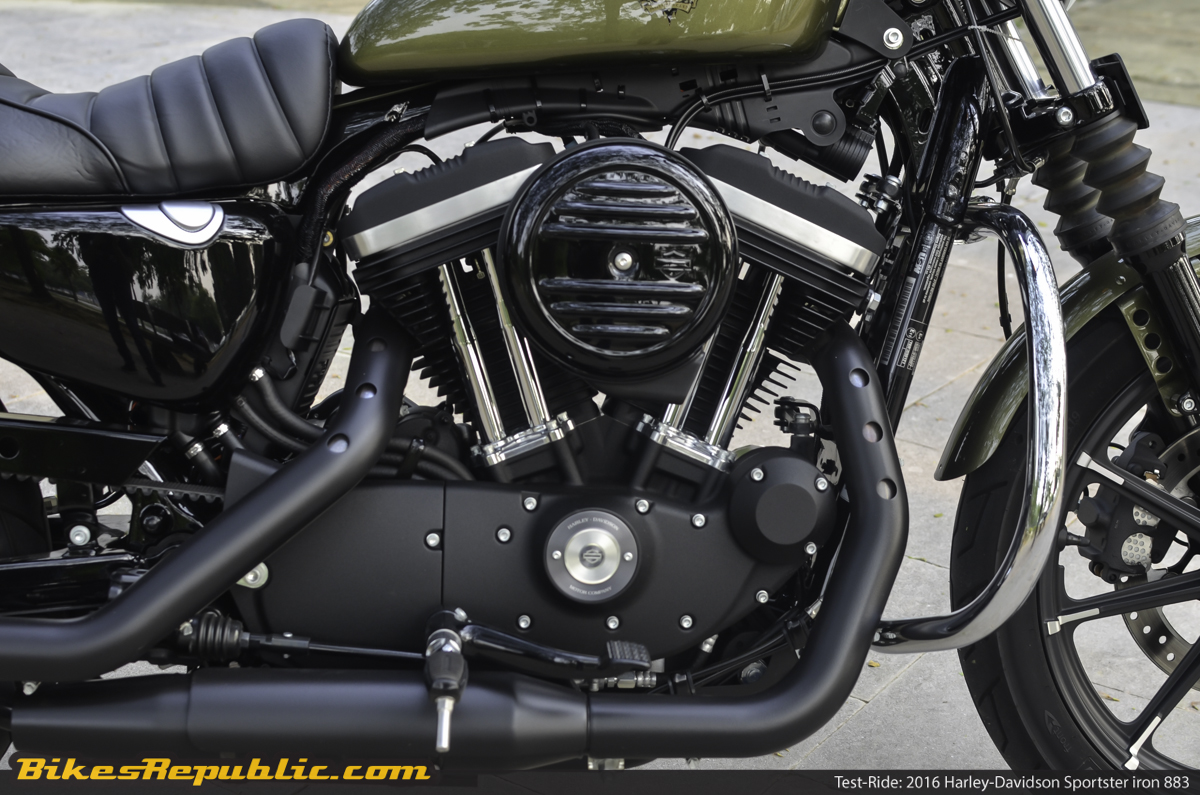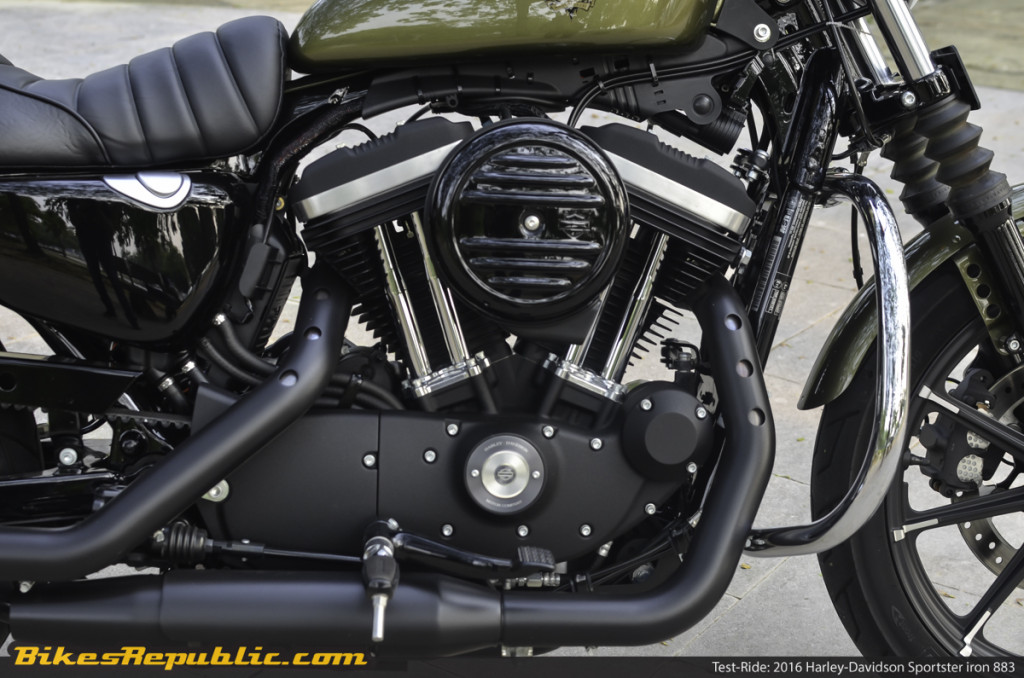 The initial delivery felt rather punchy, but it quickly smoothens out when in the top-end. Typically, the setup felt like the perfect cruising engine, with its sweet spot lying anywhere between 100km/h and 130km/h.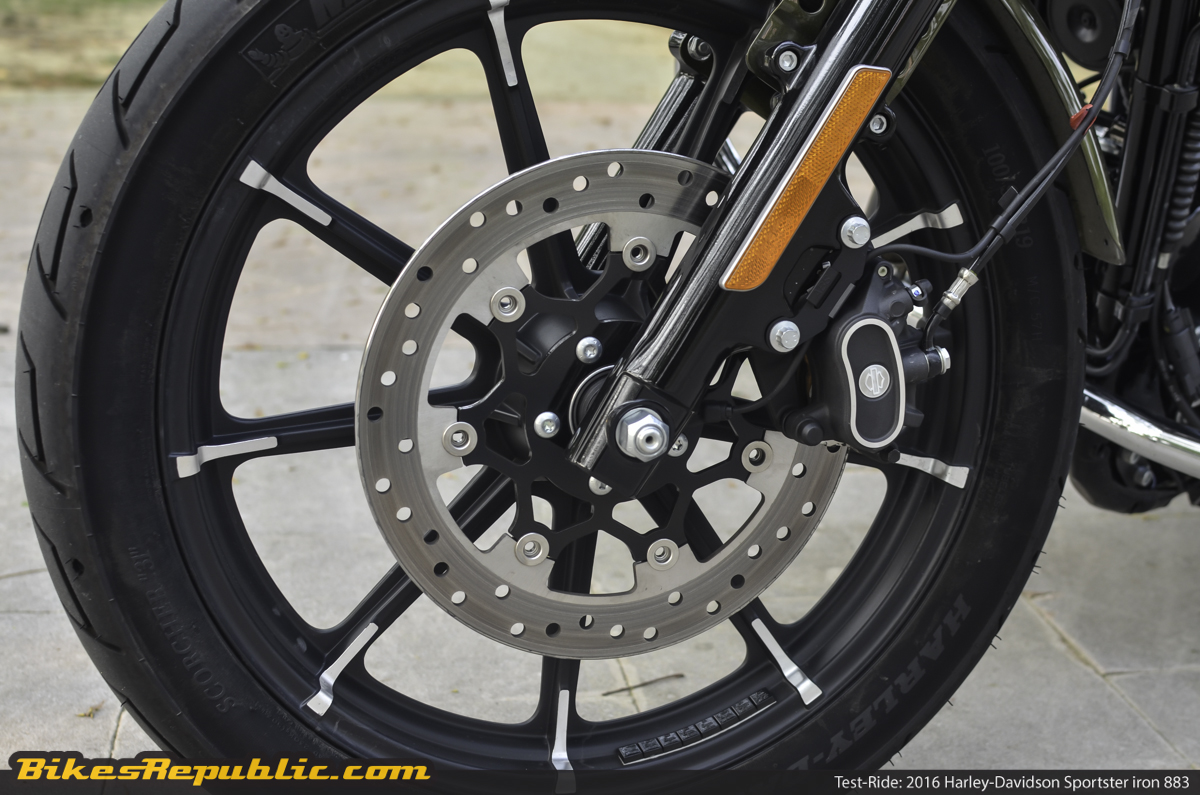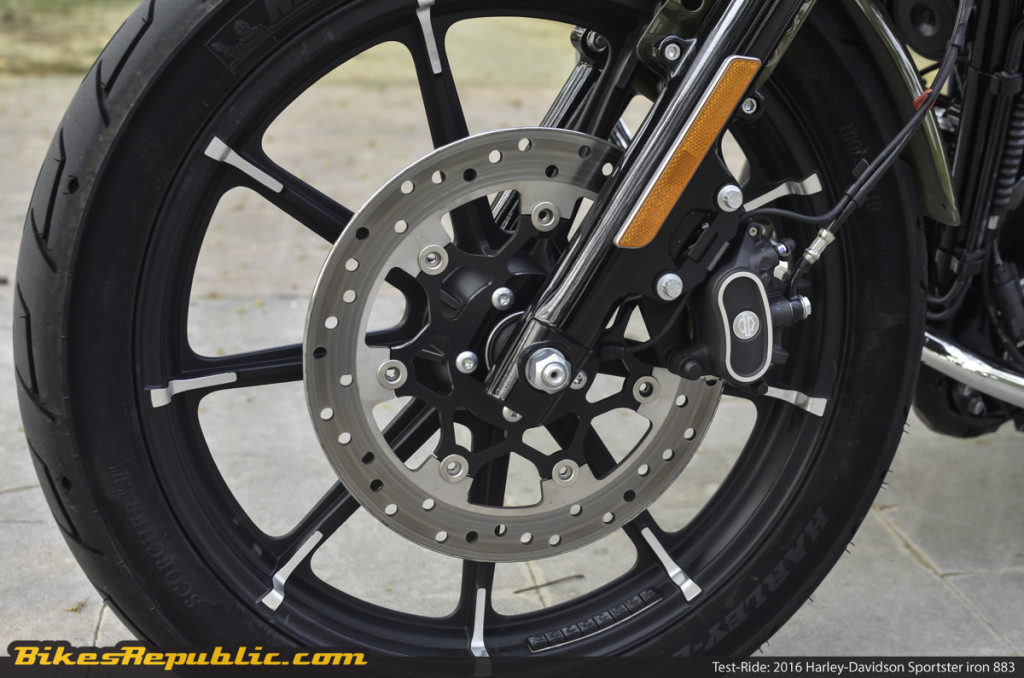 Also worth mentioning is the fact that ABS is now primed as standard. The twin-piston calipers up front still needs a good pull in the lever, but this time you need not worry about lock-ups. What felt equally reassuring were the grip levels of the made-for-H-D Michelin tyres shod in those blacked out alloy wheels too.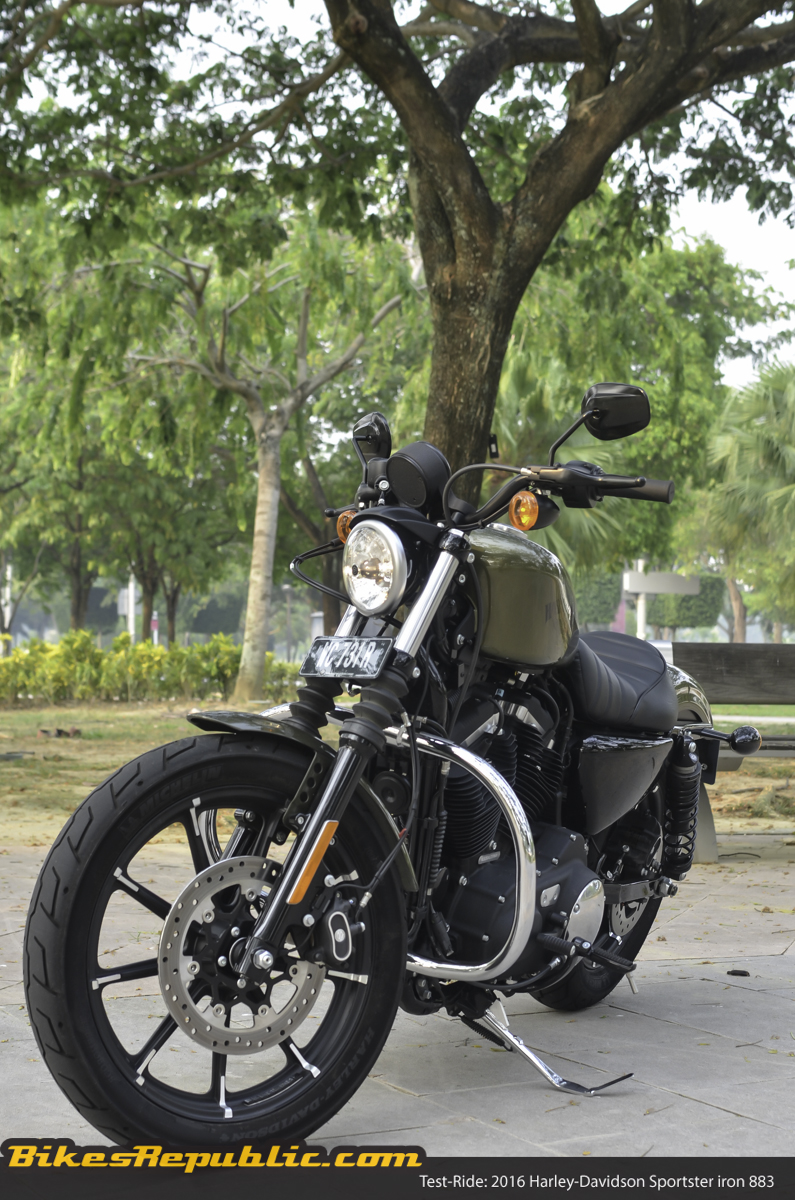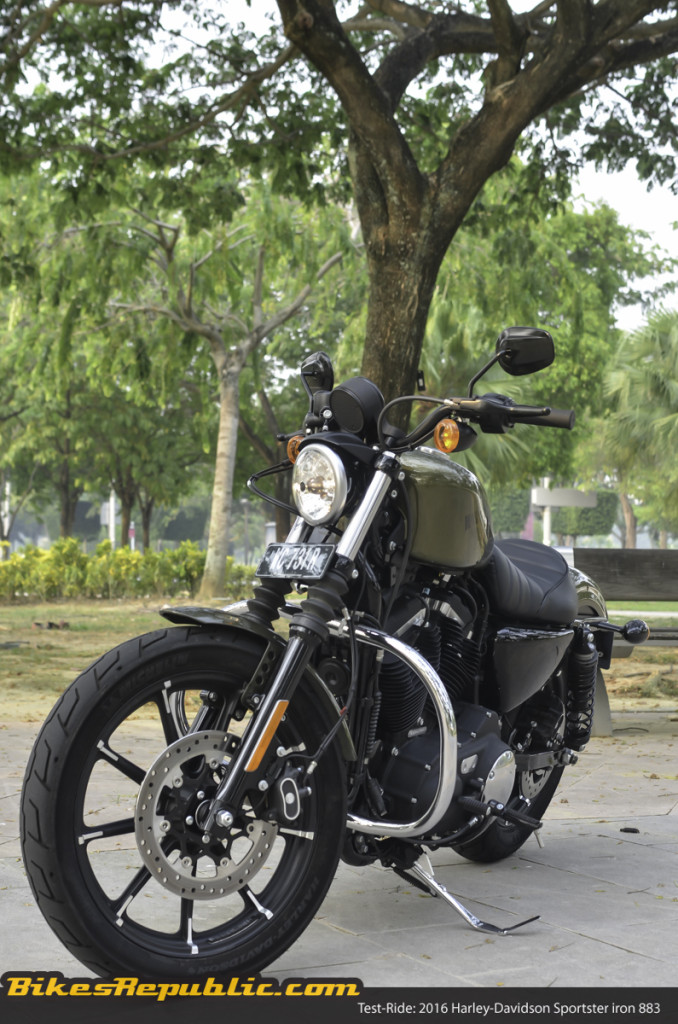 All in all, H-D have done a cracking job indeed at revising the Sportster Iron 883. One just needs to consider swapping those stock pipes for a Vance & Hines set, and perhaps adding a little side or front saddlebag too for added practicality. The only other challenge left is whether one is willing to meet the Iron 883's slightly steep asking price of RM89,000.
A Harley owner says:
I haven't been riding Harleys for very long, just about six months since I bought the 2013 Sportster Forty-Eight. I am in love with the Forty-Eight. Sure there are a million things that are wrong with it, but as is the case with loving any lady, you have to find the beauty in the flaws.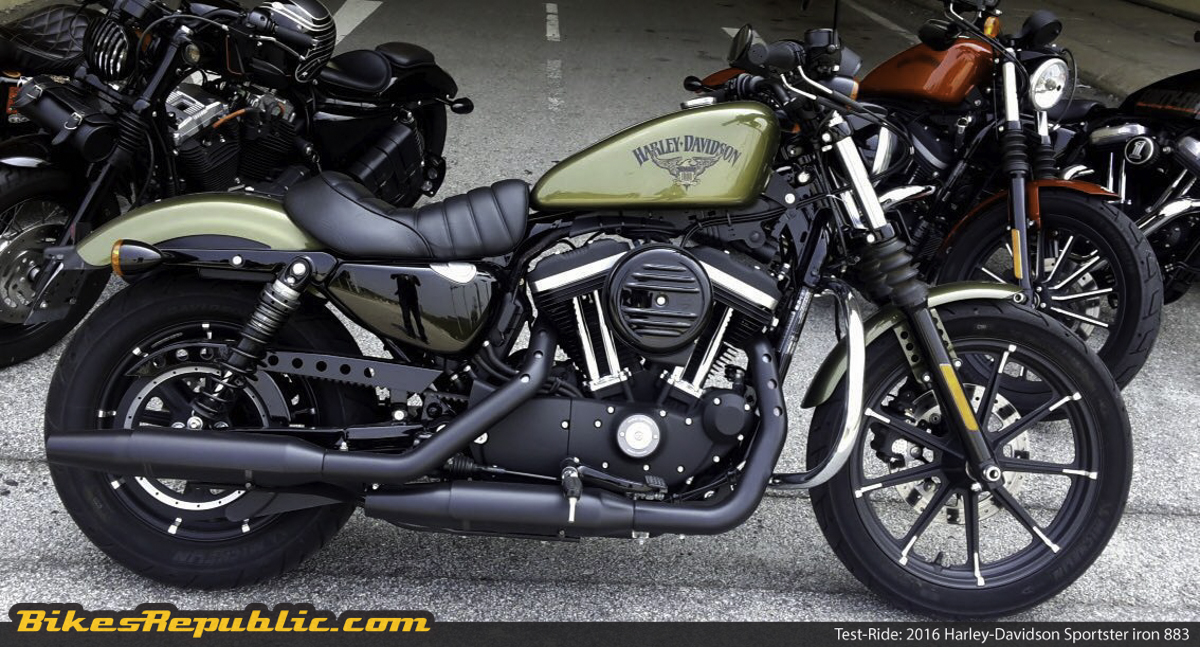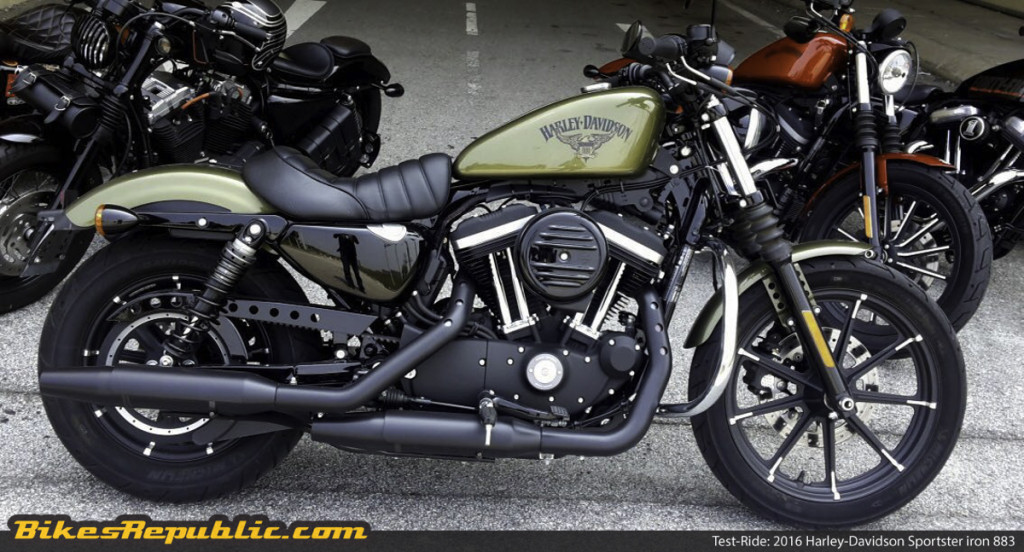 The Iron 883 is no different, don't get me wrong, it is a wonderful bike – there is something truly special about a big engine in a small frame with a small tank, minimal electronics and not much else – but consider it a white canvas for a bike customiser.
The Olive Gold colour (yes it is gold and not green) somewhat suits the bike and eventually grows on you. The engine hasn't changed much and though it is a smaller engine than the 1200cc I am used to on the Forty-Eight, it still had a surprising amount of torque. I love that about Harleys, how you can just ride a wave of torque without downshifting.
The handling is typical of a Sportster, there really isn't much ground clearance before the 'hero-blobs' start scraping the road, takes a true hero to lean the bike down any further. But it feels lighter than other Harleys, and that is a good thing on twisty roads or when making sharp turns. The turning radius is much better than the Forty-Eight, thanks to handle bars that offer a good reach for tall or short riders.
It definitely needs aftermarket exhausts though, the standard ones just don't cut it as a Harley. But that is what owning a Harley is all about isn't it? You basically buy a good standard bike that has the entire look chiselled out, and all you have to do is work on the exhaust, handle bar, and the suspension for the right stance. In that sense the new Iron 883 has completely nailed it, it is an amazing bike.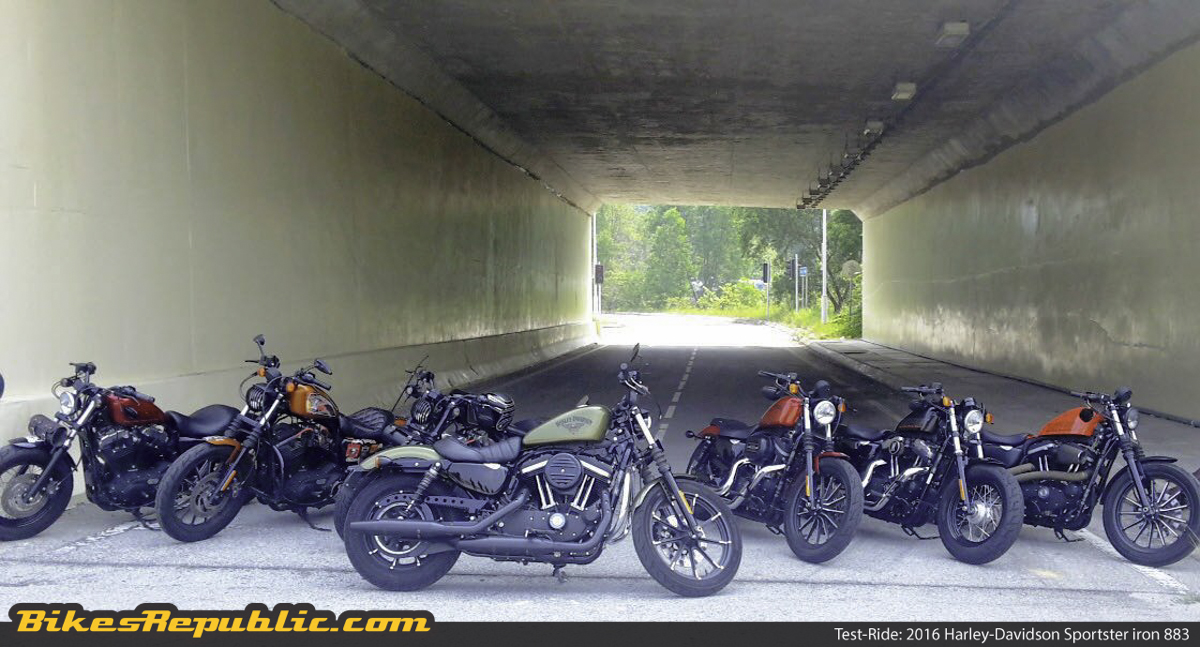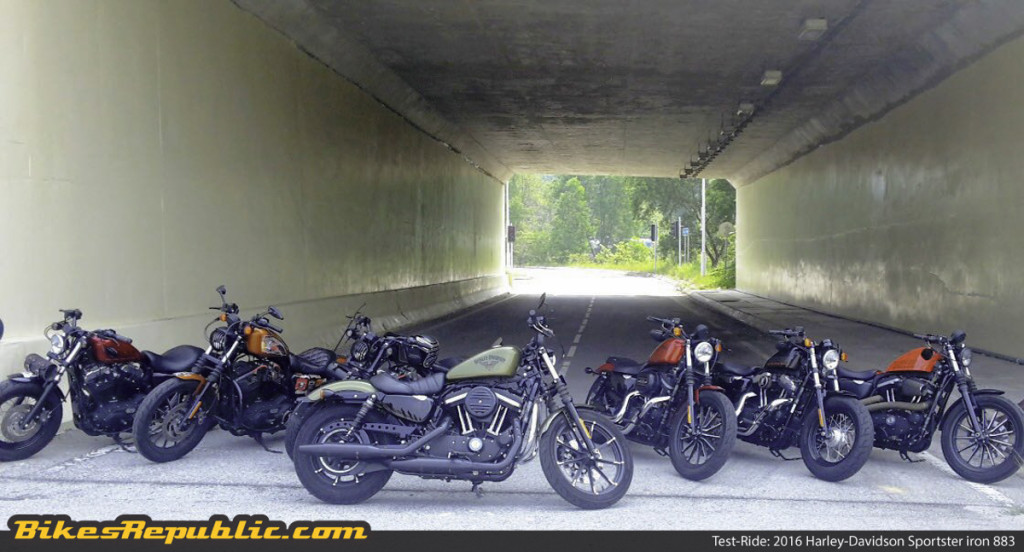 It takes someone who understands the appeal of a Harley to appreciate this bike though, when we did the photoshoot about this bike we invited a bunch of friends who also ride Sportsters to join in. Everyone showed up with their custom sportsters and we expected to tough talk the new Iron 883, but all of them gave their seal of approval, especially the colour. So that's saying a lot about the bone-dry, stock standard Sportster Iron 883.
If you are looking to get into the Harley game with the Iron 883, go for it, do it, just make sure to book a set of Vance & Hines exhausts as well, you will thank us for it.
by Keshy Dhillon
2016 Harley-Davidson Sportster Iron 883