Kawasaki is well known to make excellent sports and road-bikes. From an engineering perspective, the Ninja H2 and H2R present a new level of greatness.

This fastest accelerating motorcycle ever is achieved by its state-of-the-art supercharged engine, where the differences between the street-version H2 (200hp) and the track-only H2R (320hp) engine are only the camshafts, head gasket, clutch and ECU settings (LINK to Kawasaki Ninja H2R Review)
Here are 10 things you should know about these supercharged Ninjas.
1. It carries the Kawasaki "River Mark"
Dating to the 1870s, founder Shozo Kawasaki created a flag from the character 'river' for his then shipping business. Consequently, the "River Mark' was adopted by Kawasaki Heavy Industries (KHI) representing the group's technology, originality and innovation.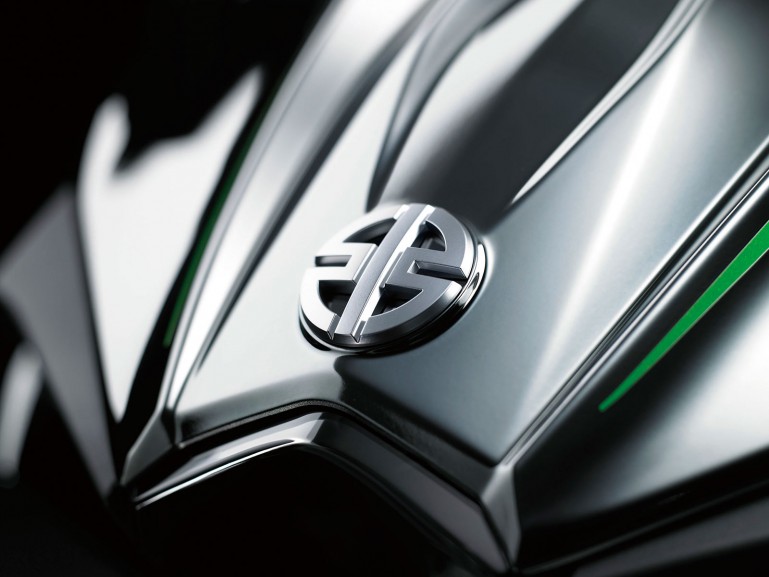 Fittingly, the H2s carry this heritage as they were developed with contribution from sister companies within the KHI Group, such as the Gas Turbine & Machinery Company, Aerospace Company, and Corporate Technology Division.
2. Supercharged 998cm3 in-line four engine
Supercharging is not something new to Kawasaki. Their recent applications can be seen in their JetSkis where prolonged boosting has to be endured by the superchargers. This forced-induction technology and knowledge is further developed and made available to motorcycles.
The powerplant has been designed to handle 2x greater stresses than a conventional or naturally aspirated (NA) engines. This highly efficient, motorcycle-specific supercharger pumps over 200 litres of air/second, while maintaining a relatively low compression ratio of only 8.5:1.
3. Space-age Aerodynamics
Unlike the old days where wind-tunnels were heavily used, the H2s were designed by Kawasaki's Aerospace company using the latest Computational Fluid Dynamics (CFD) analysis technology to optimize downforce, high-speed streaming as well as heat dissipation.
The mirrors on the H2 are replaced with carbon fiber (CFRP) winglets and spoilers on the H2R to effectively reduce turbulence and generate additional downforce and stability at ultra-high speed.
4. Silver mirror paint
This is the first time "black chrome" is offered on a mass-produced within the automotive and motorcycle industries. Developed specifically for the H2s, the glass-like surface is created with a chemical process involving silver ions to form a uniform metallic layer of pure silver with four layers of paint and coats being applied manually.
These intricate processes produce an effect similar to what we see on McLaren's F1 cars.
5. MotoGP and F1 dog-ring transmission
To ensure a seamless and quick gear-shifting, a dog-ring type transmission as found in MotoGP or Formula 1 was developed for the H2s with feedback from the Kawasaki Racing Team. Unlike a conventional motorcycle gearbox, this motorsport transmission have less moving parts for quicker transitions.
To match this superior design, a contactless-type quick shifter comes as standard (a first for Kawasaki bike), coupled with an adjustable back-torque limiter (components by Brembo) which acts like a slipper clutch.
6. Racing Suspension, Brakes and Dynamics
The fully adjustable and low friction Kayaba suspension (AOS-II) on the H2 and H2R was based on the Air-Oil separate cartridge fork developed for motocross racing. This 43mm fork offers smooth initial action followed by strong damping at the end of the stroke.
This is coupled with Brembo 4-piston monoblocs and massive 330mm Brembo semi-floating discs (5.5mm thickness) to ensure adequate braking force. Furthermore, the electronic steering damper (jointly developed with Öhlins) adjusts damping according to the bike's speed and acceleration.
7. Bespoke wheel and sticky rubbers
With more than 10 years experience supplying rubbers to MotoGP, Bridgestone has developed the RS10 220mm tyres (also OEM for Yamaha YZF-R1M). This is mounted on the star-pattern 5-spoke Kawasaki wheel to provide optimum rigidity and balance for high speed performance.
This wheel technology is derived from World Superbike (WSBK) with knurling on the inside of the rear wheel rim to prevent tyre-rim slippage due to massive torque at wide open throttle (WOT).
8. Kawasaki's first single-sided swingarm
The swingarm pivot mounts directly to the engine, saving weight from otherwise conventional cross members found in double-sided design.
Through this optimisation, Kawasaki has also managed to mount the exhaust silencer closer to the bike centerline, resulting in a better weight distribution, more ground clearance and higher lean angle.
9. Seat and Ergonomics
The Ninja H2s are designed to be ridden at high speeds hence the monoposto configuration. To help support the rider during hard acceleration and mid-turn hang-off, a pair of hip-supporting pads flank the rear of the seat.
These hip support are adjustable (15mm) to provide optimum anchoring points for the pilot.
10. Electronic Rider-Aid
This upgraded Kawasaki Traction Control (KTRC) used on the Ninja H2s offers the best features of Kawasaki's earlier systems. This latest KTRC offers multiple settings and different riding modes (plus the Rain Mode) which correspond to different levels of electronic intrusion to manage power output in various riding conditions and to suit rider's style.
Not to mention the Kawasaki Engine Brake Control (KEBC) allows more advanced riders to reduce engine braking when riding on the circuit.
So what's the point of these highly engineered hyper-bikes?
Perhaps it's Kawasaki's platform to showcase their technology and capability to produce efficient power out of smaller and more compact engines, paving a roadmap for affordable street-production bikes in the future?
Imagine Ninja 600cc supercharged, or 250cc sc'd.. Hmm.. Fingers crossed!
** Thank you to Kawasaki Motors (Malaysia) Sdn Bhd
Ninja H2 – RM153,900 (inclusive 6% GST, excluded OTR expenses )
Ninja H2R – RM299,900 (inclusive 6% GST, excluded OTR expenses )
#Photos by Eugene Ong and Adam M.
Adam M.