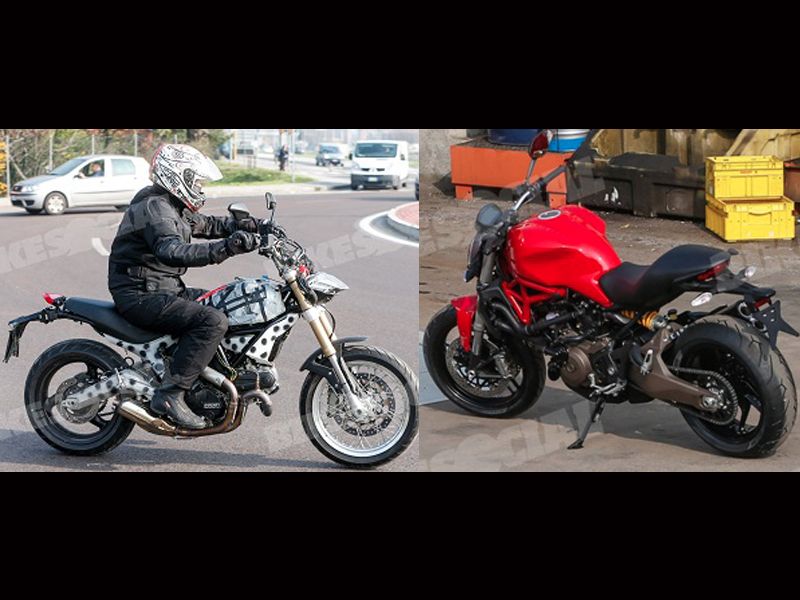 Here are several new snaps of Ducati's upcoming new Monster 800 and 'Scrambler' models spotted in the wild recently.
Monster 800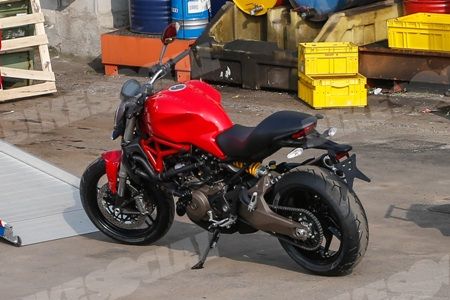 First comes the Monster 800. The 800 version of the new generation liquid-cooled Monster was expected after the launch of the new Monster 1200 (read our exclusive test ride here). According to sources, it would probably have the same 821cc Testastretta 11° L-twin as seen in the new second generation Hypermotard (read our test ride of the new Hypermotard here).
The mill is expected to churn out roughly 110hp as how the Hypermotard does. However, we reckon the 1200's standard-equipped ABS and traction control package would not be primed as standard; it could perhaps be a cost-option package when it hits showrooms.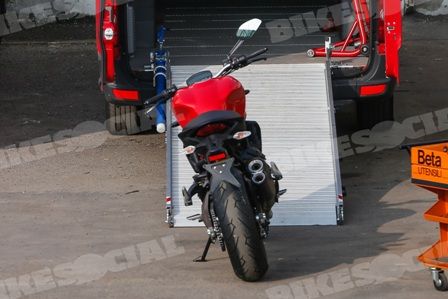 Visually, the Monster 800 looks very similar to its larger Monster 1200 sibling. The only key difference lies in the swingarm where unlike the 1200 that has adopted a single-sided unit, the 800 would instead have a double-sided unit to hold the rear tyres. The Monster 800 is expected to make its debut later this year during Intermot or EICMA, but some sources suggest Ducati could speed things up and introduce it as early as summer.
Scrambler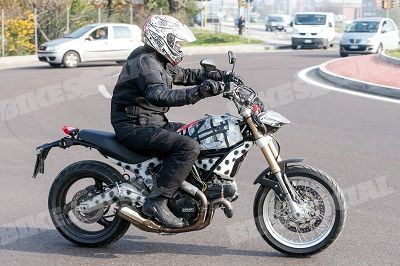 We have previously reported that the Bologna-based institution was working on a scrambler. Spyshots have emerged before, but this latest set is one of the clearest ones we have seen by far.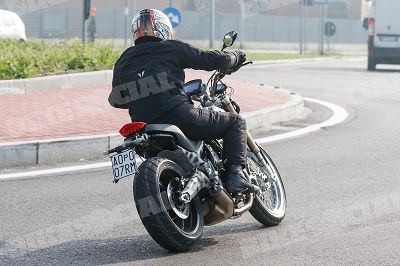 Experts reckon that underneath the camouflaged body, the bike is using a whole new frame plus swingarm design. Several sources believe that a version of the Monster 796's air-cooled engine with 84hp and 79Nm is encased in said new scaffolding.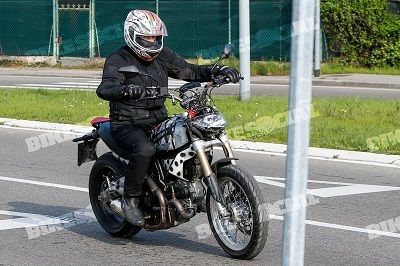 Sources also believe that the bike will have an exterior styling inspired by Ducati's original Scrambler model from the 1960s. This means that it will likely feature tall handlebars and a slim dirt-style fuel tank. It is also widely expected that the prototype's street tyres would be replaced with knobby dirt tyres as well. Ducati's Scrambler will hit markets sometime next year.
Images: Bikesocial ( link 1 / link 2 )
Source: Visordown / Visordown and Asphaltandrubber