It has been a crazy two weeks but fresh in my head was the few hours of fun I had riding around in Krabi.
But of all the bikes in the world, the bike I rode there is not available back here at home. Some of you must have read my article about bikes that's made and sold in Thailand, or in this case the world but not in Malaysia.
Well there I was looking for an activity to do, yes I was in Krabi but somehow beaches were not top of my list that day.
So a quick walk to a nearby bike rental place I inquired about the Honda CBR 650, thought of having a go at it since its going to be a while before I might get to test it in Malaysia. And that is if Keshy or Adam don't use their veto power and squeeze it off me.
Well back to the main plot, so there I was asking about bikes from this cute lady behind the counter, not wanting to take the normal chick oriented scooters they have in abundance there and that's when she pointed out to me to the Honda Zoomer X and Grom.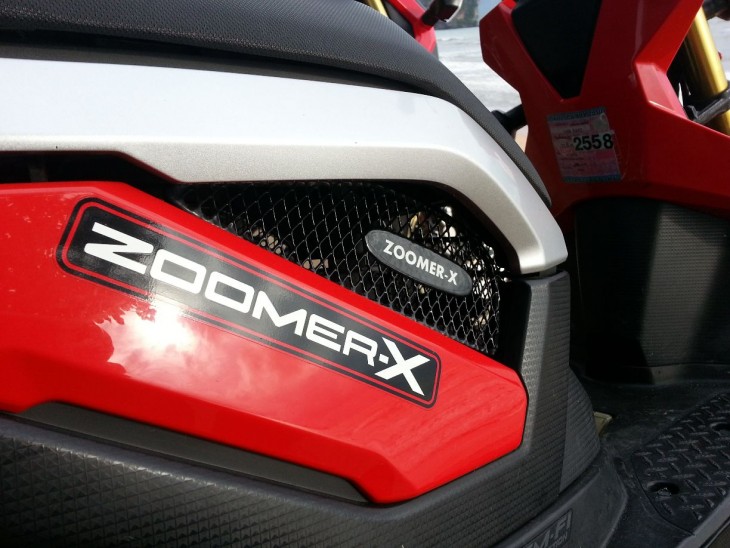 Having just a few hours to burn made it hard to decide to take which one, if only a two-wheel threesome is possible but luckily a buddy of mine, Mad G made the suggestion that me and him take one of each and mid way riding around we could swap. Excellent idea and so we did.
I will usually not do this kind of review since the bikes are not officially from the manufacturer and they don't have control of the condition the bike is in. But since the Zoomer X and Grom had low mileage and an interesting story, I decided what the heck and tell you guys are we missing that much by not having this two models in Malaysia.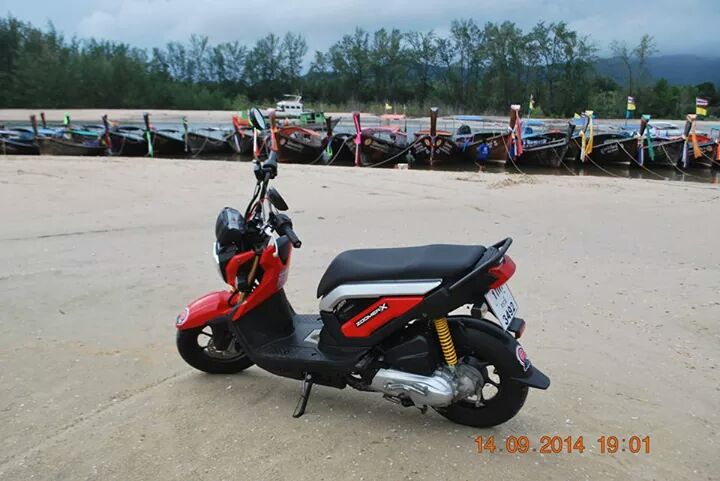 The simple answer is yes, we're missing it big time. First up was the Zoomer X for me. This thing is tiny, logical since most of the things that make a scooter big are big plastic parts which go missing when one makes a naked scooter.
Apart from the smallish size the Zoomer X looks good. It's a bit more macho than your typical girlie scooter. I can see myself zooming around town and shuffling in KL traffic on this.
While the engine is nothing much to shout about, the upside down forks is. Not only it adds some sporty looks to the scooter but it also handles slightly better than the normal scooter of its class.
The seat is wide and supportive and the floorboard have just enough cover so your feet wont get wet from puddle splashes. Oh yeah, the headlight, looks like a robot bear head. Yes you read it right, a robot bear head. Not surprising that the designers of both Zoomer X and Grom said that they based the design on those anime robots.
After an hour or so of riding the Zoomer X, its time for the Grom. Only two words came to my head as I rode it, ridiculous fun. Who would have thought riding such a small-ish bike could be so. I was told later that I was giggling like a little girl as I rode by people.
The seat is just 29.7inch off the ground, wide and comfortable with a straight up riding position similar to a motard. Handle bar is in easy reach but it doesn't feel cramp as i have full steering movement without my legs getting in the way.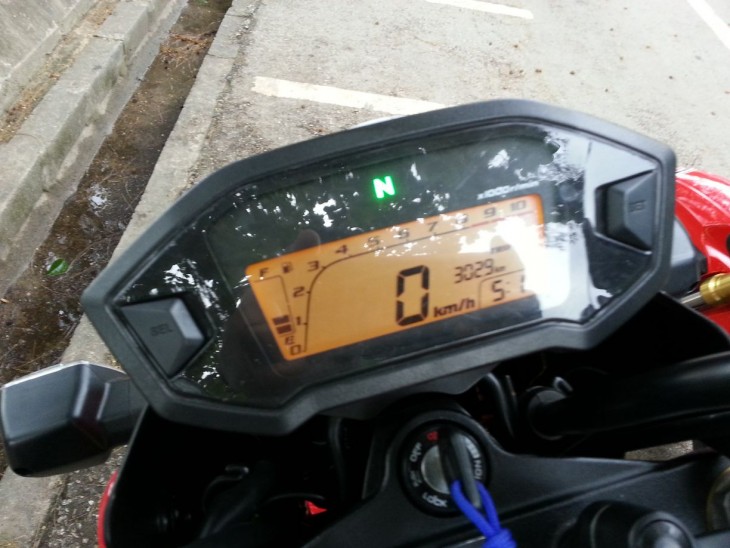 The meter display may look familiar and so does the fuel cap, that's because it's a common part from its bigger siblings the CB500 series.
The air-cooled engine though only 125cc feels punchy and quick to respond to your throttle input. Its fuel injected by the way, both the Grom and Zoomer X.
So is most of the new bikes that's sold in Thailand, I guess with the higher fuel prices the market demands made it competitive enough to have that technology even in small bikes. Imagine paying up to RM5.50 per litre of Ron 95 petrol, but more about that next time.
The four-speed transmission is smooth with the cable operated clutch light to handle and easy to operate. Suspension wise with that usd fork up front and monoshock suspension on the rear, to me this bike feels like it had more work done then compared to the CBR250. Just maybe. It even coped with two-up riding pretty well.
Combined with the short wheelbase and the pair of 12inch scooter sized tyres, this thing hugs those corners like life depended on it. It was so much fun that I even tried it on the soft sandy beaches of Krabi. It was even more fun.
Unfortunately by that time the sun was setting and the tummy was making noises, signalling the end of the ride. Maybe next time I'll get a chance to ride it again whenever I go to Thailand or, if we are lucky Boon Siew Honda come to their senses and start selling them in Malaysia. It will sell like hotcakes, or in Malaysian term, "pisang goreng panas".