Thai and Indonesian riders tops timesheet for final practice leading up to this weekend's Round 2 of the Shell Advance Asia Talent Cup (Shell Cup) in Sentul, Indonesia.
Thai youngster Nakrin Atiratphuvapat followed up his top form from yesterday's FP1 and FP2 pace, becoming the day's fastest rider so far after the 40-minute long third free practice session this morning. Atiratphuvapat improved from yesterday's best of 1:38.786 to an impressive 1:37.889 today.
Also making vast improvements was Indonesian home hero Andi Izdihar who clocked in the second fastest FP3 time with 1:38.262, making up 0.691 seconds from his fourth fastest FP2 timing of 1:39.571. Japanese rider Yuta Date on the other hand secured the session's third fastest time with his best time of 1:38.269.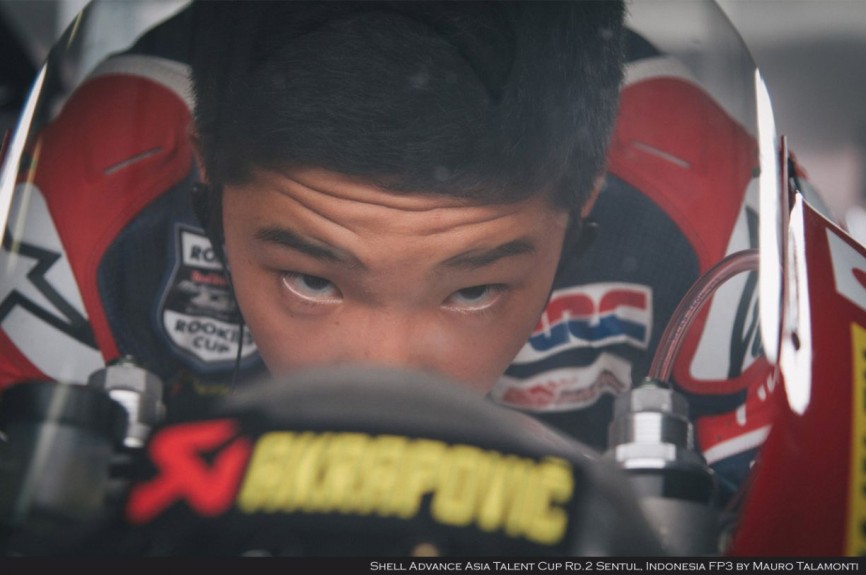 While most of the top 10 riders in FP3 have gained well from yesterday's timing, progress from the Malaysian camp appears to be stagnant with all seven riders missing out from the top 10 ranks in FP3. Fastest of the six this morning was Shafiq Rasol who ranked himself in 12th with his best time of 1:39.688, improving just 0.255 from his best in FP2 yesterday where he ranked sixth.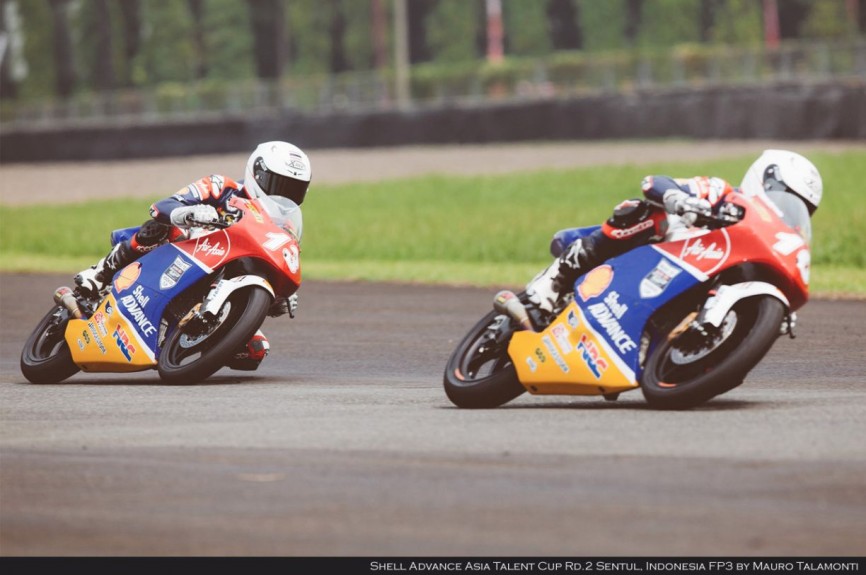 Adam Norrodin on the other hand things slightly harder this morning after the 15-year-old crashed out of turn 1 10 minutes into the session. Adam could only muster a fastest lap time of 1:40.612 that ranked him 19th overall in FP3. As far as the rest go, Helmi Azman came in 13th fastest with a best time of 1:39.883. Fakhrusy Rostam on the number 7 machine ranked 15th, followed by Shafiq Ezzariq in 16th, Ibrahim Norrodin in 17th, and Nazirul bahauddin in 18th.
The day will proceed shortly with the Qualifying session for tomorrow afternoon's race.
Shell Advance Asia Talent Cup Rd. 2 FP3 Photo Gallery
Shell Advance Asia Talent Cup Rd.2 Sentul, Indonesia FP3 Trackside by Mauro Talamonti