A closer look at the new Shark Race R Pro replica edition helmets inspired by the brand's MotoGP, Moto2 and WSBK riders.
Authorised Malaysian Shark helmets importer and distributor Winmaster Sdn Bhd, has introduced the French helmet brand's latest edition of replica race helmets. Featured in this series are the liveries of Shark's race riders competing in MotoGP, Moto2 and World Superbikes Championship (WSBK).
This new flagship line up features the replica helmets of defending MotoGP world champion Jorge Lorenzo, defending Moto2 world champion Johann Zarco, and current MotoGP rider Scott Redding. Alongside these are the replicas of WSBK world champions Sylvain Guintoli and Tom Sykes.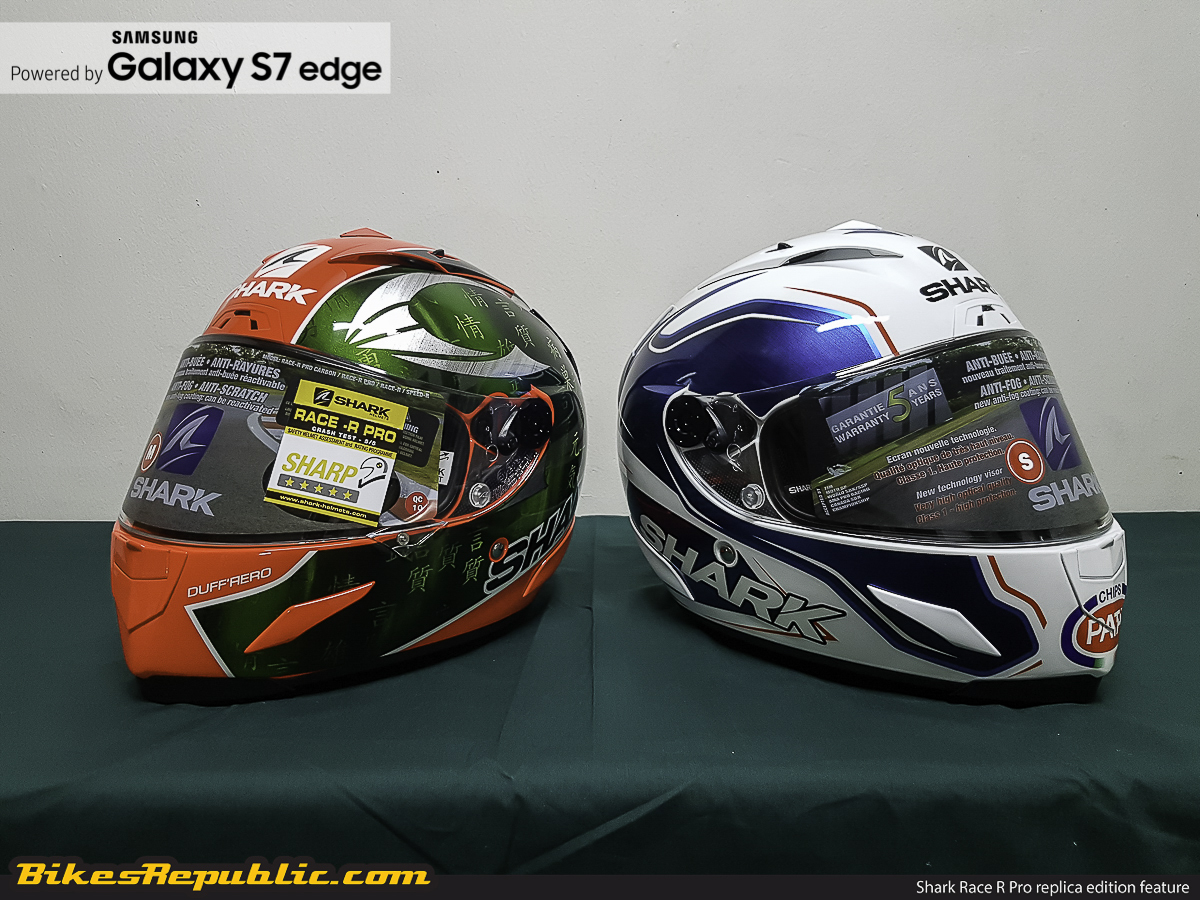 But before we digress further, here's what you should know about the base Shark Race R Pro racing helmet series in detail before placing your orders at the nearest authorised dealers.
Shark Race R Pro series
The Race R Pro and Race R Pro Carbon series sits at the very top of Shark's range of products.
The shell is made of carbon-aramid and weighs in at a feather-light figure of 1,250 grams whilst offering excellent shock resistance performance that garnered a SHARP 5-star rating.
Inside, the shell is lined with Shark's renowned fabric materials that designed for high levels of comfort plus noise and vibration suppression. Notable features include the Shark Easy Fit design for riders wearing glasses, compatibility with the Sharktooth infotainment suite, as well as Shark's renowned anti-distortion and high impact resistant visor design.
Developed primarily for racing, the Shark Race R Pro boasts an aerodynamic shell profile designed with both optimal performance and excellent ventilation. The latter is ensured by traits like the sculpted dual air vents at the top of the shell and a flip-down chin scoop.
The former is supported by the shell's laminated and cyclonic airflow design that was engineered using a wind tunnel, not forgetting its signature and unique twin rear spoiler assembly.
As it is, the Shark Race R Pro series offers a race-engineered shell that's high on safety, performance and style. The Shark Race R Pro and Race R Pro carbon series can be had in sizes XS (53/54cm), S (55/56cm), M (57/58cm), L (59/60cm) and XL (61/62cm) as well.
Race R Pro Lorenzo Monster

Having signed the defending MotoGP world champion earlier this year, Shark's rendition of the Spaniard's racing helmet has kept fans high on anticipation prior to its arrival. Lorenzo's trademark livery has been accurately replicated and painted over the renowned and lightweight carbon-aramid shell.
The livery includes the Movistar Yamaha Factory Racing rider's signature red 'X' symbol at the top, as well as the perfect replication of Lorenzo's trademark sponsor logos such as Monster Energy. Completing the livery is a sticker set of other sponsor logos for the visor plus additional Shark stickers as well.
Exclusive Malaysian distributor Winmaster Sdn Bhd has set a basic retail price of RM2,525 for the Shark Race R Pro Lorenzo Monster.
Race R Pro Carbon Redding Dual T

Next in the range comes the Shark Race R Pro Carbon Redding Dual T edition. In accordance to Shark's model name designation, the 'Carbon' bit denotes the adoption of Shark's signature and attractive exposed carbon fibre finish.
This shell sees the British rider's 2015 Marc VDS Racing Team livery perfectly replicated in high detail with sponsor logos plus Redding's own signature graphics. Highlights include Redding's signature bulldog emblem at the rear and centre, his signature star emblem on the lower right corner, as well as his star and Union Jack graphics donning both sides of the shell's top area.
As this is a 'Carbon' edition, the Shark Race R Pro Carbon Redding Dual T edition carries a slightly higher basic retail price of RM2,745 instead.
Race R Pro Carbon Zarco World Champion Limited Edition
The new Shark Race R Pro Carbon Zarco World Champion Limited Edition is truly special unit. This is in fact
Shark's first proper limited edition helmet
series and just
1,000 pieces
have been produced. To signify this, each unit features its running number painted on the shell's lower left corner.
As you can see, this livery was designed to celebrate the French rider's crowning goal as the 2015 Moto2 world champion, resulting is the commemorative #1 graphics painted on the shell's rear and centre quadrant. Other notable traits include the gold-painted sun graphics, the French and Italian flag schemes dominating both sides, as well as Shark's signature exposed carbon fibre finish for added contrast.
This being both a Carbon unit and limited edition replica, the Shark Race R Pro Carbon Zarco World Champion Limited Edition retails with a seemingly modest basic retail price RM3,015. Only a handful of these are in stock, so best to place your orders for this tasty collector's item quickly via authorised dealers.
Race R Pro Guintoli

Next comes the first of two WSBK-inspired helmets in this range, the Shark Race R Pro Guintoli. This edition sees the Race R Pro shell donning the striking yet stylish minimalist livery of 2014 WSBK World Champion Sylvain Guintoli.
Guintoli's trademark livery consists of a white base, with Guintoli's signature graphics finished in a chrome blue paint whilst red pinstripes adds contrast. Perfectly replicated here too is the trademark logo of sponsor PATA.
The Frenchman's seemingly minimalist scheme is arguably the most stylish of the lot, making it a must-have for avid collectors and fans alike. The Shark Race R Pro Guintoli replica edition is now on sale with a basic retail price of RM2,525.
Race R Pro Sykes

Last, but certainly not the least, comes the Shark Race R Pro Sykes edition inspired by Kawasaki Racing Team rider and 2013 WSBK world champion Tom Sykes. The absence of the Monster Energy sponsor logo aside, Tom Sykes' racing livery is again perfectly replicated here.
It features a dual-tone red and chrome green base with white-painted borders. The shell is decorated further with Sykes' racing number and signature contrasting graphics in chrome paint. Adding more 'zing' here are the two sets of Chinese letterings, one set blended into the chrome green base and the second finished off in white paint that runs along the shell's top.
In terms of style and design, the British rider's livery is best described as eclectic, but we'll agree that its uniqueness is second only to the limited edition Zarco edition. This cool replica carries a basic retail price of RM2,525.
Special prices + free Iridium and tear-off visors
For a limited time only, distributor Winmaster Sdn Bhd will offer a free Iridium visor swap with each purchase of any the Shark Race R Pro replica edition helmets as featured here. Our chief editor's own Shark Race R Pro pictured below features said option.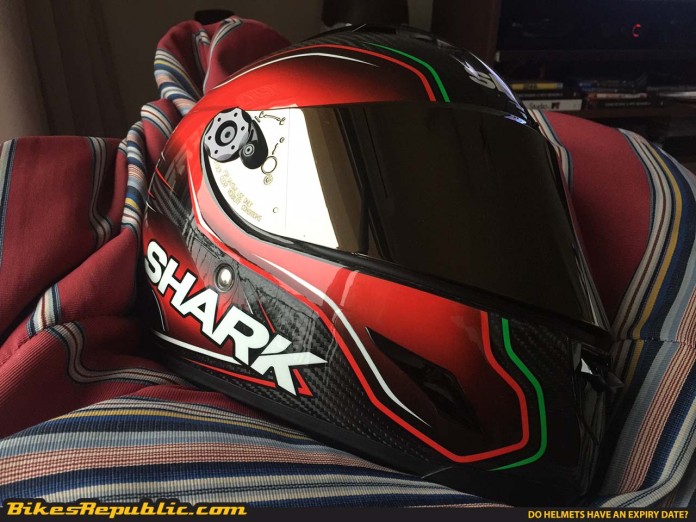 Iridium visor replacements usually costs an additional RM300 to RM400 on average. The free visor swap also come with a free five-piece tear-off visor set as well, whilst Winmaster Sdn Bhd's standard offer of a five-year warranty with each purchase caps things off.
Visit any authorised Shark helmets dealer nationwide to place your orders for any of the five Shark Race R Pro replica editions featured here with the special offer we just detailed.
You can also visit the official Shark helmets website to see more of the French marque's products in greater detail.Alternatively, you can also reach Winmaster Sdn Bhd via the official Shark Helmets Malaysia Facebook page.
UPDATE: Winmaster Sdn Bhd has confirmed with us that, whilst stocks last, the Guintoli, Sykes and Lorenzo replica units are retailing at a promotional price of just RM1,750. The free Iridium visor swap plus five-piece tear-off visor sets are included in this deal whilst stocks lasts as well.