We ride the adventure segment's newest darling, the Honda CRF1000L Africa Twin, and loved it!
Recently, BikesRepublic rode along in the inaugural Honda Asian Journey 2016 regional program. One bonus here was the golden opportunity for us to sample the much raved about 2016 Honda CRF1000L Africa Twin.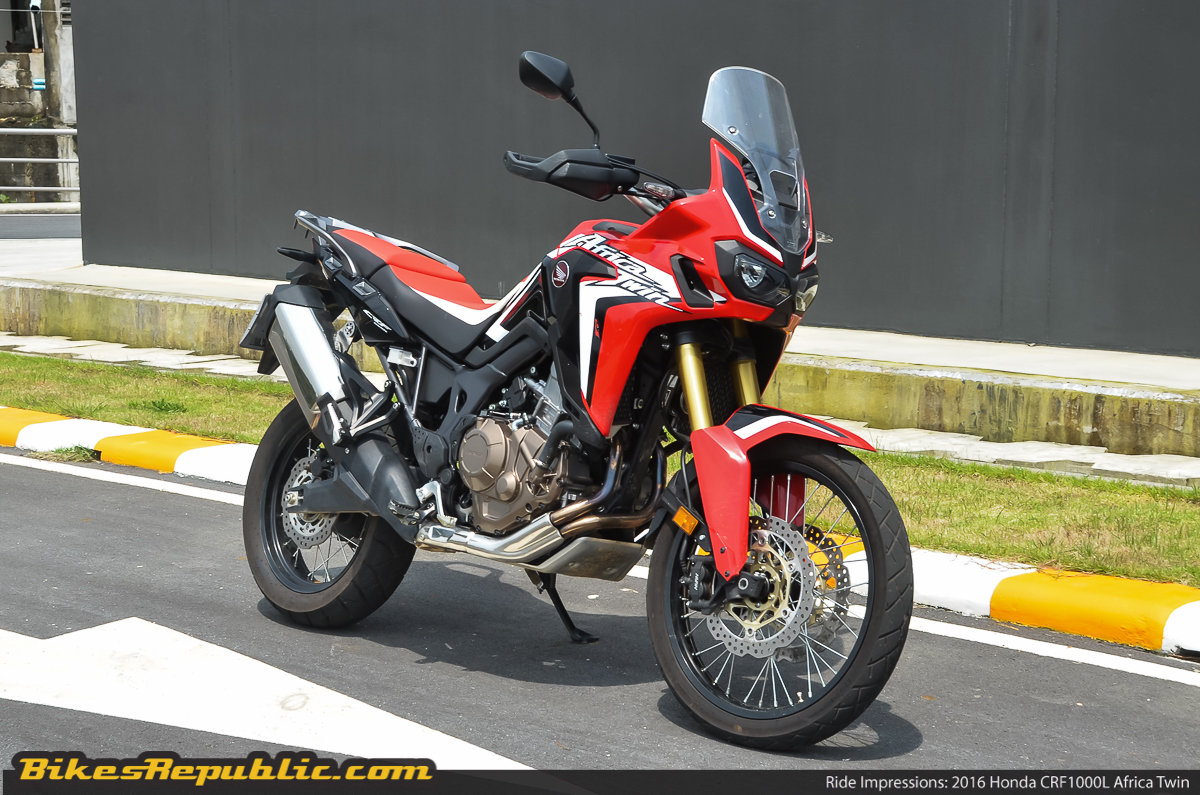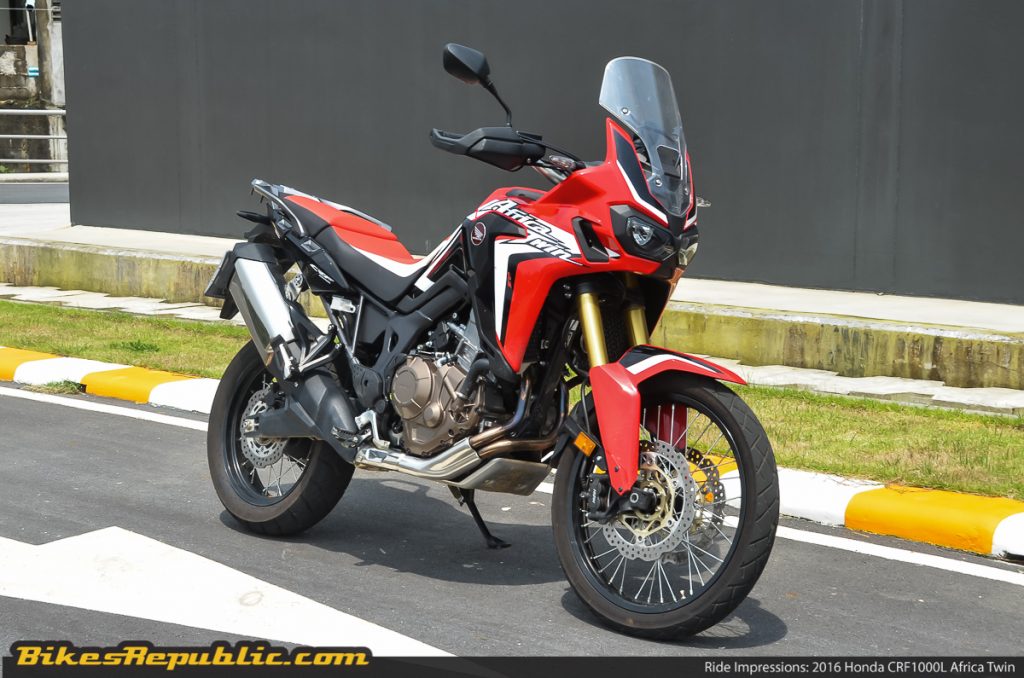 We decided to dissect its hype and find out what it really felt like. Though our time in its hot seat was fairly limited and with just on-road riding, it did give us a good and clear understanding of Honda's 'True Adventure' mojo perfectly.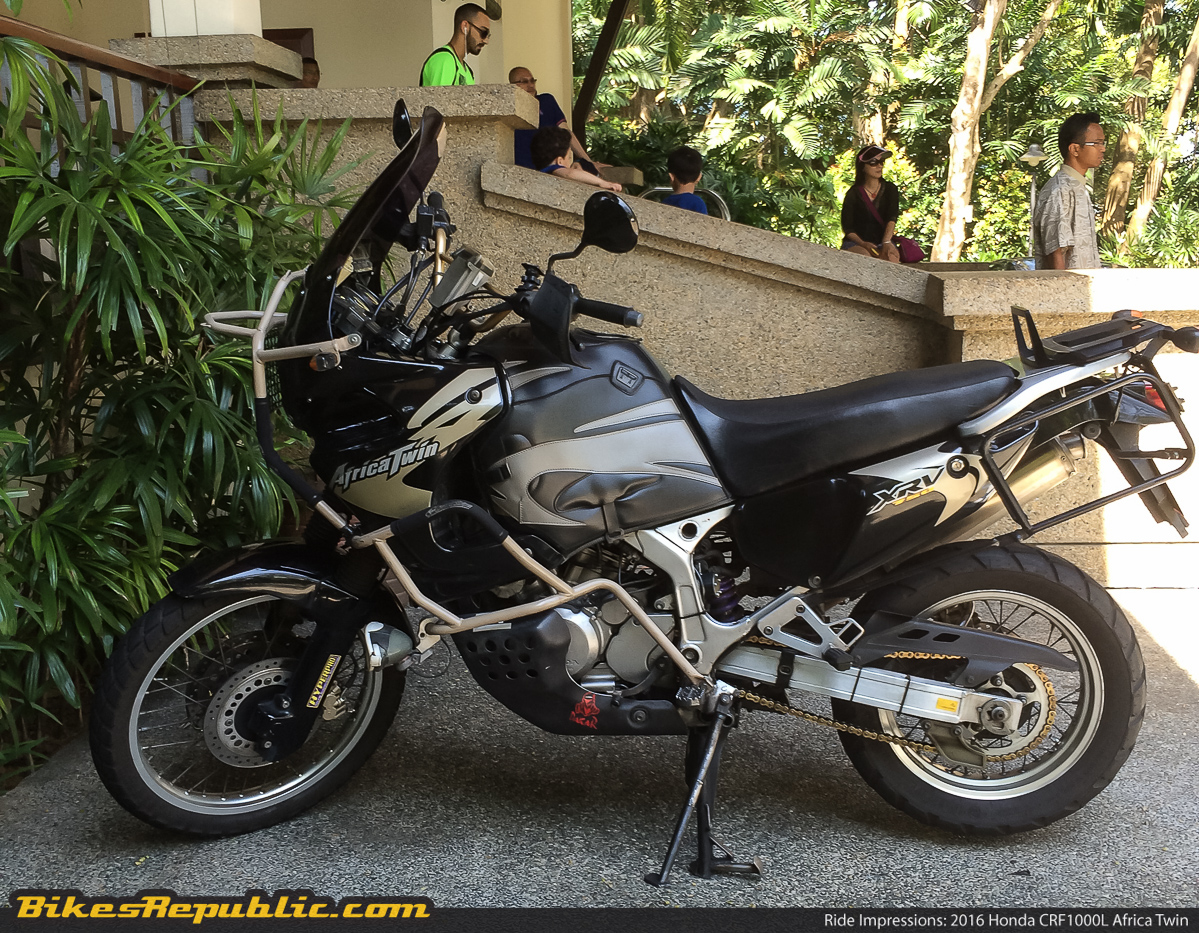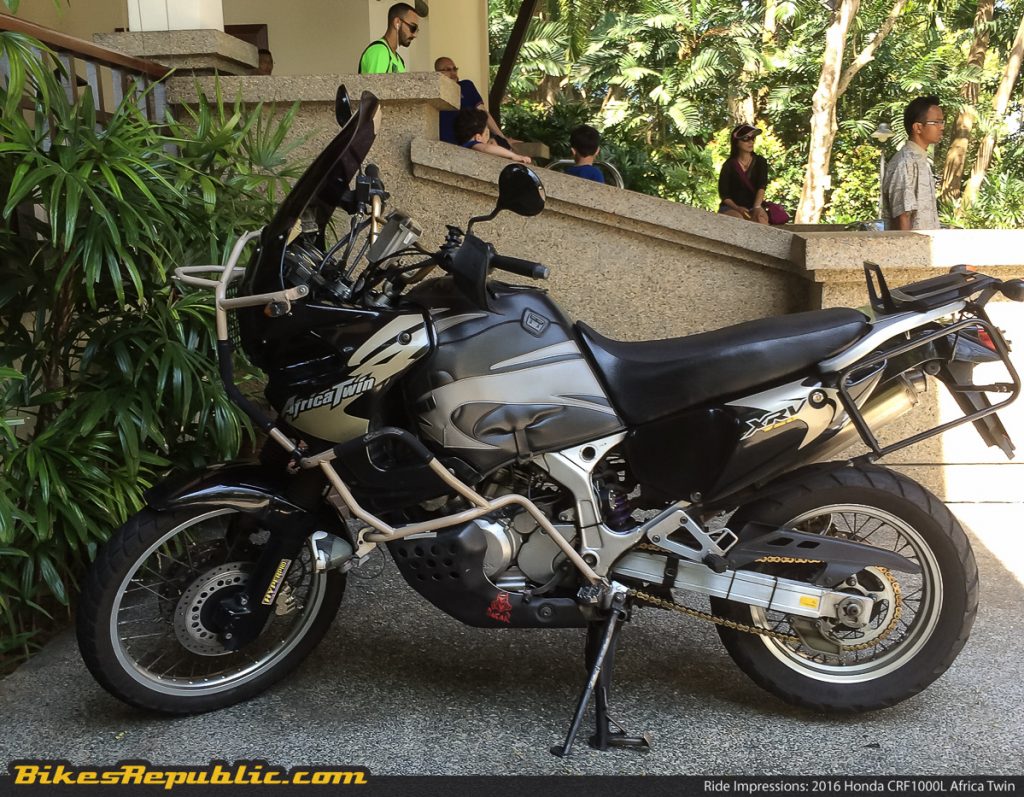 Before we digress further, here's a few things you ought to know. Firstly, Honda revived its legendary Africa Twin nameplate from the late 1980s and early 1990s where it was previously used to christen the XRV750 dual-sport model (pictured above).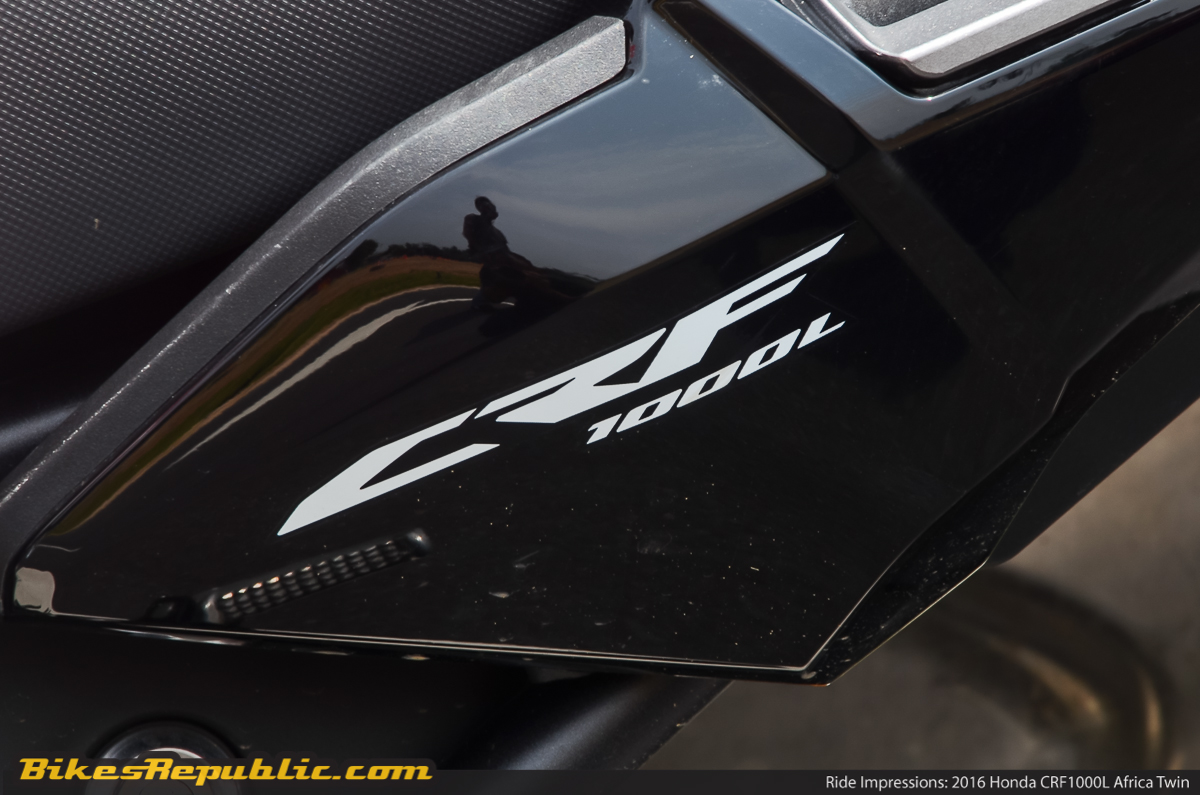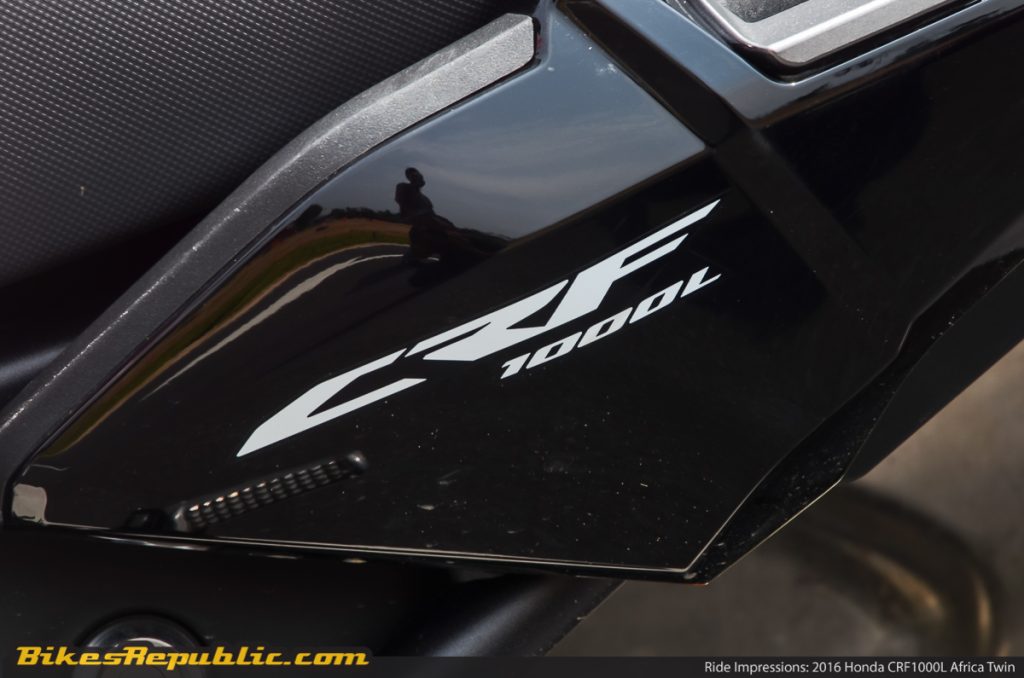 Its successor now carries a new CRF1000L model designation, and it essentially picks up where its predecessor left off. Besides the name change, the old XRV750's 742cc V-twin heart has been replaced with an all-new SOHC 998cc parallel-twin unit instead.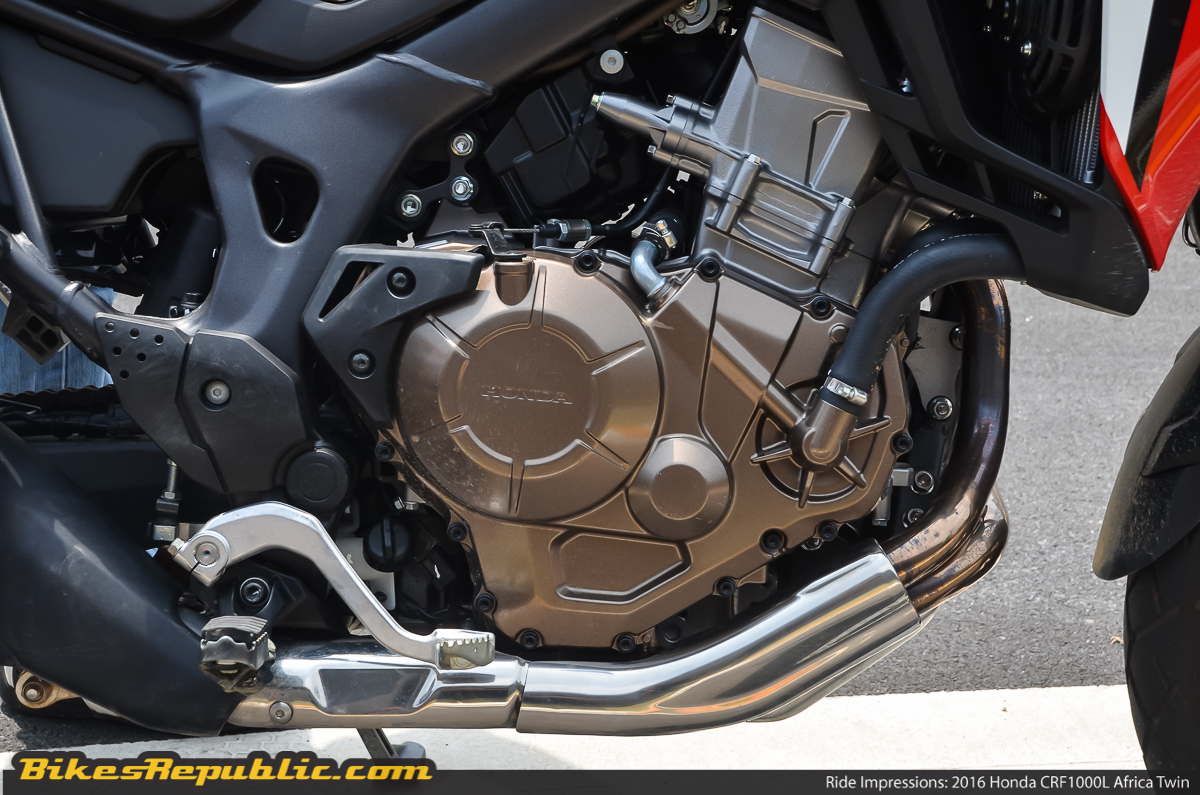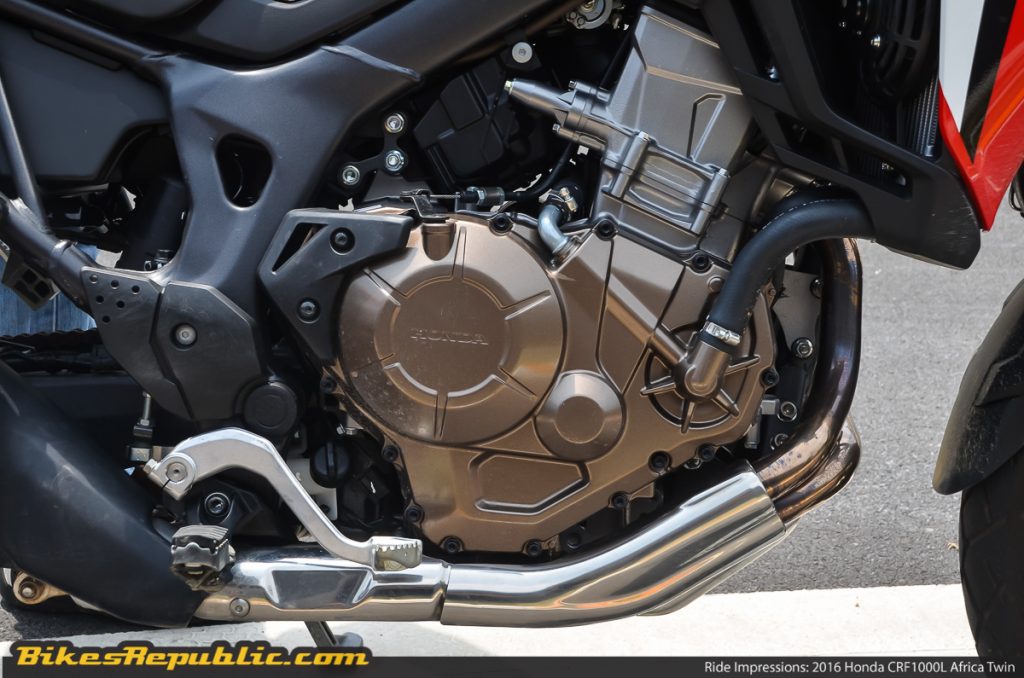 While it may sound like a downgrade, Honda had in fact built the mill with an ingenious 270-degree crankshaft configuration. The result is a lightweight parallel-twin mill that actually performs and delivers like a V-twin, offering 94hp @ 7,500rpm and peak torque of 98Nm @ 7,500rpm.
The powerplant brings the standard variant's claimed kerb weight of 232kg sans panniers up to speeds easily. Though the Honda DCT-equipped model was nowhere in sight, the regular six-speed manual system felt decent to say the least thanks to its light clutch lever and precise shift lever actions.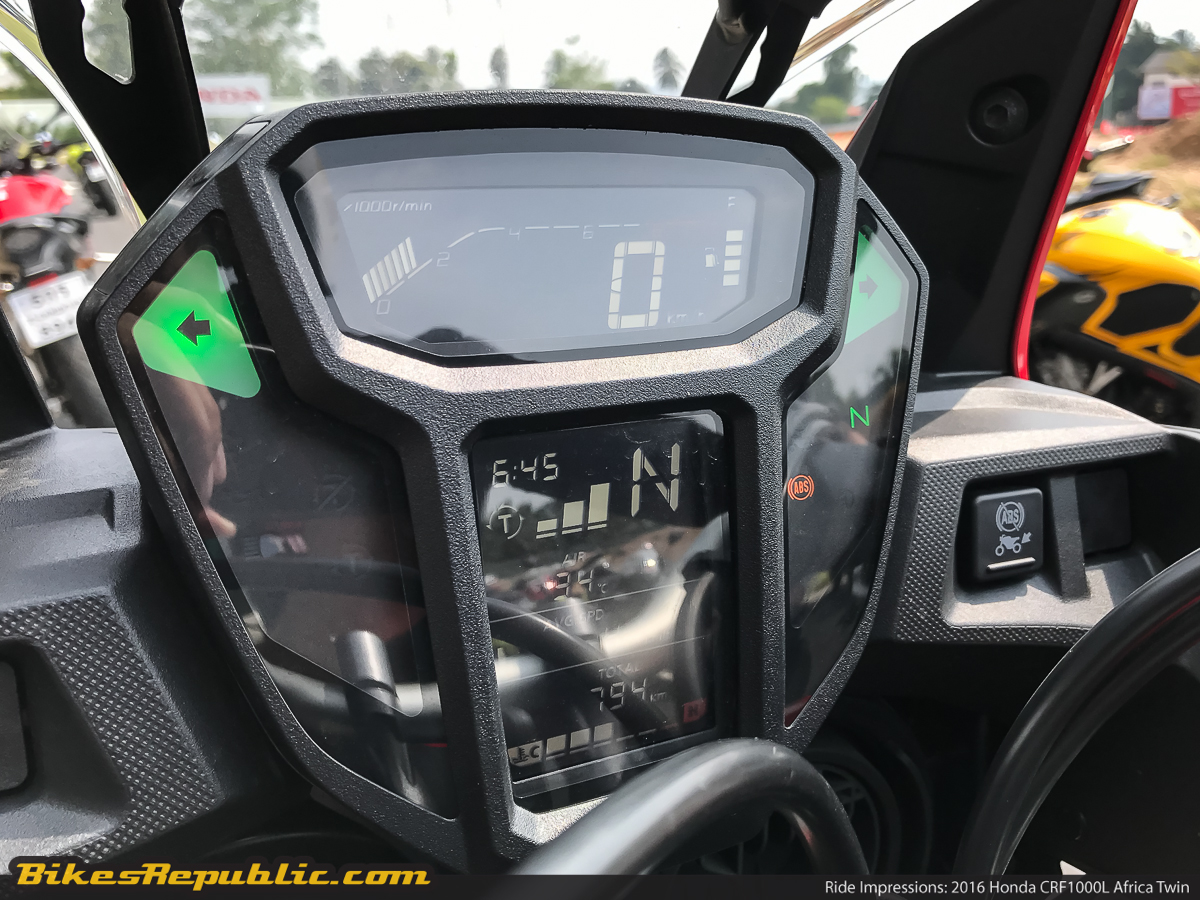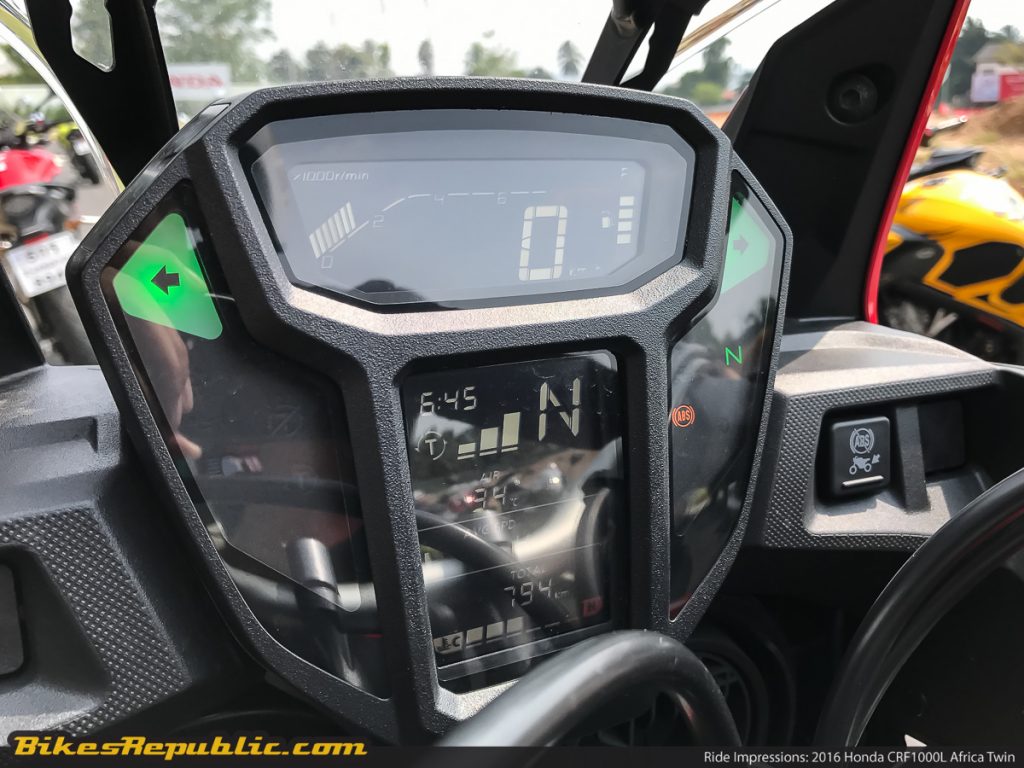 In the hot seat, the CRF1000L Africa Twin felt mighty impressive in terms of its ergonomics. All the buttons and controls were intuitively positioned whilst the monochrome black and white digital dash display is easy on the eyes and to grasp a glance.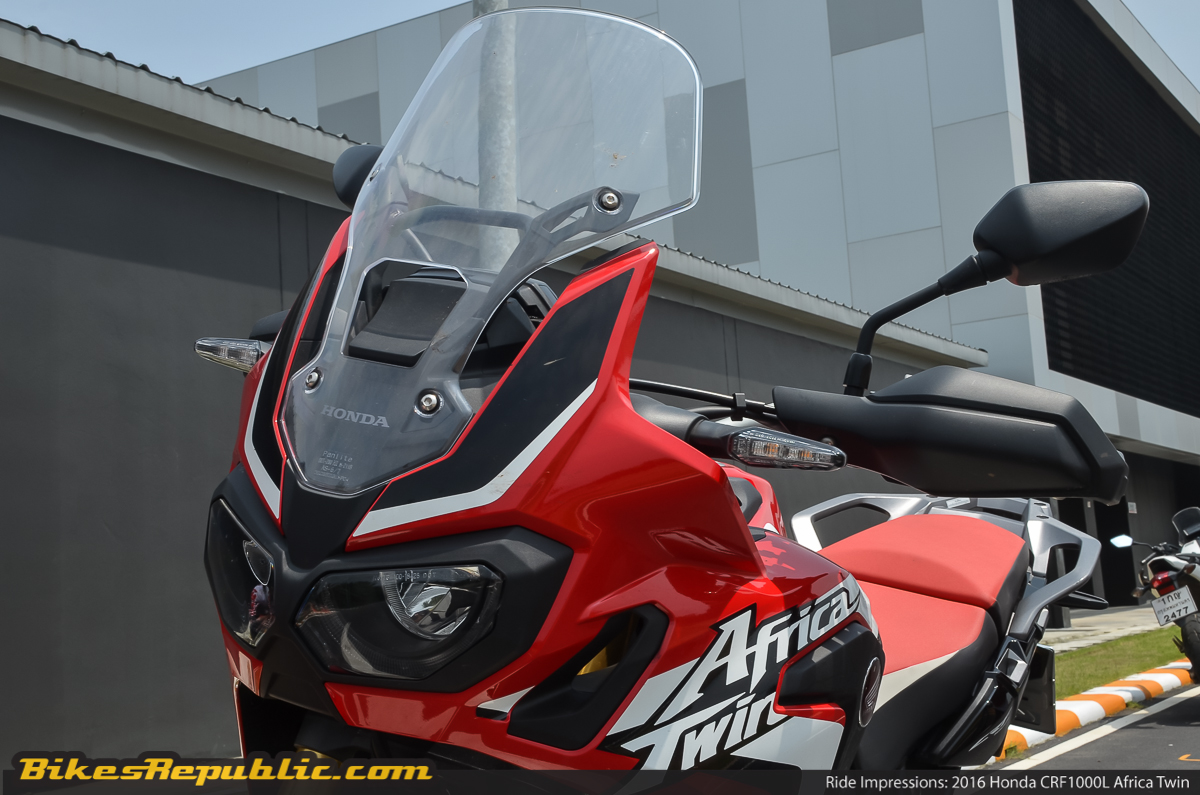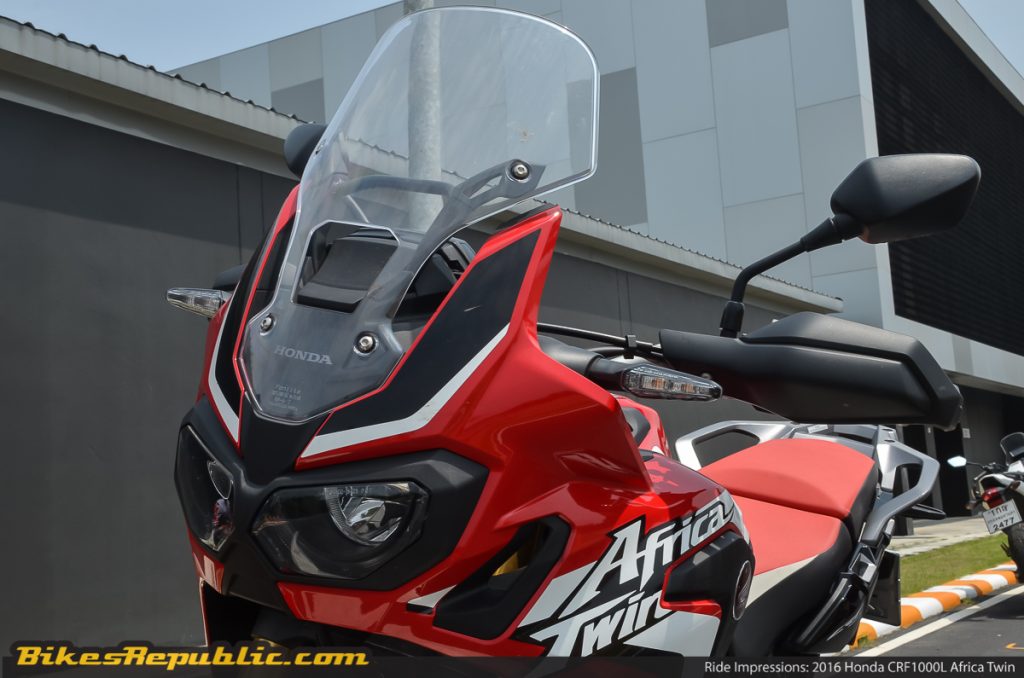 The seemingly narrow seat felt surprisingly plush and comfortable, and it comes finished in a matching and signature Honda tricolour Dakar Rally scheme as donned on the bike's fairings. More importantly, the standard-equipped windscreen offers adequate wind protection too.
Getting this off-road-ready dual-sport machine going was a surprisingly easy and straightforward affair. Perhaps shorter riders will find the standard 870mm seat height a tad bit daunting initially, but this isn't a deal-breaker.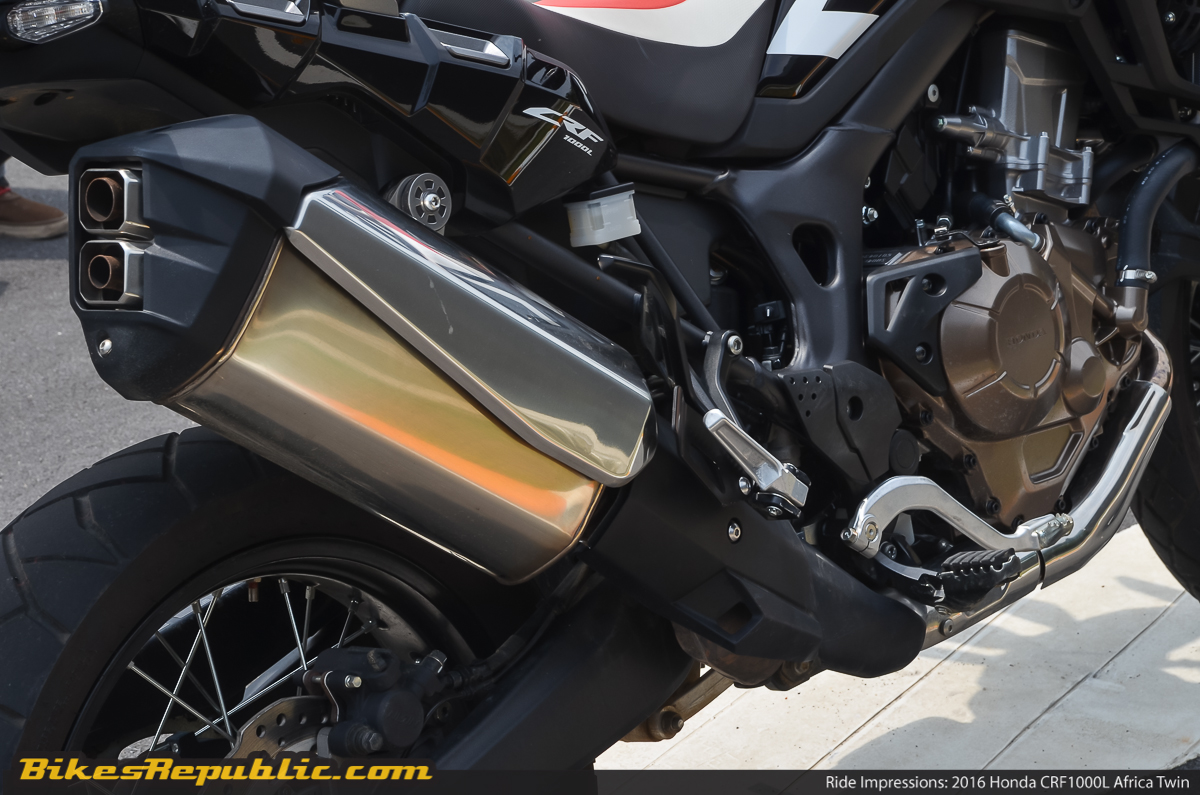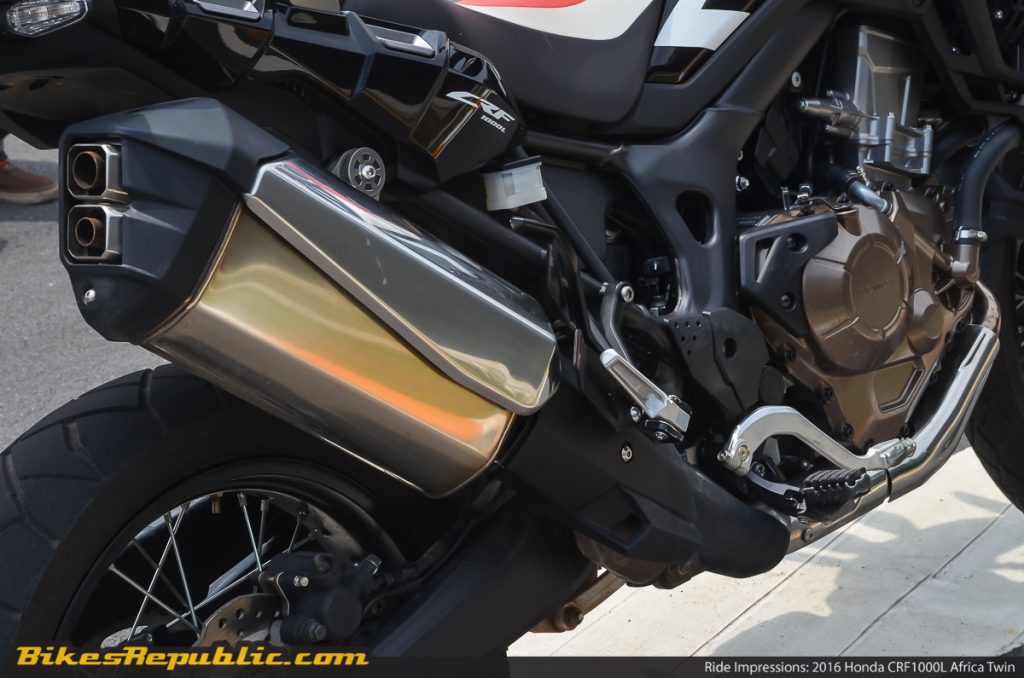 The delivery from powertrain encased within a steel double-cradle chassis frame felt very punchy yet composed, offering rich low-end torque. Coupled with the aforementioned lightweight figure and mastering the tight, low-speed bits of the Honda Safety Riding Park Phuket course with the Africa Twin didn't seem daunting.
Unlike most other rivalling flagship adventure dual-sport machines, Honda opted to fit the CRF1000L Africa Twin with a larger 21-inch front and 18-inch rear spoked wheels instead of the usual 19-inch front and 17-inch rear setup. This automatically gives the CRF1000L immediate advantages in off-road riding.
The only trade off here is the seemingly less precise handling on the pavement. But again, this isn't a huge deal-breaker as the Africa Twin really hides its weight very well – we dare say that this is a novice-friendly machine in fact.
What deserves merits here too are the suspension and brakes. Starting with the suzzies and things are pretty straightforward. No fancy semi-active electronic systems here, just a simple Showa 45mm inverted front fork and prolink rear shock setup that are both adjustable. The high-travel rates of over 220mm front and aft resulted in a plush on-road ride while the abundant 250mm ground clearance allows one to go off-road riding easily.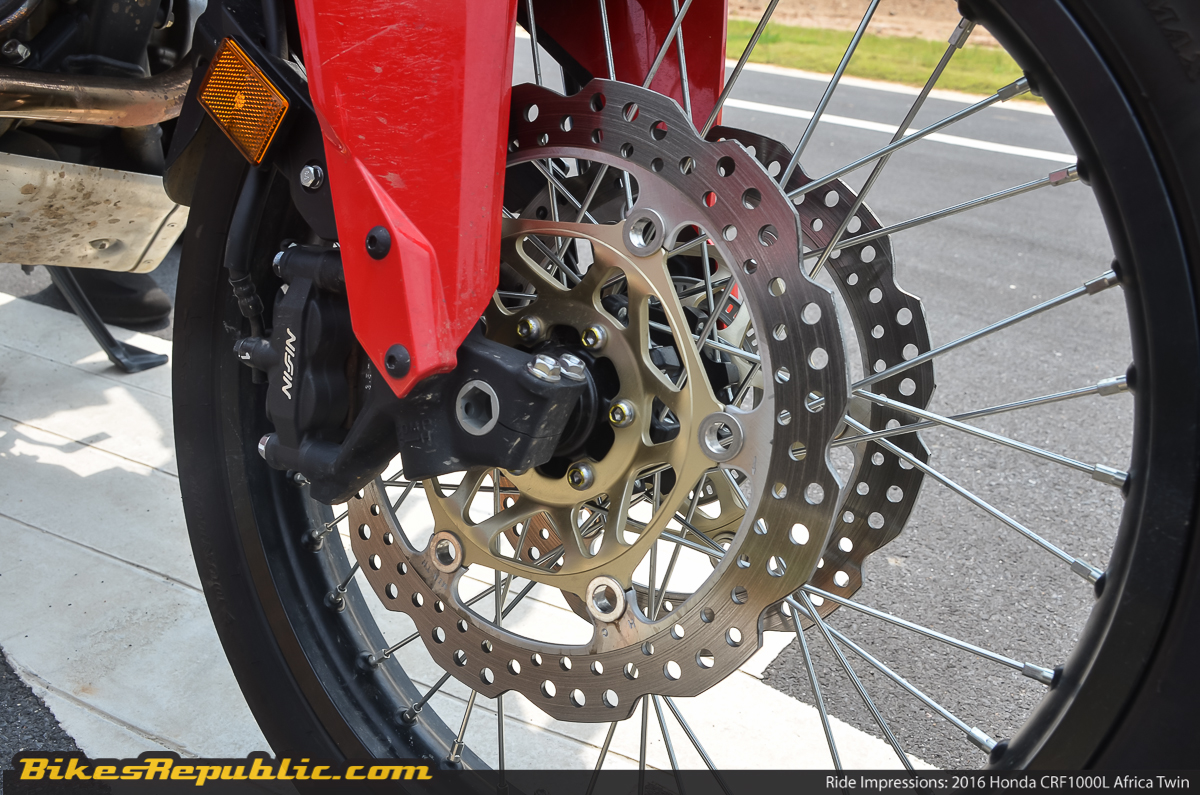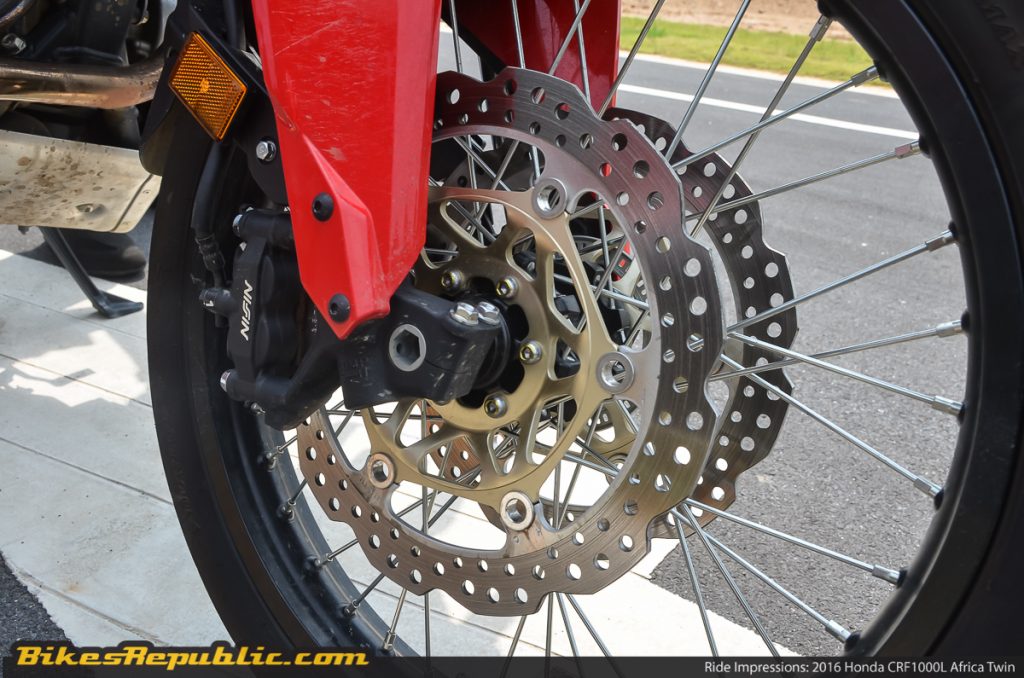 The anchors, on the other hand, felt just as good and precise. Primed up front are twin floating 310mm wavy discs grabbed by radially-mounted Nissin four-pot calipers while the rear gets a single 256mm and dual-piston caliper setup. ADV junkies will be glad to note that there's a switchable ABS suite that should make off-road riding a cinch.
Besides the aforementioned switchable ABS suite comes Honda's own version of a multi-mode traction control suite called the Honda Selectable Torque Control or HSTC for short.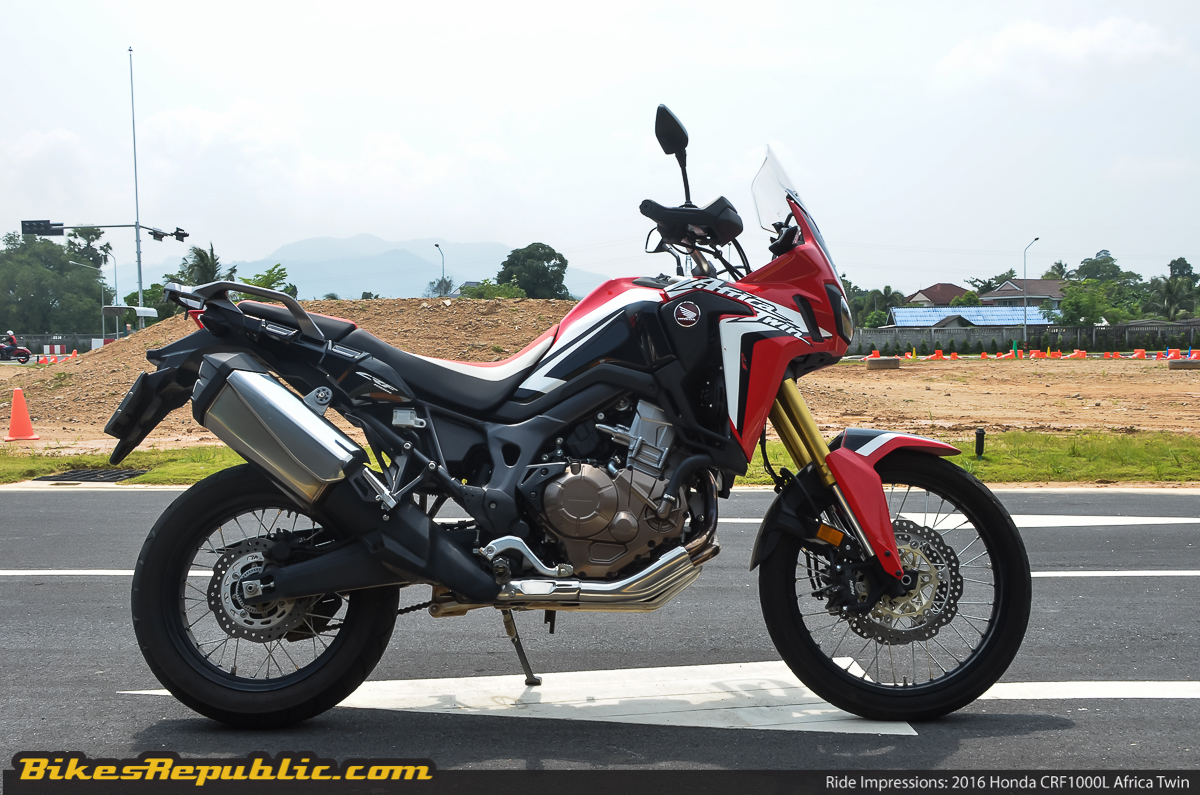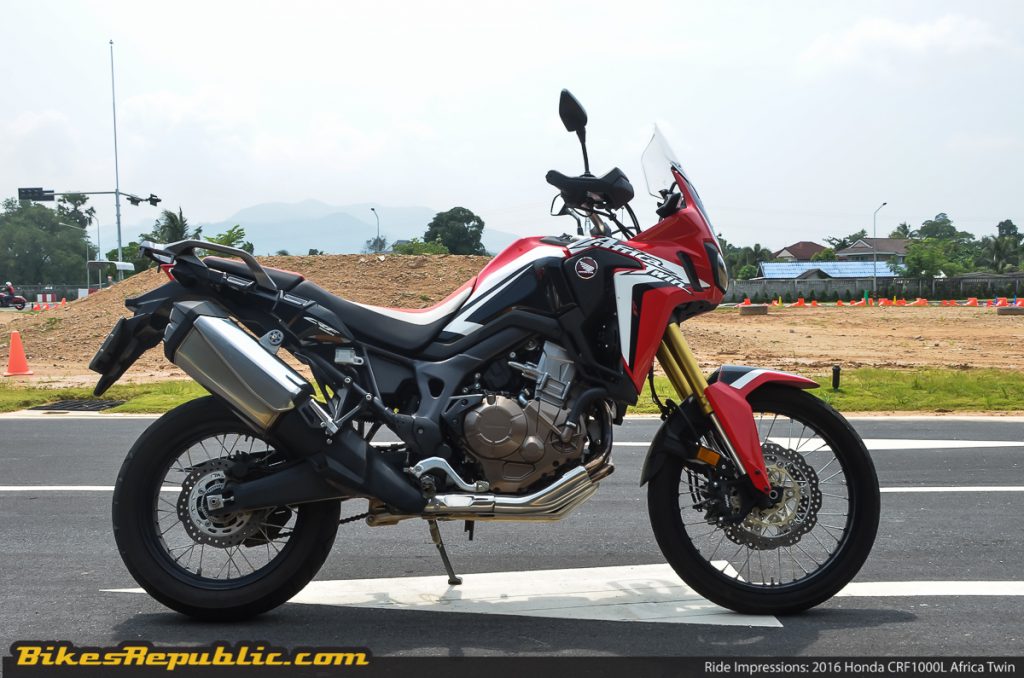 In rivalling flagship adventure machines primed with selectable riding modes, power outputs are typically dialled down to about 100hp in off-road mode. With the Africa Twin, the HSTC suite offers two modes – plus 'OFF' – where it reduces torque and wheelspin instead to maintain grip, regardless of terrain type.
Theoretically, this makes the Africa Twin a much easier bike to chuck about in the rough stuff – be it sand or mud. But we reckon said benefits are amplified further if one opts for the Honda DCT option.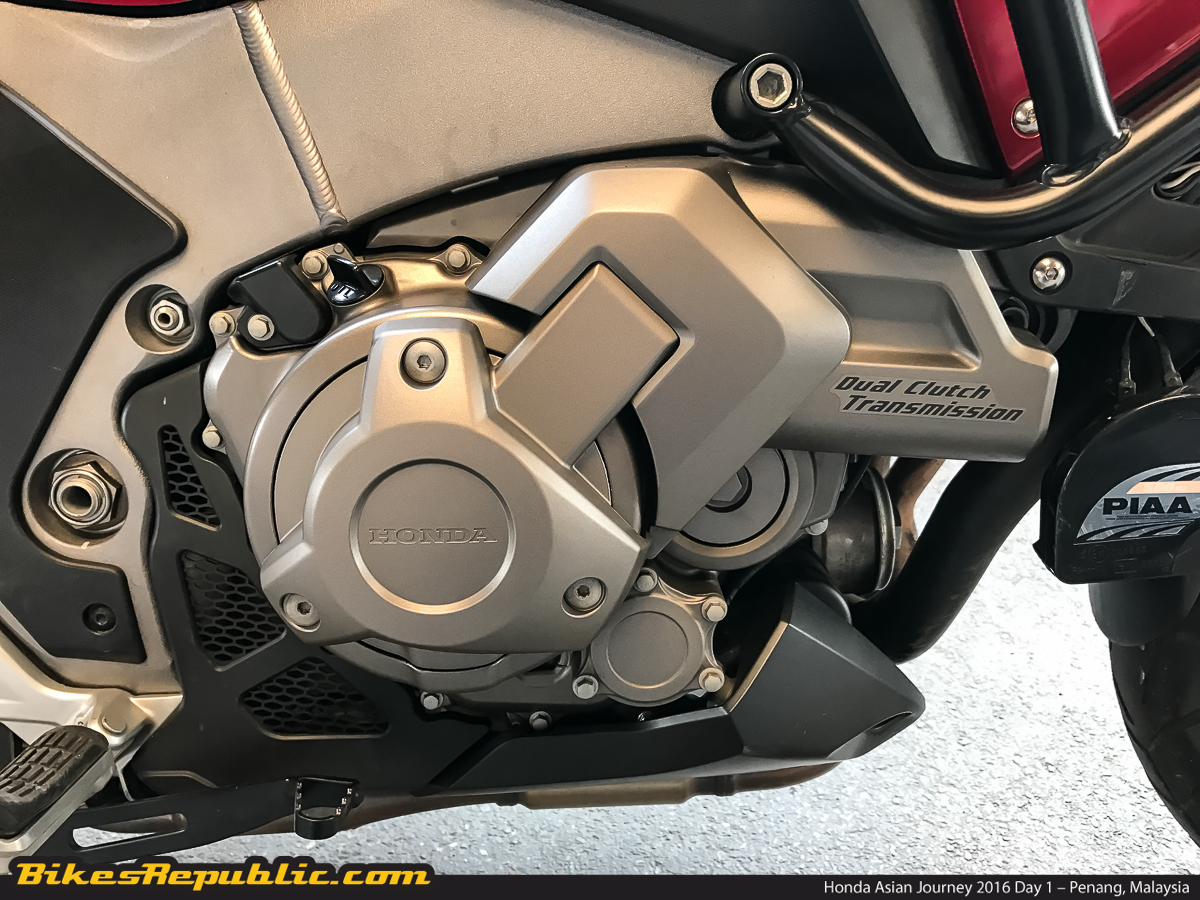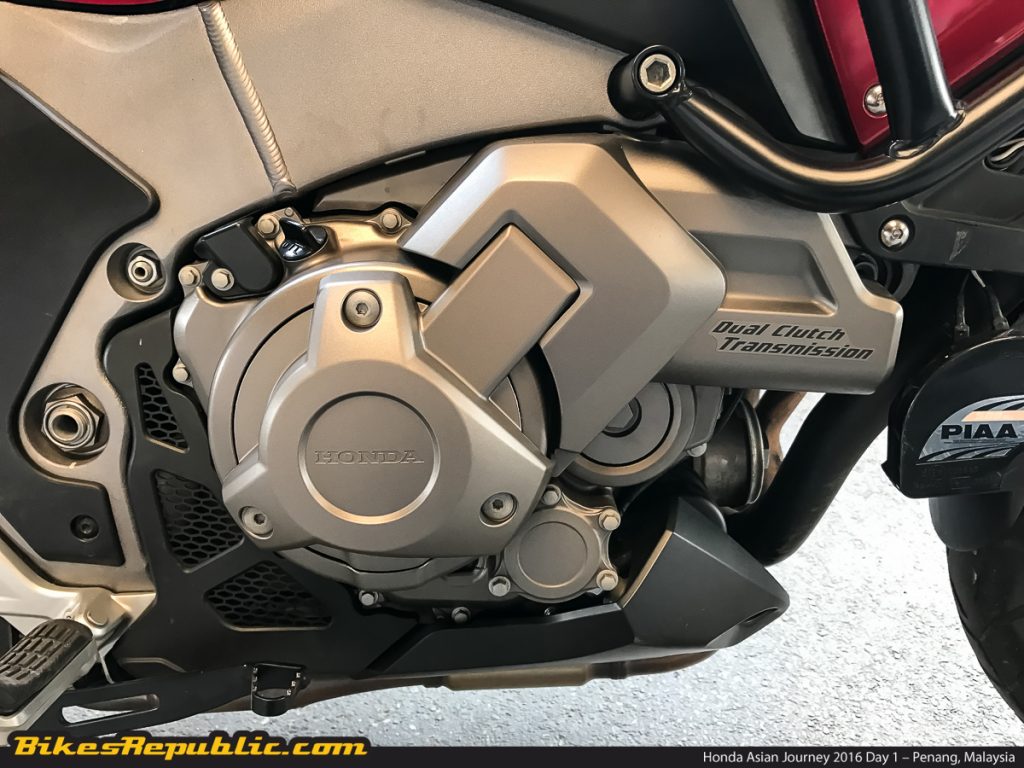 Having sampled the Honda DCT system in other models prior, it was easy to see how this precise and intelligent system would sweeten the Africa Twin's package as an off-roader further. Having no clutch to feather or a gear selector to mind will indeed make off-road riding a cinch.
After a good 30 minutes in the saddle, there's no hiding the fact that Honda has got its adventure mojo right with the CRF1000L Africa Twin. Its prowess doesn't lie in either power and size but in lightness and universal ease of mastery instead.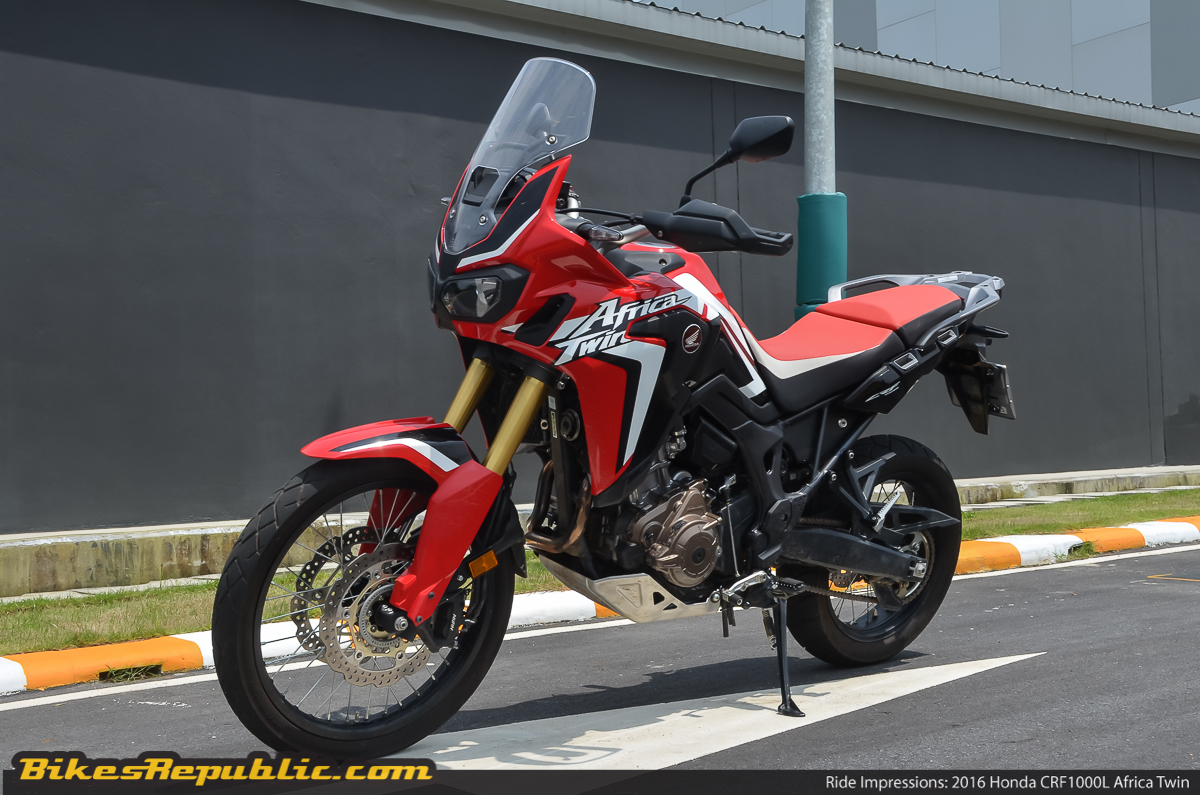 Truth be told, you could even consider the Africa Twin as more of a 'Hyper Dual-purpose' instead of a flagship adventure machine. And for that, we absolutely love Honda's idea of 'True Adventure' shown here in its Africa Twin.
Presently, Malaysian Honda bikes assembler and distributor Boon Siew Honda Sdn Bhd has no plans to officially import the CRF1000L Africa Twin into Malaysia yet. But having it displayed during MotoGP recently and the firm's participation in the Honda Asian Journey 2016 gives us a good glimmer of hope.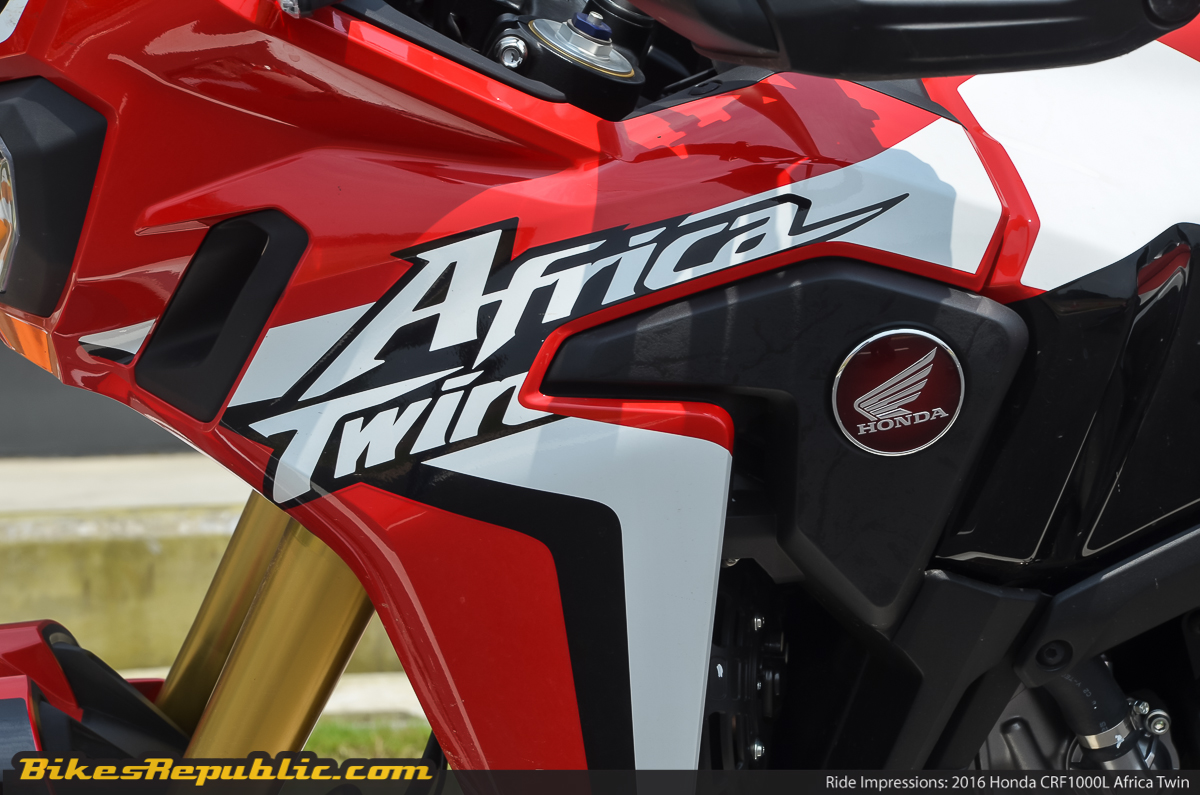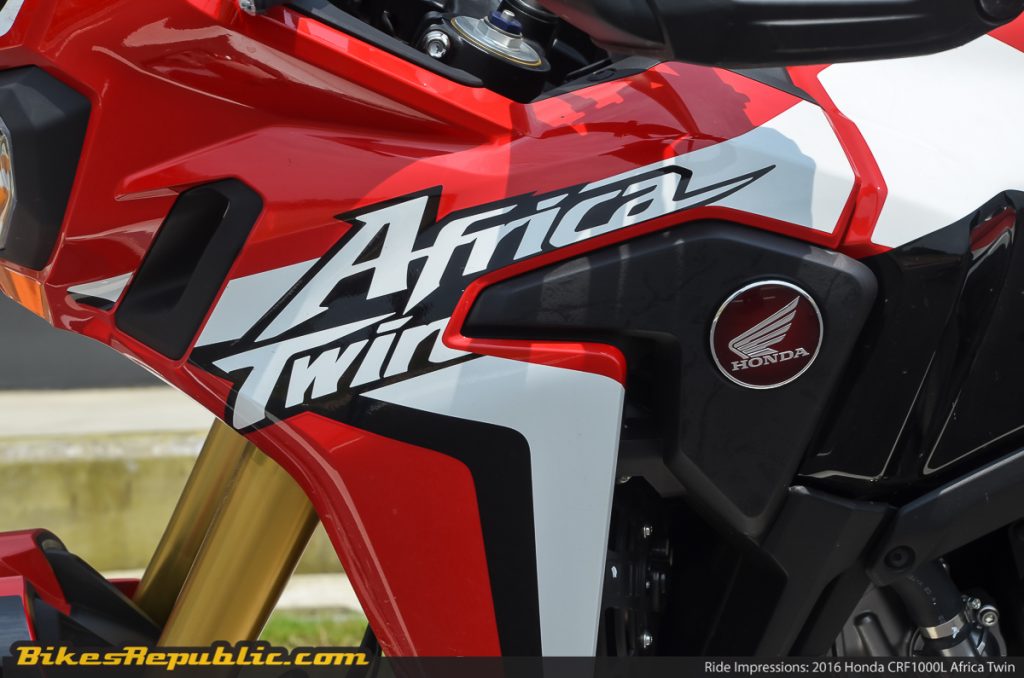 If it does arrive, you can bet that the Honda CRF1000L Africa Twin will win hearts and minds of local adventure bike enthusiasts swiftly as how it did with us. Check out more images of the 2016 Honda CRF1000L Africa Twin in the gallery below.
2016 Honda CRF1000L Africa Twin
ENGINE
998cc SOHC parallel-twin
with 270-degree crankshaft
TRANSMISSION
6-speed manual with chain-drive
(Honda DCT option available)
POWER
94hp @ 7,500rpm
TORQUE
98Nm @ 6,000rpm
CHASSIS
Steel semi-double cradle with
steel rear sub-frame
SUSPENSION
Front:
Showa 45mm inverted fork with
adjustable top mountsRear:
Prolink shock assembly with
pre-load adjustability
BRAKES
Front:
2x 310mm wavy hydraulic disc
with radial four-piston calipersRear:
1x 256mm wavy hydraulic disc
with dual-piston caliper

Switchable ABS

WHEELS + TYRES
Front:
90/90-R21 (tube type)Rear:
150/70-R18 (tube type)
FUEL TANK
18.8 litres
KERB WEIGHT
232kg (ABS) sans panniers
SEAT HEIGHT
870mm (standard)
Gallery: 2016 Honda CRF1000L Africa Twin