What does it take to scare someone who does not fear travelling at over 160km/h on two wheels with an engine placed underneath them and a tank of fuel right ahead of them? Nothing apparently. If someone is brave enough to be able to take that on with little in between them and certain death, then are they capable of fear at all?
And that is why bikers are a crazy bunch. They will undertake any ride at any time to anywhere on anything. And sometimes it is just as dangerous as it sounds.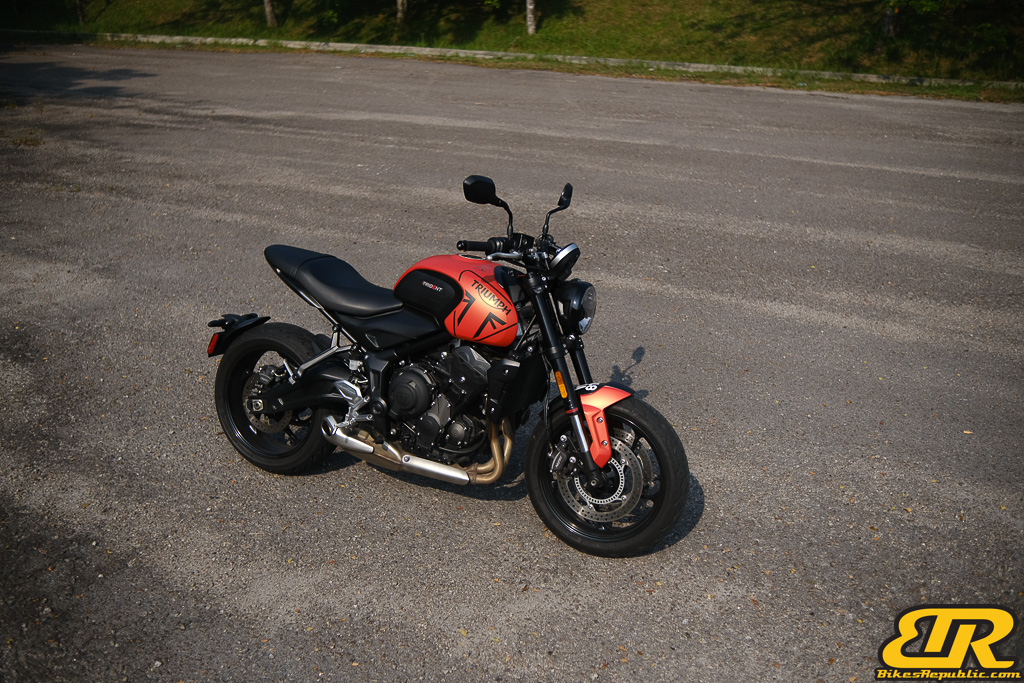 See, motorcycles are not like cars where anyone can get into a 1000 horsepower car and drive reasonably well. With bikes, you have to graduate from something small and manageable to something bigger, heavier and a lot more powerful. Put an amateur rider on a litre class superbike and there is a good chance things are not going to end well.
Manufacturers know this well and hence why offer different models that will keep them in the brand ecosystem. Brands like Triumph do this quite well and offer a bike for just about any type of riders save for the most novice. From 400cc all the way to 2,500cc, there is a Triumph for all.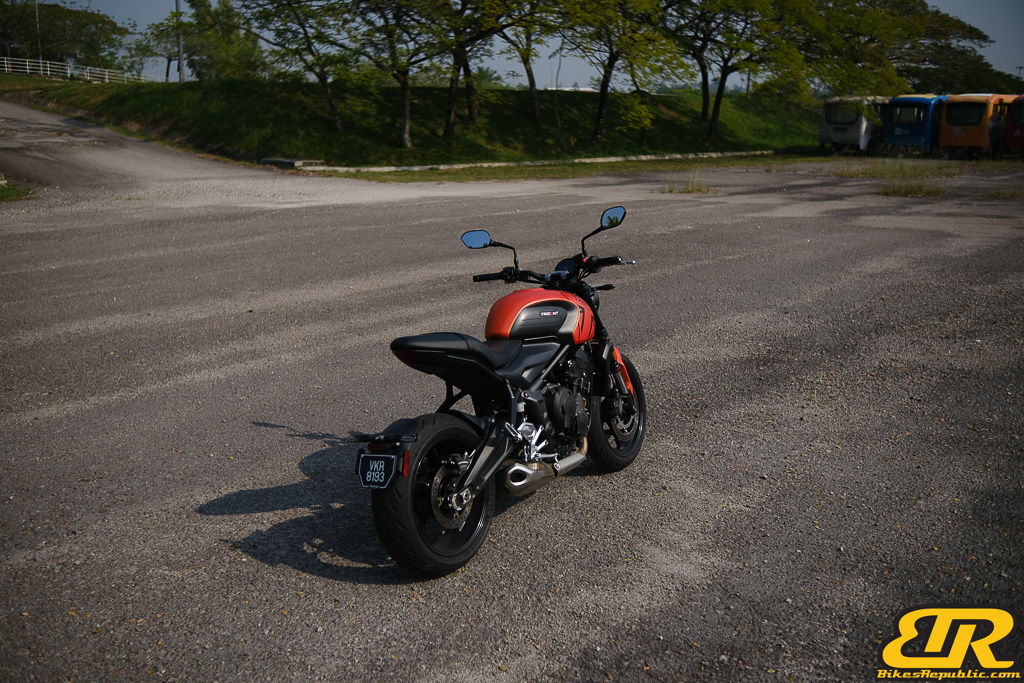 Of course, Triumph does not do mopeds. In fact, the smallest displacement Triumph you can buy today is a 400cc model called the Speed and Scrambler 400.
We have not ridden that so can't say much except for the fact that it is an entry-level Triumph. But until and unless that makes it to Malaysia, the entry level Triumph remains the bike seen here – the Triumph Trident 660.
Revealed in 2020 to much drama and fanfare, the Trident quickly won the hearts of many with its friendly character yet razor sharp focus as a proper sports bike.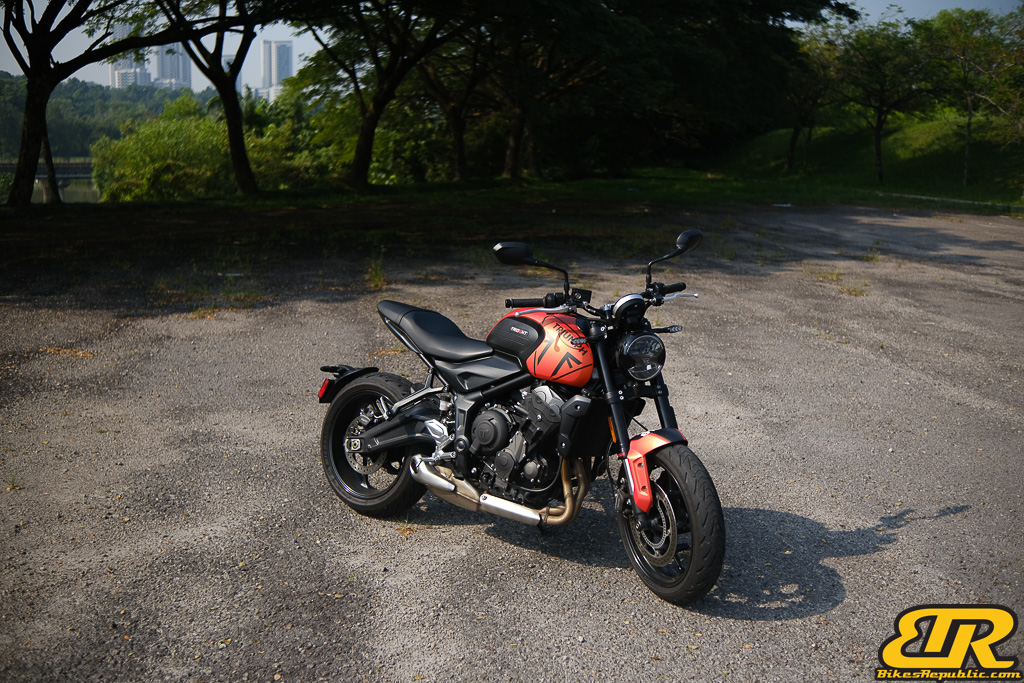 When you first set eyes on it, it comes across as unassuming and docile. But don't let its size and design fool you, it's still a capable sports bike that will reward the brave with its blistering speed and hours of fun.
Upon closer inspection you will notice that the switches look and feel high quality. The thing about continental bikes in Malaysian climate is that coloured buttons tend to fade together with the conmand text (such as on the Start button and light switch) there is on the switch as well.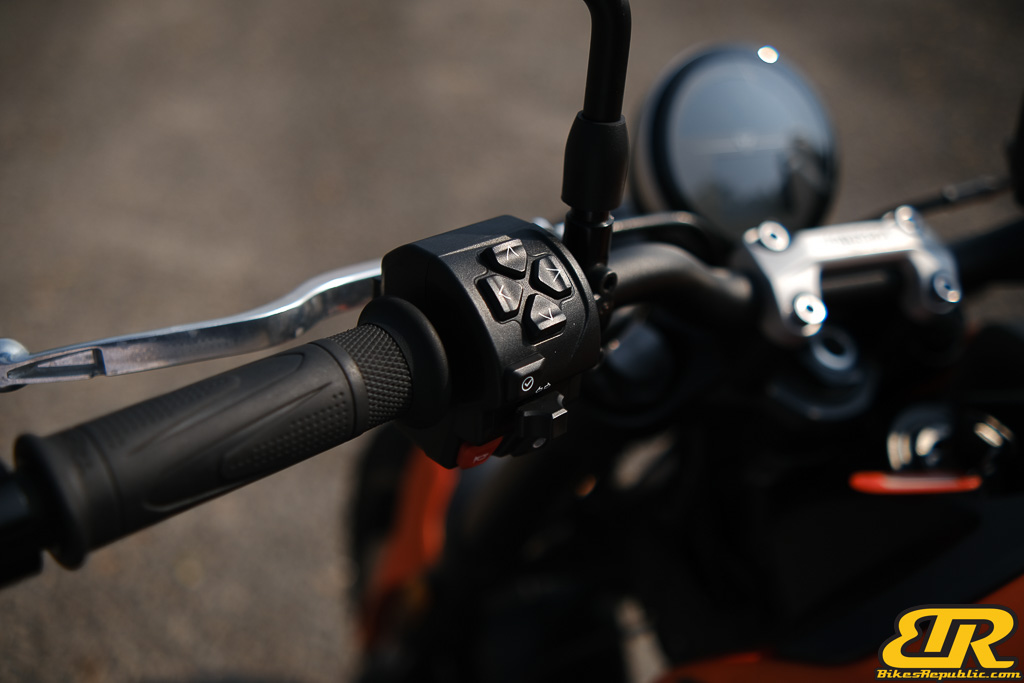 The Trident that we were handed wasn't exactly new and it did look like it had been passed along like the village bicycle. But there were no signs of fade, nothing that was loose or felt out of the ordinary. The thing about test bikes is that they naturally tend to be abused. The fact that this bike still felt relatively new is testament to Triumph's build quality.
The circular colourised TFT screen is the next thing that will catch your eye. Triumph has been incorporating some industry leading screens for all of its bikes since the early 2010s, and Triumph delivers again with the Trident's screen. The thing we like about it the most is that despite its reflective casing, it is still clearly visible when the sun is at full blaze and it does not glare at night. It is also easy to read at all speeds without you having to squint your eyes; something that older riders will definitely appreciate.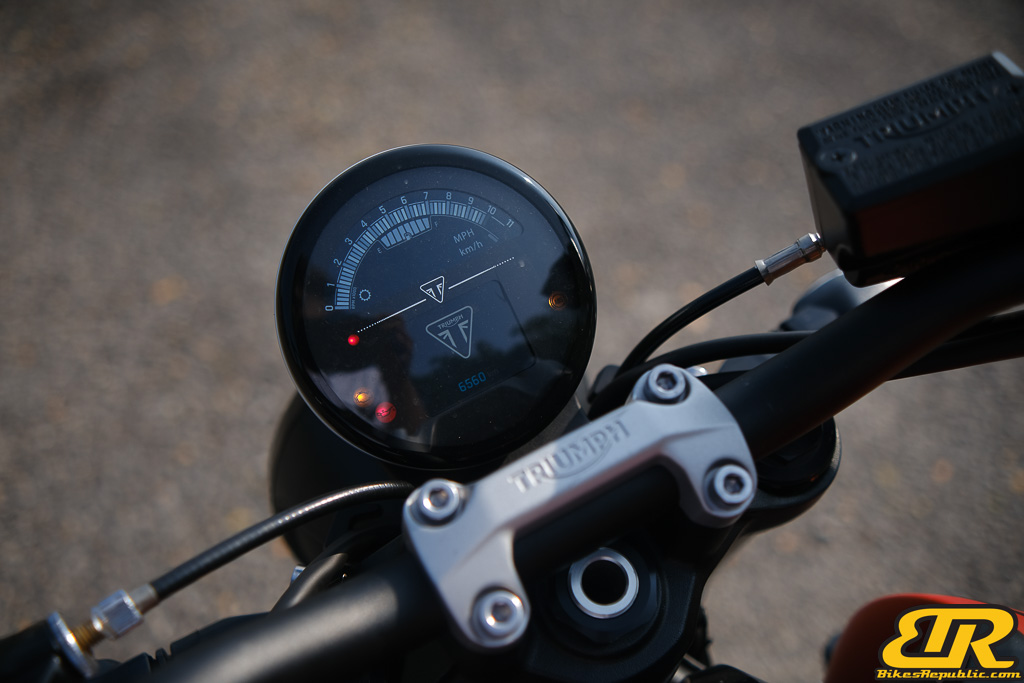 Sit on the Trident and its size becomes immediately apparent. But before we get to that, the seat is brilliantly comfortable, and the tank, despite having a 14-litre capacity, feels muscular with grooves for your thighs to squeeze into under heavy braking. It feels well thought out.
One of the most peculiar things about the Trident is its relatively small size. Taller riders may find this uncomfortable but most Asians are of smaller build, perhaps that is why the Trident has been so popular in Asia.
Shorter riders will appreciate how easy it is to have their feet flat on the ground thanks to its seat height of just 805mm but tallers riders may not appreciate the knee-in-chest riding position.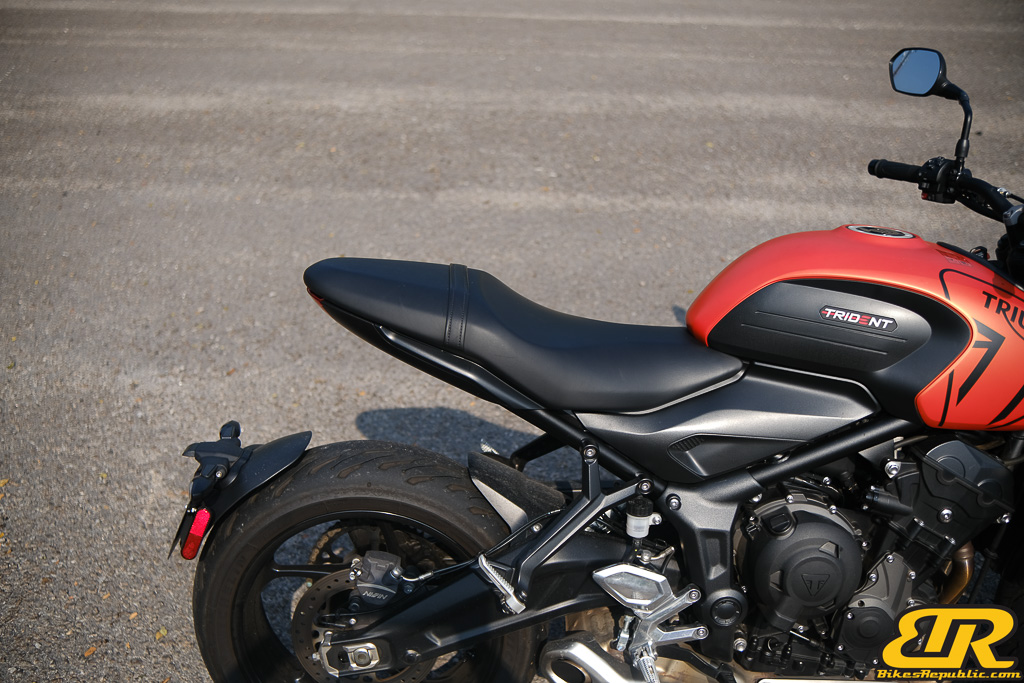 But despite it being a little small, it is full of character. And that is most apparent when you first start up the triple-cylinder engine. Triumph has perfected the art of triple-cylinder engines, arguably more so than Yamaha. The British company builds the largest production motorcycle engine in the world, a gargantuan 2,500cc which is also a triple-cylinder engine that is used to power the Triumph Rocket 3.
The Trident is powered by a much smaller 660cc, triple-cylinder that produces 81hp at a screaming 10,250rpm. That is the beauty of triple-cylinder engines, they love to rev to the stratosphere and produce most of their power on the fun side of the rev band. Even its 64Nm of torque is produced from 6,250rpm, which simply means you have to wring the engine and keep it in the right gear to have instant access to power. If you are ever caught in a position where you need immediate power but are in a high gear, the Trident tends to be confused, feels lethargic even until it reaches the 6000rpm mark where it instantly comes alive and gives you that burst of power you wanted. The way around this is to always have it in lower gears, except when cruising at a constant speed of course.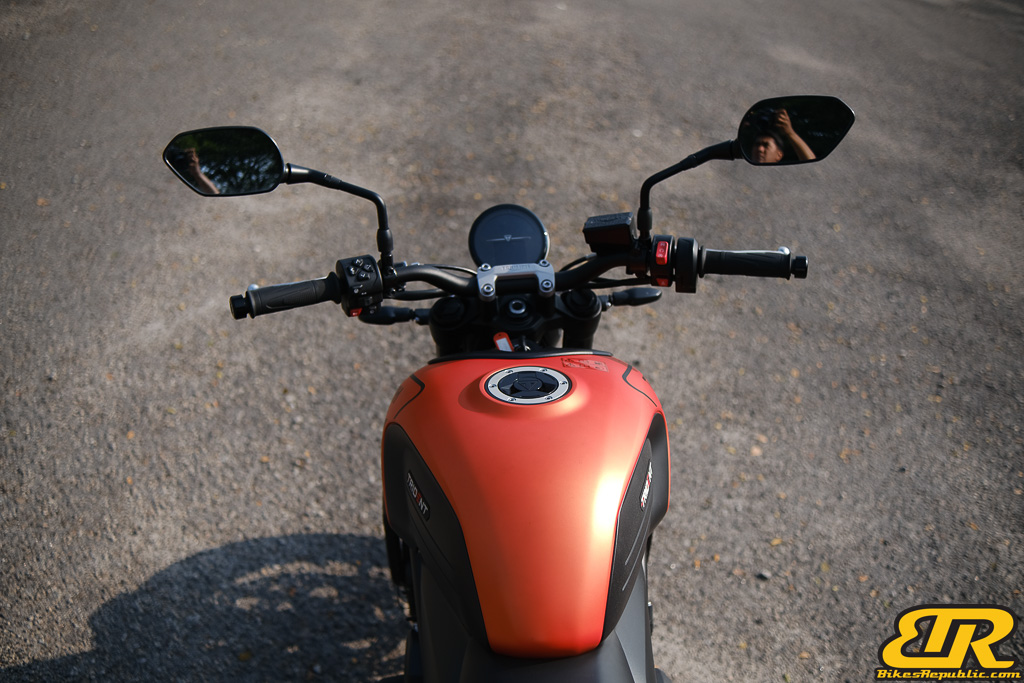 Speaking of cruising, you can do that with the Trident as well. Triumph has dozens of accessories for the Trident which include some wind deflectors as well, but if Triumph does not have one that suits your requirements then there are plenty of aftermarket ones. The Trident is hugely popular in all parts of the world so there are a lot of customisation options for the adventurous. The wind deflector is necessary for highway cruising as the Trident, being a naked bike, is completely devoid of anything that will keep the wind and the insects away from you.
But cruising on the Trident wont be easy. Though it is andbwill be an absolute cracker in the corners thanks to its short wheelbase and steep rake angle, the handlebars vibrate significantly and this is transferred back to your palms. This is especially noticeable at higher speeds which means that your hands will be buzzing for hours after a long ride.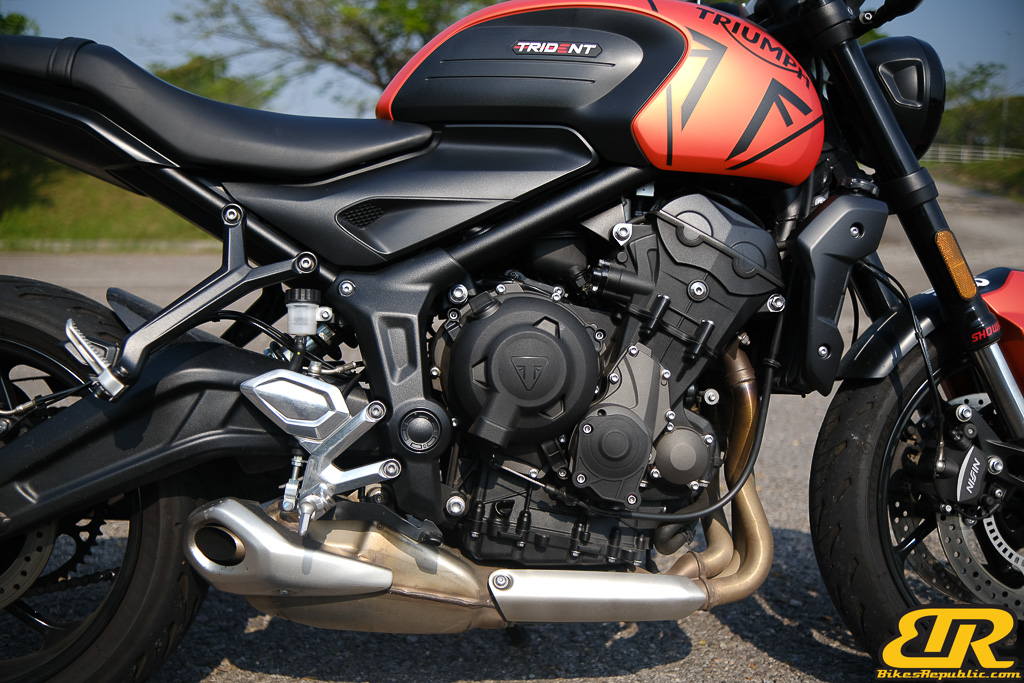 However, it is a lot of fun in corners and does a brilliant job at city riding. Its size makes it easy to park and to cut through heavy traffic, at 189kg (fully fuelled and lubricated) it is also surprisingly light, which makes it easily manageable for just any rider – novice or advanced.
But what makes it a great entry level sports bike though is that it is packed with features that make it safe and easy to ride. You get traction control that keeps you safe when the road is wet. You also get two riding modes (Road and Rain) that either cut power and throttle sensitivity or give you the full package when the road allows.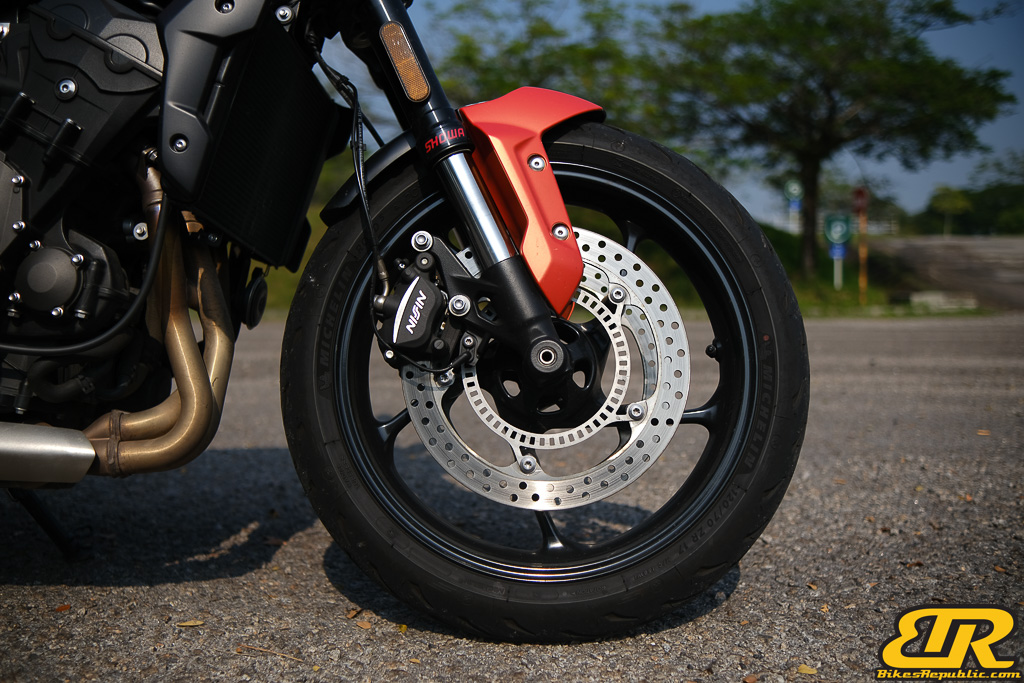 The suspension by Showa is non-adjustable. The 41mm upside down forks are not adjustable which means that new riders don't have to worry about setting it up. It has a firm feel which borders on sporty that does well and soaking up the roads yet negates diving under heavy braking. The rear monoshock is only adjustable for pre-load so there is nothing to worry about there either. This means the Trident is ride ready right out of the box.
We do think that the Trident could do with a quickshifter though, but Triumph offers that as an option. And the entire package will be perfected with a louder, meaner exhaust kit, but even that is available as an accessory. So there really is no complaining about the Trident except for its small size.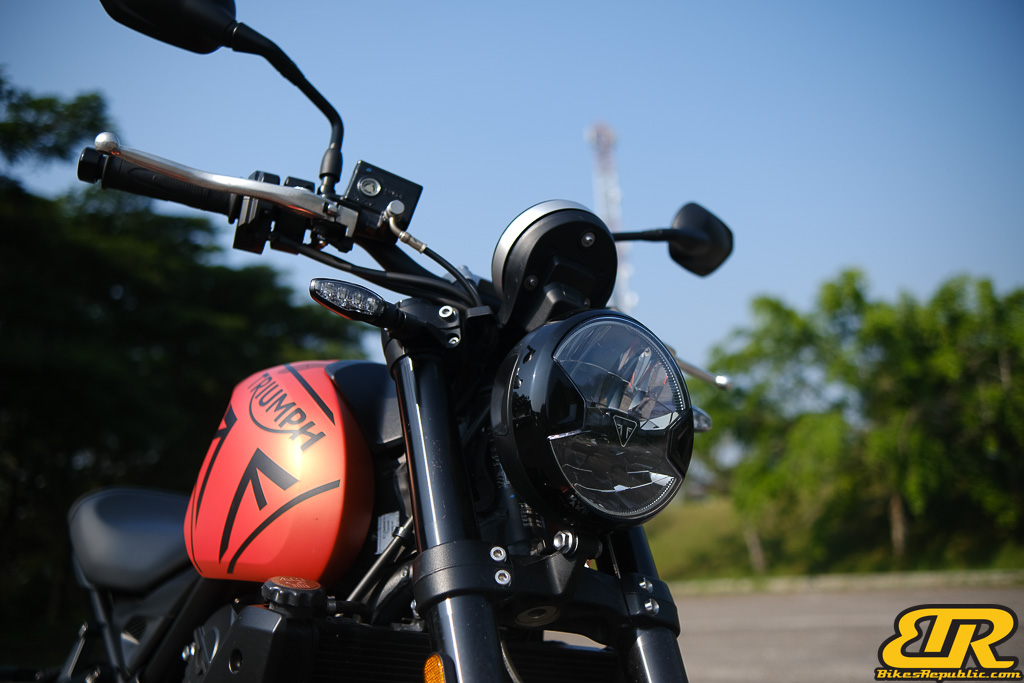 But with a price that starts from just RM45,900 it is difficult to fault the Trident. Some may argue that Japanese bikes are cheaper, but none have the quality of the Triumph (which the company has made quite a reputation on) and there is no arguing against the sonorous triple-cylinder engine. So if you are looking for a bike to start off your motorcycling chapter, the Trident 660 will do it for you with style and power.
Specifications:
Engine: 660cc, 3-cylinder, liquid-cooled
Power: 81hp @ 10,250rpm
Torque: 64Nm @ 6,250rpm
Transmission: 6-speed (Optional quickshifter)
Suspension: Showa 41mm front fork / Showa Monoshock pre-load adjustable
Brakes: Nissin two-piston calipers with twin 310mm discs and ABS (front) / Nissin single-piston calipers with single 255mm disc with ABS (Rear)
We like: Engine character, frienly demeanour
We don't like: Small size