Rider Fazli clinches record third win in challenging Batu Kawan street circuit during Round 2 of the Petronas AAM Malaysian Cub Prix 2016.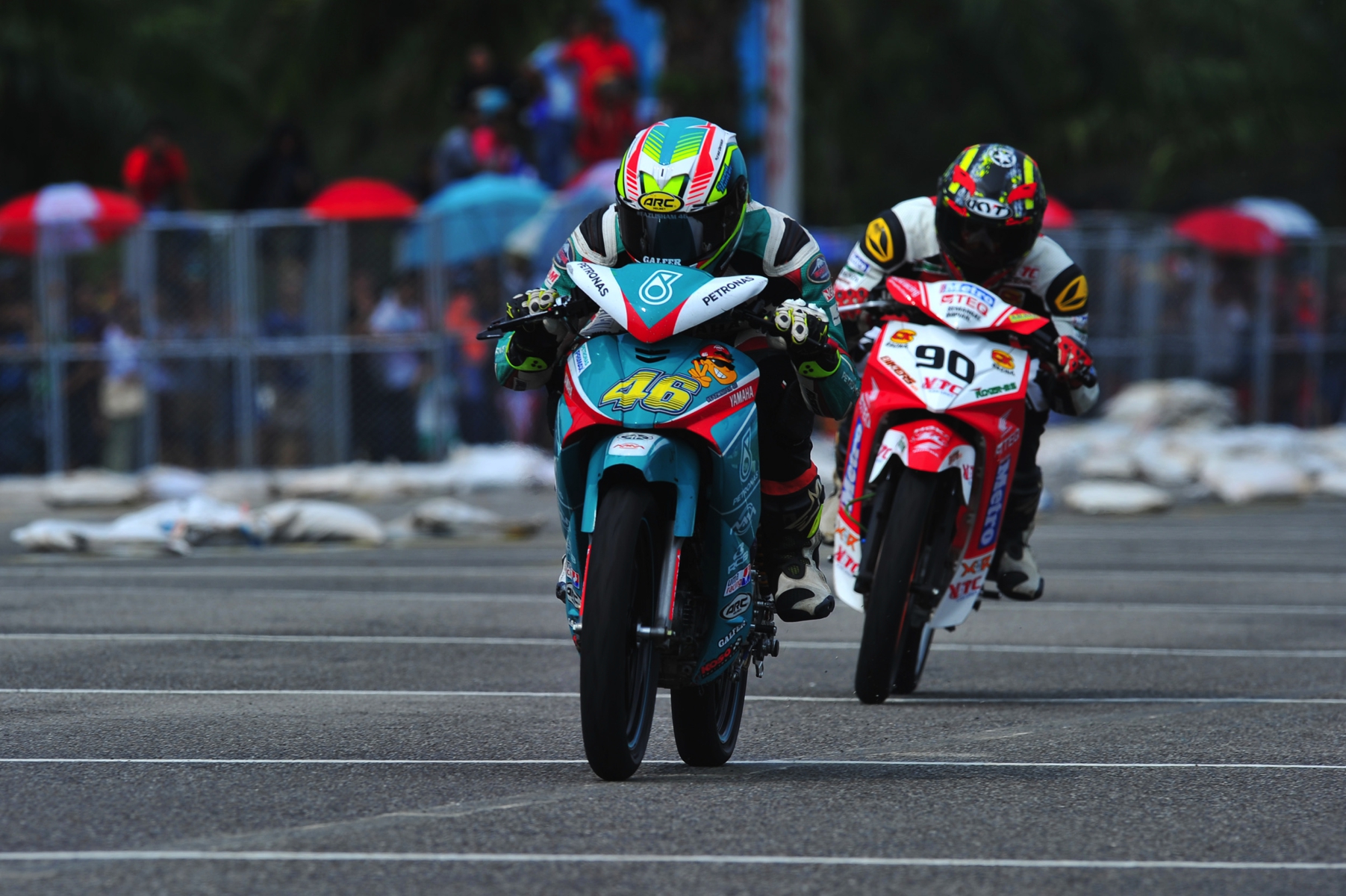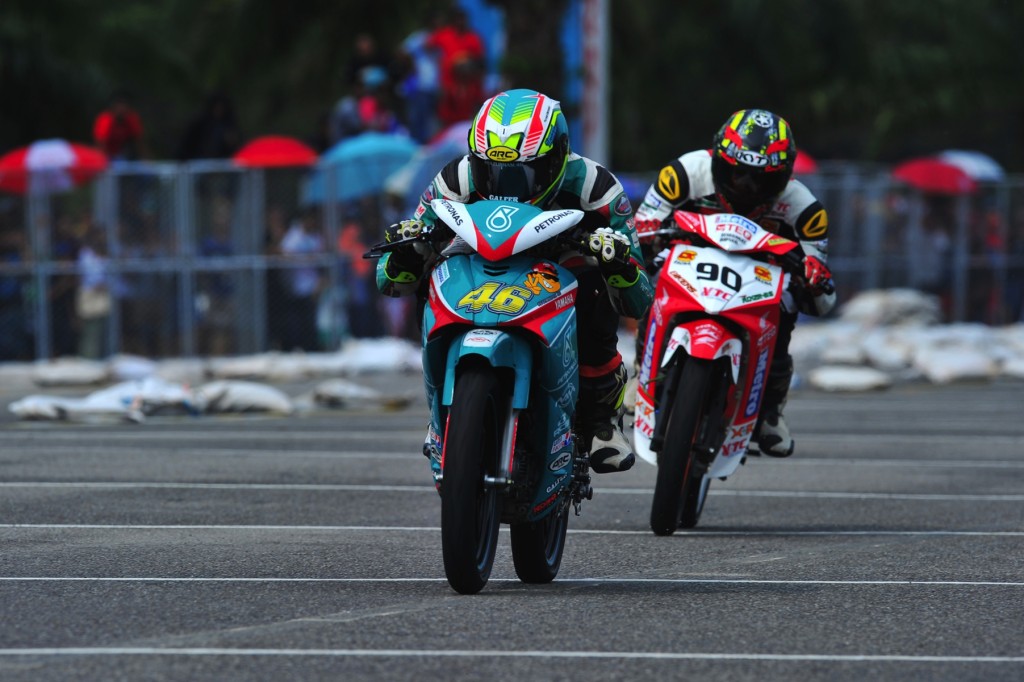 Round 2 of the Petronas AAM Malaysian Cub Prix 2016 national underbone racing series got underway last weekend in Batu Kawan, Penang. The challenging 1.265km-long street course hasn't seen many repeat winners in its history, but this did little at impeding rider Ahmad Fazli Sham from clinching his record third win at the course last weekend in the premier CP130 class.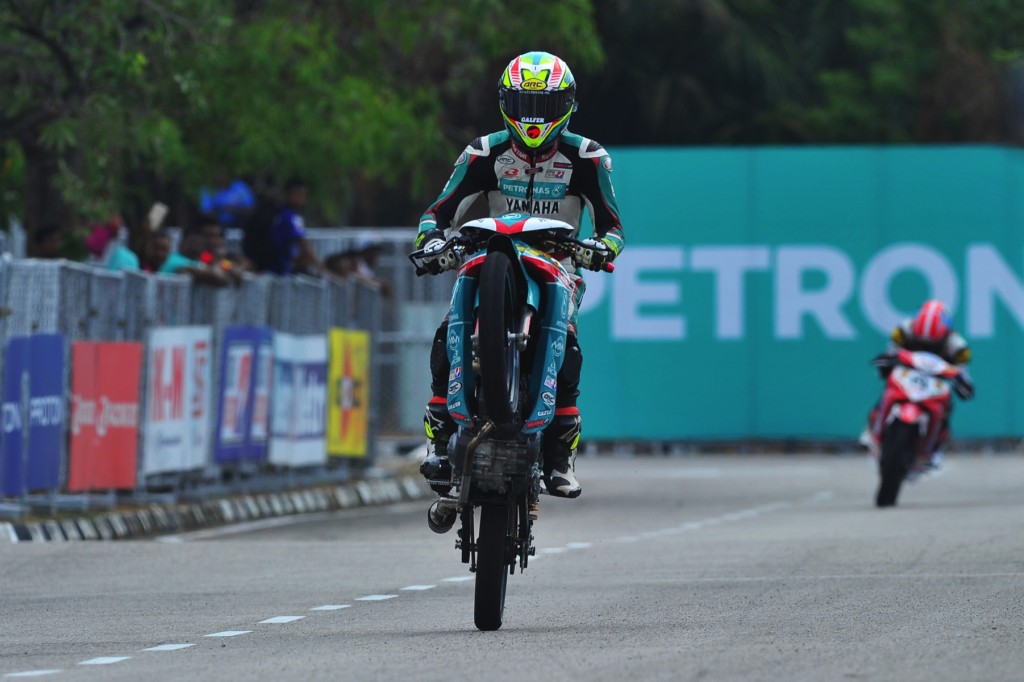 Sunday's race unfolded with favourites Hafiz Nor Azman and Kasma Daniel Kasmayuddin fighting for the lead in the first three laps of the premier CP130 class race. However, mechanical troubles led to Kasma's early retirement on Lap 4 and granted Hafiz with the race lead briefly.
It didn't take long for Kasma's Petronas Yamaha Maju Motor teammate Fazli, to catch and snatch the lead away from Hafiz. With an unobstructed track ahead, 34-year-old veteran Fazli pressed on to create a significant gap and won the 18-lap race astride his Yamaha.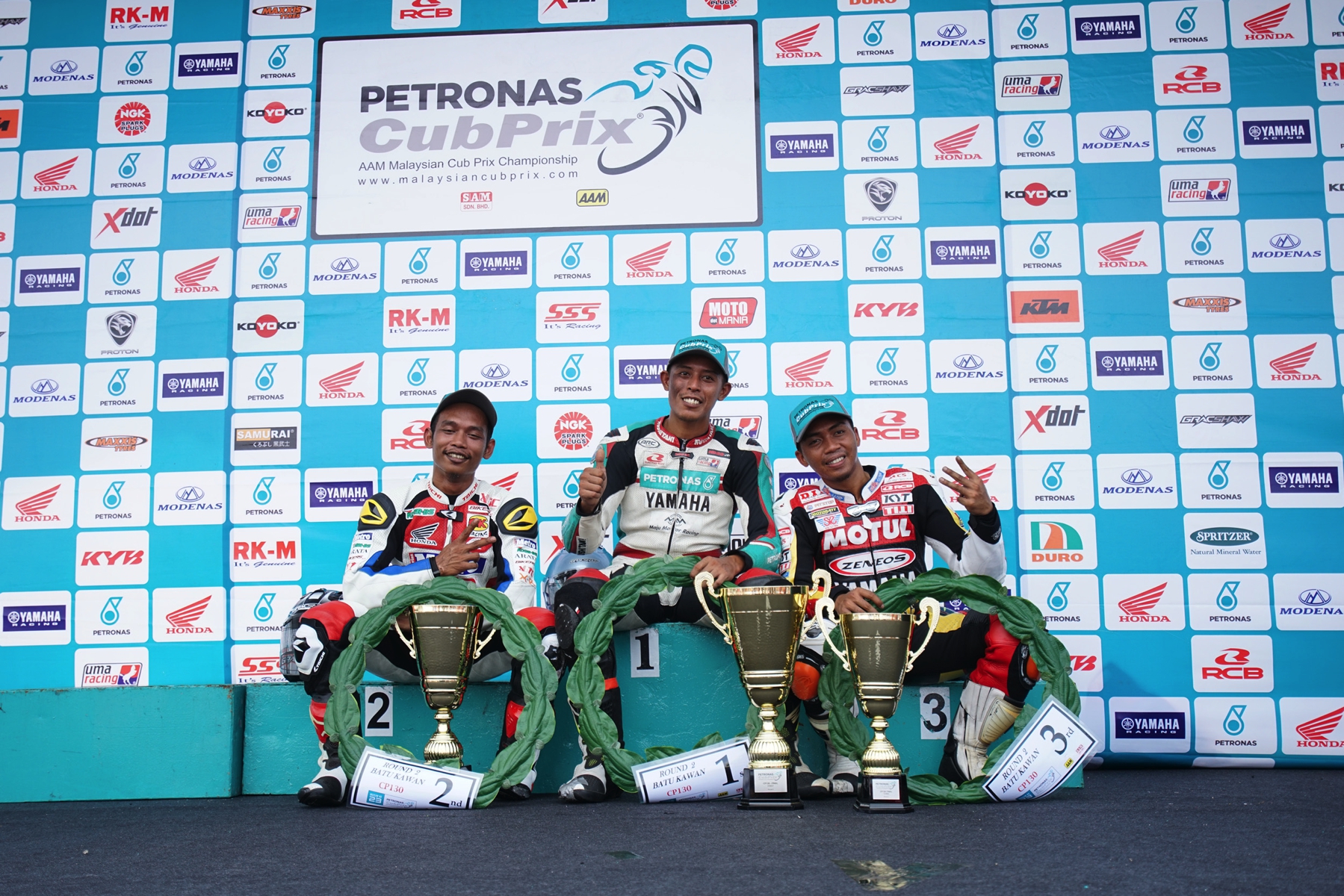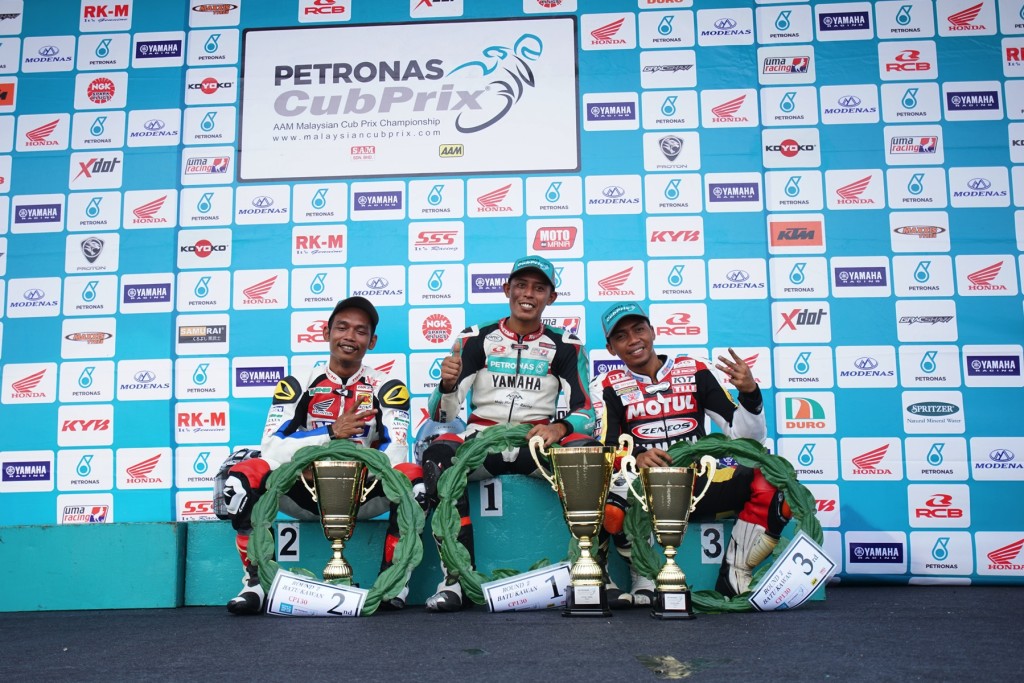 Hafiz would eventually see his pace drop towards the closing stages, allowing his SCK teammate Norizman Ismail to take second place whilst Motul Zeneos Yamaha YY Pang rider Azhar Abd Jalil took third and the final podium spot. With his race win, veteran Fazli now leads the CP130 standings with 45 points, followed by Norizman in second with 31 points whilst Kasma now ranks third with 25 points.
Notably, Fazli has secured his spot in the Malaysian Cub Prix record books as well by becoming the rider with the highest number of race wins at the Batu Kawan street circuit. He is now the only rider to have won in the circuit three times having scored his last two wins back in 2007 and 2009.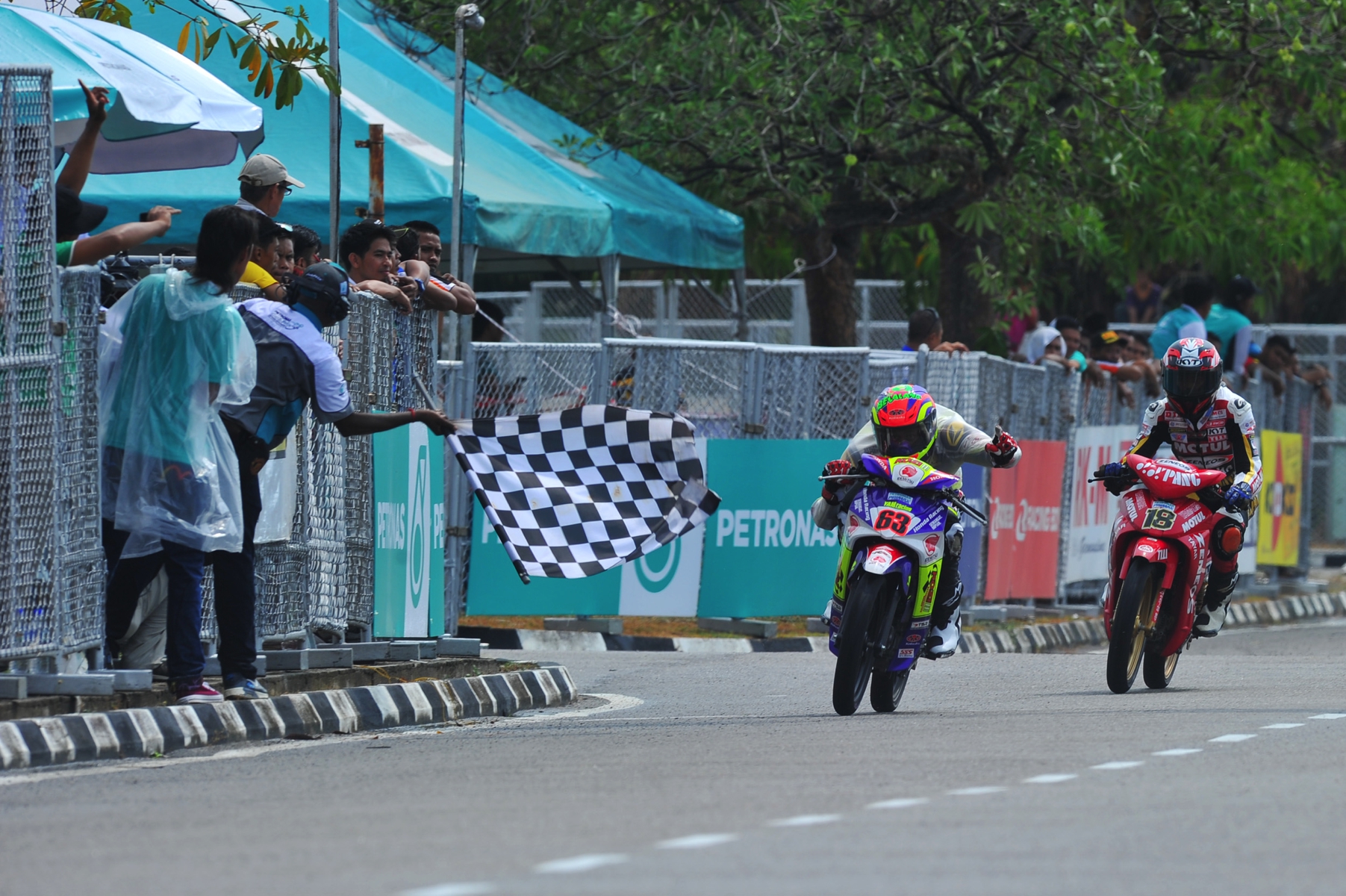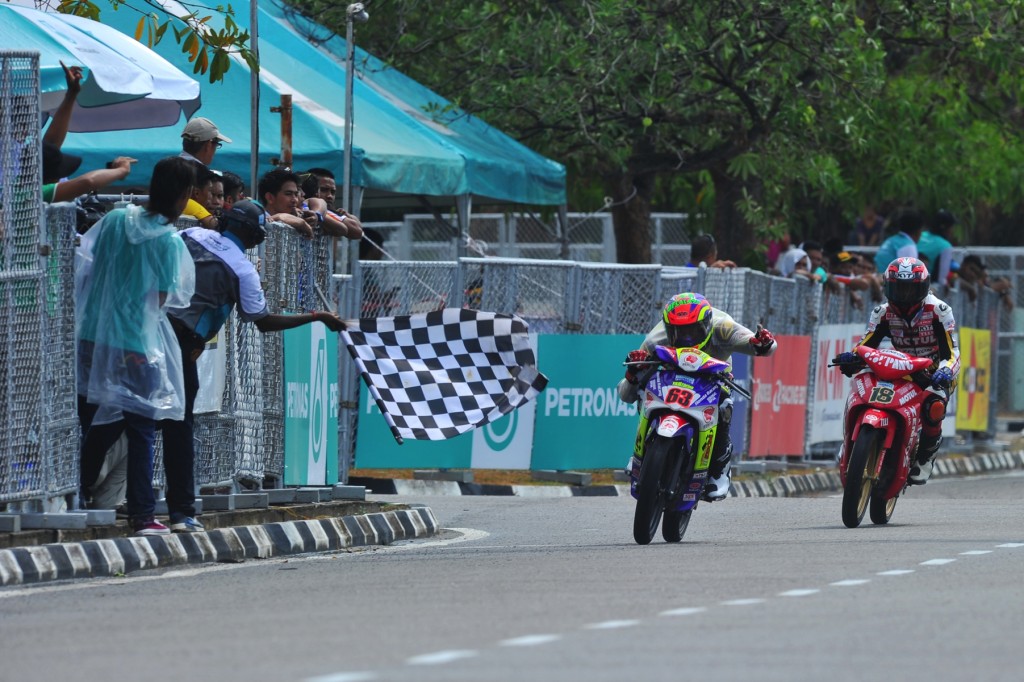 In the secondary CP115 category, it was Harith Farhan Baharin that won the 15-lap melee. Harith fended off the relentless charges of pole-sitter Tengku Amirul Haffirudin and denied him a second consecutive race win. One of the biggest surprise here was the performance of privateer Haeikal Akmal Zakaria who outraced other riders from professional teams and finished in third.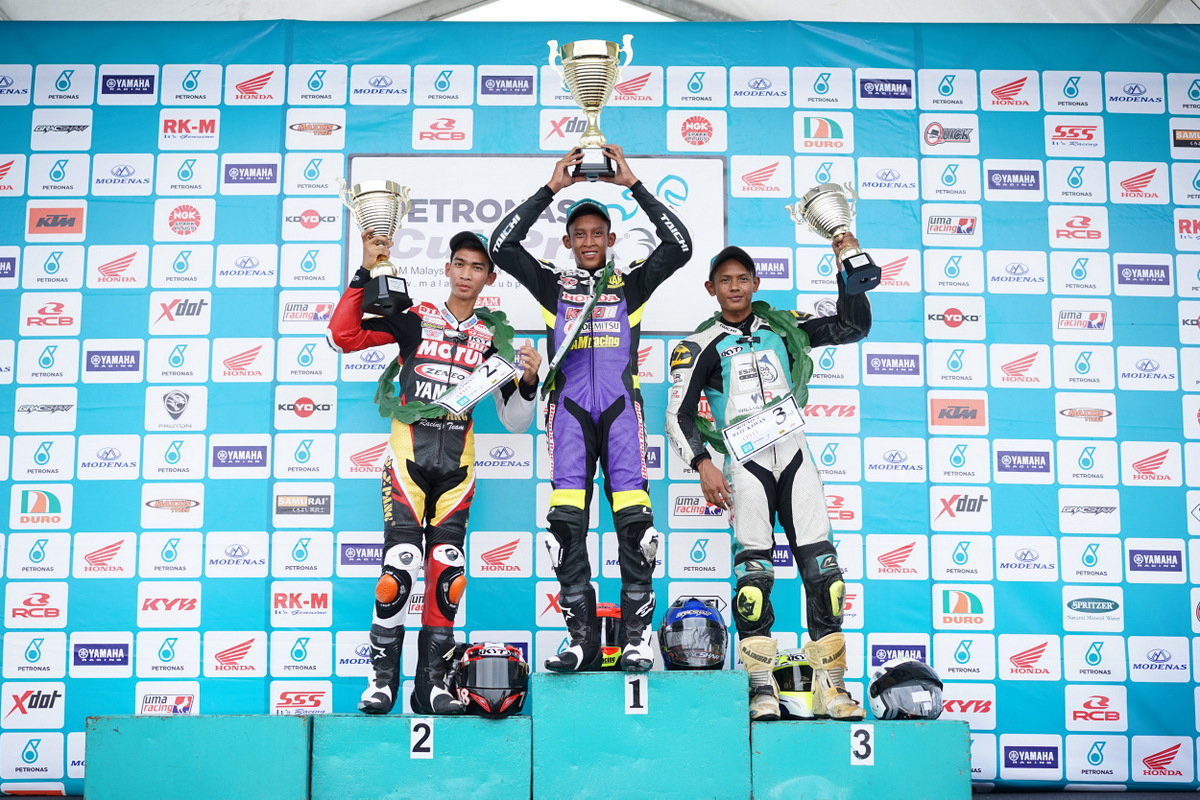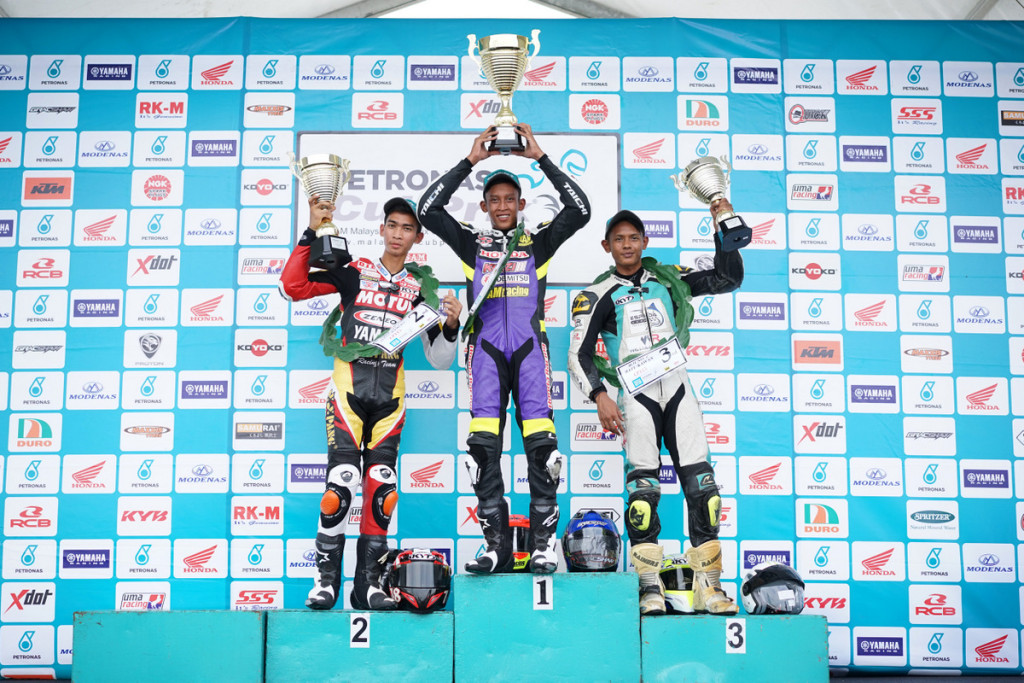 In the standings, Tengku Amirul still leads the title race with 45 points while Harith Farhan closes in at second overall with 41 points. Rider Fareez Afeez ranks third with his score of 30 points after two rounds.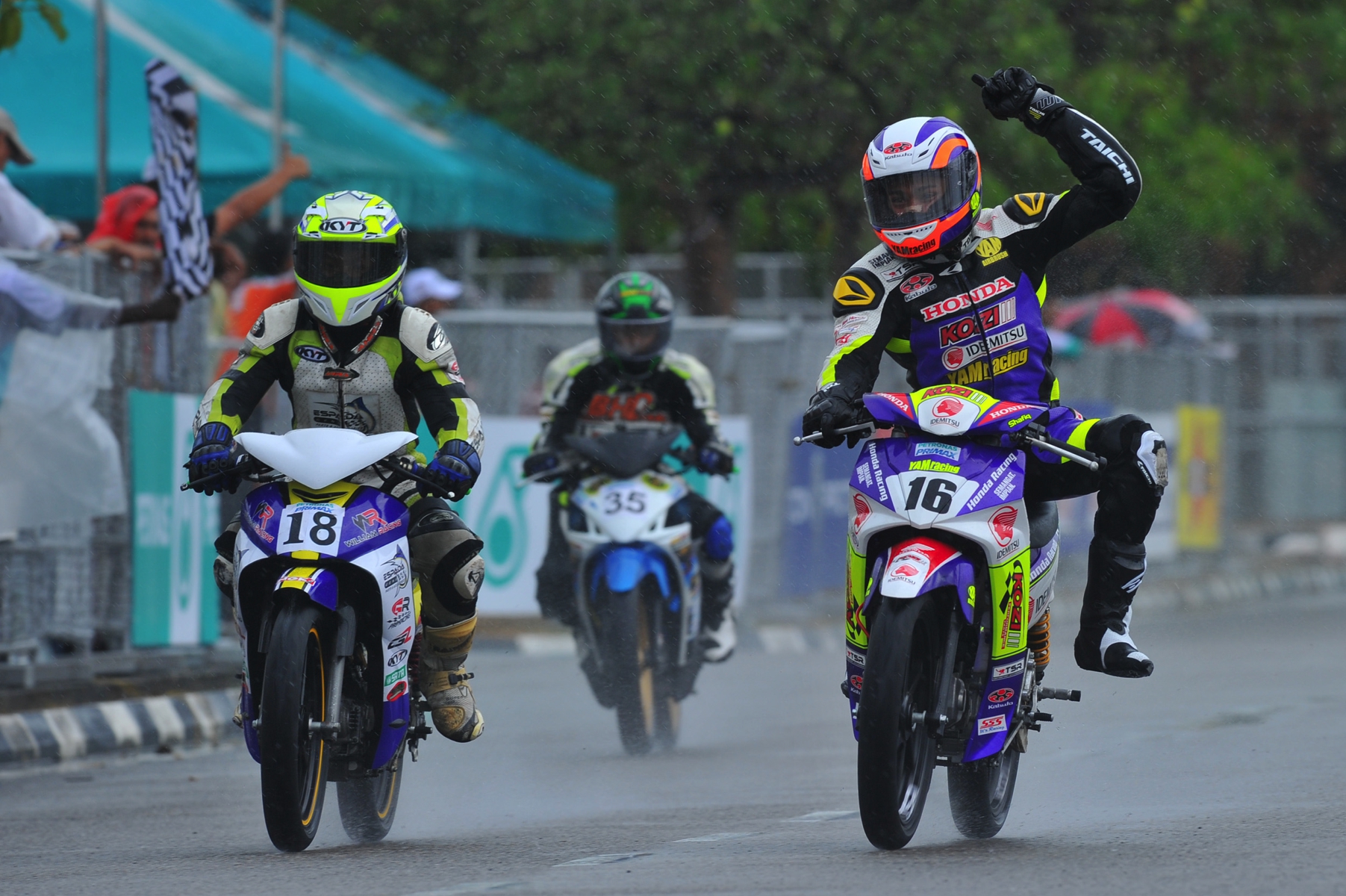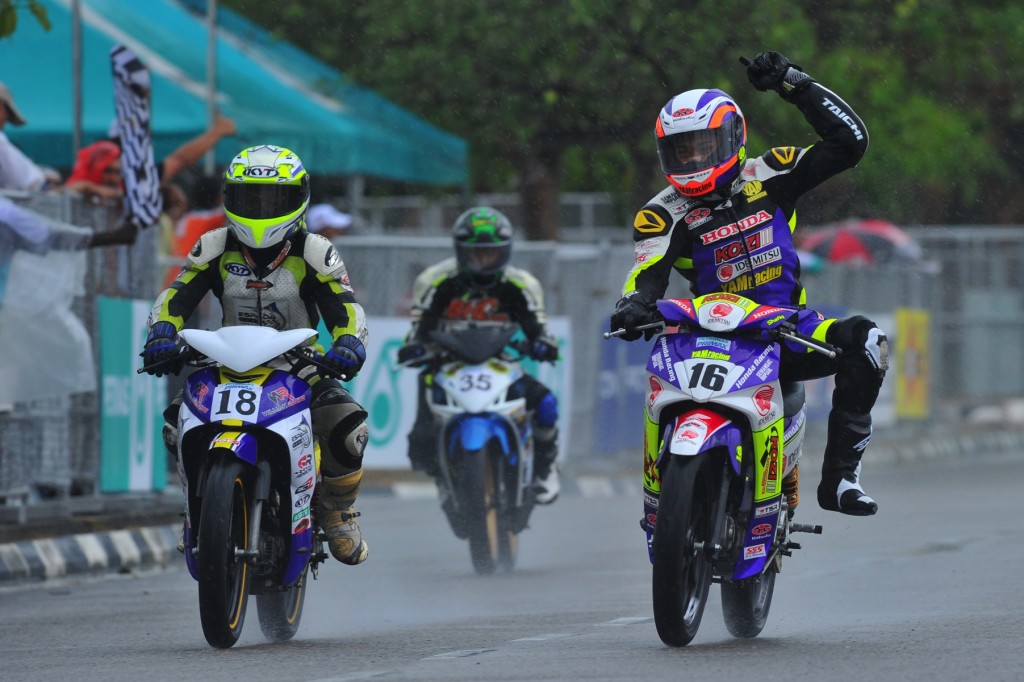 Last but not least came the Wira class battle. The 12-lap battle was made much more challenging as it got underway just after a heavy downpour. But through hard work and perseverance, it was Idemitsu Kozi Yam Honda rider Shafiq Ezzariq that came out on top and claimed his second consecutive race win of the season.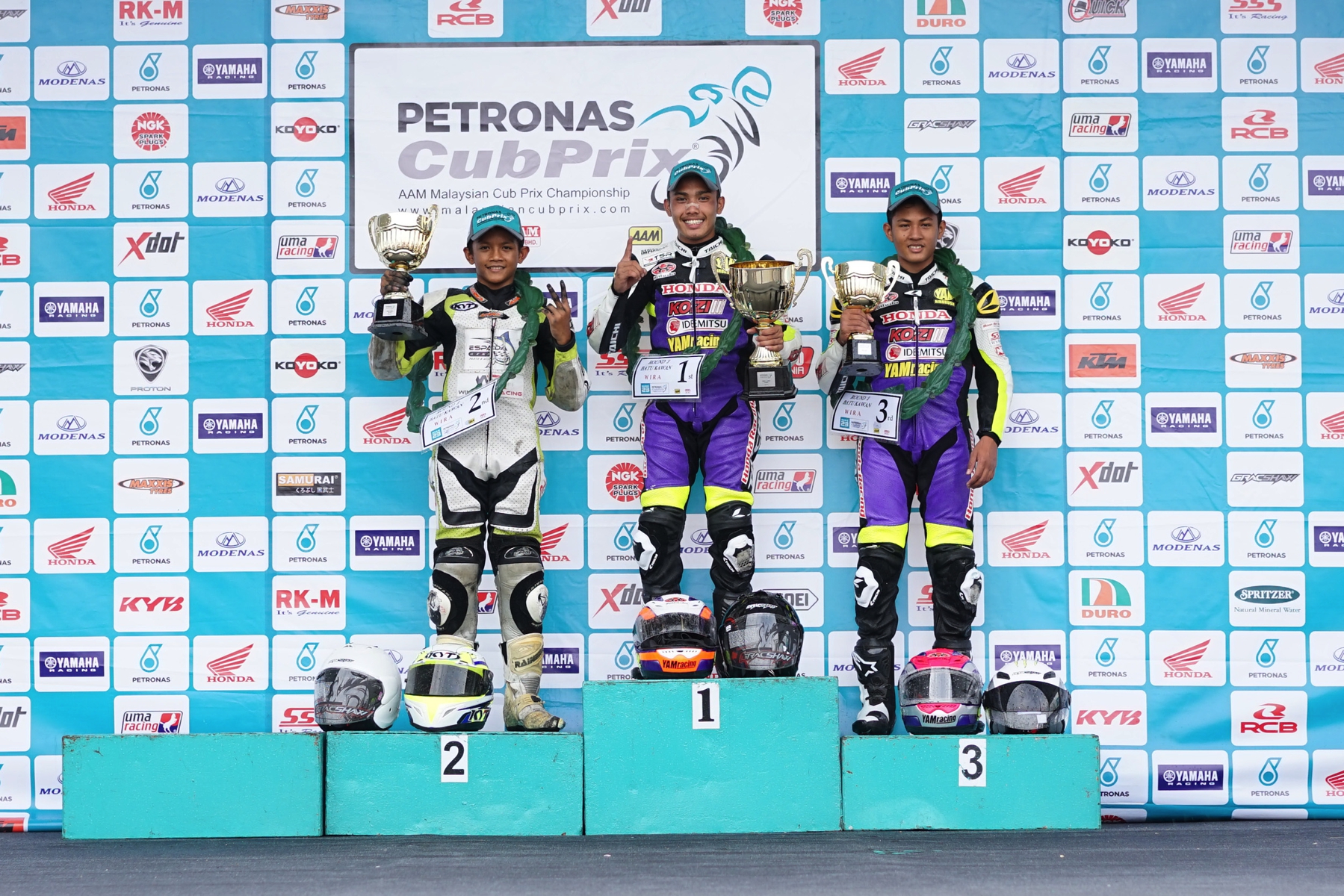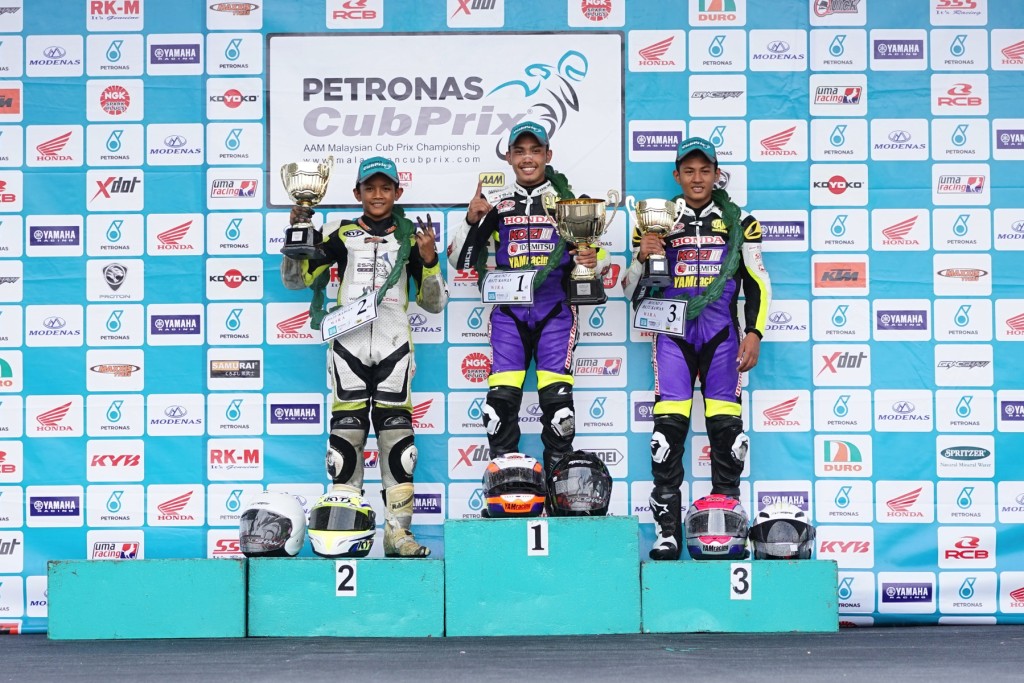 Joining him on the podium was privateer Afizi Supaat in second, followed by Anuar Ibrahim Pawi, younger sibling to national Moto3 ace Khairul Idhap Pawi, finished strongly in third. Shafiq still leads the Wira class standings with 50 points whilst Privateer S. Alif Nazirul S. Ismail and Saiful Azhary Muhamad are tied for second overall with 24 points each.
Round 3 of the Petronas AAM Malaysian Cub Prix 2016 season will take place in just a fortnight's time on April 30 and May 1 in Kangar, Perlis. You can keep track of the current season's progress via the official Malaysian Cub Prix website and Facebook page as well.
Petronas AAM Malaysian Cub Prix 2016 Round 2 – Batu Kawan, Penang