A look at the Pirelli MSC 2016 national series from a first timer's perspective.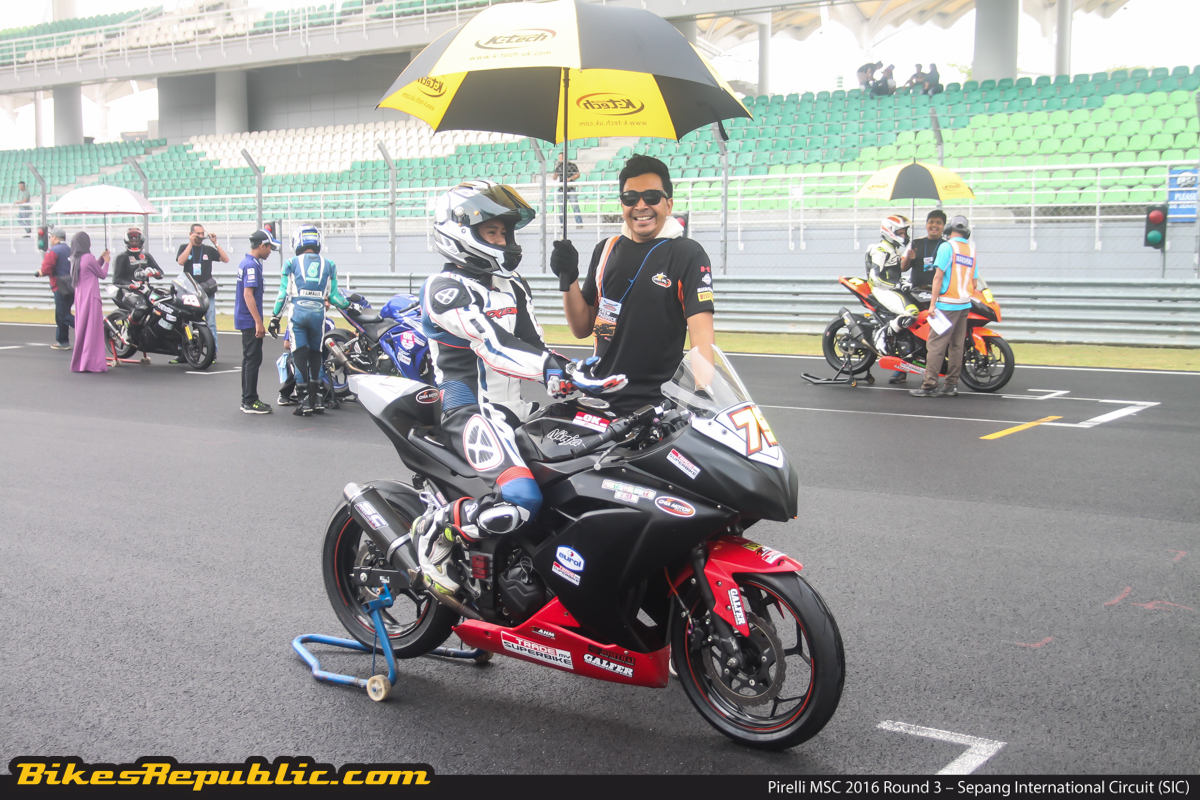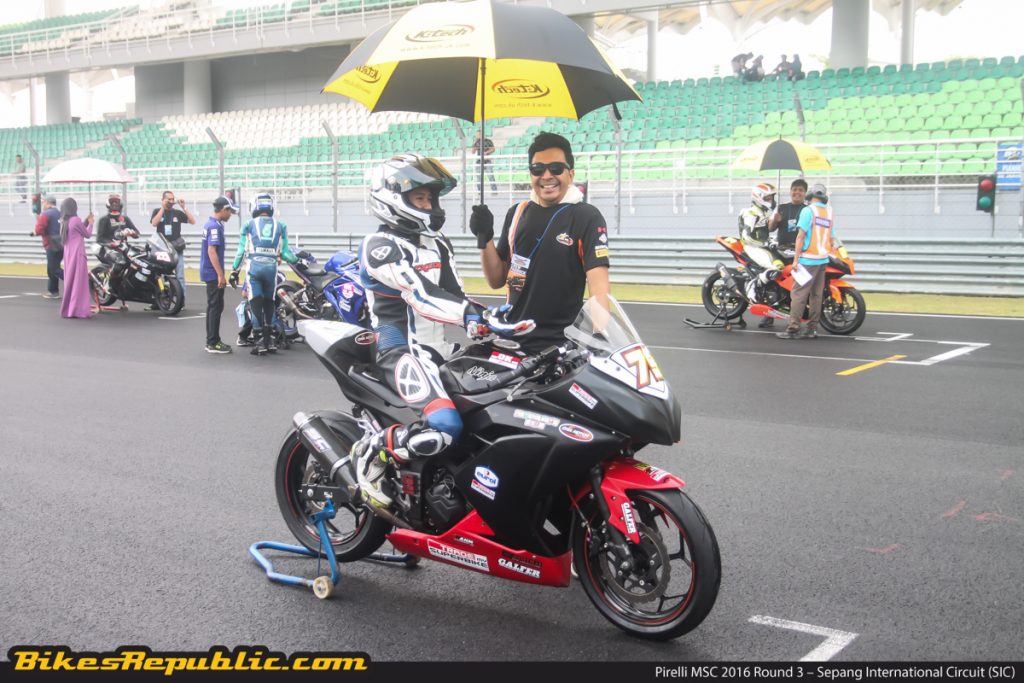 Story By: Sep Irran
Round 3 of the Pirelli Malaysia Superbike Championship 2016, or simply known as MSC 2016 (NOT the Multimedia Super Corridor), got underway at the glorious Sepang International Circuit (SIC) last weekend. The event has been around for a while now and, if you aren't familiar with it, here's what you ought to know about it.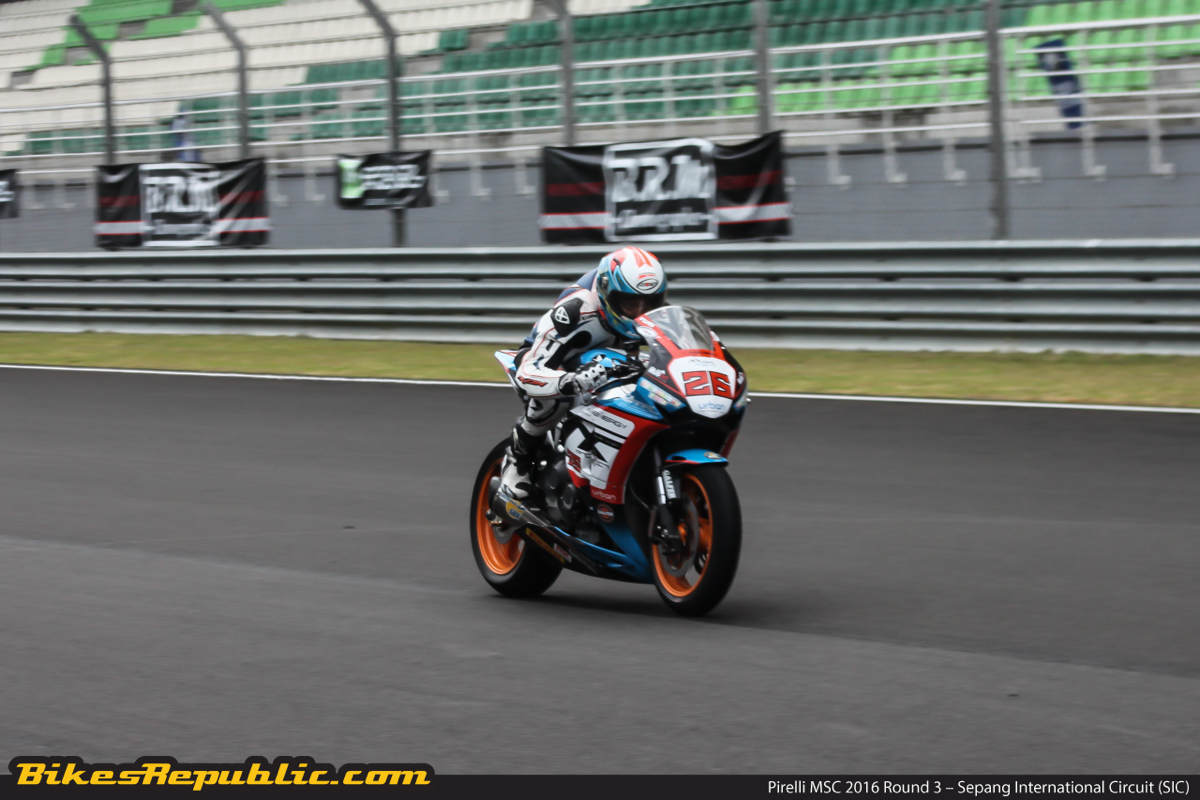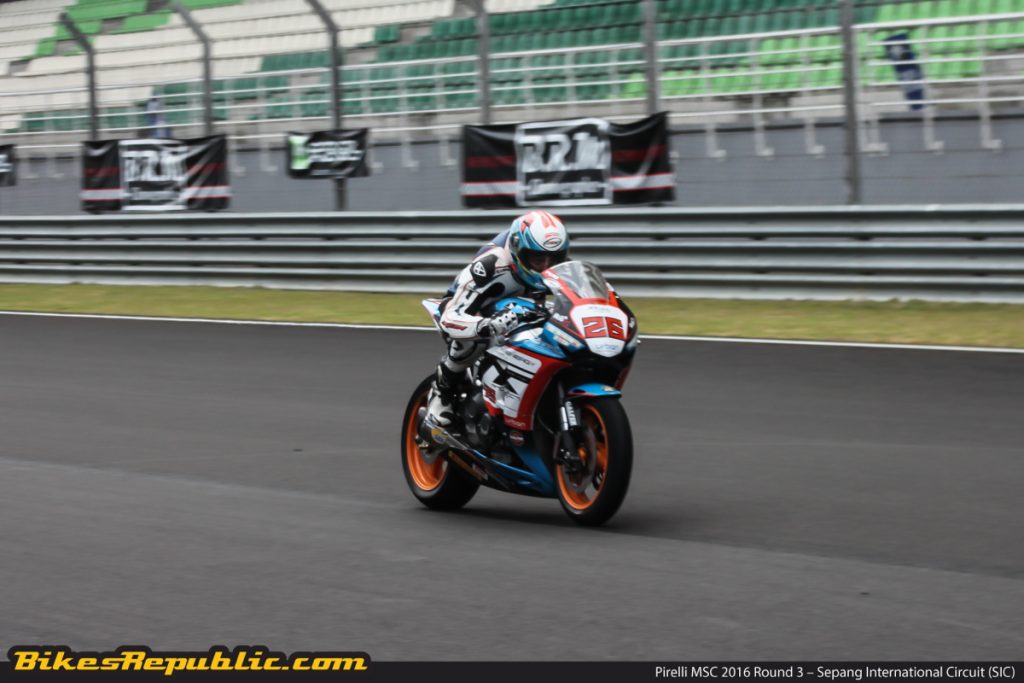 What is the MSC?
As mentioned earlier, the race series has been around for quite a while. It was previously known as the Malaysian Super Series or simply MSS and through a rebranding exercise, MSS evolved itself into its current MSC form. Partnering up with Pirelli as its official tyre supplier, the event has been catching the attention of more and more racing fans.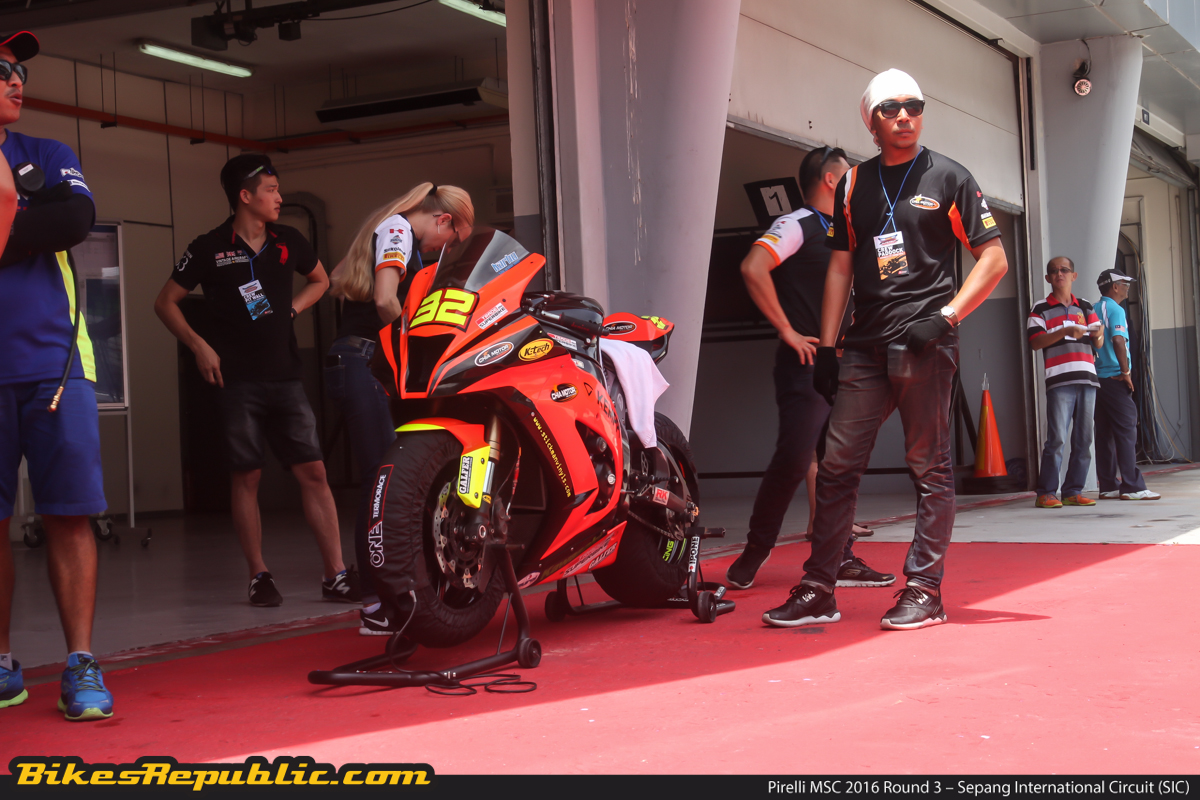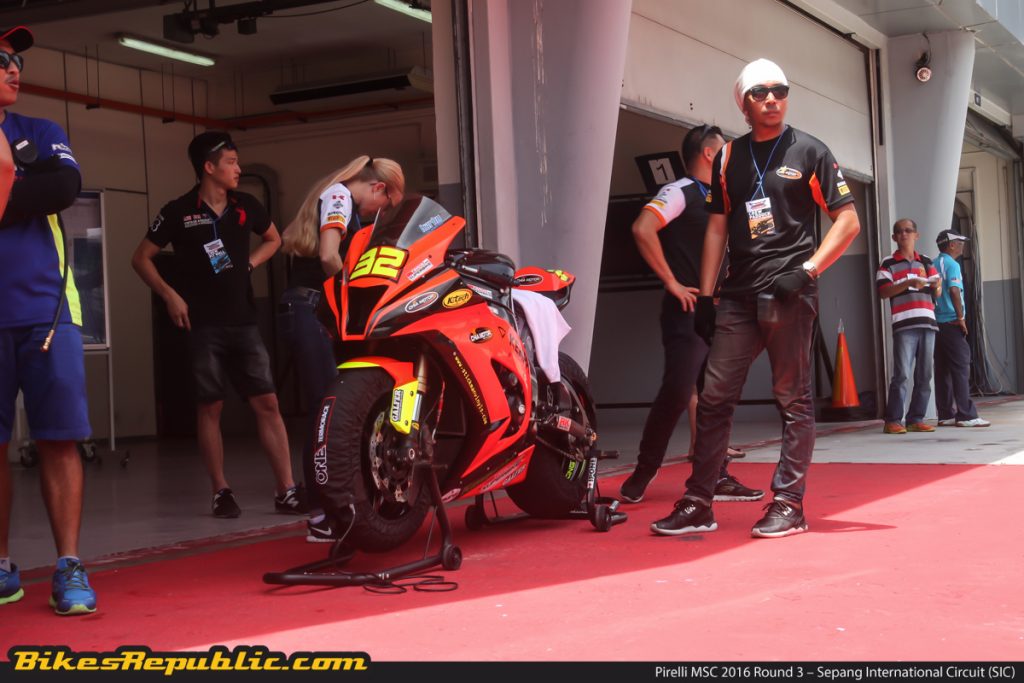 MSC was developed to support and nurture Malaysia's motorcycle racing scene further apart from the Malaysian Cub Prix national underbone racing series and the two major international races – World Superbikes (WSBK) and MotoGP – that are annually at SIC too.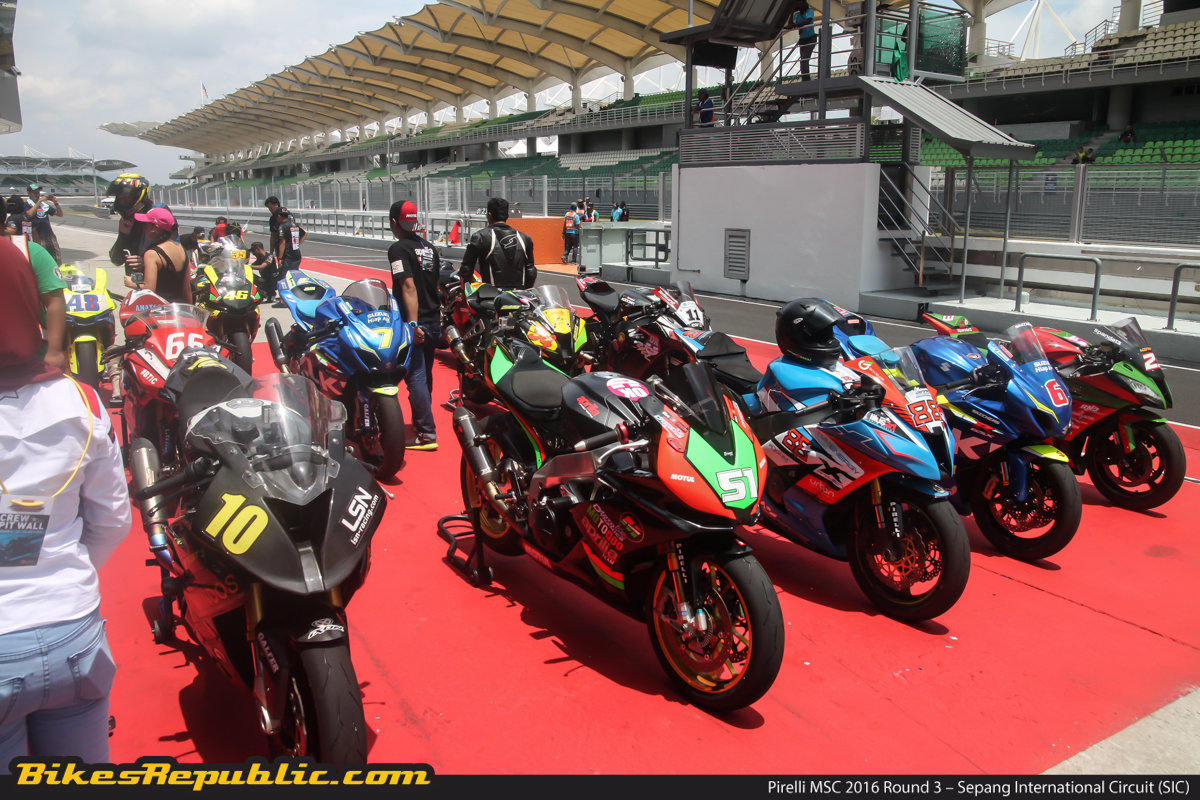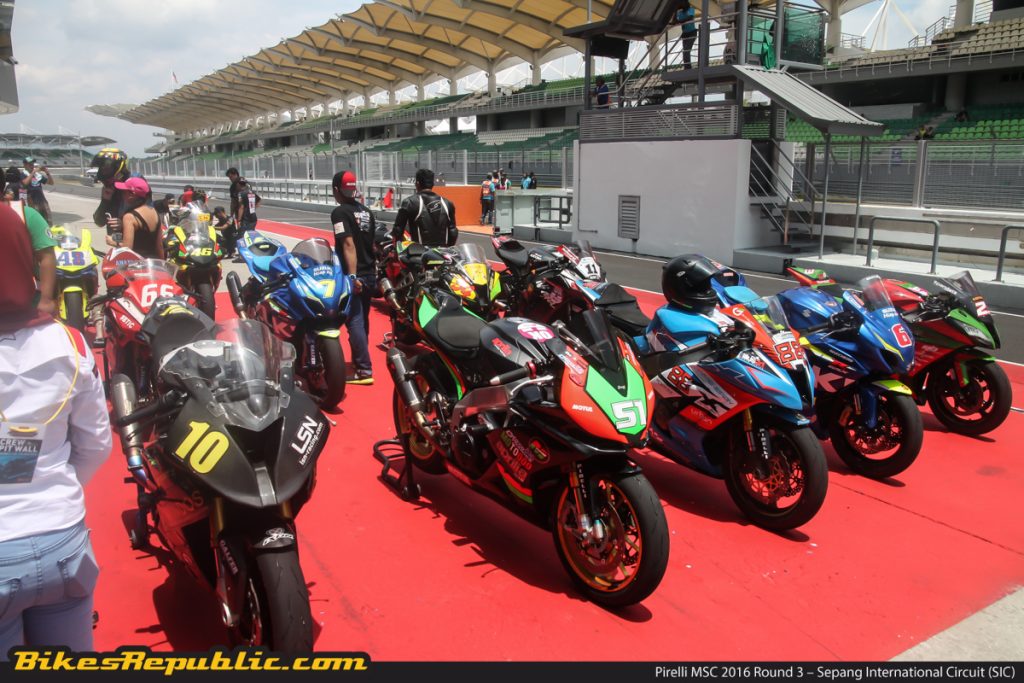 The Pirelli MSC 2016 season consists of five rounds held in the period between May to December 2016. It features four main racing categories – 1000cc Superbike, 1000cc Superstock, 600cc Supersport and the recently revamped Pirelli 250cc & 300cc Race Series (Open 250). As the old saying goes, "the more, the merrier".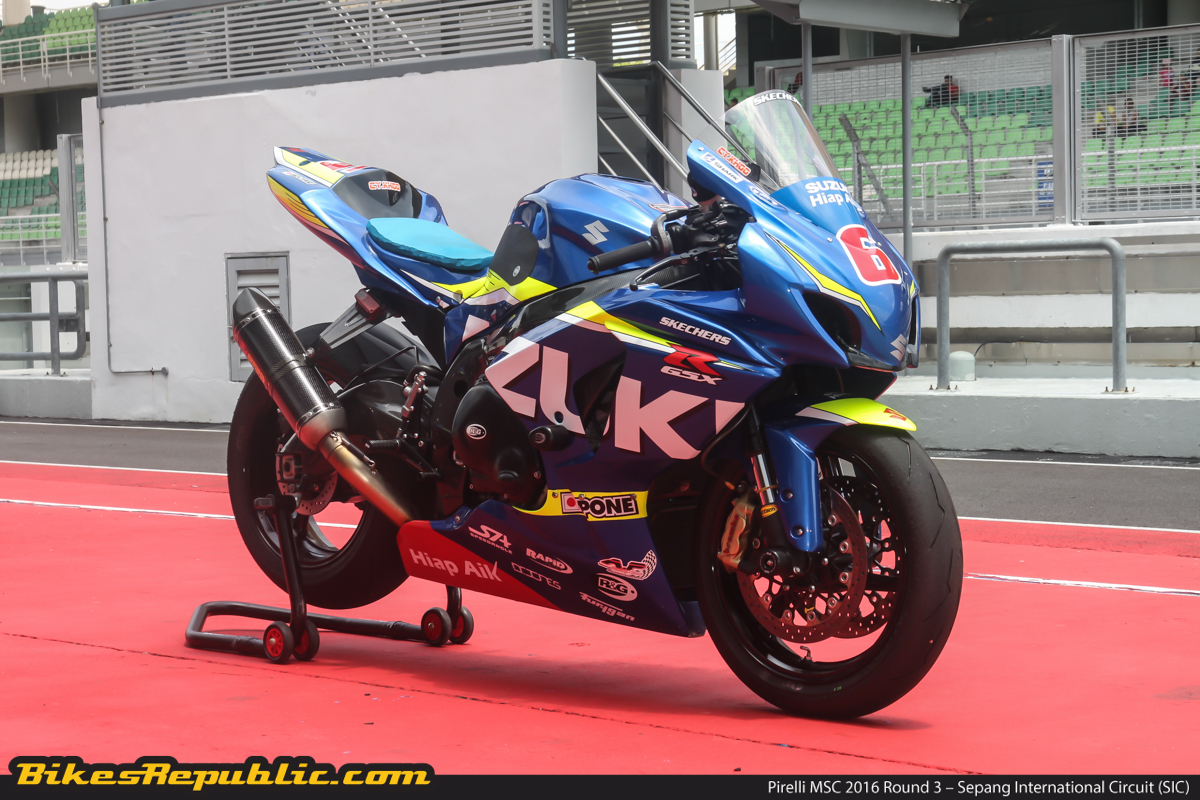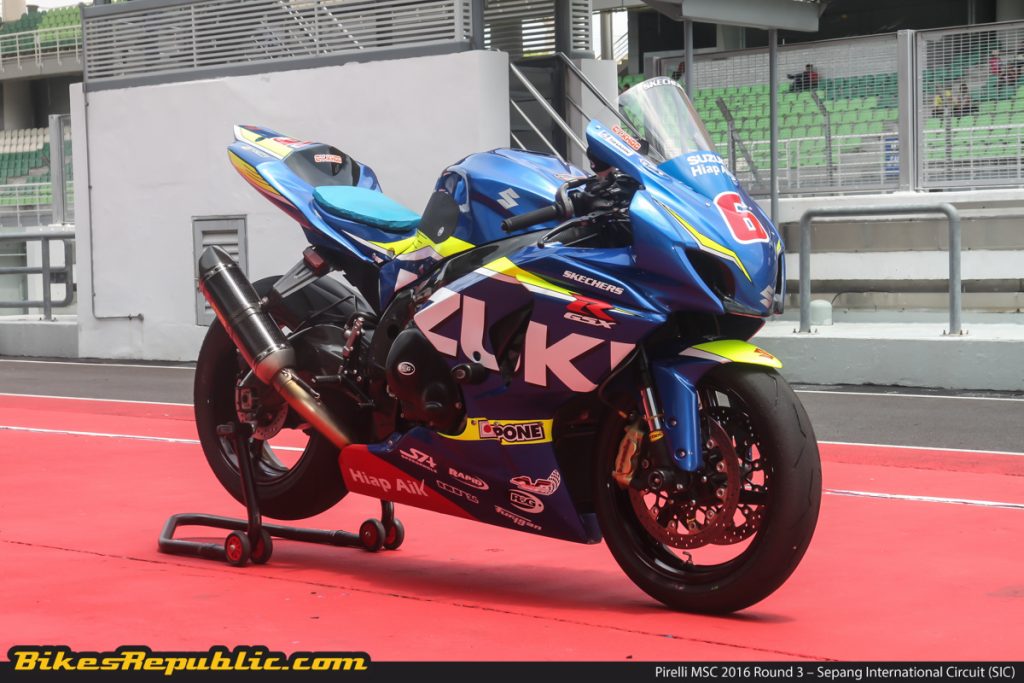 What's special about this MSC?
1) Free Access to the Main Grandstand during MSC race weekends
As fans of the motorsports, the Pirelli MSC 2016 series offers the mass public something that no other motorcycle event can. For one thing, spectators can access the Main Grandstand for free during race weekends.
So, if you need to fuel your motorcycle racing addiction in between WSBK and MotoGP, MSC 2016 weekends are something you shouldn't miss.
However, if you feel like the action from the Main Grandstand is not nearly close enough, rest assured that there is another option. For a small amount of money, you can gain access to the Paddock where all the action happens! It is something that is very, VERY hard to come by especially during the major races but not during MSC.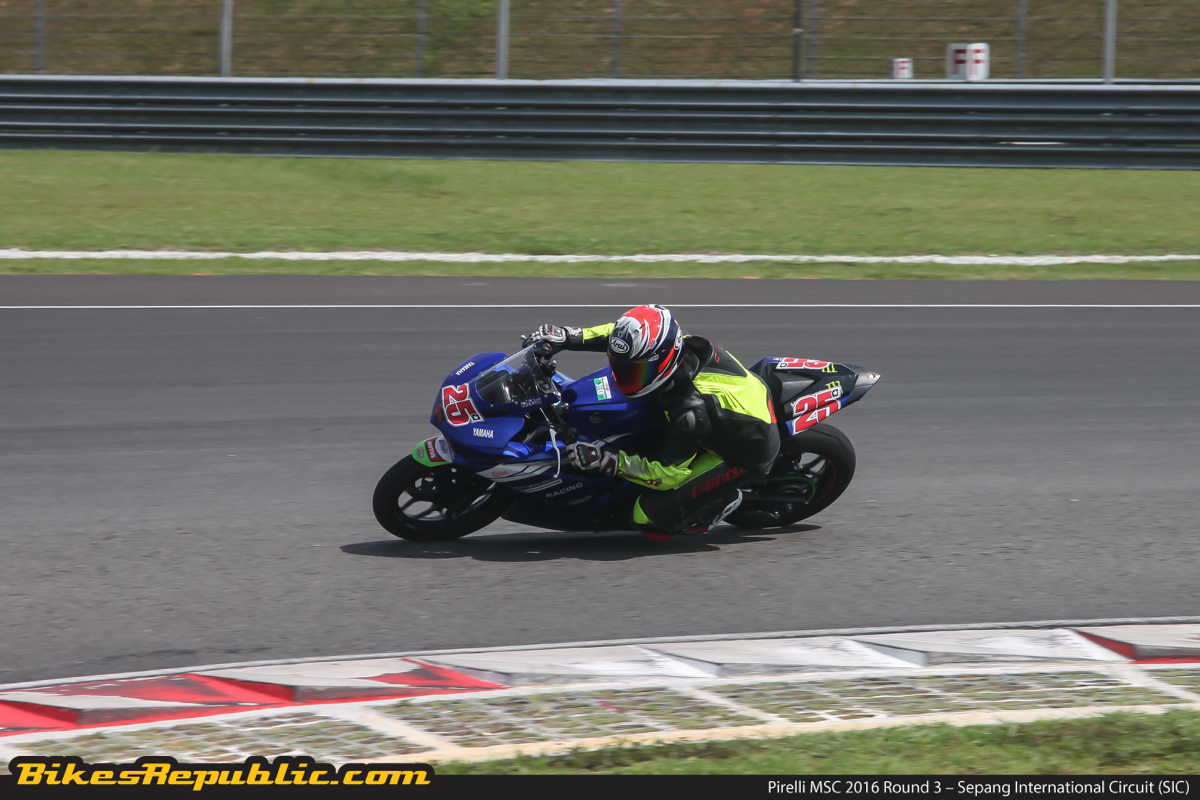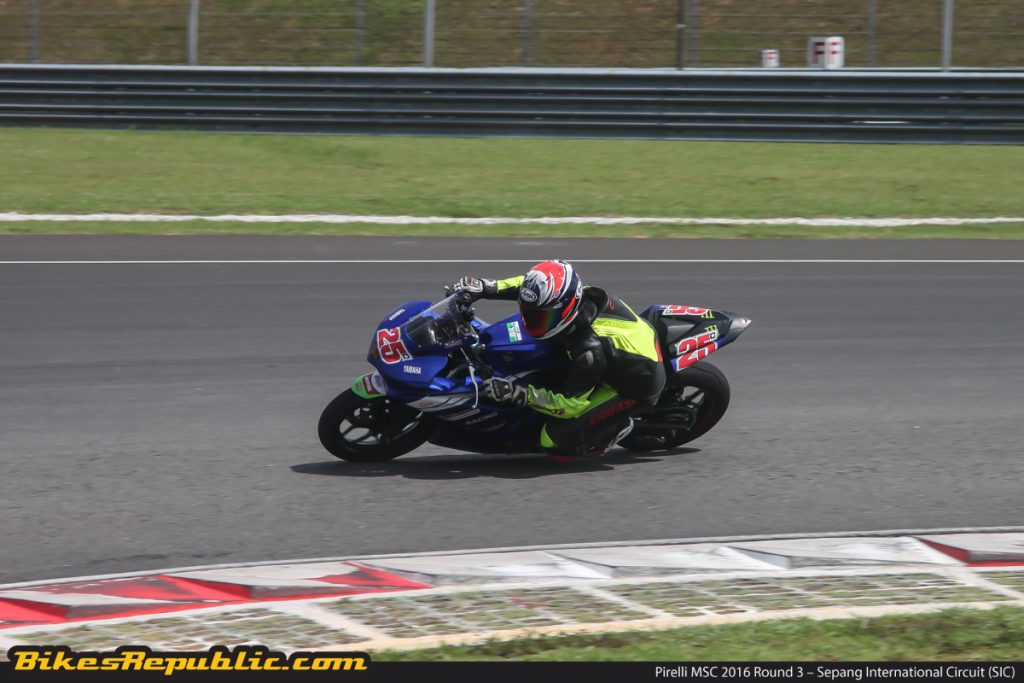 2) Get closer to the all the action
You can get up close and personal with the bikes, teams and even riders during the race weekends. During my first experience in the Paddock, I can't help but grin with joy upon seeing all the race machines ready to tackle the super technical SIC course. As a motorsports enthusiast myself, getting up close with all the bikes ranging from 250cc & 300cc up to 1000cc Superbikes was a 'magical' experience so to speak.
Being at the paddock, one can also get a definite feel on how races are conducted on a professional level. All the marshals, racing crews, circuit staff and even supporters are moving about in a 'controlled chaos' as sorts.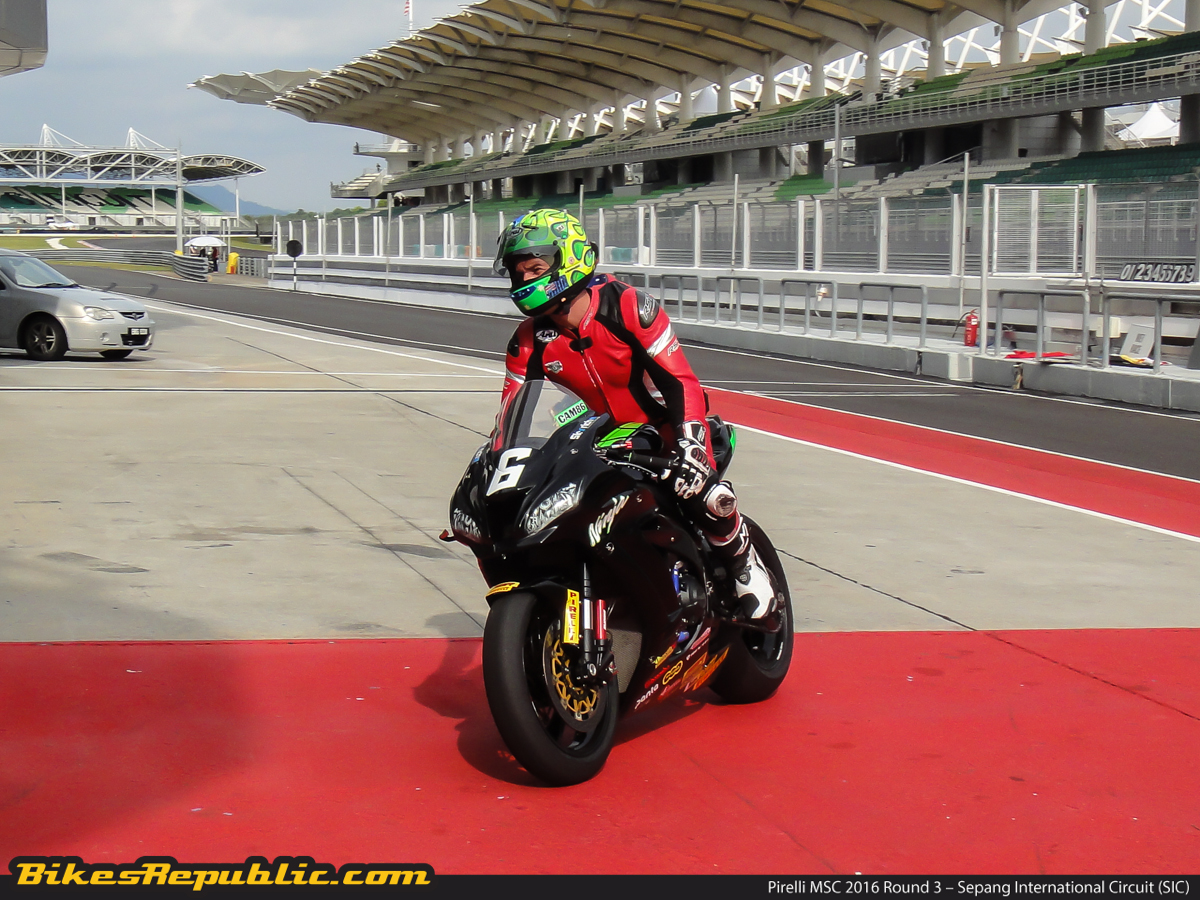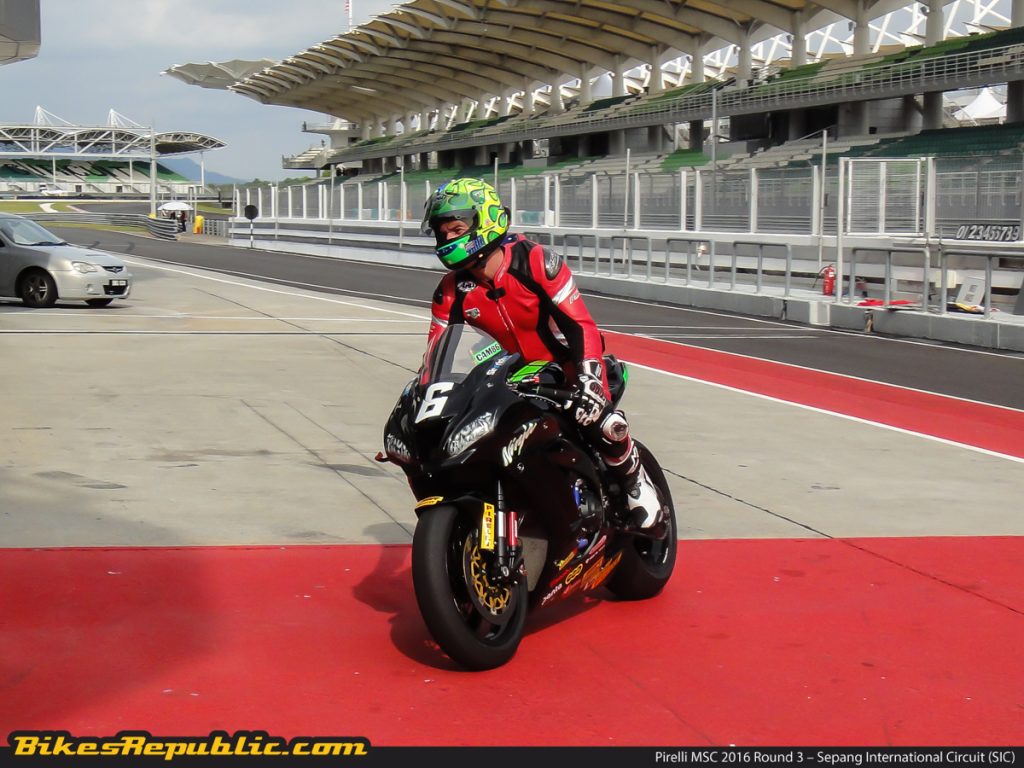 At the same time, the racers head out on track and push their machines to the maximum not for money, but bragging rights on who's the fastest of them all. It was a sublime experience to see machines mirroring those from WSBK such as the Kawasaki Ninja ZX-10R, Honda CBR1000RR, BMW S1000RR and a few Yamaha YZF-R1, all tearing up the track, hitting speeds close to 300km/h.
Seeing and experiencing all this first-hand at such close proximity gives you quite a rush – one unlike any other if I'm honest.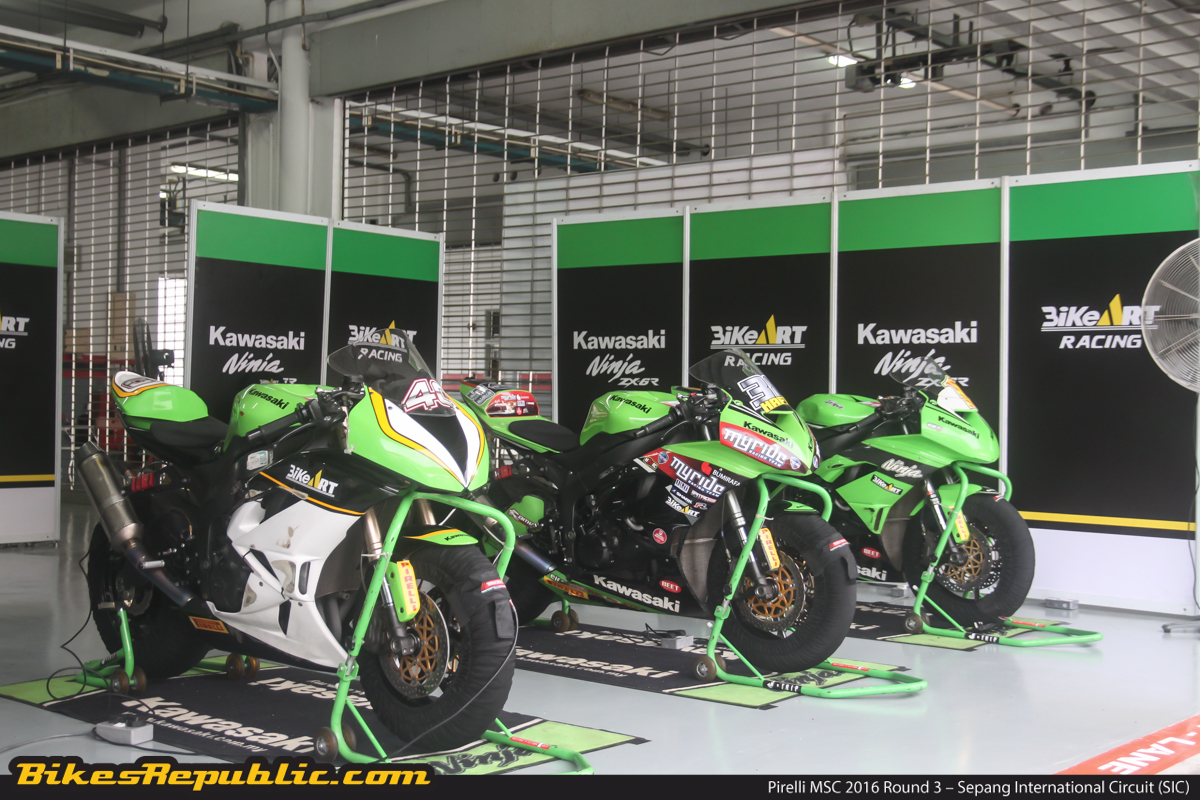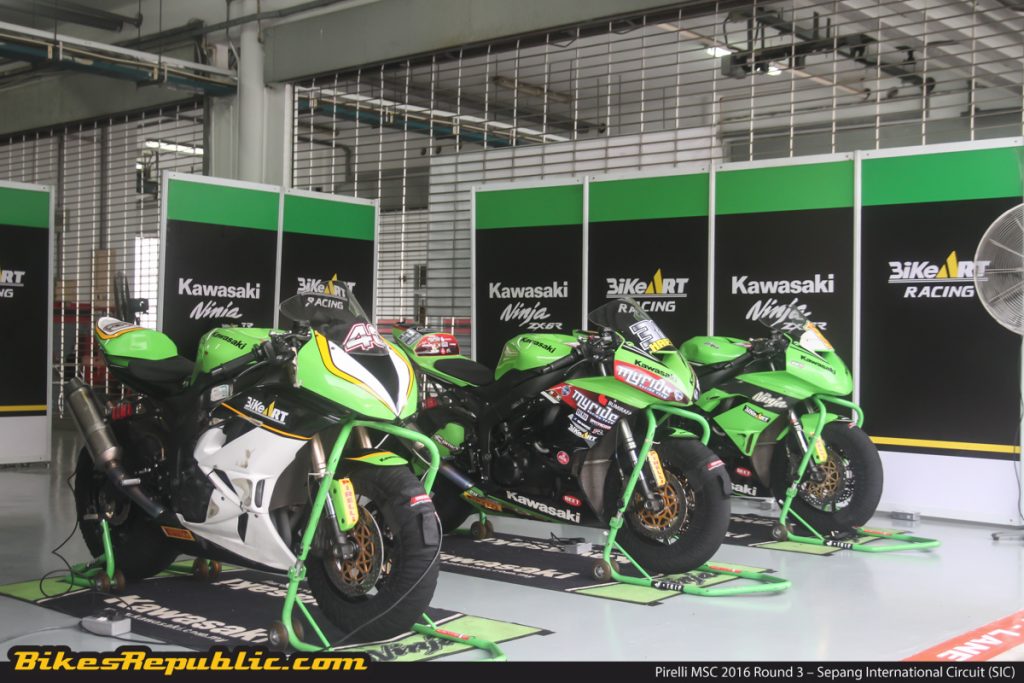 3) Good platform to begin or improve racing as a hobby or career
Apart from all that is visible, MSC race weekends also stand as an excellent platform for those who want to enter racing world. In fact, MSC caters to those who want to race professionally and welcomes those who are new in racing.
One can witness major teams that are well known in the local racing community running a fleet of race bikes, but alongside them you also see small privateer outfits with their machines chasing the same glory of winning races.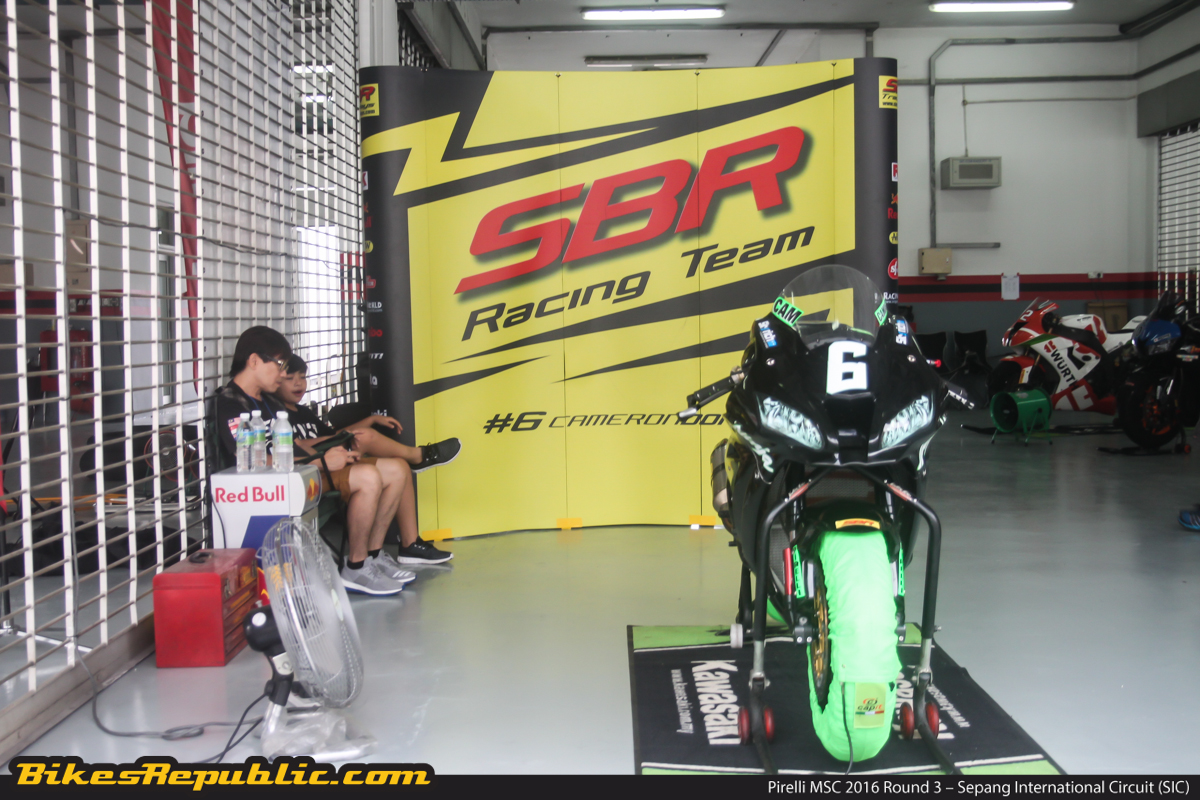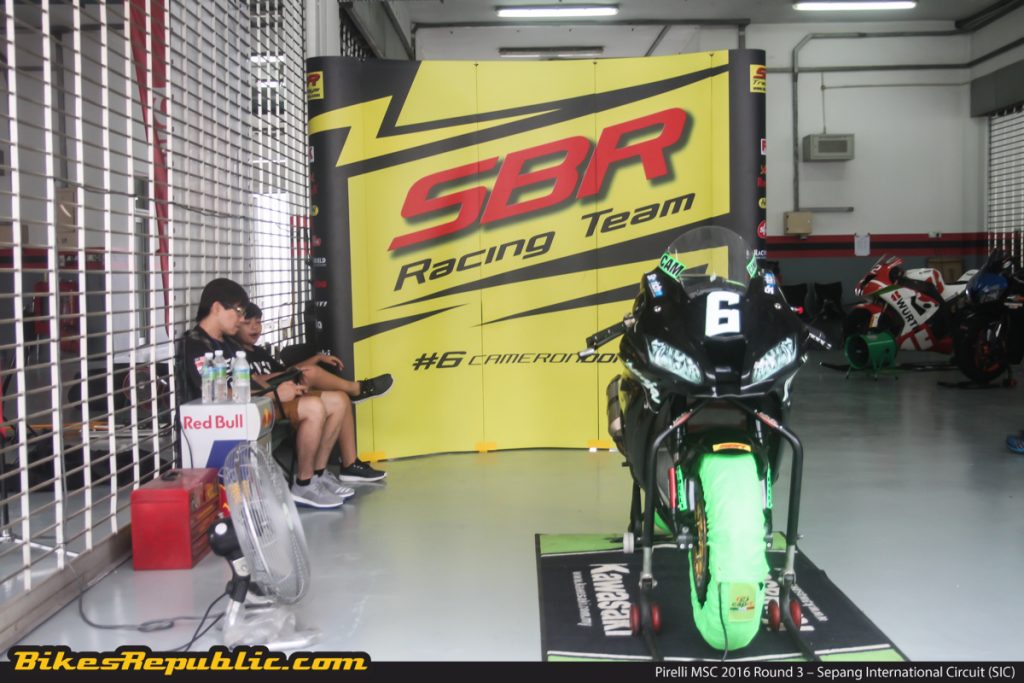 Furthermore, the teams and riders competing here aren't just Malaysian, you can also see teams and riders hailing from other neighbouring countries, as well as a few coming from as far as Australia and New Zealand. Each category also has and its divisions within it, meaning there's something for every racer covering a wide spectrum of competition levels too.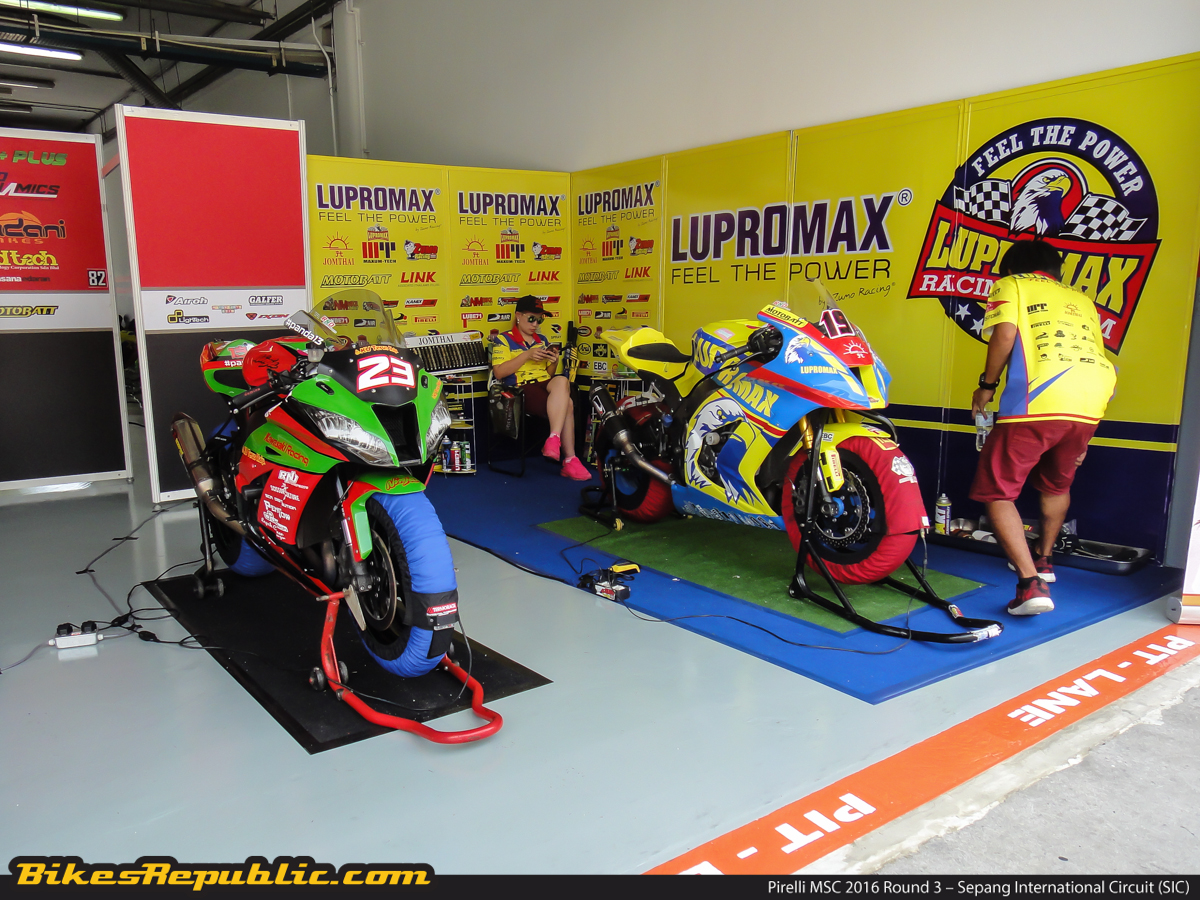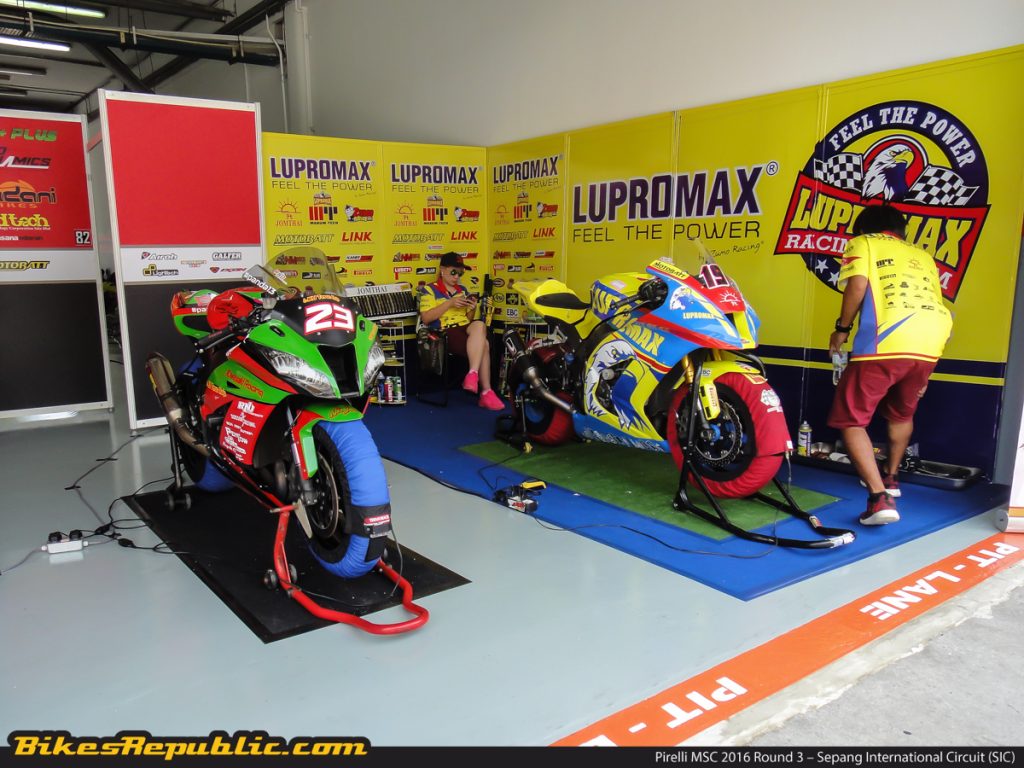 4) Meet up with  national riders and top international riders
If you are lucky, you can even rub shoulders with a few great names in the local and international racing scene during MSC weekends. For example, former Moto2 and current ARRC racer Azlan Shah Kamaruzaman also competes in the MSC's Supersport category, and he's one rider that clearly dominated the class last after winning both Supersport races with ease.
Other national riders like current Moto2 rider Hafizh Syahrin can also be seen during MSC race weekends. Some even use it as a training ground to keep themselves sharp whilst on break from competing at international races – Azlan Shah being one prime example of this.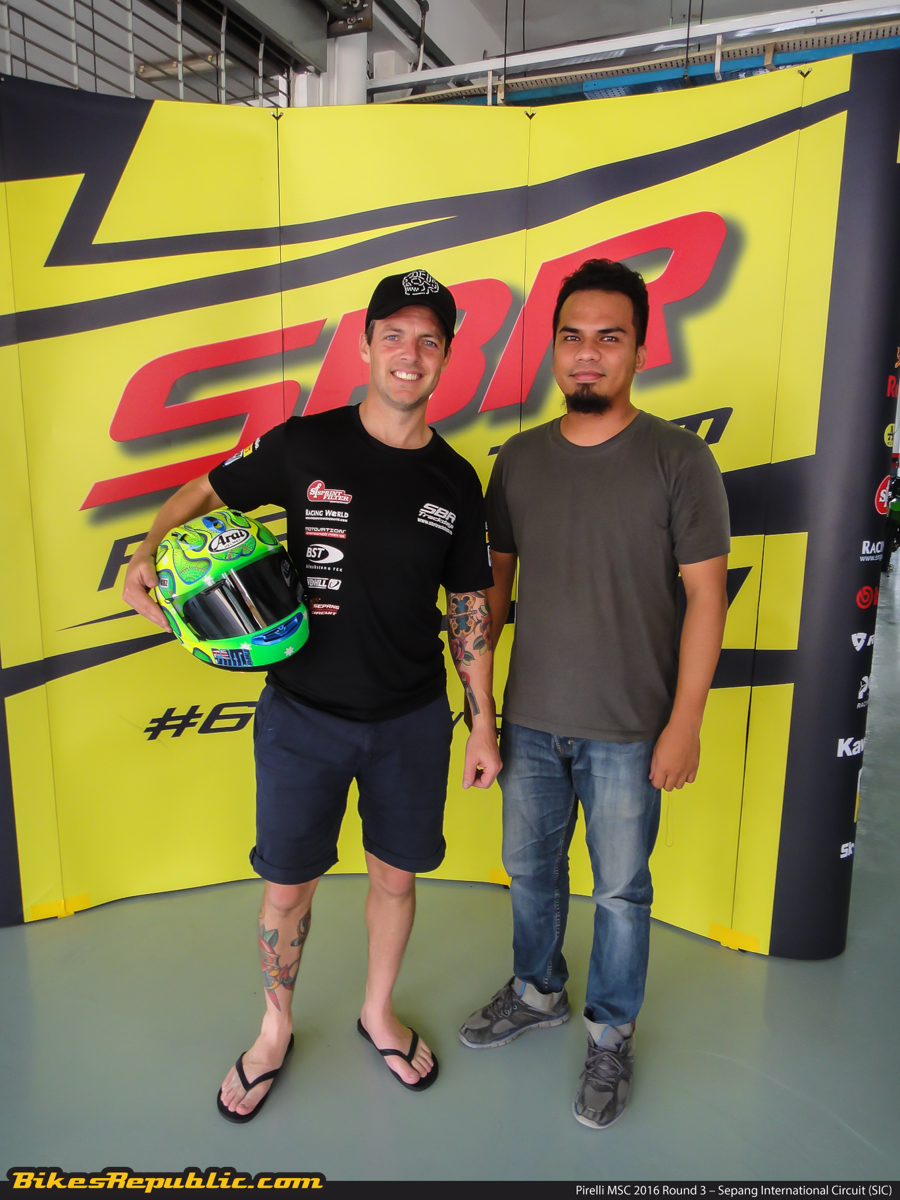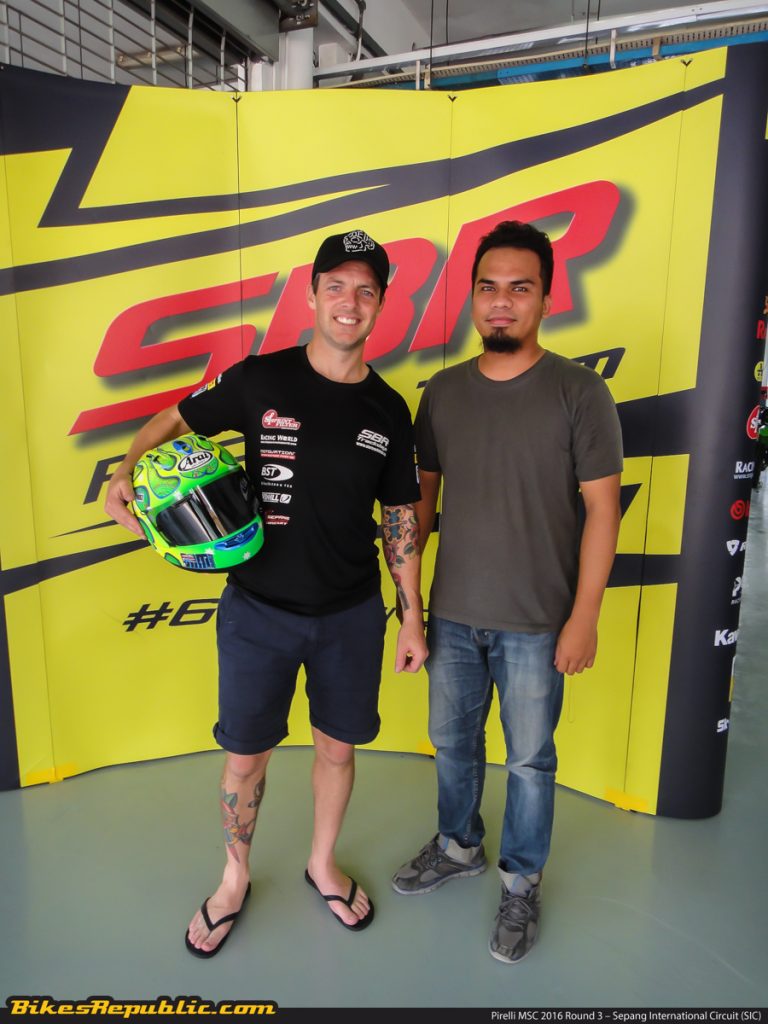 Another surprise was the presence of renowned Isle of Man TT racer and winner Cameron Donald, who raced last weekend for the SBR Racing Team. Though a brilliant and blistering fast rider, Cameron's actually a very down to earth bloke when we met him in the pits, and one can easily get close to the man and strike up a conversation with ease. This is one of the magical bits that the Pirellis MSC 2016 series holds for fans.
All in all, the Pirelli MSC 2016 is an experience all motorcycle enthusiasts should take part in, whether you're an expert rider looking for a place to train, a beginner wanting to launch a racing career, or even if you're just a true fan of racing. There's really something for everyone in MSC.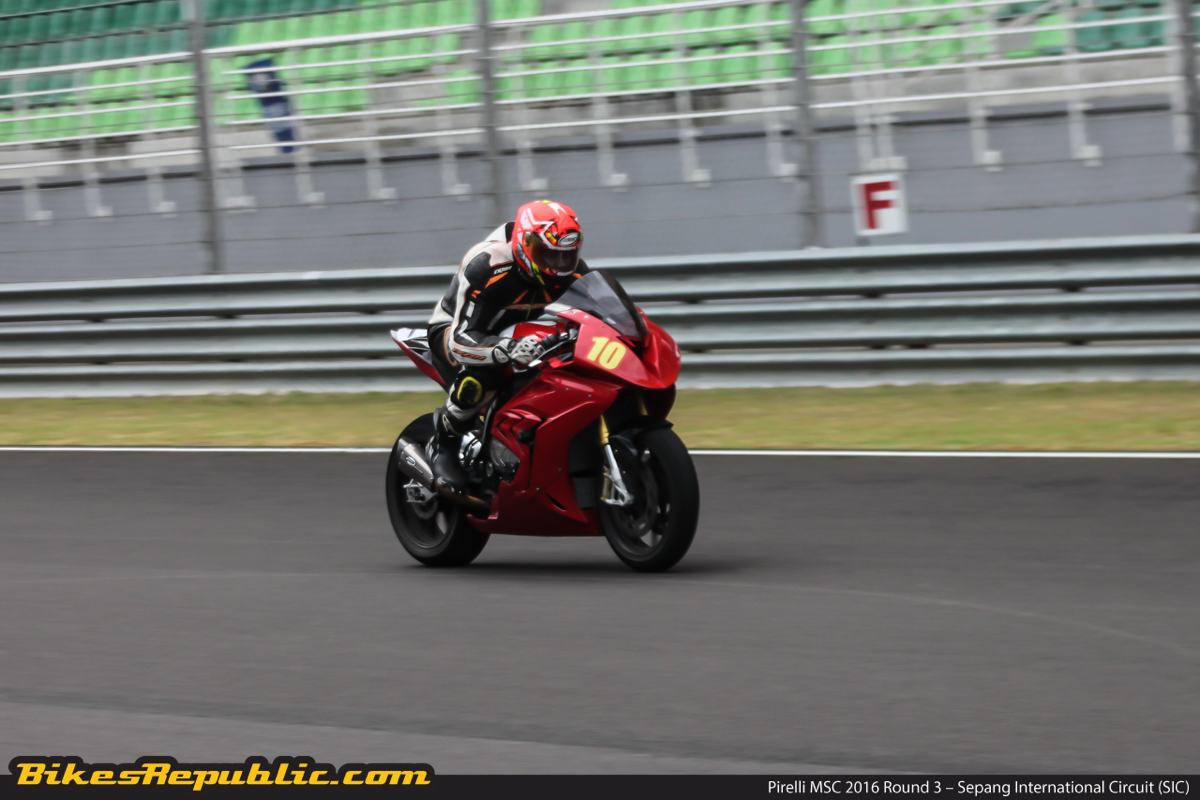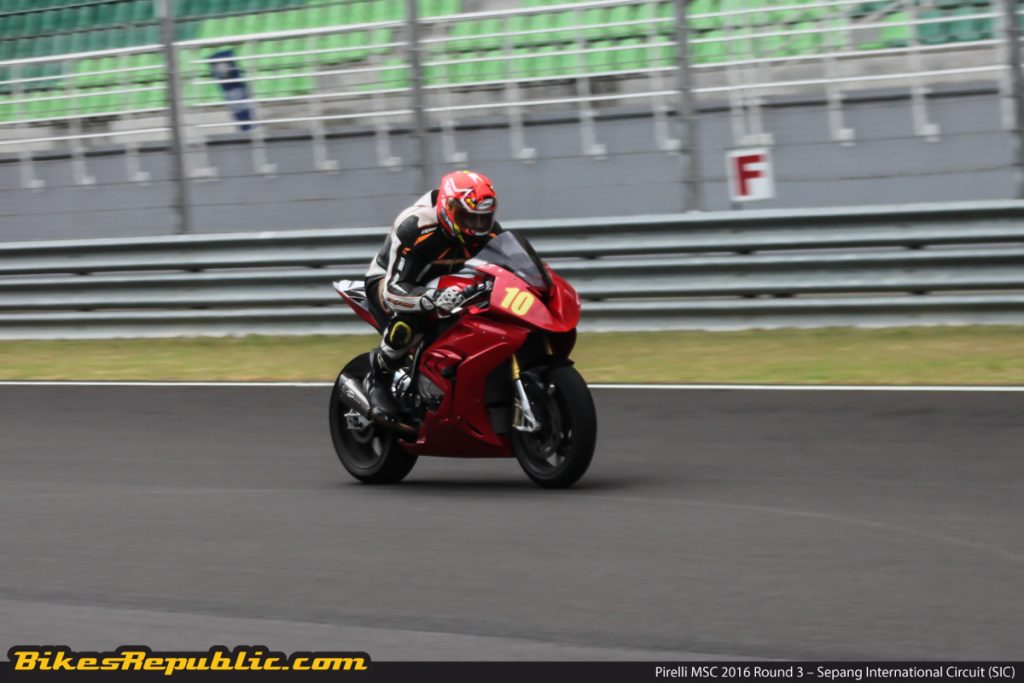 The last 2 rounds will be a double header and it is scheduled later this year from Dec 2 to Dec 4, 2016.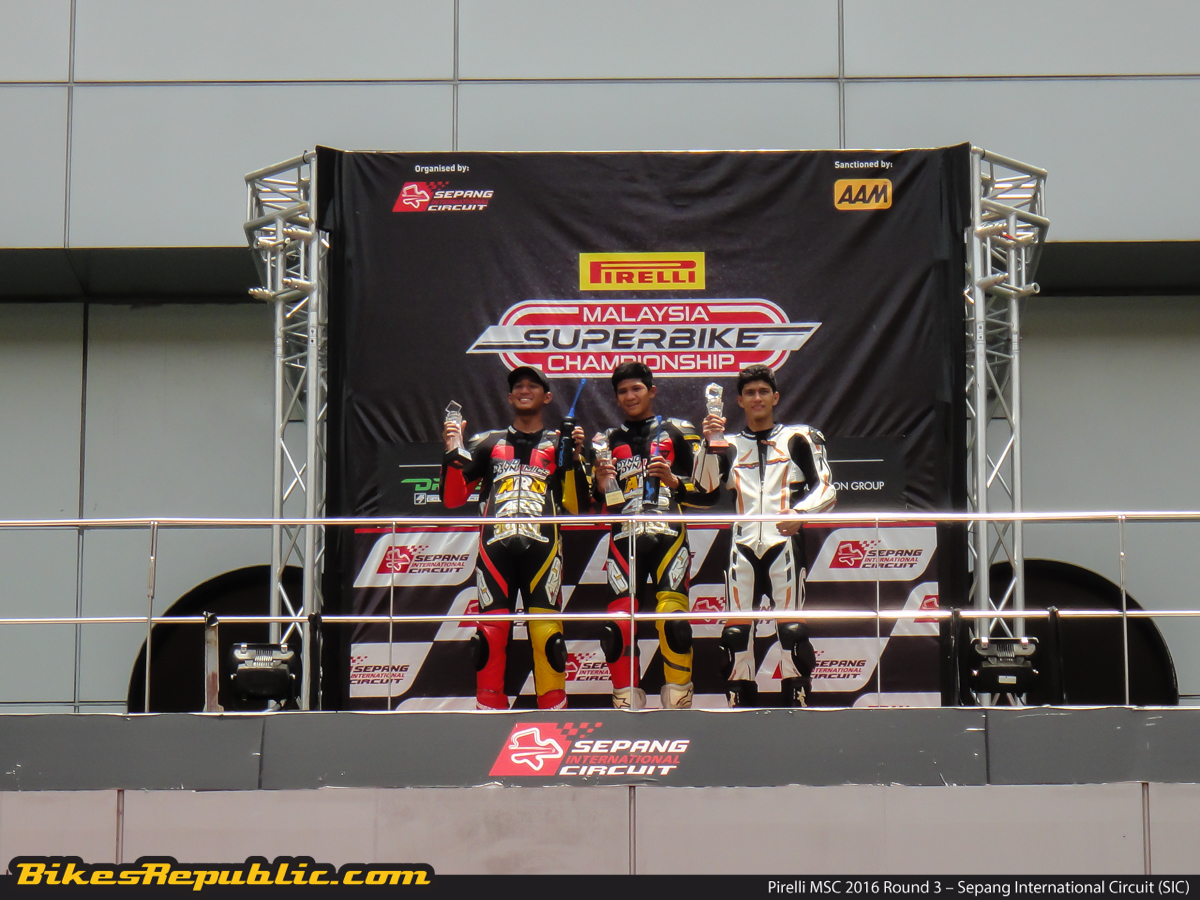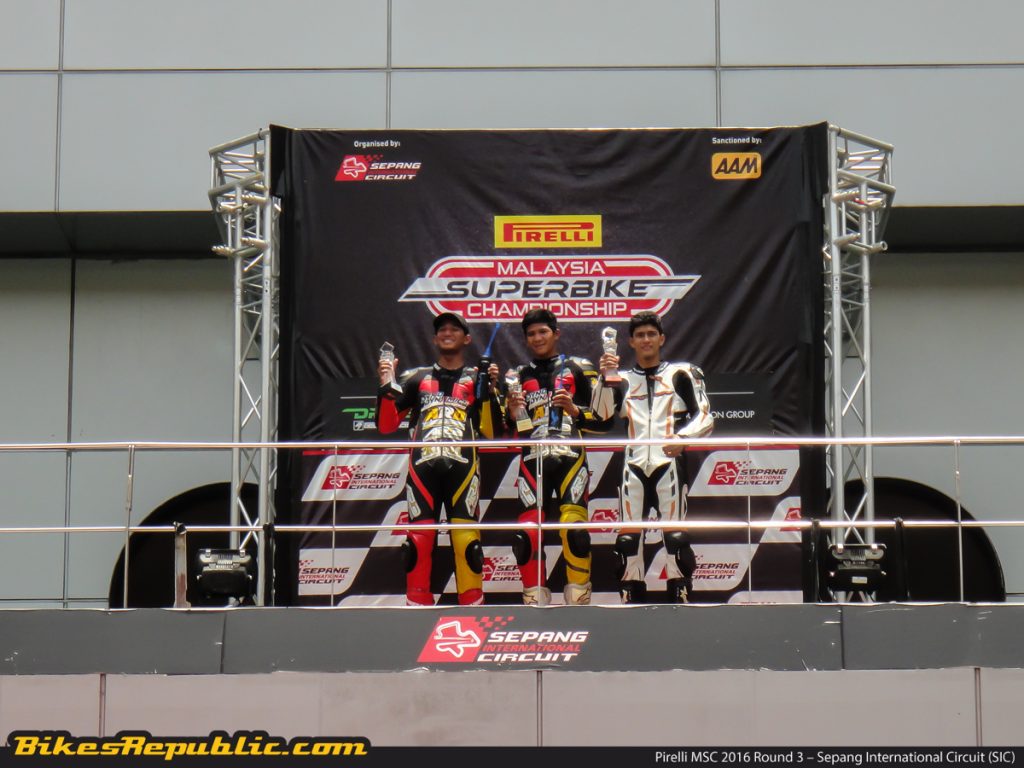 Race Results of MSC 2016 Round 3
SUPERBIKE (RACE 1 – 12 LAPS)
Category A
| | | | |
| --- | --- | --- | --- |
| 1ST | Ahmad Fuad Baharudin | Team Project X | Honda CBR1000RR |
| 2ND | Cameron Donald | SBR Racing Team | Kawasaki ZX-10R |
| 3RD | Jouni Karhu | Chia PJ Kawasaki | Kawasaki ZX1-0R |
Category B
| | | | |
| --- | --- | --- | --- |
| 1ST | Wan Mohd Faizdehar | Motoris Ventures | Honda CBR1000RR |
| 2ND | Mohd Rizal Mohd Johari | 65 Garage Dot COM | Honda CBR1000 HRC |
| 3RD | Linggam Rammoo | Sportsrider Racing Team | BMW S1000RR |
SUPERBIKE (RACE 2 – 12 LAPS)
Category A
| | | | |
| --- | --- | --- | --- |
| 1ST | Cameron Donald | SBR Racing Team | Kawasaki ZX-10R |
| 2ND | Ahmad Fuad Baharudin | Team Project X | Honda CBR1000RR |
| 3RD | Rajini Krishnan K | Chia PJ Kawasaki | Kawasaki ZX-10R |
Category B
| | | | |
| --- | --- | --- | --- |
| 1ST | Linggam Rammoo | Sportsrider Racing Team | BMW S1000RR |
| 2ND | Mohd Rizal Mohd Johari | 65 Garage Dot COM | Honda CBR1000 HRC |
| 3RD | Wan Mohd Faizdehar | Motoris Ventures | Honda CBR1000RR |
SUPERSTOCK (RACE 1 – 12 LAPS)
Category A
| | | | |
| --- | --- | --- | --- |
| 1ST | Jouni Karhu | Chia PJ Kawasaki | Kawasaki ZX-10R |
| 2ND | Ahmad Nashrul Baharudin | Team Project X | Kawasaki ZX-10R |
| 3RD | Harish Nayar | SportsRider Racing Team | Kawasaki ZX-10R |
Category B
| | | | |
| --- | --- | --- | --- |
| 1ST | Azwan Abdul Malek | S4M Motorsports | BMW S1000RR |
| 2ND | Keith Parrot | Sportsrider Racing Team | Yamaha YZF-R1 |
| 3RD | Mohd Ahmad Hawash Khan | | Kawasaki ZX-10R |
SUPERSTOCK (RACE 2 – 12 LAPS)
Category A
| | | | |
| --- | --- | --- | --- |
| 1ST | Mohd Radzi Omar | Team Project X | Honda CBR1000RR |
| 2ND | Jouni Karhu | Chia PJ Kawasaki | Kawasaki ZX-10R |
| 3RD | Ahmad Nashrul Baharudin | Team Project X | Kawasaki ZX-10R |
Category B
| | | | |
| --- | --- | --- | --- |
| 1ST | Azwan Abdul Malek | S4M Motorsports | BMW S1000RR |
| 2ND | Linggam Rammoo | HKM TimesBike Racing Team | BMW S1000RR |
| 3RD | Mohd Ahmad Hawash Khan | | Kawasaki ZX-10R |
SUPERSPORT (RACE 1 – 12 LAPS)
Category A
| | | | |
| --- | --- | --- | --- |
| 1ST | Azlan Shah Kamaruzaman | | Kawasaki ZX-6R |
| 2ND | Amirul Hafiq Mhd Azmi | | Yamaha YZF-R6 |
| 3RD | Muhammad Helmi Azman | ARD Performance Motorsports | Yamaha YZF-R6 |
Category B
| | | | |
| --- | --- | --- | --- |
| 1ST | M. Iqbal Quzaimy Azhar | ARD Performance Motorsports | Yamaha YZF-R6 |
| 2ND | Muhammad Azmirul Azhar | ARD Performance Motorsports | Suzuki GSX-R 600 |
| 3RD | Muhamad Syafiq Anuar | HKM TimesBike Racing Team | Yamaha YZF-R6 |
SUPERSPORT (RACE 2 – 12 LAPS)
Category A
| | | | |
| --- | --- | --- | --- |
| 1ST | Azlan Shah Kamaruzaman | | Kawasaki ZX-6R |
| 2ND | Azroy Hakeem Anuar | | Honda CBR600 |
| 3RD | Amirul Hafiq Mhd Azmi | | Yamaha YZF-R6 |
Category B
| | | | |
| --- | --- | --- | --- |
| 1ST | M. Iqbal Quzaimy Azhar | ARD Performance Motorsports | Yamaha YZF-R6 |
| 2ND | Muhammad Azmirul Azhar | ARD Performance Motorsports | Suzuki GSX-R 600 |
| 3RD | Liam Mac Donald | Sportsrider Racing Team | Kawasaki ZX-6R |
PRODUCTION 250 ( RACE 1 – 8 LAPS)
Category A
| | | | |
| --- | --- | --- | --- |
| 1ST | Muhammad Jazil Juraimi | Chia PJ Kawasaki | Kawasaki Ninja 250 |
| 2ND | Khairul Anwar Jamil | | Honda CBR250R |
| 3RD | Angelo Neo | | Honda CBR250R |
Category B
| | | | |
| --- | --- | --- | --- |
| 1ST | Yap Teck Chow | | Kawasaki Ninja 250SL |
| 2ND | Wong Wai Mun | | Kawasaki Ninja 250SL |
| 3RD | Ahmad Fariz Zafri | | Kawasaki Ninja 250 |
PRODUCTION 250 (RACE 2 – 8 LAPS)
Category A
| | | | |
| --- | --- | --- | --- |
| 1ST | Muhammad Jazil Juraimi | Chia PJ Kawasaki | Kawasaki Ninja 250 |
| 2ND | Khairul Anwar Jamil | | Honda CBR250R |
| 3RD | Luth Harith | Fastthrottle Motorsports | Honda CBR250R |
Category B
| | | | |
| --- | --- | --- | --- |
| 1ST | Yap Teck Chow | | Kawasaki Ninja 250SL |
| 2ND | Muhd Aiman Tahiruddin | | Yamaha YZF-R25 |
| 3RD | Mohd Hariz Ahmad | | Kawasaki Ninja 250 |