An in-depth review of the new locally assembled KTM 1050 Adventure CKD.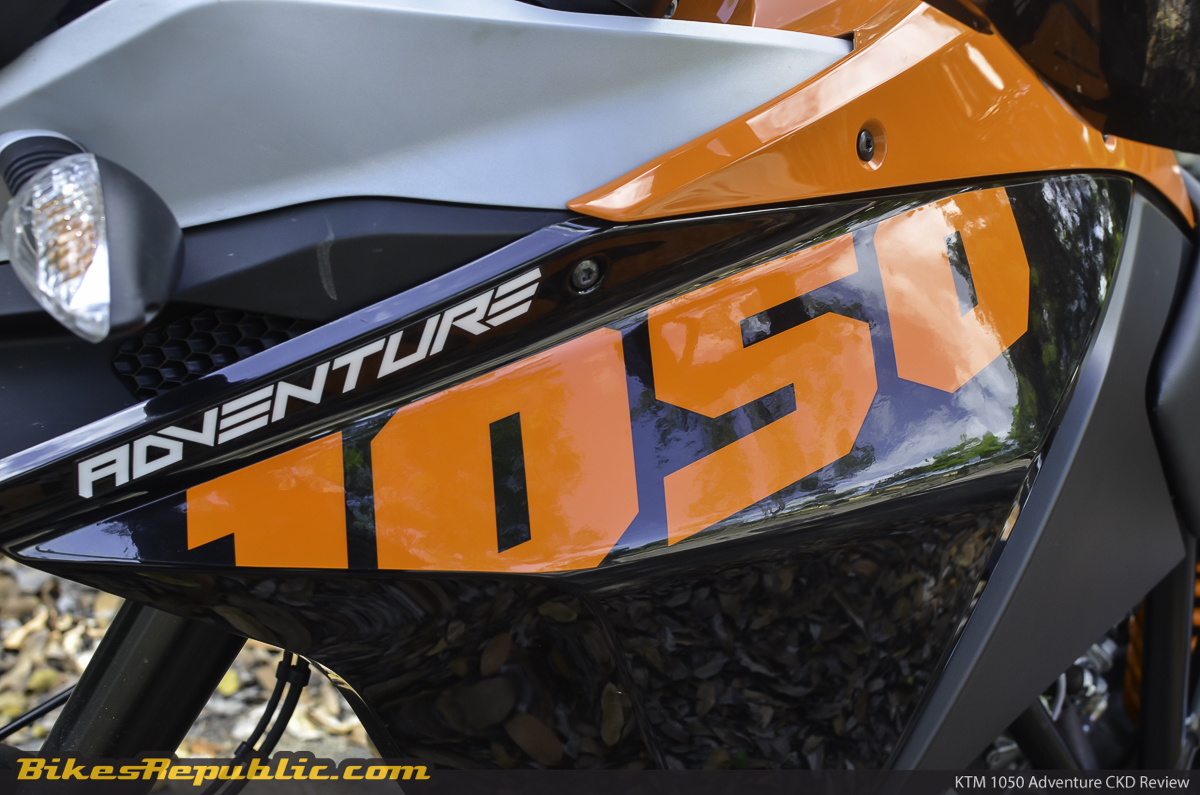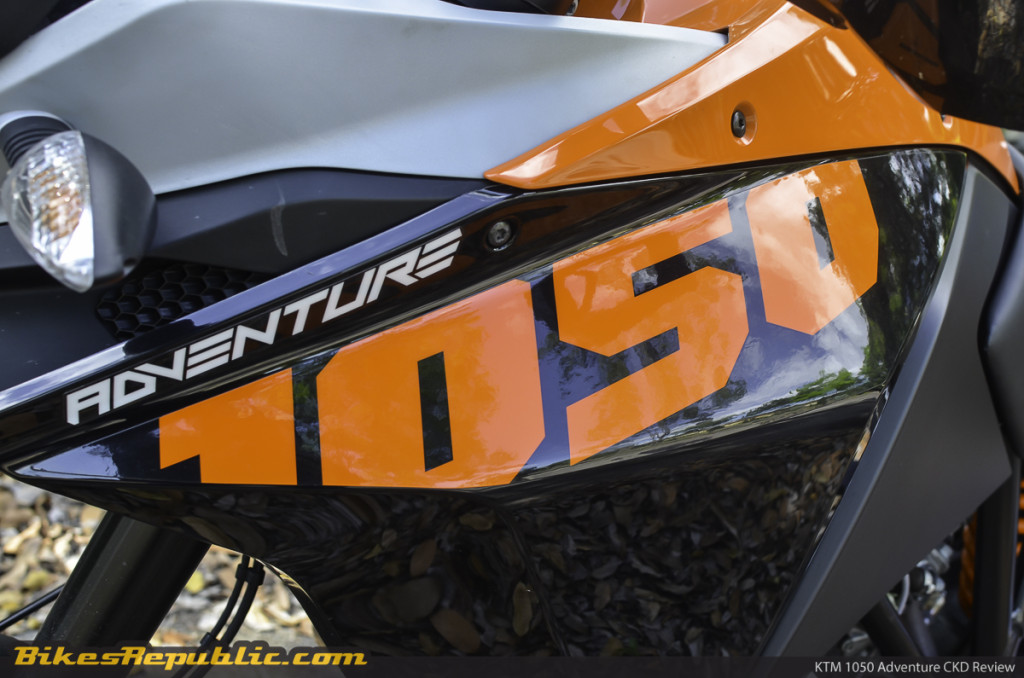 For many fans, the KTM Adventure series stands as the Austrian brand's ultimate expression of what adventure touring bikes should be. Of course, not everyone wants the heavier and more expensive 1190 Adventure or the range-topping 1290 Super Adventure iterations. This subsequently led to the creation of this, the entry level 1050 Adventure that debuted in 2014.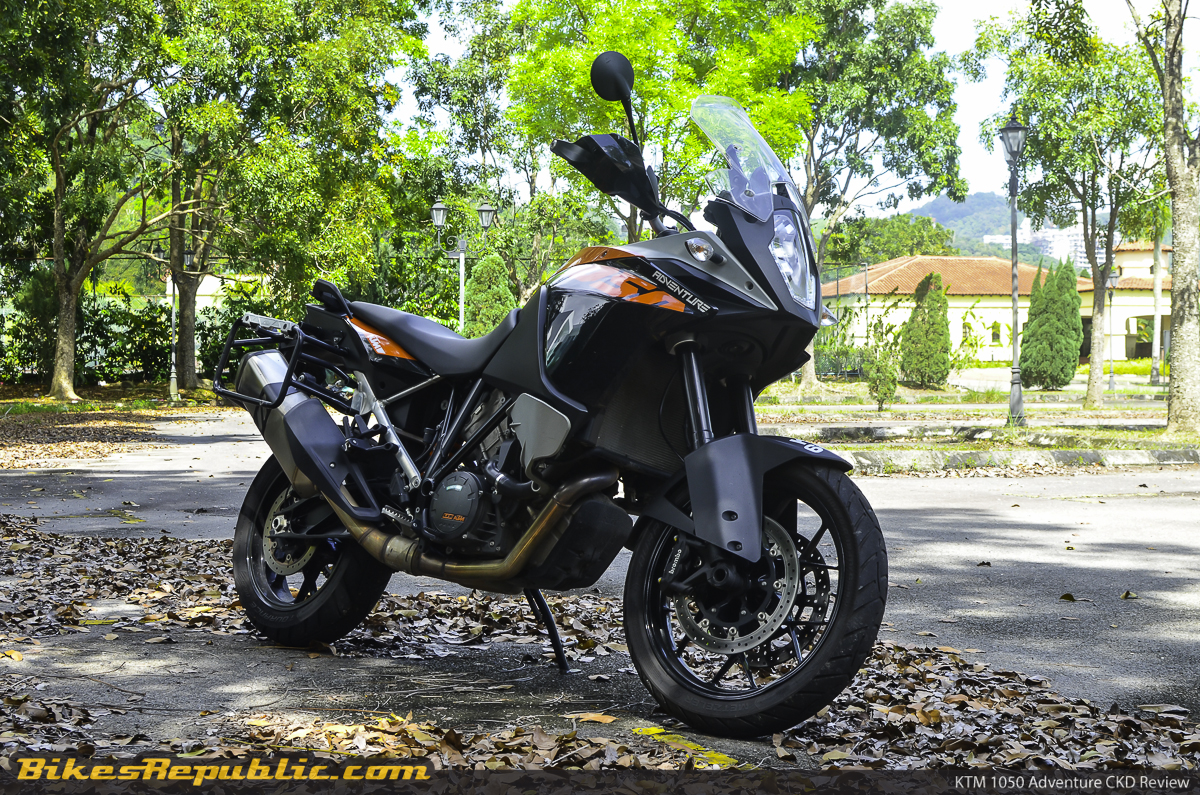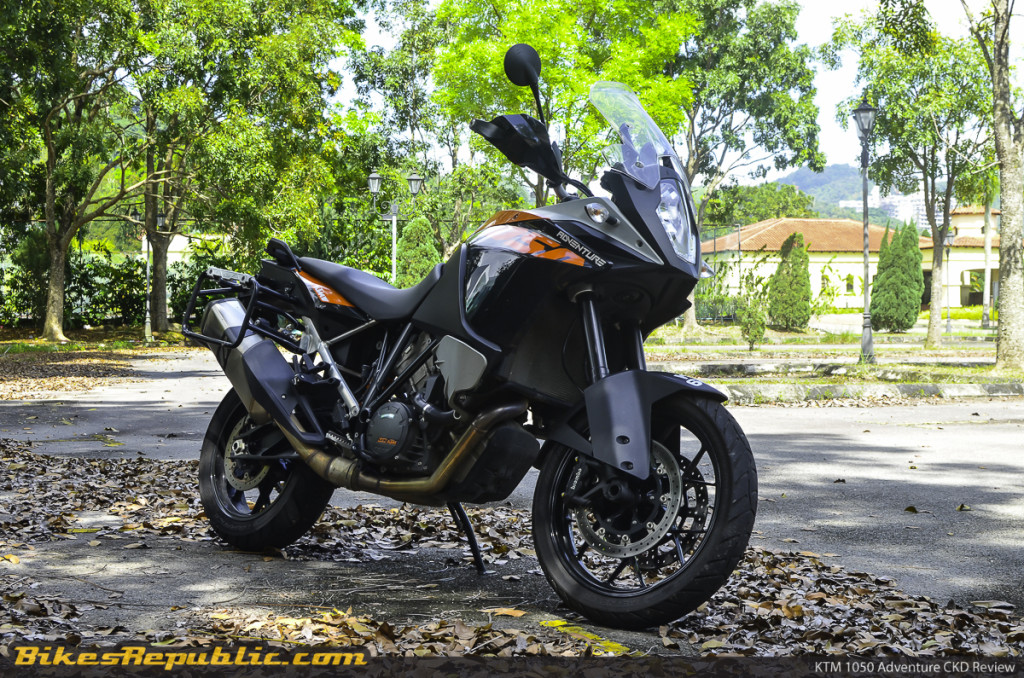 While it shares identical chassis architecture with the 1190 and 1290 siblings, the KTM 1050 Adventure was developed with a much more affordable and simpler package in mind, and is targeted specifically towards riders who are new to the adventure touring genre.
In Malaysia, the KTM 1050 Adventure CKD's package is made much more enticing now that it is assembled locally, boasting a more affordable price tag as well. In its price range, it faces up against a stellar line up of competitors such as the Suzuki V-Strom 1000, the BMW F800 GS and the Triumph Tiger 800. Nevertheless, this plucky Austrian has proved itself when we took it for a short test-ride last weekend up to Genting Highlands via Ulu Yam.
Though it is more compact in size than its two larger siblings, it actually looks the part of a full-sized adventurer. What we loved most here were the cutting edge and modern touches exuded by the LED daytime running lights and LED tail lamp, as well as the convenient digital multi-info instrument display. Novices and experienced riders alike will definitely appreciate the latter as it offers plenty of readouts such as a trip computer, gear indicator and the selected ride mode.
Crucially though, this being a locally assembled (CKD) bike, the quality of the fit and finish is excellent to say the least. We can safely report of no visible panel gaps or loose parts anywhere, with this built-in-Kedah bike looking and feeling just as good and as solid as the model's fully imported (CBU) iteration.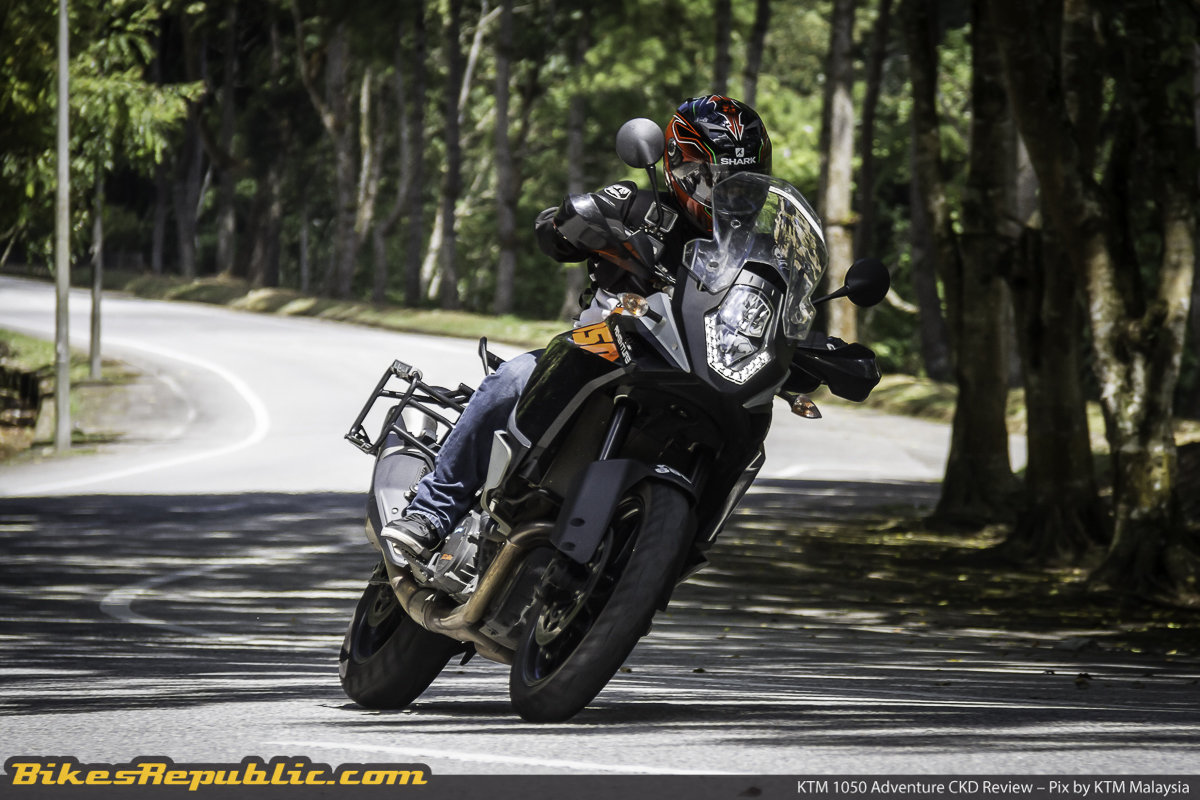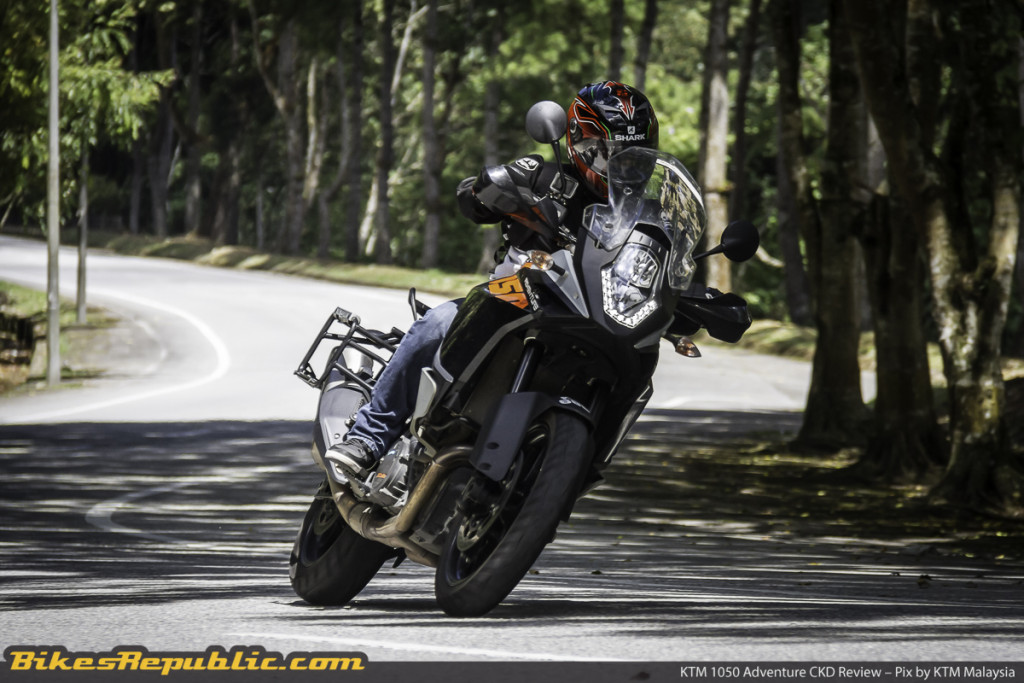 During our test ride, what immediately surprised us was the 1050 Adventure's very easy and highly agile handling traits. Much of this is down to its lightweight chassis, which is a combination of a Chromium-Molybdenum steel trellis frame with an aluminium sub-frame construction, granting the bike with a low dry weight of 212kg. On the move, it feels much like a typical middleweight bike does, making it very novice-friendly in the process.
Riders would appreciate the riding ergonomics as well. Highlights here include the comfortable up-right riding position, the relatively low 850mm seat height, as well as the excellent wind protection granted by the large windscreen in front.
However, if you find the seat height a little too high still, then worry not as the KTM PowerParts catalogue does feature a low-seat option as well, making it a lady-friendly bike too. Notably, the catalogue also offers the choice between waterproof bags or a set of hard panniers as well, adding further to this bike's touring capabilities.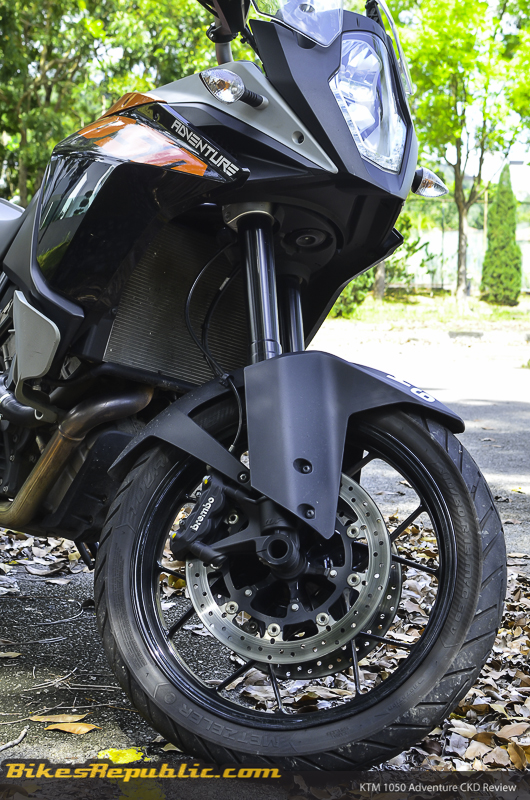 Also worthy of praise are the WP suspension. Comprised of a pair of inverted 43mm shocks in front and an a pre-load adjustable rear monoshock unit, the suzzies offer high amounts of suspension travel – 185mm up front and 190mm at the rear to be exact. These high-travel suspension sets absorb bumps and road imperfections beautifully, granting riders with a very compliant yet comfortable and very taut tide.
For most fans though, the KTM 1050 Adventure's biggest draw lies in its powertrain. The 1,050cc version of the KTM brand's venerable liquid-cooled and twin spark LC8 V-twin mill primed here may sound like a handful at first, but the offer of 95hp and 107Nm of peak torque is considerably low when compared to the figures offered by the larger and heavier 1190 and 1290.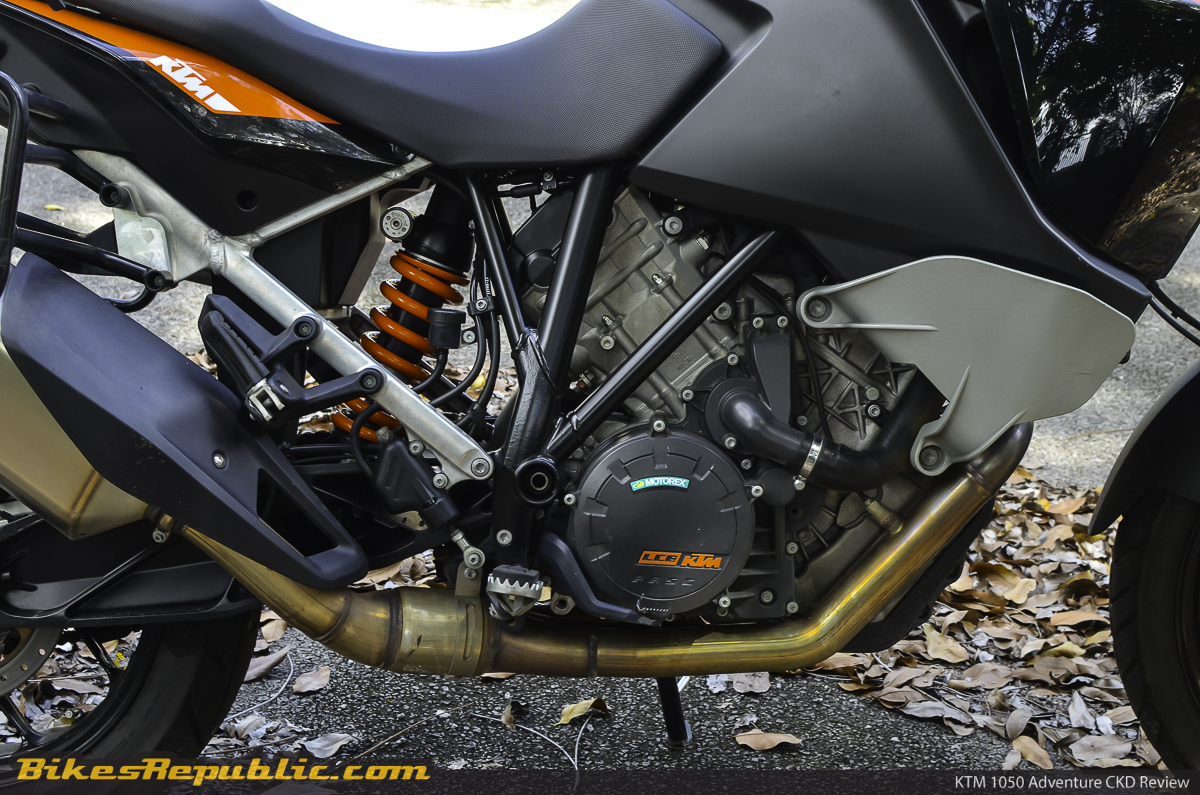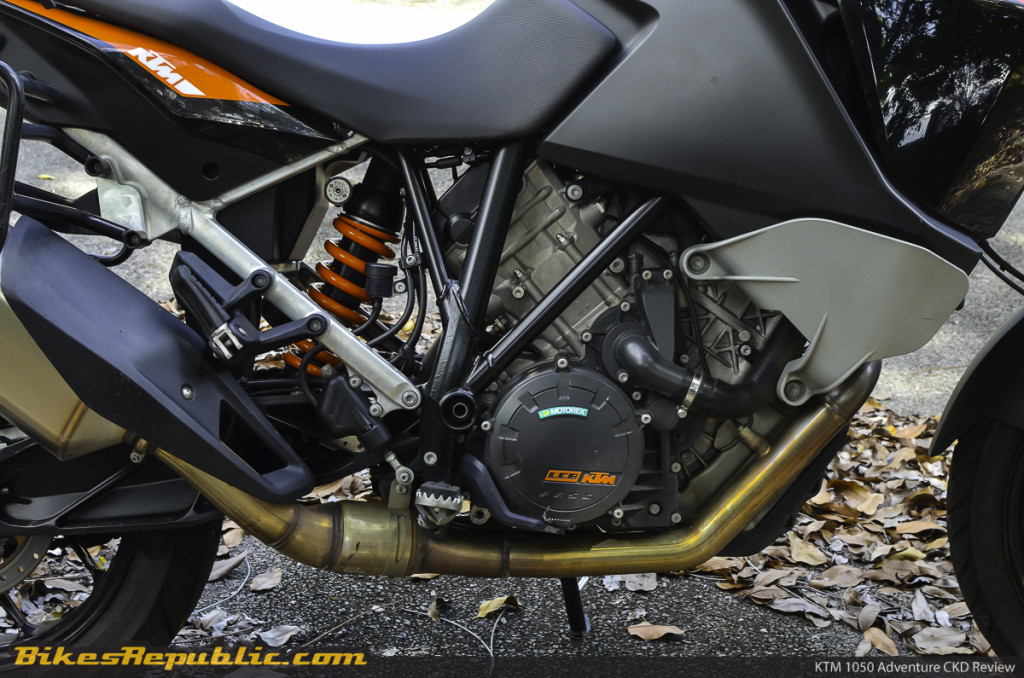 Despite the lower power and torque figures, the way the 1050 Adventure's delivers them is something many will appreciate. It is rich with mid-range torque, feeling rather zippy when getting off the line and when tackling twisty roads as well. It only lacks slightly in the top-end, but that doesn't mean it won't do highway tours adequately – a feat we noted during a short hop on the Duke Highway whilst enroute towards Ulu Yam via Selayang.
Furthermore, most riders will also find that the engine is relatively easy to master thanks to the presence of ride-by-wire electronics and its offer of three selectable ride modes (Street, Sport Rain). Complementing that are other notable standard-equipped electronic aids such as a disengageable two-channel ABS suite, as well as traction control.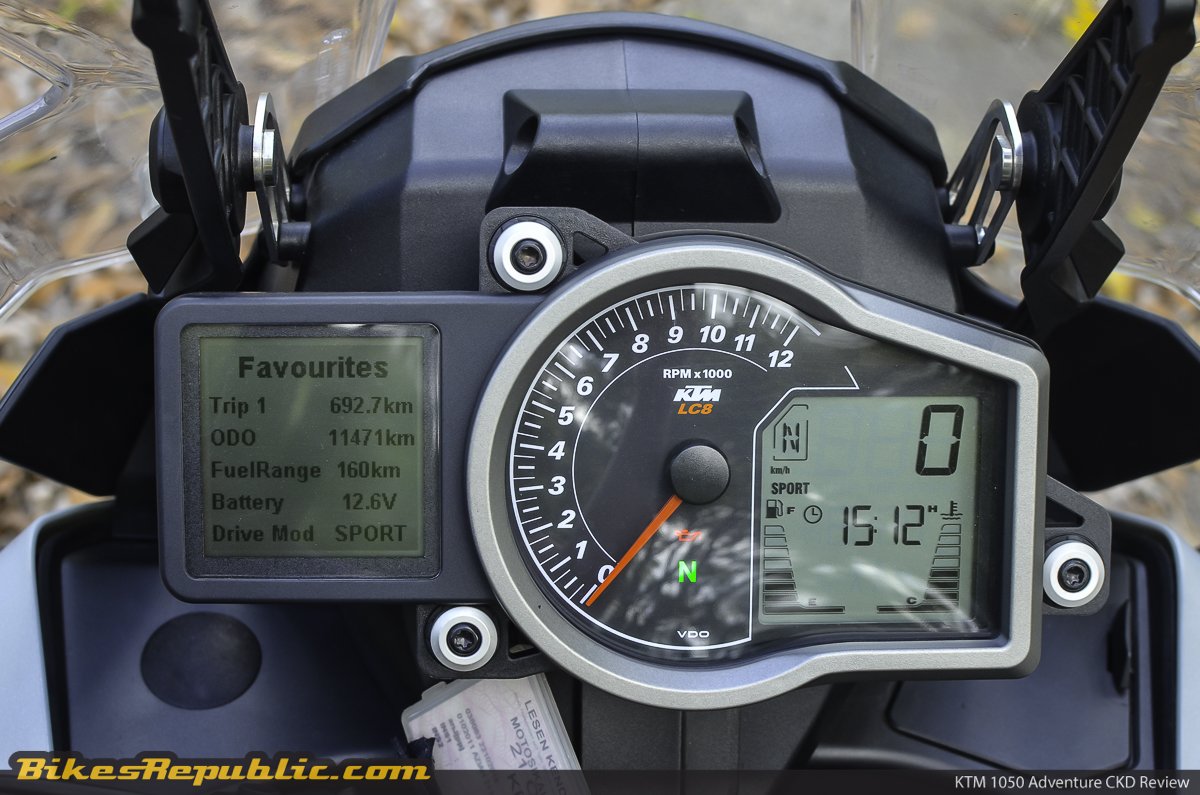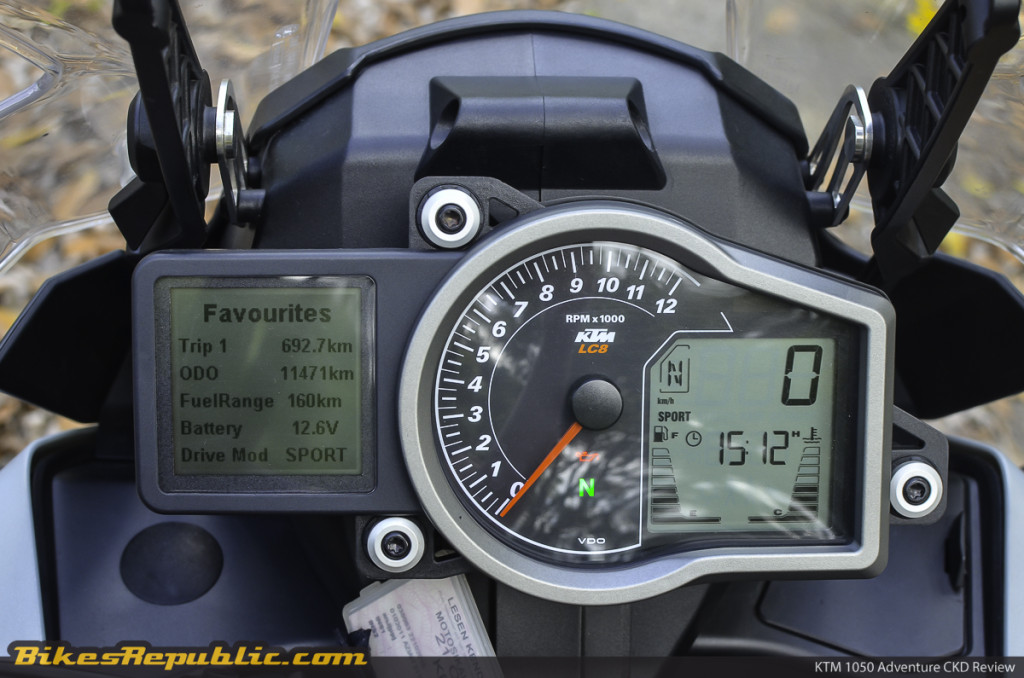 Whilst the ride modes adjusts the throttle sensitivity and restricts power accordingly in Rain mode, it is the traction control that can be felt working overtime during our time in the hot seat. It becomes very apparent when the throttle is at full-twist during off the line blasts as the system greatly reduces both wheelspin and the likelihood of a wheelie. It does not feel too intrusive in its operation, and we can't help but imagine how it would save many newbies from the embarrassment of accidental wheelies.
Additionally, the mill is paired with a six-speed transmission primed with a hydraulically actuated PASC slipper clutch unit, sending all power to the rear wheel via a chain-drive system. The box's ratios are not only smooth, they also felt well thought out and perfectly matched with the thumpy V-twin mill's rich mid-range torque generation.
For us, and perhaps many avid riders, the slipper clutch feature makes riding the 1050 Adventure a really fun machine in spirited rides. It comes in handy especially during braking and downshifting for corner entry, making the task of tackling a challenging route such as the Ulu Yam to Genting Highlands path a fairly easier affair, even for novice riders.
Also worthy of praise here were the aforementioned ABS suite and its accompanying Brembo-sourced hardware. Primed up front is a pair of 320mm discs with quad-piston calipers whilst the rear features a single 267mm disc with a dual-piston caliper. Stopping power felt just as excellent and as precise as the power delivery, and it is also easy to modulate by using just one finger.
The fact that the Bosch-supplied two-channel ABS suite can be disengaged adds to this bike's versatility as well, especially when taken off the asphalt. Although KTM claims that the 1050 Adventure is capable of mild off-roading, it actually feels more at home when tearing up the black top.
Yes, it has the adequate 220mm ground clearance to go off the beaten path, but the standard bike's use 19-inch front and 17-inch rear cast aluminium wheels means that serious off-roading should be reserved for its larger but more expensive 1190 Adventure R and 1290 Super Adventure siblings instead. Nevertheless, this high ground clearance does come in handy, especially when one comes up into a situation where you need to chart across light gravel or dirt.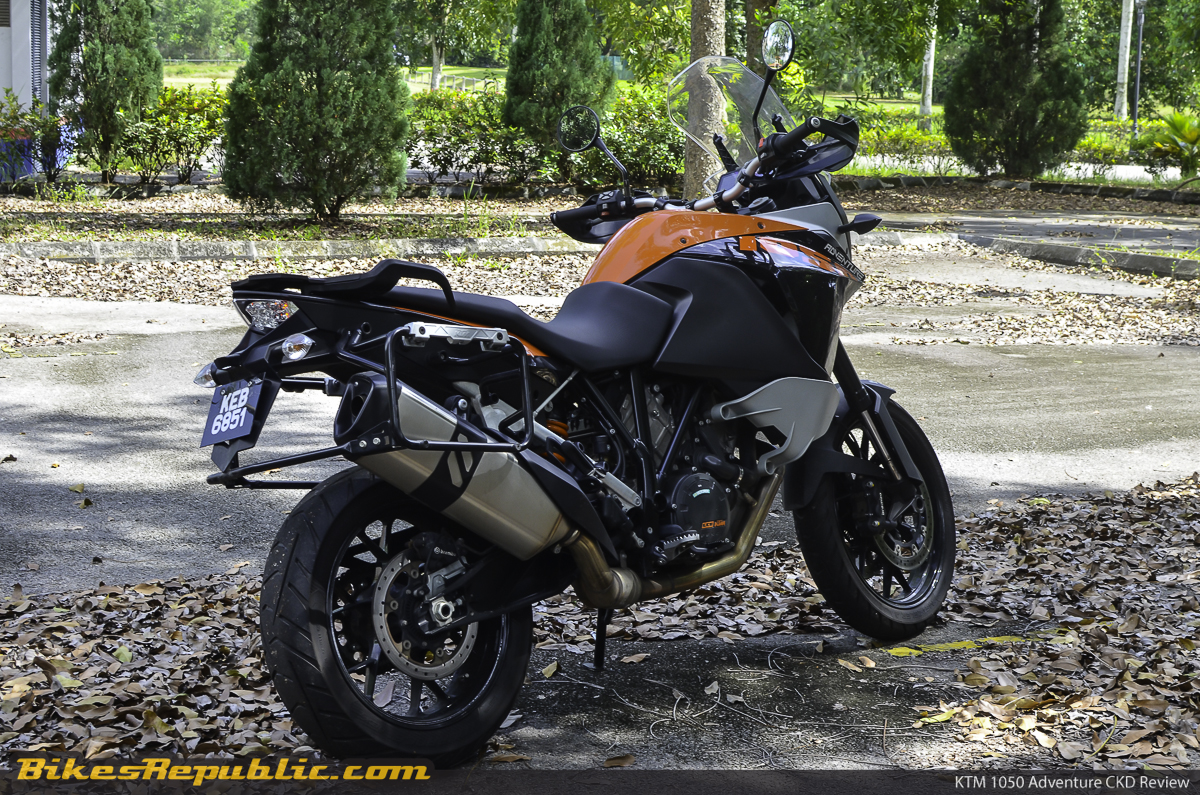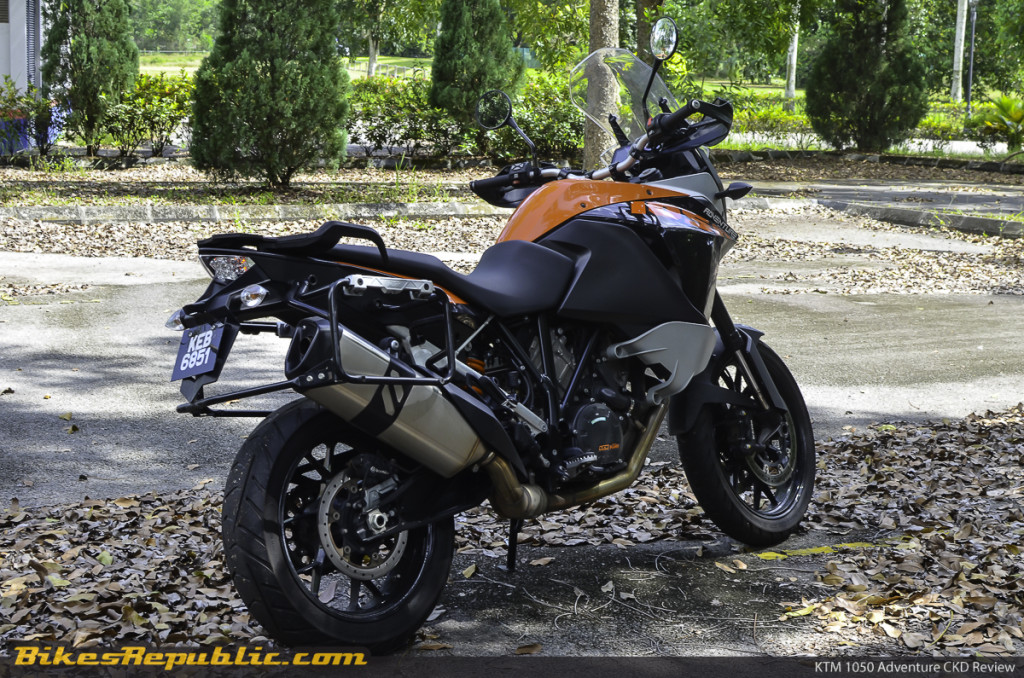 Despite not having the same amount of capabilities as its larger siblings, the KTM 1050 Adventure's package is very appealing for most, especially to those who are keen in venturing up from a middleweight into the heavyweight sports tourer segment.
Packing excellent handling, good performance and a complete array of standard features at the affordable price of RM68,888 (sans GST, road tax, etc), the KTM 1050 Adventure CKD stands to offer tremendous value for money against its segment rivals. Said price includes a two-year unlimited mileage warranty plan by KTM Malaysia as well.
KTM 1050 Adventure CKD technical specs
KTM 1050 Adventure CKD test-ride Gallery
BikesRepublic.com test rider's gear provided by Winmaster Sdn Bhd
Shark S700 full face Guintoli replica
Furygan Skull Vented riding jacket
Furygan AFS-110 racing gloves
Ryo riding sneakers
SOL hard-shell backpack