Once again, KL Bike Week returns for its 2015 edition. Organisers Red Garage Malaysia is hosting the annual two-wheeled soiree in the grounds of Lanai MaTIC off Jalan Ampang, Kuala Lumpur. The two-day event starts today and will run until tomorrow (Dec 19).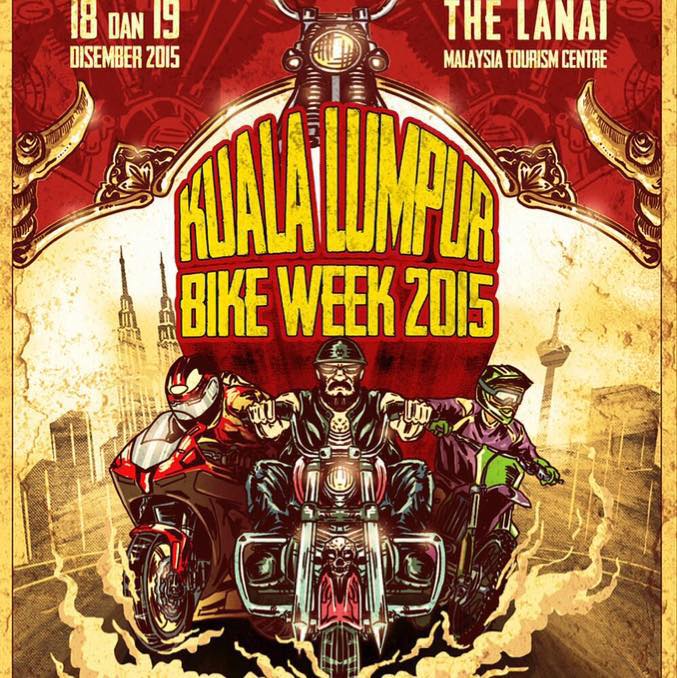 This year, KL Bike Week 2015 organisers have arranged with city officials to have parts of Jalan Ampang leading towards the event grounds closed the hopes of making things easier for bikers coming in and out. Worry not as you can still visit the event by taking a train to either KLCC or Dang Wangi as both stations are just 10-minute walks from Lanai MaTIC. You can refer to the map we've attached below.

Another key highlight of the event this year besides the mass show of all things two wheeled are the presence of several local bands tasked at providing the event's soundtrack from its main stage. Of course, the main highlight of the roster this year is none other than legendary local rock band Wings who will headline the stage on Saturday evening.
We took a tour in the early hours of the event earlier today to see what you can expect from KL Bike Week 2015 (#KLBW2015).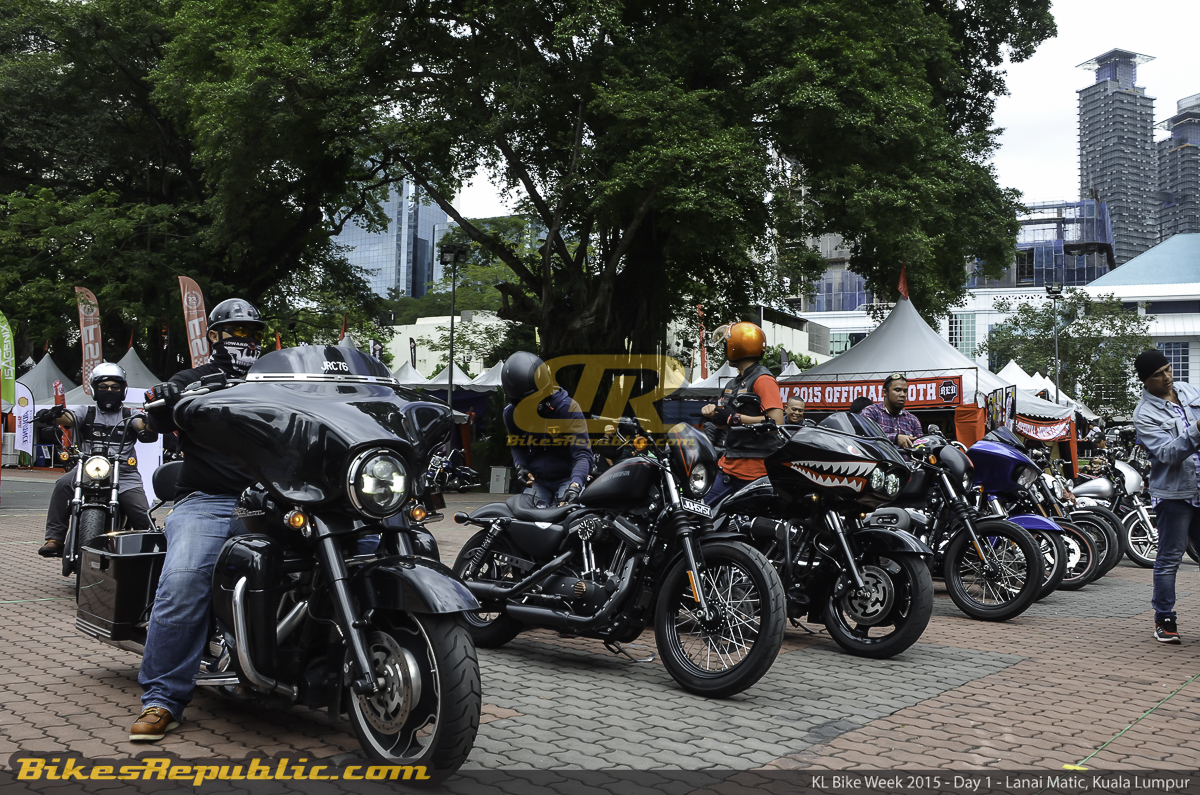 First of all, you'll see plenty of Harley-Davidson motorcycles. Much of the local Malaysian Harley-Davidson owners community will be present in full force.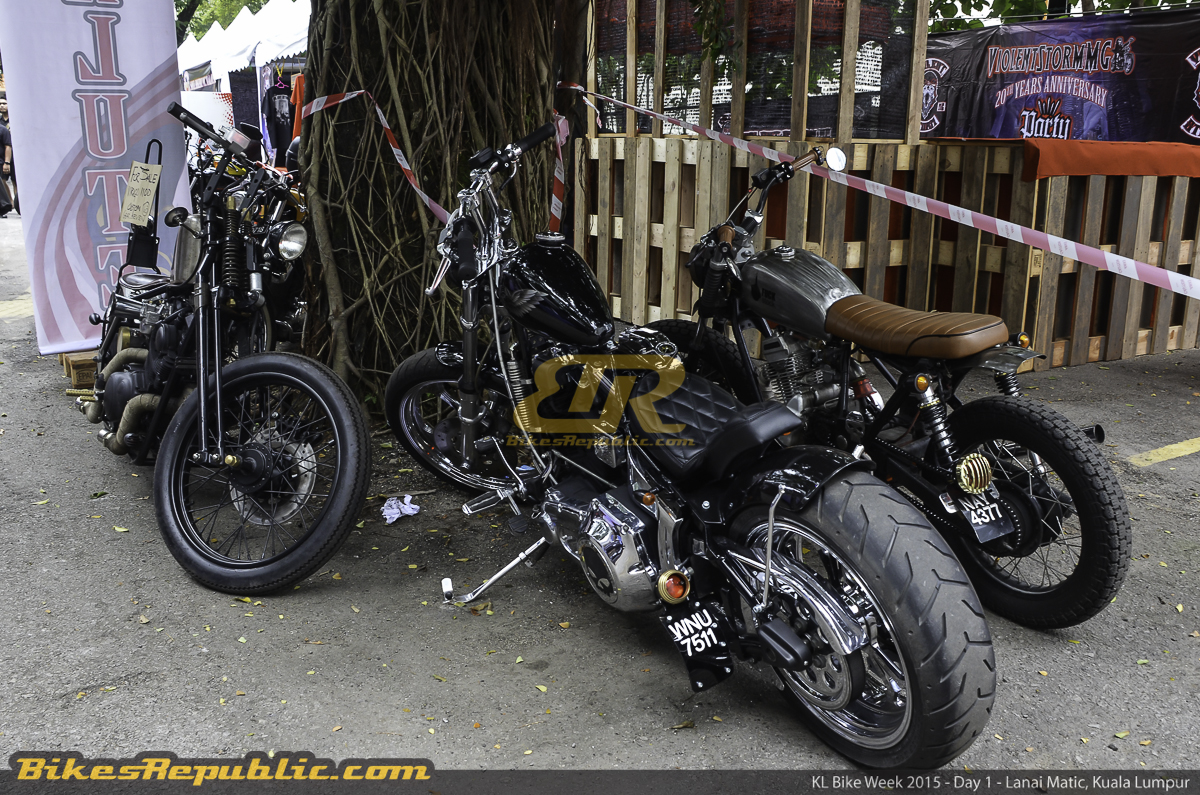 KL Bike Week is also a mecca for many custom bike owners and enthusiasts. You'll see them at every corner and perhaps resting under a tree like this threesome.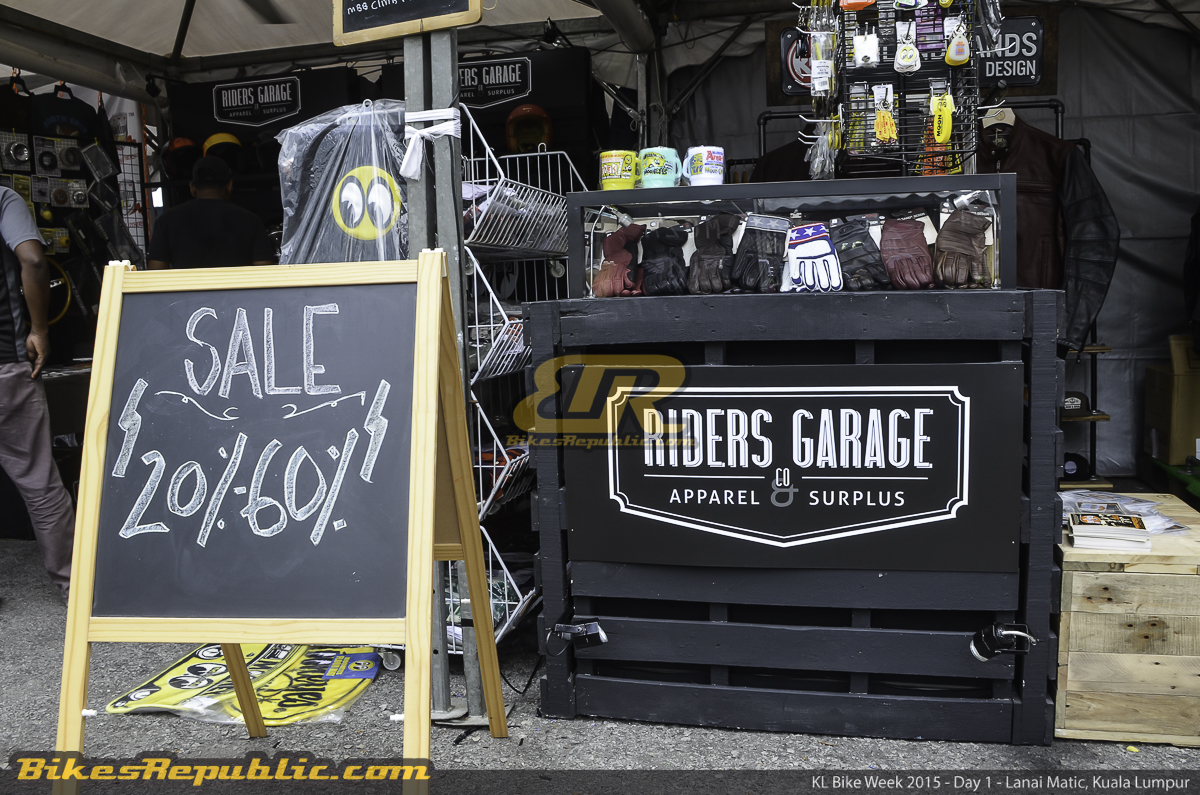 KL Bike Week is also the perfect place to hunt for bargains. Plenty of vendors are present here offering various things from souvenirs to apparels, as well as various bike parts, riding gear, not to mention services as well such as on-site bike detailing.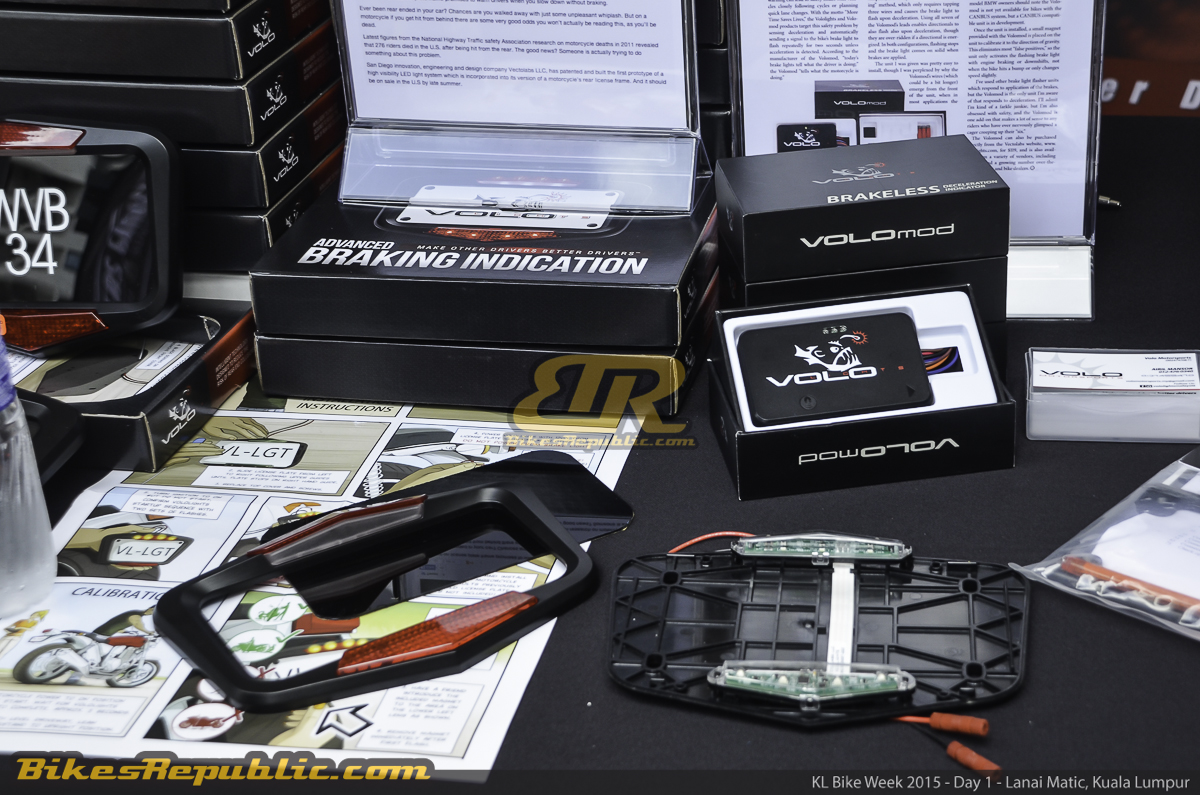 The amount of kits on sale are impressive too, and would please just about any DIY biker buff. What caught our attention today was this, the VOLO Advance Braking Indication system.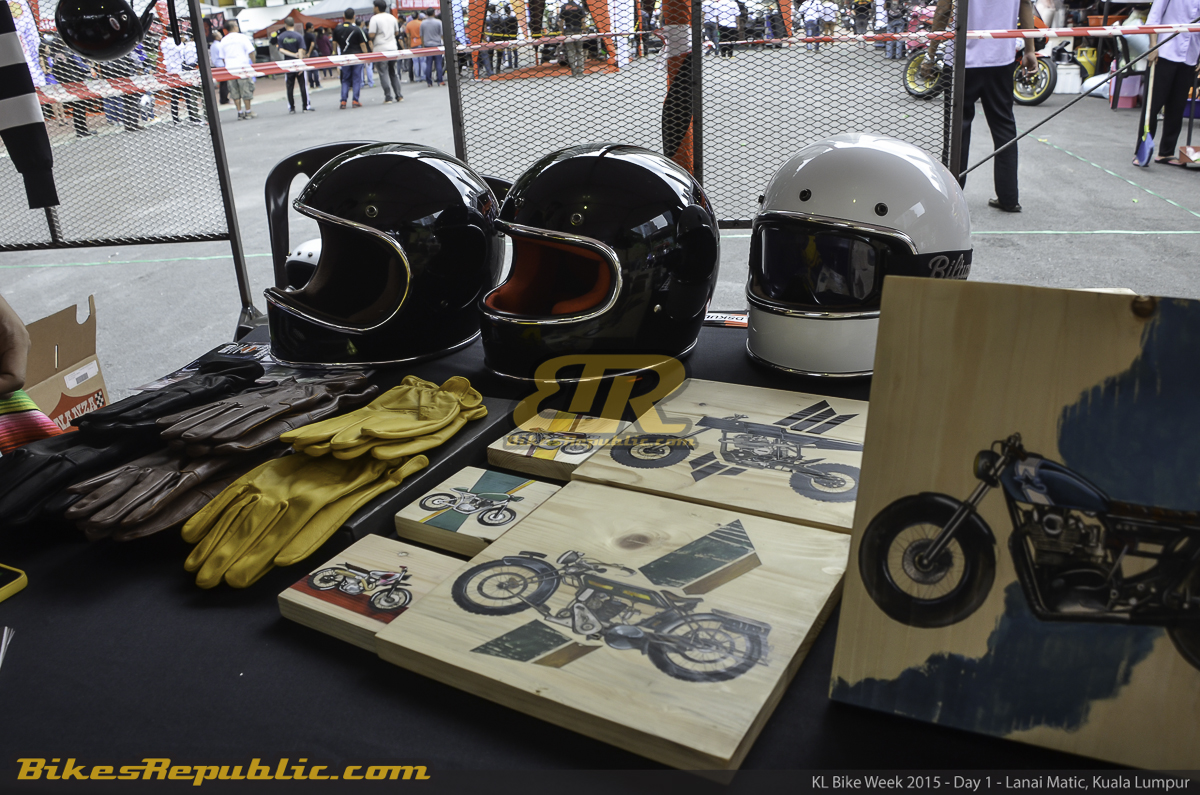 However, should you fancy some of the finer things the two-wheeled world can offer, you can also indulge in artisan crafts. This selection of custom-made helmets and wood paintings made by Indonesian bike artisans Riders Rules are one example.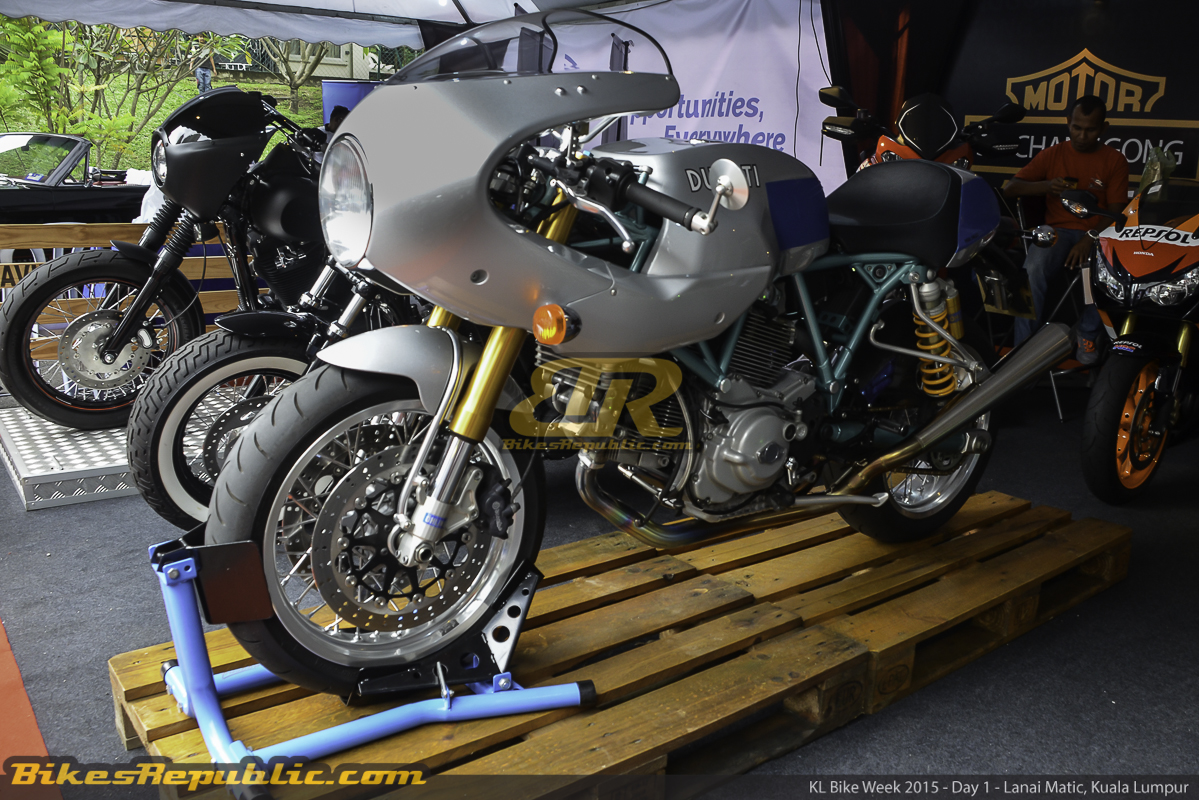 Should you be the type who's always carrying a cheque book in your pocket with a finer taste for bikes, then you might just find yourself oogling over some rarities up for sale by specialist importers present. We absolutely love this Ducati Paul Smart we found on display by specialist importers Sri Changgong Sdn Bhd.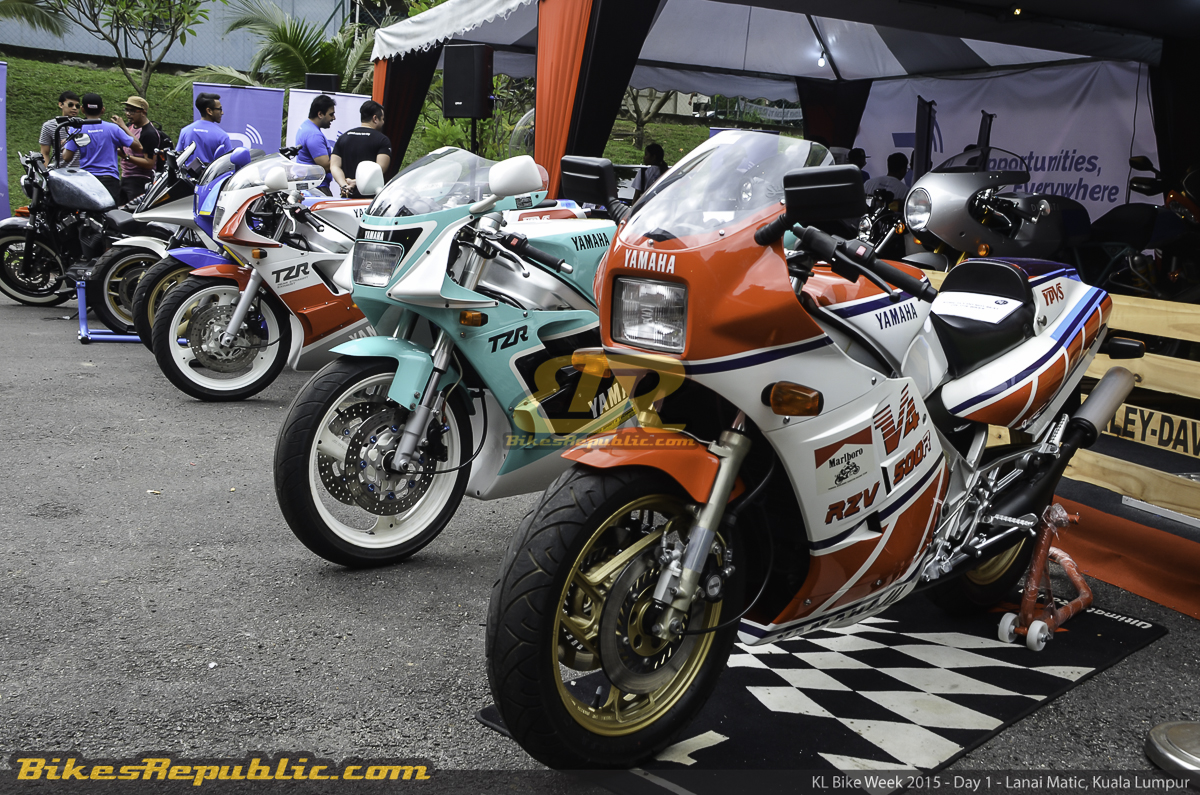 Besides that, Sri Changgong's collection also includes a range of classic Japanese GP-derived two-stroke sports bikes. The Yamaha RZV 500R and the two TZRs next to it have indeed reignited our love for two-strokers.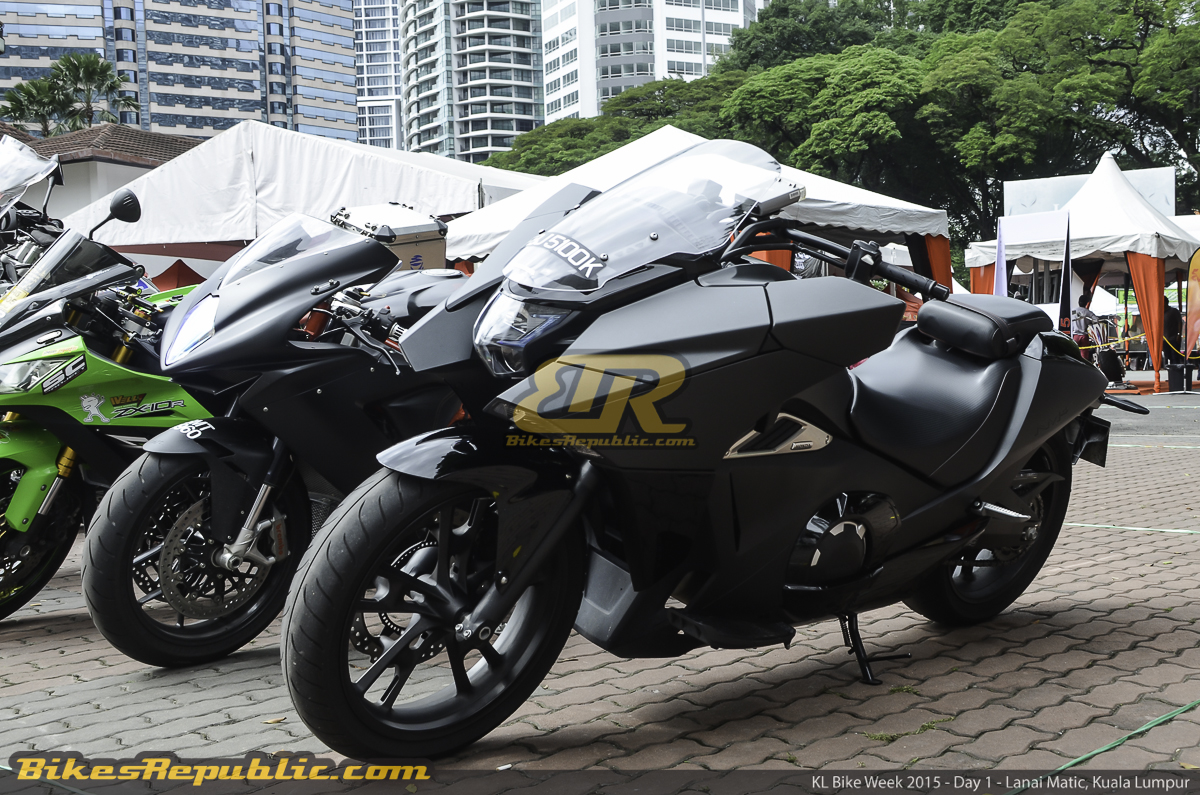 Sadly though, some bikes you'll see on the grounds of KL Bike Week 2015 aren't for sale, like this rare Honda NM4 Vultus maxi-scooter. Yes, you read that right, this blacked-out thing is a SCOOTER. And beleive it or not, it is taking all the limelight away from the blacked-out MV Agusta parked next to it.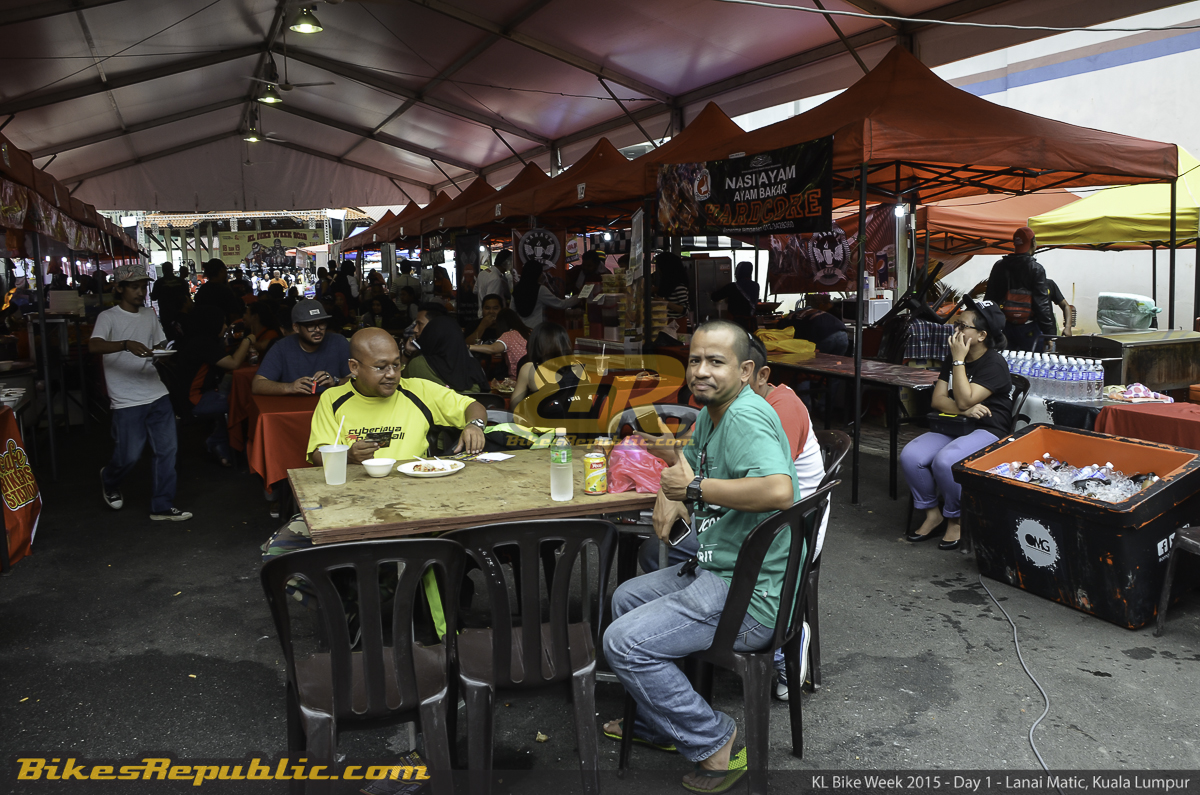 Of course, KL Bike Week isn't all about two-wheels. There are plenty of independent food vendors and stalls or gerai with a rich selection of F&B. Even bikers need to fuel up too, and so should you.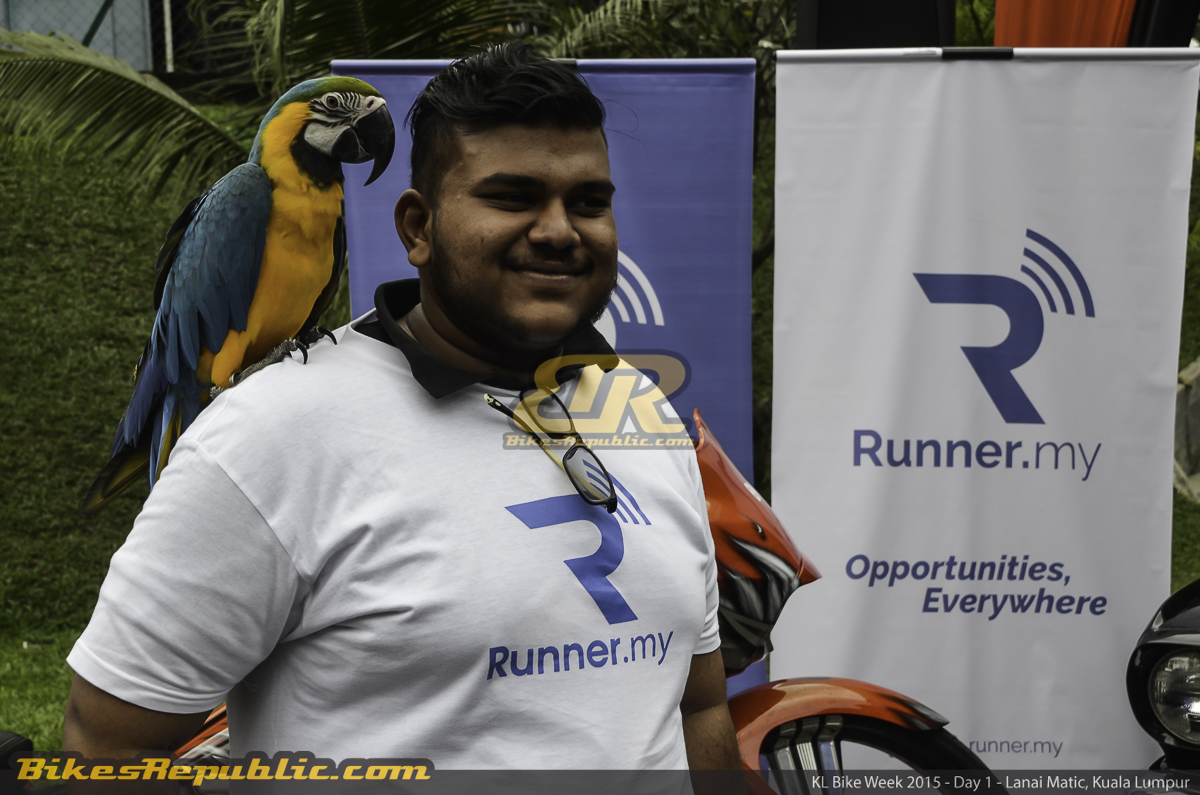 Our visit during the early hours today was short, so no sights of massive biker groups mingling around just yet. But this bloke walking around with a fiesty-looking parrot on his shoulder was interesting to say the least.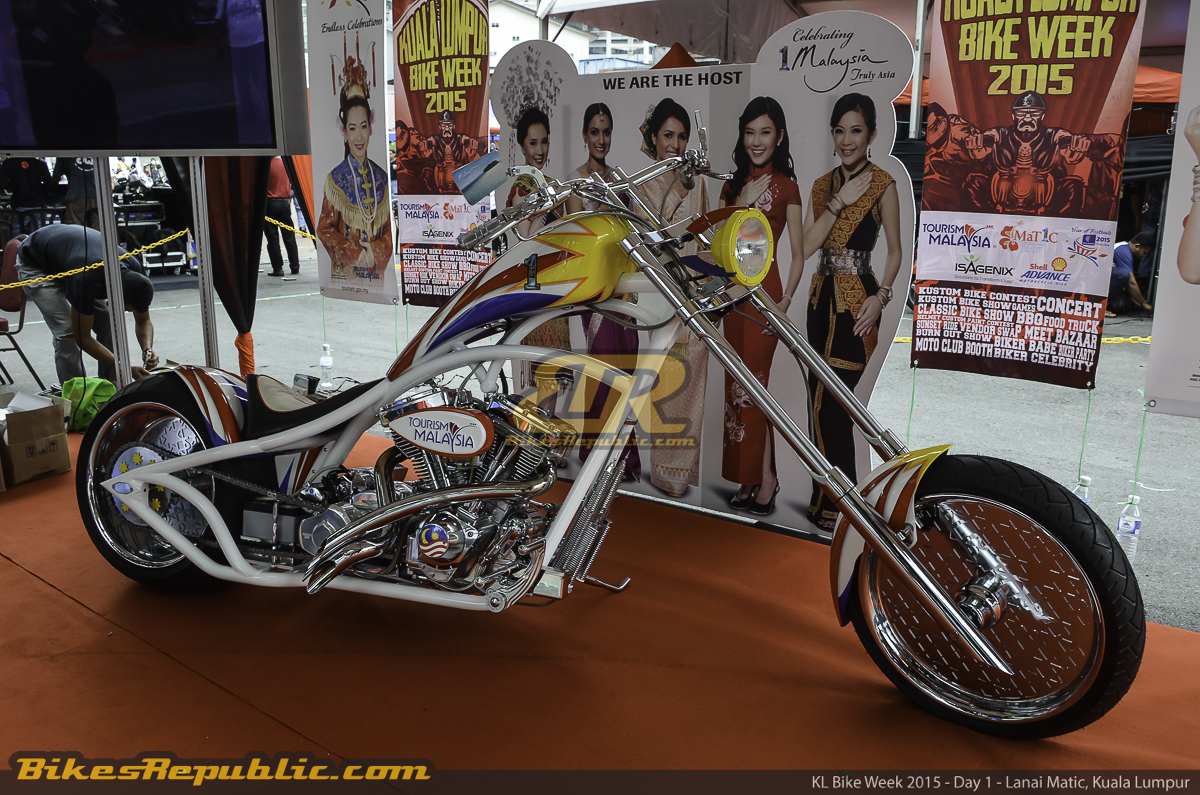 Also making an appearance is the 1Malaysia custom cruiser built by the famed Orange County Choppers. Was this budgeted using the hotly contested RM2.6 billion? Hmmm…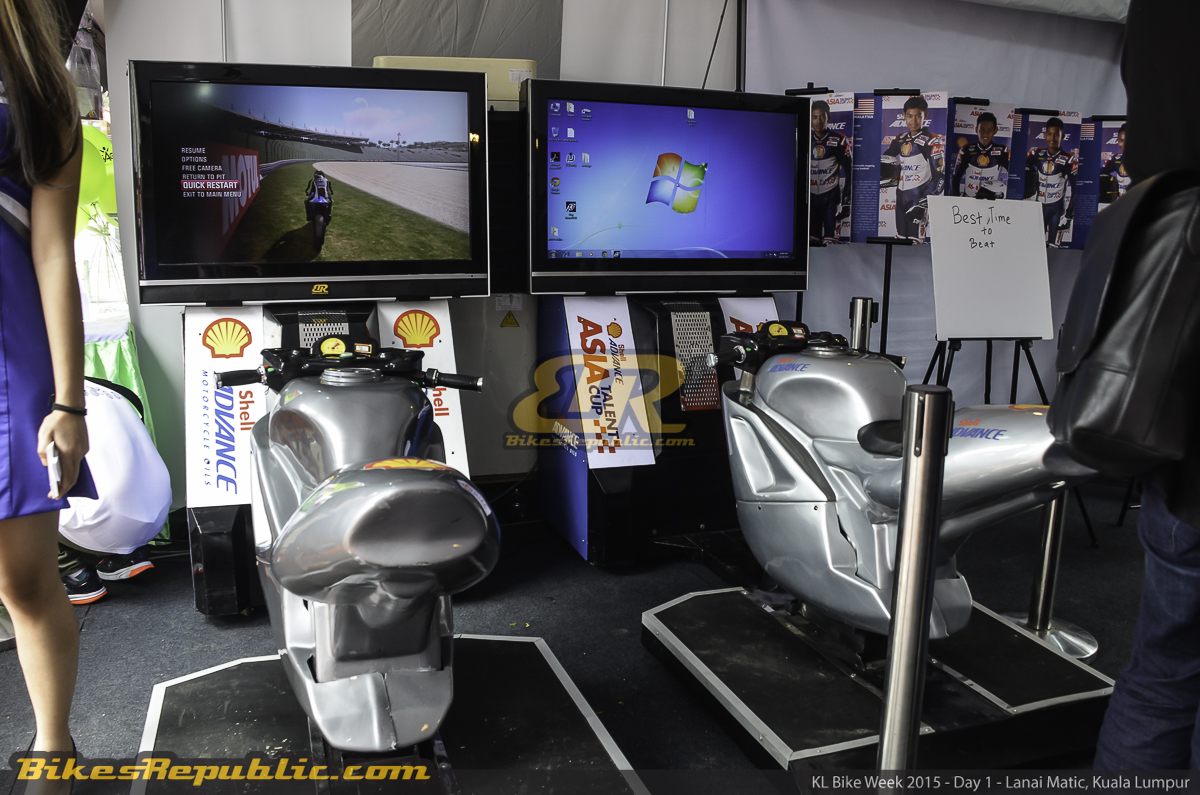 Got the need for speed? Well then, let BikesRepublic.com and Shell Advance remedy that for you virtually! Yes, we are present this year together with our partners Shell Advance Malaysia and you can win exclusive prizes in our simulator tournament just by visiting our booth!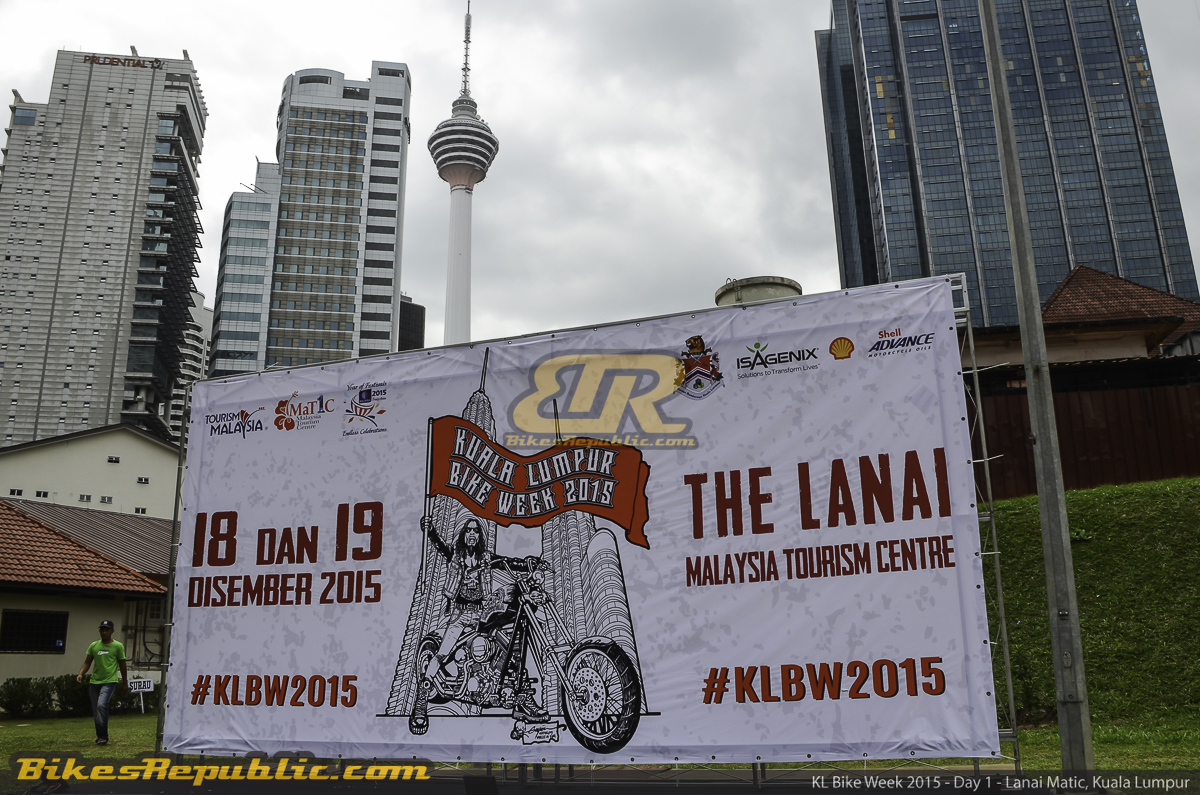 So? What are you waiting for? Come on down tonight and experience some of the best of Malaysian motorcycling at its finest!
See you at KL Bike Week 2015 folks!