KMMSB hands the keys over to the Malaysian owners of the manic and supercharged Kawasaki Ninja H2 and H2R superbikes.
On the eve of the long Labour Day weekend, Kawasaki Motors Malaysia Sdn Bhd (KMMSB) held a special ceremony where the firm handed over a fleet of Kawasaki Ninja H2 and H2R superbikes to the first batch of Malaysia owners.
The ceremony, held in the Boulevard concourse of Bukit Bintang's Berjaya Times Square mall, was fairly grand and unmistakably green. Up to 13 bikes were handed over to some 10 owners whilst the remaining 3 were handed over to some of KMMSB's premium dealers.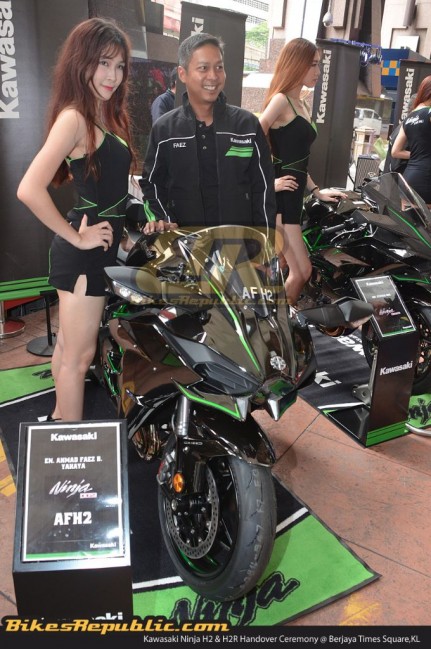 Amongst the 10 owners, only two manned up to own the manic track-only Kawasaki Ninja H2R version. They are non other than Kawasaki Bike Art Racing Team principal Steven Ong,and KMMSB's director Ahmad Faez Yahya. Notably, Ahmad Faez also stands as one of the very few individuals on the planet that own both the road-legal Kawasaki Ninja H2 and its track-only twin the Kawasaki Ninja H2R simultaneously.
Other notable owners include Chua Chern Kwang, the owner of Kawasaki premium dealers SC Premium Bikes. Chua also sold four units of the street-legal Kawasaki Ninja H2 to owners Kenneth Patrick Wang, Robert Barraclough, Lum Wen Foo, and Arif Danial Abdul Jalil.
Filling up the owners' rostrum were Khoo Chooi Hua who purchased his Ninja H2 from Gun How Superbikes Centre Sdn Bhd, followed by Mohamad Sabri bin Ismail who acquired his beastly superbike from dealers Motorsim Sdn Bhd.
Besides private owners, KMMSB also handed over several units of the manic supercharged superbike to three of its premium dealers. These are non other the usual suspects such as than Welly Advance Bikers, Wilhin Motors, as well as SC Premium Bikes. All recipients were awarded with a celebratory bouquet of flowers, plus a special limited edition Ninja booklet that details the supercharged superbike's intricate and precision-engineered build.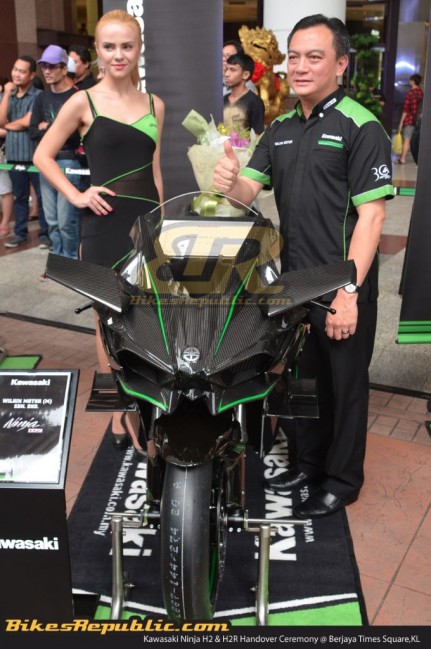 For these first owners in Malaysia, they aren't just awarded with unrivalled bragging rights. KMMSB has established a mobile 'Elite Squad Team', and their goal is to offer their personalise and dedicated services to these owners. The same team will also be on hand for the two Ninja H2R owners during their upcoming trackday sessions organised by KMMSB.
Presently, the aforementioned dealers will feature the supercharged superbike on display on its premises. Check out more photos in the gallery below, or alternatively, you visit the official BikesRepublic.com Facebook page for more.
Kawasaki Ninja H2 and H2R delivery ceremony @ Berjaya Times Square, KL