Kawasaki (Motors) Malaysia Sdn Bhd (KMSB) continues to develop motorcycles to meet customers' demand around the world including Malaysian market, even with the weakened Ringgit and economic deterioration in China.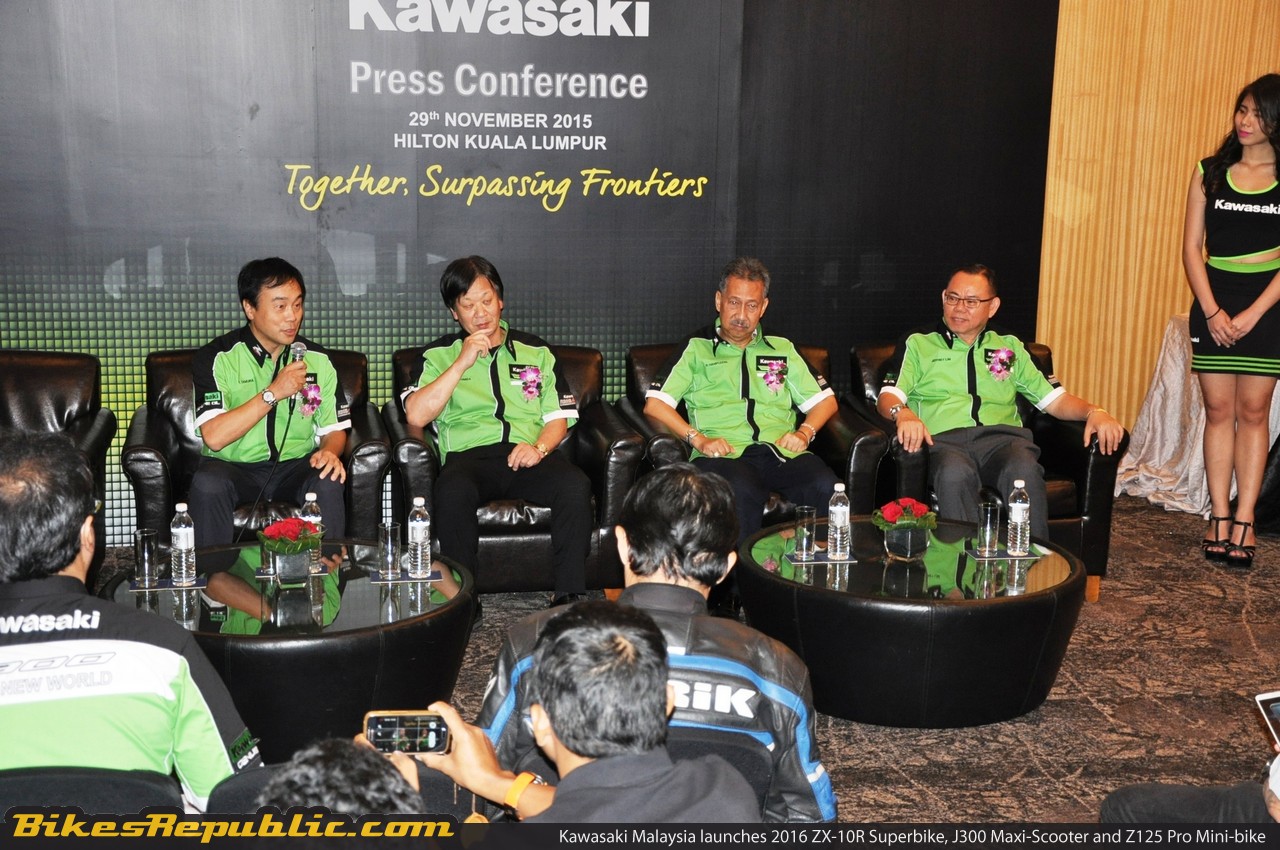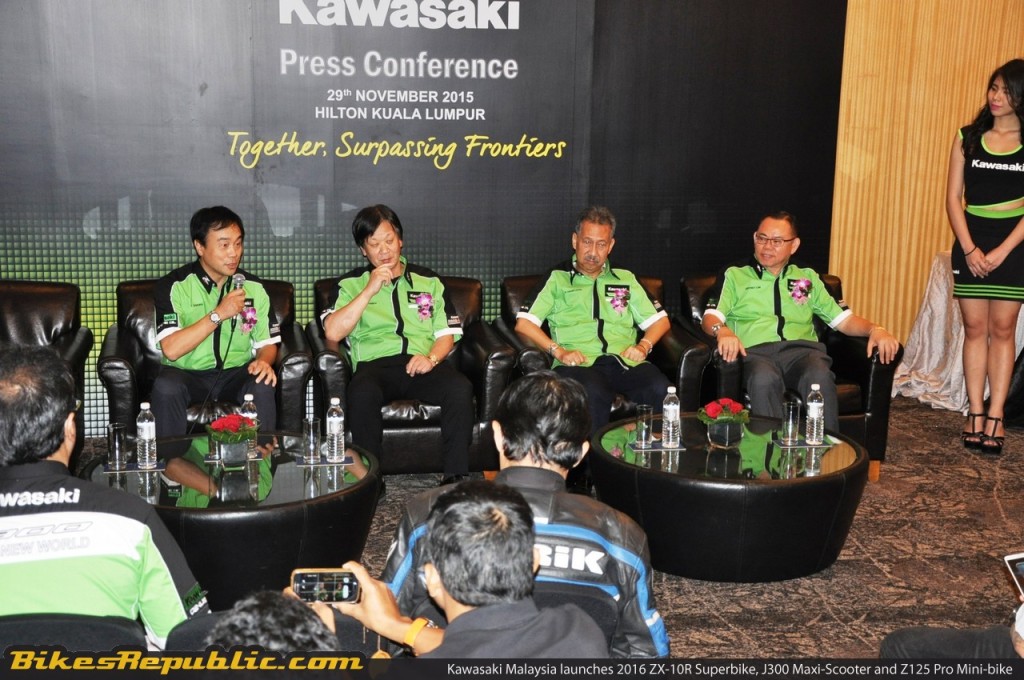 Mr Kenji Tomida (Vice Senior President of Kawasaki Heavy Industries and President of Motorcycle and Engine Company) was pleased to confirm commitment by KHI Group to the Malaysian market and will provide full support for Kawasaki Motors Malaysia (KMSB), he said during the Premium Dealers' Annual Gala Dinner 2015 in Kuala Lumpur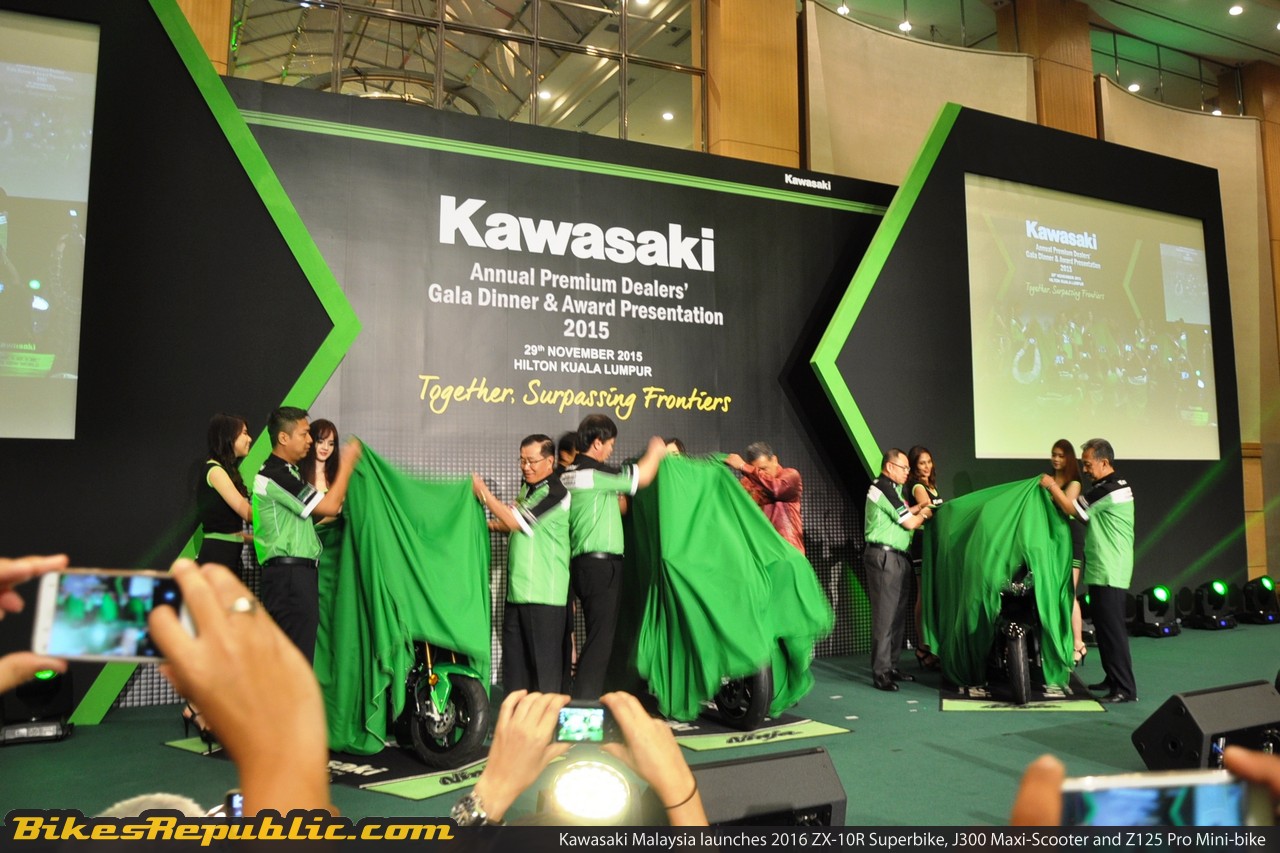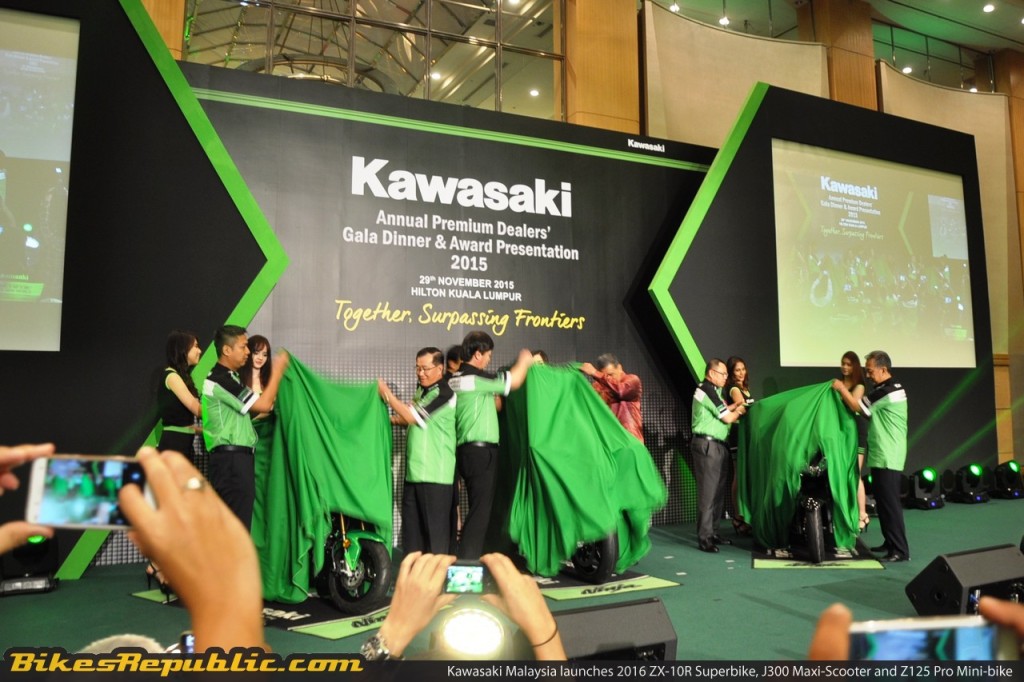 Guests from the Kawasaki family, Kawasaki Ninja Concept Shop, Kawasaki Premium Dealers, Stockists and Business Associates were present to celebrate their achievements and to witness the launch of Kawasaki's latest Ninja ZX-10R supersports, the Z125 Pro Sports and the J300 Scooter.
Ninja ZX-10R – Getting closer to their WSBK winning machine
The 2016 Kawasaki Ninja ZX-10R ABS is as close as it gets to a racing-spec superbike. The new Ninja comes with an impressive arsenal of race-derived equipment developed with the input of Kawasaki Racing Team's two World Superbike champions, Tom Sykes and Jonathan Rea.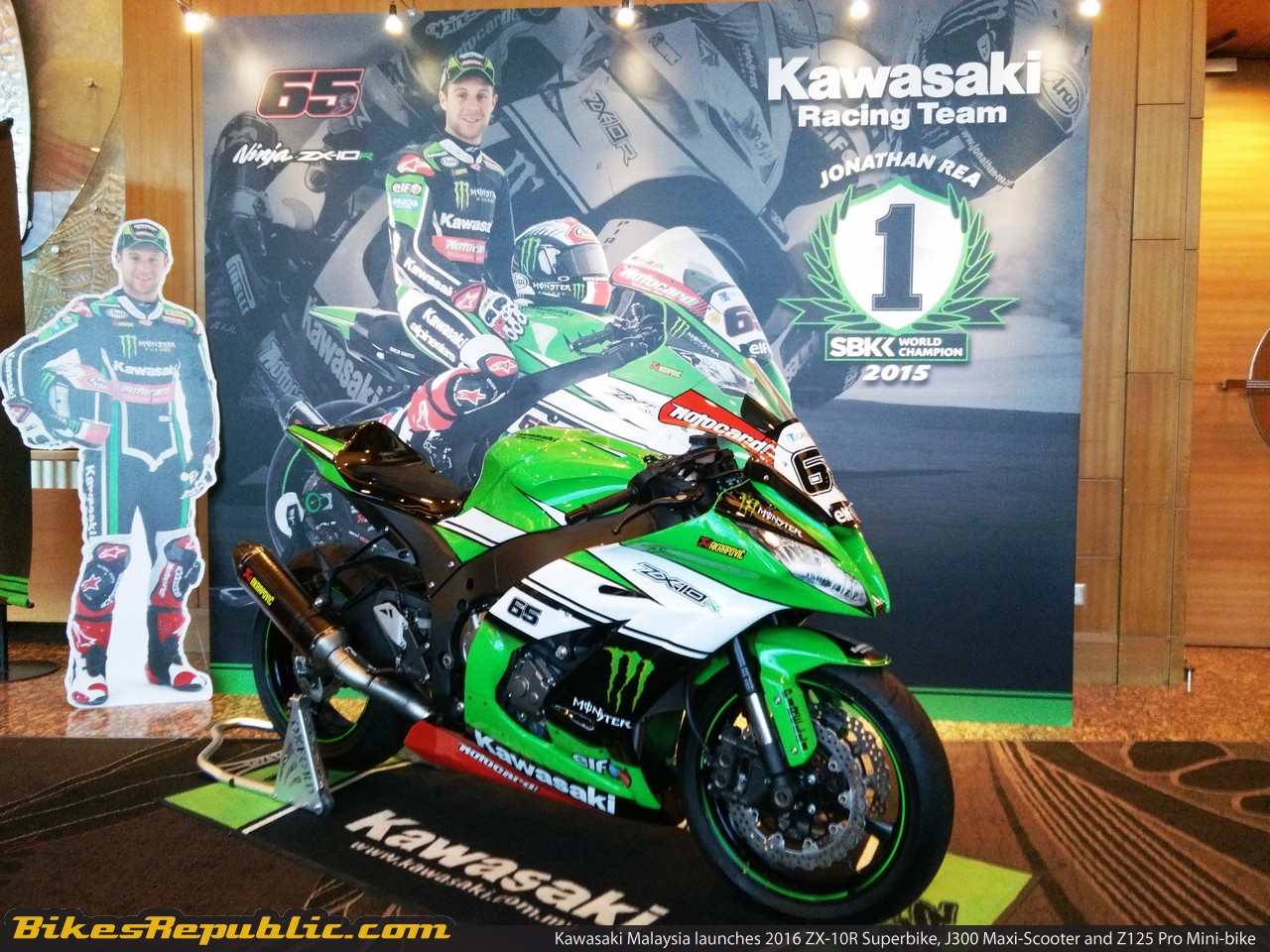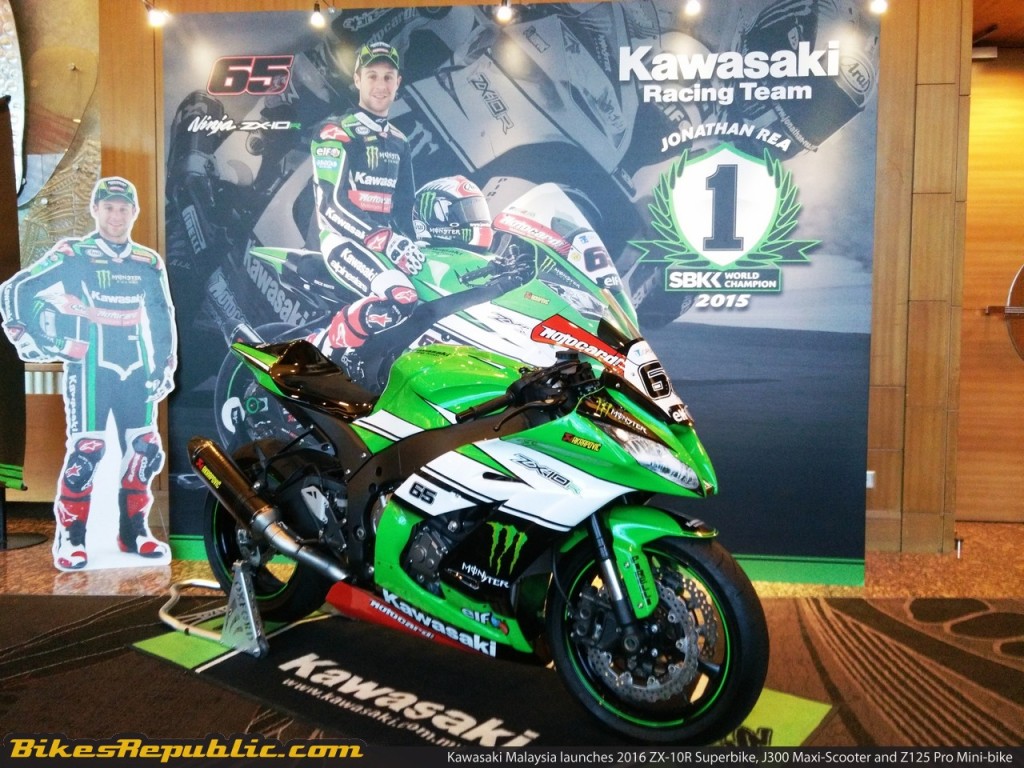 Kawasaki has in fact spearheaded its promotional campaign with the #getcloser (hashtag), implying how much the new model is similar to the actual superbike racer.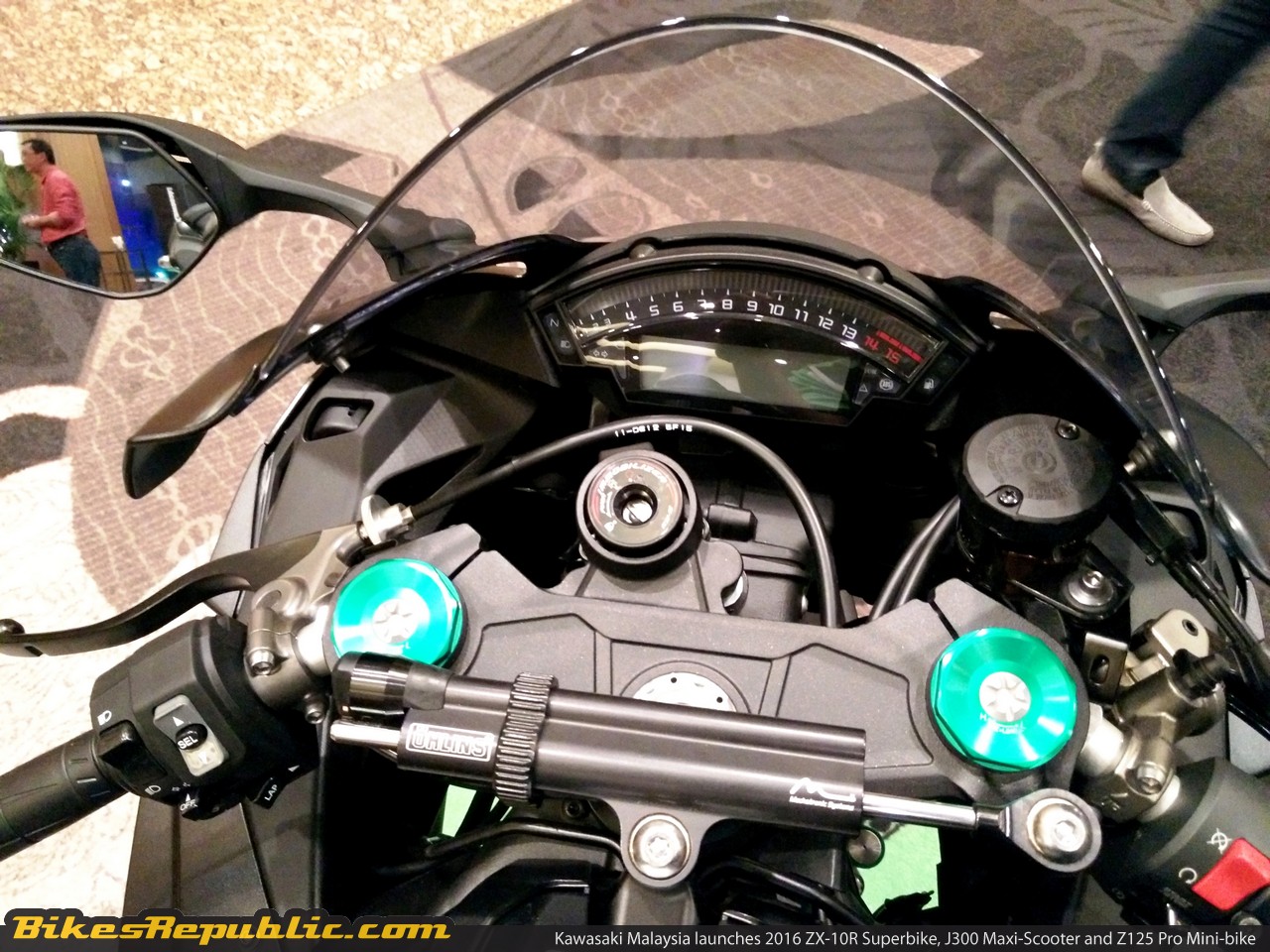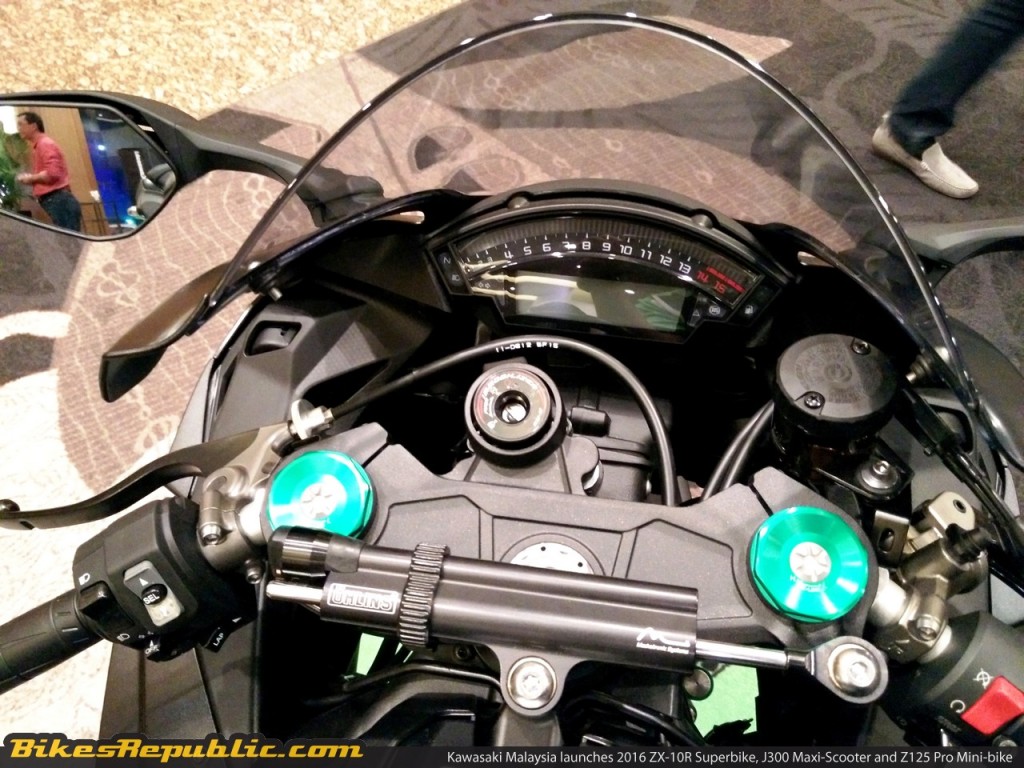 Do not feel perturbed by the identical looks of the new Kawasaki ZX-10R ABS to its predecessor. Under those familiar fairings lies a brand new machine that Kawasaki has left barely nothing untouched.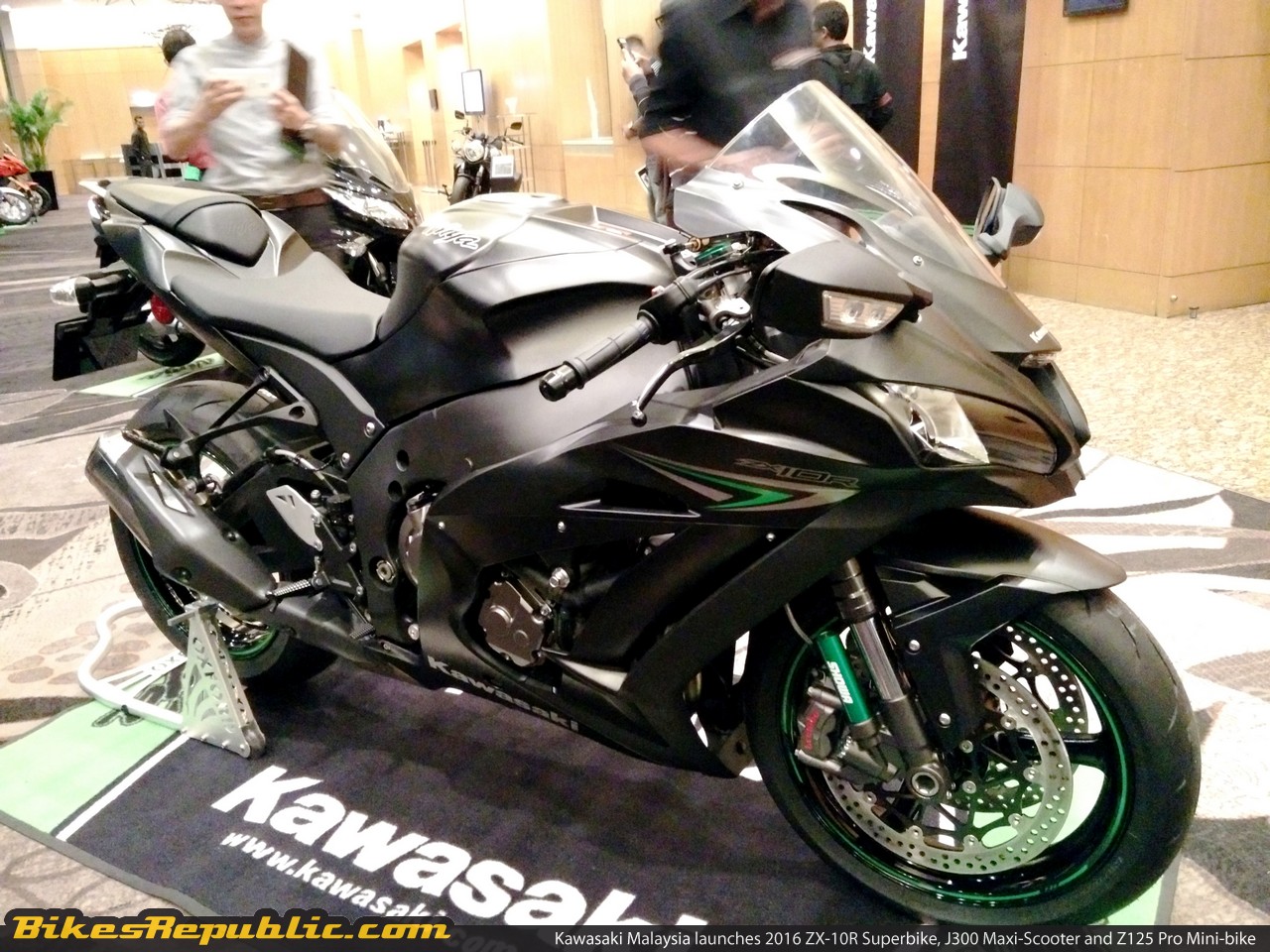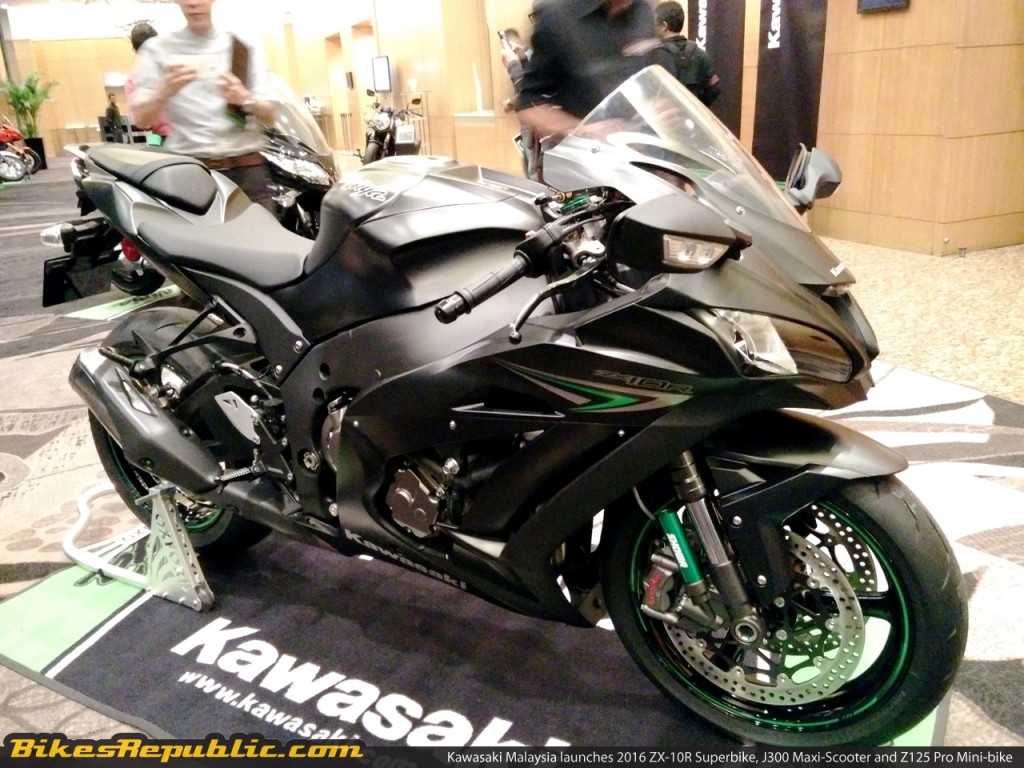 Changes to the engine, chassis, suspension, fairings, electronics, brakes, and exhaust were all done based on feedback from Sykes and Rea, the very two riders who are most familiar with the Ninja ZX-10R ABS.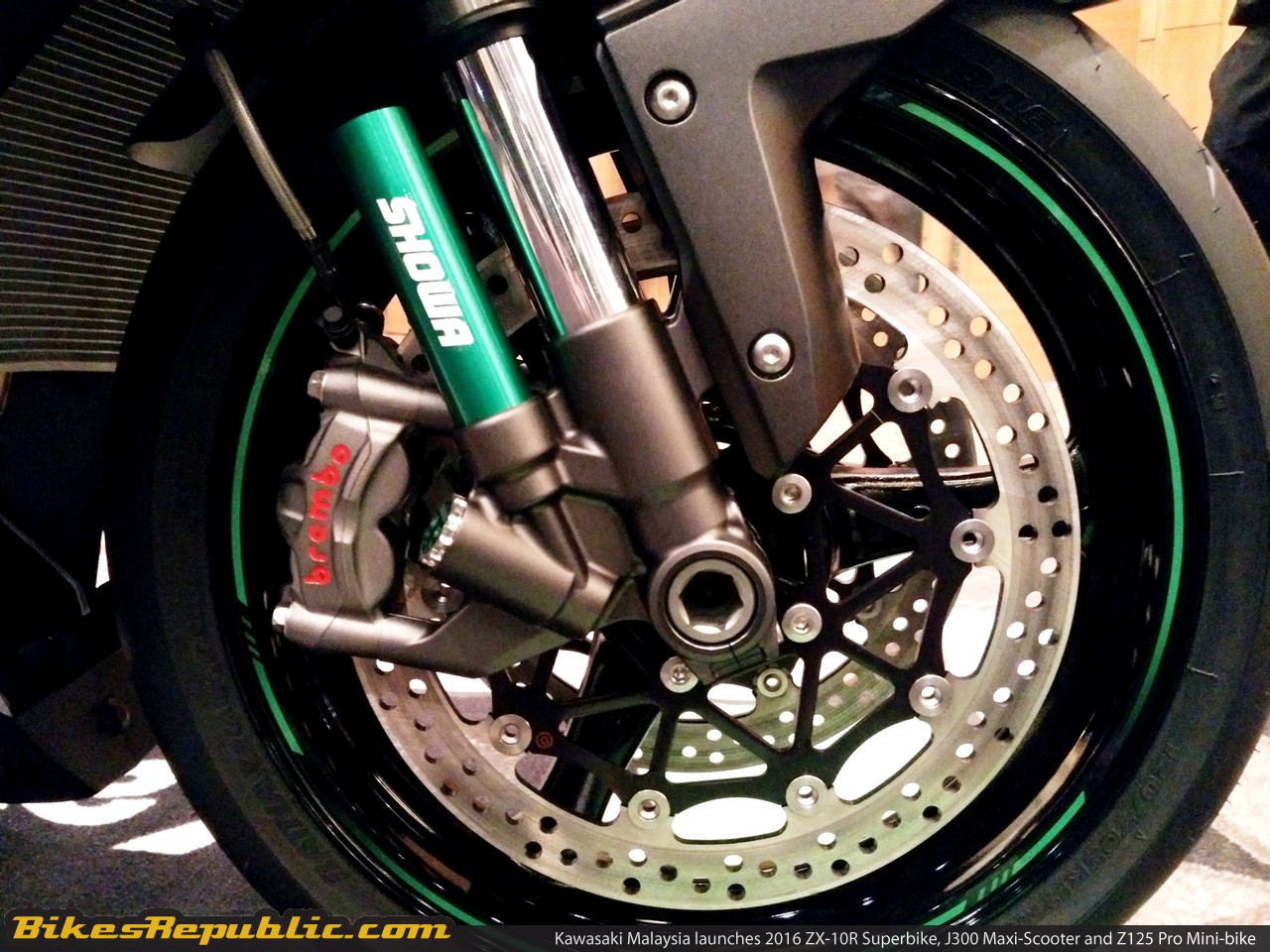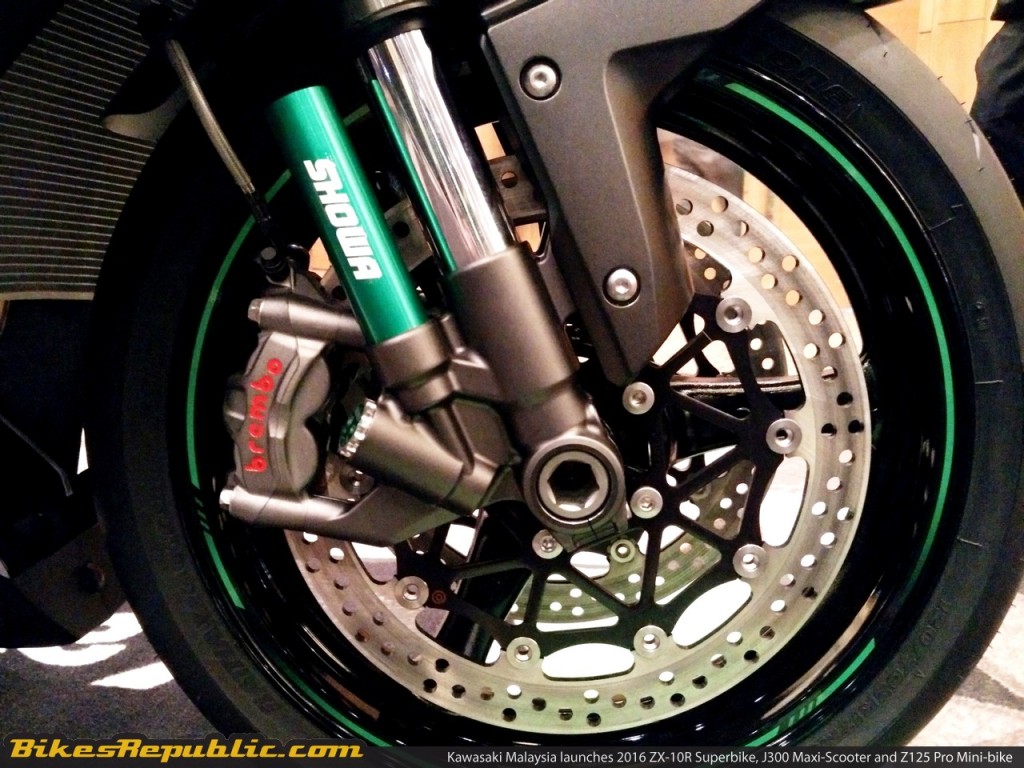 Some may say that the maximum output is more or less the same as that of the previous model, but the new engine now peaks at higher rpm with stronger mid-range torque, whilst complying to the tighter Euro 4 emissions requirements. The result is an output of 210 hp (154.4 kW) at 13,000 rpm (with the RAM Air effect) and a peak torque of 113.5 Nm (83.7 lb-ft) at 11,500 rpm.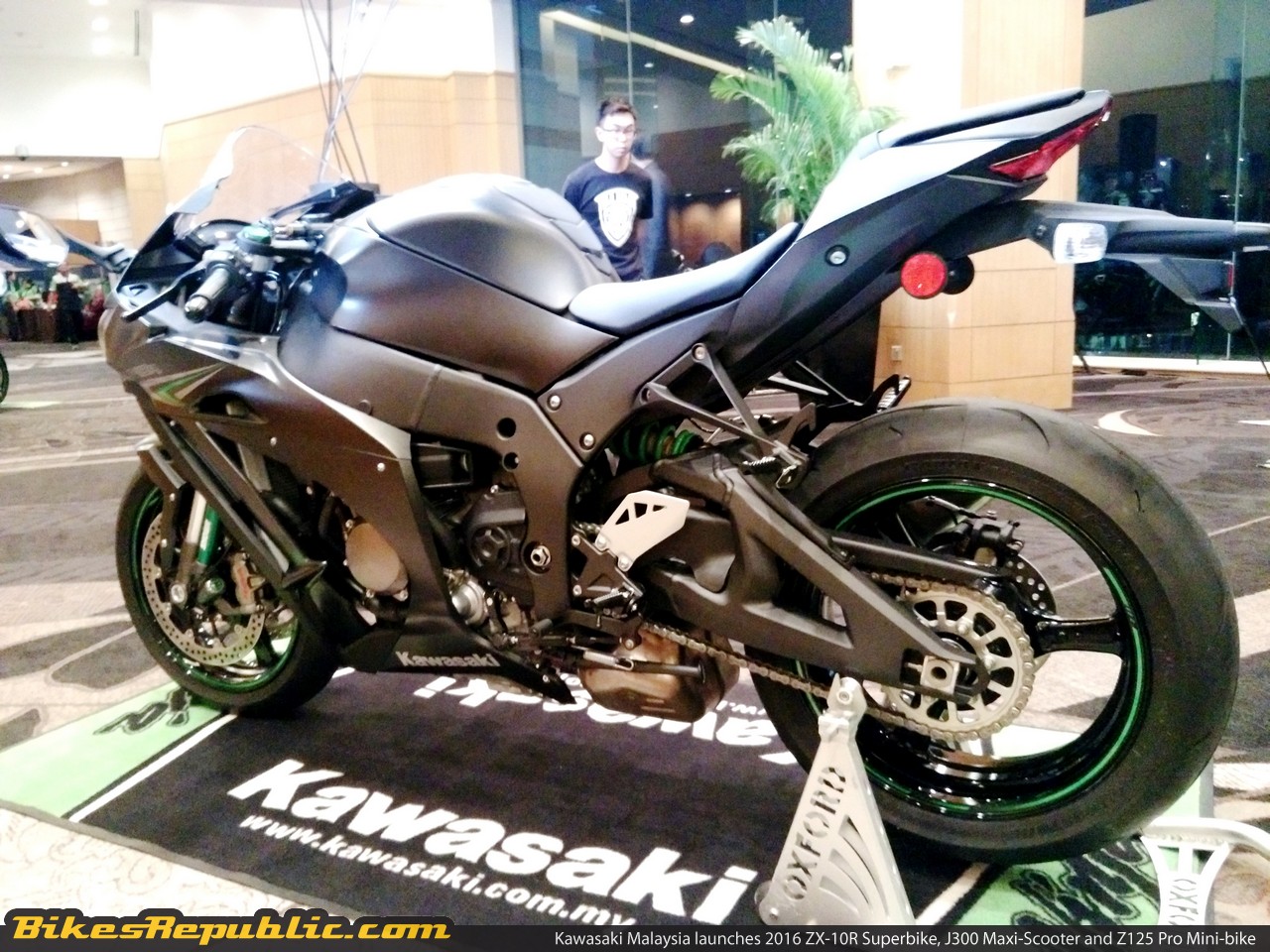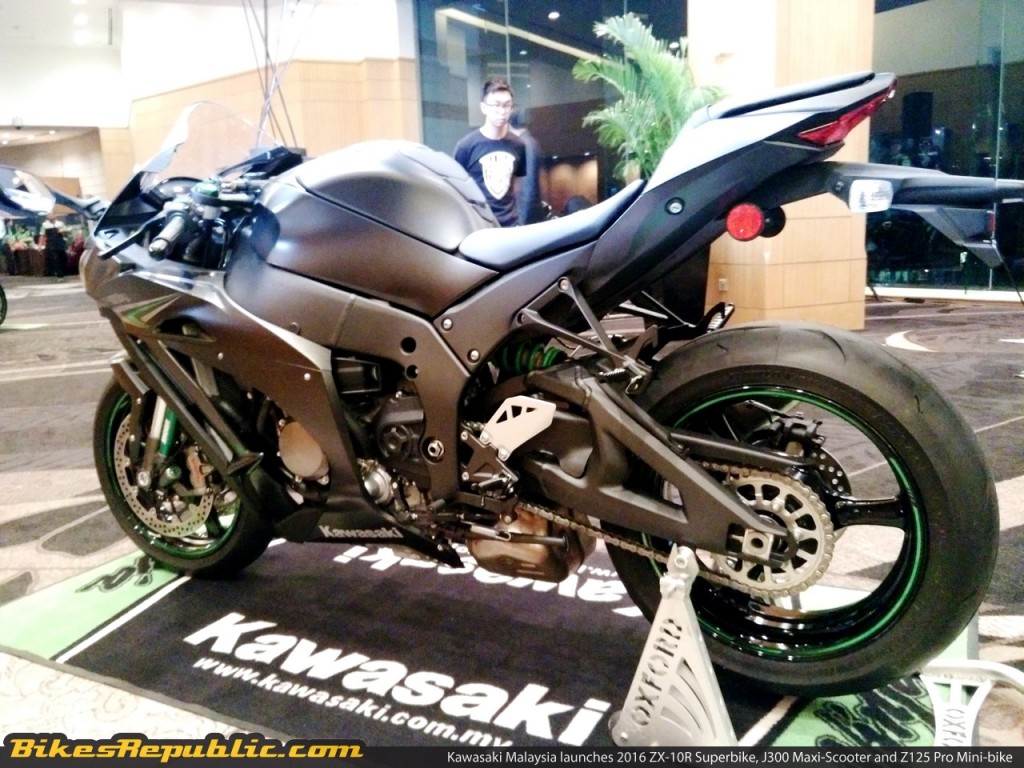 **There are many innovative components and technological breakthrough with the new ZX-10R, which we will cover more once we get our hands on it.
J300: The Convenient Urban Performer
With its angular lines and fierce headlight design, the J300's sharp, aggressive design borrows styling elements from the Ninja supersport motorcycles.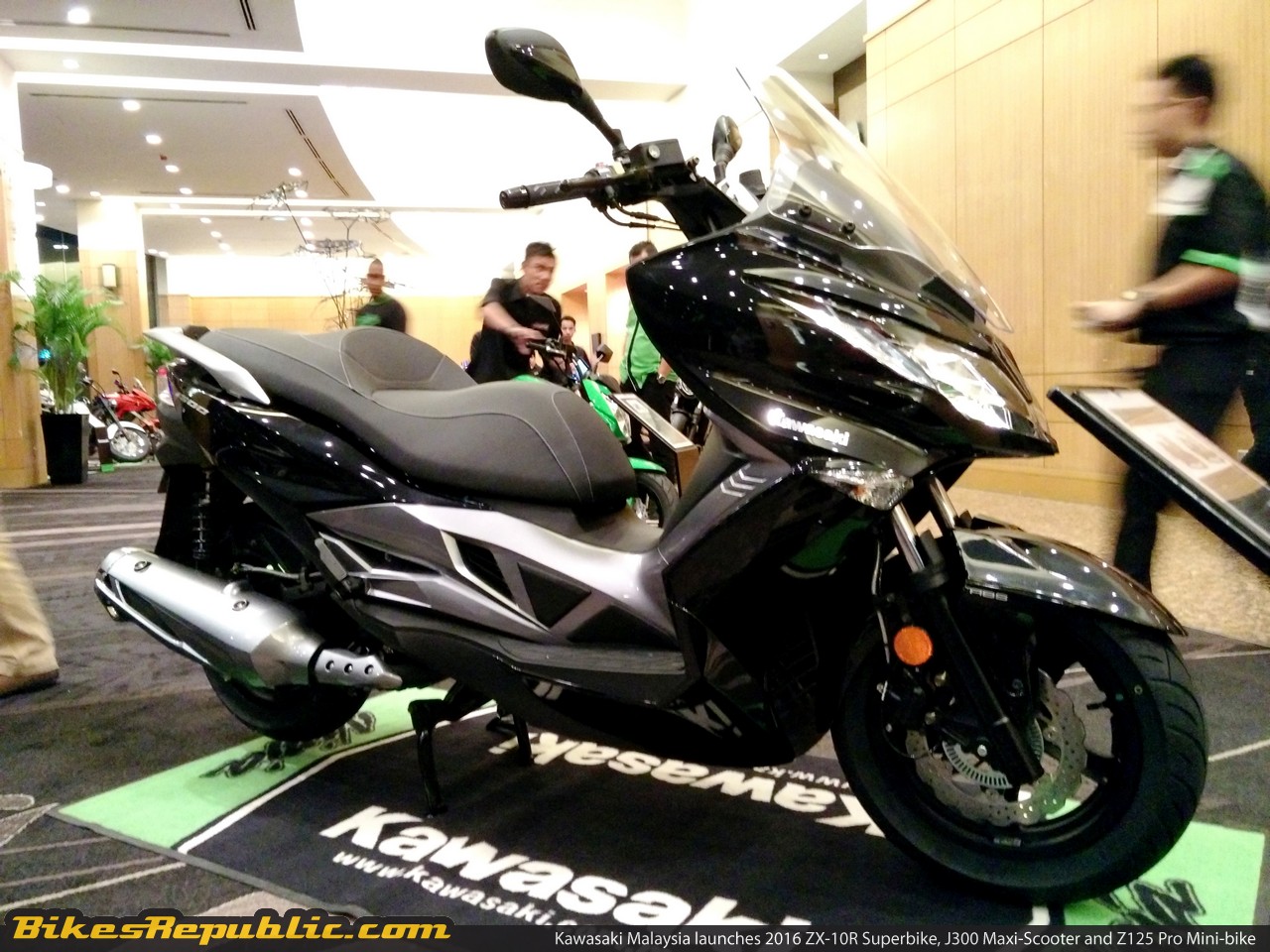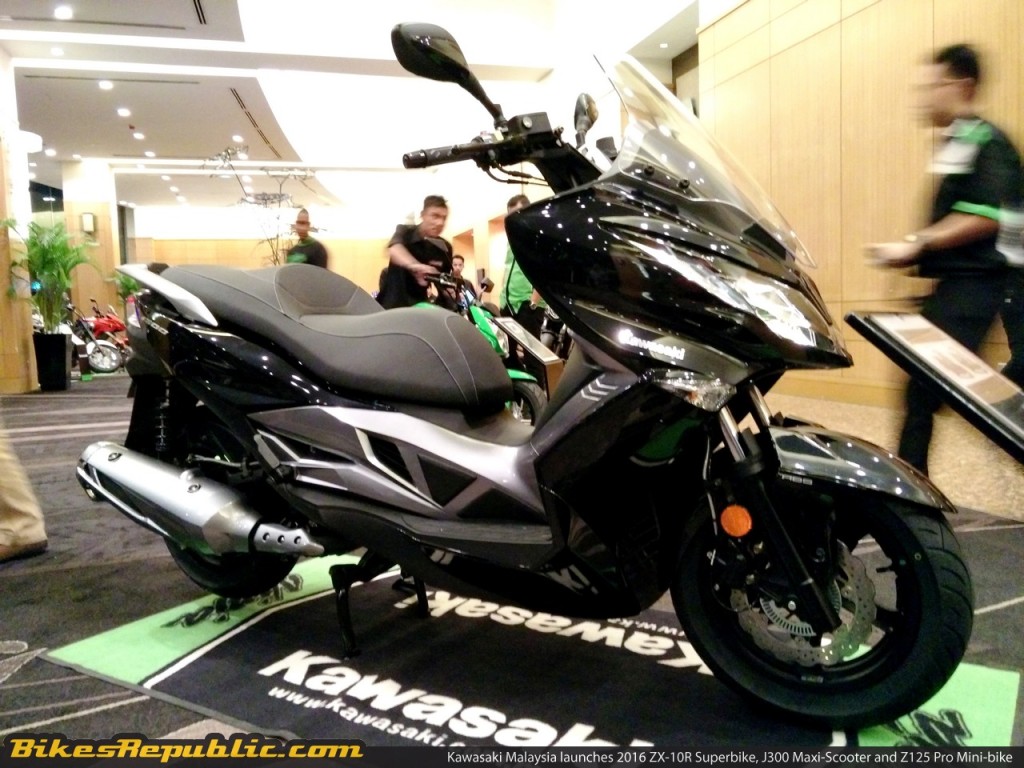 The J300 reflects an imaginative look into the future, with a strong focus on the environment, personal transport and vehicle efficiency.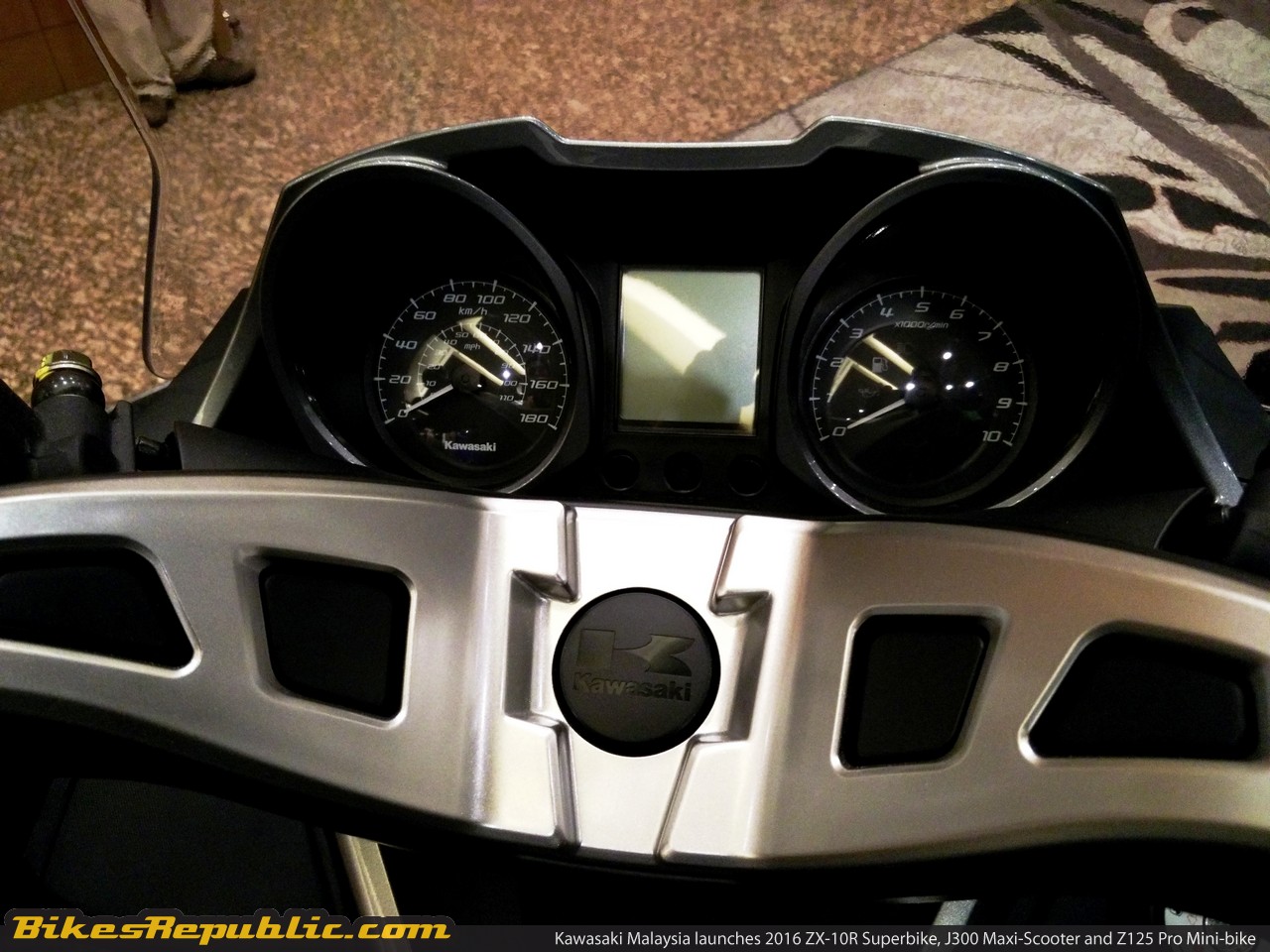 Kawasaki J300's 299cc liquid-cooled motor gives smooth acceleration, thanks to the Continuously Variable Transmission (CVT). Peak power from the maxi-scooter is 27.2bhp, which is great for nipping in and out of inner-city traffic, and there's enough in store to roll open the throttle for overtaking in the countryside.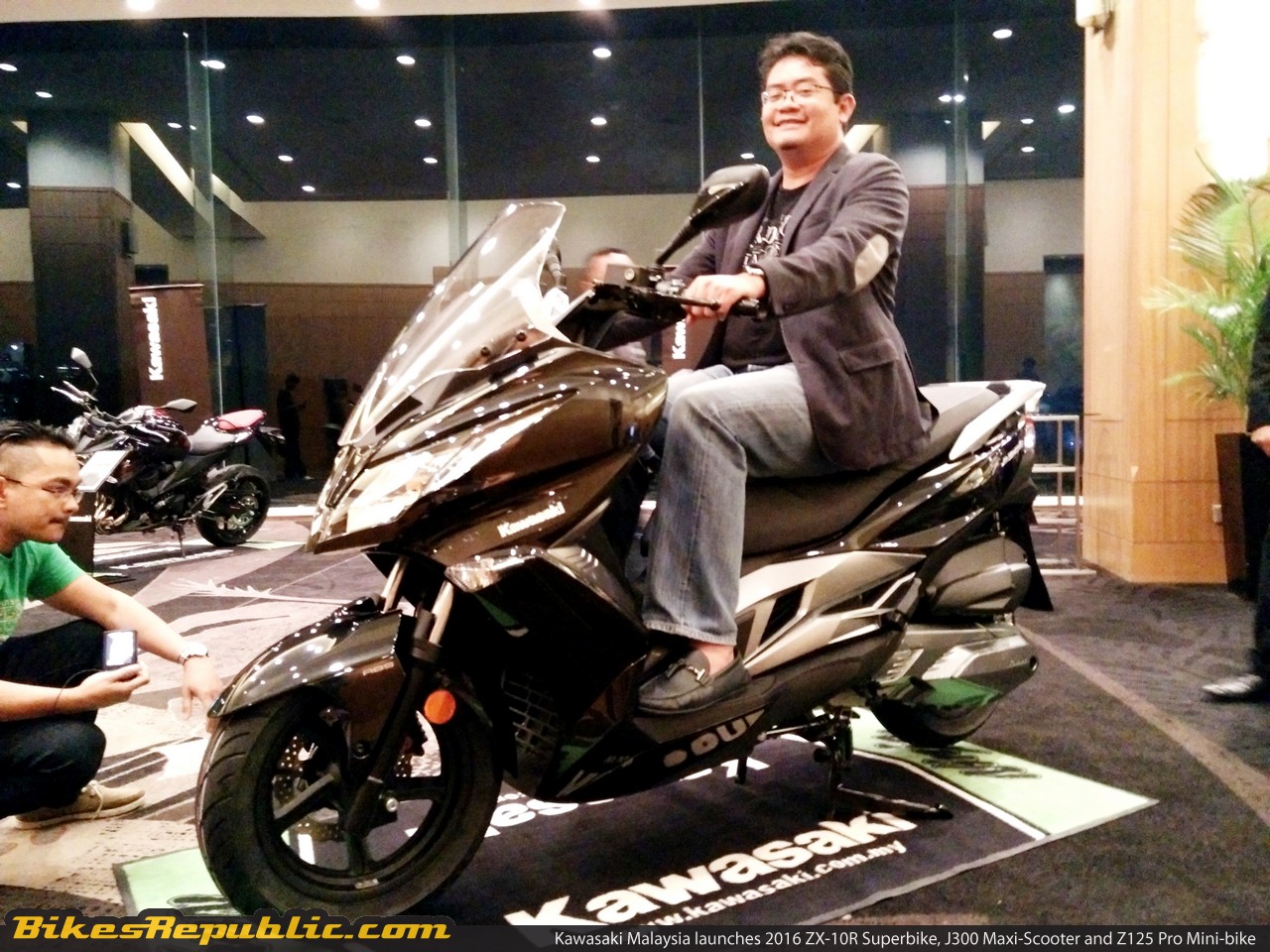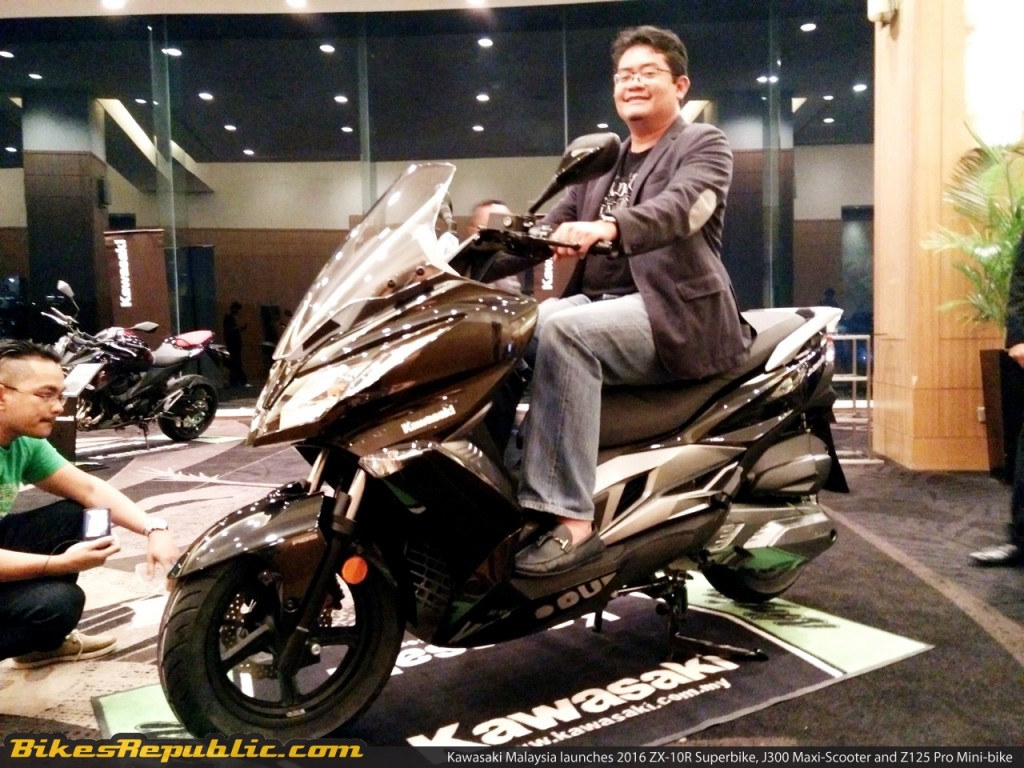 The fuel injection system (which uses a 34 mm Keihin throttle body and a 16-bit CPU takes into account coolant temperature, air intake temperature, throttle position, air intake pressure, vehicle speed and crankshaft angle, to automatically meters out the ideal amount of fuel for extremely stable power delivery – regardless of the conditions. Kawasaki wanted the J300 to be economical, but they also wanted it to be fun to ride.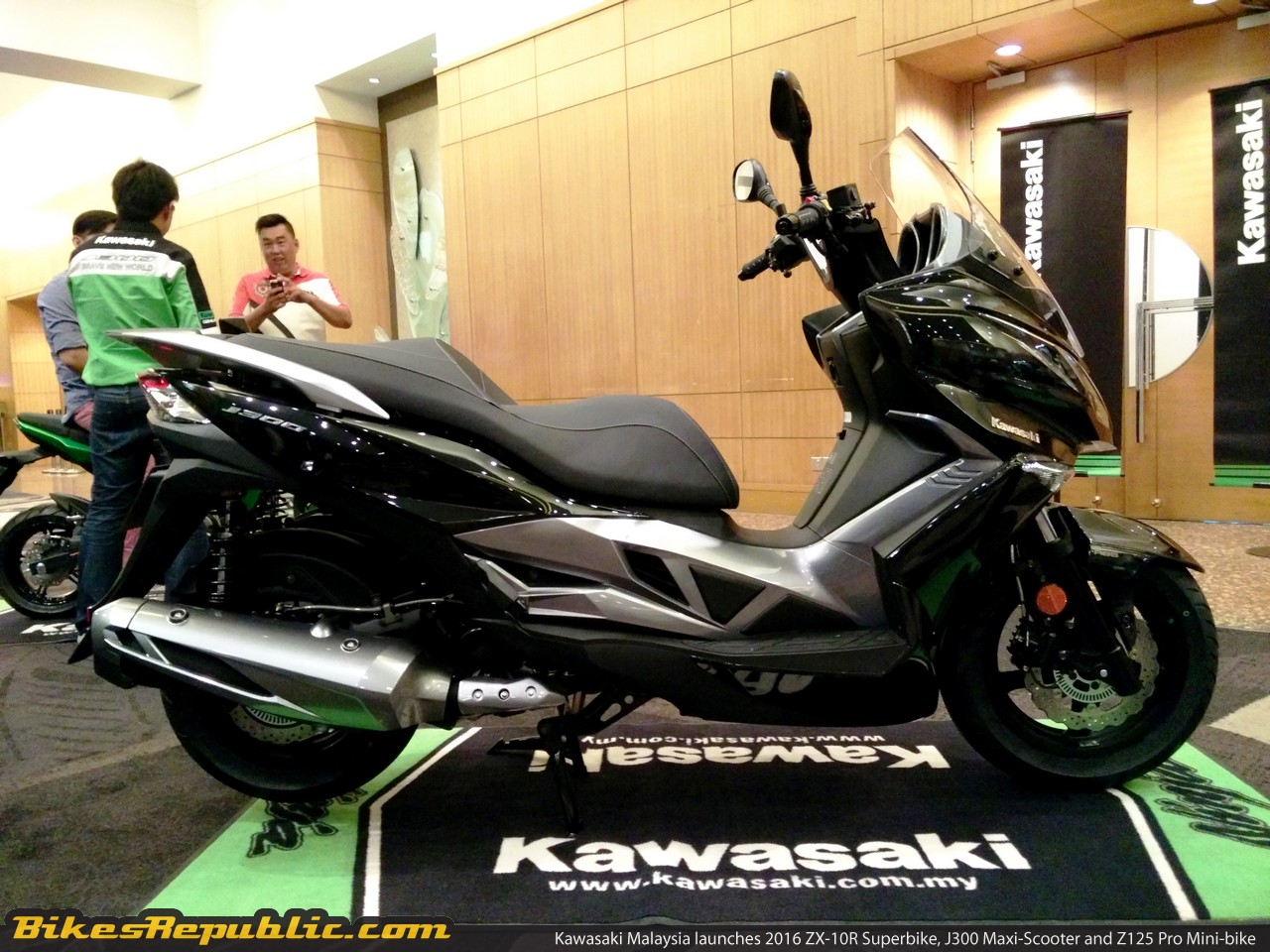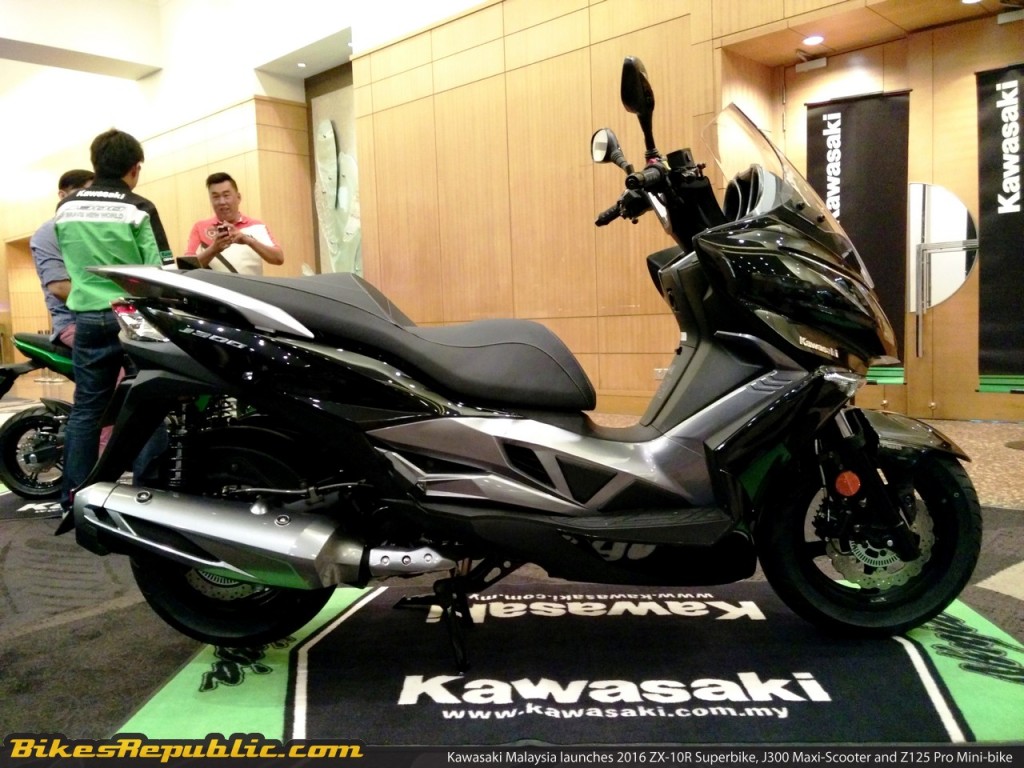 There are also pleasing little touches such as the 12V power socket in the glove box to charge your phone or plugging in your gps navigator or even your action-camera, makes the J300 a well thought out machine.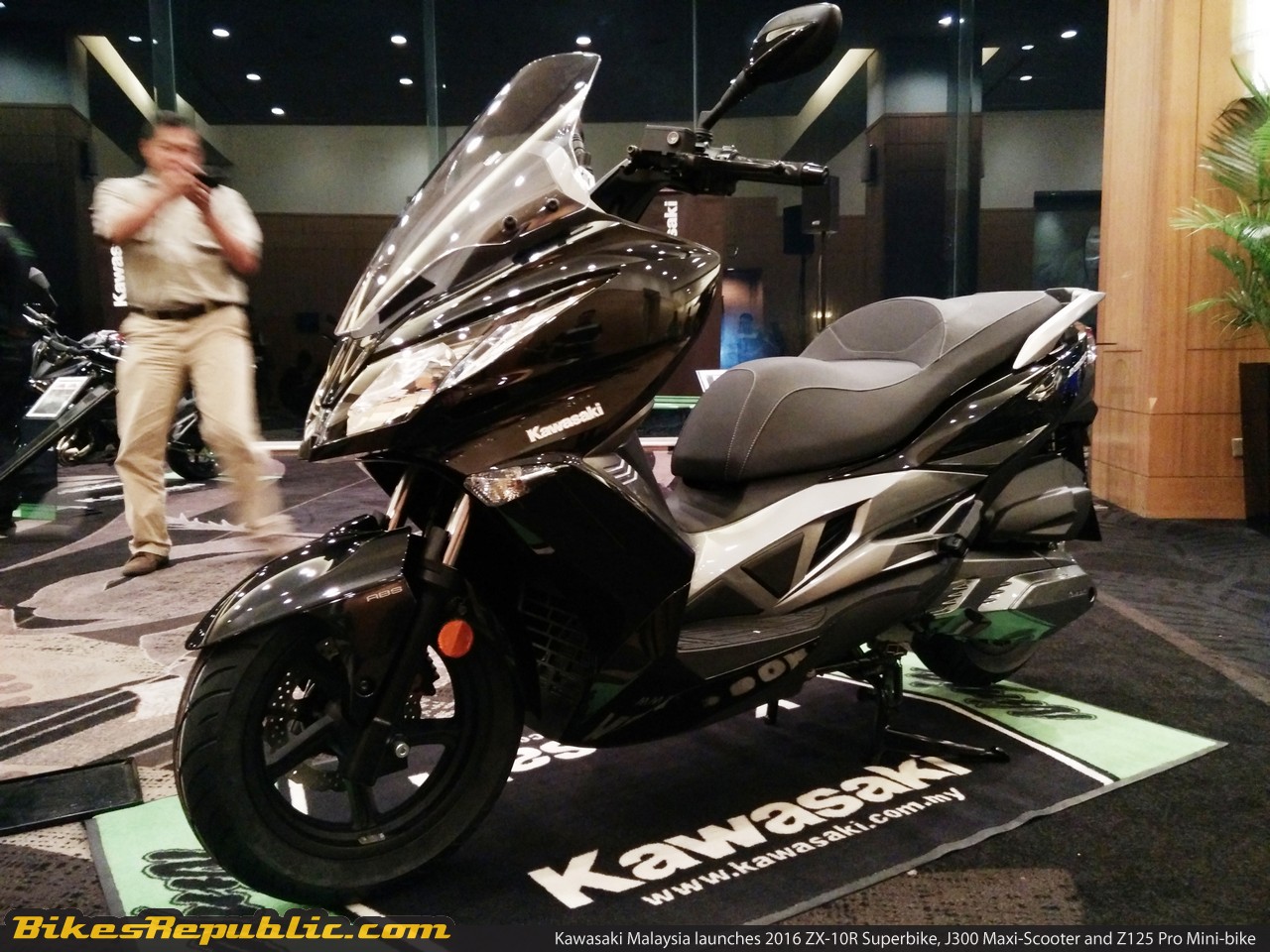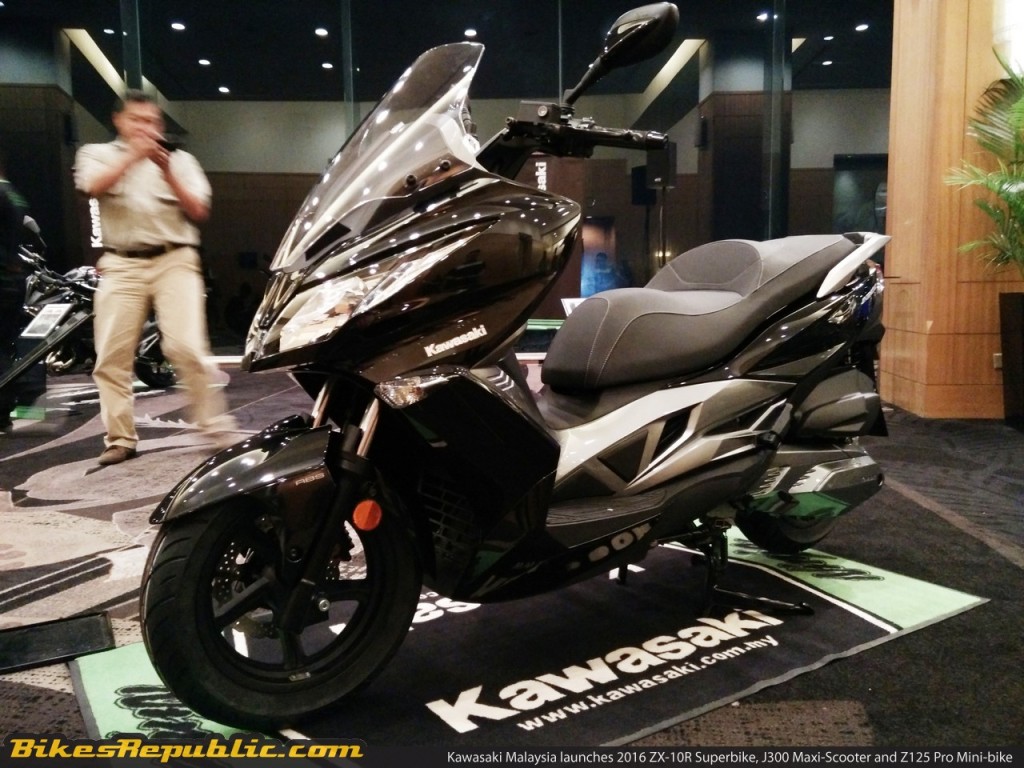 There is also a foldaway cargo hook on the front inner cover, as a convenient way to secure a small bag up to a maximum load of 3 kg, or simply Malaysians' favourite: a packet of teh tarik!
Z125 Sports – Kawasaki's latest Pocket Rocket
Kawasaki Motors Malaysia unveils their smaller Z series, the Z125 Pro. It is a global model launched this year. The highly anticipated Kawasaki Z125 Pro street fighter will be the smallest of the family motorcycle Kawasaki Z series.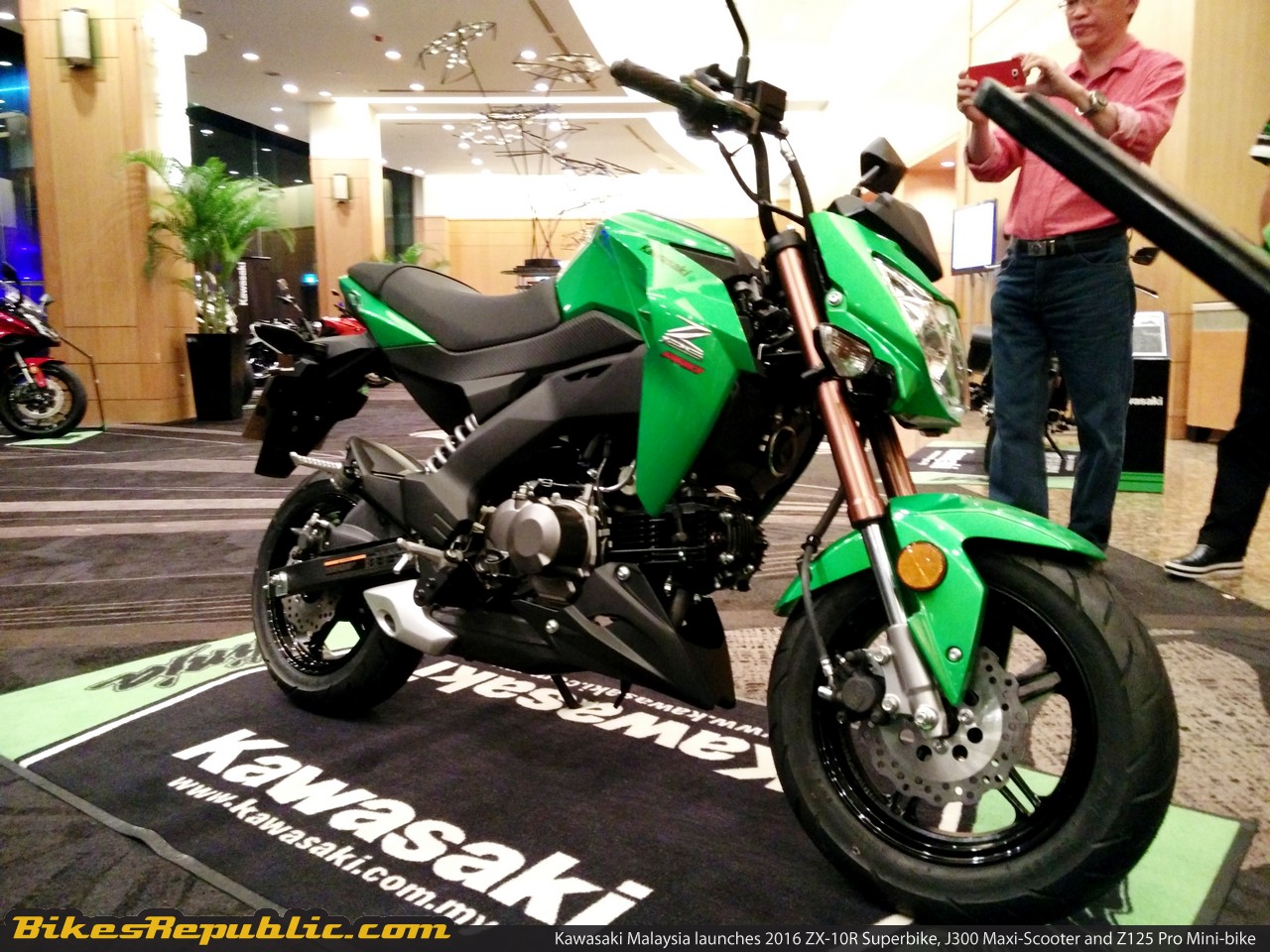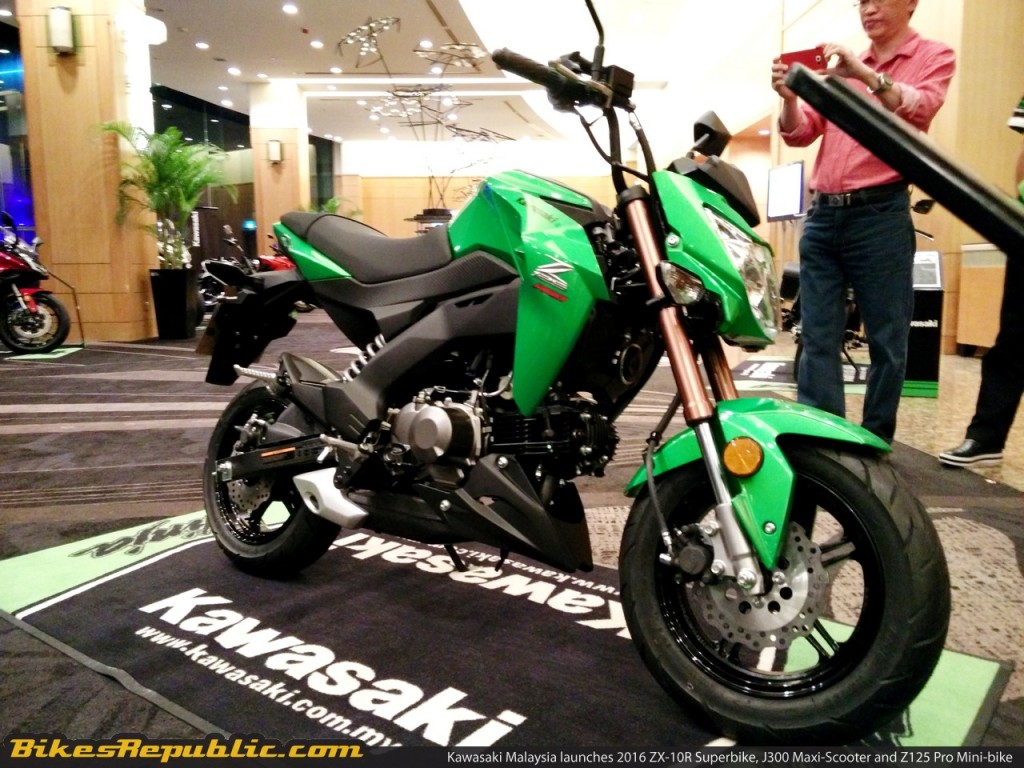 Powering the Z125 Pro is a horizontally-oriented 125cc air-cooled single cylinder engine mated to a 4-speed manual transmission that churns out 9.5PS of maximum power at 8000 rpm and 9.5 Nm of torque at 6000 rpm.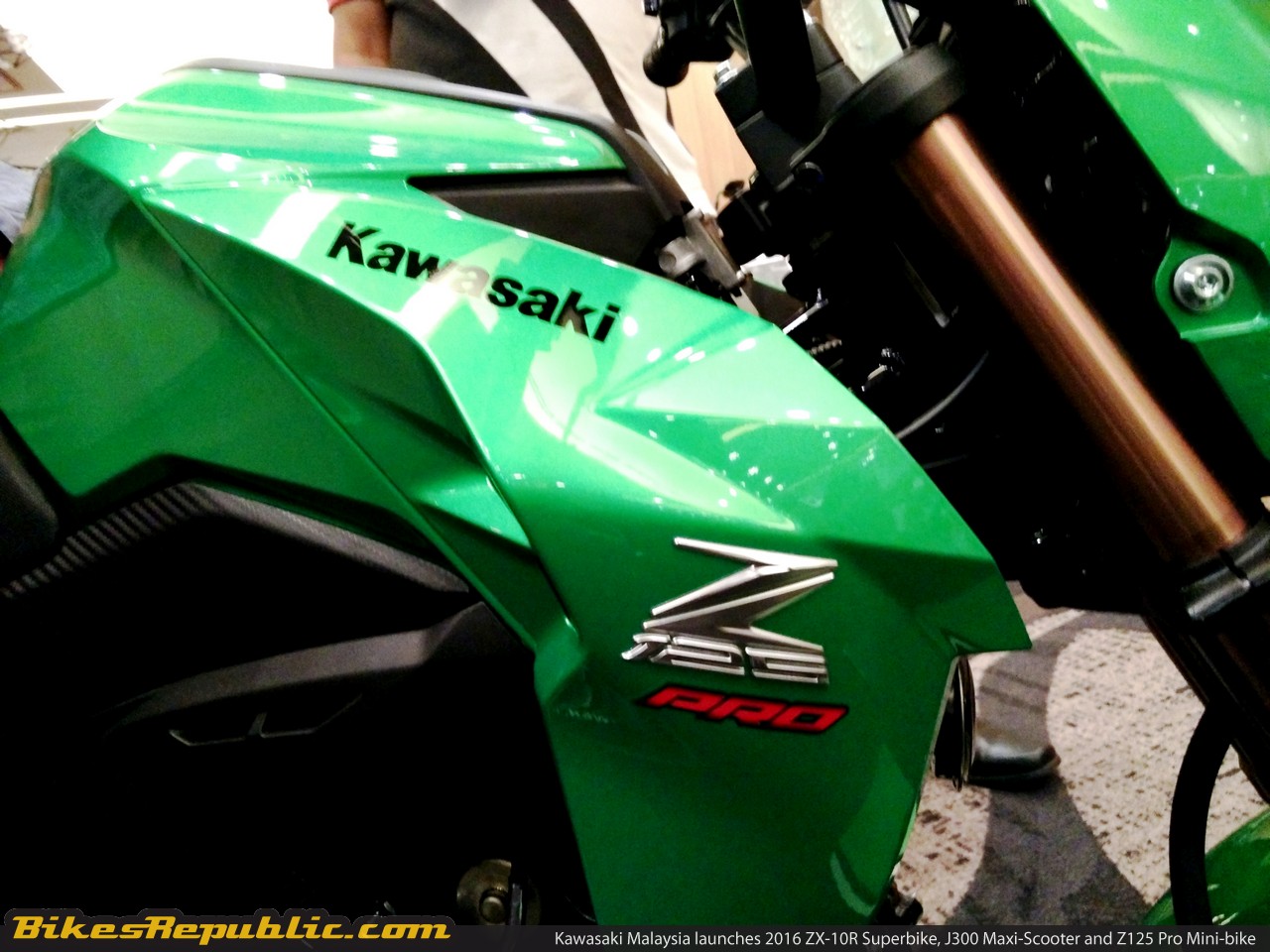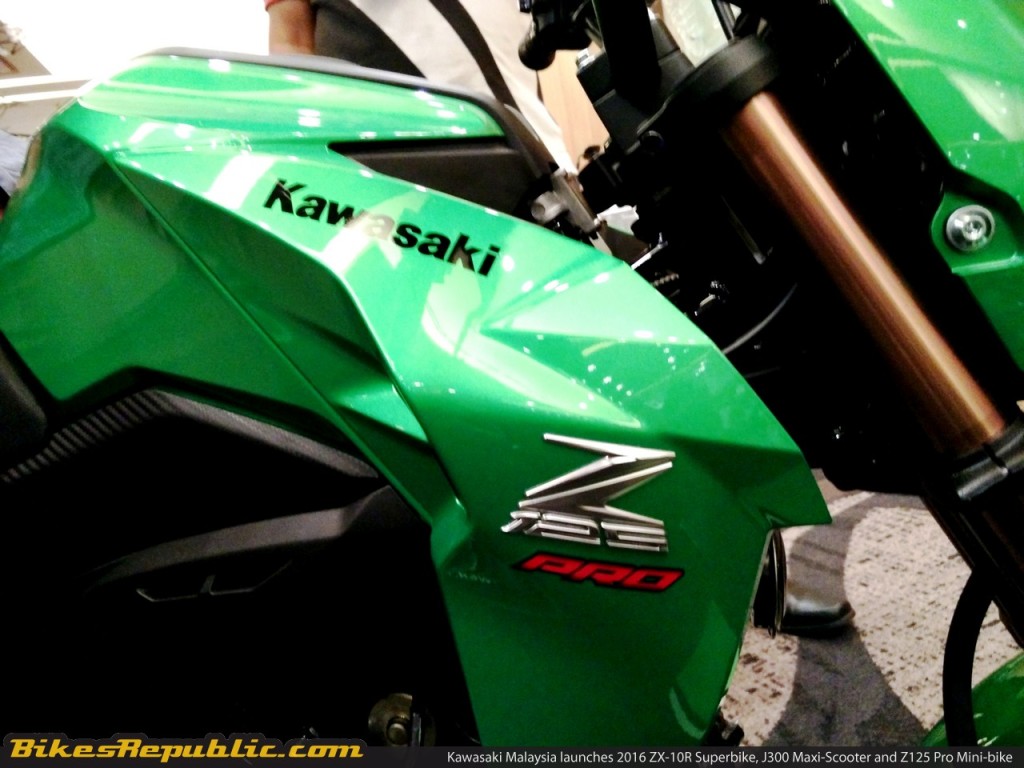 The combination of an electric starter and fuel injection ensures hassle-free starting. The fuel tank capacity is 7.4 litres to promise a further reach. The model weighs in at just 101 kg and measures 1,700mm in length, 750 mm in width and 1,005 mm in height.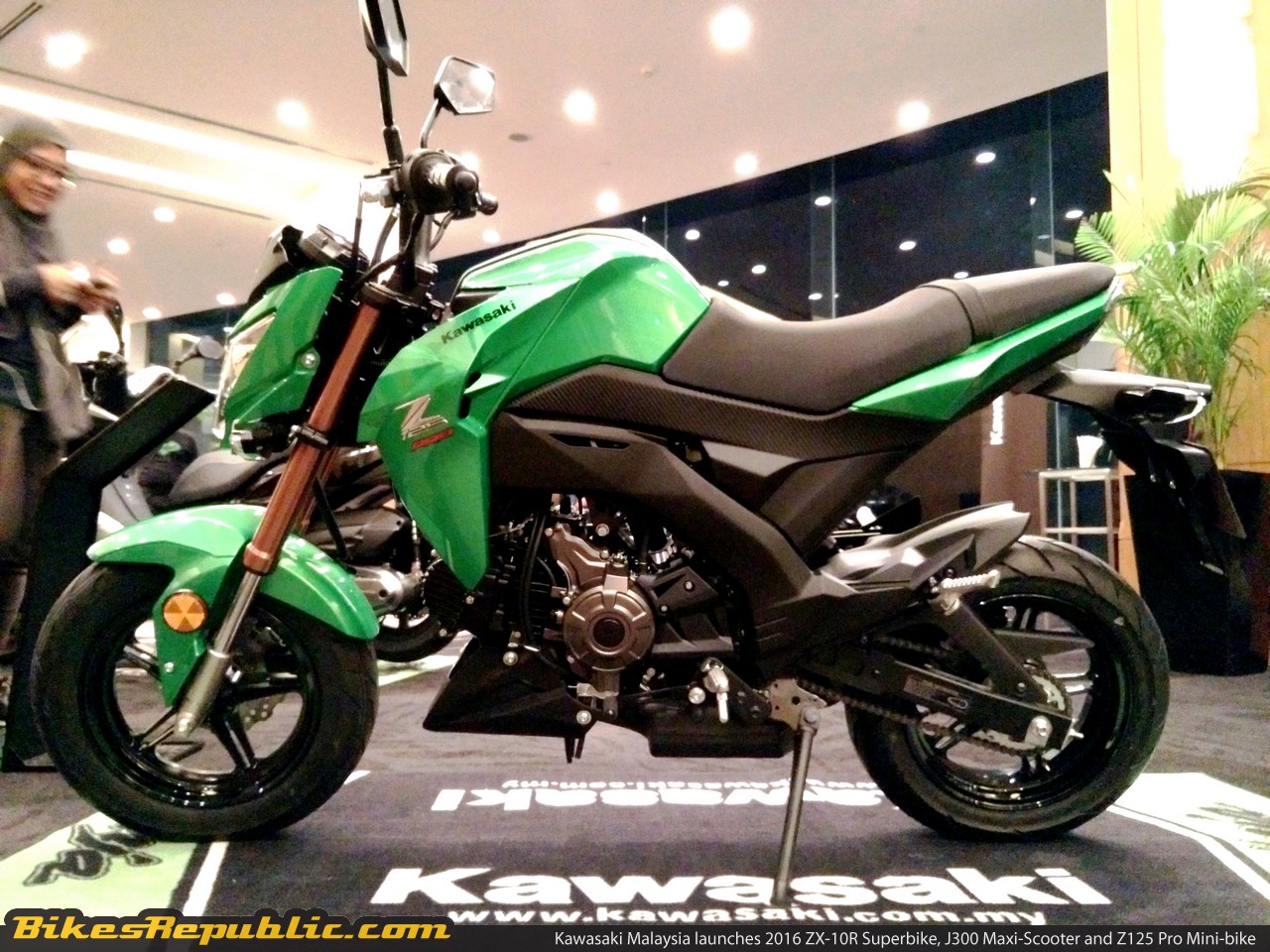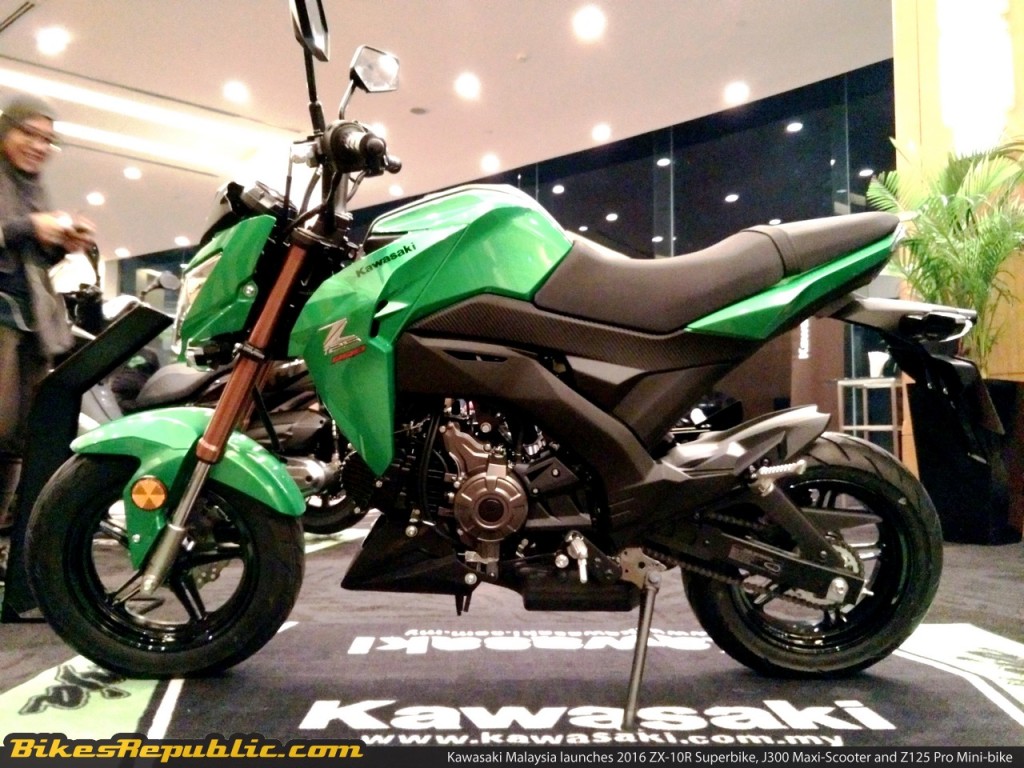 The Z125 Pro inherits many of the design traits from the larger Z models. It has features a narrow headlamp inspired from the Z800 and Z1000 and has a fairly large front fender, high mounted handlebar, muscular fuel tank, tank extensions and belly panel. The underbelly exhaust system is placed under the compact machine, while the fuel tank with a raised spoiler extends downwards.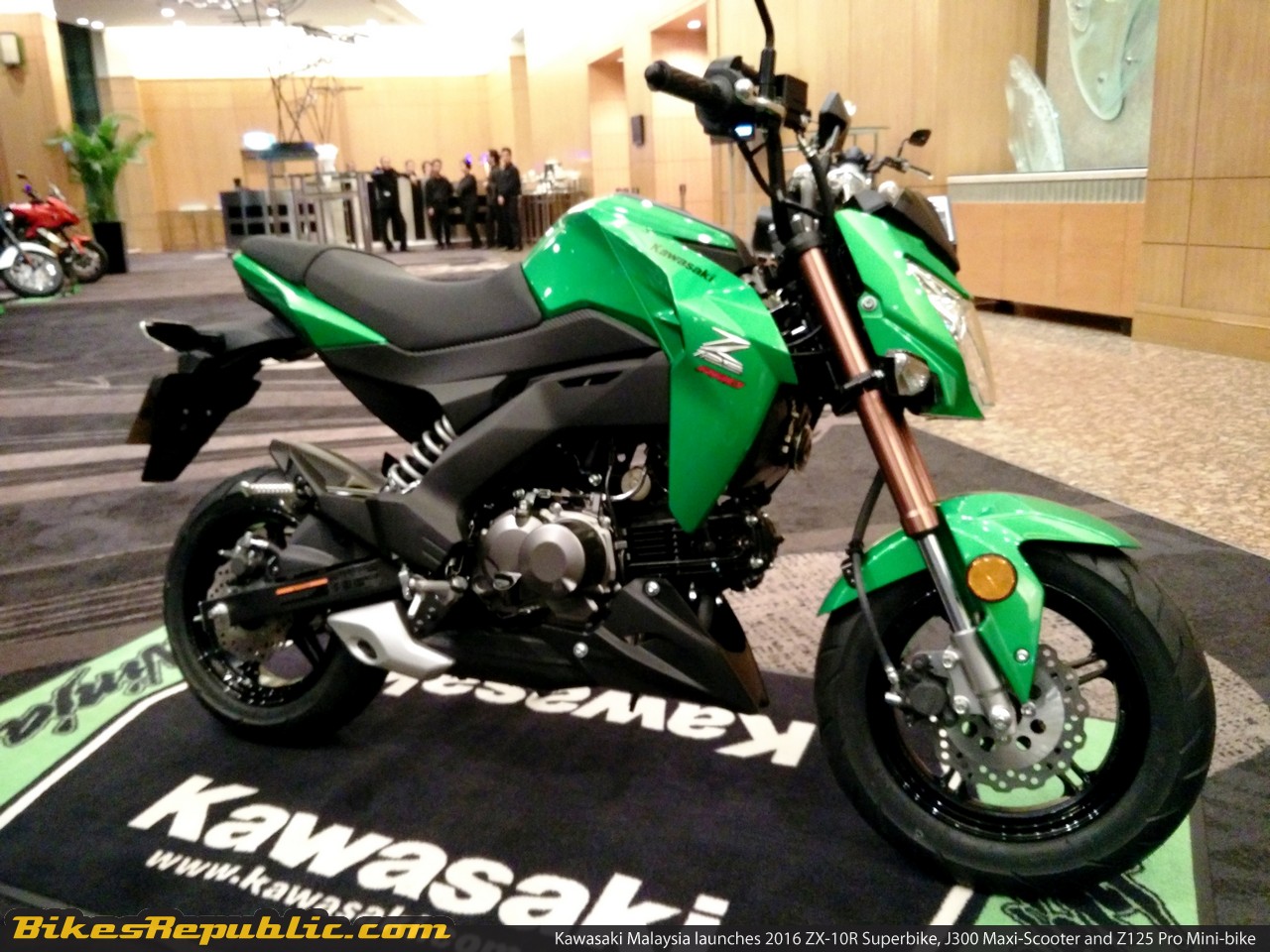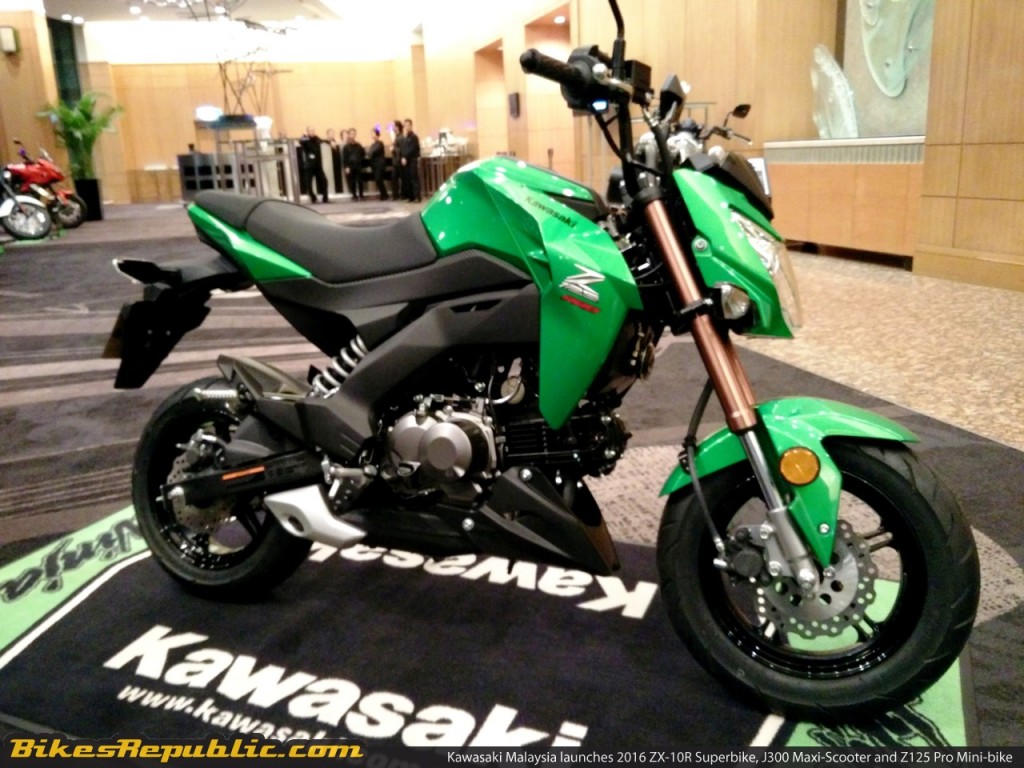 Like Z800, Z125 features the array of panelled aerodynamic edge sides. As could be expected, the rear stop lights illuminates two 'Z' positioned opposite to each other to form a symmetry.
Gallery