Racing is one of the essential things in life, it makes us human. The challenge to be first, or just to be able to survive a high speed corner on the edges of two tyres, is a good enough adrenalin rush to most people. For others though, racing is serious business, it is their livelihood, their bread and butter.
Despite what you see on tv with Formula 1 and MotoGP and other race series, racing doesn't have to be expensive. You won't get to race for free, even legends like Marc Marquez and Valentino Rossi had to spend some of their own money first before being discovered. But the point here is, racing can be affordable. Especially when you do it on the likes of a moped or a 'kapcai'.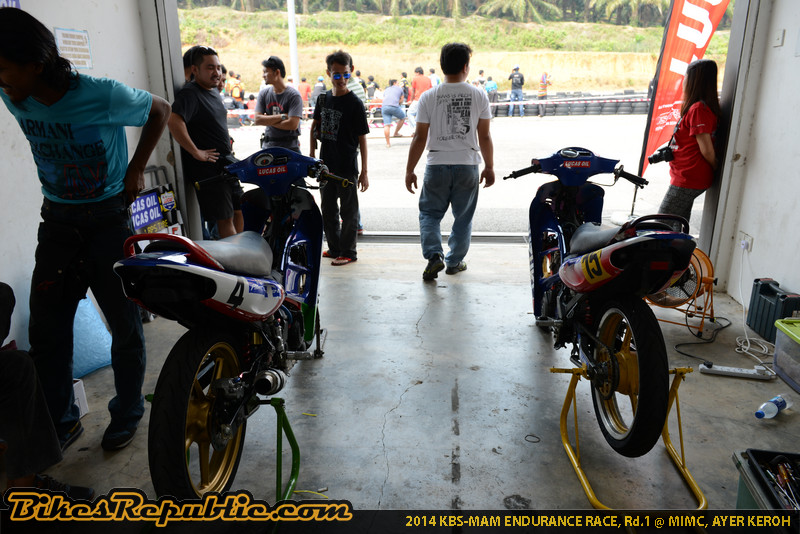 But don't expect it to be full of glitterati and fabulous because it won't be. In fact it would be bare bones with only the pure necessities.
Seen here is a typical ambiance at the KBS-MAM Kapcai Endurance race. Filled with friends, family, oil, machinery, everything that matters most to you. Some of the richer teams will have sponsor decals, but it still won't make you seem fabulous.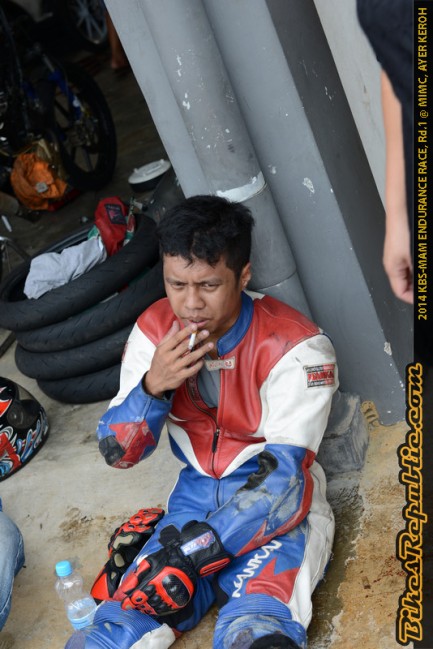 Racers are also human, seen here with this cigarette smoking, stressed out rider waiting for his mate to bring the machine back in one piece. The KBS-MAM Kapcai Endurance race sees two or more riders to a team.
No live telemetry here. The first round for 2014 was recently held at the Malacca International Motorsport Circuit in Ayer Keroh, Malacca. The circuit is essentially basic with some really good tarmac and challenging corners. What it doesn't have however is state of the art technology with telemetry and such. So you have to go back to the basics with a paper, pen and a stopwatch, or a phone with a stop watch feature.
At the pit exit lined with spectators. Bikers have to watch for spectators running about, though dangerous, it lends to the ambiance of the race. Everyone is a lot closer with each other than at professional races where competitors are barred from talking to one another either contractually or by regulations. Unless of course you happen to be standing next to each other which will require the basic hand-shake.
Pit boards are a must in every form of racing, but there were teams which preferred to flay their arms or perform a series of coded arm waves to hail a rider back into the pits.
Jump starts were also necessary and this was carried out by the marshalls instead of the teams. Note the riders gear, padded jeans, a regular jacket and that's about it. Seems very 1960s
.
No fancy hoses here, just a plastic tea jar and a funnel to pour fuel.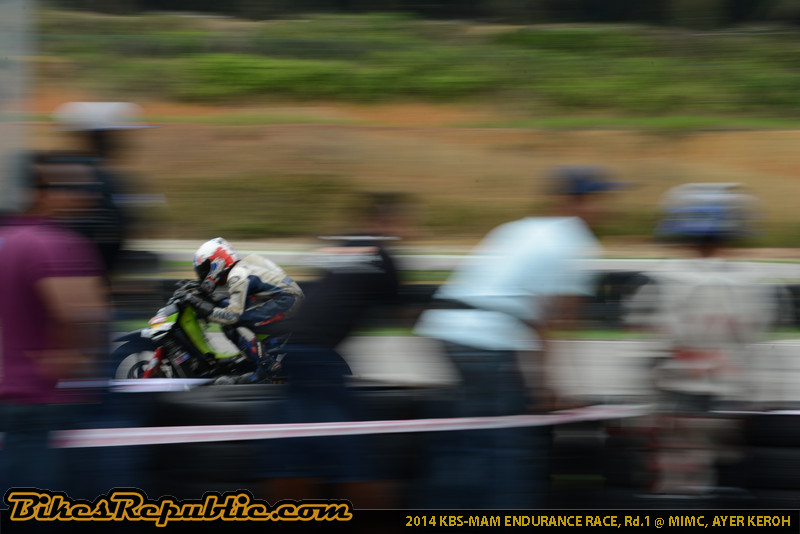 Spectators lined the pit straight, though from a distance. The Kapcai's are capable of speeds in excess of 160km/h, so they really are quick.
The future generation. Despite attracting garage race teams, the new Endurance race also attracts future hopefuls, which is great for the future of the sport in the country.
There is no basic strategy here, or body angle, just do whatever it takes to win, even if it means mutating your body into funny shapes to be more aerodynamically streamlined. But yes, the riders were skilled and incredibly quick.
Besides the KBS-MAM Kapcai Endurance race, the first round for 2014 also saw the inaugural KTM390 Duke one-make race series take place at the same venue.
The aim of this series is just the same as the Kapcai endurance race, to take youngsters off the streets and on to circuits to race nationwide. And give them something to race for.
KTM Malaysia has invested roughly around RM1.5 million into this series which is open to all riders between the age of 18-40.
Only 15 riders will be selected to race.
Even you can take part in the race, download the form to take part in the next race by downloading the form from here: www.dukebattle.ktmmalaysiackd.com
You however will need to have a valid MAM racing license. Racers will also have to fork out a RM300 'deposit' which will be returned to you after the race. KTM Malaysia will also supply you with racing suits, helmet, boots and gloves.
High priority government race going on here, watch who you are racing against 😛
Them KTM 390 Duke race bikes, you do not have to be a KTM owner to race in the series, but priority will be given to anyone who owns a KTM bike.
Photobombing was also on the agenda on race day.
Engineers come in all forms, some expensive and some just pure intelligent as seen here in this rear link setup on a kapcai race bike.
The 'Rat and Rust' culture is starting to pick up in Malaysia.
As are funny names for workshops.
Safety is always a priority at any race, and by the looks of how beat up the suits seem to be, it is for the better as well. Thee guys have balls and are not scared to fall!
Racing also needs to look good.
Transponder.
Kapcai fans will love this handlebar set up. It somehow helps improve aerodynamics.
One for the camera, another one for the road.
Some of the race machines include Yamaha 125's and the legendary Honda EX5.
Mechanics too come in all forms and sizes.
Looks like Taufik's friend has a butt rash. Hope it isn't too painful. Here are the dates and venues of said eight rounds. Round 1 – April 19 & 20 – MIMC, Ayer Keroh, Malacca Round 2 – May 24 &25 – Sultan Abu Bakar Track, Pekan, Pahang Round 3 – June 13 & 14 – UUM Sintok Track, Kedah Round 4 – September 6 & 7 – venue TBA, Selangor Round 5 – September 27 & 28 – venue TBA, Sabah Round 6 – October 17 & 18 – SPM Track, Kuala Terengganu, Terengganu Round 7 – November 1 & 2 – Litar Dato' Sagor, Kampung Gajah, Perak Round 8 – November 21 & 22 – MPDRM Bakri, Muar, Johore Final – December 13 & 14 – Sepang