Exclusive trackside chats with Red Bull MotoGP riders Maverick Viñales and Jack Miller at MotoGP's Sepang Test 2.
The last three days have been abuzzed with activity in the Sepang International Circuit (SIC) as MotoGP continues with its second pre-season official testing session. Amidst the sweltering heat and humidity, our friends at Red Bull Malaysia graciously secured us with an exclusive invitation to speak with its riders Maverick Viñales and Jack Miller.
Both riders mark their debuts in the top-flight MotoGP category this year, with 2014 Moto2 World Championship second runner up Viñales astride the returning Suzuki MotoGP team's GSX-RR race machine, whilst former Moto3 hot-shot Miller skipping Moto2 altogether to go stright into MotoGP with the venerable LCR Honda satellite team.
We caught up with Viñales first following the end of his on-track stints, and here's what we garnered from the 20-year-old Spaniard.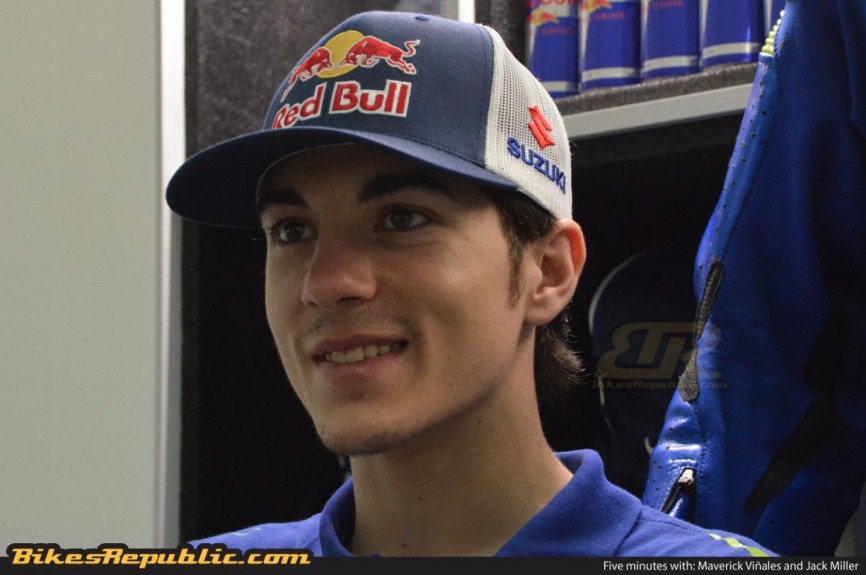 Maverick Viñales
Share with us your thoughts about coming into MotoGP for the first time this year.
Well, surely this is a harder challenge. We (I and the team) are working so hard all the time. This is a very high level of competition, so step by step, we try hard to improve and to understand things and closer to the top.
Has your time spent in Moto3 and Moto2 previously aided with your transition into the MotoGP category?
Yes of course! It is important, especially Moto2. It gave me a lot good experience and now I can improve it here in MotoGP.
After two tests, do you think you and the Suzuki outfit can compete strongly this season?
Yes, I believe so. Suzuki trust me, and I trust them. I believe that it is important to be with a factory team. They work so hard, and I work so hard. I believe if we work hard together, we can get close to the top for sure.
Have you made a lot of improvements in this second test compared to the first test here in Sepang?
Not so big actually, but we go step by step. And it is always important to improve. Today, I beat my previous best laptime, so I think I'm doing quite ok.
What was your focus for today's test?
Today my focus was mainly on pace and gaining more experience. In terms of setup, I'm finally happy with it. We are quite happy with the way it performed on the track today.
Are you feeling confident in taking the Suzuki name up the ranks this year?
Sure! We are very confident. We just need keep improving and developing the bike. Also, I need to improve myself as well.
Maverick Viñales previously took the crown in Moto3 back in 2013 and was ranked third in the Moto2 standings last year. The young Spaniard will compete in MotoGP this year with the factory Suzuki team alongside veteran Spanish rider Aleix Espargaró. Suffice to say, he will be one rookie to look out for this season.
We also caught up with another MotoGP rookie fellow Red Bull rider Jack Miller shortly after. The Aussie is only a handful of riders in the sport's history to have bypassed the Moto2 category altogether, making the jump into MotoGP straight from Moto3.
The 20-year-old Aussie had quite a sensational season in Moto3 last year, ranking himself second overall by season's end with just two point separating him and eventual title winner Álex Márquez. Nevertheless, Miller's skills aboard the Red Bull KTM Ajo team's machine was enough to prove his mettle, resulting in his express graduation up into the MotoGP category where he joins the LCR Team – arguably one of Honda's most venerable satellite teams with a good competition track record.
We caught up with the Aussie hot-shot and here's what we garnered from his endeavour in the second Sepang tests.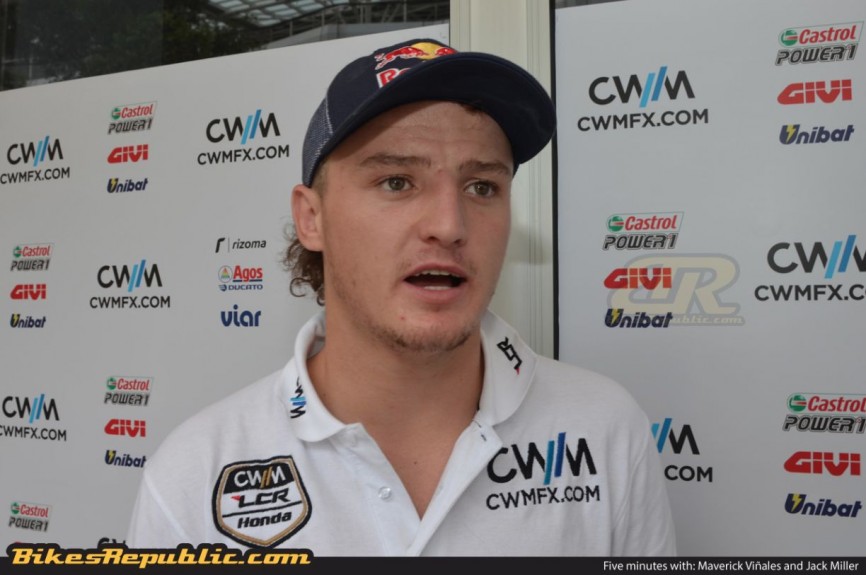 Jack Miller
Share with us your thoughts on how the last three days fared out for you.
The test so far has gone pretty well. We seem to be pretty happy with how the bike is going step by step, coming closer and closer to the top guys. It is not easy at the moment out there with the high temperatures and everything. This track is very physical as well. It is a very good track for testing you know, you really have to work a lot here.
How about today? Was today's progress good for you?
Yeah, today was not so bad. We put in a fast lap time this morning. We did our long run by noon, and it was really difficult. The race simulation was not easy, spending a long time out there alone, and yes, it does get f**king hot too. But we try to complete as many laps as possible. We definitely improved over the last test's race simulation, but still not quite as perfect as I'd like.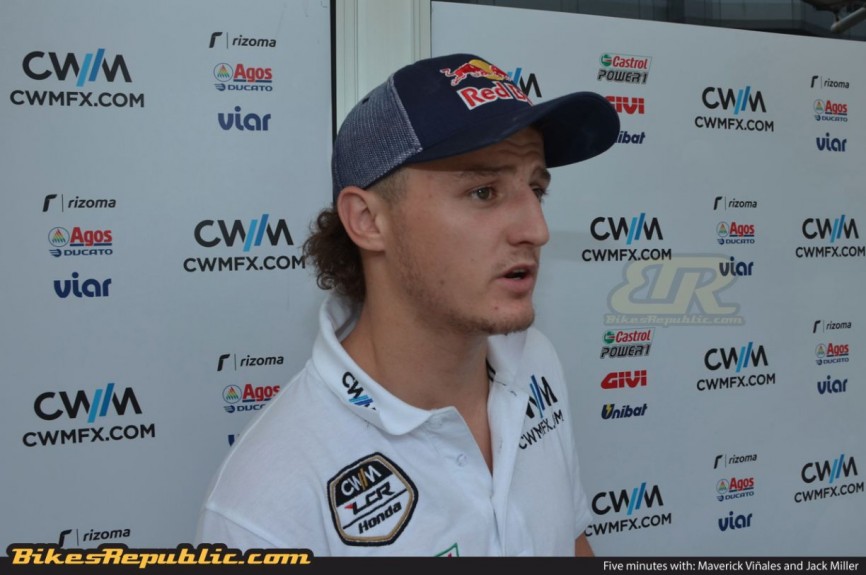 What's next on the agenda for you?
I'm done for the day, but I've got the Michelin tests tomorrow. It will be my firs time on the new tyres, so we'll see what happens. For me, what's more important is to just do more laps around here on a MotoGP bike.
How's 2015 looking up for you so far?
Its going to be a difficult year. Stepping up from Moto3 is not easy in any way, but I am looking forward to it. It is definitely an exciting year for me and the LCR Honda team, and we'll see what 2015 brings for us.
How are you liking your new team?
Yeah, the new team is awesome! I'm having a great time with them. They are all good. For the short amount of time we have together, we seem to get along pretty quickly.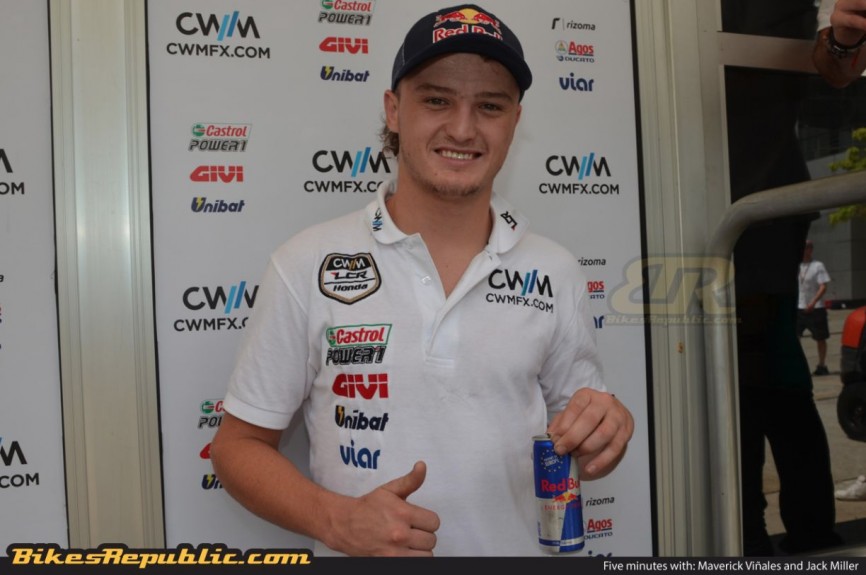 Has your teammate, Cal Crutchlow, been helping you with the transition?
Yeah, he has a little bit. But you know, Cal's got a big job on his hands too after a difficult year with his last team, and he's looking to make up some position. But, he's been a great teammate for sure.
Being Australian, there has been plenty of comparisons between you and Casey Stoner. Are there any additional pressure perhaps?
Not really. I mean, Stoner was his own guy, and we try to be our own person. In Australia, we come from a long line of successful people and if I can be as close to these guys, I'll be happy.
What are your thoughts about having a new and young Australian rider competing in the Asia Talent Cup this year?
It's good to see some more coming through. Its been a bit of a gap again, but I think that soon, it'll sort of filters out so we get a lot of good guys through. Hopefully, the Asia Talent Cup will open up a new route for more guys to get into the world championship.
What do you normally do for fun when you're not racing?
Oh well, you know, go motocrossing, and try to do as many stupid things as possible!
What's the first thing you'd usually do when you get home to Australia?
I don't really go back home too often. But when I do, I go home see my family, friends. I go ride my dirt bike track that I have there and just try and catch up with as many people as possible while I can.