In a bid to meet a wider demographics, Aprilia has unveiled its latest creation, the 2024 Aprilia RS 457.
The RS 457 marks a significant step forward in both technology and market appeal, reflecting Aprilia's dedication to meeting the demands of an ever-expanding global audience.
Powering the RS 457 is an all-new parallel-twin 457cc engine that boast 47hp.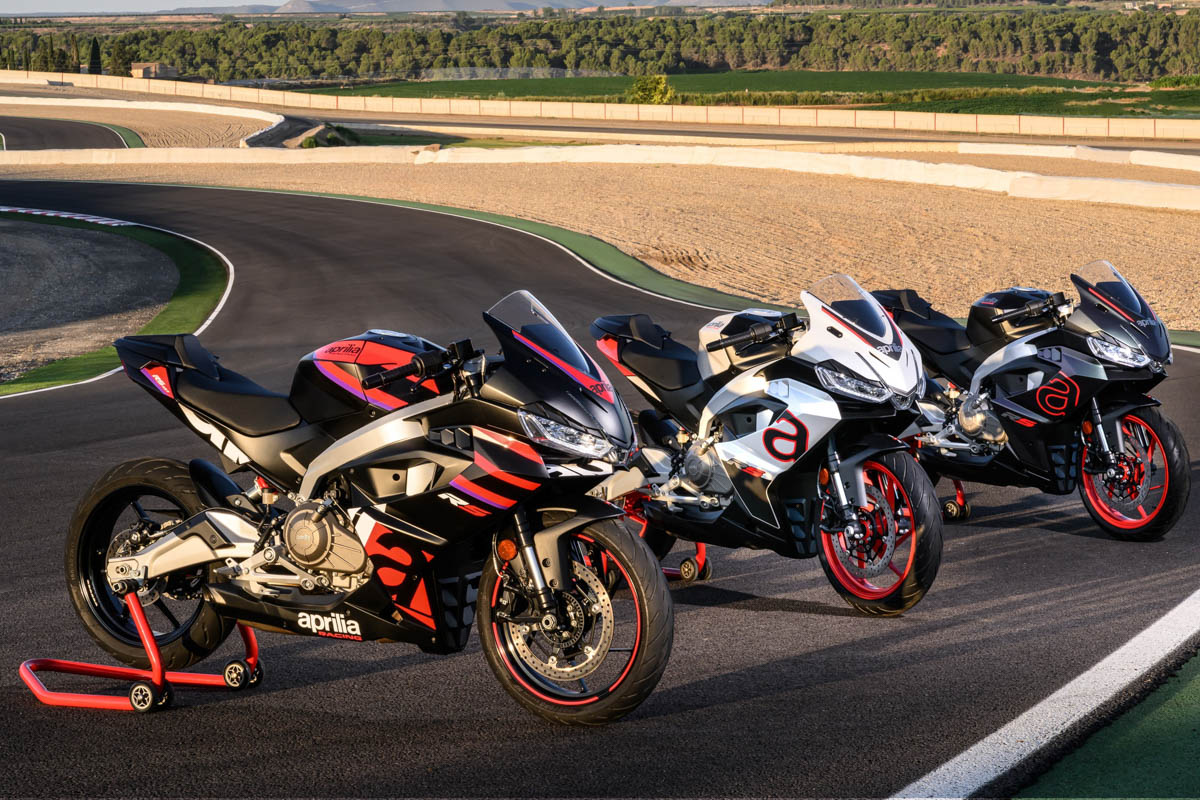 At the core of the RS 457 lies a seamlessly integrated engine and a rigid aluminum frame, distinguishing it from its competitors. Taking inspiration from Aprilia's extensive racing history, the crankcase now serves as a load-bearing component, a design element previously featured in the RS 660. This innovative approach results in a lightweight build, exceptional handling, and the exhilarating riding experience that Aprilia is renowned for.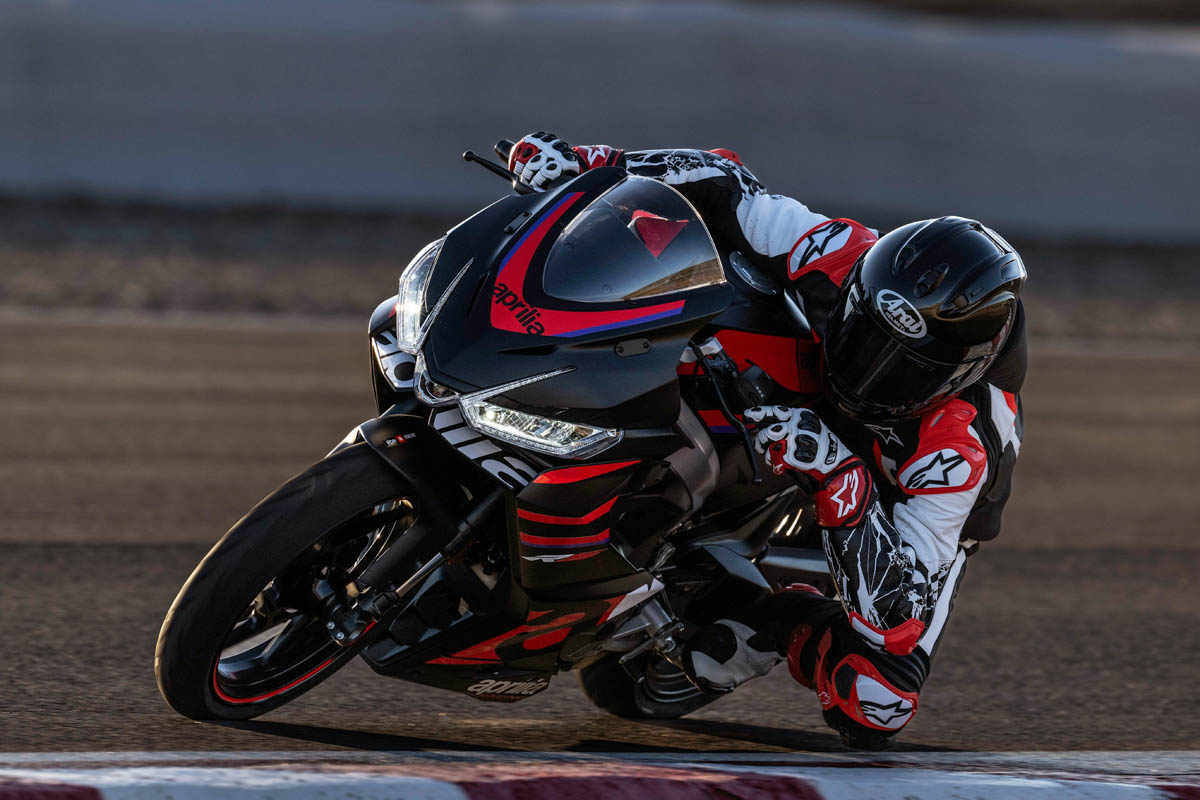 The RS 457's electronic features are truly remarkable, catering to a wide range of riders while staying true to Aprilia's heritage. The Ride by Wire system, developed by Aprilia's engineers, offers three distinct riding modes that finely tune power, torque delivery, and traction control, all adjustable across three levels.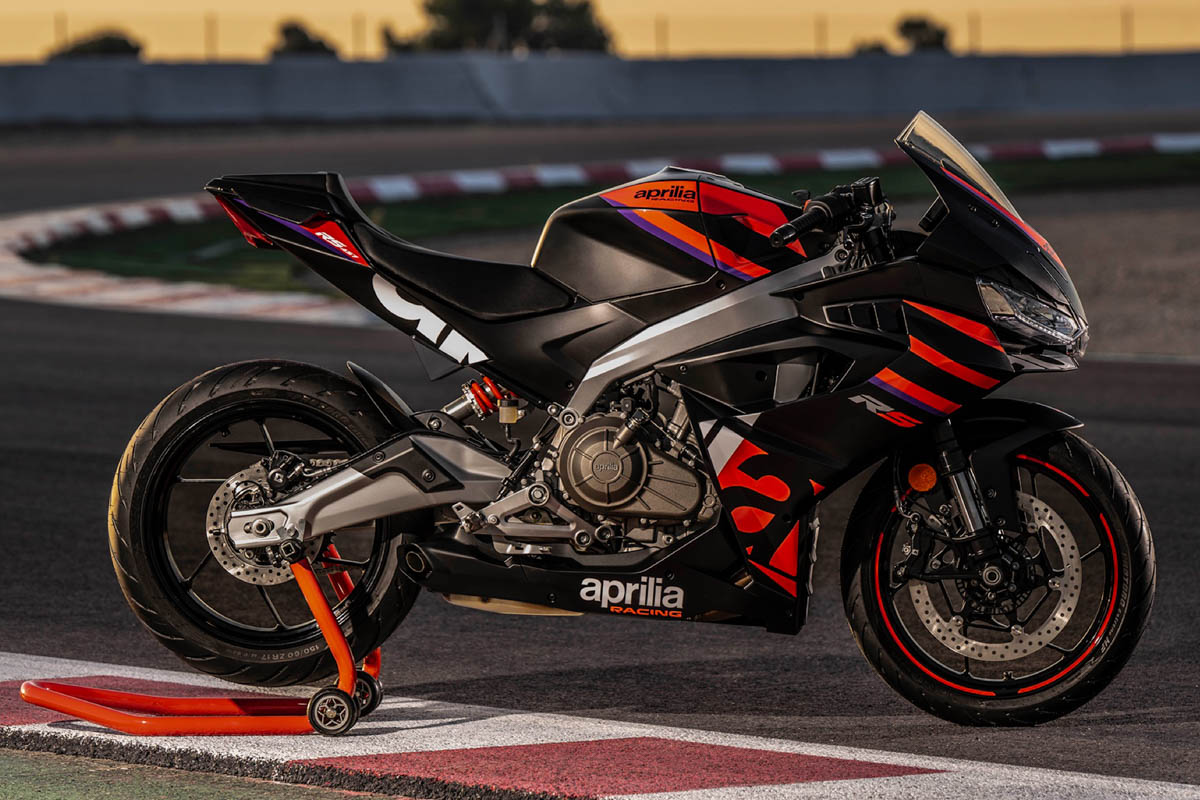 Designed to attract a new generation of riders, the RS 457 boasts lightweight construction, user-friendly handling, and cutting-edge technological advancements. Its ergonomic design includes clip-on handlebars positioned above the upper triple clamp, achieving a harmonious blend of sportiness and rider comfort.
In terms of aesthetics, the RS 457 pays homage to the legendary RS series, known for its aggressive aerodynamics and iconic design elements. Features like the LED front headlamp and the 5-inch TFT color instrument display continue the RS family's distinctive visual identity.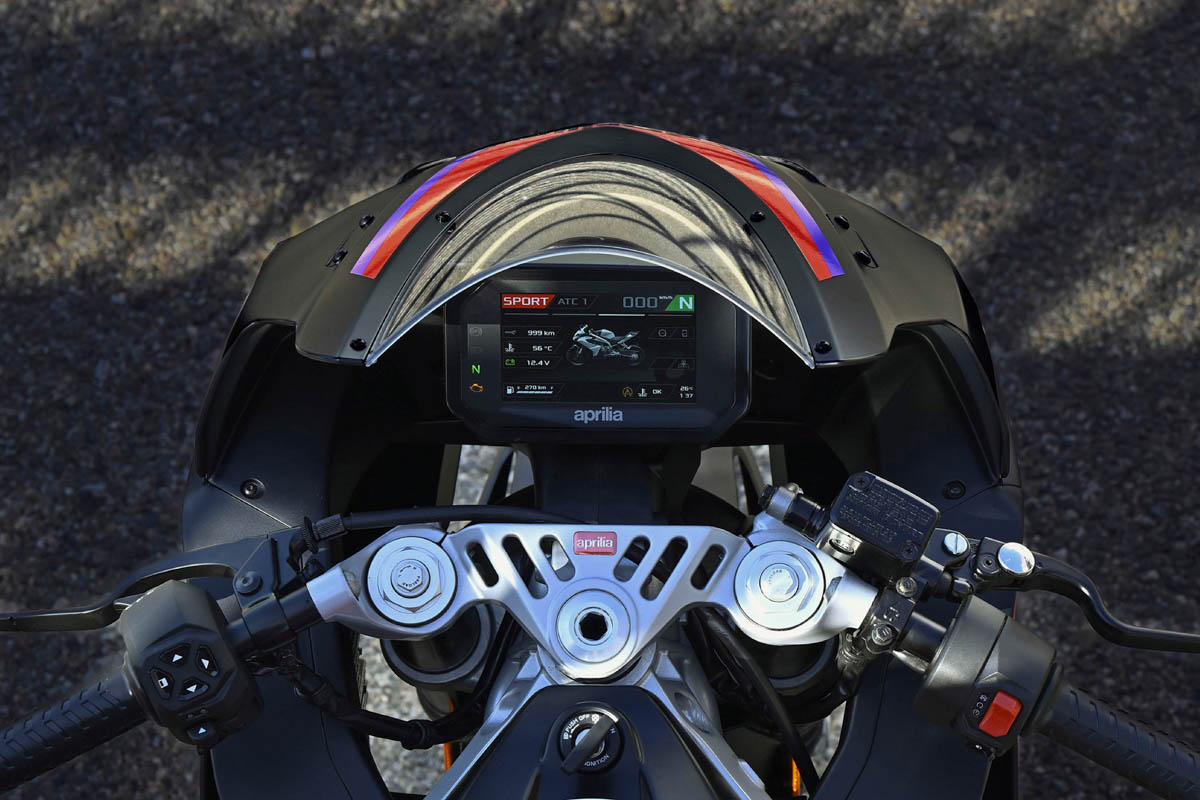 Under the hood (so to speak), the Aprilia RS 457 is powered by a state-of-the-art, liquid-cooled parallel twin-cylinder engine with double overhead camshafts and four valves per cylinder, delivering a respectable 47 horsepower. Remarkably, the motorcycle boasts a dry weight of just 350 lbs, showcasing Aprilia's dedication to lightweight performance.
Complementing the engine is a robust aluminum frame, a hallmark of Aprilia's design expertise honed through years of racing success. The frame, with the crankcase as a load-bearing element, ensures the low weight, dynamic performance, and sheer riding pleasure that Aprilia enthusiasts have come to expect.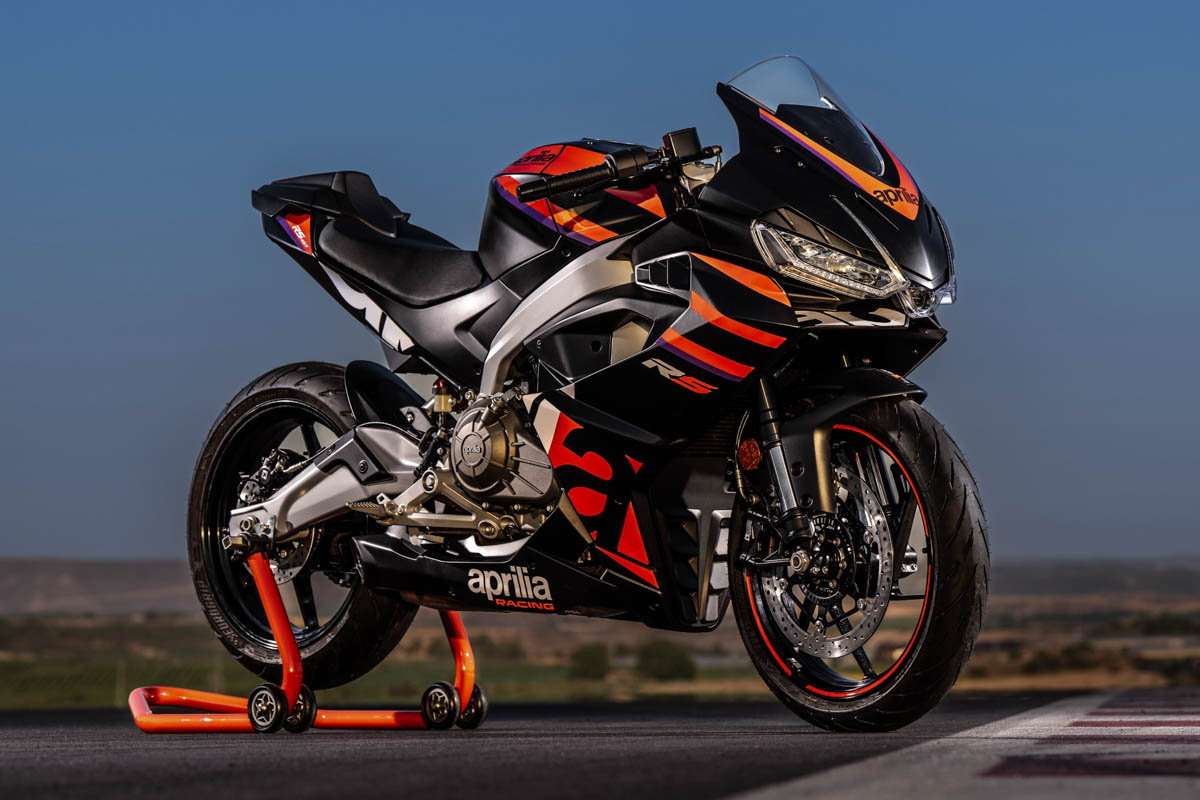 The RS 457's suspension system includes a 41 mm front fork providing 120 mm of travel and a rear monoshock with a steel swingarm offering 130 mm of wheel travel, both featuring preload adjustability. The braking system is equally impressive, featuring a 320 mm front disc with a ByBre radial-mount 4-piston caliper and a 220 mm steel rear disc paired with a ByBre caliper. Dual-channel ABS with dual map settings ensures optimal braking performance.
As an exciting optional feature, the Aprilia RS 457 offers a quickshifter (up and down), further enhancing its performance capabilities and adding to its already comprehensive electronic package.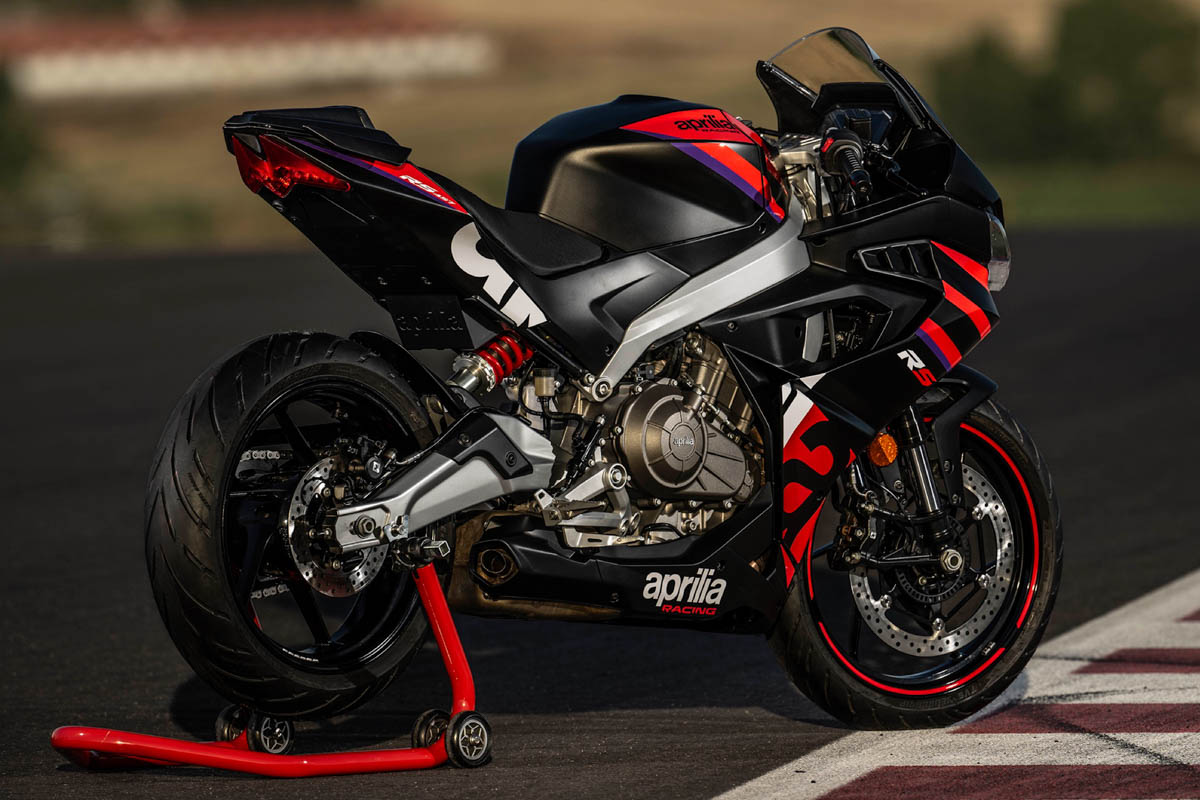 With the introduction of the RS 457, Aprilia is poised to set new standards in technology and style for motorcyclists worldwide. This release solidifies their commitment to delivering high-performance machines backed by innovation and expertise.