There are many engine lubricants in the market, but only a few stand out through specially formulation like Caltex Havoline motorcycle lubricants. 
Caltex Havoline motorcycle lubricant works to protect the engine to avoid premature wear. 
With over 100 years of experience, Caltex Havoline motorcycle lubricant also helps to produce more power and increases mileage.
We go by everyday hoping to make tomorrow better than today, a feat usually achieved through sheer will power, strength, persistence, courage and a heaping dose of knowledge to tie everything together.
Whether it is simply commuting to work or squeezing out every last drop of performance from your race bike at the track, you need something reliable to make sure your machines can cope with the challenges thrown at it. And that is where Caltex Havoline comes into play.
When it comes to optimum engine protection from premature wear, Caltex Havoline advanced engine oil addresses these issues to a tee. With over 100 years of experience, research, development, and technology, Caltex Havoline has successfully made significant advancements in motorcycle engine oil through something called C.O.R.E. Technology.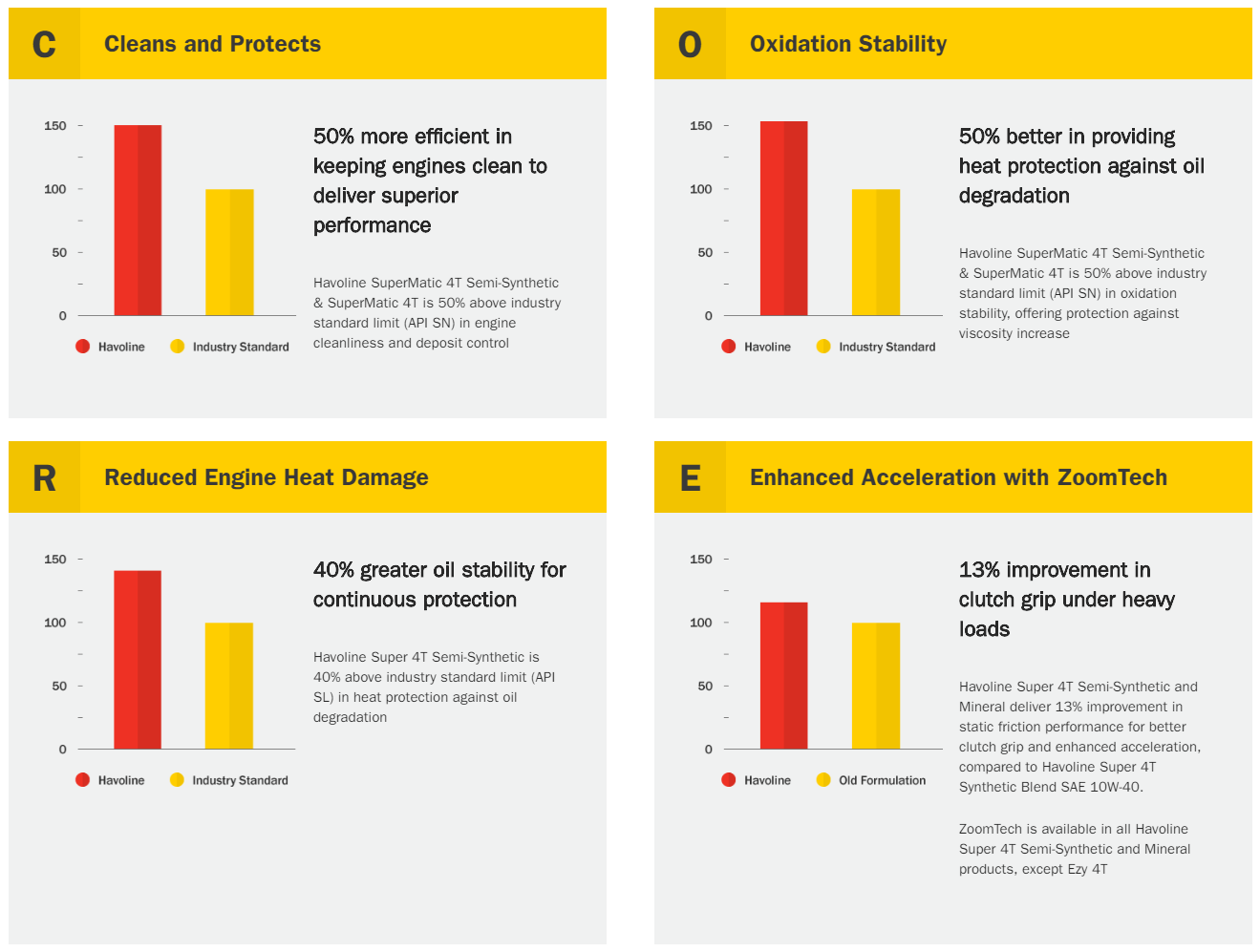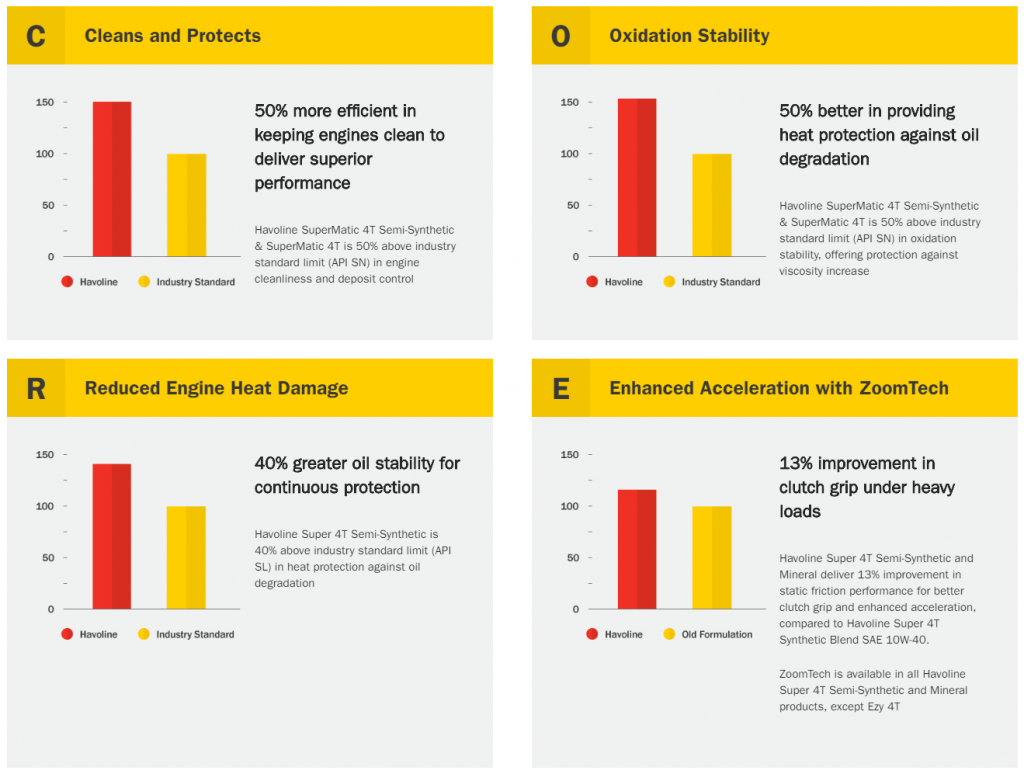 So what is this C.O.R.E. Technology and how can it help you as you go about your everyday life? Well for starters it is an abbreviation for:
1. Cleans and protects
2. Oxidation stability
3. Reduced engine heat damage
4. Enhanced acceleration with ZoomTech
Caltex Havoline motorcycle oils focuses on the four core areas mentioned above to help improve engine life and improve performance. Caltex motorcycle engine oil has proven to be 50% more efficient in keeping engines clean so as to deliver superior performance. In fact, the Havoline SuperMatic 4T Semi-synthetic and SuperMatic 4T performs 50% better than the industry standard limit (API SN) in overall engine cleanliness and deposit control.
But the lubricant does not only clean and protect, it is also specially formulated to offer oxidation stability. Oxidation is never good for engine lubricant as it affects the viscosity of the oil and produces sludge, which affects the performance of an engine and reduces its life expectancy. But with "Oxidation Stability" formulated into the lubricant, Caltex Havoline motorcycle lubricant offers 50% more protection against increase in viscosity.
That's not all though, Caltex Havoline also offers 40% better protection against oil degradation so as to minimise heat damage to the engine, and also offers better acceleration and 13% improvement in clutch grip under heavy loads thanks to a technology called ZoomTech.
ZoomTech is a friction booster that works to reduce clutch slippage, especially under high loads such as when carrying a passenger. By increasing the friction between the clutch plates, the lubricant is also then able to offer maximum power transfer for enhanced acceleration, which basically translates to better acceleration.
Caltex Havoline engine oils ensure that they bring the fight straight to all of the common issues related to engine wear and tear. Paired with factors like toughness, resilience, power, and discipline, Caltex Havoline has teamed up with ONE Championship as they share the same values.
MMA (mixed martial arts) fighters in the ONE Championship all go through rigorous training regimes to ensure that they're at their peak fighting performance each and every time they get in the ring. Being Asia's 'Home of Martial Arts', their sentiment is right on point with Caltex Havoline's dictum to "Put the Fight Back in Your Engine".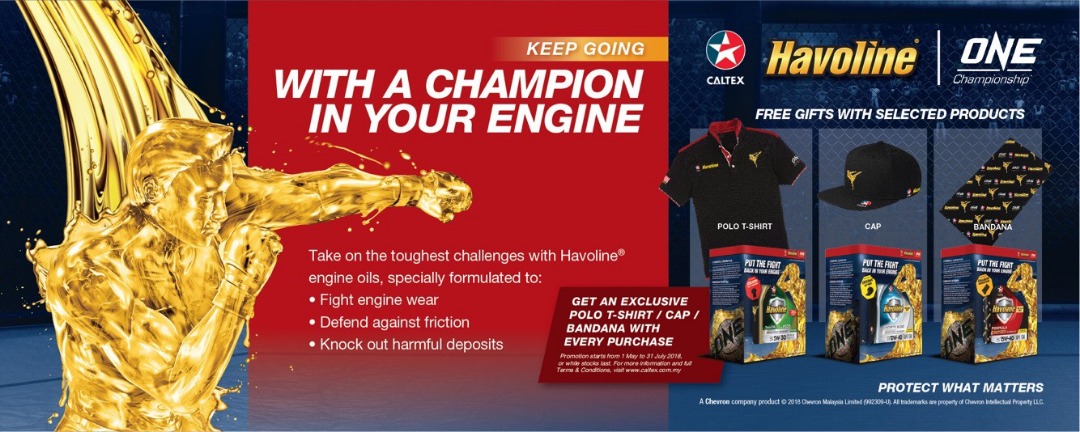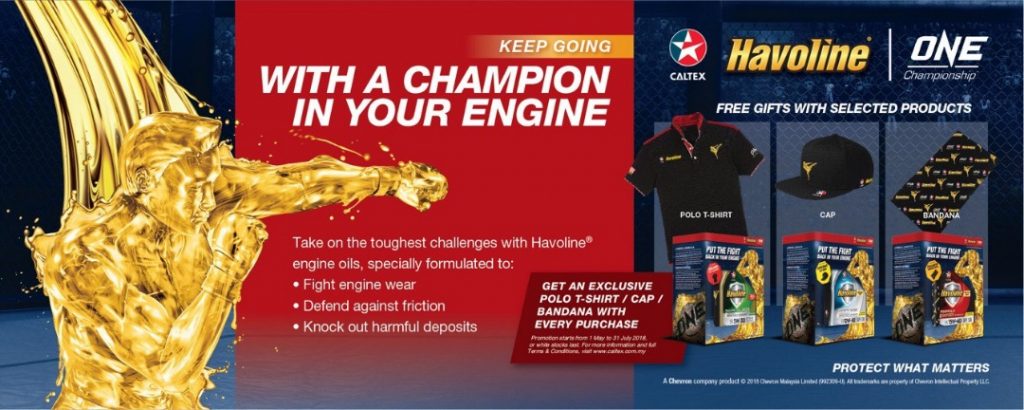 For a limited time only, Caltex Havoline is offering a special promotional pack for every purchase of Caltex Havoline products such as Havoline® Super 4T Fully Synthetic SAE 5W-40 and Havoline® Super 4T Semi Synthetic SAE 1W-40, where buyers stand a chance to get a polo t-shirt, cap or a bandana. Promotion starts from now until 30 July 2018 or while stocks last.
Click here for more information about this exciting offer.