We find out if the CMC Italjet 125 is worthy of its original Italian namesake.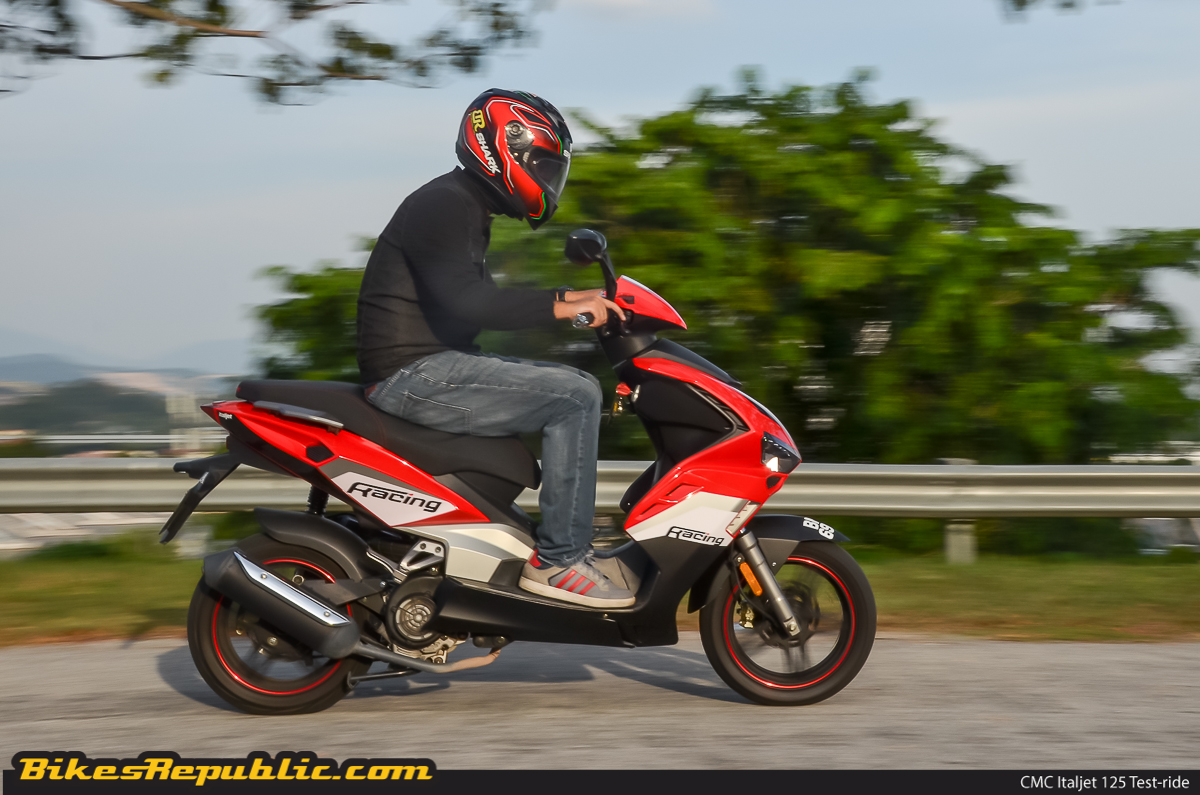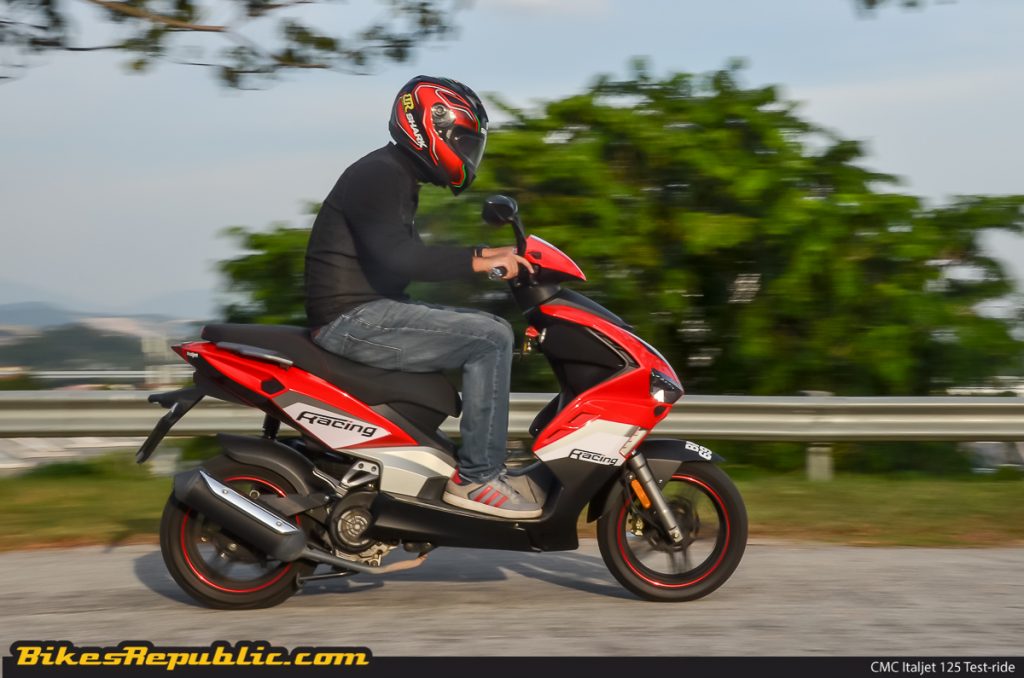 If you've lived through the late 1990s and early 2000s, you'd probably saw through the prime era of 'sports scooters' amongst local youths. Back then, if you had a Gilera Runner or the original Italjet, you were automatically cool.
But like any other Italian brand, their hypes slowly dwindled, with Gilera fast becoming a hot item amongst avid collectors today. Italjet, on the other hand, was dormant until recently that is, leading us to this, the CMC Italjet 125 that was launched not too long ago.
Essentially, Chinese brand CMC acquired the licensing to produce and sell the Italjet brand as its own. The Malaysian-flavoured model, like the bulk of CMC's other models, are assembled locally by MOMOS (Mofaz Motosikal Sdn Bhd) and distributed by Chear Global Sdn Bhd.
It all sounds good at first, but plenty of fans weren't too keen. So to settle all doubts, a test-ride was in order, which is exactly what we got down to doing recently.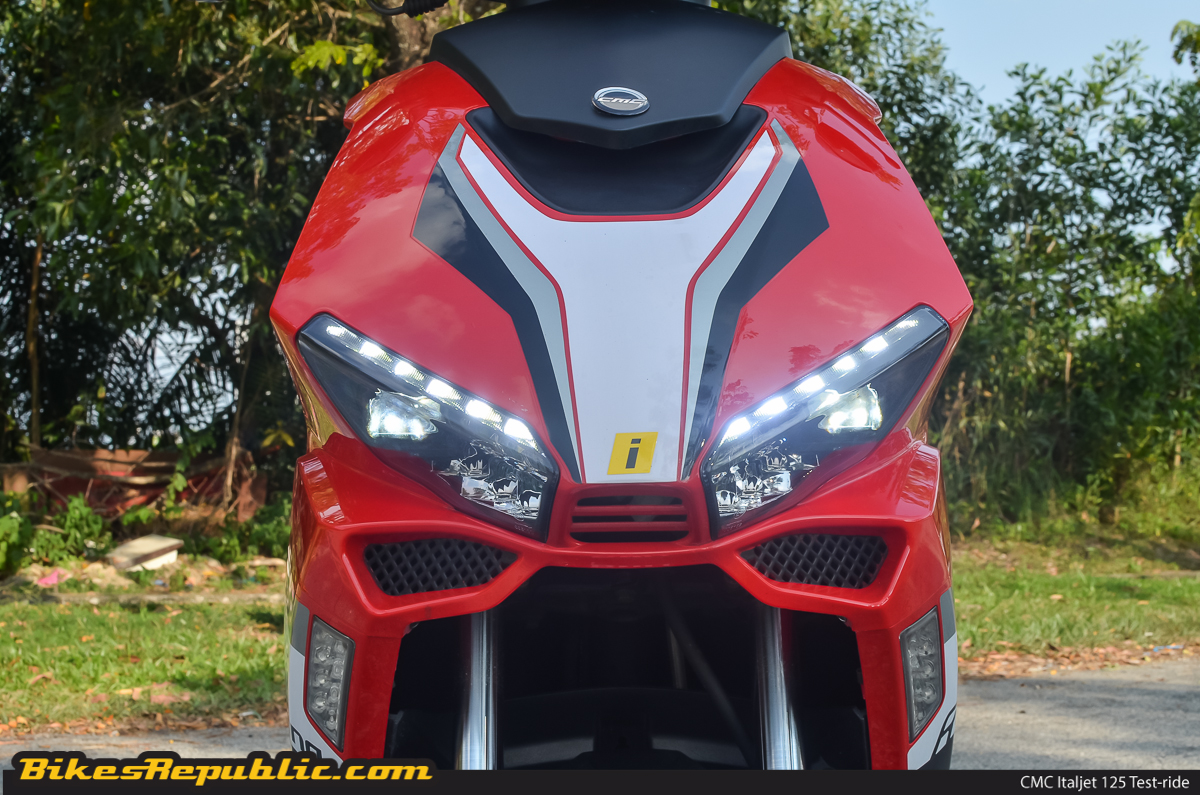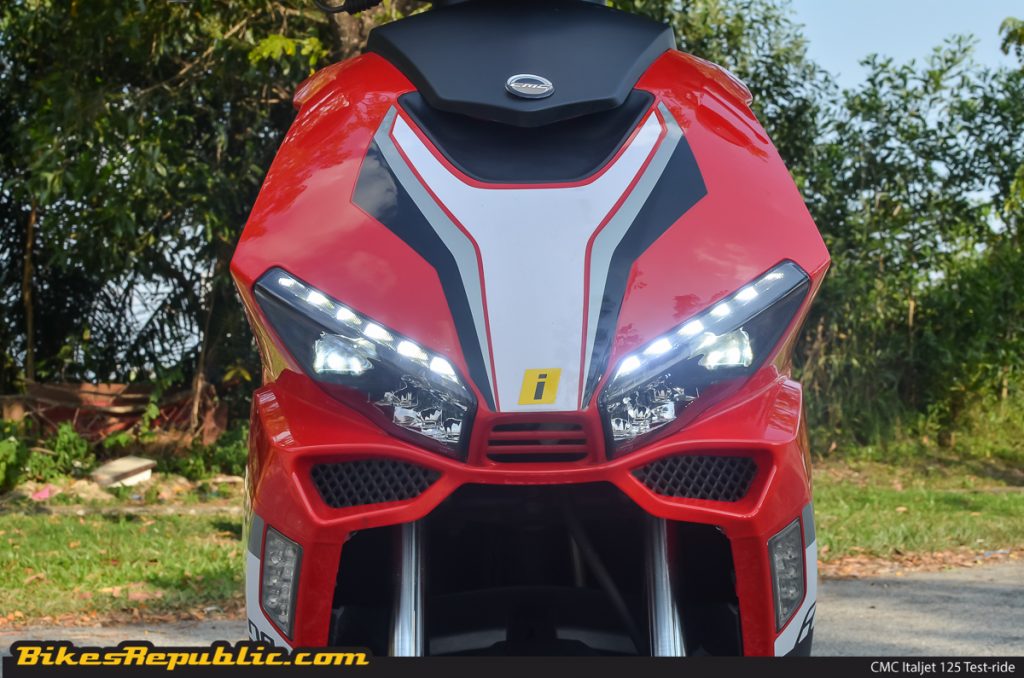 Designed by Alessandro Tartarini,the original Italjet looked sexy to begin with, and this CMC redux has done it justice. In fact, CMC even went to the extent of modernising it with a set of full-LED headlights too.
Minus the tacky 'Racing' decals, our test-unit's 'Chilli Red' colour, plus its blacked-out 13-inch alloy wheels all looked the part. As far as first impressions go, it is easy to see how this good-looking scooter easily tempts anyone.
Underneath its pretty skin, the story takes a slightly different twist once we got into the hot seat. For starters, the cheap plastic trims, especially in the control surfaces, were hard to ignore. The scooter's build quality does raise some questions at first, but the affordable price it commands begs anyone to reconsider in fact.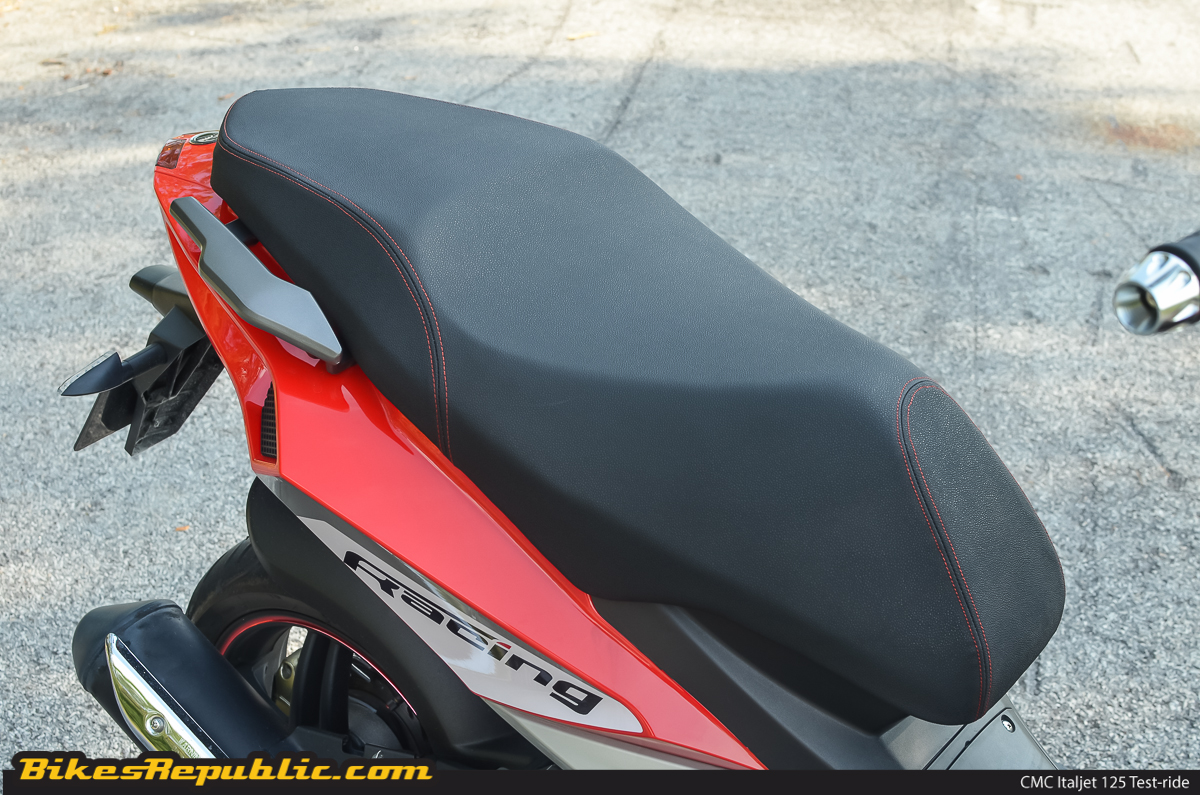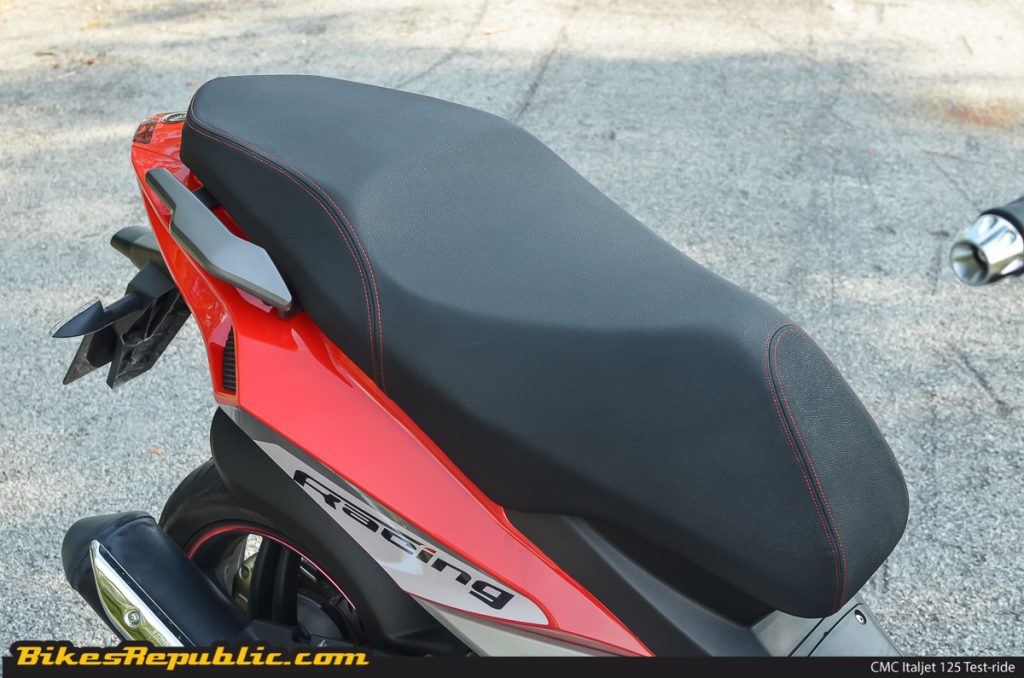 The seat, on the other hand, does feel a tad bit firm, but it isn't too bad once we were on the move. The silver lining here is perhaps the instrument panel. The large analogue speedo dial is straightforward and easy to grasp, as is the digital multi-info screen next to it.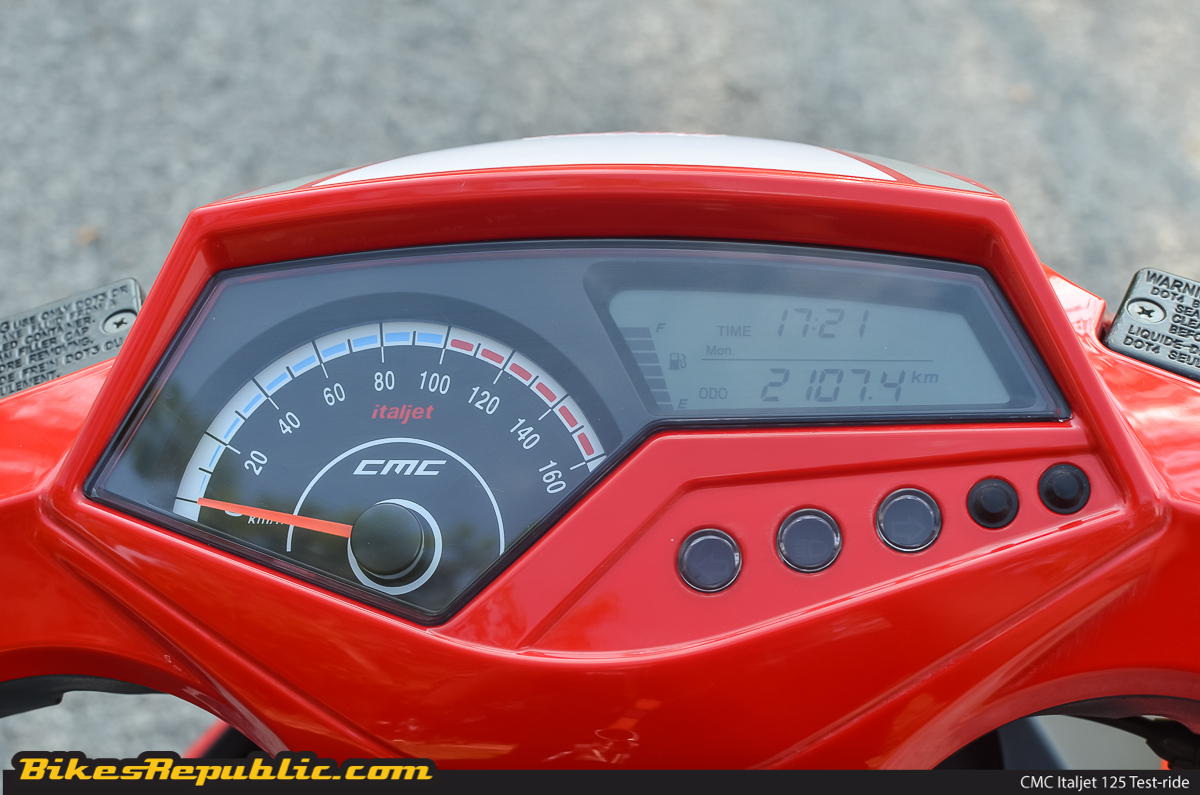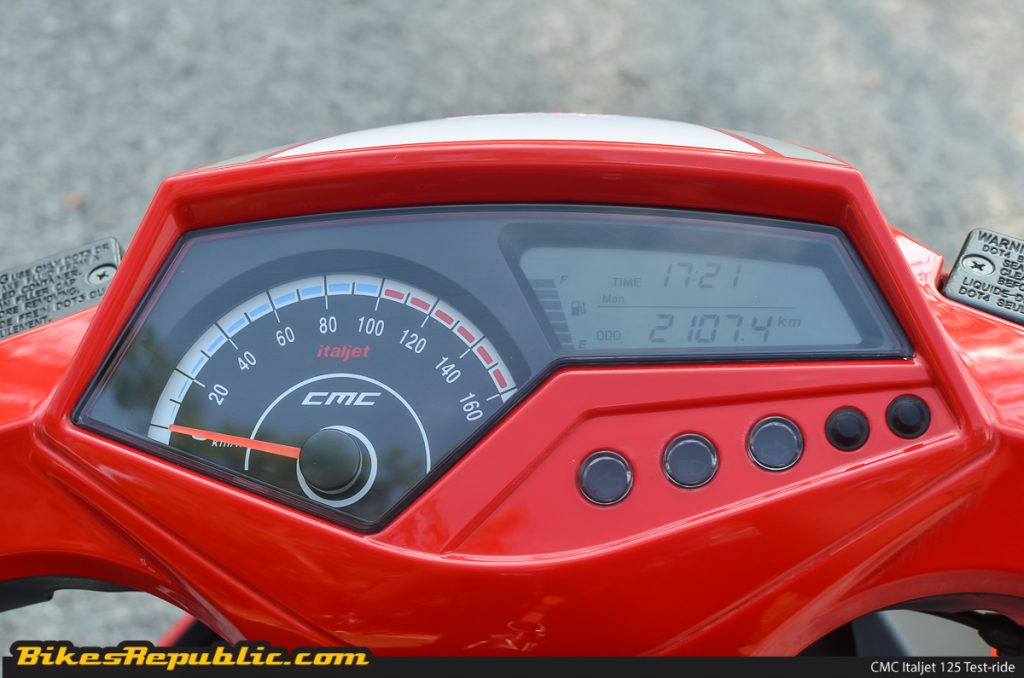 Thumb the electric starter button and this scooter's air-cooled 125cc single-cylinder easily comes to life. This is a carburetted powerplant, which sounds seemingly outdated in this day and age. Nevertheless, it healthily generates 8.85hp and 8.6Nm of torque that easily brings this scooter up to speeds.
Typically, this scooter's mill favouring peak power and torque at the higher rev band felt rather perky, which was great. With the Italjet CMC 125, you'd easily win traffic light-to-traffic light sprints against any of the current crop of similarly sized Japanese scooters flooding our roads today.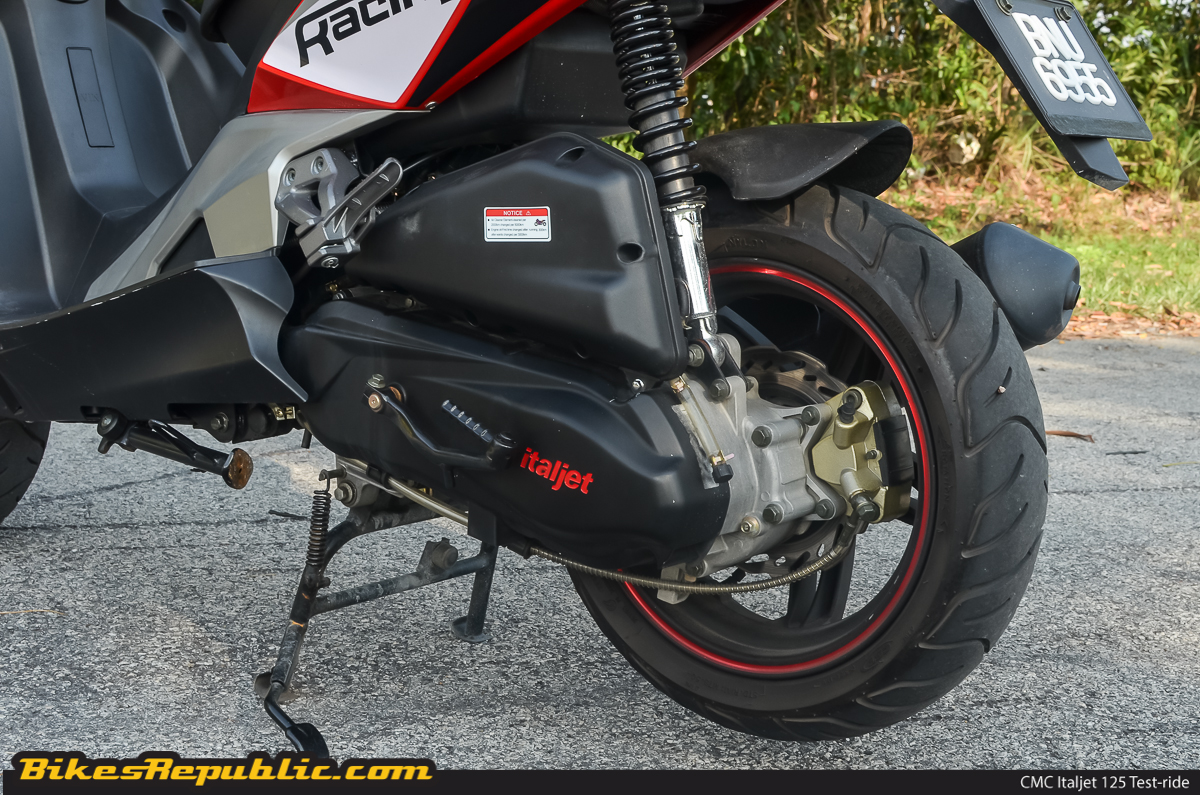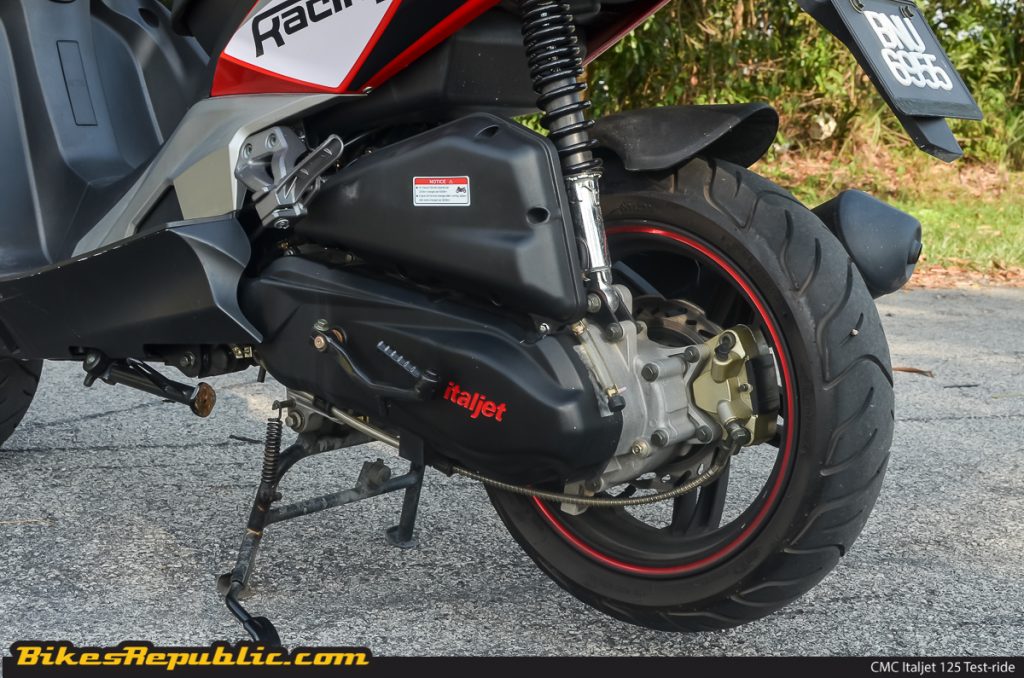 What didn't feel too good thought were the obvious lack of vibration dampers for both the engine and the V-belt automatic transmission paired with it. Adding to that was perhaps the mill's seemingly rough soundtrack too, sounding more akin to a chainsaw motor especially at higher revs.
Again, these quirks were to be expected for something priced this affordably, and you'd be glad to know the CMC Italjet 125 actually has some decent handling abilities. Much of its agility comes from its low weight figure whilst the presence of all-round disc brakes halts this scooter as fast as it goes.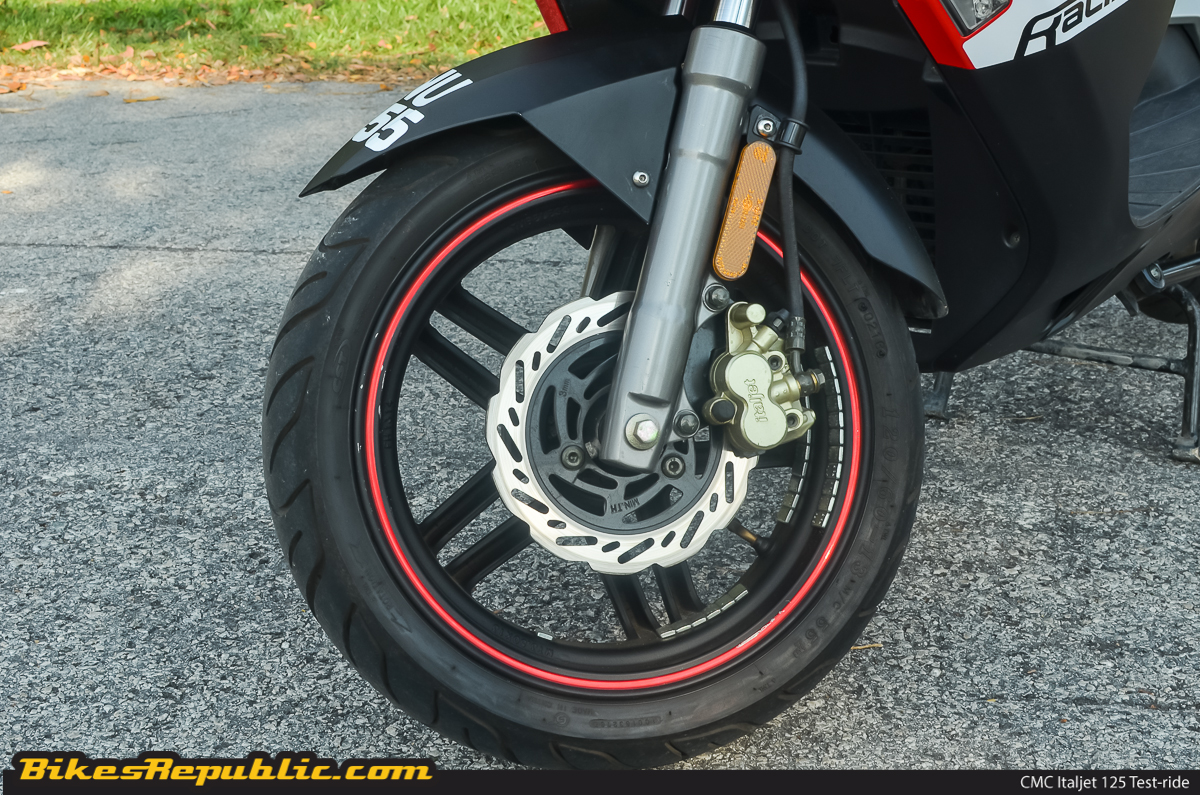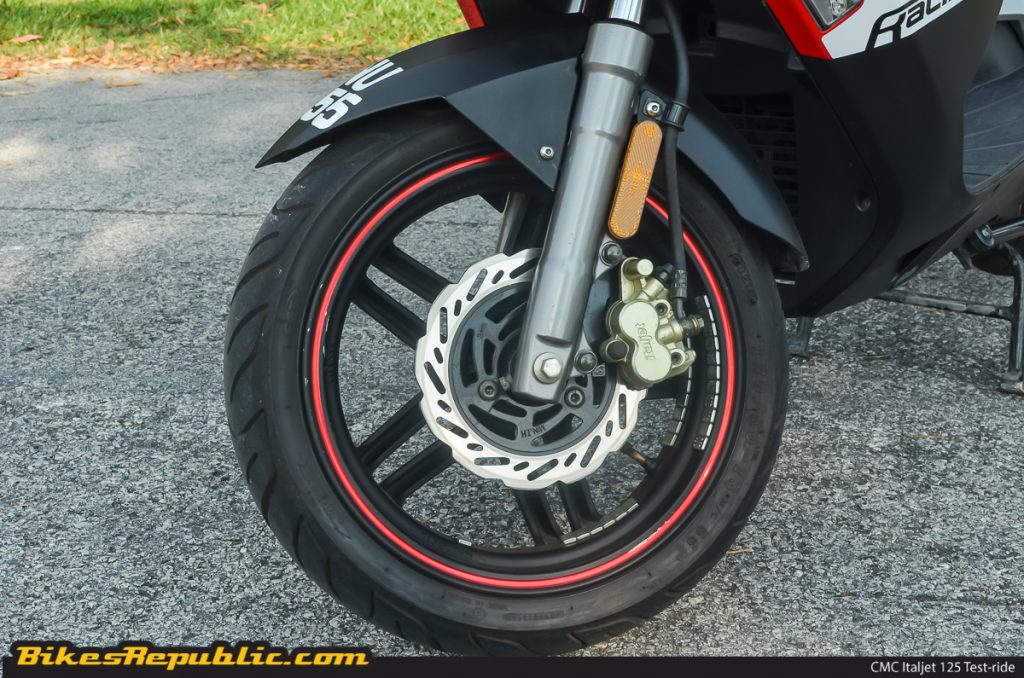 The ride though did felt slightly unrefined. The telescopic front forks and rear monoshock assemblies actually work fine when charting across the typical bumps and cracks of KL's city streets, but it is the slight lack damping that didn't sit well for us actually.
Nevertheless, avid sports scooter fans will appreciate the rich feedback the setup offers. But of course, there is room for improvement still, and we reckon the vastly huge local performance parts and tuning accessories market will have a few solutions to this – aftermarket springs, absorbers, exhausts, etc.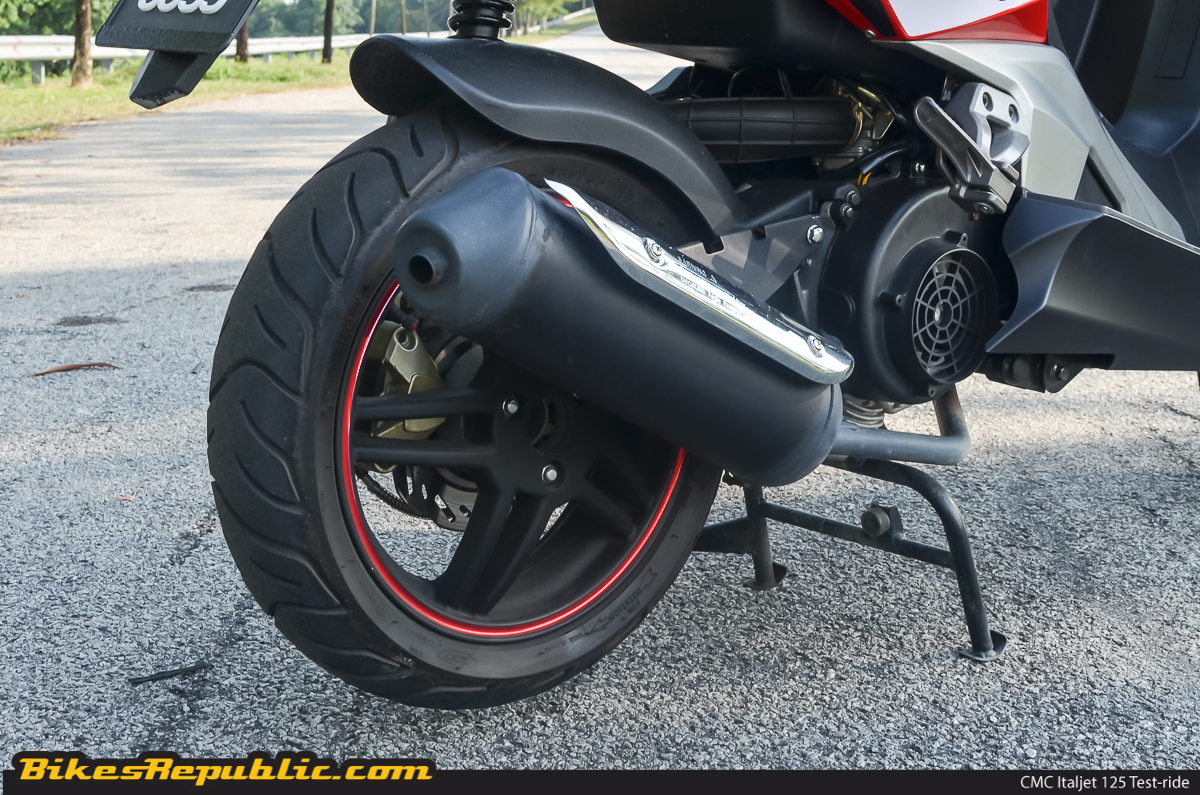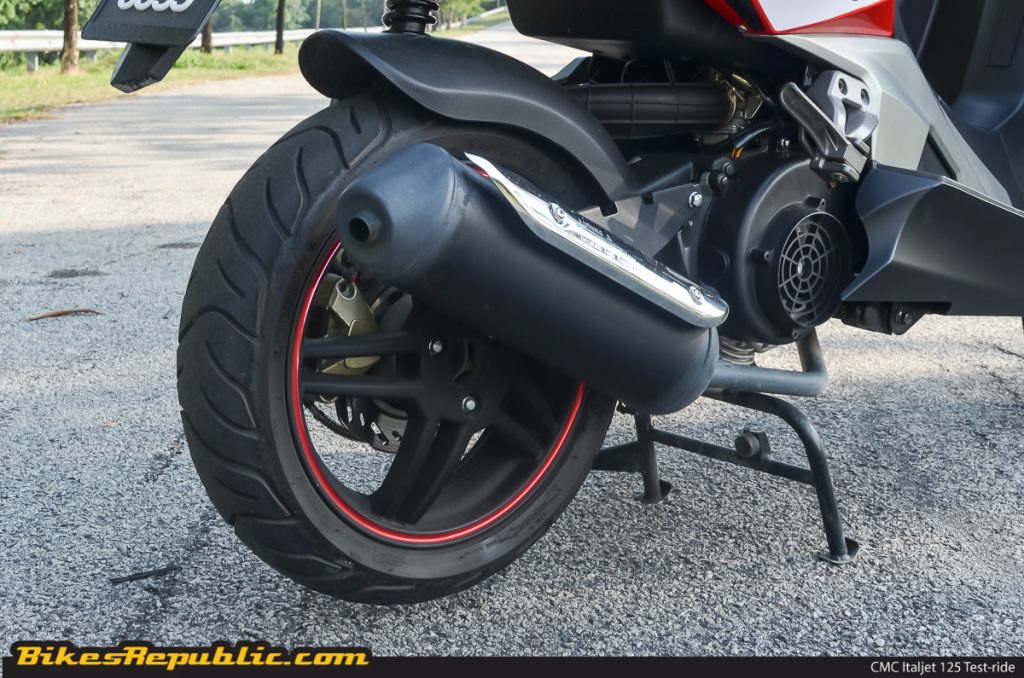 The same can be said about the stock tyres primed in the CMC Italjet 125. Though it felt fine in the straights, the rubber's cornering did not feel as planted as most would expect. Surely, the first thing to do if you bought this scooter was an immediate tyre upgrade – something we should all practice when buying new or used bikes in fact.
Despite all that, the CMC Italjet 125 still find ways to beg anyone to reconsider it still. For us, it is this scooter abundantly large under-seat storage bin that easily fits a medium-sized fullface helmet of all things – another trait that most sports scooter fans will gladly appreciate in fact.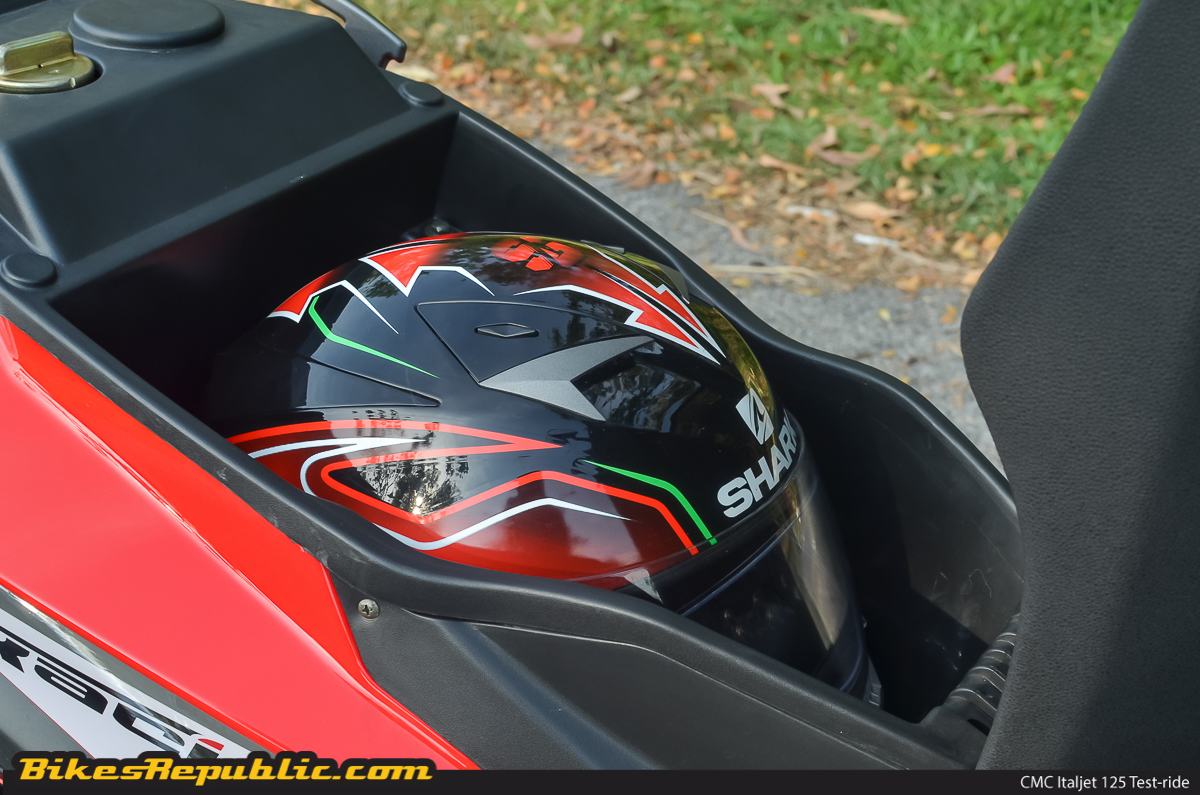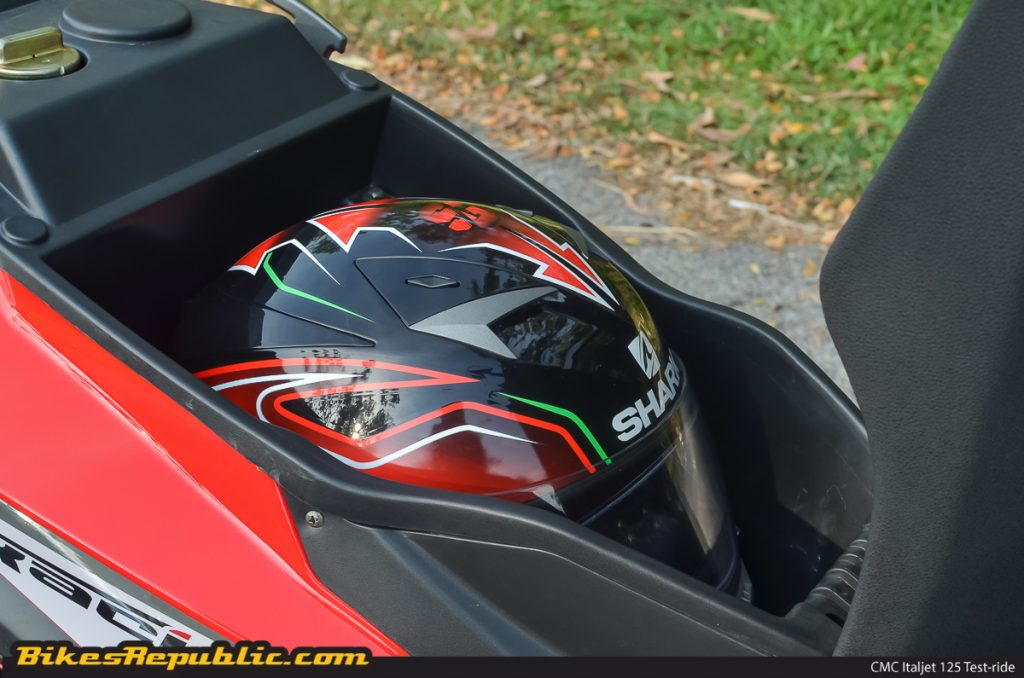 With all that being said, the CMC Italjet 125 is actually a decent bike for the RM6,996 (basic with GST) price it commands. Said price includes a one-year or 10,000km warranty plan as well.
If you're an original sports scooter fan from yore, then this CMC redux of a celebrated Italian name may not be as good as what the original was. Still, you can't argue that the return of this stylish name is something worth celebrating.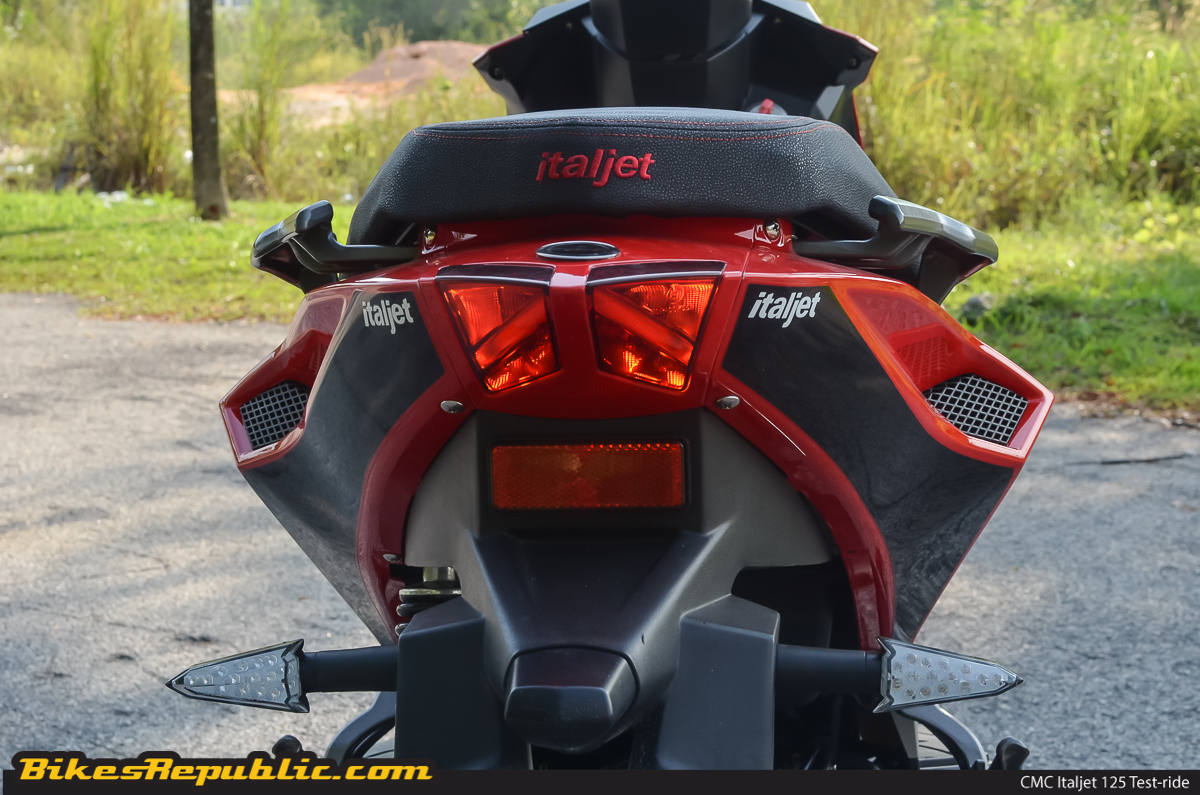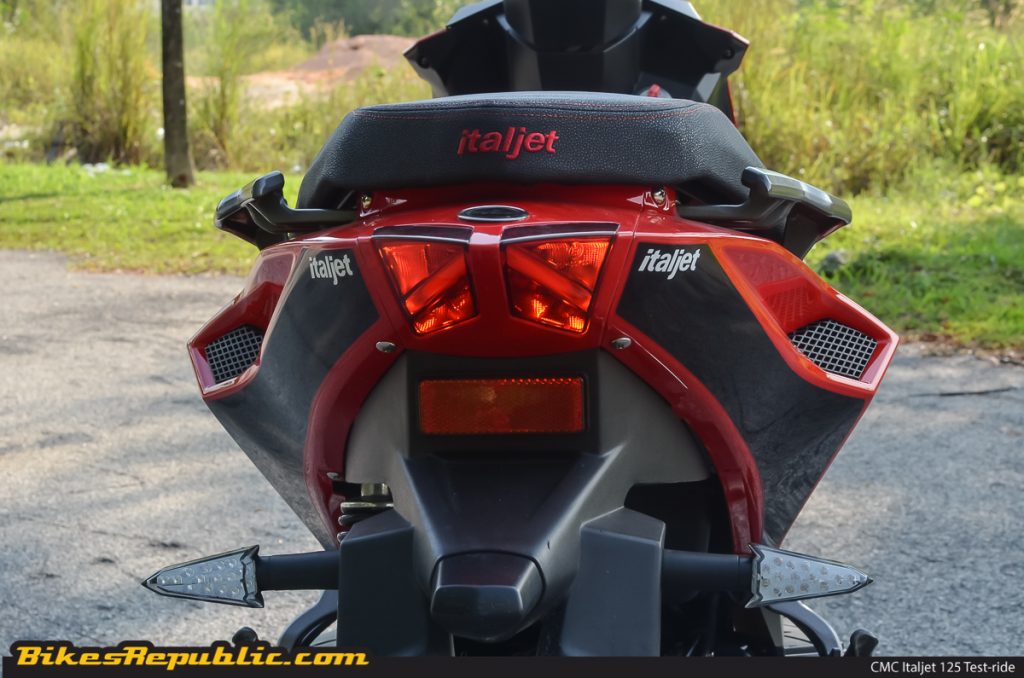 For the regular consumer, this scooter's appeal is easy to see. Against things like the Honda Air Blade and Yamaha Ego LC, the CMC Italjet 125 simply offers more style and perhaps slightly more performance for the same amount of money.
In short, if you'd wanted a very affordable daily runabout that was both easy to ride and one that was simply and utterly stylish, you'd want the CMC Italjet 125. With that, we're inclined to believe that CMC have done a decent job with this revival effort.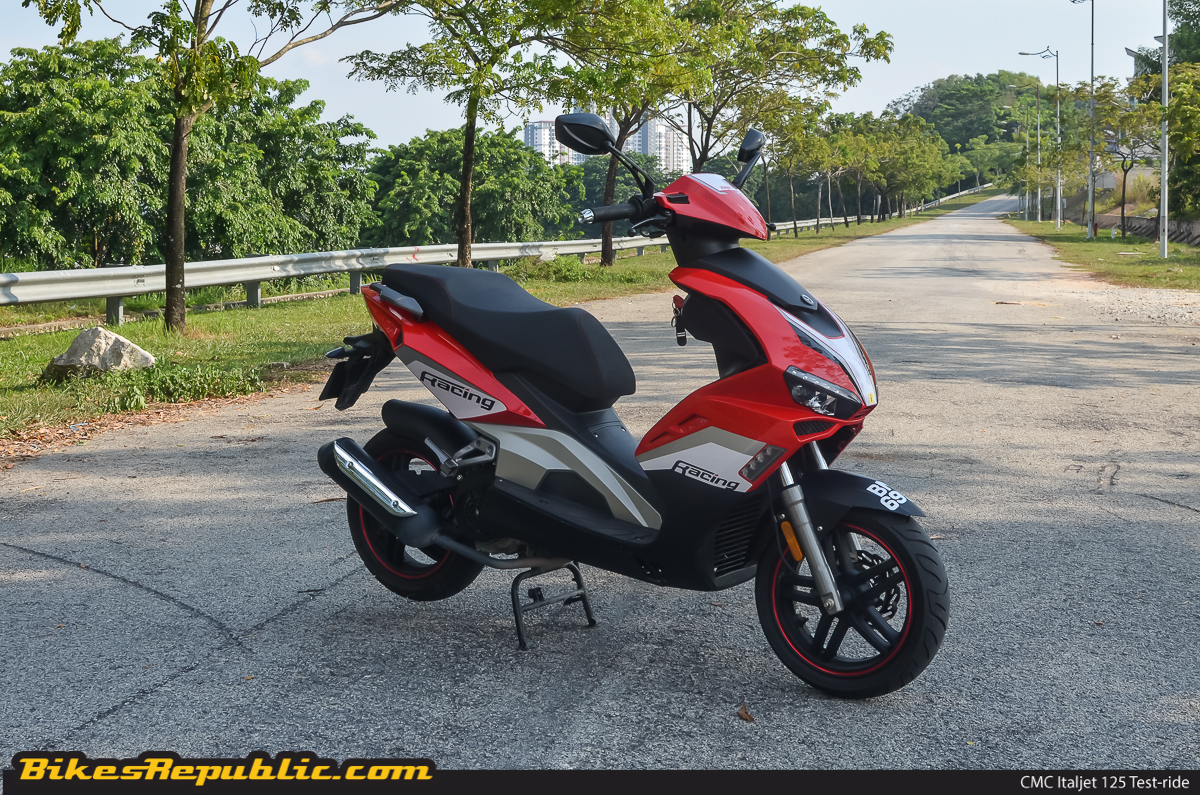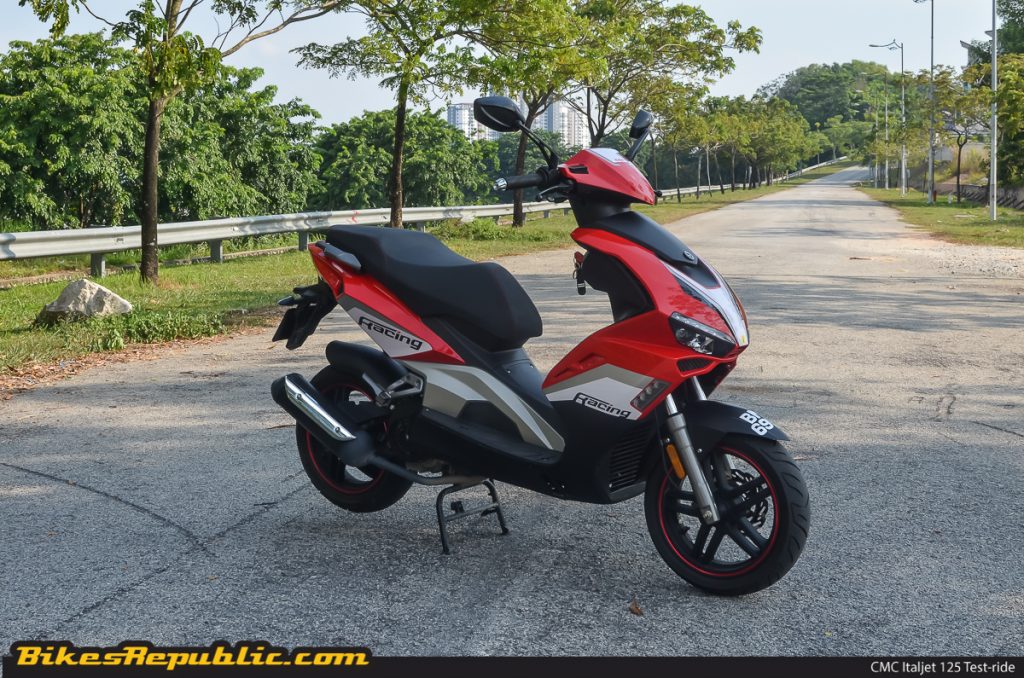 And before you start questioning after-sales, just remember that Chear Global is part of the same firm that distributes MV Agusta bikes and runs a network of BMW Motorrad dealerships. If that's anything to go by, you shouldn't worry about maintaining this affordable yet sporty left-field alternative.
CMC Italjet 125 Specifications
ENGINE
Air-cooled and carburetted

125cc single-cylinder with

electric starter

TRANSMISSION
V-belt automatic
POWER
8.85hp @ 8,000rpm
TORQUE
8.6Nm @ 6,500rpm
SUSPENSION
Front:

Telescopic forks

Rear:

Hydraulic monoshock

BRAKES
Front:

190mm disc brake

Rear:

204mm disc brake

WHEEL & TYRES
Front:

120/60–R13

Rear:

130/60–R13

FUEL TANK
6.8 litres
WEIGHT
106kg (claimed, nett)
PRICE
RM6,996 (Basic with GST)
FROM
Chear Global Sdn Bhd

(Official Distributor)
CMC Italjet 125 gallery