Indonesia's Andi Izdihar wins Race 1 in Round 3 of the Shell Advance Asia Talent Cup 2016.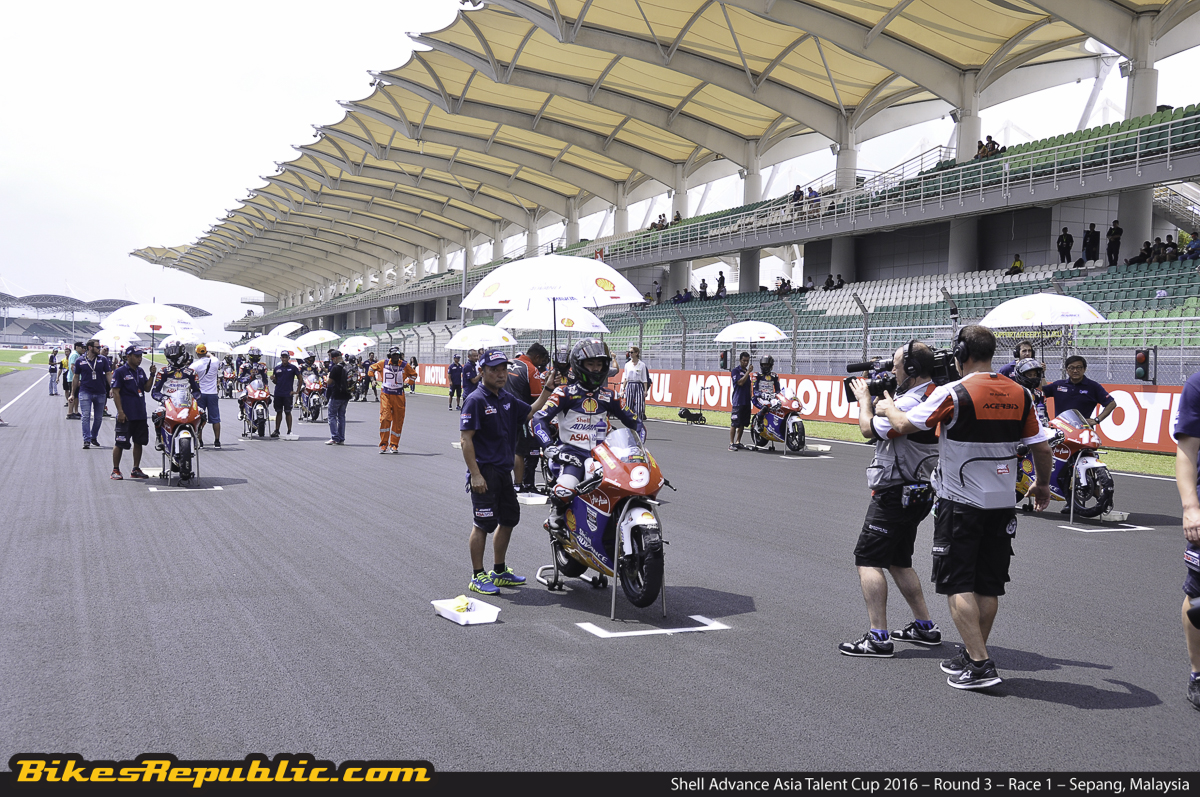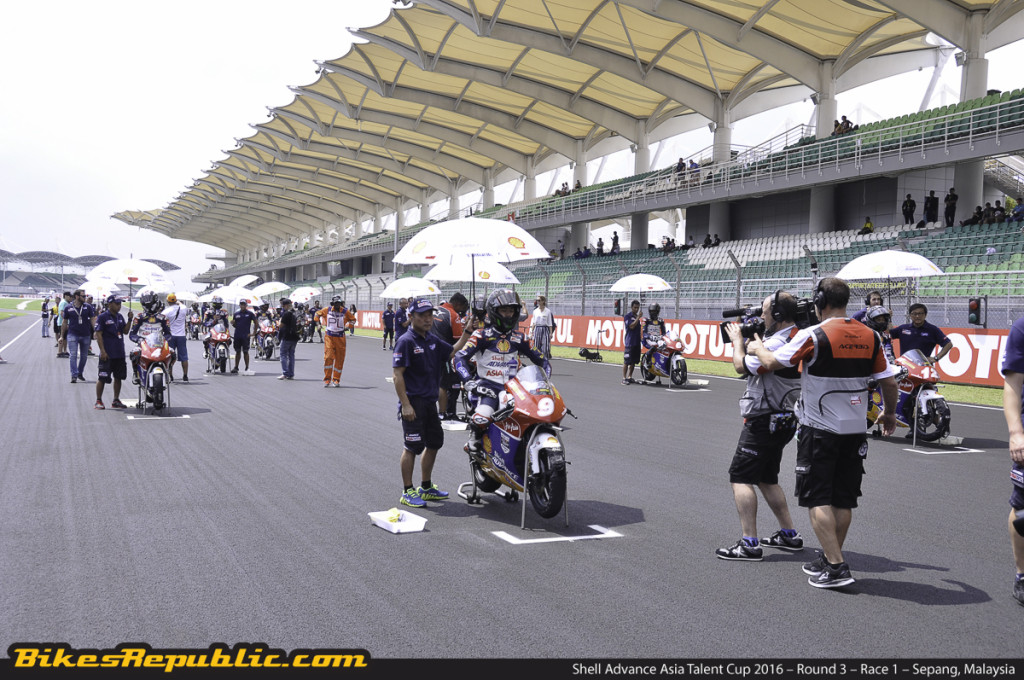 After concluding two practice sessions yesterday, Round 3 of the Shell Advance Asia Talent Cup kicked itself into high gear in the Sepang International Circuit (SIC) today with the morning's 30-minute Qualifying session, followed by Race 1 held at noon.
The series shares the newly resurfaced Malaysian circuit this weekend with both the Malaysian Superbikes Championship 2016 and WSBK Malaysia 2016 main events as well.
Qualifying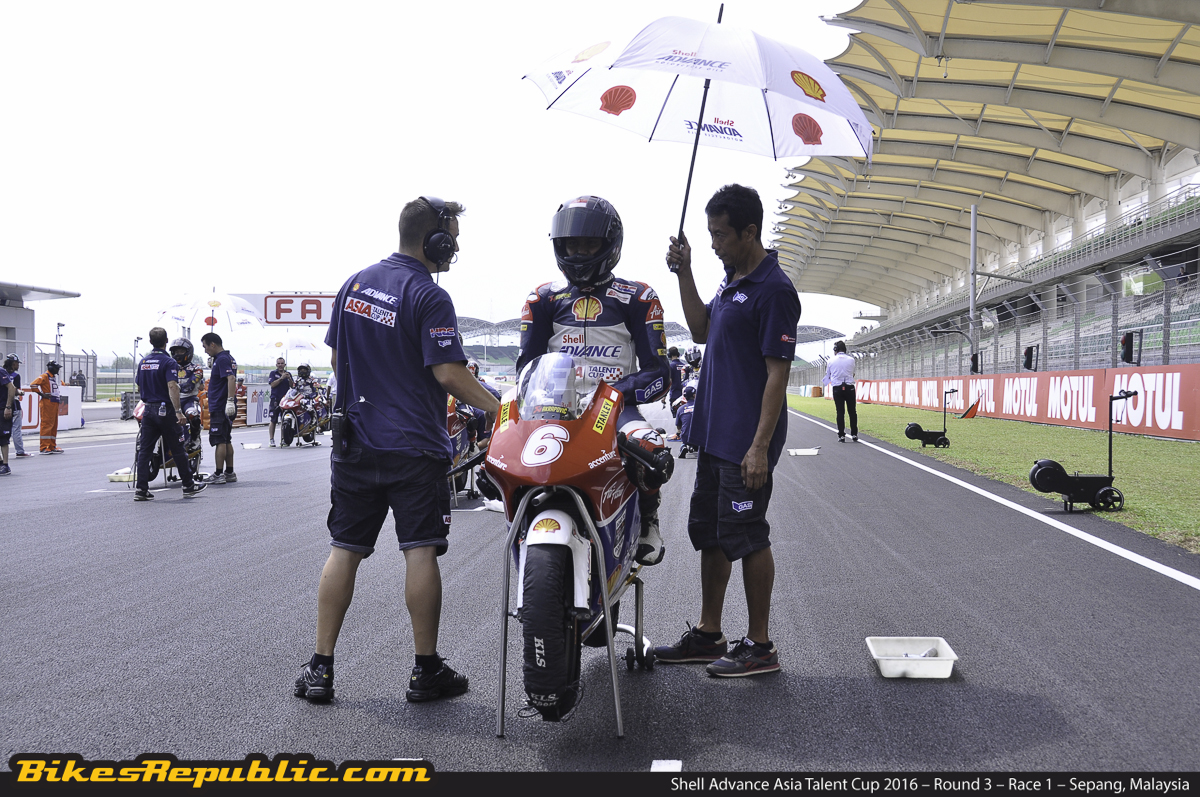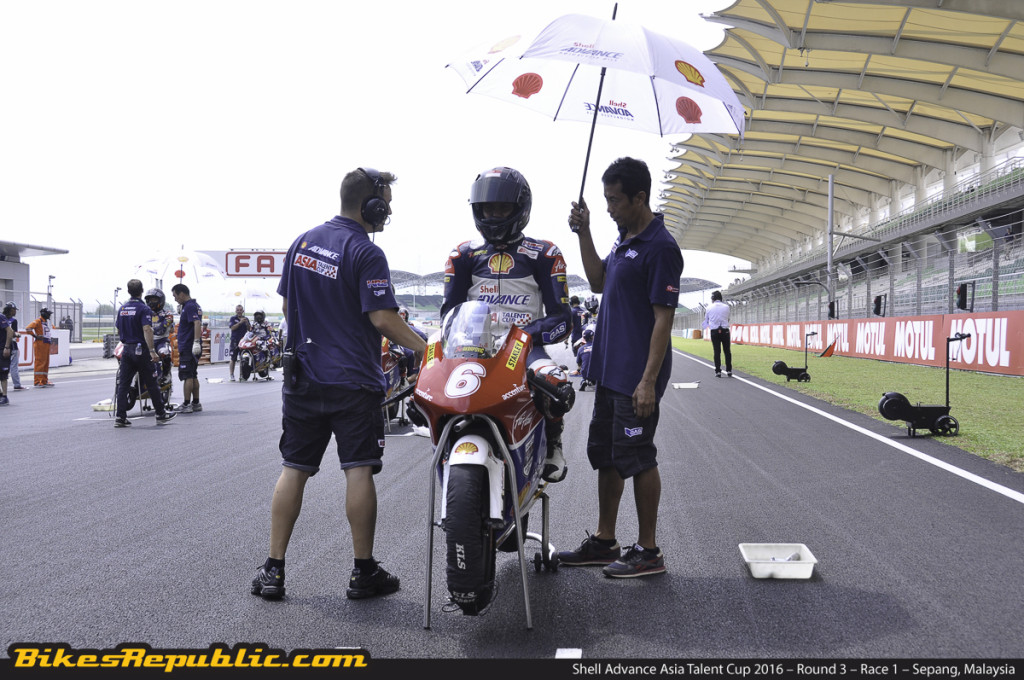 Leading the front row was Japanese rider Kazuki Masaki who set the session's fastest time at 2:21.705. Just 0.139 seconds off his pace in second was Indonesian Andi Izdihar, followed by Ai Ogura who placed third on the grid with his best time of 2:21.877.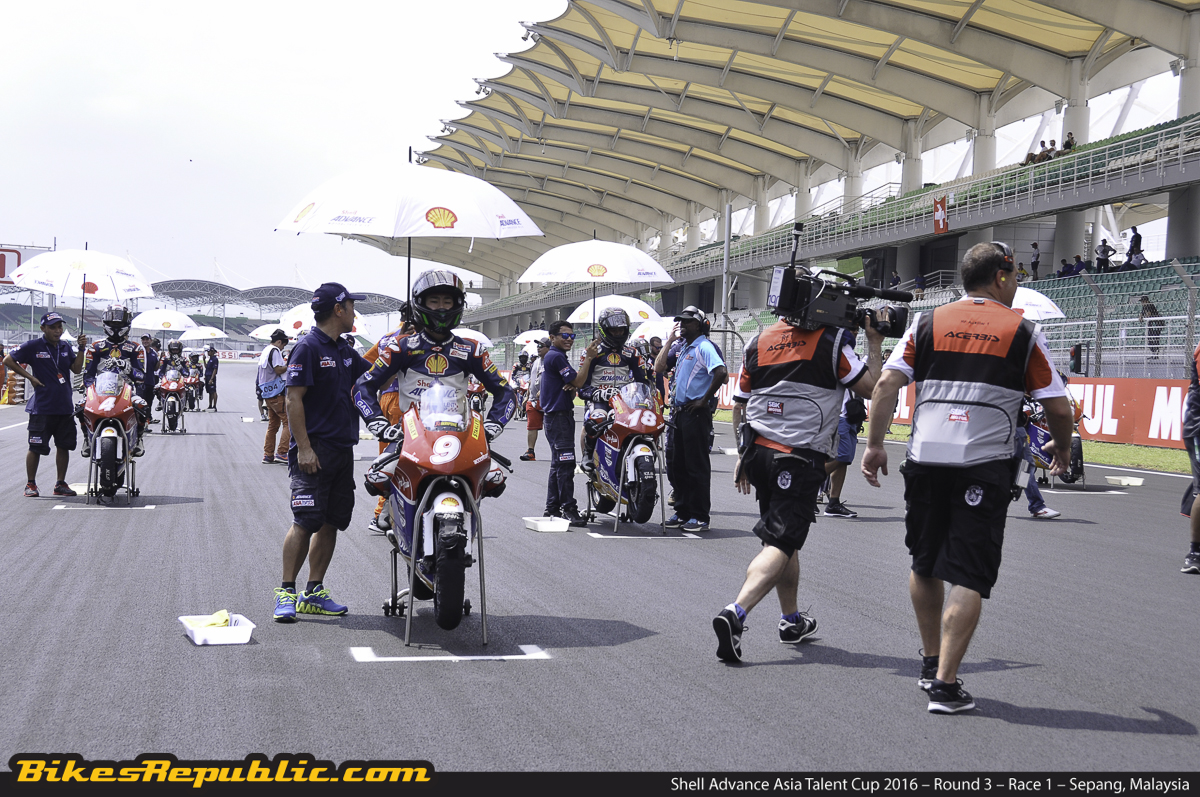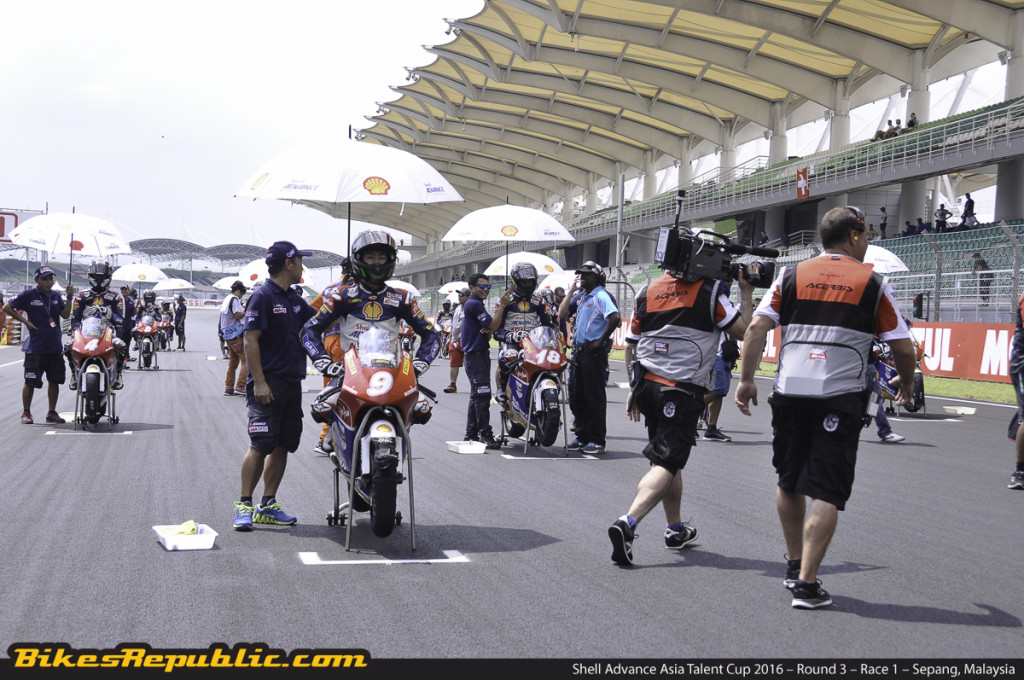 Malaysian riders Ahmad Idham Khairuddin and Izam Ikmal, on the other hand, fared out with mixed results. Whilst Ikmal could only manage to qualify 18th on the grid, Ahmad Idham placed higher in ninth after posting his fastest time at 2:22.975.
With the lead six riders separated by just 0.722 seconds altogether, it was certain that Sepang would bring out yet another fantastic battle by some of Asia's finest young racing talents.
Qualifying Results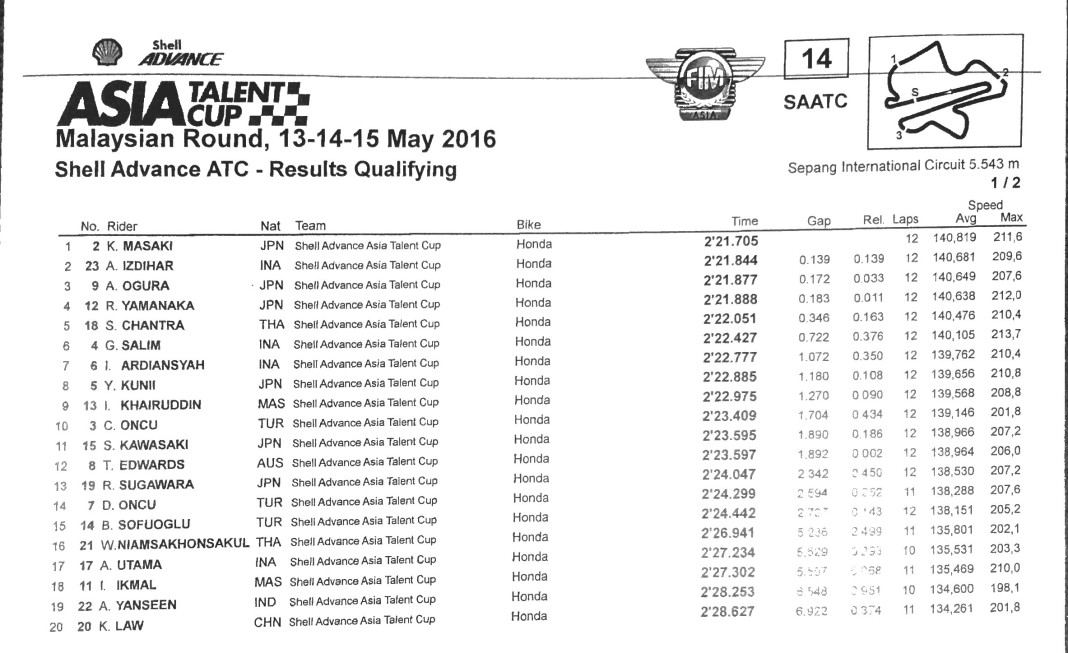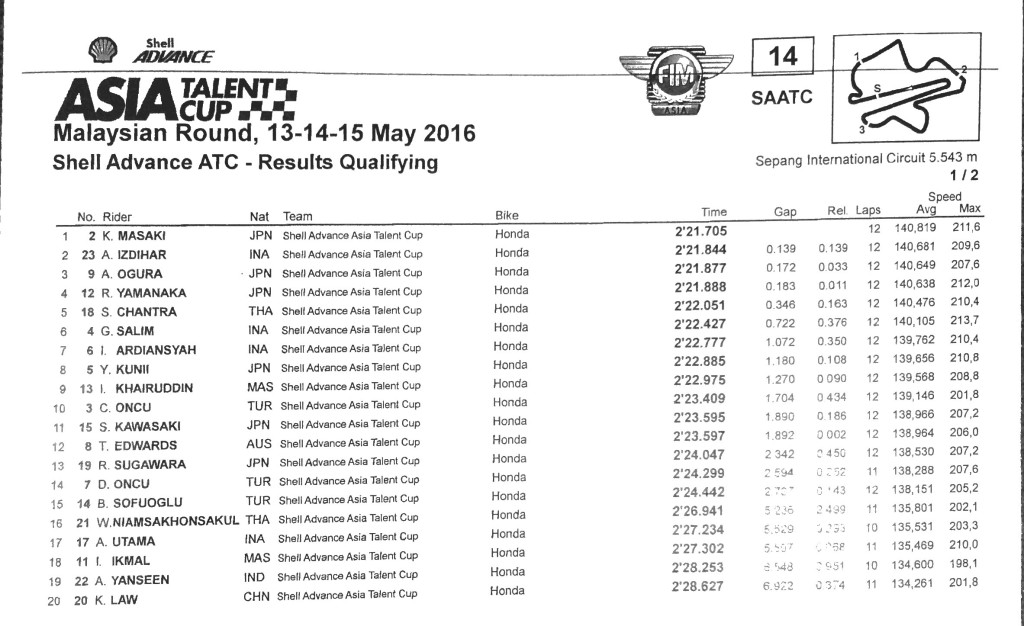 Race 1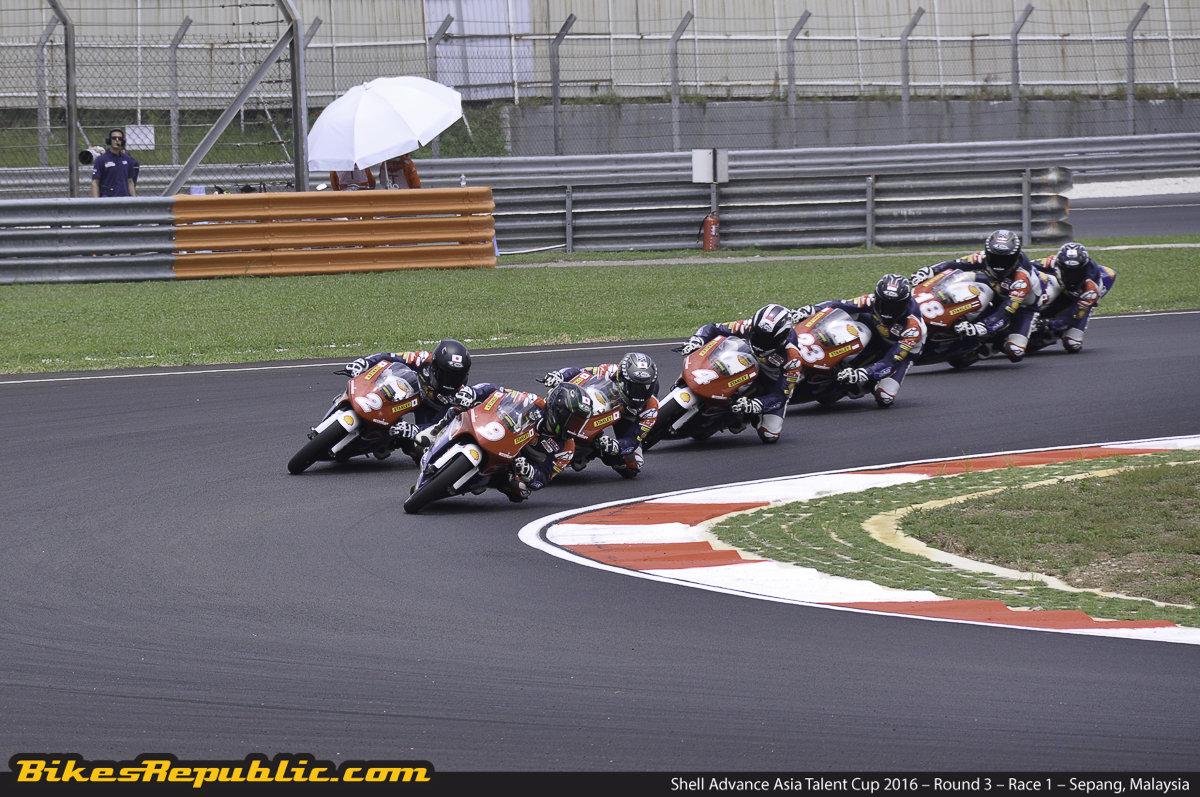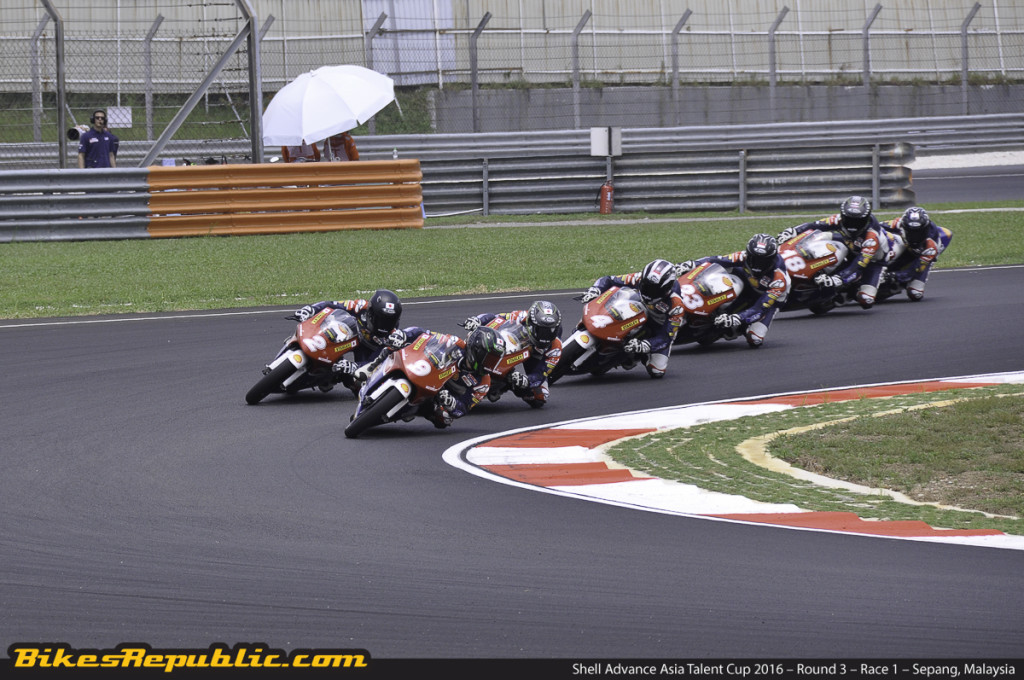 As the lights went out for Race 1, a seven-way battle quickly ensued in the lead group. Leading this were front-runners Ogura, Masaki, Izdihar, as well as Yuki Kunii, Gerry Salim, Somkiat Chantra and Ryusei Yamanaka joining in on the 13-lap melee.
Throughout the race, both Indonesians – Izdihar and Salim – and Thai rider Chantra slugged it out against the four lead Japanese racers right down to the wire on the last lap. Alas, it was Sepang's technically challenging and re-profiled final Turn 15 that incubated one of the season's closest ever finishes yet again.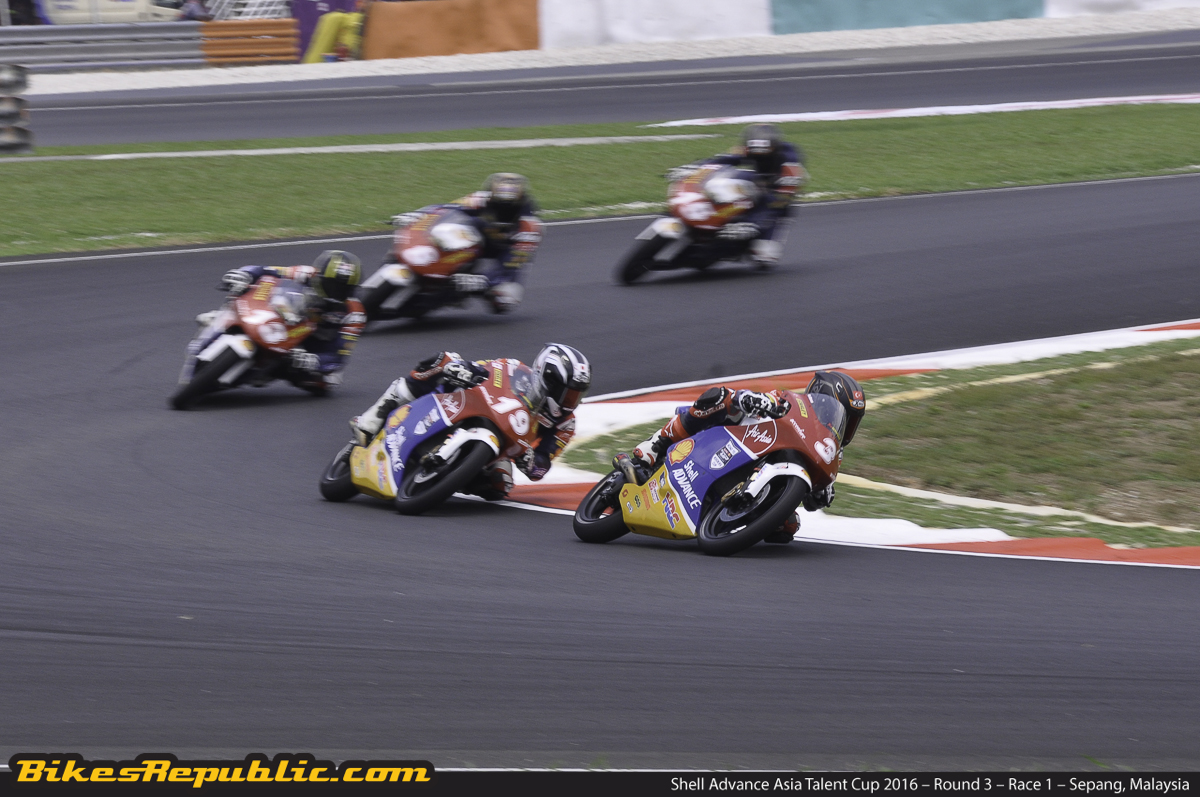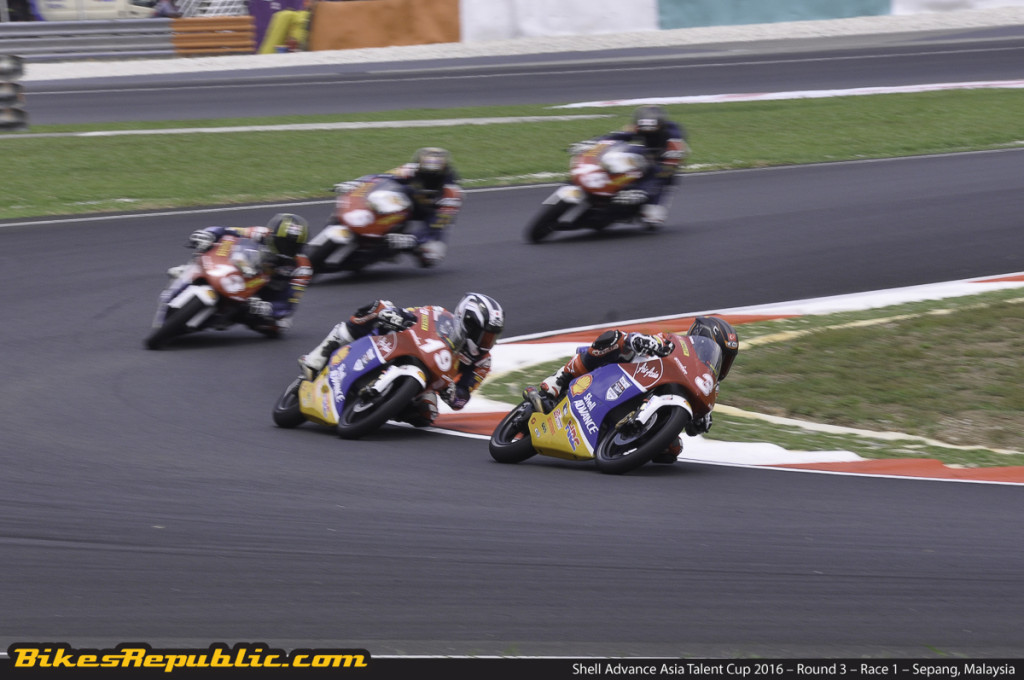 Winning the final spring towards the chequered flag was Izdihar, followed by Yamanaka in second and Salim in third. Chantra just missed out on the podium and takes fourth place ahead of Ogura, Masaki and Yuki Kunii. The top five riders were only separated by less than a second. Just 0.520 separated Izdihar and Yamanaka in second whilst Salim was a mere 0.710 seconds down in third.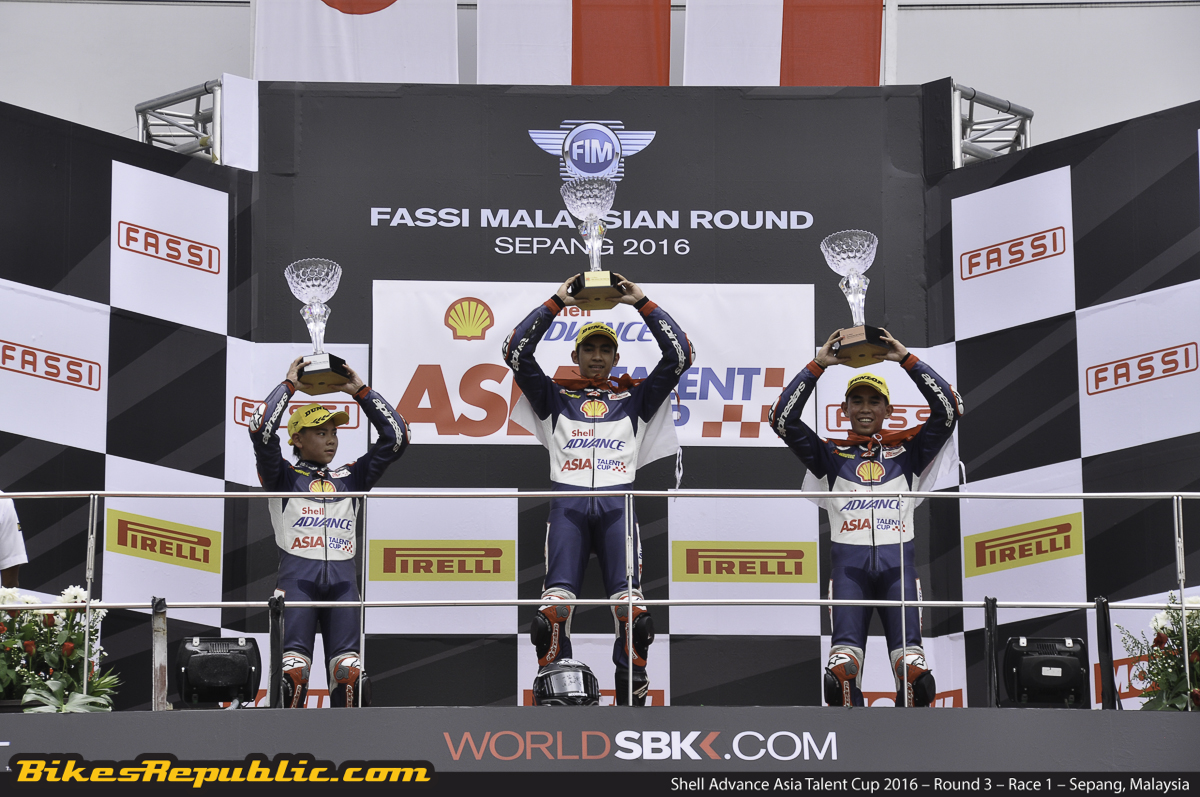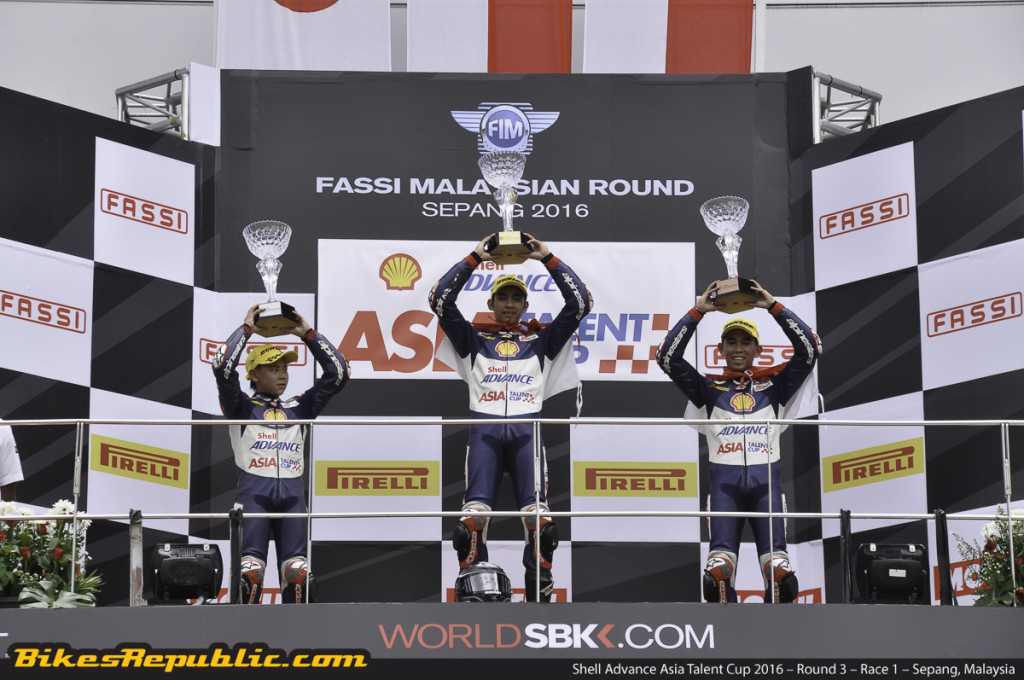 Nevertheless, this third season of the Shell Advance Asia Talent Cup sees the rising dominance of both Indonesian riders as their performances eclipse the long-dominant form of the series' Japanese riders.
For the Malaysian encampment, the news got better as both riders successfully finished in the points. Rookie rider Ikmal finally ends his drought of points by finishing in 12th place. Ahmad Idham, on the other hand, fared even better by finished in a solid ninth place from an equally fierce battle in the second group.
Race Results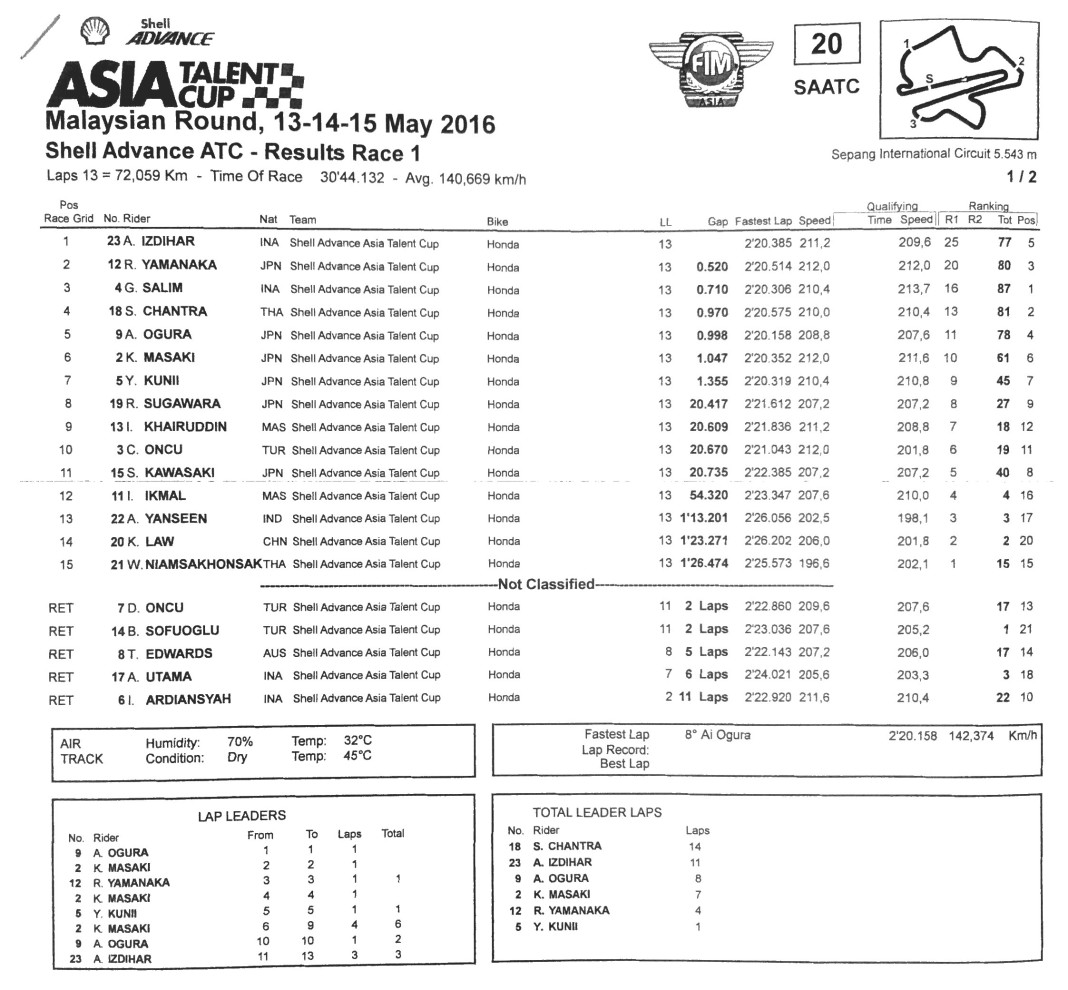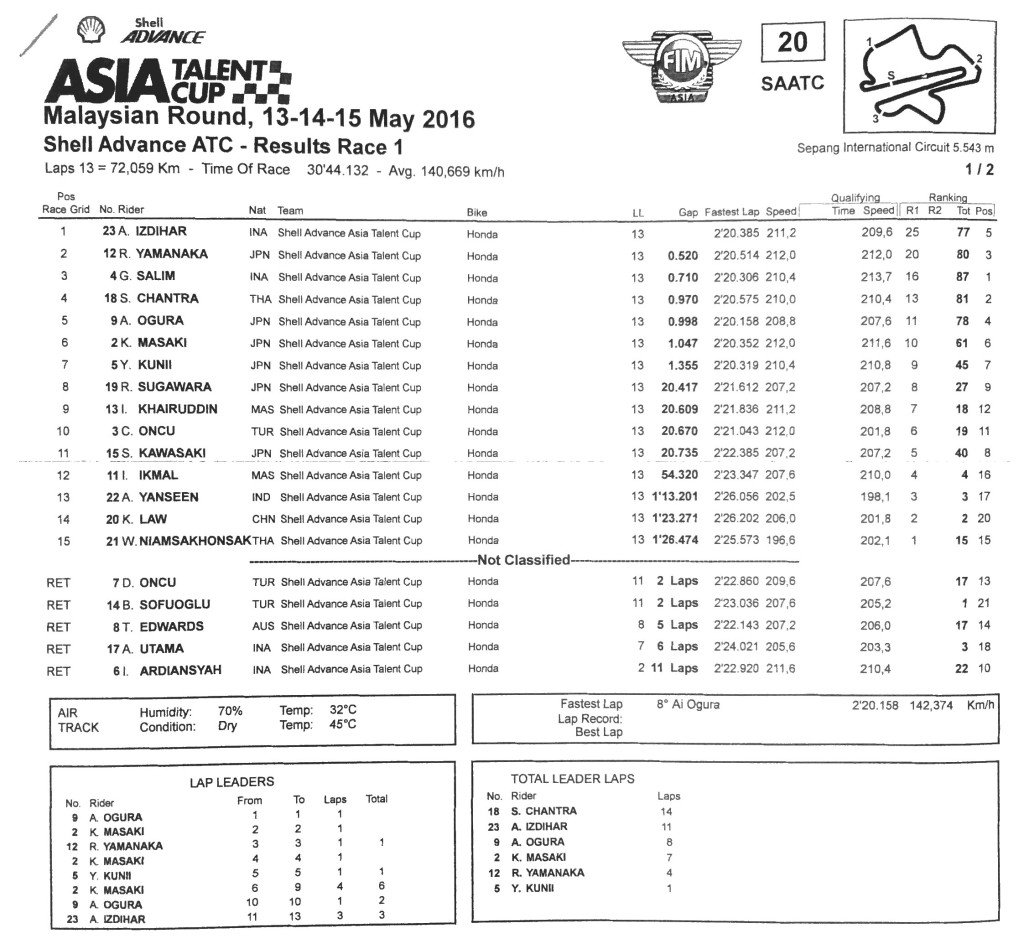 Race 2
Race 2 of the Shell Advance Asia Talent Cup 2016 Round 3 in Sepang will take place tomorrow on Sunday at 1pm local time. For those wishing to catch the race at home, you can do so online via its YouTube-hosted live streaming via this link –  Race 2 Live Stream @ YouTube
Alternatively, you can stay tuned to our site all weekend long as we bring you all the trackside updates.
Shell Advance Asia Talent Cup 2016 – Round 3 – Race 1 – Sepang, Malaysia