Sasaki and Masaki shine at home in title-deciding Round 5 of the Shell Advance Asia Talent Cup 2015 in Motegi, Japan.
Round 5 of the Shell Advance Asia Talent Cup 2015 got underway over the weekend in Twin Ring Motegi, Japan. Held as the support event to the weekend's scheduled Japanese MotoGP round, it was to be a historic occasion for the grid's top Japanese riders.
Unlike last year, the series' sole Japanese round hosts two races this year instead of just one. As always, things began with Practice 1 and 2 on Friday, followed by an early morning Qualifying session followed by Race 1 in the afternoon on Saturday, with the weekend culminating on Sunday afternoon after Race 2.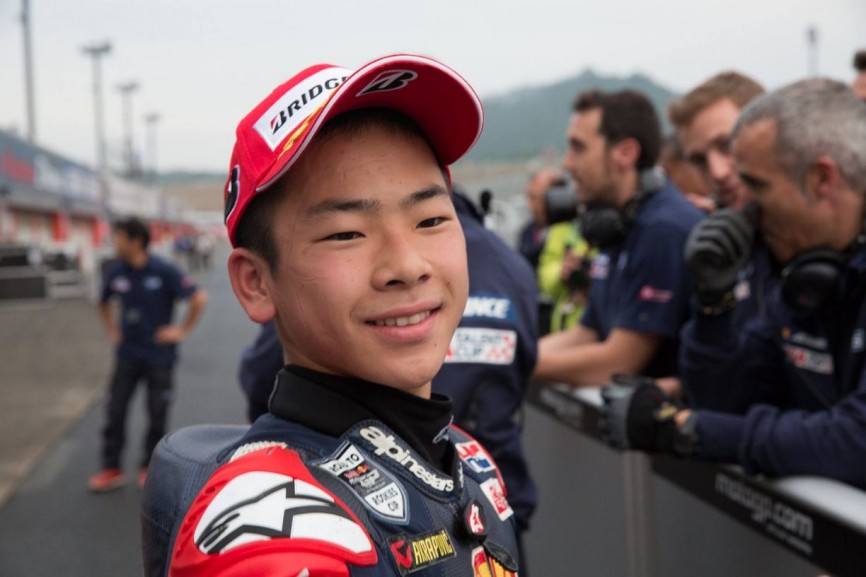 Coming out on top during Saturday's qualifying was 15-year-old championship favourite Ayumu Sasaki. The young Japanese ace secured pole position after putting in his fastest time of 2:02.208. Fellow countryman and title rival Takuma Kunimine was not far behind after qualifying second on the grid – just 0.068 seconds off Sasaki's blistering pace. Completing the front row was Indonesian Andi Izdihar who qualified third.
Charting one of his season's best qualifying results was towering Malaysian rider Fakhrusy Rostam. The Pasier Gudang native qualified in fourth on the grid, outclassing fellow countrymen Adam Norrodin in eighth, Azroy Anuar in thirteenth, Helmi Azman in fourteenth, Shafiq Rasol in seventeenth and wildcard Ahmad Idham in twentieth.
Due to the an incident during MotoGP's Free Practice 4, Race 1's start was delayed, with officials deciding to shorten it as well from its original 15-lap run to just 10 laps instead. This prompted many of the riders on the grid to rethink their strategies to suit the shortened sprint race.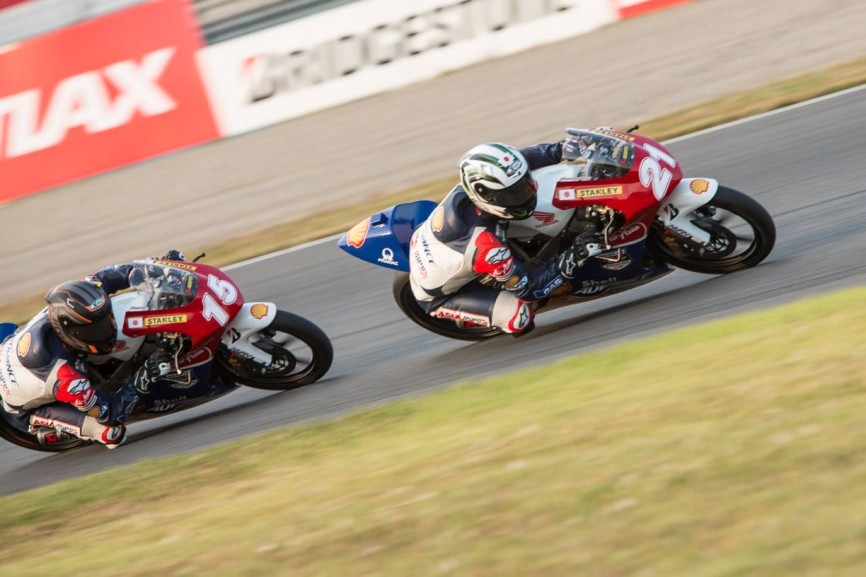 However, as the lights went out under some pretty adverse weather conditions, another signature close fight between the grid's top eighth unfolded, just like all the other previous races this seasons. Keeping his consistency throughout the 10-lap sprint, Sasaki was able to fend off the charges of title rival Kunimine, with Sasaki eventually claiming the race win whilst Kunimine dropped down the order to settle for sixth.
Sasaki was joined on the podium for Race 1 by fellow countryman Ai Ogura in second whilst Indonesian Gerry Salim, who started from tenth, manage to secure third place as a result of his perfectly crafted race strategy. Just missing out on the podium in fourth place was leading Malaysian rider Adam Norrodin, whilst countrymen Fakhrusy, Azroy and Helmi finished eighth, ninth and tenth respectively.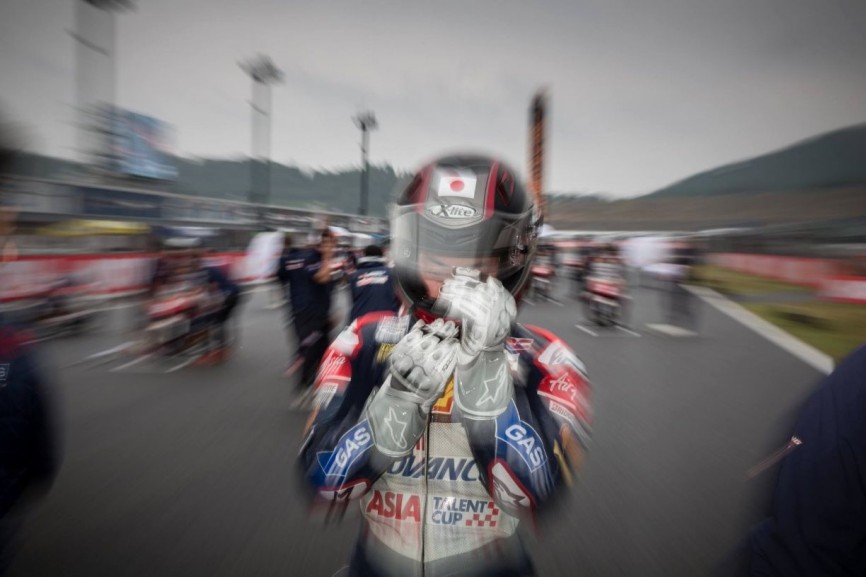 Despite the significant points lead Sasaki amassed after Race 1, Kunimine was determined to challenge his fellow countryman for the title still come Race 2 on Sunday. Unlike Race 1, Race 2 ran on its original 15-lap format, but the rain-dampened track conditions proved to be yet another challenge for the series' riders.
This time, Race 2 brought out even more drama from start to finish. It began with Andi Izdihar's fall on Lap 6 whilst fighting in the lead group, bringing what was a stellar run to an early end for him. At the head of the order were title contenders Sasaki in second and Kunimine in third, followed by rookie Kazuki Masaki, who's got his eyes set for his first series race win.
Alas, on the final lap, a mistake whilst under braking for corner entry saw Kunimine crash out into the gravel trap, bringing not just his weekend to a premature end, but also all chances of ever claiming the title away from Sasaki.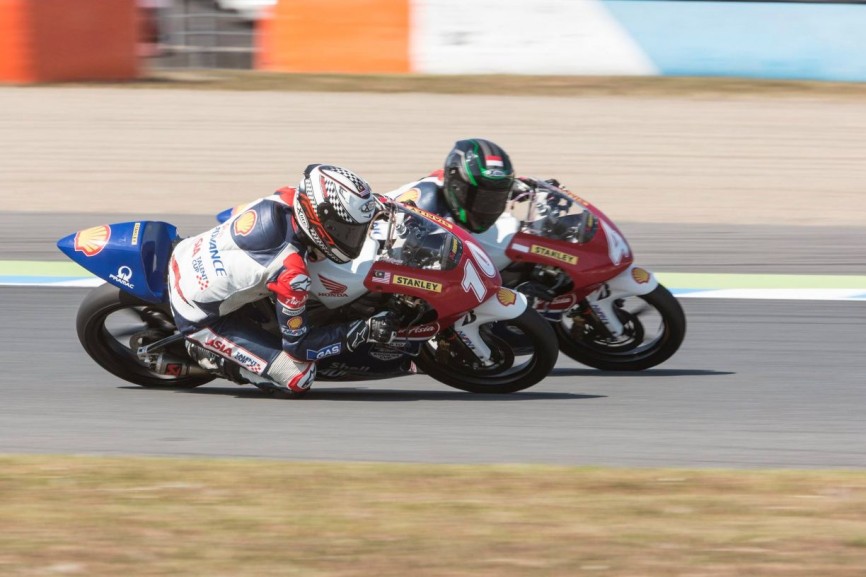 Shortly after this, Masaki manoeuvred himself perfectly ahead of Sasaki brilliantly and claimed his long-awaited first Asia Talent Cup race win. Despite nearly high-siding off his bike on the last corner, Sasaki was able to rescue it in time and settled for second whilst a resurgent Yuta Date, who also had a major moment on the last corner, took third place.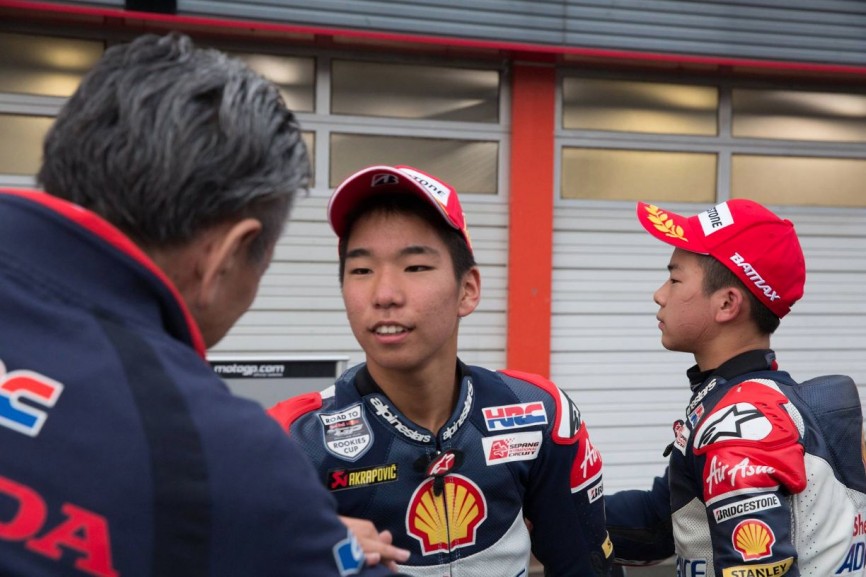 Though Masaki's win was nothing short of brilliant, all eyes were indeed on the newly crowned series champion Ayumu Sasaki with his total points score of 181 points after five rounds and ten races. Despite just winning three of them, Sasaki has proven that consistency is second to none when it came to scoring big points throughout the year.
Malaysians Azroy Anuar and Fakhrusy Rostam managed to secure fifth and sixth place finishes, scoring valuable points here. However, fellow countrymen Helmi, Adam, Shafiq and Ahmad Idham were unable to score finishes within the top 10 as they did. Nevertheless, points were scored and the boys are definitely looking forward to the upcoming season finale races right here at home in Sepang for the Malaysian MotoGP race weekend.
Though the title may have been decided, positions two and three, as well as the rest of the top 10 are still being hotly contested. In this mix are the Malaysians, Indonesians, Thai and a handful of Japanese riders, with all of them eager to better themselves through the last two races.
Rest assure that even with the title already decided, we can still expect two more thrilling races in the season finale at Sepang in just two weeks time. Check out more images in the official gallery below. Points Standings
Shell Advance Asia Talent Cup 2015 – Round 5 – Twin Ring Motegi, Japan (by Mauro Talamonti)