The Art of Speed Malaysia 2017 saw a huge crowd turnout to show their support, love and dedication to Malaysia's home-grown 'Ol-Skool' and 'Kustom Kulture' scene.
This year's event that happened the past weekend was bigger than ever with much participation from big manufacturers to small garages to showcase their amazing machines from brand new motorcycles to the super rare transportations.
A lot of special invited guests made their way to AOS 2017 from countries like Singapore, Thailand, Indonesia, US, Japan and many more.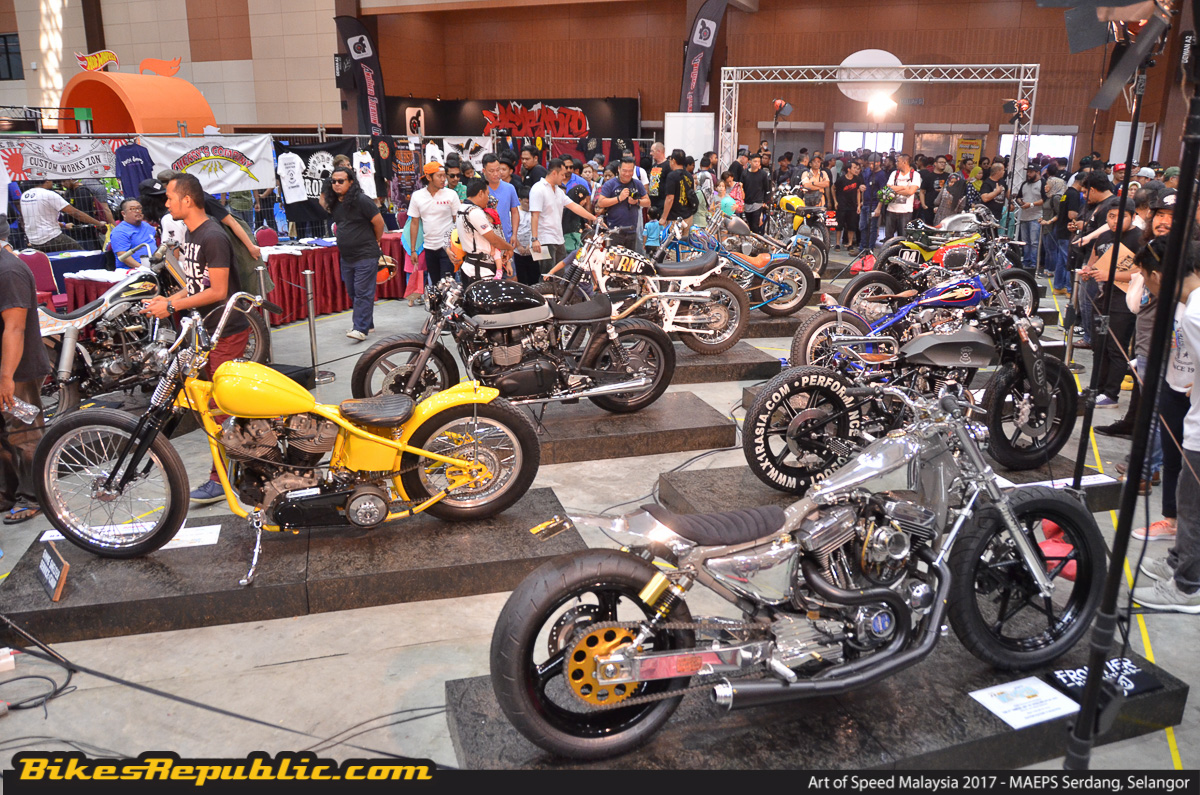 The custom scene for anything with wheels like motorcycles, cars, bicycles or even skateboards has been growing rapidly. Once a small scale section in this ever-growing motoring industry, one particular gathering has gained massive following and attention not just from Malaysians but other countries as well. We are of course talking about the annual Art of Speed Malaysia 'Ol-Skool' and 'Kustom Kulture' festival.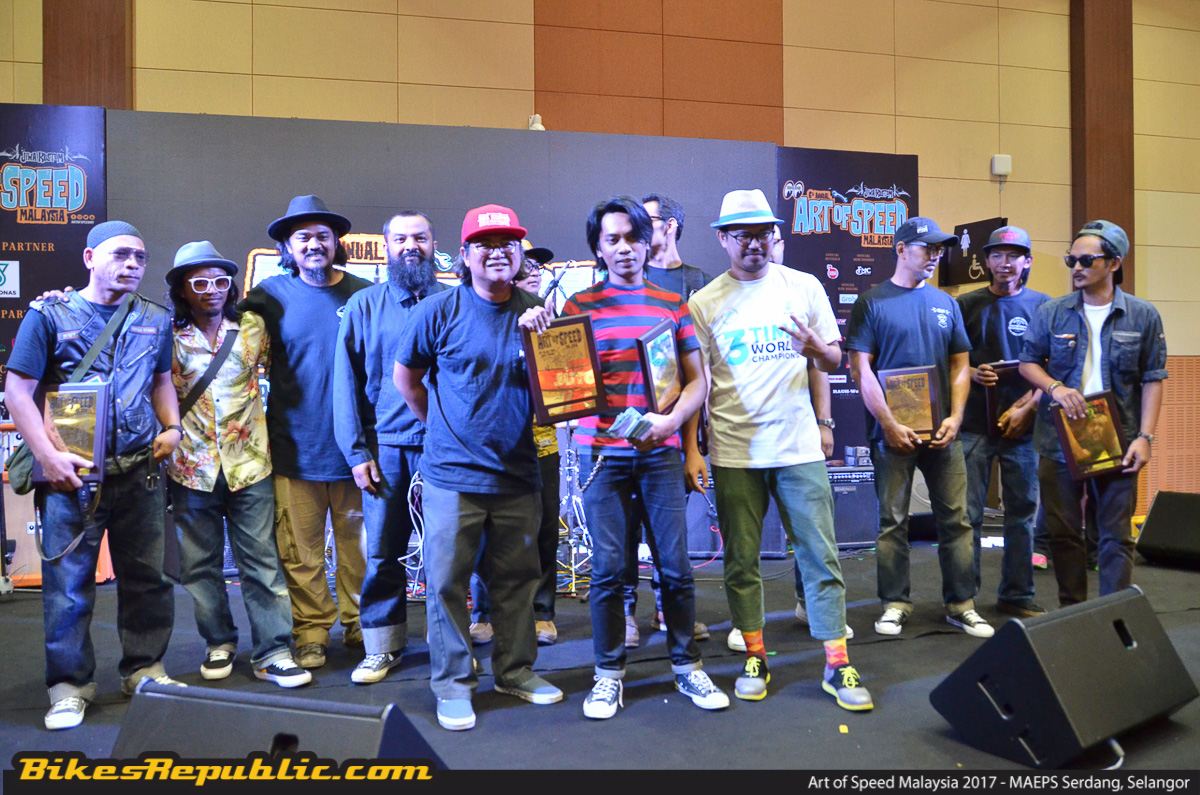 What started as a small meet up for motoring enthusiasts as shopping mall car parks has turned into a massive annual gathering so huge that the organiser and founder, Mr Asep Ahmad Sastrawidjaja or simply known as "Asep" had to find a much bigger venue to accommodate every single one of them.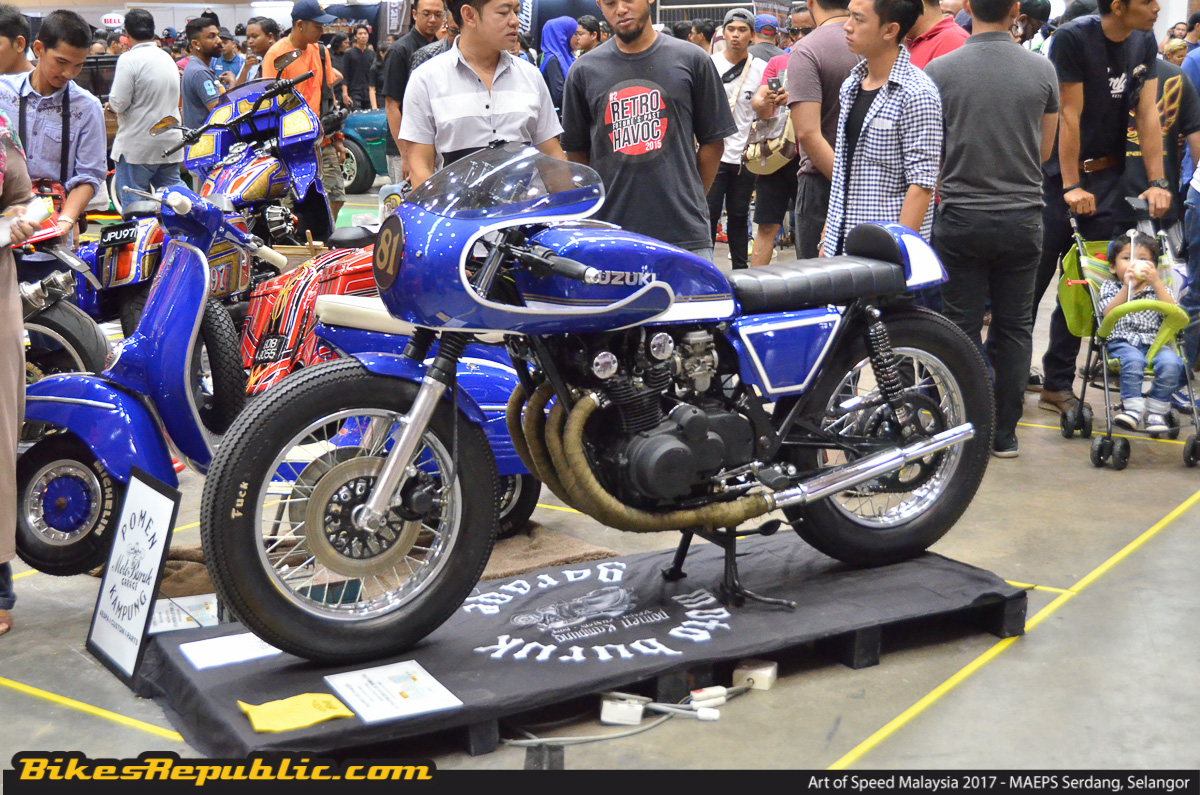 For the past few years, the annual Art of Speed Malaysia festival has been held at the massive Malaysia Agro Exposition Park Serdang (MAEPS) near Putrajaya. This past weekend saw a massive takeover of not just the main hall in MAEPS but also a secondary hall plus outdoor space that covers an area of over eight acres. That's almost 350,000 square feet of space dedicated to cars, bikes, test rides, stunt shows and anything related to rolling wheels!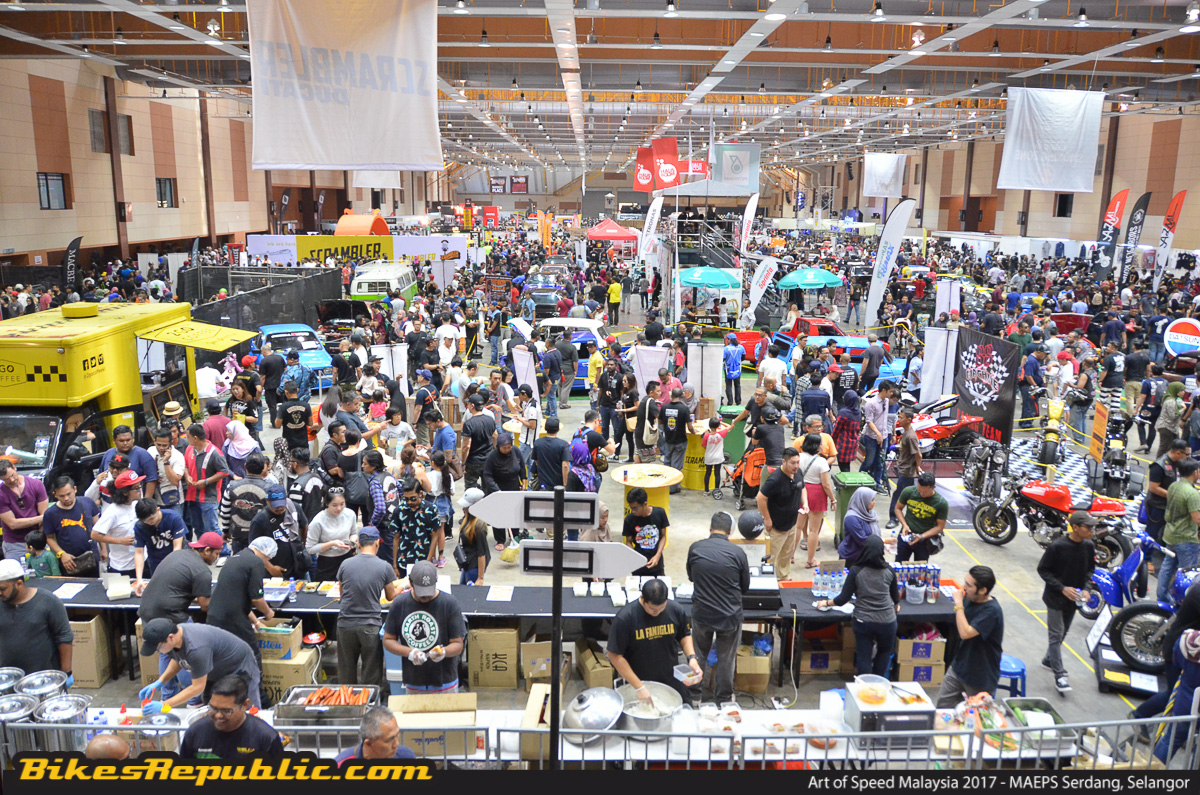 Even big time bike manufacturers have chosen this annual custom festival to showcase and launch their new bikes, showcase their goods and setup the most outstanding booths that can rarely be seen out of events such as the AOS. Triumph Motorcycles Malaysia had the amazing honour of winning the "Best Booth" award with their multi-level display area which also exhibited their one of their latest 2017 models, the Bonneville Bobber.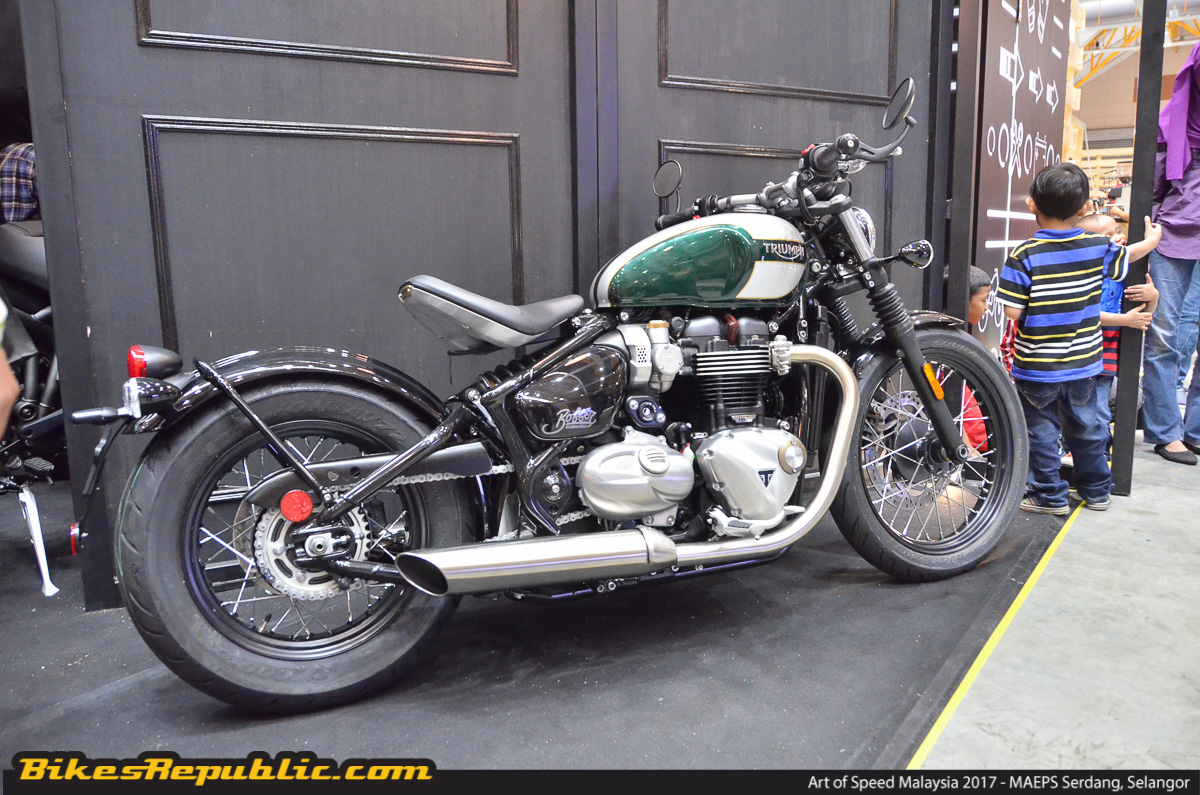 Ducati Malaysia also took this grand opportunity to launch their latest Ducati Scrambler offerings which are the 2017 Ducati Scrambler Cafe Racer and Ducati Scrambler Desert Sled.
To know more about the two new Ducati Scramblers, [button color="" size="" type="3d" target="blank" link="https://www.bikesrepublic.com/featured/2017-ducati-scrambler-cafe-racer-desert-sled-launched-rm68899/"]CLICK HERE[/button].
Even Kawasaki Motors Malaysia participated by showcasing all their amazing motorcycles but to make them different from other manufacturers, they even organised a exceptional test ride session for all their 2017 models like the Kawasaki Z900 ABS, Z650 ABS, Ninja 650 ABS and Versys-X 250.
Boon Siew Honda also decided that this year, they'll be involved in the custom universe in a big, BIG way with a their own invitational biker's build-off where a total of five guest builders were given the opportunity to go all out with their crazy ideas and inspiration on two different Honda motorcycles, the Honda EX5 Fi and the Honda MSX 125. They even officially launched their latest 2017 Honda Rebel 500!
To know more about the 2017 Honda Rebel 500, [button color="" size="" type="3d" target="blank" link="https://www.bikesrepublic.com/featured/2017-honda-rebel-500-officially-launched-art-speed-malaysia-2017-rm31798/"]CLICK HERE[/button].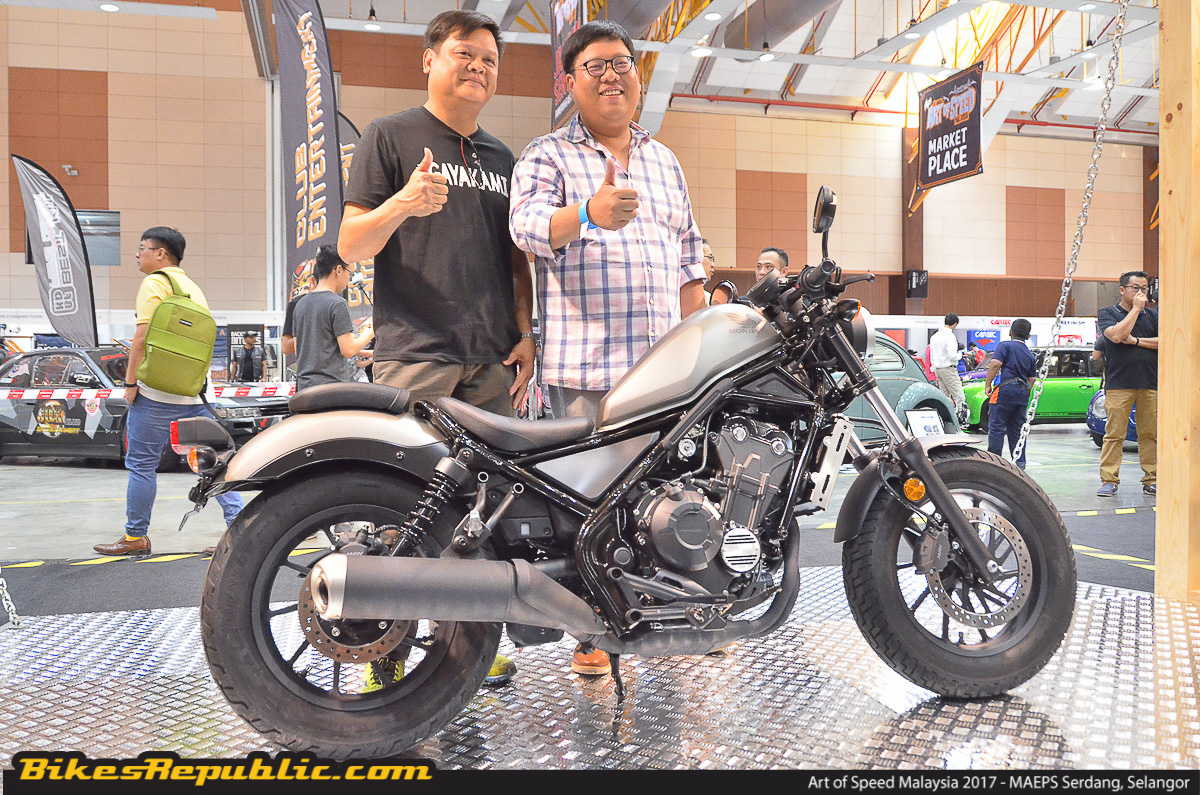 The folks from Legend Racing Garage, District Shop & Gallery, CLM Custom Works, Backwheel Bitches (BWB) and a fifth surprise addition from Shawn Seelan Creations went to town in coming up with the craziest and coolest fully-customised Honda EX5 Fi and Honda MSX 125. There will a be another exclusive feature on these bikes later on Bikes Republic so stay tuned for that.
https://www.facebook.com/HondaMotorcyclesMalaysiaBoonSiewHonda/videos/1310917529005454/
The Art of Speed Malaysia 2017 is probably one of the biggest motoring-related events here in Malaysia where a lot of invited guests have made their way to the gathering together with their specially-made custom vehicles from countries like the US and even Japan. This year even saw special guests from the ever faithful folks from Mooneyes Japan and Hot Wheels to show their support and love for the Art of Speed Malaysia 2017.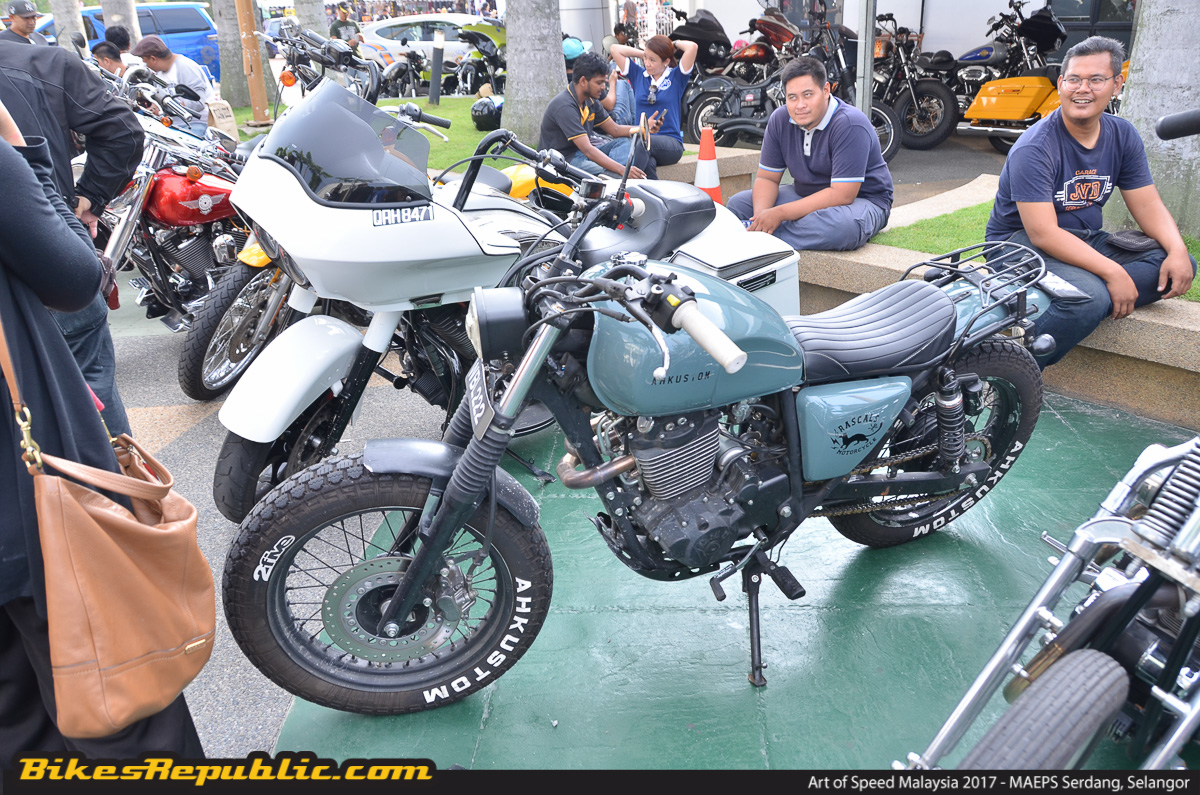 Apart from major industry players, the AOS2017 is special in its own way when it comes to paying tribute to the little folks that not only stuck to their guns when it comes to the 'Ol-Skool' and 'Kustom Kulture' scene but also helped them launch the festival's fame into the stratosphere.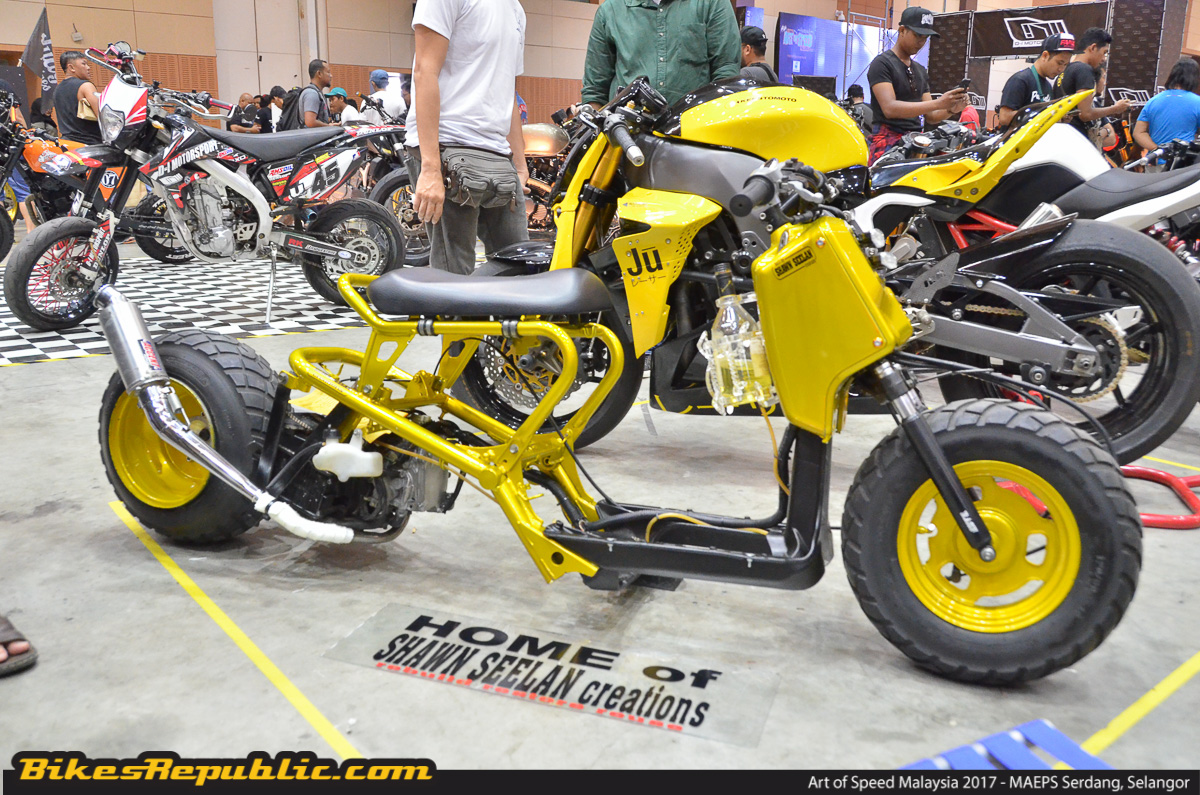 10 different private builders were invited to showcase their ultimate two-wheel creations which were proudly displayed at this year's "Moto Circus". The folks who were responsible for these beautiful creations are none other than Beard Brothers Cycle (Singapore), Big Cat Motor Art (Ampang, KL), Chopper Ministry (Bangi, Selangor), Garaj Besi (Johor Bahru, Johor), Gimme Shelter (Petaling Jaya, Selangor), Kerkus Motorworks (KL), Rotten Motorcycles (Baganland, Penang), Rachun Motorcycles (Kota Bharu, Kelantan), Abah & Sons Motorworks (Penang) and finally the whole shot winner of this year's AOS bike build-off, The Rusty Factory (Ipoh, Perak).
https://www.youtube.com/watch?v=5r0npuZcd9o
To keep things rolling and upbeat, special performances from great local bands like Oh Chentaku gave their all on Day One of AOS 2017. The second day saw a very special appearance from a Japanese rock & roll band, Johnny Pandora and a killer closing to the 2017 Art of Speed Malaysia by Malaysia's very own local band, Hujan.
This year also highlighted on a very special giveaway sessions (yes, plural) that happened on both days. To make sure that there were no elements of gambling in the lucky draws, three people were chosen and given a task to complete and the grand prize winners were chosen by the audience based on their applause.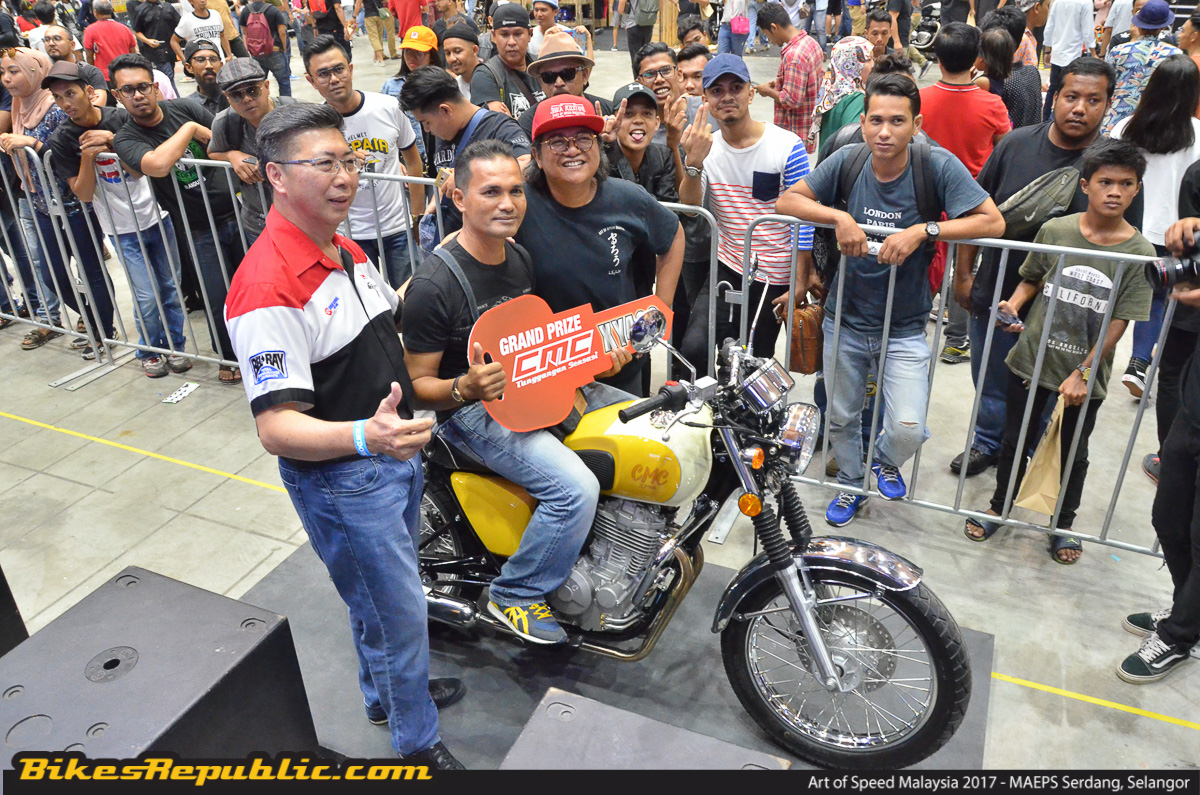 One lucky folk took home a brand new CMC XY400 on Saturday and on Sunday, another lucky man took home this year's ultimate prize, the twin-engine RXZ drag bike dubbed the "RXZ Twinboss". Harley-Davidson also joint in on the fun by having their own special raffle with their new Street 750 as the big giveaway.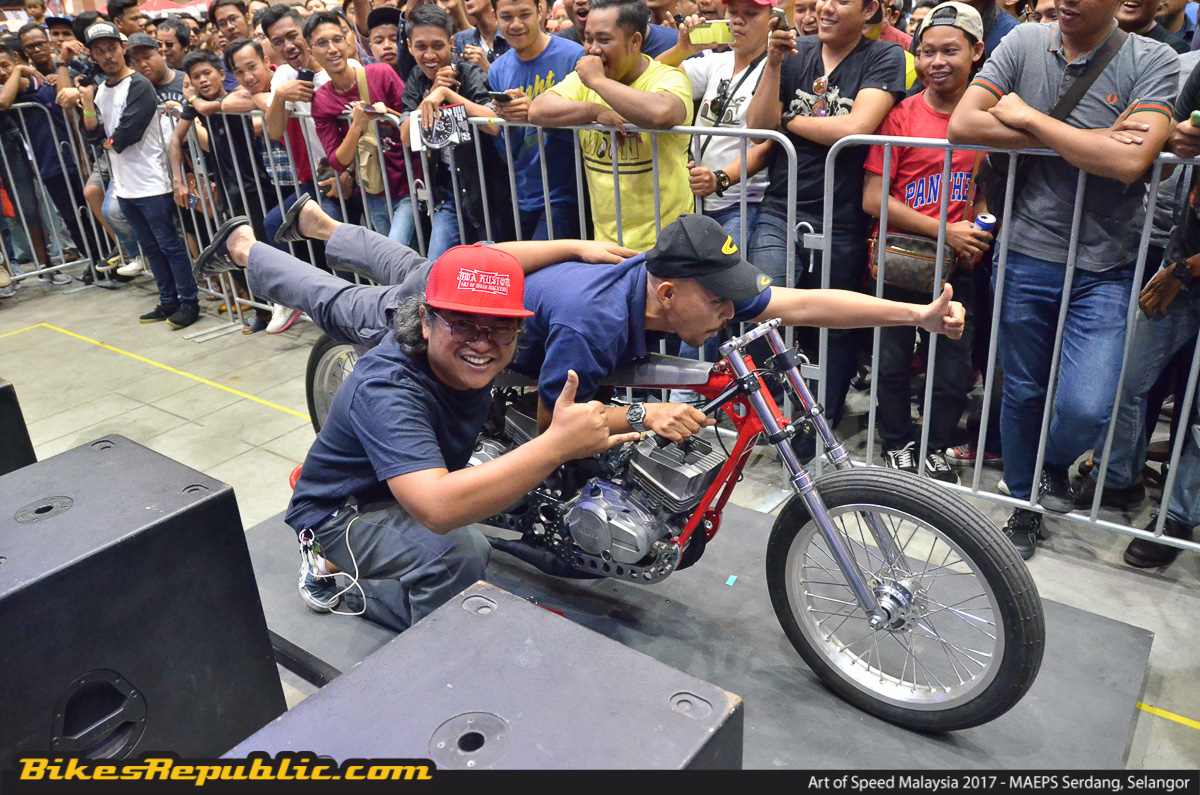 At the end of the day, it was probably one of the best (and probably the largest) gatherings ever organised on Malaysian soil when it comes to a large selection of different vehicles. Beautiful machines, great people, awesome activities and a very overwhelming turnout. What more can you ask for?
Written by: Zarul Faiz