In a celebration befitting Malaysia Day 2023, Hong Leong Yamaha Motor (HLYM) unveiled its Yamaha GEN BLU Carnival at Stadium Likas, Kota Kinabalu, Sabah, marking a historic first for this annual extravaganza as it made its debut in East Malaysia.
the 2023 Yamaha Tenere 700 made special appearance at the Yamaha Gen Blu Carnival. 
the Yamaha Gen Blu Carnival was held for the first time at Kota Kinabalu.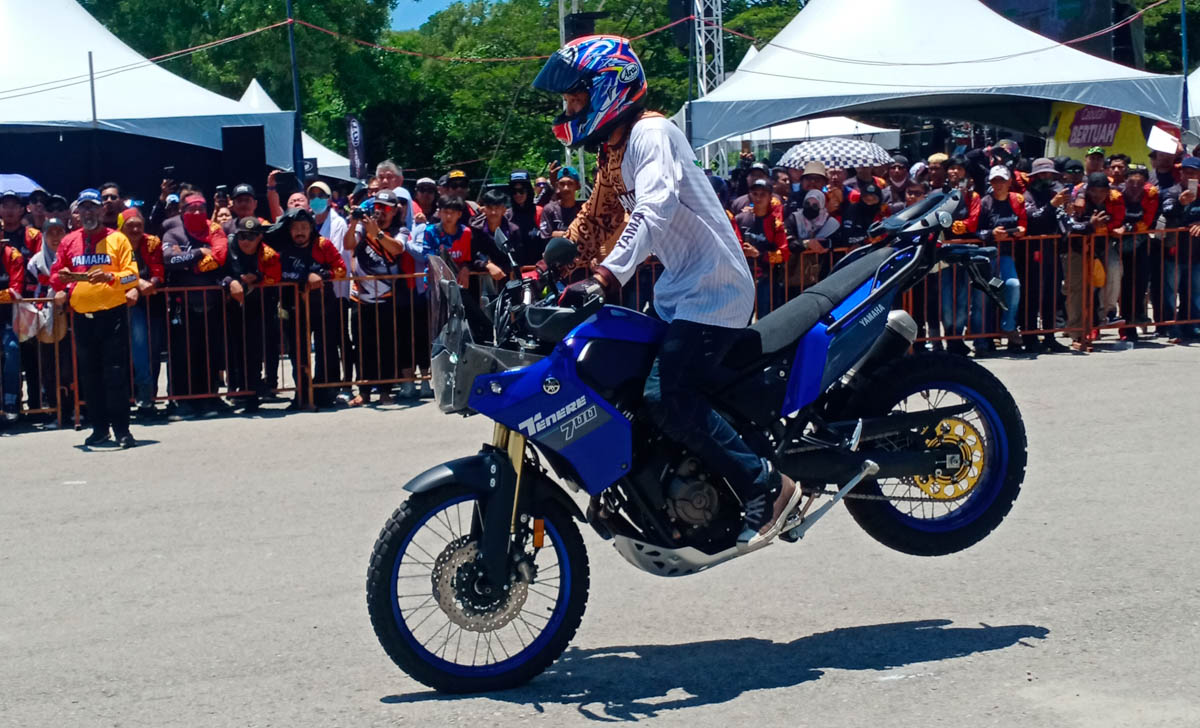 The focal point of this year's carnival was an exclusive preview of the highly anticipated Yamaha Tenere 700 adventure motorcycle. Scheduled for an official launch at the end of this year, this new addition to the Yamaha lineup marks HLYM's first foray into the realm of on-and-off-road adventure biking.
The heart of the Tenere 700 is a liquid-cooled 689cc CP2 engine, featuring a 270° crankshaft, all nestled within a lightweight frame. Offering versatility on the road and beyond, the bike also boasts switchable ABS functionality, allowing riders to adapt to various terrains with ease. A user-friendly five-inch TFT color meter with two graphic themes enhances the rider's experience. The Tenere 700 has been a source of great anticipation among Yamaha enthusiasts since its successful European launch.
Yamaha enthusiasts and the broader biking community can now mark their calendars as the Tenere 700 are now available for booking at a recommended selling price of RM69,988 (excluding registration fees and insurance coverage).
Beyond the bike, the GEN BLU Carnival is HLYM's way of expressing gratitude towards its valued customers and industry partners. The event underscores HLYM's commitment to enriching the lives of its customers, a mission deeply rooted in its 1C5S philosophy (Customer-first, Sales, Service, Spare parts, Society, and Safety), which places customer-centricity and an elevated user experience at its core.
Throughout the day, the carnival offered visitors a chance to explore HLYM's diverse lifestyle offerings, complete with entertaining activities, exclusive promotions, and the chance to win attractive prizes.
The grand opening of this year's GEN BLU Carnival was graced by the presence of Hong Leong Industries Group Managing Director, Professor Dato' Dr. Jim Khor Mun Wei, alongside HLYM Director, Mr. Taketoshi Takabayashi; HLYM General Manager of 3S and Marketing, Mr. Hoo Wan Tim, and HLYM General Manager of YGP Spare Parts, Mr. Goh Wei Ping.
In a show of dedication, 60 intrepid riders embarked on a remarkable 1,200-kilometer, three-day, two-night journey from Kuching, Sarawak, to reach the event in Kota Kinabalu, passing through Brunei along the way.
Joining them were esteemed members of the media, Dewi Yamaha ambassador Ahirine Ahirudin, Yamaha authorized dealers, and loyal Yamaha customers. The celebration also paid tribute to Sabah's rich culture and heritage with a captivating Kadazan cultural performance during the launch event.