Talented youths and youngsters shine in 1Full Throttle Challenge Malaysia 2015 raceday in ELITE PLUS Speedway Go Kart Circuit, Subang.
Following their success in organising the 1Minimoto Challenge Malaysia event last year, local motorsports establishments HB Motorsports and PiTRIDES has once again collaborated in organising the new and revamped Facebook – 1Full Throttle Challenge 2015.
Held on Sunday, May 3, in the ELITE PLUS Speedway Go-Kart Circuit, Subang, the event brought some of Malaysia finest riding talents competing over several categories. Sanctioned by the Ministry of Youth & Sports Malaysia (KBS) as well as the Motorsports Association of Malaysia (MAM), registered participants challenges were held for riders astride MiniGP bikes, Supermotos, as well as two-stroke race machines in the event's specially-formulated '2T 150 Challenge' category.
Making the event a true success were several key partners and sponsors – us at BikesRepublic.com and our sister site MotoMalaya.net included!. Amongst them included Shell Advance, KTM Malaysia CKD, Shark Helmets Malaysia (Winmaster Sdn Bhd), Alpinestars Malaysia (Iktikad Raya Marketing Sdn Bhd), AHM PRO Racing Exhaust, as well as Strada 7.
Fans were treated with plenty of on-track action as riders battled it out across the 1km-long PLUS Speedway Circuit on MiniGP bikes. Both sprint and endurance race formats were held for the bike type, followed by two Supermoto sprint races.
As one of the key partners of the event, KTM Malaysia CKD held a special Time Attack session for its owners, exemplifying the orange brand's "Ready To Race" motto to its fullest.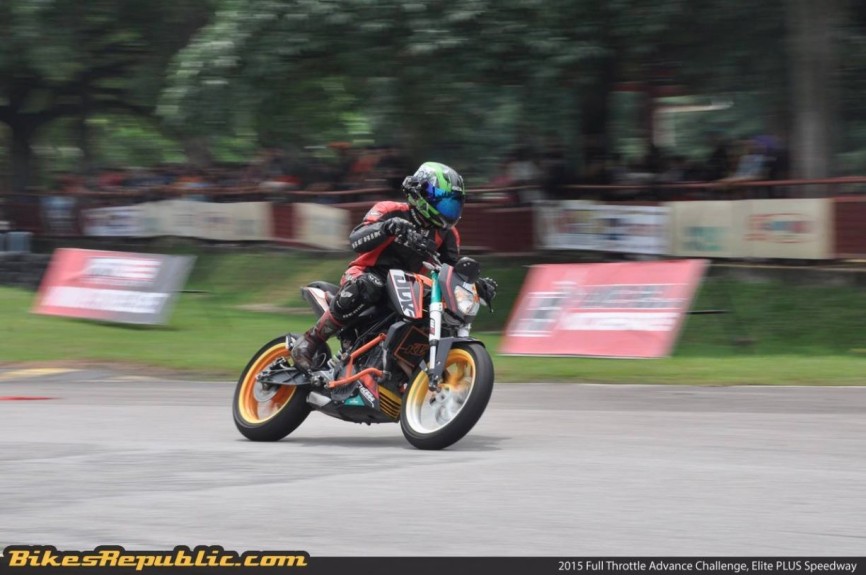 However, as the organisers have put it, the mission for 1Full Throttle Challenge Malaysia was to incubate and inspire talented young Malaysians through a safe and sanctioned avenue. More important, the event's second mission was to promote the idea of motorsports safety, preaching to youths about the dangers of illegal street racing in the process as well.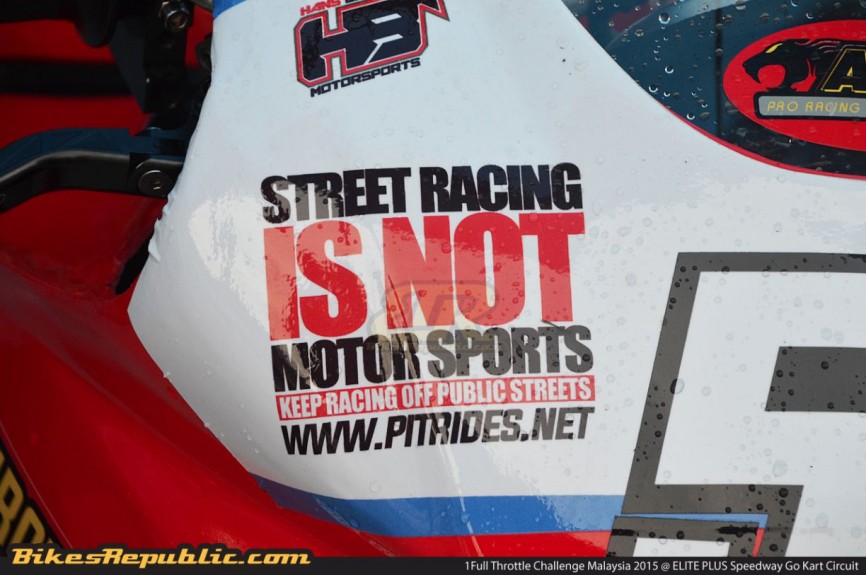 The latter mission became clear with the clear and present anti-street racing slogans plastered on the front fairings of all the MIniGP race bikes prepared by co-organisers PiTRIDES.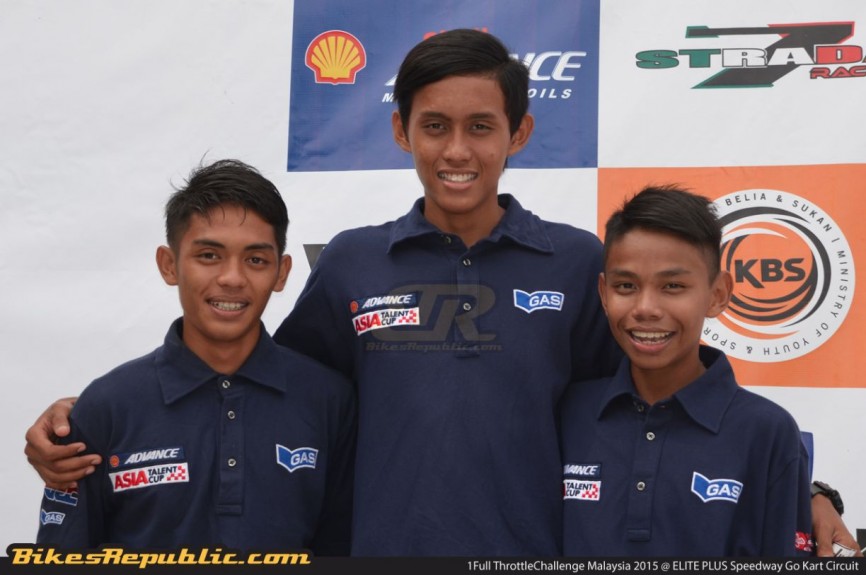 Supporting the first mission were the Malaysian riders from the Shell Advance Asia Talent Cup 2015 grid. Shafiq Rasol, Helmi Azman, as well as Fakhrusy Rostam made their appearances during the one-day event, even taking part in a special demonstration free run session astride PiTRIDES' fleet of MiniGP race bikes. The trio captivated many of the young boys and girls present, showing off their impressive skill and fitness levels on the MiniGP race machines.
As for the bigger and older 'boys', much of their thrills came from day's scheduled Supermoto sprint races that saw one lady rider crowned as champion in the Supermoto CKD category. However, it was the specially formulated 2T 150 Challenge that took most of the older generation's attention. The 2T 150 Challenge stands as one of the first competitions of its kind as entry is made exclusive only for two-stroke 150cc 2T-lubricated bikes.
The sight, sound, and even the smell of these two-stroke machines brought out much nostalgia amongst many older-aged fans. Amongst the entries here included legendary machines such as the Kawasaki Ninja 150 RR Super Kips, Yamaha TZM 150, as well as the Suzuki TRX 150 'Panther'. Many of the participants in this category hailed from various parts of the peninsula, all vying for the title as Malaysia's undisputed 'King of 2T'.
A late afternoon thunderstorm inevitably rolled itself in, wreaking havoc in the day's last Supermoto Open sprint race session. But it did little at dampening the spirits of the participants, especially those competing the day's final MIniGP Open sprint race event.
Though the final MiniGP Sprint race was shortened, it did brought some intense racing action that saw one of the day's youngest competitors reign supreme over other entries who bigger and much older. Category champions not only received trophies, exclusive prizes from sponsors and partners were also part of their winning haul of the day – much to the delight of many.
Given the positive responses, organisers HB Motorsports and PiTRIDES have shared their intent in organising another edition of 1Full Throttle Challenge sometime later this year. Details on this will be announced at a later date.
Presently, we do not have the winners' rostrum and results data just as it is still being tabulated and undergoing official procedures. We will have these up the soonest they are released.
In the meantime, you can enjoy our extensive photo gallery of the one-day event posted below, and on the official BikesRepublic.com Facebook page as well.
UPDATE – 6 May 2015
It took us a while, but here are the final results of Sunday's 1Full Throttle Challenge 2015.
2T 150 Challenge
1. Mohamad Kanafi Kamaruddin
2. Wan Mohd Asri Wan Abdullah
3. Suresh
Supermoto CKD (KLX)
1. Shahrizal Salleh
2. Muhd Hafiz
3. Firdaus Al Shadiq
Supermoto CKD China
1. Siti Fatimah
2. Muhammad Hanis Syafiq
3. Mohd Safuan
Supermoto Open
1. Wong Chin Hun
2. Nik Mohd Izhar
3. Kishore
MiniGP Endurance
1. Hasmari / Ariff (63 laps)
2. Fizwan / Emmy (63 laps)
3. Mohd Radzi / Noor Fadzril (63 laps)
MiniGP Open (5 laps)
1. Muhammad Izam
2. Wan Nordaniel Aqim
3. Mohd Sapuan
1Full Throttle Challenge Malaysia 2015 @ ELITE PLUS Speedway Go Kart Circuit