The Scorpion EXO ADX-1 adventure helmet is the latest addition to the French manufacturer's line-up.

We tested it in hot and humid weather in Thailand.

The test route included twisty roads, high-speed sections and slow off-road riding.
With the dual-sport/adventure segment growing the fastest now, so is the riding gear to match. And from the French helmet maker, Scorpion, is this Scorpion EXO ADX-1 adventure helmet.
I had wanted to test it during the KTM 790 International Media Launch in Morocco, but it was out of stock. But thankfully, Hodaka Motoworld put out an express order and it arrived just in time for the Moto Guzzi V85TT Asia-Pacific Media Launch in Thailand.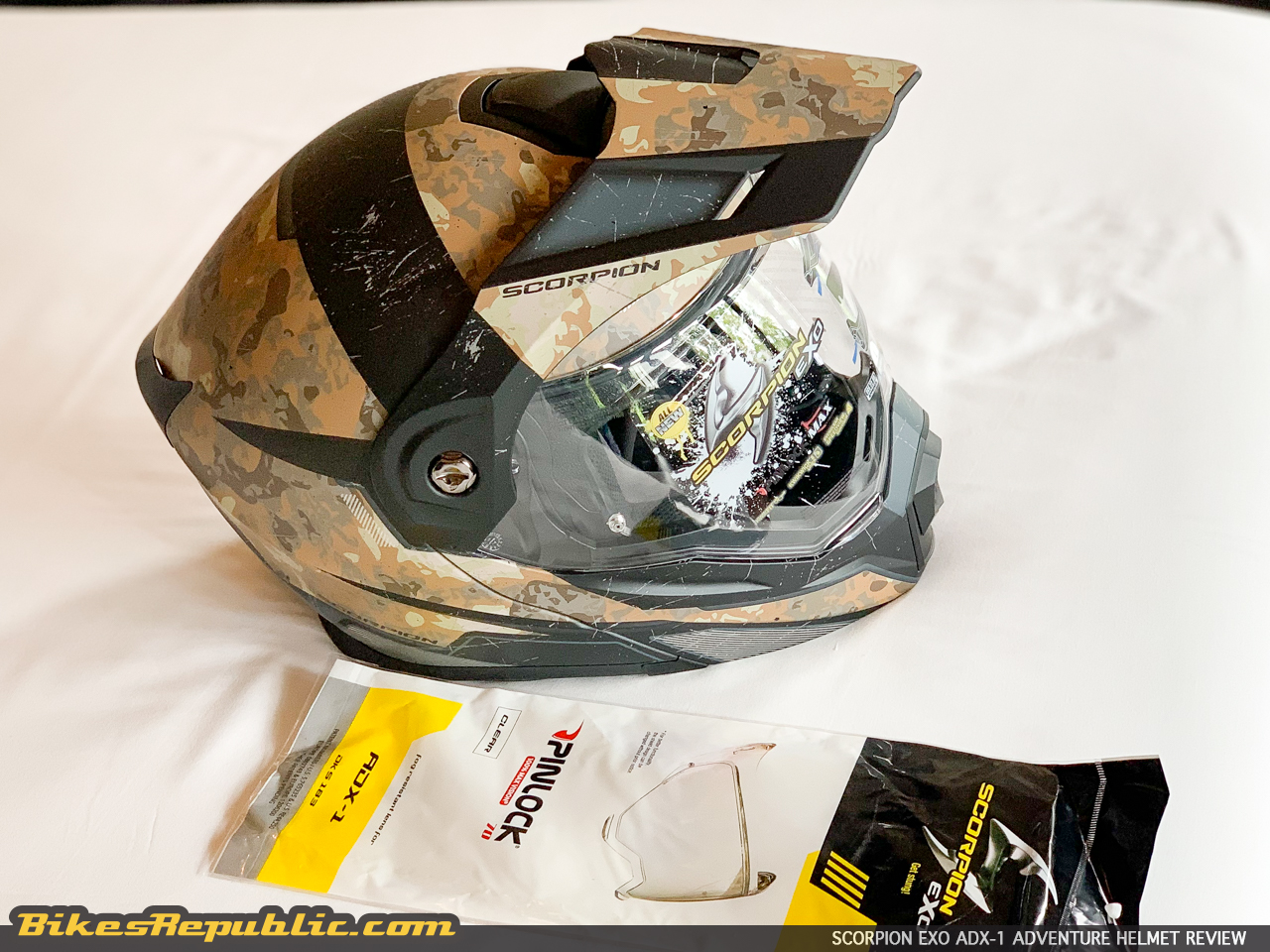 What is it?
The Scorpion EXO ADX-1 is a modular, flip-up adventure helmet. It has a peak as with other adventure helmets but the chinbar can also be flipped up. The peak moves backwards slightly when the chinbar is pushed up.
Other features include:
Speedview retractable sunvisor which is UV400 protection approved with EverClear anti-fog coating. A switch just behind the "sidepods" activates it.
KickFit pockets for eyeglasses.
KwikWick2 comfort lining sheaths the interior padding. It's pleasant to the touch, making the interior feel luxurious.
Wind tunnel designed thermoplastic resin shell.
Chinbar with EPS protection.
Built-in breath guard to direct breathing away from the visor.
Micrometric chin strap buckle.
3-vent airflow system. One each at the chin, top and rear of the helmet.
Removable peak to turn the helmet into a road flip-up helmet.
ECE 22.05 approved.
Pinlock Maxvision anti-fog insert included.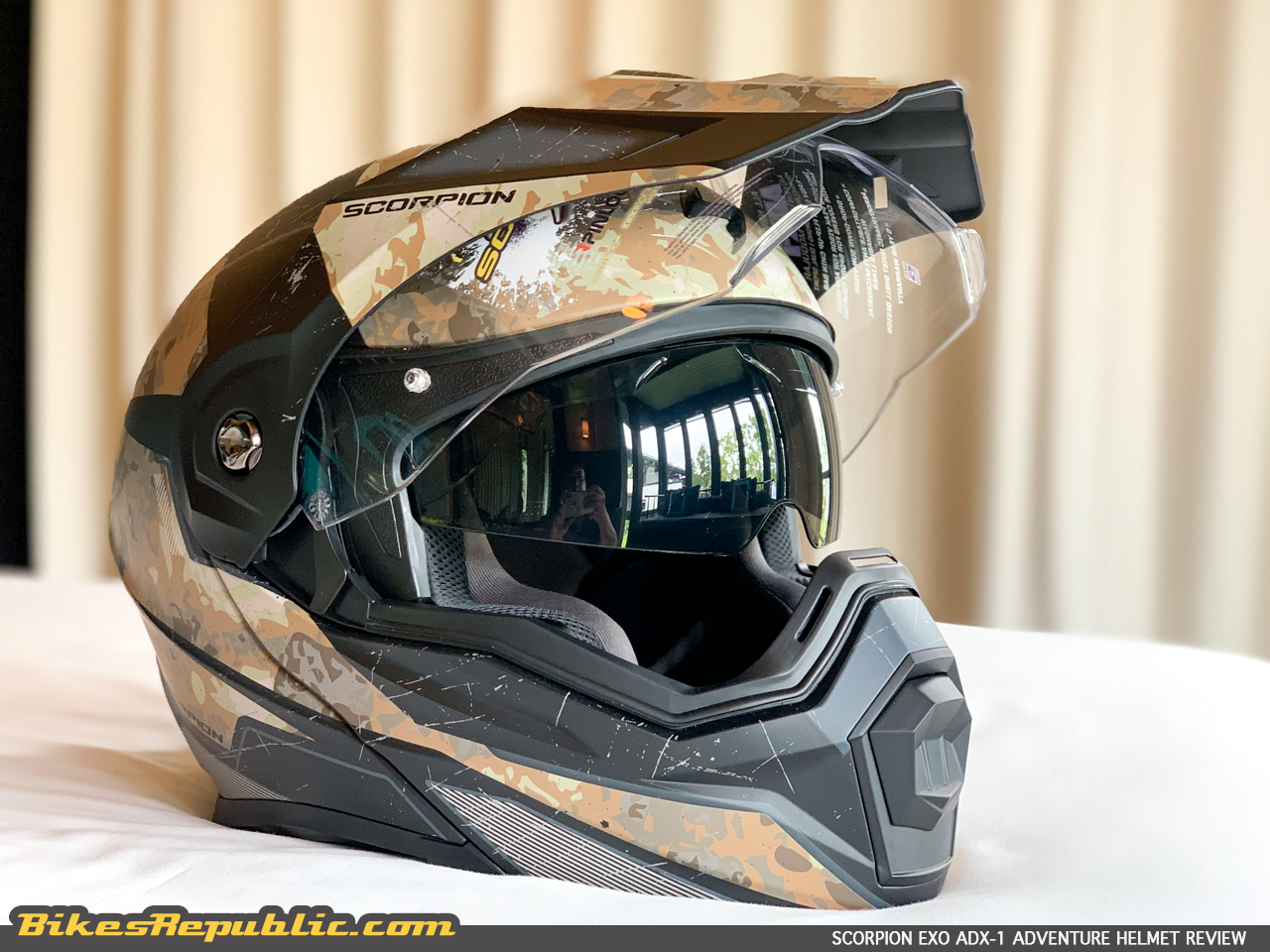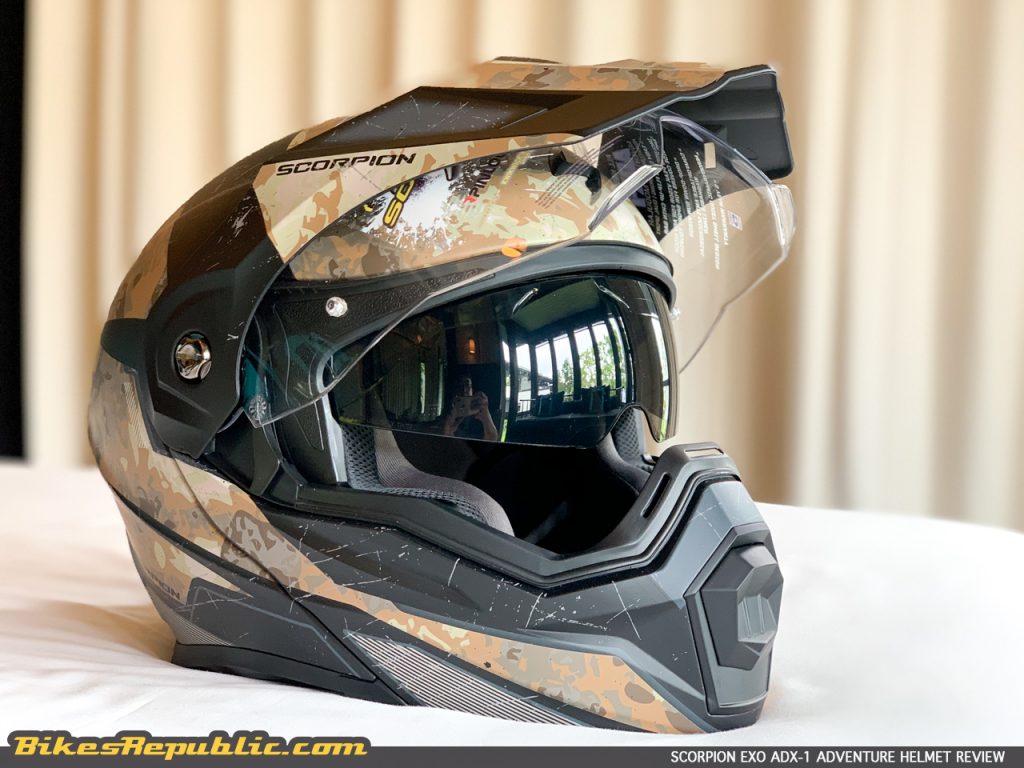 Fit and comfort
The paddings in the helmet felt like pillows and were certainly very comfortable. However, being a flip-up helmet, the cheekpads squeeze on the cheeks when the chinbar was locked in position. the tightness disappeared over time as the padding adjusts to your facial features. As such, it was easier to slip on and remove the helmet with the chinbar up.
Fit turned out to be surprisingly good, despite the shell taking on a long-oval shape. I have a round oval head profile, thus could only wear certain helmets without getting a splitting headache. If you can wear an Arai, HJC or Shoei comfortably, you ought to find the ADX-1 comfortable, as well.
Further paddings surround the chinstrap, providing extra comfort in to your upper neck.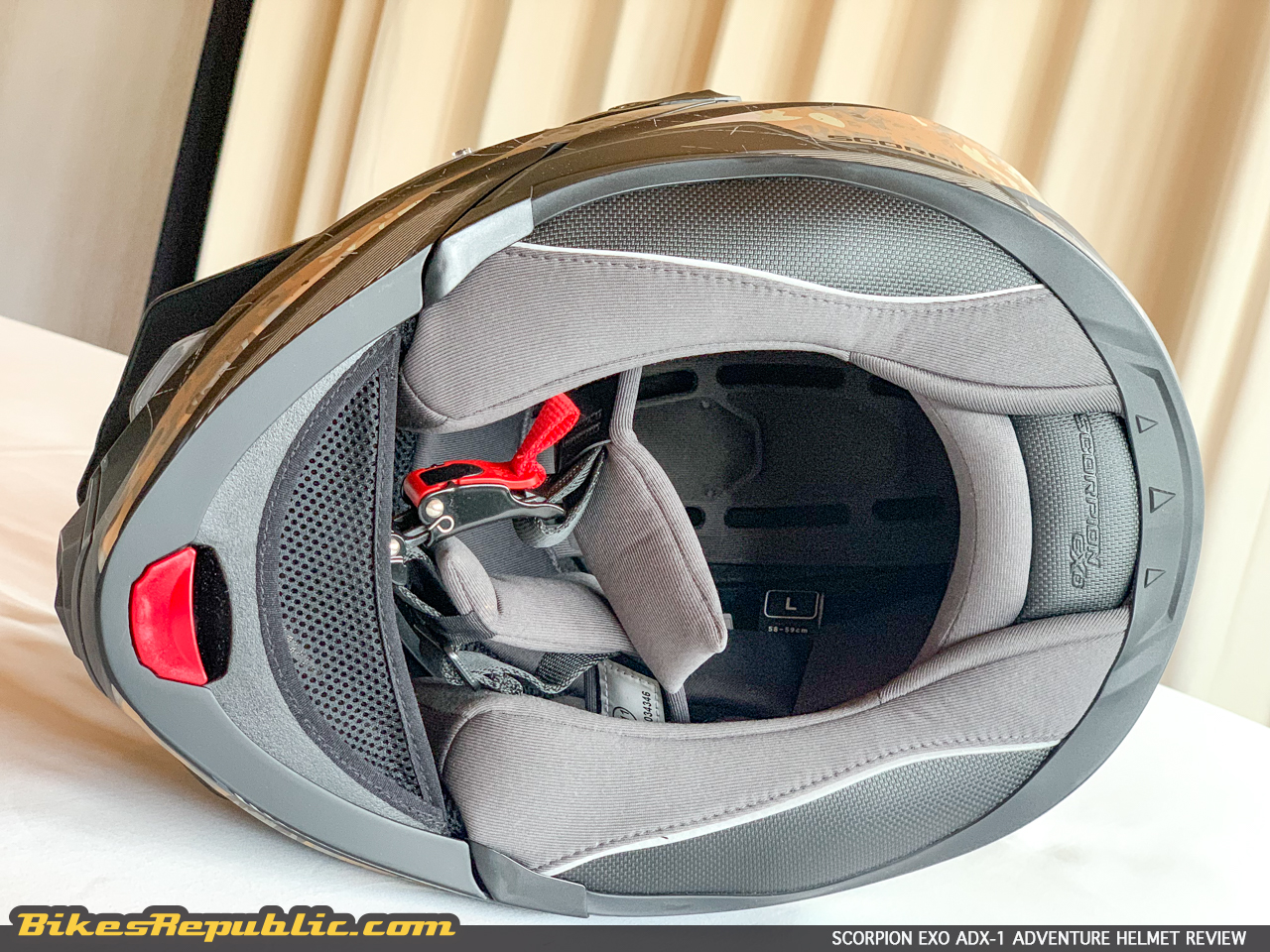 Riding with the helmet
Rain was forecast during our media ride, but temperatures soared to 36-degrees Celsius with 80%-plus humidity, instead!
The chinbar flipped up smoothly, needing a firm push to lock it in the top-most position. But I truly appreciated how easy it was to flip back down and click into position. It didn't need a hard slap to lock, hence keeping the helmet in the position you chose without dragging the helmet downwards.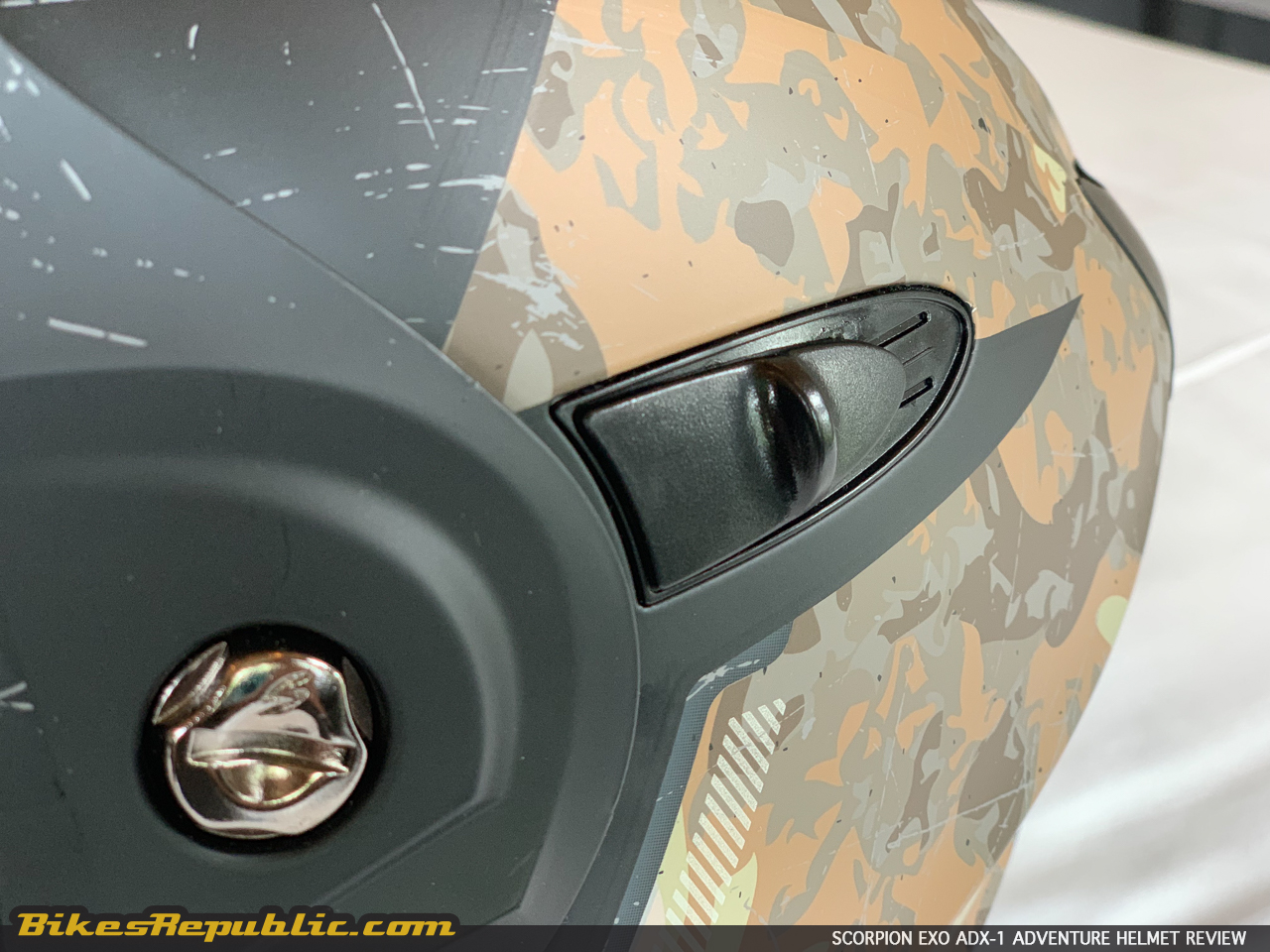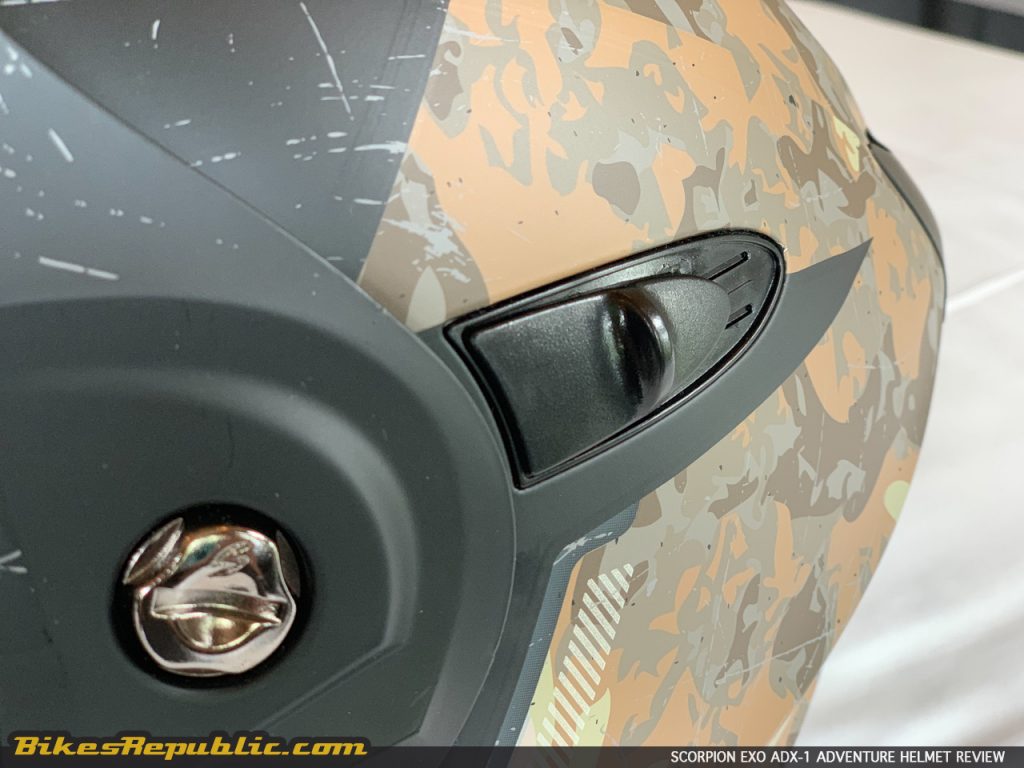 The visor can be opened in steps, but the first step was rather high up. Then again, you're not supposed to open the visor when it rains to prevent water from dripping down into the Pinlock insert. Slipping open the visor helps during low speeds in hot weather, however.
Regardless, the aperture is wide and afforded great forward view ahead. Peripheral vision was also really good when i turned my head to the sides to view behind.
I always ride with earplugs, regardless of helmet. As speeds increased over 120 km/h, there was a slight rumbling inside, but it was actually quieter than most adventure helmets.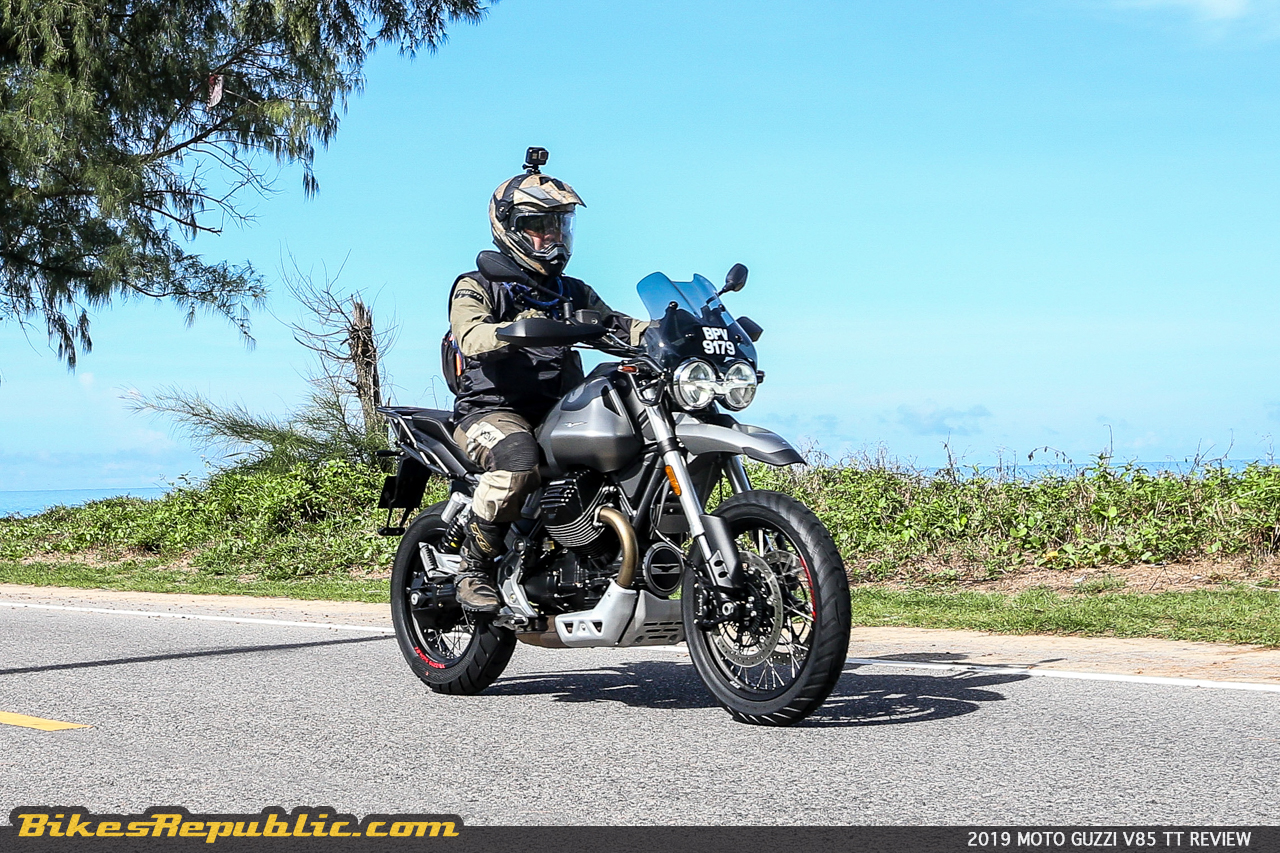 But what surprised me even more was how the helmet stayed stable even at speeds of 160 km/h and above. There was absolutely zero buffeting and lift, no blurred vision and fatigue, even with a GoPro mounted on top. The shell has plenty of strips and "nicks" around it for aerodynamic purposes. They make the helmet look cool, too!
The vents appeared small, but they moved air quickly through the helmet reasonably well. I only flipped up the helmet only once to grab some air when we started pulling out of a parking lot and kept it down even when riding off-road and through a stream at crawling speeds.
Conclusion
The Scorpion EXO ADX-1 passed the test with flying colours. It goes on record as the very first flip-up helmet that I truly liked.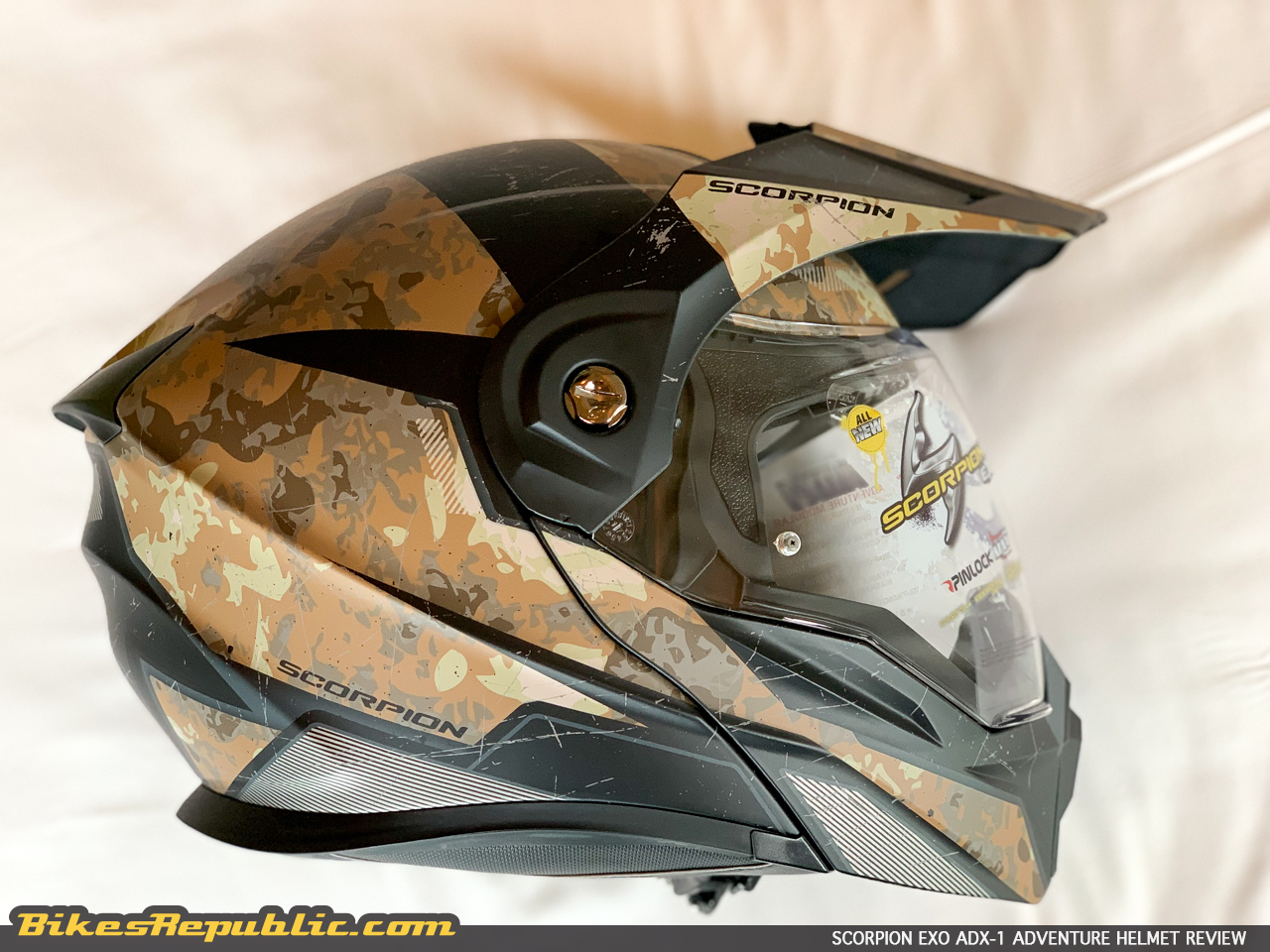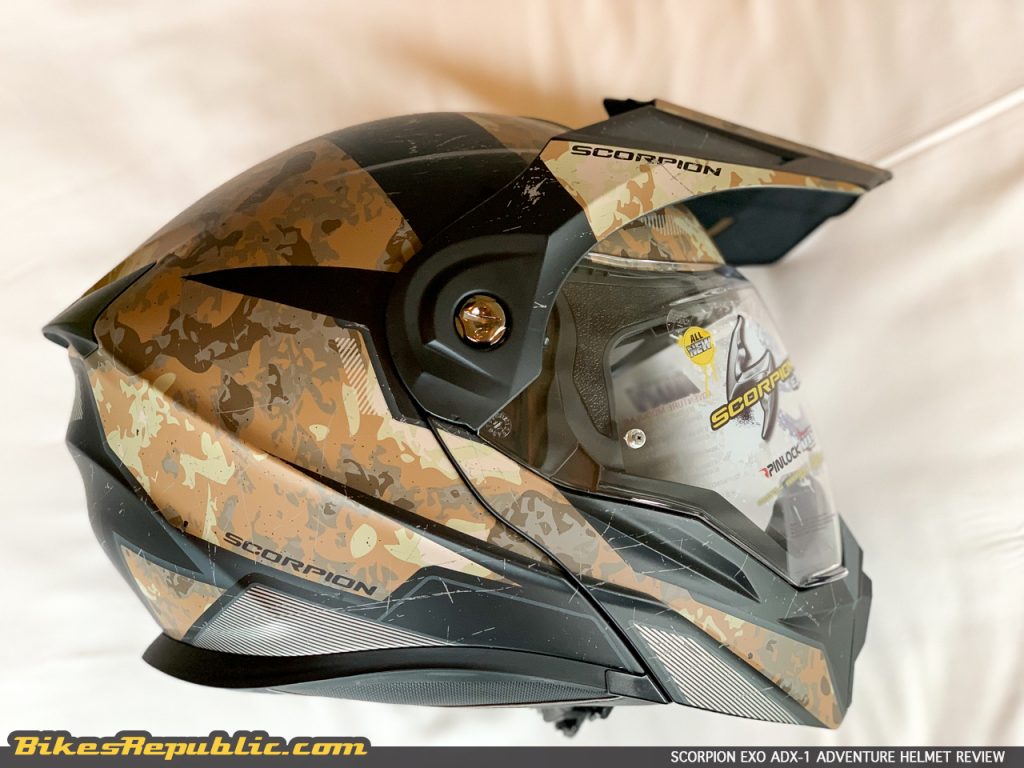 To top it off, the ADX-1 is available at a price of only RM 1,350 (retail), making it a real value buy. Just Google the model and you can see that it's highly rated in the many countries it's available in.
This variant is called the Battleflag, but it's also available in many other interesting graphics and colours.
Check it out at Hodaka Motoworld (official distributor) and their authorized dealers listed below.
Official Scorpion EXO Dealers in Malaysia
| | |
| --- | --- |
| KUALA LUMPUR | |
| Hodaka Motoworld (Distributor) | 03-7785 2558 |
| SELANGOR | |
| Bikeworld Klang Sentral | 03-3343 6677 |
| M Gear Sdn. Bhd. | 03-6178 2524 |
| PENANG | |
| EL Chong Motor Trading Sdn. Bhd. | 04-583 1772 |
| KEDAH | |
| Bikers Gallery Sdn. Bhd. | 04-720 6666 |
| NEGERI SEMBILAN | |
| Excel Bikers Sdn. Bhd. | 06-761 8746 |
| MELAKA | |
| Skyboy Motorbike Accessories | 017-755 5457 |