The new HJC i70 is a mid-range fullface helmet.

It's ideal for daily commuting and sport-touring.

We tested it on different bikes and a variety of riding needs.
Reviewing helmets is sometimes a tricky affair. Everyone has a different head shape, although classifiable to general types. The new HJC i70, on the other hand, seems to fit most.
The HJC i70 has just made it to our shores after being released late last year. Although most foreign reviewers call it an "entry-level fullface helmet," it's actually slotted midway in the 2019 HJC catalogue. In fact, it's a midrange helmet judging by its features and price point.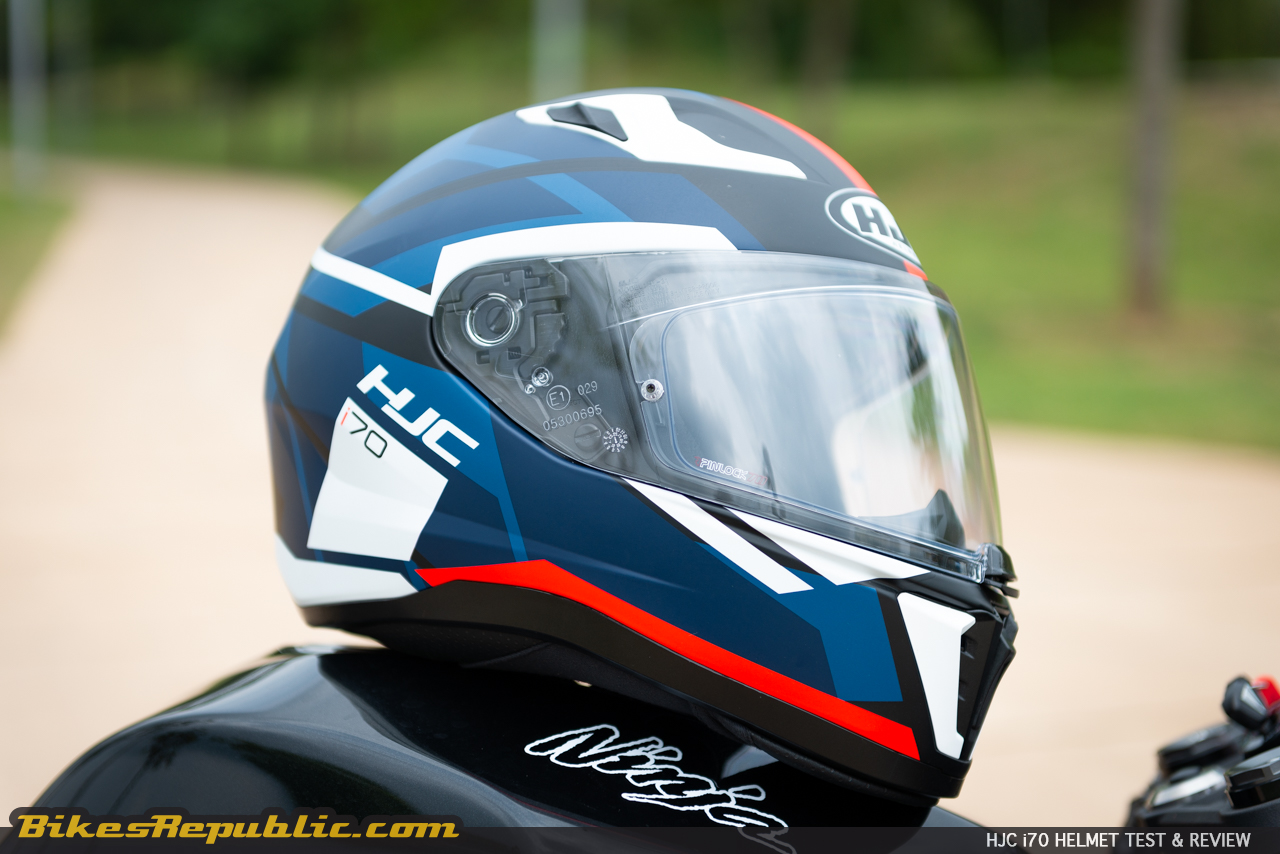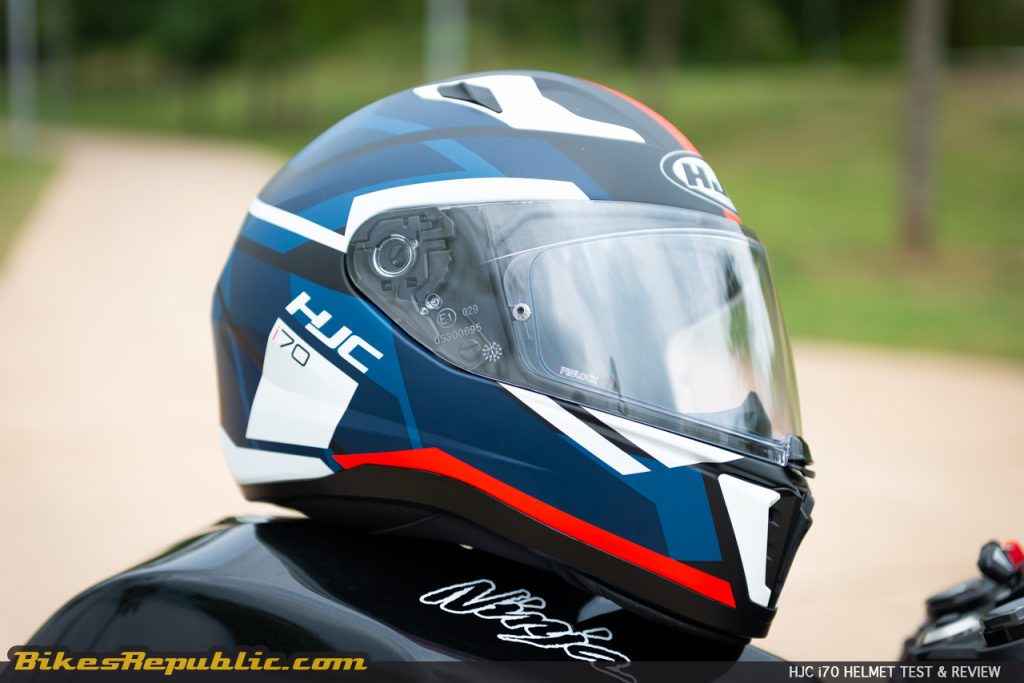 You could classify it as a sport-touring fullfaced helmet since there's a sun visor, although the shape looks very sporty. But since it uses the micrometric chinstrap, it shouldn't be used on the track and it isn't rated as such anyway. Personally, I call it an everyday helmet.
Features:
Advanced Polycarbonate Composite (APC) for a stronger and lighter shell.
Vision Plus faceshield that has 10mm more view.
Faceshield is anti-UV coated to cut UV by 99%.
Sun Visor with Wider-Vision: Better peripheral and vertical coverage.
New vents for airflow and exhaust.
Micro adjustment buckle.
Pinlock-ready faceshield.
Pinlock anti-fog insert included.
Supercool comfort padding.
Eyeglass pockets.
Testing the HJC i70
We managed to log many useful kilometres with the helmets since picking it up about a month ago. As such, we're able to test it while riding on different bikes and in various riding conditions.
First was the final Modenas Dominar 400 "Explore the Unexplored" convoy. The ride took us from Juru Auto City to Cameron Highlands and finally Janda Baik which lasted 12 hours in total.
Soon after that, we picked up the Kawasaki Ninja ZX-6R for test and review. It's one fast bike! We tested it up and down Karak Highway and Genting Highlands, besides commuting on it over the weekend and to the Sepang International Circuit.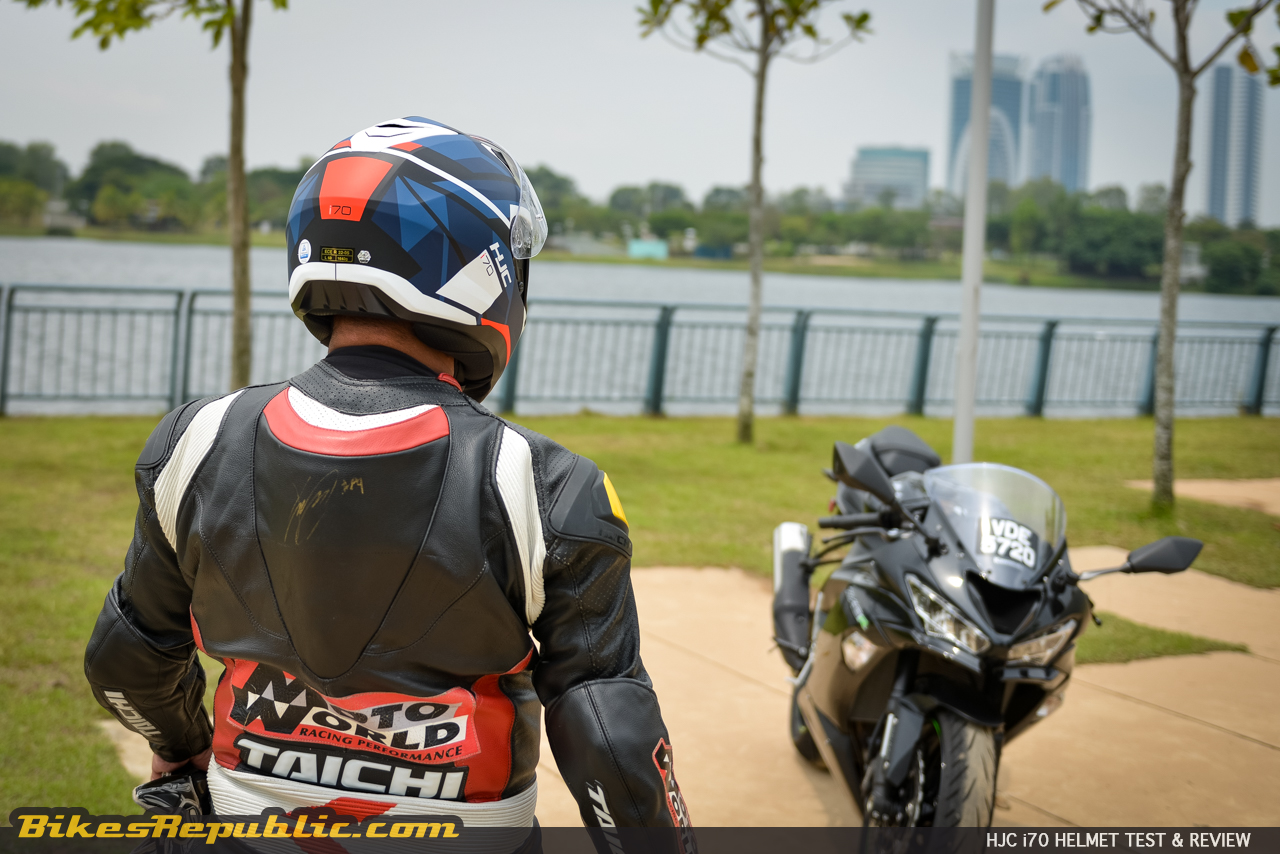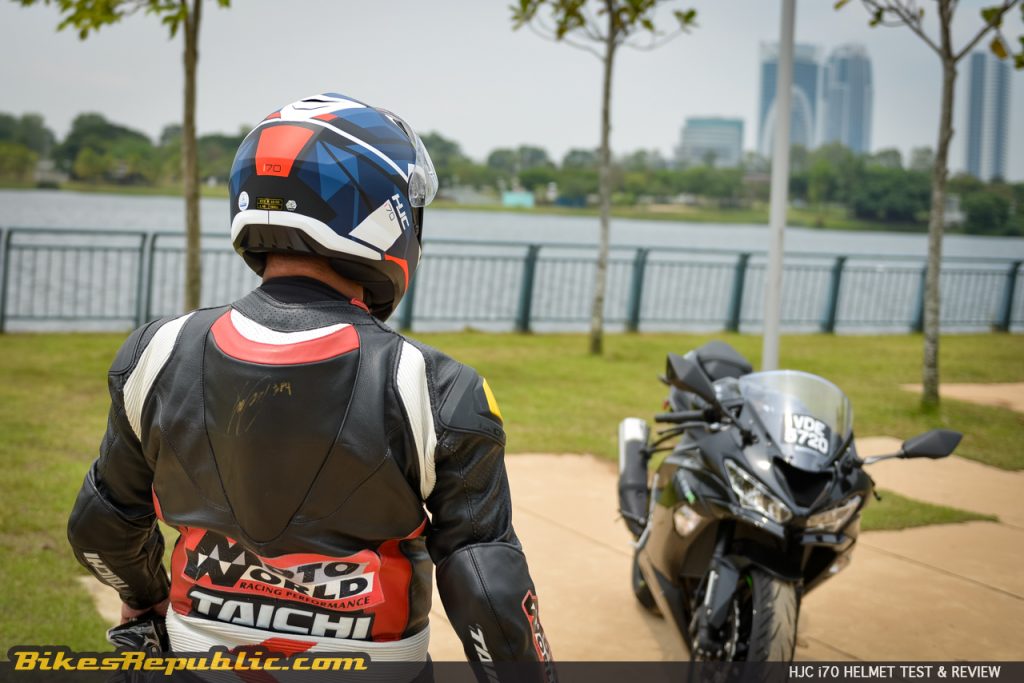 We continued with our daily commuting on this writer's personal Kawasaki ER-6f since returning the test bike and continues to wear it today.
Experiencing the HJC i70
First off, the helmet's shell design is quite a departure from HJC's norms. They South Korean usually produces helmets that are of the "traditional" shape i.e. flatter sides and larger opening. The i70, on the other hand, features a shell that's like if you took an egg and cut off a side. Consequently, the entire helmet shell is rounder.
That in turn brings up the point about fit.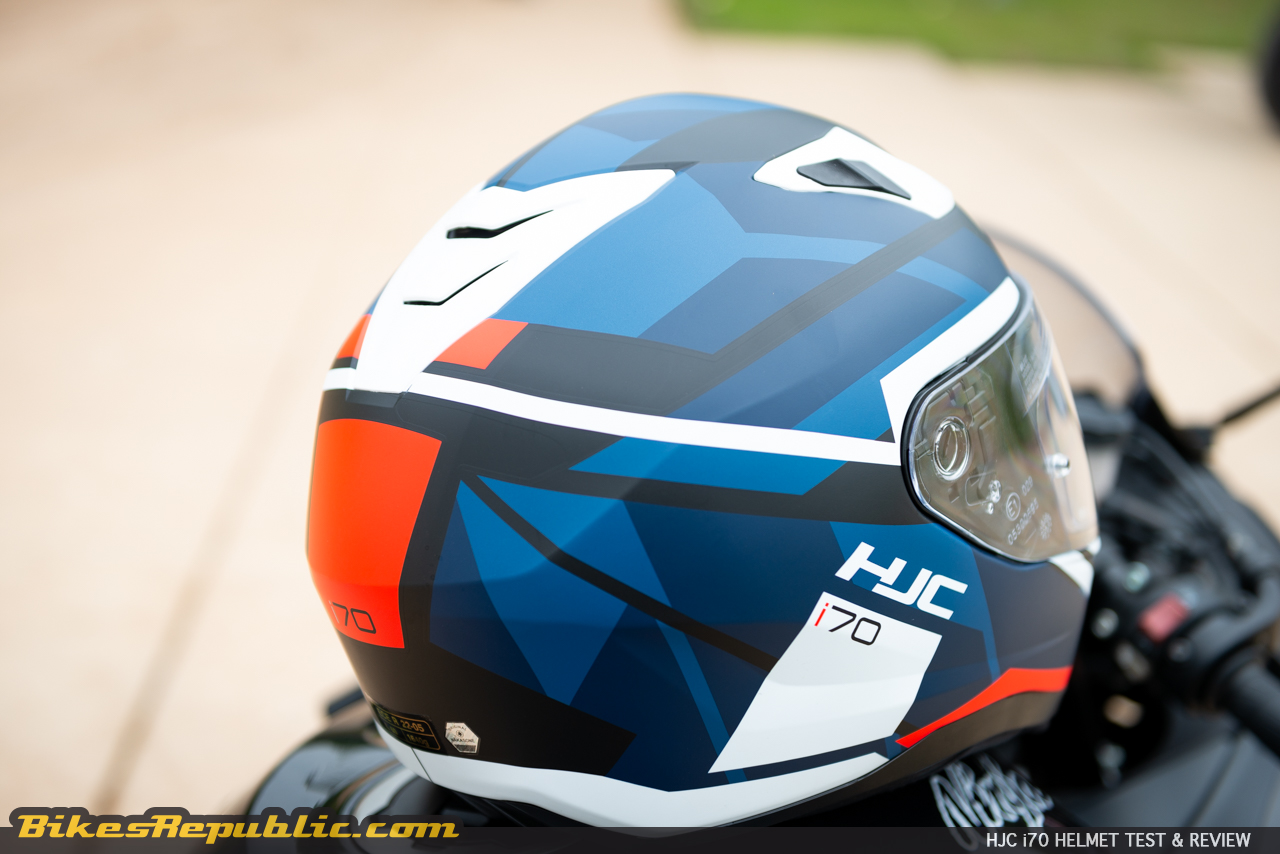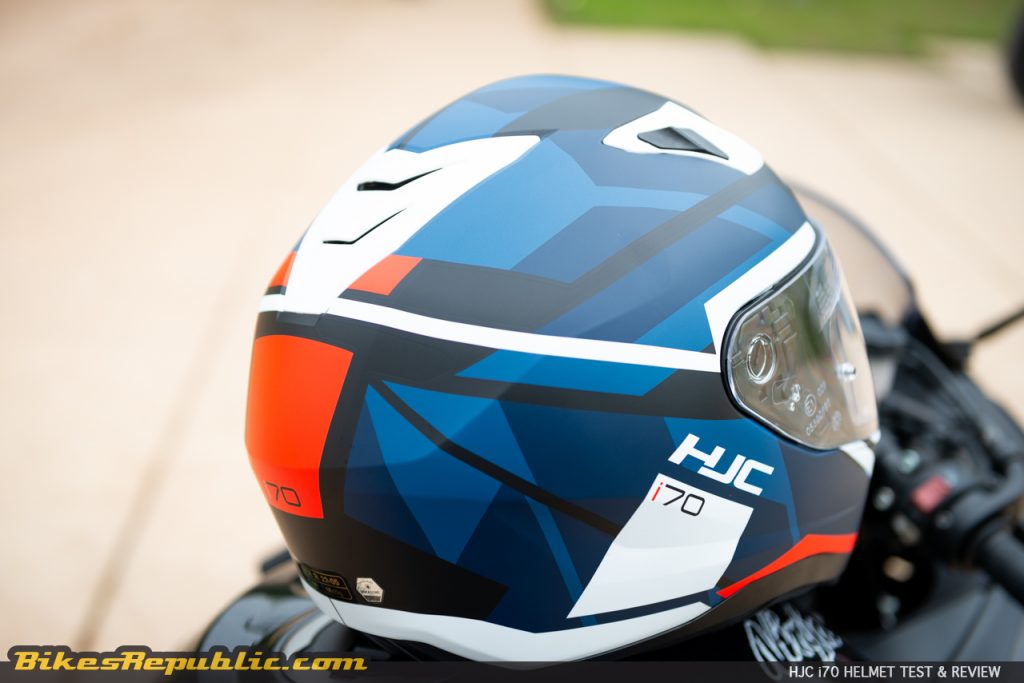 I'd like to state that I've a round-oval head, biased towards round. Therefore, I need helmets that are more Asian in fit. Caucasians i.e. Mat Sallehs generally have long-oval head shapes.
The helmet is snugger or (tighter for those with bigger faces) compared to other HJC models such as the RPHA series of the same size. As for me, I personally like my helmet fitting slightly tighter due to necessity, in the case of testing bikes at high speeds (sportbikes!). In this case, the large size I chose felt slightly looser than a medium size fitting. This means you may have to go one size larger for a more comfortable fit. But bear in mind that the paddings will compress and conform to your facial features over time.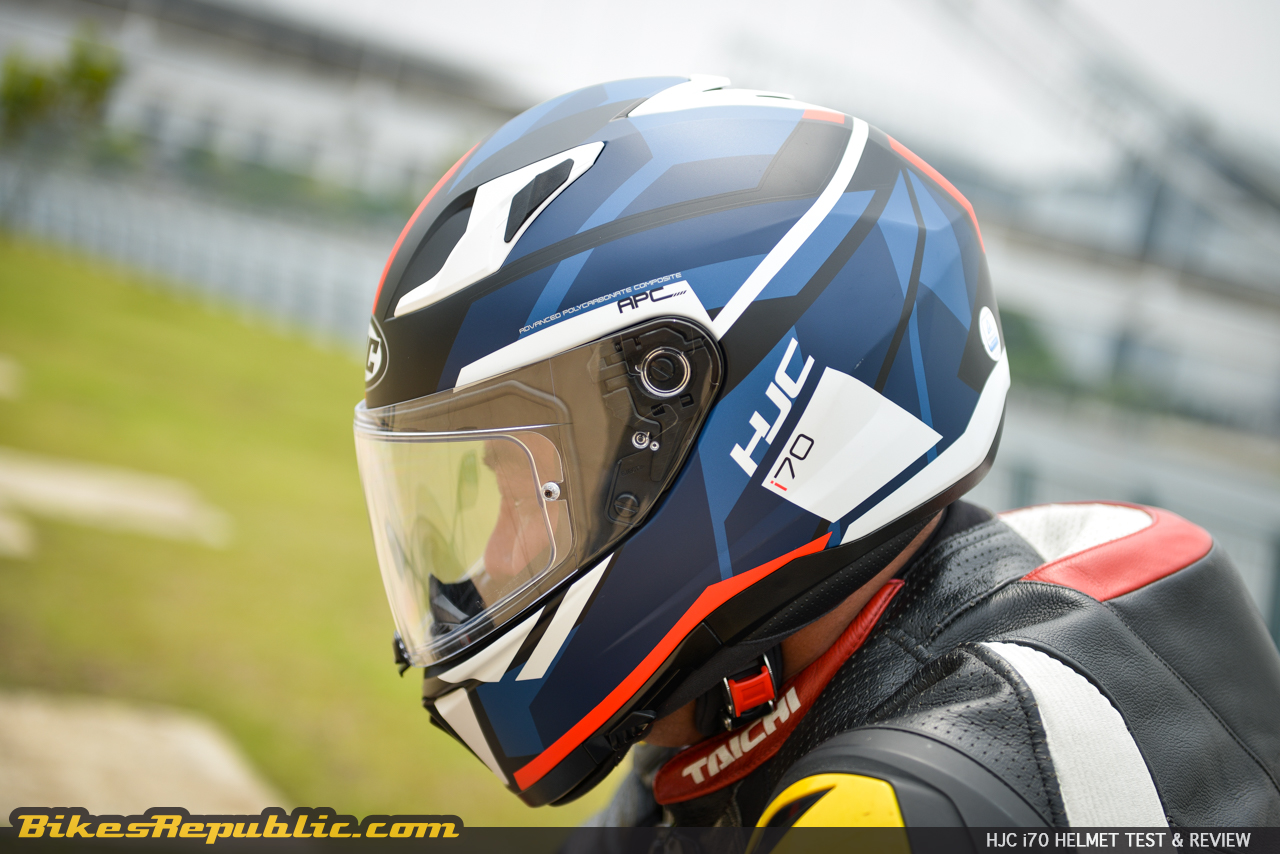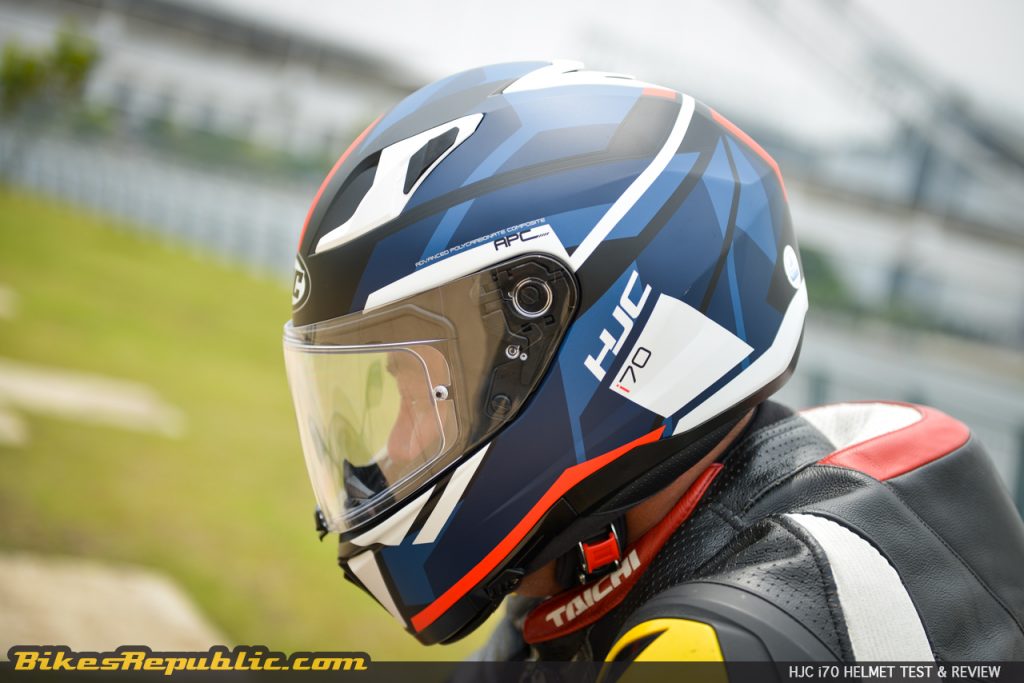 Being snug means the helmet feels natural on the head rather than an extension which bobs around. This is turn made the helmet feel lighter than its rated weight of 1620 grams. It also made turning the head sideways much easier, especially at high speeds.
Still, as with all HJC helmets, the comfort padding is very comfortable without noticeable pressure points. Additionally, the crown (top of the head) doesn't smash into the EPS unlike in some helmets I've worn. Apart from that, they wick up sweat very well too and never left my face feeling sticky.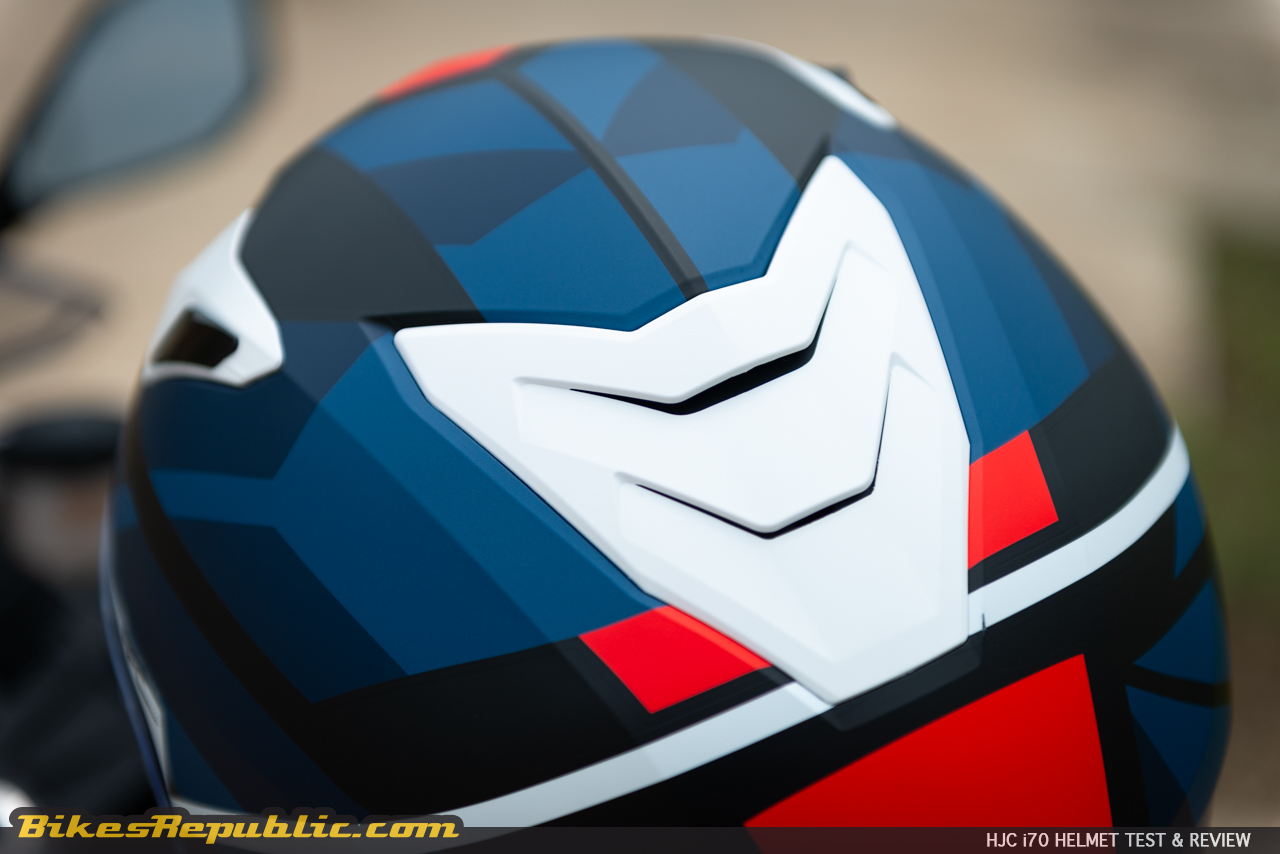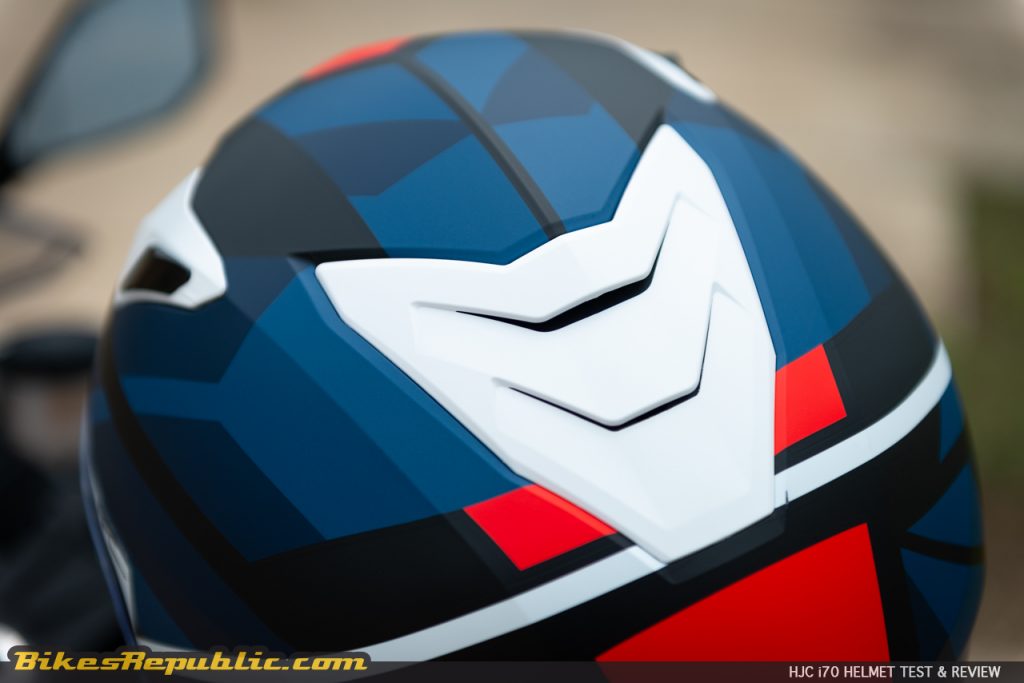 The shell has plenty of "panels" that work to smooth airflow. We've tested the helmet to 180 km/h on the ZX-6R without much turbulence. There's some movement above that speed but it becomes stable supremely stable once I dropped my chin onto the fuel tank.
Peripheral vision has been improved by a lot. You can test this when turning your head sideways to check what's beside you. This is very important since a rider cannot spend too much time looking over his shoulders, especially in traffic. You need as much information as possible in that one quick glance.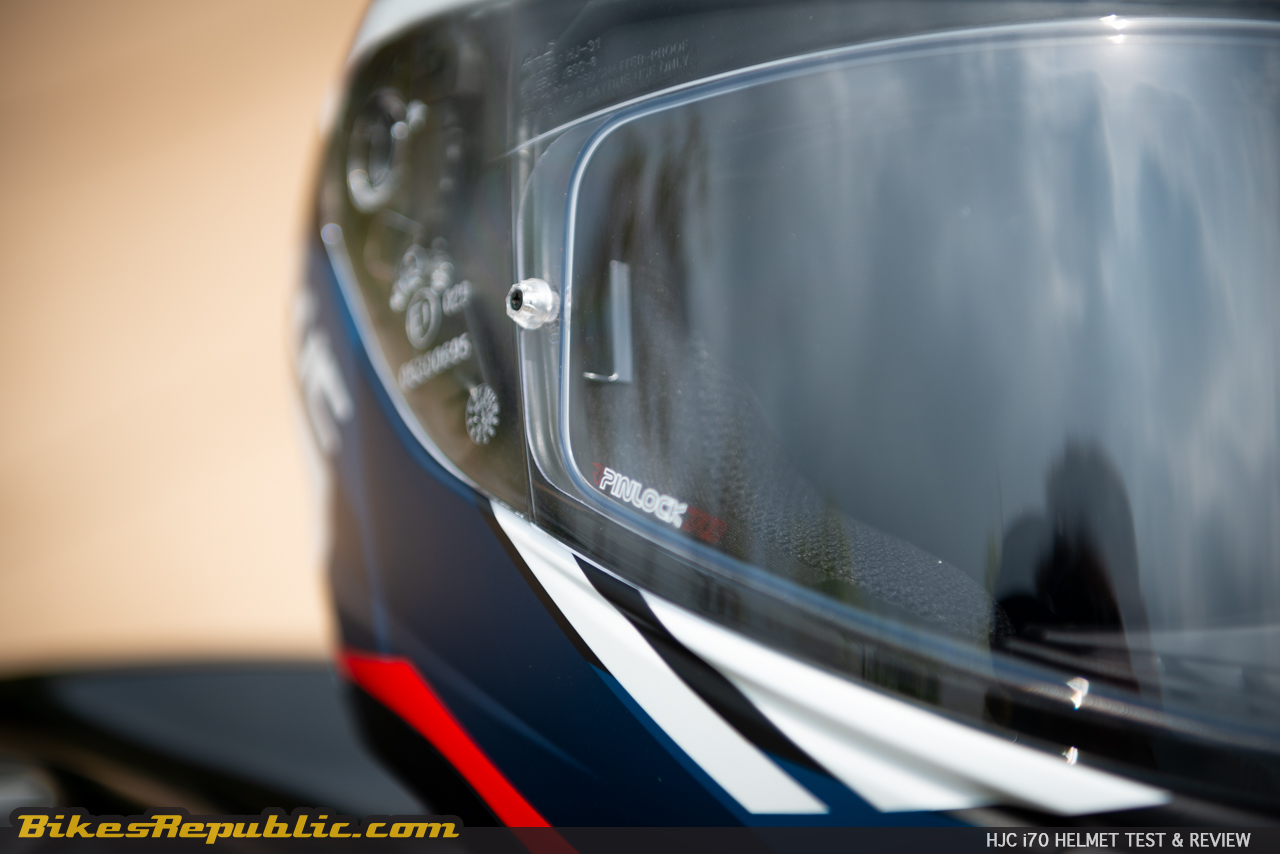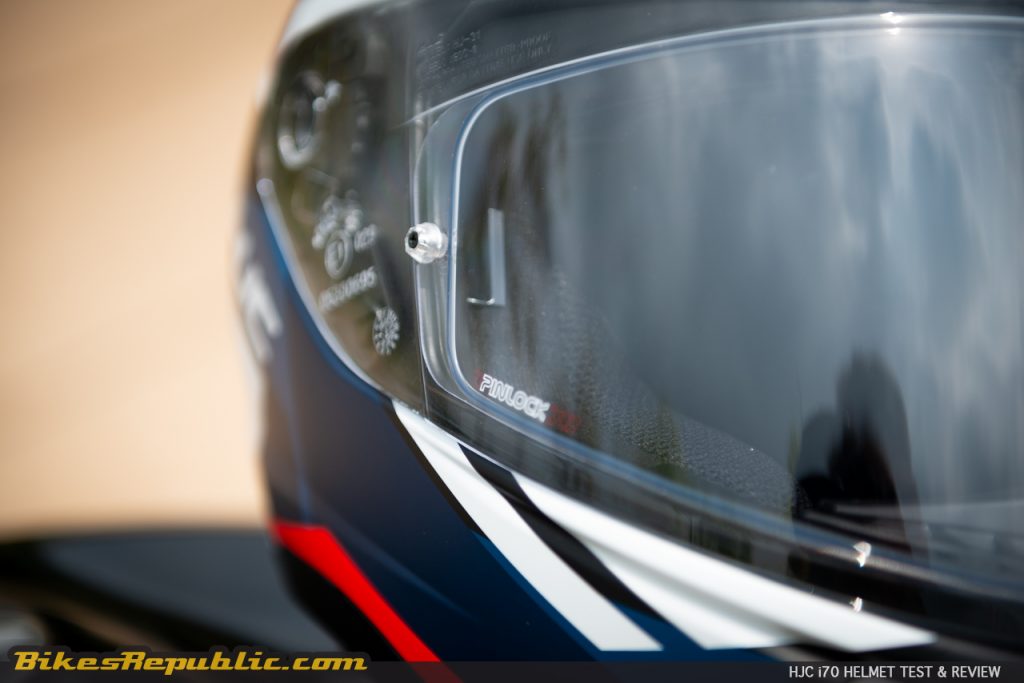 Vertical vision is also very good, even on a sportbike. The top part of the eyeport is only slightly visible while the head is pointing downwards in corners (see picture).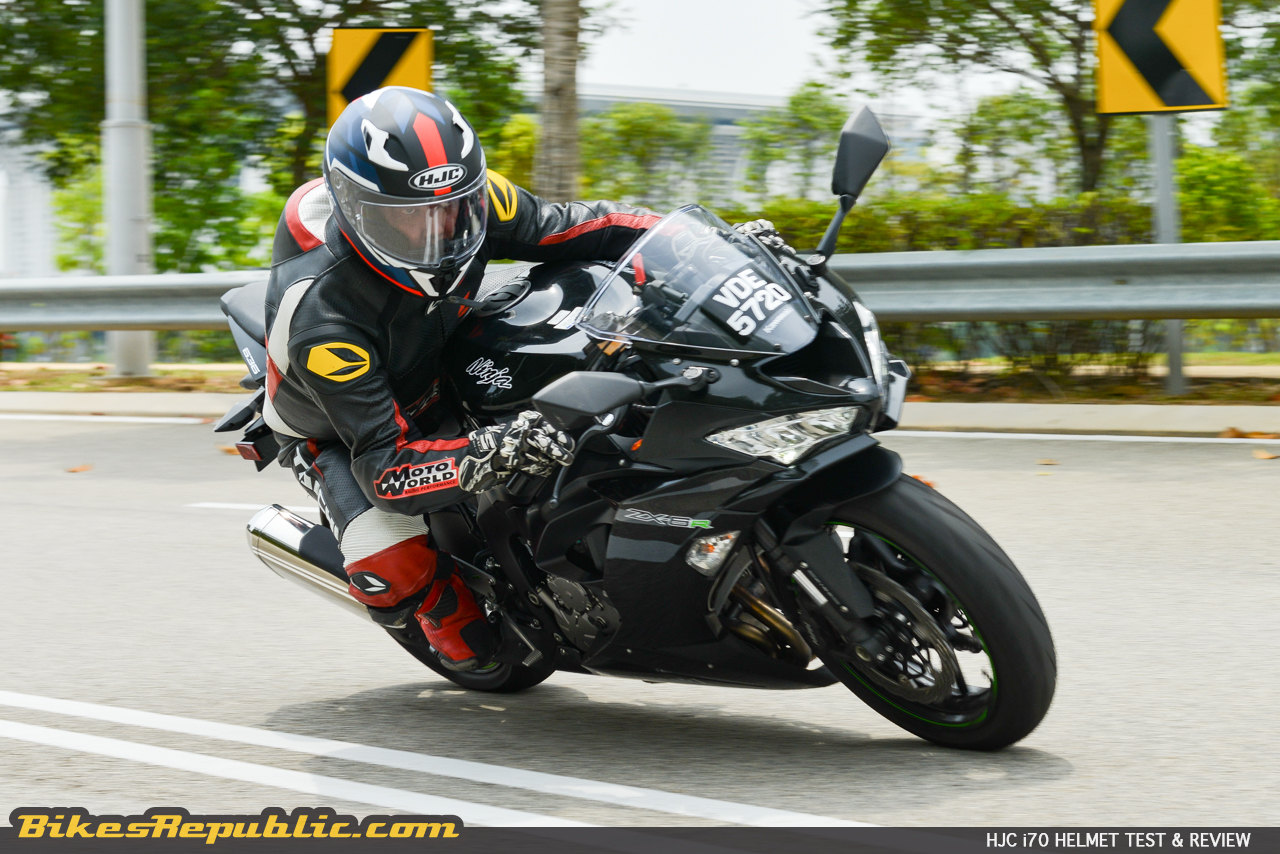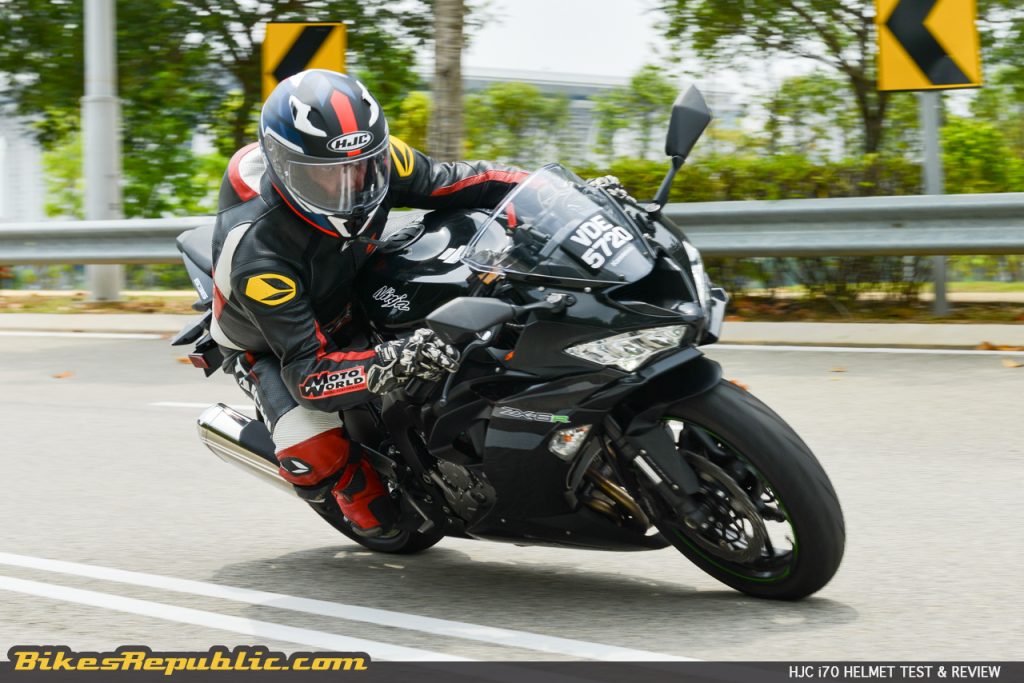 The drop-down sun visor does an awesome job of filtering out bright lights, so much so it seems to be polarized. But since the main faceshield is 99% anti-UV, the sun visor isn't even needed at times. The sun visor has a large coverage area and drops down to just above the top of the chinbar to shield against outside light escaping through.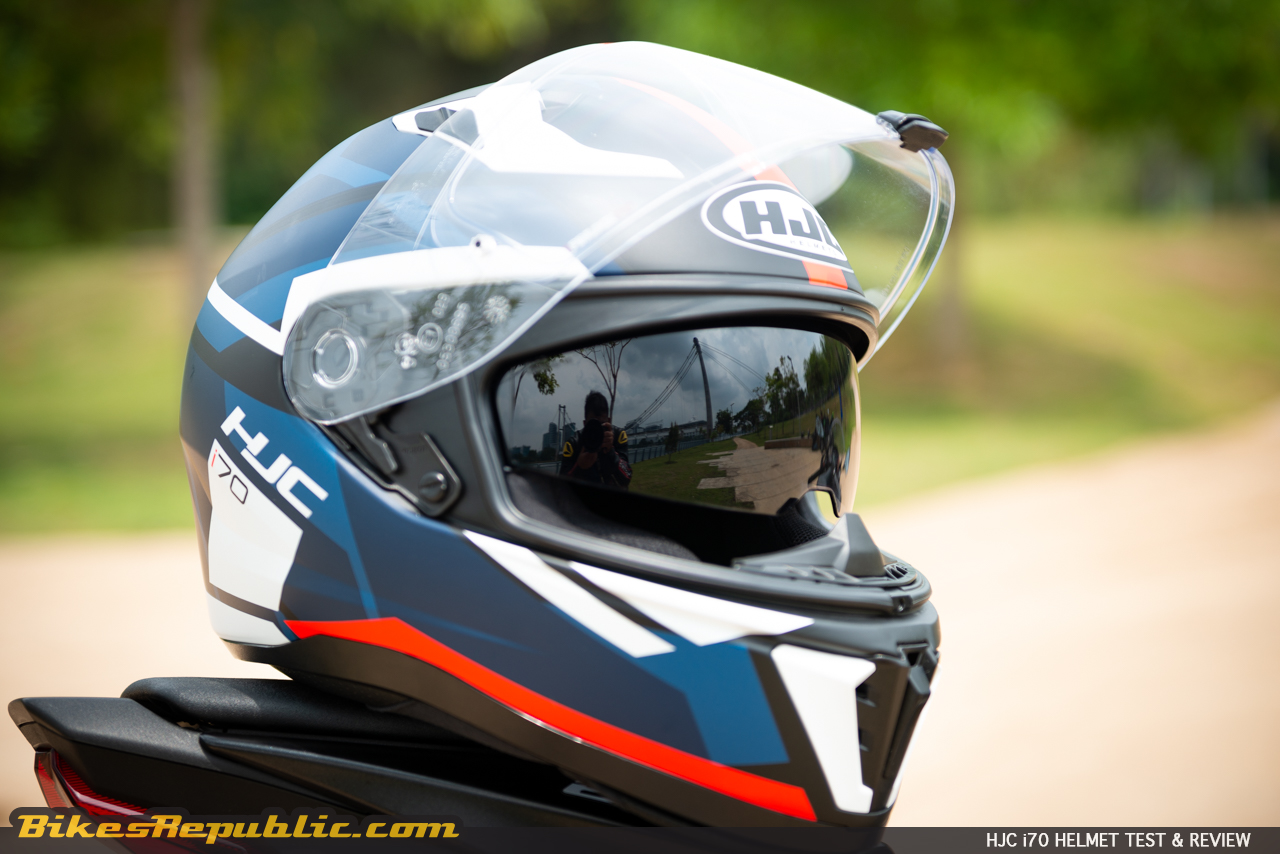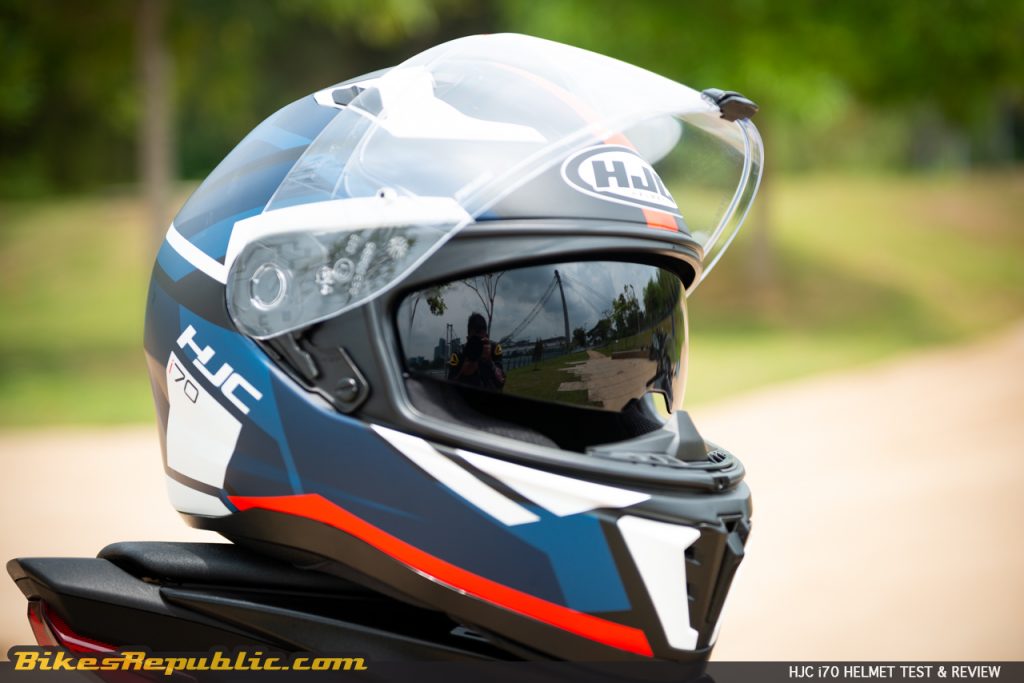 The "switches" on the helmet are all within easy reach, so I didn't have to "hunt" for them. The faceshield lock is the same central type on the RPHA series. The sun visor's switch toggle is on the left side of the bottom gasket.
Ventilation is fair, I would say. There's a large amount of airflow on top of the head which could be felt discernibly. The front vent needs a little more ventilation but it's fair and you could feel outside air coming up behind the faceshield. The top exhaust vents that look like shark gills work as stabilizers, too.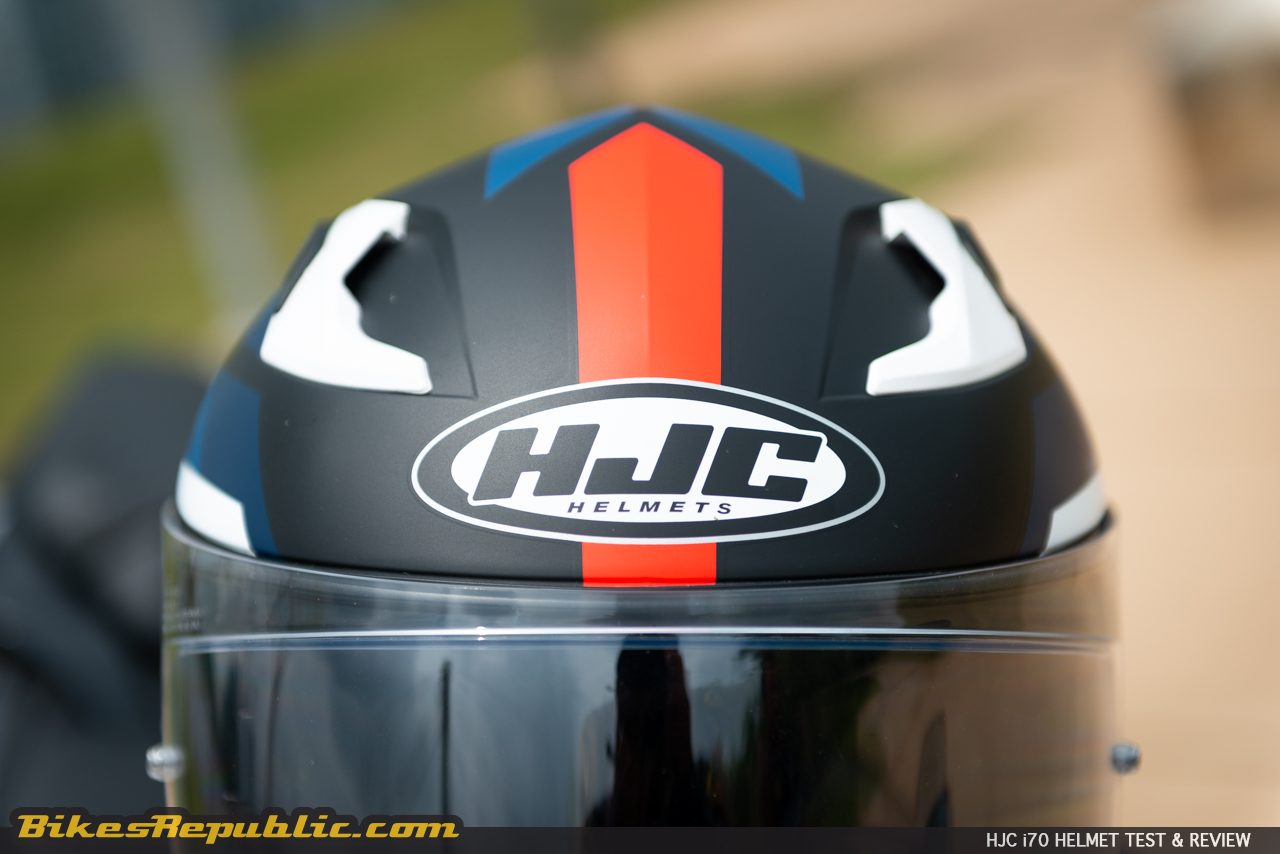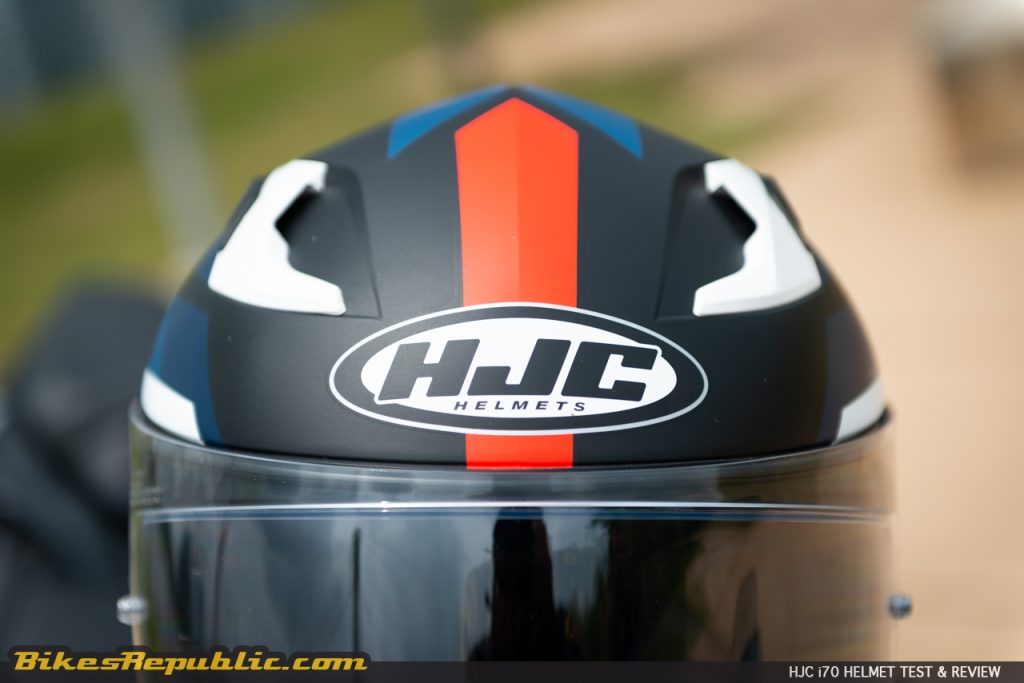 Sound levels are similar to those in modular helmets. But the shallow ear pockets kept most of it away. It goes all quiet with a set of Alpine MotoSafe active earplugs (they allow speech and Bluetooth media to get through while filtering out wind noise).
There is one thing to watch out, though. The shallow ear pockets may interfere with your ear lobes when you install Bluetooth speakers, although it depends on what brand and type. The Cardo Packtalk Bold uses thick JBL speakers, so they are not truly compatible. The "normal" speakers are alright, conversely, but make sure you position them properly.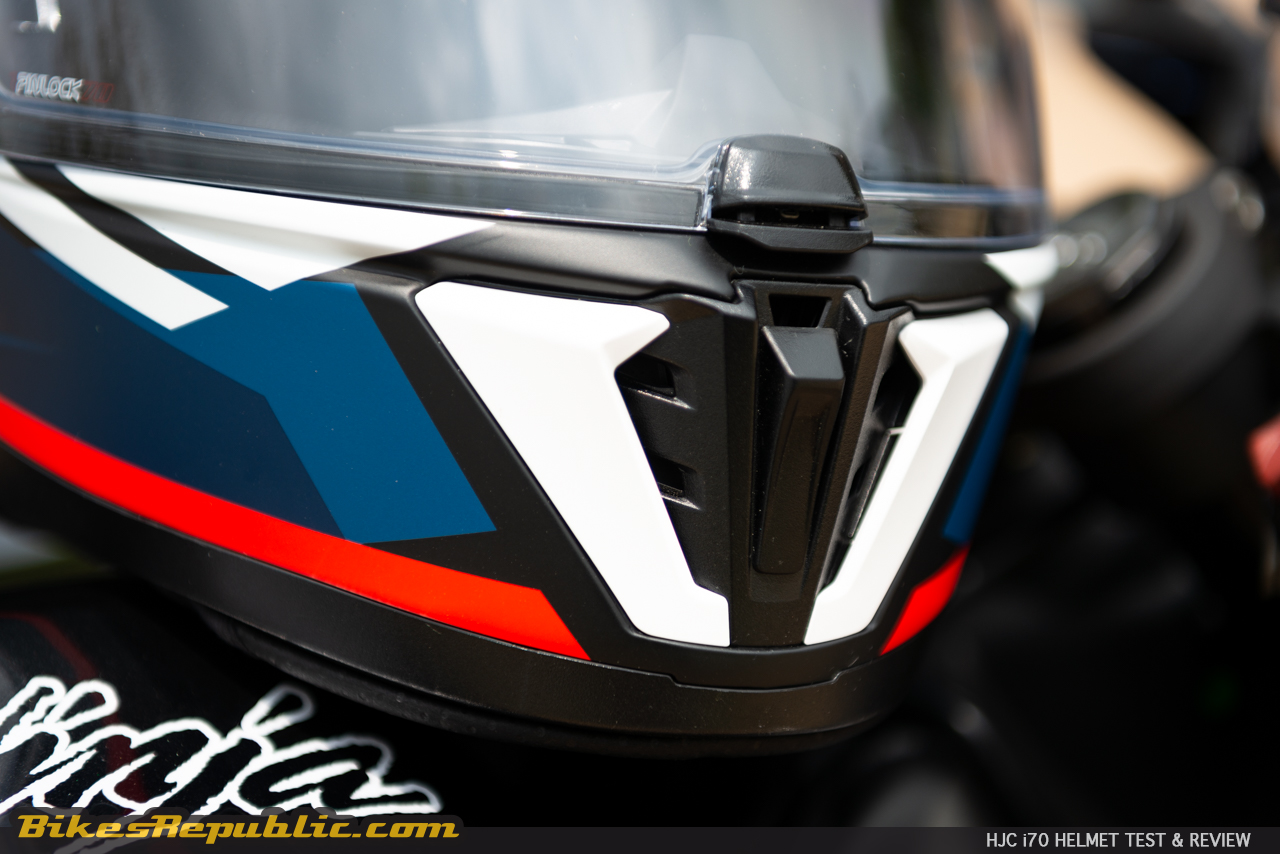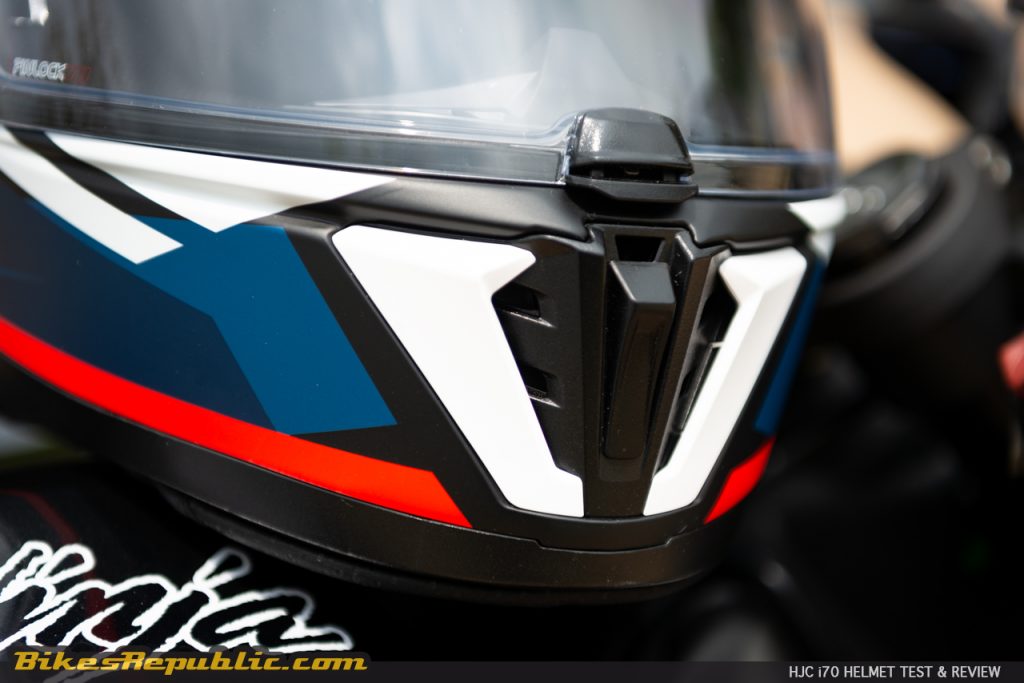 Verdict
All in all, the HJC i70 is a nice helmet to wear. I personally like the snugness, stability and peripheral vision. It's a good-looking helmet and I've received many positive comments when I posted the pictures on my personal Facebook.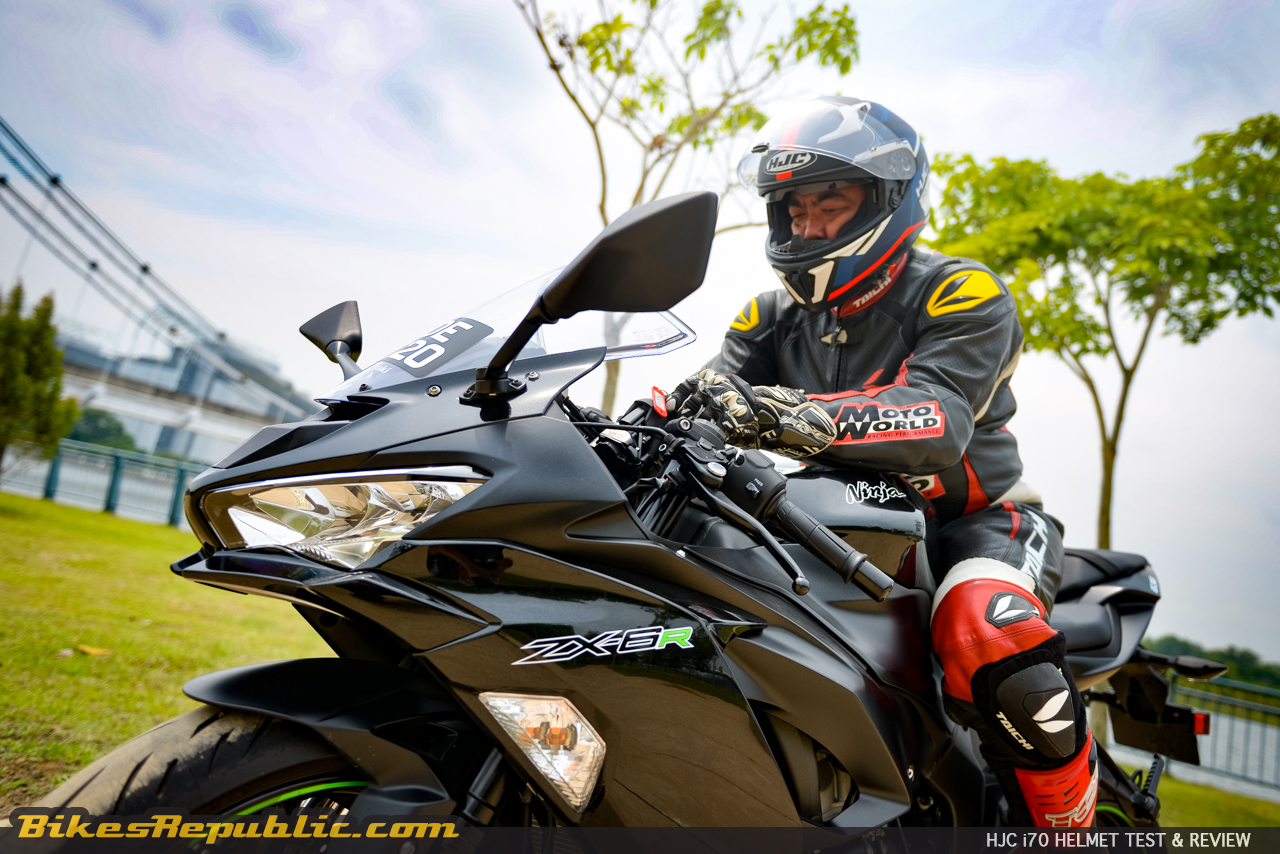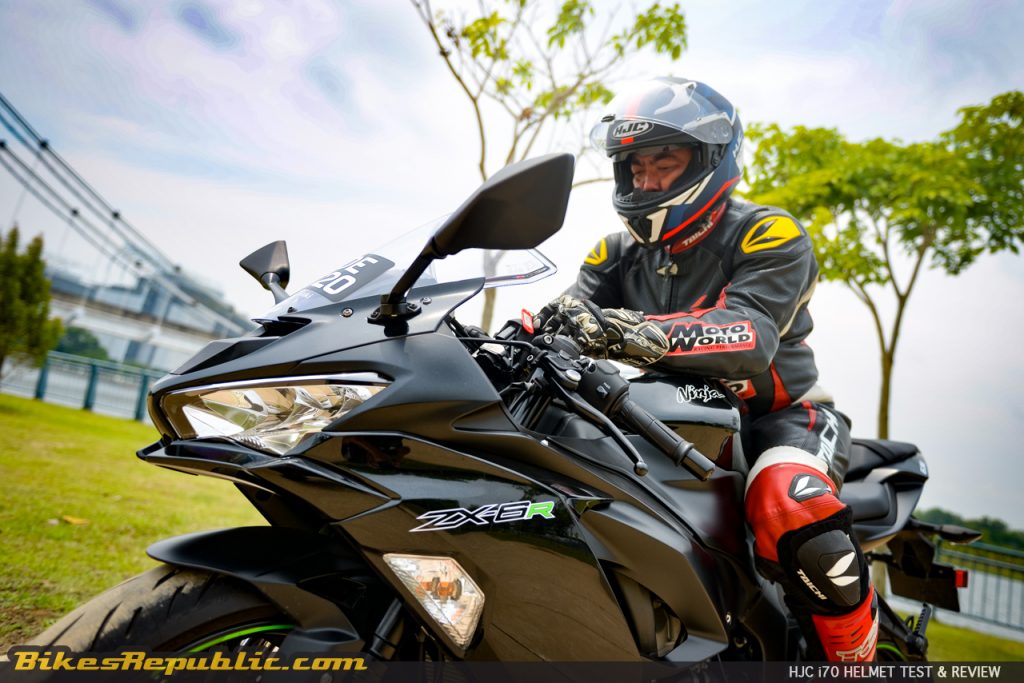 It's ideal for your daily commute as well as sport-touring duties.
It's priced between RM 1,029 and RM 1,419 depending on graphics, and good value for money.
For more updates on HJC helmets, please follow https://www.facebook.com/hjchelmetmalaysia/